Here it is! Our first face-to-face MYXclusive interview in 2 years! FELIP hits the studio with VJ Ai and talks about his solo ventures and dishes on a P-Pop group chat he helped create with some of your favorite groups in the industry. FELIP and VJ Ai dive into "Palayo" and "Bulan" and so much more. Check it out below and stay tuned for even more FELIP content with our MYXclusive Extras coming soon!
keshi released a new track in October called, "SOMEBODY" a year after the one year anniversary of his last project, always. The song is the first single and music video from his upcoming, debut studio album. After the track released, he took the stage at 88 Rising's Head in the Clouds Festival in Los Angeles earlier this month with NIKI to perform "right here" and eaJ of Day 6 to perform "pillows" to over 30,000 fans.
"SOMEBODY," co-produced with Eli Rizk, brings out keshi's edgier side, but balances it with a perfect equilibrium between lo-fi and pop sound with a touch of 832. You can expect to hear keshi's harmonies along with his artistry. "With "SOMEBODY" and the upcoming album as a whole, I felt like it was time to shift the tone to something more well rounded. It all exudes a newfound confidence that I think fans will be refreshed to hear and see in all the new videos," keshi tells us.
Along with releasing his latest single, keshi teamed up with Mindset and Dive Studios for the keshi x Mindset podcast collection. The platform is dedicated to normalizing the conversation of human experiences through authentic stories. keshi talks about everything from who he is as Casey Luong and his upbringing, what he did before music, and answers some fan questions. He's featured in 8 episodes so time to grab some headphones and listen away!
When keshi broke into the scene with his 2018 project, The Reaper, it earned him early recognition for shaping the lo-fi discourse that's flanking pop music. VICE said, "the rawness that underpins keshi's sound keeps fans coming back for more." The Houston, Texas native gained popularity in the lofi-hip hop/study beats community and continues to have success in that genre. He wrote, produced, engineered and played all the instrumentation on his EP projects (Skeletons (2019), Bandaids (2020), and Always (2020)), which describes the cycle of a relationship.
Since then, keshi has been gaining more traction in mainstream like appearing on the 88rising-curated Shang-Chi and the Legend of the Ten Rings: The Album for his song "War With Heaven," YSL's special guest at their Venice show and he's currently tour with LANY. keshi wants to be remembered as an artist and he's on his way there. "I think the biggest goal for me right now is to create a record that will outlast me."
Get to know him as an artist and jump into his mindset in this recent MYXclusive with VJ Samm where they chat about songwriting, his album, and more!
Cover Photo Credit: UMG Philippines
Justin Chon is one of the OGs in the business and has had a long career spanning from early days in Nickelodeon to blockbuster films like the Twilight franchise or comedies like 21 & Over, but now he's been diving more into directing. If you didn't know, Justin also had a Youtube channel where he started directing shorts that led to his first directorial debut at the Sundance Film Festival with Gook. Now, he tackles his first major studio collaboration with Focus Features for the film, Blue Bayou as a writer, actor, and director. The 2021 Cannes Film Festival selection looks to tell an authentic experience of foreign born adoptees in the U.S.
MYX Global and I were lucky enough to chat with Justin himself about the film and the process of making it, growing up as an Asian-American, and we had a few fun questions lined up. Find out why he loved shooting in New Orleans, his favorite comfort foods, and his top karaoke songs!
Blue Bayou follows Korean-American adoptee Antonio LeBlanc, played by Chon who was brought to the U.S. as an infant and grew up in Louisiana. As Antonio struggles to make a better life for his family, he confronts his past when he discovers the possibility of being deported from the only country he has ever called home. The film tackles the meaning of family, identity, and what makes a person American.
Justin Chon looked to portray a storyline of an immigrant experience that's rarely talked about in media. According to NBC News, Chon says, "My purpose as an Asian American filmmaker is first and foremost to bring empathy to our entire community. And one of the things that's important is not to only represent my own experience or my own culture. It's to represent all of us." Although he does not have direct experience as an adoptee, his intent is to try to represent a group of people who were done wrong and to create a dialogue around international adoption.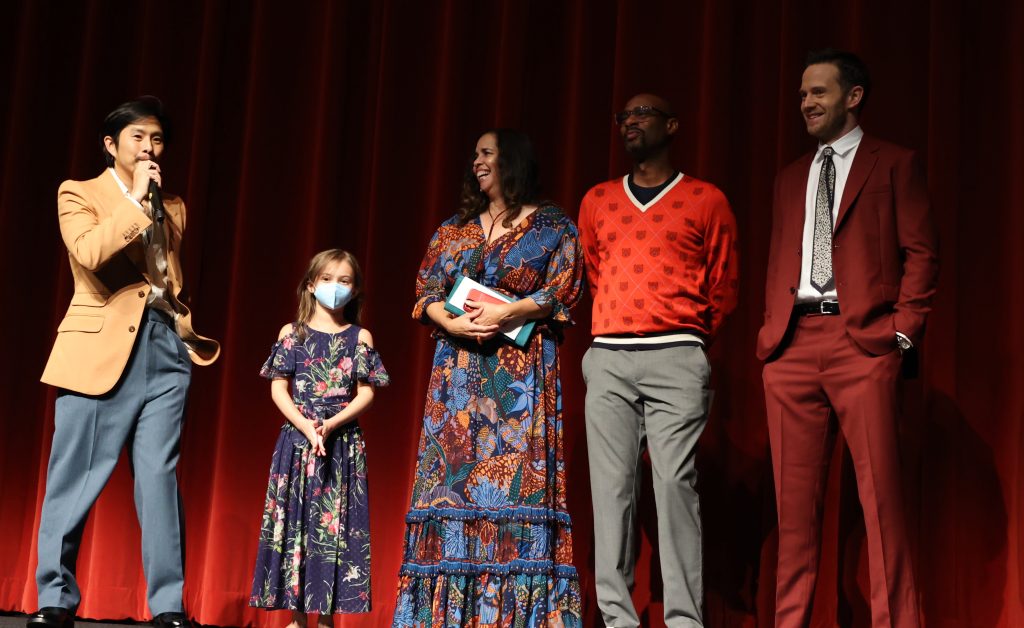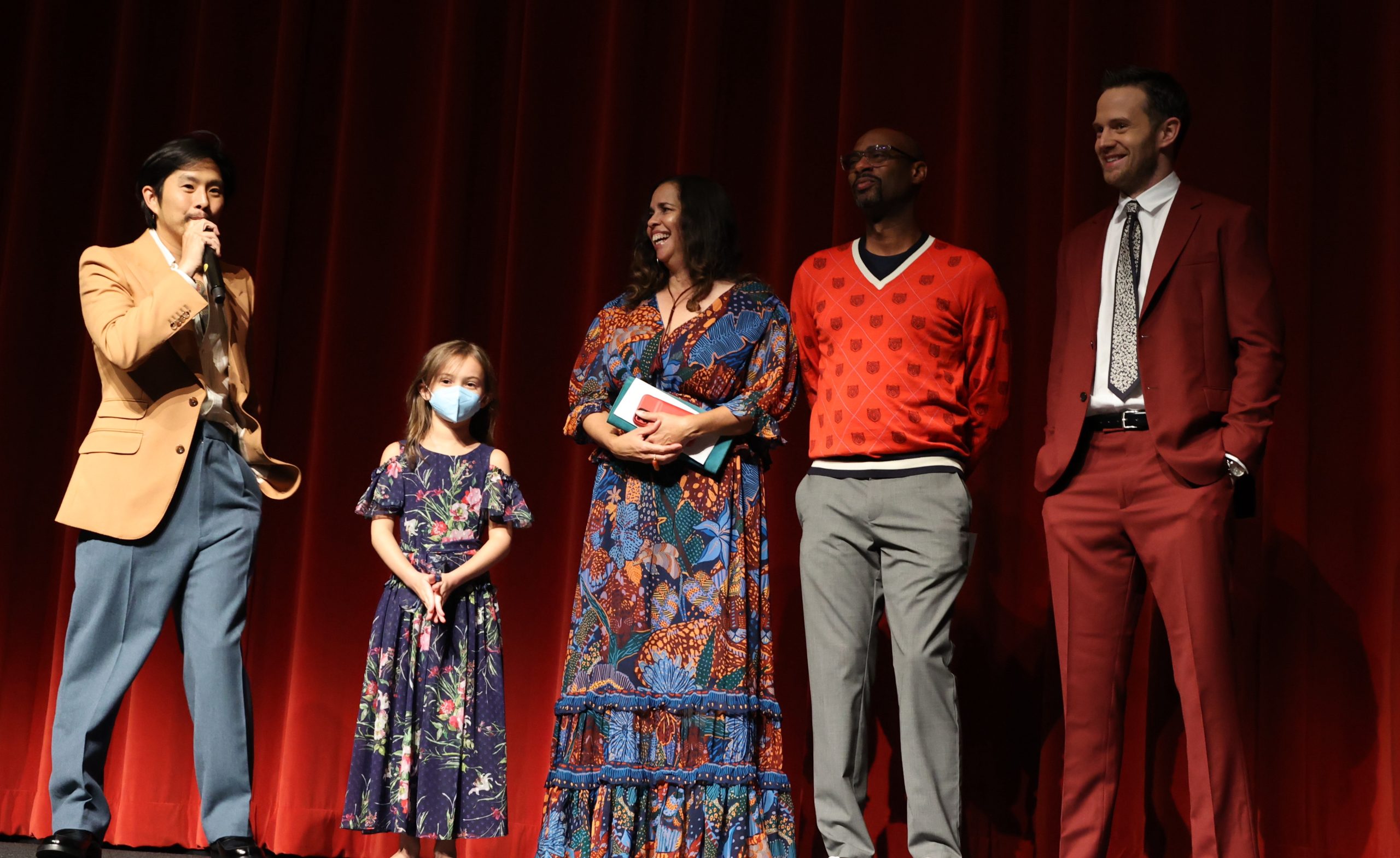 It's a film that tugs on your heartstrings and shows us a harsh reality of a confusing and sometimes broken system. Justin Chon produced a film filled with intent and looked to represent a community just wanting to belong. Catch Blue Bayou in theaters near you!
Check out photos from the star-studded LA premiere!
Cover Photo Credit: Focus Features
You've seen them on our Myx Charts and all over social media. Press Hit Play has finally debuted just a few weeks ago and has steadily made waves on the scene. Their debut single "Win," which also stands for "Want it Now," sets the tone for the group that has faced many obstacles to get to this point in their career.
"After years of defying the odds and taking-on the challenges and growing pains of the new normal, we are officially making our presence known"

Press Hit Play
The group just recently made their MYXclusive debut with VJ Ai deal Cruz! Check it out to get to know the boys a little better, see their roles in the group and see how they play off each other's dynamic. It's mainly in Tagalog, so for any new international fans, we got you! If you haven't seen it already, check out their profiles here to get to know the boys.
About Press Hit Play:
Press Hit Play is a P-Pop group that aims to raise stories of life through music. The first meaning of "PHP" was retained as a tribute to their origin (Philippines) and "Music" to symbolize unity and diversity. However, on December 14, 2020, the group announced the new group name Press. Hit. Play. The group consists of Yukito, Charles, Yuuki, JP, Zi.O, & Sev. Press Hit Play debuted on August 6, 2021, with their single "WIN".
Courtesy of KProfiles.com
Get to know more about SAB in this MYXclusive as she reflects about her journey so far and talks about her debut EP "Sunsets and Heaven." SAB just celebrated her first anniversary in the industry with a digital concert and had special guests who joined her on Facebook and Kumu live. She also shared how she's been balancing her time between school, music, and hobbies like watching anime.
As a fresh incoming artist, she was most surprised by how she improved on stage presence because of her chill and easygoing personality. Although live music and performances were put on hold for the last year and a half, SAB grew into herself as an artist. With that comes her debut EP Sunsets and Heaven, which spurred from a Kumu livestream where she asked the viewers to throw out words and SAB would create a song with it on the spot. What was a fun segment she did turned into the title track and the name of her EP. According to SAB, it just felt right so she went for it. Check out the rest of the MYXclusive below and get all the details about SAB and her Sunsets and Heaven EP streaming on all platforms.
R&B is definitely not dead. Singer and Youtuber, Vedo is giving us the R&B sound we've been missing for a while now. Vedo was a contestant on The Voice Season 4 under Team Usher. Usher baby! Although he made it to the Top 12, he was eventually eliminated. That didn't stop him from using the momentum from the show to start releasing music. Vedo sits down with Dannieboi for a MYXclusive where he talks about his start on Youtube doing covers to releasing his own music, and the response he's been getting from the Philippines on You Got It.
Vedo never imagined this is where he'd be in at this stage of his career. "It's such a gratifying feeling to know that the music you have in your heart is impacting other people." He tells us more about his early beginnings and where he plans to take his music next.
Vedo started his Youtube channel over a decade ago with covering old school songs
R&B was the vibe in the early 2000s with artists like Usher, Chris Brown, Mario, and Alycia Keys releasing staple records. Vedo covered these tracks with his own twist by making them into medleys. Now his remakes includes artists like Ella Mai, Rhianna, Zayn, and more artists with a similar vibe.
2. He learned more about the kind of artist he wanted to be while on The Voice
While on Team Usher, he was able to perform in front of over 15 million people. He got to meet the other coaches like Blake Shelton and Adam Levine. Although Vedo enjoyed his time there, it wasn't the big break he thought it would be. When the time to move on from The Voice came, he took all he learned to become independent artist.
3. Vedo's covers started getting recognition from WordStarHipHop that helped him gain a wider audience
Using the momentum from the show, Vedo had a following but he also started making it to WorldStarHipHop. "I started putting out covers in music and the next thing you know, people started sharing it." He shared about going from 10,000 to 30,000 real quick. Now he has 815k subscribers on his channel.
4. You Got It is a track to show support and celebrate women
In the industry or in general, Vedo realizes the lack of support from other genres of music. You Got It was a way for him to celebrate women and help motivate them in a "man's world." He was ultimately inspired by his girlfriend to write the song. People relate to stories in songs that they've experienced personally in life.
5. Vedo draws inspiration to write music just by meeting other people and hearing their stories
He says he's a people person and can spend a few hours at a proper bar just talking with others. "I'm the type of guy to go to the bar is it at the bar to 3 hours man that talks between different people." Vedo hears from different walks of life and agrees that experience is the best teacher. When you take the time to listen, he learns how others overcame their obstacles and hardships.
6. He encourages people to run after their dreams until it happens
His track has been on the charts in the Philippines for a year and it's not going anywhere. Vedo's piece of advice consists of whatever you strive to do, don't stop until it's achieved. Don't walk but run towards a dream, it's not going to just come. Certain opportunities only come once in a lifetime and it could never be the right time, but get out there and take it.
Vedo looks forward to the day when he can visit the Philippines and return the love. Besides continuing his music, he's looking to venture into different areas of the industry like acting and promotions. For now, he has an album on the way and expect to see more of him on-screen.
Vedo grew up in Benton Harbor, Michigan and discovered his talent for singing at age 9. He is now based out in Atlanta and began his career performing at open mic nights. Vedo joined The Voice Season 4 in 2013. His musical style is similar to the smooth R&B sound of his The Voice coach, Usher.
After his Top 12 finish, he signed with indie label Platinum Power Moves and recorded his debut LP, 93. It saw release in 2015. The following year, Vedo issued the State of Mind EP before releasing his second full-length, From Now On, in 2017. He returned with another album in 2019 that featured the popular streaming track "Let's Get Married." Vedo's fourth album, For You, has the charting hit, "You Got It."
Cover Photo Credit: Vedo Facebook
We weren't the only ones excited to talk to Disclosure in this myxCLUSIVE. Dannieboi was stoked to talk with Howard of Disclosure and catch up on their newest release and their last visit to Manila. Plus we were excited to ask about their experiencing working with Fil-Canadian directors and producers of Kid.Studio.
Check out the interview below!
1. Disclosure is still creating music and writing a lot
Howard shares that a lot of the music they've been making has been created online. He shares that a lot of what musicians do are touring and writing music. Although touring and performing live isn't doable now, they are happy to have released Watch Your Step.
2. Their parents are musicians and influenced by various artists
Growing up with musician parents, Disclosure discovered good music and records. He shares some of that artists they listened to include: Stevie Wonder, Earth, Wind, and Fire and the classic rock bands like Genesis and Led Zeppelin.
3. They didn't think they were going to be artists, but knew they were going to be musicians
Howard said being artists was really unlikely because it rarely works out. However, they knew they were going to be in music whether as teachers or in the industry in general. "We wanted to be involved. It's all we're good at."
4. Disclosure's last trip to Manila, they remember getting treated so nicely
One of the main differences of performing in Manila are the fans. Howard remembers they got their first police escort wherever they went. He adds that fans are so friendly and always smiling.
5. Disclosure has been trying to work with Kelis for 11 years
The latest track, Watch Your Step has been long in the making. They remember wanting to work with Kelis since they were 16 years old. The cards finally aligned and Disclosure just popped the question. Luckily, Kelis agreed to collaborating and wrote the song from scratch.
6. The theme of the music was made around a Filipino family party
They trusted Kid. Studio to create a music video because of their creativity and out-of-the-box ideas. Although Disclosure haven't attended a Filipino party, they have tried Filipino food. Howard admits that he may have been a bit bias. "I hope we go with Kid. Studio." When he realized it was about Filipino parties, they were okay with giving Kid. Studio creative control.
Know more about Kid. Studio on our interview with the Filipino-Canadian directors for Watch Your Step Glenn Michael and Christo Anesti.
About Kid. Studio
Kid. Studio started in 2014 as an outlet to create videos, music content, and design. While showcasing their skills, they want to help bring awareness to the new creative vibrancy coming out of Toronto. It originally started with Glenn, and co-founder Vince Tran, and quickly brought on other extraordinary talents like director Christo, editor Red Barbaza, and producer Julian Nieva, who has since gone on to do incredible work outside of Kid. In 2016, in partnership with their sister company HPLA, led by Ryan Hahn and Chanel Urban, they've been able to create and compete in a whole new arena of video making. From there, they've created music videos, shorts, and commercials for some of our favorite musicians and brands.
Cover Photo Credit: Disclosure Facebook
Malaysian artist, Yuna chats with Dannieboi in this myxCLUSIVE. They talk about her latest single, Dance Like Nobody's Watching, her past collabs with G-Eazy, Usher, and her hope to one day sing with BTS. She also shares her musical evolution and how she got to her sound now. Check it all below or check out the highlights from the interview!
Yuna was originally supposed to visit the Philippines for a month
She says that it's crazy to that she's only been to the Philippines once and yet they're the second largest streaming country for her latest track. "I can't wait for this whole thing to be over so I can go out there and just you know play music." She appreciates the love and support the Philippines constantly gives to her and her music.
2. She started writing original music around the age of 14
Yuna explains that growing up, she listened to a lot of Malaysian artists and also Mariah Carey and Whitney Houston. She also liked Alanis Morissette and Sheryl Crow which shows her diversity in music. However she discovered Lauryn Hill around 12 or 13 years old, which became the first proper album she bought.
3. Yuna started in the music business around 2006 and has been going the last 15 years
Her creative process of creating music is always changing. She knew that she wasn't going to be an artist who just stuck with one thing. When she first started, Yuna says she really focused on singer-songwriter stuff like acoustic vibes. Fast forward to moving to Los Angeles and challenging herself to see where her English songs could take her.
4. She loves finding opportunities to evolve in her craft
Yuna compares her experience to painting a blank canvas. "People are giving me paint in different colors and I'm able to let go." The collab with Usher on Crush, she credits it to her management team but also the stars aligned for the opportunity. However she shared it wasn't something that happened instantly, "I didn't have anything for him yet so I kept that in mind" until Crush came around.
5. Yuna shares that getting rappers to feature in her songs has to be organic
"The way I approach getting a rapper to be on my song, it has to be something organic." One of the tracks, Blank Marquee featuring G-Eazy and Dannieboi was curious about the process of asking a rapper to feature in her projects. She explains that collaborating with anyone has to come from the heart where it's a mutual thing. They also have to also love the song and the project and come from a place of sincerity.
6. She had no idea at first that BTS followed her on social
We had to ask if there's an upcoming collab with BTS since they follow each other. Yuna's honest answer was not yet. They followed her a few years ago before they were the global sensation they are now. "Only time will tell. We got time to do it properly so that everyone will enjoy the process and the music."
7. The most random thing she has is her dictionary she's had since 13
She's really proud of it because Yuna explains she was never used to speaking English well. The dictionary was her best friend. She had it when reading English books and trying to write a song.
8. The song Stay Where You Are was put on the back burner and fans asked to be released to help comfort them during the pandemic
Yuna shares that the song didn't fit the concept of her last album, "Rouge" (2017). She then revisited it while staying home and performed a live video. Fans reacted positively and resonated with it saying it's something they need right now. Yuna gives a little explanation about the song:
Cover Photo Credit: Yuna Facebook
Artist and actor James Reid kicks off the year with a new single, Soda. The groovy track will have you placing it on your driving playlist ready to vibe along anytime. The track released by his own independent label, Careless Music explores the nonlinear journey we've all experienced the past year. The song has been hitting the top of the charts in the Philippines. He hopes that Soda along with soon to be released tracks will show people a different side of him. Dannieboi chats with him to talk more about music and asks your myxer questions!
Although James mentions that the title, Soda doesn't have anything to do with the lyrics it relates more with the sound. The track created last November then recorded in December, James says the "title came before the lyrics." Soda was the name of the beat then they ran with it. He wanted to incorporate things he grew up with while mixing his own style into the track.
However, the meaning behind the lyrics may not be as straightforward. While creating the track with Bret Jackson and producer Isagani Palabyab, Soda looks at rolling with the punches. It talks about the ups and downs while seeing how situations affect people differently.
While Soda might not be part of an album, we can hold out that an album is in the works. However, the surprises aren't over yet. A visualizer is coming out this Saturday, 2/6 on Careless Music's Youtube channel for the track. The visualizer isn't a music video, it's more of 3D art of the cover but a music video is coming too! Before we can experience a full-length album, expect to be hear more singles on the way. James explains that he's looking to play around with styles and just create before putting an album out. He also enjoys the feedback from fans as he experiments with his music.
After chatting music, Dannieboi then turns to the myxers to ask James' a few questions:
What are you grateful for in the past year?

James first mentions he's grateful for the support of his friends and family. Going independent is a daunting journey, but "I'm surrounded by talented people who are ambitious and want to make a difference. They look to place their mark on the world." Secondly, he's thankful for the fans. It's been a while since his last project, but fans have been supporting the track since its release.
2. What do you hope listeners get out of the track?

Honestly he tells us that hee didn't think too much about it. "I want people to get to know me better and how my mind works." A lot of the song is being introspective. It's the feeling of peace and knowing that we are where we're supposed to be right now.
3. Is there another compilation album for Careless? Vol. 2?

Before another Careless Mixtape, the team would like all artists to release their own catalog first. Everyone has their own sound and when a collab happens, they want to create a fusion of music.
4. Are there any live events coming soon?

James hints that there will be more digital live events and performances from Careless Music. In the meantime, look out for Nadine's online concert for her visual album, Wildest Dreams, which will include collaborations and remixes.
If you're curious about the other myxer questions James answered like who their next signee will be, you'll just have to watch to find out. Before heading out, James teases there will be merch for Soda and promises to release a lot more bangers!
Cover Photo Credit: Careless Music Manila Facebook
Christian Baustista chatted with MYX about his latest single, "This I Promise You," and much more. Watch the MYXclusive interview below.
Check out his latest cover of "This I Promise You" originally sung by N'Sync in 2000.
SAB is a 18 year old, singer-songwriter from Manila who's feeding all your indie-pop feels. She was drawn to music at a young age as she started playing the piano at 7 and picked up the guitar at 15. She's come a long way from being a shy kid to growing into a confident artist. SAB joins us for a myxCLUSIVE to talk about her latest song Dancing in the Dark, her writing process, and musical influences.
1. SAB's music makes gives you the coffee shop vibes
Her music is generally described as indie-pop. However, she gave us three words to give us a better understanding of her music: genuine, calming, and melodic. "It's a feeling inside me and that's how it is. With these songs, I make sure it's my story in my own way..."
2. She can't imagine life without music
SAB tells DJ Marlino that she started taking music seriously around 13 when she started voice lessons. She then auditioned for the label, Star Music and received positive feedback. "I didn't expect to be in the entertainment industry, but a part of me couldn't imagine being without it."
3. Her writing journey began with poem and spoken words
When asked what her stronger skill is between writing or playing, she chose writing. Before she wrote poems before turning them into melodies. However, now it's the other way around. "I'll go to the piano or guitar, record whatever melody then rearrange lines." What she plays all starts from a gut feeling.
4. The first single, She took 2 years to complete
A song about self-love and inspired by a spoken word poem, showed her a long, but rewarding process. SAB tells us that the song teaches you that "there's going to be a lot of people trying to influence you to become a better person. You have the option to let it or not let it happen." Everyone's on the journey to finding themselves and when it gets hard, you have to turn to the people who love you the most. Fun fact about the song is that you can hear it in the background of a scene in the Korean drama, Flower of Evil.
5. One Direction's song, Perfect inspired SAB's second single, Dancing in the Dark
Written one month after her Star Music audition, the song went through a lot of lyric changes. She was changing lyrics even one month before recording it. It's also the first song she wrote on the guitar. The part of Perfect that inspired her song was the word "rendezvous." SAB says the song is about "a love that couldn't really be. It's only yours with another person for that one specific moment." BRB while we go back and listen to both songs!
SAB also hangs out to play a round of Song Roulette and perform a few songs and covers! Make sure to add her to your must-watch list and keep up with her as she plans to release more music in 2021.
Manila artist, Claudia released a four-track EP Conflicted this year with the lead track of the same name. She tells Dannieboi about her musical process and what songwriting looks like for her. Claudia also tells us how she's been coping during the pandemic and how she started in music.
During the lockdown, Claudia shared she started a podcast and created more music with her bandmates remotely. As for other hobbies she's been focusing on too are reading and writing a lot. Dannie asked her if she has any suggestions on activities to do when you start to get cabin fever. "Working out really helps. Don't pressure yourself. If that means a 10 minute walk, then let it be. Moving your body is important especially mentally."
Claudia also shares about the beginning days of her musical career. She goes by Claudia because she was looking to separate herself from her family. It was a natural decision for her because her family is also in the entertainment industry and wants to create her own path. She's always wanted to be a singer but no one else knew she could sing! "I was shy growing up that I didn't think I had the confidence to pursue music." What opened her eyes to music was Kehlani's mixtape, You Should Be Here. Artists that have influenced her include Taylor Swift who drew her to write songs and would love to collaborate with Pharrell.
Claudia has ventured into songwriting in her latest singles and has collaborated with 88rising artist, Jason Dhakal. Her early singles, Stay and Finally Found It were well received by an evolving Manila music scene. Although she didn't contribute much in the creative process for Stay, she worked with a producer from Cebu for Finally Found It. For her latest EP, the tracks Conflicted and HEAD/HEART, she collaborated with Jason.
"Conflicted was completed when HEAD/HEART came out. I sent Jason an idea of what I wanted to write then 1-2 hours later he sent the whole song. Usually I want to have a say in writing, but made the exception because Jason was able to capture it."
The overarching theme of her EP is choosing between your heart and being rational. It's a tough decision sometimes and things could get confusing. She explains the music video for HEAD/HEART was an experimental visual project where they contrasted the ideas of choosing between one's head or heart.
To close out the interview, Dannie goes through a list of quick questions. Find out what some of Claudia's favorite foods are, what her phobia is, and the song she'll never get tired of. Make sure to check out her latest EP, Conflicted on all music streaming platforms.