Crazy Rich Asians and Superstore actor Nico Santos is heading into the Marvel Cinematic Universe as he joins the cast of Guardians of the Galaxy: Vol. 3. As in usual Marvel-style, the cast, plot, and visuals have been kept on lockdown since they began filming this installment of Guardians in November of 2021. As the movie wrapped last month, we are slowly getting to see who is added to the cast. Nico shared his excitement in a post on Instagram as Deadline reported the news.
Nico joins cast members Chris Pratt, Zoe Saldana, Vin Diesel, Dave Bautista, Bradley Cooper, Sylvester Stallone, Karen Gillan, Elizabeth Debicki, Will Poulter, Chuk Iwuji, Maria Bakalova, and Daniela Melchior in Vol. 3. The movie is set to release on May 5th, 2023, and is set to be the last of filmmaker James Gunn's series of the Guardians films.
Cover Photo Courtesy of Nico Santos Instagram
Last year the news broke that Inigo Pascual was cast into a new U.S. show on FOX called "Monarch." This marks Inigo's first major debut on U.S. television and is a huge step in diversity and casting and showcasing Filipino talent on a global platform. The show is a multi-generational musical drama that centers around the Romans, America's first family of Country music.
The all-star cast includes Oscar-winning Susan Sarandon and country star Trace Adkins. Inigo has been sharing some behind-the-scenes photos on his socials during the time the show was shooting, and now Fox has finally announced a Fall release date for the highly anticipated show. So get ready to meet the Romans on "Monarch," September 11th after the NFL!
Cover Photo Courtesy of Inigo Pascual Instagram
Gold House just hosted its inaugural "Gold Gala," the largest gathering of top Asian and Pacific Islander leaders in the community. The Gala celebrated the 2022 A100 List, the absolute honor that recognizes the 100 APIs that have most significantly impacted American culture and society in the last year, and special awards honoring some A100 legends in the community.
Over a handful of Filipinos made it onto the prestigious A100 list this year, and even more, were present at the Gala. Celebrity Photographer and community advocate Sthanlee B. Mirador was there on the Gold Carpet, capturing guests as they made their way into the event. Check out some Filipino talents and leaders who helped celebrate Gold House's special night below.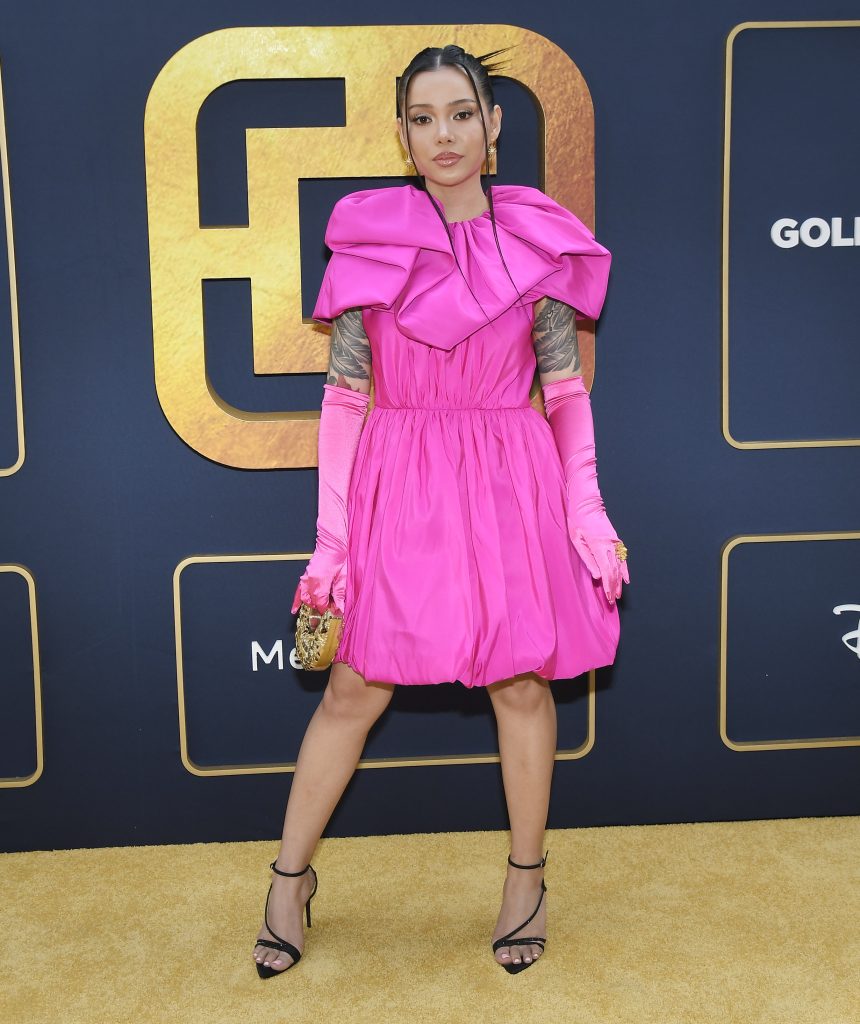 Over 500+ API celebrities, cultural leaders, and business executives attended this special night. The night's theme was "The New Gold Age," representing "unparalleled API brilliance and defiance amidst continued violence and racism against the community." In addition, the evening consisted of honoring the A100 list, Mindy Kaling accepting the A100 Legend award, and fellow A100 Legend Michelle Yeoh accepting the first-ever "SeeHer" award at the Gold Gala for defying gender stereotypes throughout her career.
During the gala, Gold House also unveiled some new initiatives which will help the organization continue to unite, promote, and invest in API creatives and companies. See some of their new initiatives below.
Unity March: in partnership with Asian Americans Advancing Justice, APIAVote, and a dozen other major nationwide organizations, Gold House announced a historic slate of policies and a convening event in Washington, D.C. on June 25, 2022.
Gold Storybook: Gold House launched the definitive guide and resource hub on authentic API portrayals in media, based on years of cultural consultation expertise with every major studio, streamer, and network. The guide was created with support from key partners like The Walt Disney Company and features additional resources through work with SeeHer, P&G, and more.
#WriteHerRight AAPI: SeeHer and Gold House also announced a major partnership to develop a guide focused on the importance of increasing accurate portrayals of AAPI women and girls in advertising and entertainment.. A number of studios and networks, including AMC Networks and Paramount, are committed to participating in the guide, which will launch later this year.
Gold House Venture Network: on the heels of launching its $30M fund, Gold House Ventures, Gold House announced a new vehicle for executives, cultural leaders, and founders to invest in sought-after venture deals and procure prominent Board Director and Advisor positions.
Gold Rush Accelerator Food & Beverage and Women Tracks: as part of their community-leading accelerator, Gold Rush (whose alumni have raised $400 million+ in follow-on capital), presented two new tracks that provide funding, promotion, and distribution to culinary and women founders in partnership with Panda Express and Julia Gouw, respectively.
Photos and Cover Photo Courtesy of Sthanlee B. Mirador
The new Peacock series, One Of Us Is Lying is now streaming and follows the story of five high school students who walk into detention, but only four of them make it out alive. The series will follow the investigation of those four students to find out what really happened in detention and how Simon died. The series comes after the New York Times bestseller book of the same name. Fil-Canadian actress, singer, dancer Zenia Marshall landed a recurring role as Keely in the series.
The series originally filmed in Auckland, New Zealand for five months until a strict COVID-19 restriction had the production moved to Toronto, Canada. Her character Keely is presented as half-Filipina in the series and dates Cooper, the popular baseball jock. Like many high school storylines, there's tons of secrets and drama. However, Zenia shared that her character was also written in to be half-Filipino, half-white in the book.
"…this is like the first time I've actually seen that intended and written down with intention of that. I've been auditioning for about seven years. I had never, in my life had seen a Filipino role come in. Usually if there are certain roles that they'll put in, that'll be like Asian character, but then it will be really broad and there won't be any specificity to it. So, it was definitely my first time seeing that." Zenia is excited to represent her roots not only through her character, but she also hopes to see more diverse opportunities in the industry.
Watch the story unfold on Peacock as the first 3 episodes of One of Us is Lying are now available to stream!
Zenia Marshall was born and raised in Vancouver, Canada and comes from an artistic family of performers. Her mother, Luisa Marshall is an award-winning and internationally-acclaimed Tina Turner Tribute artist, and dad, Steve Marshall, is a musician-businessman. Zenia is an actress, singer, dancer, and musician who is also a tribute artist – Ariana Grande Tribute Artist. She's toured worldwide with her mom and honed in on her performing skills.
Zenia also took her skills to the theater stage until she got the acting bug. Zenia made her film debut alongside 80's Pop Star Princess, Debbie Gibson in the movies "Summer of Dreams" & sequel "Wedding of Dreams". Most known for her leading recurring role in TV series "Date My Dad" as "Mirabel Cooper" starring with "7th Heaven's" Barry Watson and the legendary Raquel Welch, she has also made an appearance in the CW TV series "SuperGirl", guest starred on SYFY's "Van Helsing", and has recurred as a guest star on "Supernatural" to name a few. Look out for her in the upcoming "NBC" & "Universal Pictures" streaming platform, "Peacock", on the new TV Series "One Of Us Is Lying".
Cover Photo Credit: Zenia Marshall Facebook
Who's ready for a makeover? Catch Fil-Am Romel De Silva in the latest Netflix teen rom-com, "He's All That" alongside a young cast led by social media personality Addison Rae and Tanner Buchanan (Cobra Kai). Not much has been revealed about De Silva's role, but we know he'll be playing Sebastian Woo. He joined the cast for the red carpet premiere before the film drops on Netflix on August 27th! He shares it was an absolute dream to be part of the whole process from filming to walking his first carpet.
The film is a modern take on the 90s hit movie, "She's All That" with Freddie Prince Jr. and Rachel Leigh Cook except the roles are switched. All bets are off..or on when Padgett (Rae) will have to turn the school's artsy loner Cameron (Buchanan) into the next prom king. Those who watched the original will recognize a couple familiar faces. Rachel Leigh Cook will not reprise her role as the nerdy Laney Boggs, but she'll be playing Rae's on-screen mom Anne Sawyer. Get a preview of "He's All That" in the trailer below!
Also check out Addison Rae answer questions on TikTok and how she would want to meet and collab with Bella Poarch!
Romel De Silva is a Los Angeles actor, writer, producer, and comedian. He is best known for his recurring role as "Kyle" in Paramount Network's Heathers. He was also featured in "Angie Tribeca," "Funny by Association," "Arrested Development," and many other television shows and films. Romel is a BFA graduate of The American Musical and Dramatic Academy (AMDA) and trained in improv at UCB. He was born in Los Angeles and his hometown is West Covina, CA. Romel is managed by Entertainment Lab.
Cover Photo: Romel De Silva Instagram