It was a tough race and we are grateful for everyone that had entered the contest, but we have received the final leaderboard, with the results below. Thank you for entering, please stay tuned for future campaigns!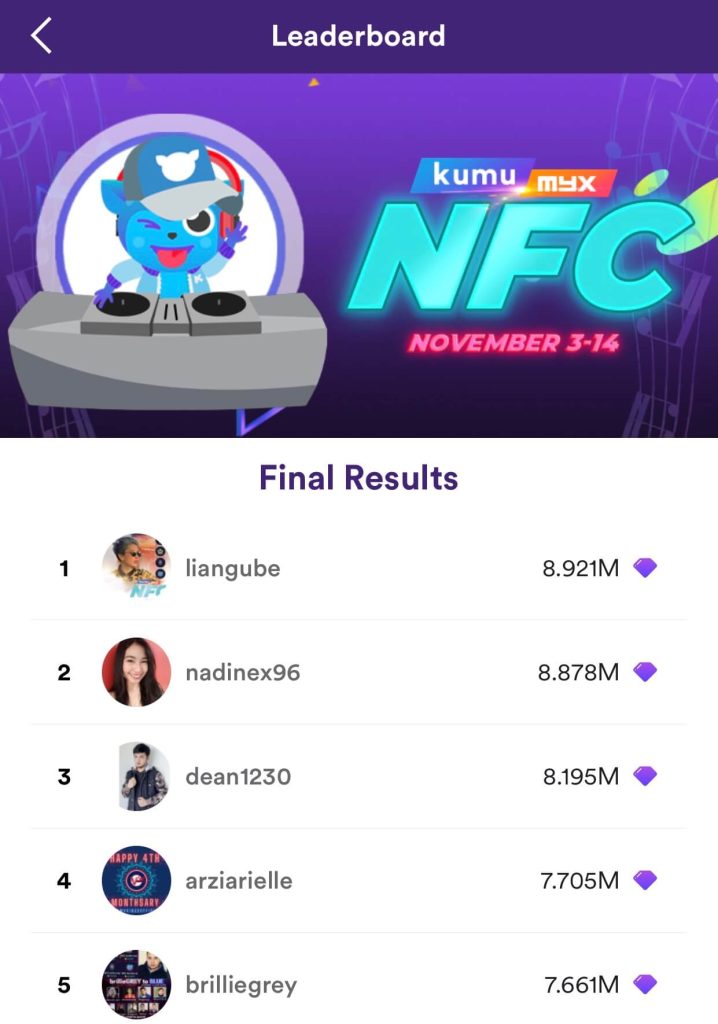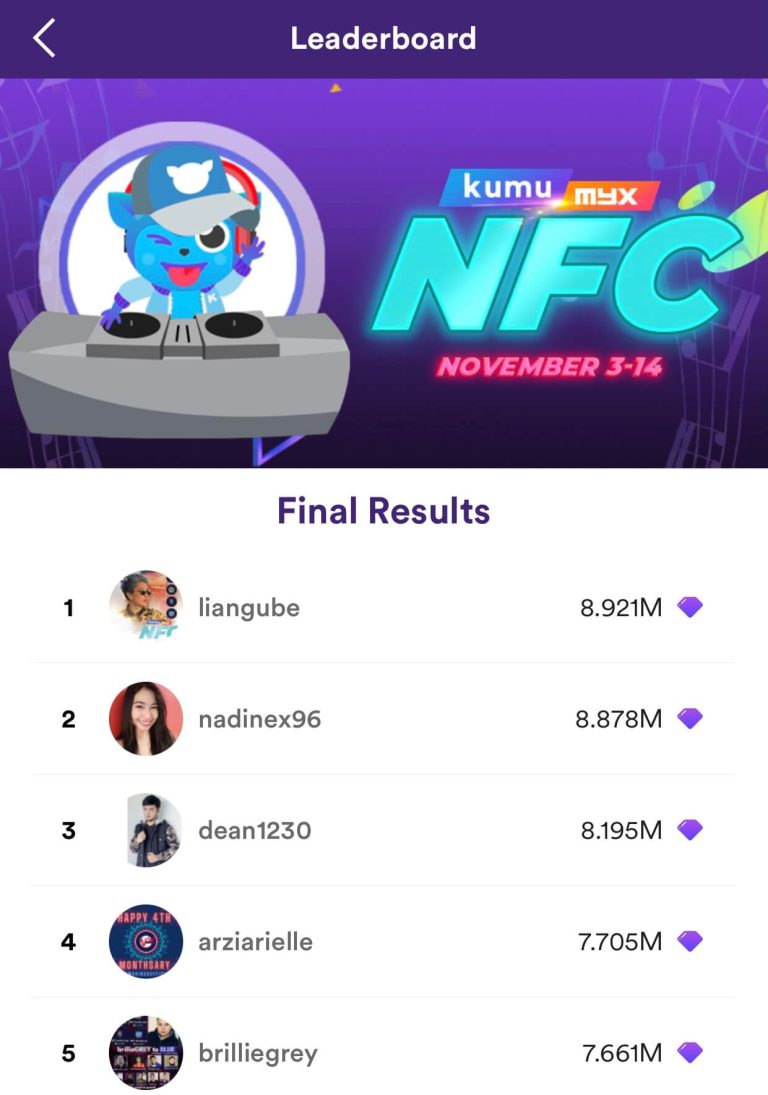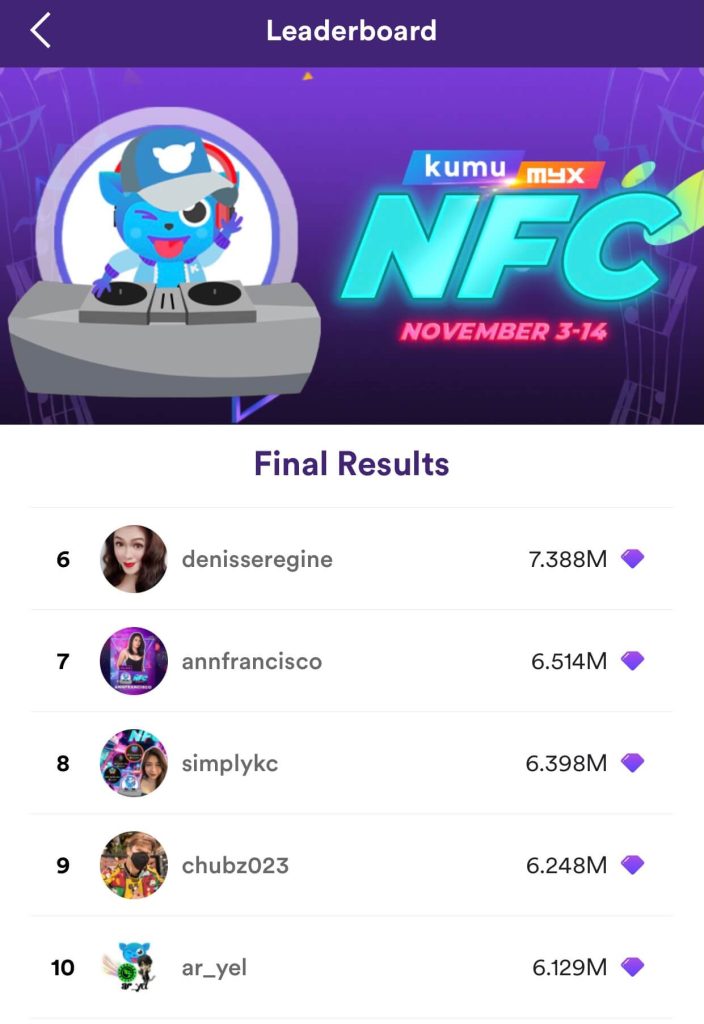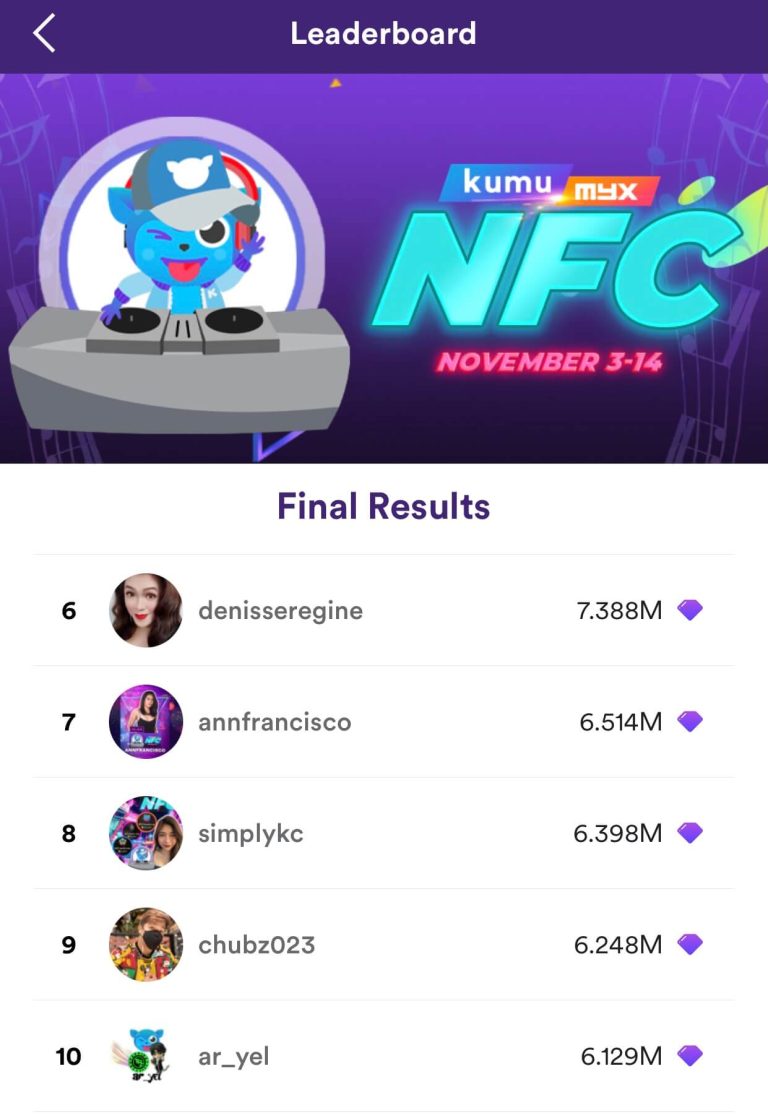 Below is what the winners will receive. Stay tuned for our Heavy Rotation kumu NFC Campaign special featuring the top 3 winners!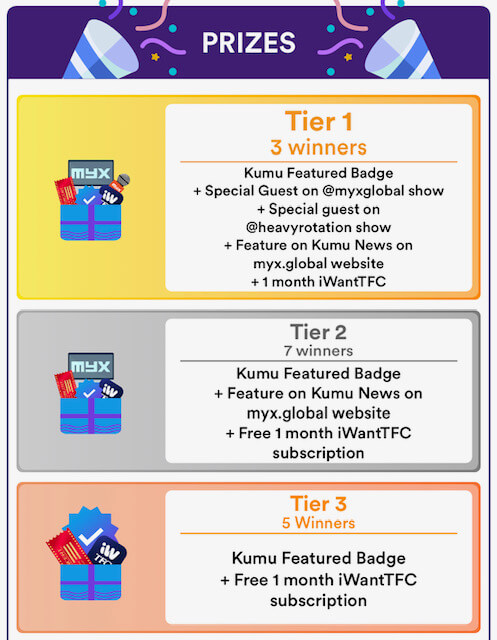 This is what the contestants did from November 3-14 to enter. Stay tuned for more fun campaigns on kumu.ph.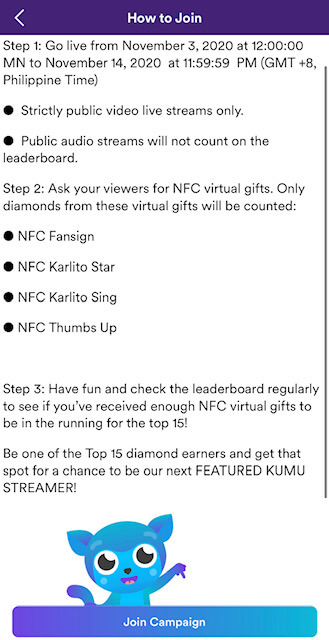 Janna Mae is a Buzzfeed digital creator alongside a writer, director & producer from LA.
@solicole made a list below of businesses to support that are Filipino owned, Janna shares the list below in her Instagram linktree.
ARTISTS
BAKED GOODS/ DESSERTS
FOOD (POP-UPS, RESTAURANTS & CATERING)
CLOTHING/ APPAREL
JEWELRY/ ACCESSORIES
STATIONERY/ STICKERS
BOOK STORES
CRAFTS (CROCHET, CUSTOM ITEMS, CASES, CERAMICS, PINS ETC.)
BAYBAYIN ARTISTS
BEAUTY/ SKIN & HAIR CARE
FLORISTS
Sinta Floral (Bay Area)
ORGANIZATIONS & COLLECTIVE
Gabby Almazar is apart of the 8 ambassadors chosen to take part in a new doscuseries called "Filgrimage" airing on myx, iwantTFC, The Filipino School & TFC. Watch her do a dance cover of Inigo Pascual's hit, "Catching Feelings."
Gabby is 19 years old and from San Diego, she has been dancing hip hop for 4.5 years on a team called iLL Habits for the last 3.  Now that she's no longer dancing, Gabby has been very involved in the Filipino organization at her school and enjoying all kinds of music which includes OPM.
Watch the trailer for the new Filgrimage series below and tune in to watch 10/22 on iWantTFC & 10/24 on myx & TFC.
Featured myxer & Filgrimage Ambassador, Jocelynne Montehermoso @mp_joce dances to Inigo Pascual's hit single, "Catching Feelings." Be sure to catch Jocelynne as apart of the @FilgrimageSeries cast when it starts streaming OCT 22 on @iWantTFC, TFC IPTV and on TheFilipinoSchool.com and starting OCT 24 on myxTV & TFC Cable/Satellite.
Filgrimage follows eight young students who chose to spend one summer in the Philippines to nurture their Filipino roots, and to answer the question, "What does it mean to be Filipino?" Watch the trailer below:
The series trailer for Filgrimageopens with a local saying, "Welcome to the Philippines!" The excitement and eagerness of the young travelers reflect the tone of the journey ahead of them: exhilarating sights, a cacophony of sounds, sumptuous cuisine, an experience full of surprises and deep self-reflection.
Meet the founder of The Filipino School and the creator of the annual Filgrimage trip, Tony Orlaes & 6 of 8 of the American ambassadors on the #HeavyRotation special below hosted by DJ Marlino. The group shared their most memorable moments from the trip and also played a fun Tagalog game where they were told to guess words from "My First Book of Tagalog Words: An ABC Rhyming Book of Filipino Language and Culture."
Watch additional videos of "Catching Feelings" on TikTok that went viral with over 150,000 videos!
To be considered to be a feature myxer, tag @myxglobal #myxer & dance covers with #dancemyx to be considered.
Reya Paulos @hellareya is a Bay Area, life loving, viral choreographer apart of the KUMU North America Facebook livestream team that brings her followers joy with dance, music & funny viral videos/livestreams. She's known for her unique dance videos like traditional Filipino folk dancing tinikling remyxed with modern Hip Hop choreography to songs like "My Type" by Saweetie, "Mabuti" by the Black Eyed Peas & the "Catching Feelings" remix by Inigo Pascual, Ruby Ibarra & Dennis Blaze.
Artists like Saweetie & Apl.de.ap of the Black Eyed Peas, & Inigo have praised Reya for her awesome videos featured on myx. Find her active on her UCLA campus & throughout California.
For Bookings: hellareyap@gmail.com
Featured myxers: Thank you for being apart of our myx community, we love sharing our content with you daily! Tag #myxer with your videos of what you are watching & listening to on any of myxRADIO, myxTV or LIVE during our KUMU or Twitch streams for a chance to be featured or be active during our livestreams.
DJ E-Man is the program director for Power 106 (KPWR-FM), 93.5 KDAY — both in Los Angeles — and oversee the initial stages of the new CALI 93.9 (KLLI-FM) Latin Rhythmic format. E-Man talks about his journey working in the US' #2 radio market, traveling the world, artists to look out for and more.
A founding member of the Invisibl Skratch Piklz and Triple Threat DJ crews, Shortkut is one of the West Coast's most respected turntablists. Born Jon Cruz, Shortkut began DJing in 1987 at the age of 12 and soon joined his first DJ crew, Just 2 Hype!, shortly thereafter. At 18 he helped found the Invisibl Skratch Piklz with Mix Master Mike, Q-Bert, and DJ Disk. The Piklz went on to become one of the most influential DJ crews of the '90s, leading Shortkut to a membership in the Beat Junkies and remixes for Ras Kass and Ozomatli. In 2003, Shortkut's other longstanding DJ group, Triple Threat, issued its debut album, Many Styles For more follow @shortkut Subscribe: twitch.tv/Shortkut
Leigh-Anne of LITTLE MIX joined DannieBoi of myxRADIO & Wave 89.1FM Manila to discuss the latest Little Mix TV competition show, visiting the Philippines, what actress she would like to portray her in a movie and much more.
At the end, she answered Little Mix fan, "Mixer" @jakeaqza's question of what song she loves to perform and what song she is excited to perform on their upcoming album, she gave a hint that the song starts with a letter "C." Fans across the world are excited and speculating of what the song name is and could be from "LM6"… We just have to wait and see…
#littlemix #leighannepinnock #myxclusives #mixer #mixers