If you caught the latest episode of Monarch, then you saw the duet between Ace and Ana played by Inigo Pascual and Emma Milani. They sang an acoustic version of Harry Style's hit, "Watermelon Sugar." The full video isn't out yet, but the Monarch social channels have released a snippet that will leave fans wanting more.
Catch Inigo on the guitar and vocals while we see how well their voices mesh together. We can't wait to see how their characters' relationship grows throughout the season and hope this is the first of many duets.
Cover Photo Credit: Emma Milani Instagram
This women-empowering track, "1Nightwitu" by Singaporean-Filipina Ysa Yaneza is ready to take the music scene by storm. The track is an island-tinged, dance-pop track that celebrates women empowerment and encourages young ladies from varying cultures and upbringing to embrace their sexuality and value their self-worth. It's also the lead single from her upcoming self-titled EP, YSA.
A music video was also released at the same time with the song's premiere, which was shot by filmmaker Jaig D. Guzman. Shot in Metro Manila, the visuals showcased the singer having the time of her life with friends and some she met in a club. "For this music video, I was drawn to earthy tones, giving those late Y2K vibes," says the indie pop star. "What the director brought was kind of a modern twist to all of these nostalgic inspo that I had. I wanted the music video to really convey female empowerment."
Co-written and produced with LA-based artist, Shubu and arranged with Stuart Hawkes helped give the track a fuller, more intricate musical direction. They'll be more music coming soon leading up to the release of the EP so stay tuned!
Cover Photo Credit: NYOU
P-Pop girl group KAIA heads in a new R&B-leaning direction with their new single "Dalawa," released under Sony Music Entertainment. Bringing in the 2000s-eque R&B melodies and wmsical beats, "Dalawa" embraces adventure with effortless vocals.
Standing out in sublime contrast with their previous releases, the five-member act's smooth jam alludes to the idea of expressing infatuation in the most reassuring, youthful way. Written and produced by Jayson Franz, he brings a mellow and groovy style to the group's style. "Dalawa" is a song that tells a story familiar to many: catching unrequited feelings for someone close to you," described by the pop group.
The group was heavily involved in the demo recording, voicing their inputs on vocal arrangements and style of the song. "I wanted a different approach for KAIA this time around, but I made sure to take into consideration their individual and collective personalities," shares Franz. They leaned more towards the Y2K R&B trend by adding string instruments and other sonic elements to the arrangement.
There was one moment during recording that made everyone excited for the song. "One of the memorable moments during the recording of the track was the first run of every member of KAIA," adds Franz. "It was that moment when everyone knew that the song was really made for them. Each one of them has an own personality or taste in terms of the delivery of their lines."
Listen now on all streaming platforms!
Cover Photo Credit: Sony Music PH
88rising, the pioneering and internationally-renowned music and media company amplifying Asian talent and culture, and Live MNL announced the 2022 Head In The Clouds Music & Arts Festival lineup in Manila. From December 9th through 10th, one of the biggest events of the year is taking place at SM Festival Grounds Parañaque City. Grab your tickets starting Wednesday, October 5th at 10am Manila time. 2-day GA passes are priced at Php 12,888 and 2-day VIP passes are Php 15,888.
So if you're wondering who's coming to Manila as part of the HITC lineup, you'll see a few of your favorites from headliners Joji, Jackson Wang, NIKI, Rich Brian, eaJ, and YOASOBI to also live performances from BIBI, MANILA GREY, Warren Hue, Ylona
Garcia, GUAPDAD 4000, ATARASHII GAKKO!, MILLI, Zack Tabudlo and many more. If that wasn't enough, check out special guest Grammy-winning hitmaker and  electronic producer ZEDD.

Last month, Head In The Clouds hosted 70,000 people over two days at Brookside at the Rose Bowl in its fourth year in Los Angeles, California. 88rising earlier announced Head In The Clouds Music & Arts Festival will travel to Indonesia later this year, marking the debut of the festival in both Indonesia and the Philippines. "I am so excited to perform at the inaugural Head in the Clouds Manila. I missed y'all and it's time to bring it to the Philippines," says headliner Rich Brian.
Check out the full lineup below:
Joji
Jackson Wang
NIKI
Rich Brian
eaJ
YOASOBI
Adawa
Akini Jing
Atarashii Gakko!
BIBI
Elephante
GUAPDAD 4000
JinxZhou
MANILA GREY
MILLI
Spence Lee
Stephanie Poetri
Warren Hue
Ylona Garcia
Zack Tabudlo
Very Special Guest
ZEDD
This week's MYX News Hot List, new episodes weekly at www.myx.global/myxnews.
1. MYX MUSIC: Feeling Good with BINI's New Single - P-pop girl group BINI has released their new retro-inspired single, "I Feel Good".
2. MYX MUSIC: Markus Dedicates New Song To "J" - Markus is back with new music, "For J", dedicating it to his son, Jude.
3. MYX CULTURE: Kuwento Comics Unmasks New Issue - The latest issue of Kuwento Comics has released a new installment of the Mask of Haliya.
4. MYX ENTERTAINMENT: Pinoy Pride Smashes She Hulk - Ginger Gonzaga represents Pinoy Pride with MCU's "She Hulk".
5. MYX MUSIC: Nameless Kids Run with New Track - Alternative band Nameless Kids dropped their latest song, "Hotel Runs". You can watch their MYX Live performance here!
Get ready to groove into the weekend with James Reid's new track, "u & i." His latest song shows off his new dance-pop sound he's been teasing. We can expect more new music as James is set to release an album soon!
While we wait for the album to drop, James blesses us also with a new video featuring model, Kelsey Merritt. The steamy music video shows the two contrasting personalities in this epic love story where opposites attract. The two have a night long adventure that includes a stretch limo, dancing, and colorful lights. We're definitely here for this new era of James.
To celebrate, James and his Careless Music team went live on the Careless Music Tiktok account to debut the track, tease his upcoming album, and answer a few fan questions.
Cover Photo Credit: Careless Music Instagram
Join the Harvard Square Philippine American Alliance for the first Filipino American Festival at Cambridge's Harvard Square in honor of Filipino American History Month! This debut event will take place on October 9th from 11am-6pm and intended to bring the Filipino American community together by showcasing a panorama of our rich heritage and traditions through music, dance, and food to the local community.
Join in on the fun as artists like EZ Mil, Bryan Termulo, Garth Garcia, and Rachel Anne Wolfe are set to perform plus bands like Sounds of Manila and AAPI Comedy Jam come to round out the entertainment.
The Harvard Square Oktoberfest and Honk! Festival organizers invites one and all to march in the parade to "Reclaim the Streets," starting at noon throughout the Square, interested in focusing everyone's presence on the good works that you, our local partners, are doing. It will feature live music on multiple stages from different eras catering to a multi-generational crowd, international vendors of crafts and items including those uniquely from the Philippines and Asia, and festive beer gardens from both local and national businesses.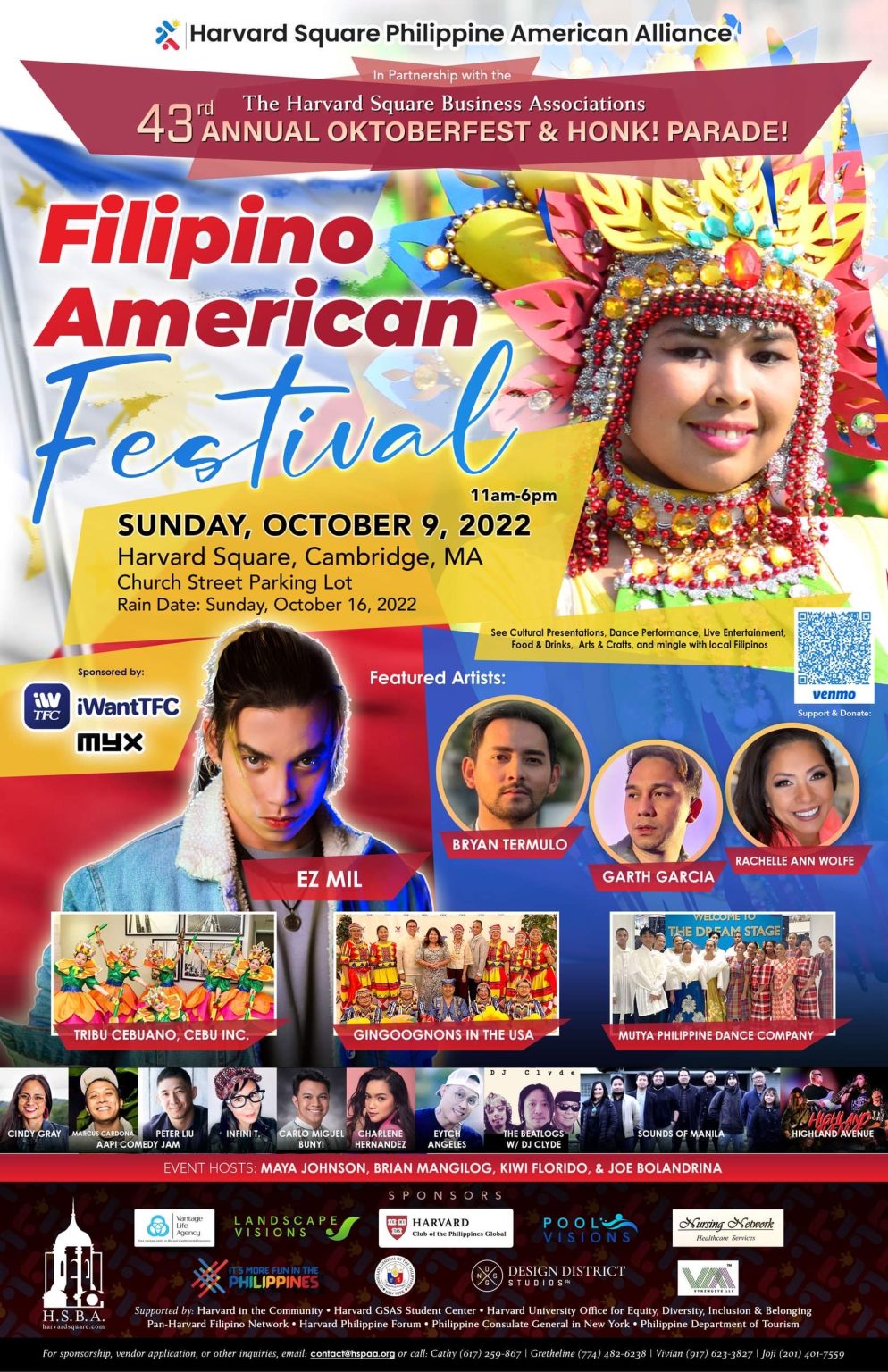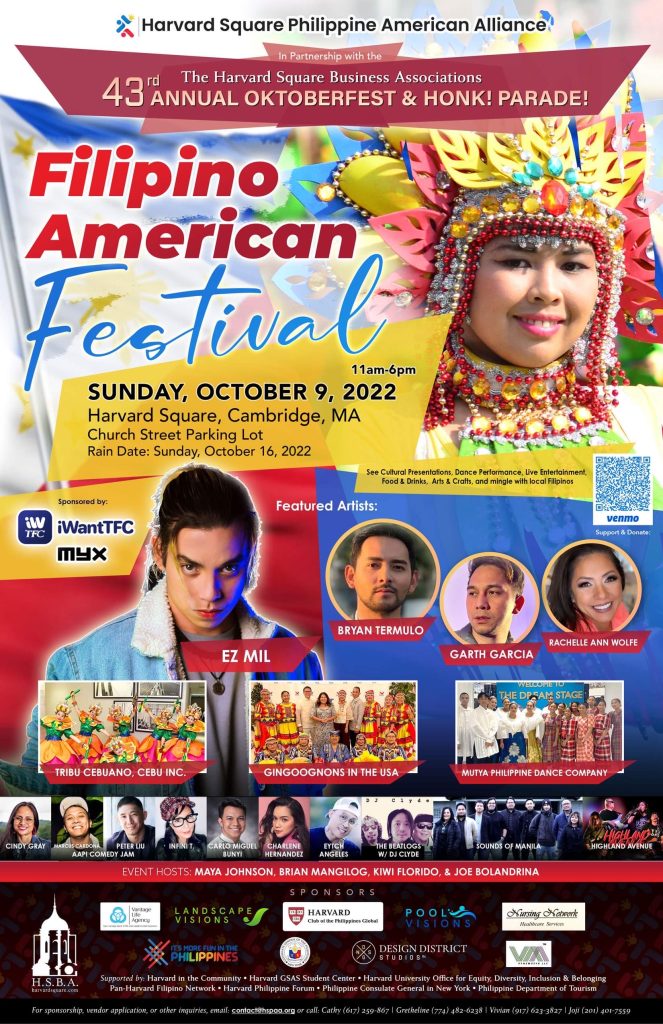 The Harvard Square Philippine American Alliance is a non-profit organization that believes in bringing the community together through cultural events that celebrate the core values of the rich and deeply rooted ancestry of the Filipino people. Our goal is to organize events on an annual basis in partnership with business owners and community leaders.
As younger generations of Filipino Americans mature, connectivity, exposure and interactions with people that share their cultural heritage is paramount to enriching overall community diversity, equity and inclusion efforts while promoting Filipino Americans through networking, outreaching, and researching to ensure the prosperity of every individual involved.
With fall already here, we're missing the summer vibes. Over the summer, a bunch of Star Magic artists came over to the U.S. for the 30th anniversary show, Beyond the Stars and although we got a lot of behind-the-scenes content, but the artists also took their own. We see Donny Pangilinan enjoy some free time golfing in San Francisco, Maris Racal enjoy halo-halo in Queens, and Alexa Ilacad watch Moulin Rouge on Broadway!
It looks like they all had a blast with each other and just enjoy the time to hang out outside of work. Who said you couldn't work hard and play even harder. The Star Magic crew not only put smiles on the many Filipinos who watched the show, but also experienced what it was like to be a Filipino abroad even just for a little bit.
Check out what they all got up to and let us know if you'd visited these places!
Cover Photo Credit: Alexa Ilacad Instagram
This week's MYX News Hot List, new episodes weekly at www.myx.global/myxnews.
1. MYX LIFESTYLE: DBTK X H&M - Popular philippine-based streetwear "Don't Blame The Kids" has released a major collaboration with clothing giant H&M.
2. MYX ENTERTAINMENT: Jo Koy Returns To Netflix - Fil-Am comedian Jo Koy has released his fourth Netflix special live from Los Angeles Forum.
3. MYX MUSIC: Zack Tabudlo: Pero - Singer-songwriter Zack Tabudlo has released his latest song, "Pero".
4. MYX MUSIC: VXON Comes Back on Fiyaah - P-pop group VXON has released its comeback track and it's burning with English, Tagalog, and Spanish lyrics!
5. MYX ENTERTAINMENT: New Season of MYX Live - This week, MYX has brought back the highly-acclaimed concert series, "MYX Live" featuring new acts.
Plan B is back with a new rap song that puts a fun spin on chasing dreams! The ten member collective's "Balang Araw" gives off anthem vibes thanks to its positive and ambitious theme. "The song is about people who are never afraid to dream big," Plan B shares. "We want to inspire them further to hustle responsibly, and never stop believing in themselves."

"Balang Araw" is an uplifting and inspiring track that aims to motivate listeners to strive for more. The single comes with an accompanying music video produced by Chapters PH. "We wanted to make sure we show how they portrayed themselves as they are and being able just be able to express their inner child and thankfulness to what has come to them," says Chapters PH in a collective statement. "The ultimate goal is to just be light and fun." Watch it below!
Zild is back with another emo-influenced aesthetic release! The IV of Spades frontman's new song "Duwag" is inspired by "torpe" — the Filipino term for someone who is desperately in love with someone else, but can't admit their feelings for him/her. The singer first thought of this idea when ordering sour cream and cheese-flavored french fries, while waiting for his cat at the veterinarian's clinic.
"Duwag" also comes with an accompanying music video. The moody visuals feature Wong Kar Wai-esque color grading and shows Zild singing the track on a traveling taxi as miscellaneous characters take turns to share the ride, including a burly man with tattoos, a clown, and a pair of middle-aged women – one of whom was played by the artist's own mother. Watch the clip below!

Markus is back with an emotional new single dedicated to his one year old son with Janella Salvador, Jude. While the "For J" song title may mislead some, the music video's end credits confirm the track's true inspiration. The music video features the singer/actor performing his emotional lyrics in an empty field with parenting and family-centric cut scenes in between.

Like his last release "Hotel Room," "For J" also showcases production from Moophs and is released by Tarsier Records. Watch the music video below!