2022 has been a great year for Clara Benin. Aside from getting featured on a Times Square billboard in New York ahead of the International Women's Day, the folk darling received two nominations at the recently concluded 8th Wish Music Awards and collaborated with international artists such as British singer-songwriter Lowswimmer. On top of her achievements, Benin also dropped a song called "Affable Dork," which garnered rave reviews for "adopting a jazz-pop approach."
In "different…," Clara Benin takes a familiar musical route without losing the riveting earnestness of the subject. As expected, the FIlipino singer-songwriter has mastered the art of subtlety, and on "different," it's here to stay: beautifully woven as if it's an integral part of Benin's identity as an artist. 
Benin opens 2023 with a soothing tune that revels in the idea of 'what ifs' and how it often sparks curiosity and wonder. Her new single, "different…" draws inspiration from a rom-com classic, a common theme among her last few releases.
"I wrote this song after being inspired by the movie, When Harry Met Sally," Benin admits. "My song "different…" is about having a really good friendship with someone and wondering if you two could take that relationship somewhere different."
The track is produced by Francis Lorenzo and Gabba Santiago, with her dad Joey Benin playing fretless bass. Clara initially recorded the vocals and guitars of the song in her dad's studio in December 2021, during the time when she visited her family in her hometown. The rest, as they say, is history.
Check out Clara Benin's "different…" is on all digital music platforms via OFFMUTE.
Cover Photo Credit: Nyou PH
See this latest performance by singer-songwriter Moira, "Babalik Sa'yo" on the Wish 107.5 Bus. She was accompanied by her full band from percussion, to the keys, and guitars. The pop-soulful track shows off her soothing vocals that will instantly put you in a good mood and make you feel the kilig. If we could listen to her sing all day, we would.
Listen to her smooth melody and runs that will keep you replaying the performance. Watch it down below!
Cover Photo Credit: Moira Instagram
The P-pop group, ALAMAT is back with a new music video for the track, "Maharani" off their EP, Pasulong. The word maharani translating to "queen," the song was produced and written by singer-songwriter, Thyro Alfaro. The group look to combine genres and Filipino sounds into a cohesive tune.
Fusing neo-soul with traditional southern Philippine music, it infuses a R&B and trap vibe using instruments like kanun, gamelan, gangsa, and byeon. The meaning behind the song looks to take a spin on modern romance, "contemporary musical masterpiece that blurs the line between archaic and current."
The video video taps BINI member, Jhoanna and Viva Records' Migo Valid for special appearances and leading ladies. Catch the members of ALAMAT show us how a queen should be treated.
Cover Photo Credit: ALAMAT Instagram
We all had the song, "Nobody Like U" stuck in our heads after the Pixar film, Turning Red released last year. Since then, the track has been nominated for a Grammy, Best Song Written For Visual Media. Fil-Am singer, Grayson Villanueva and 4*Town member performed with the rest of the fictional boy-band group at the 20th Unforgettable Gala.
They shocked the crowd with their performance which was filled with influential Asian-Americans in the entertainment industry. In the recap video of the performance, not all original members of 4*Town were in attendance but the tracks, "1 True Love" and "Nobody Like U" turned into a stunning medley. Check out how hyped this live performance got the crowd going. We can all agree that we'd be the first in line if a tour happened.
Cover Photo Credit: Grayson Villanueva Instagram
The Tarsier family is growing with their newest addition and signed artist, Viñas Deluxe. The RuPaul's Drag Race Philippines alumni gained popularity on the show for her comedic punchlines, gags and big smile, which earned her the title of Pambansang Bunganga. Now, she's venturing out to music with her upcoming single, "I'm Feeling Sexy Tonight" out January 27th,
Her social presence earned herself a loyal following with her campy looks and entertaining content. It makes her a standout in the industry with her fun personality, fabulous looks, and talent.
The track is fun, sexy, flirty, and remake of the 80's hit. She adds her own flavor with a modern twist, making it more edgy and sexy. She wants her listeners to know that you could feel sexy no matter what.
The goal is to help everyone feel empowered because she believes the more empowered you feel, the sexier you become. It's all about inspiring people to feel the best they are. Save the track and listen this Friday!
Cover Photo Credit: Tarsier Records
It looks like everything is getting back up to speed with live events and award shows. This year, the 8th Wish Music Awards (WMAs) sets the example by kicking off the awards season! The event was held at Araneta Coliseum in Quezon City and hosted by Gretchen Ho, Christian Bautista, and directed by Paolo Valenciano. The night celebrated the return of live music that includes performances from: Moira, Ben&Ben, Zack Tabudlo, Flow G, and more!
Apart from the awards given that night, Asia's Songbird Regine Velasquez-Alcasid was named KDR Icon of Musical Excellence for her tremendous contribution to OPM and its industry.
The main attraction was of course knowing the winners in each of the categories up for grabs that night. SB19 took home the most number of awards, winning in three categories. The winners were determined by votes from a panel of judges which weighed 70% and from the public which weighed 30%.
Wish 107.5 donates Php100,000 to beneficiaries of major-category winners so a total of Php1.97 million will be handed out to Adarna Group Foundation, A Home For The Angels Crisis Home For Abandoned Babies Foundation, Autism Society Philippines, ChildHope Philippines, Make-A-Wish Foundation, Philippine Cancer Society, Resources For The Blind, Virlanie Foundation Inc., and Operation Smile Philippines Foundation, INC.
Check out the full list of winners below and rewatch the awards show on the Wish 107.5 YouTube channel in February.
Major Awards
Wishclusive Pop Performance of the Year
4th Impact – "Here We Go"
ena mori – "Vivid"
Maymay Entrata – "Amakabogera"
WINNER: SB19 – "Bazinga" (Beneficiary: Autism Society Philippines)
Wishclusive Ballad Performance of the Year
WINNER: Ben&Ben – "Magpahinga" (Beneficiary: Virlanie Foundation Inc.)
Frizzle Anne – "Alam Ko Naman"
The Juans – "Dulo"
Zack Tabudlo – "Give Me Your Forever"
Wishclusive R&B Performance of the Year
Cean Jr. – "YK"
WINNER: FELIP – "Palayo" (Beneficiary: A Home For The Angels Crisis Home For Abandoned Babies Foundation, INC.)
Lance Santdas – "Tunay"
Sam Concepcion – "Diwata"
Wishclusive Rock/Alternative Performance of the Year
Bandang Lapis – "Nang Dumating Ka"
Cheats – "Hakbang"
Sponge Cola – "Kung Ako Ang Pumiling Tapusin Ito"
WINNER: Zild – "Huminga" (Beneficiary: Adarna Group Foundation, INC.)
Wishclusive Hip-hop Performance of the Year
WINNER: Flow G – "Praning" (Beneficiary: Adarna Group Foundation, INC.)
Gloc-9 – "Pilak"
JMARA – "Mahal Kong Pilipinas"
JRLDM – "Para Sa Sarili"
Wishclusive Contemporary Folk Performance of the Year
WINNER: Adie – "Tahanan" (Beneficiary: Resources For The Blind, INC.)
Clara Benin – "blink"
Munimuni – "Bukas Makalawa"
syd hartha – "kung nag-aatubili"
Wishclusive Contemporary R&B Performance of the Year
Karylle – "Fine"
WINNER: Leanne & Naara – "Anticipation" (Beneficiary: Autism Society Philippines)
Lola Amour – "Fallen"
Paolo Sandejas – "Dad Jeans"
Wishclusive Collaboration of the Year
WINNER: JRLDM feat. Gloc-9 – "Lagi Na Lang" (Beneficiaries: Make-A-Wish Foundation and Philippine Cancer Society)
Lola Amour and Al James – "Madali"
Loonie feat. JROA – "Eskapo"
Nik Makino feat. Flow G – "Moon"
Wish Pop Song of the Year
"BANG" – G22
"Golden Arrow" – BINI
"Tumitigil Ang Mundo" – BGYO
WINNER: "WYAT" – SB19 (Beneficiary: Autism Society Philippines)
Wish Ballad Song of the Year
"Huling Mensahe" – Bandang Lapis
WINNER: "Kumpas" – Moira Dela Torre (Beneficiary: Virlanie Foundation Inc.)
"Laro" – Janine Teñoso
"The Ones We Once Loved" – Ben&Ben
Wish R&B Song of the Year
"Bitaw" – Daryl Ong
WINNER: "Hello 2.0 (Legends Only)" – James Reid (Beneficiary: A Home For The Angels Crisis Home For Abandoned Babies Foundation, INC.)
"Huling Gabi" – Quest
"NVMD" – Denise Julia
Wish Rock/Alternative Song of the Year
WINNER: "Asan Ka Na Ba" – Zack Tabudlo (Beneficiary: ChildHope Philippines)
"Isang Anghel" – Zild
"Liwanag" – The Juans
"NARARARARAMDAMAN" – BLASTER
Wish Hip-hop Song of the Year
WINNER: "Kagome" – Lo Ki (Beneficiary: ChildHope Philippines)
"Manila" – Young Cocoa
"PSG" – Al James
"Re-up" – Ez Mil
Wish Contemporary Folk Song of the Year
"Affable Dork" – Clara Benin
"Kunwari" – juan karlos
"LANGGA" – Wilbert Ross
WINNER: "Paninindigan Kita" – Ben&Ben (Beneficiary: Virlanie Foundation Inc.)
Wish Contemporary R&B Song of the Year
"ENOUGH" – of Mercury
"Kaya" – Paul Pablo
WINNER: "Pagsamo" – Arthur Nery (Beneficiary: Operation Smile Philippines Foundation, INC.)
"Reality Checklist" – Unique Salonga
Wish Song Collaboration of the Year
"Iba" – Zack Tabudlo and Moira Dela Torre
"Kamusta" – Shanti Dope feat. Flow G
WINNER: "Mahika" – Adie and Janine Berdin (Beneficiaries: Resources For The Blind, INC. and Philippine Cancer Society)
"Pancit" – juan karlos feat. Janine Berdin
Wish Breakthrough Artist of the Year
ena mori
WINNER: FELIP (Beneficiary: A Home For The Angels Crisis Home For Abandoned Babies Foundation, INC.)
JRLDM
Wish Group of the Year
Ben&Ben
Lola Amour
WINNER: SB19 (Beneficiary: Autism Society Philippines)
Wish Artist of the Year
Flow G
WINNER: Moira Dela Torre (Beneficiary: Virlanie Foundation Inc.)
Zack Tabudlo
Special Awards
Wishers' Choice: SB19
KDR Icon of Music and Philanthropy: Andrea O. Veneracion (AOV) Sing Philippines Foundation
KDR Icon of Musical Excellence: Regine Velasquez-Alcasid
Wishclusive Elite Circle
Bronze Wishclusive Elite Circle (10 million views)
Arthur Nery and Janine Teñoso – "Pelikula"
Bandang Lapis – "Nang Dumating Ka"
Flow G – "Praning"
Maymay Entrata – "Amakabogera"
Nik Makino feat. Flow G – "Moon"
Zildjian – "Ligaw Tingin"
Silver Wishclusive Elite Circle (25 million views)
Arnel Pineda and Morissette – "I Finally Found Someone"
CLR – "Bat Ngayon (Part 1)"
Ex Battalion – "Hayaan Mo Sila"
Nik Makino feat. Flow G – "Moon"
Skusta Clee – "Umaasa"
Gold Wishclusive Elite Circle (50 million views)
Magnus Haven – "Imahe"
MC Einstein feat. Flow G, Yuri Dope, and Jekkpot – "Titig"
Michael Pangilinan – "Rainbow"
Pricetagg feat. Gloc-9 and JP Bacallan – "Pahina"
Nik Makino feat. Flow G – "Moon"
Platinum Wishclusive Elite Circle (75 million views)
Bandang Lapis – "Kabilang Buhay"
KZ Tandingan – "Two Less Lonely People In The World"
Pricetagg feat. CLR – "Kontrabida"
Sue Ramirez – "Your Love"
Diamond Wishclusive Elite Circle (100 million views)
Curse One, Dello, Flict-G, and Smugglaz – "Nakakamiss"
Gloc-9 feat. Flow G – "Halik"
Cover Photo Credit: Wish 107.5
Had a long week and looking to wind down with some music? KD Estrada's latest newest music for the track, "Days" will be sure to send you into kilig mode just in as Valentine's Day is coming up. The acoustic ballad is perfect to sing along with that special someone and in the video and we see Alexa Ilacad featured as the leading lady. #KDLex is in full force.
The acoustic tune was released last November and marked his return to solo music. It was written solely by him and definitely has the familiar KD Estrada sound. NYLON Manila shared that inspiration for "Days," 'It plays out like a modern-day harana, with KD sharing his admiration and love for that special someone who just makes his days better. "You're the only girl I want in my life/ Every passing day with you feels alright/ You're an angel who flew down from above/ I'm so lucky I call you my love," he croons during the chorus.'
Cover Photo Credit: KD Estrada Instagram
It's only halfway through January and Fil-Canadian duo, Manila Grey already released a new track to kick off the new year. Their latest track, "Comfortable in Silence" is a lo-fi hip hop track that is for any mood whether you need a chill vibe, something to jam to, or cruise along to.
Check out the acoustic vibe for the video performance where Neeko and Soliven jam along to the track which also featured producers, azel north and Nxsty. Let us know what you think in the comments!
Cover Photo Credit: Manila Grey Instagram
Patrick Starrr welcomes Filipina artist and actress, Liza Soberano to the studio for a gorgeous makeup tutorial just in time for the Miss Universe pageant. They talk career, makeup tips, Liza playing Pia Wurtzbach, and more! Check out the chica between these two stars below!
The biggest takeaway in the video is that Liza wants to embody the LA-girly life. She's been flying in and out of California to not only work on her acting career, but also starting her music career under Careless Music. So we can expect new content from her coming soon!
Patrick Starrr transformed the 2017 Most Beautiful Faces into a potential Miss Universe contestant. Viewers are taken through the makeup journey to take on the Miss Universe stage. You need tips on blending your eye shadow, applying foundation, getting those lashes, don't worry it's all covered!
Cover Photo Credit: Patrick Starrr Instagram
Many dream about becoming a Disney Princess and seeing themselves represented on screen. Recently, Filipina-American artist H.E.R. made that dream come true. The Bay area native is one of the music industry's most celebrated and accomplished singer-songwriters. Now, she can add another bullet to her resume as Disney's latest Belle. She expressed her excitement about what this role means not only for her but also for the community. "It's crazy! I can't believe it, honestly. I can't believe that I've come this far and that I have the impact that I have," H.E.R. told Philstar.com in an exclusive interview about being the first Afro-Filipino Disney princess in the new live-action hybrid 30th-celebration special of the Disney classic Beauty and the Beast.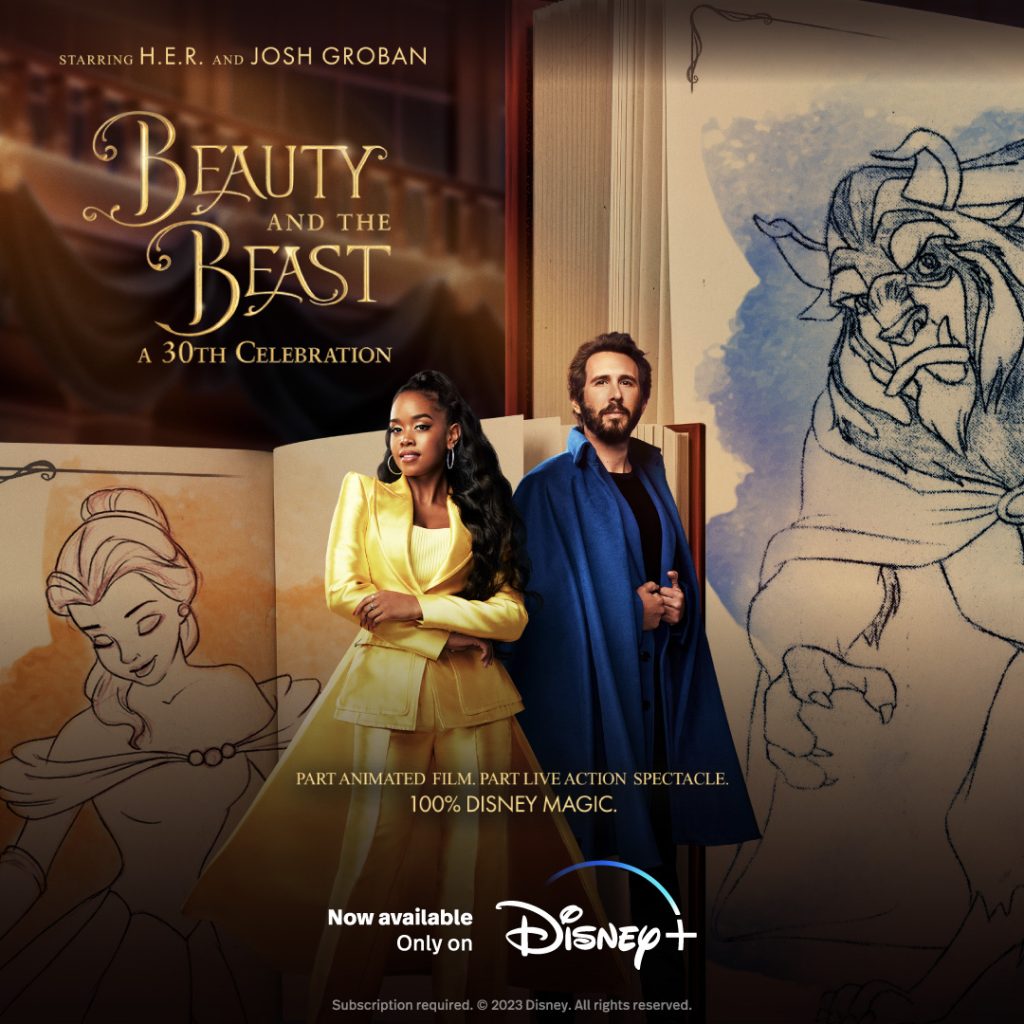 Viewers can catch subtle elements of H.E.R.'s Filipino roots during the live-action musical. The apron worn in character includes a Philippine script called "Baybayin," which spelled out "Belle" in the ancient dialect. Also, Belle's father, Maurice, was played by fellow Fil-Am actor Jon Jon Briones. Lastly, H.E.R. included the go-getter attitude exhibited by many Filipinos in her character.
The multi-hyphenate artist not only showcased her vocals during the production but also her acting and guitar talents. In a rendition of one of the most popular Disney tunes, "Beauty and the Beast," accompanied by the Beast himself, played by Josh Groban, she added her own flavor to the song by including a guitar solo. Overall, H.E.R. shares how happy she is with the outcome of the production, "I feel like I've always had that in me. I'm just really grateful, and I'm so happy on how it turned out."
H.E.R. also traveled to Manila for an ABS-CBN Global and MYX-hosted event that took place in late December at the Sheraton Manila Hotel. It was attended by partners, personalities from the music industry, and the country's leading entertainment press.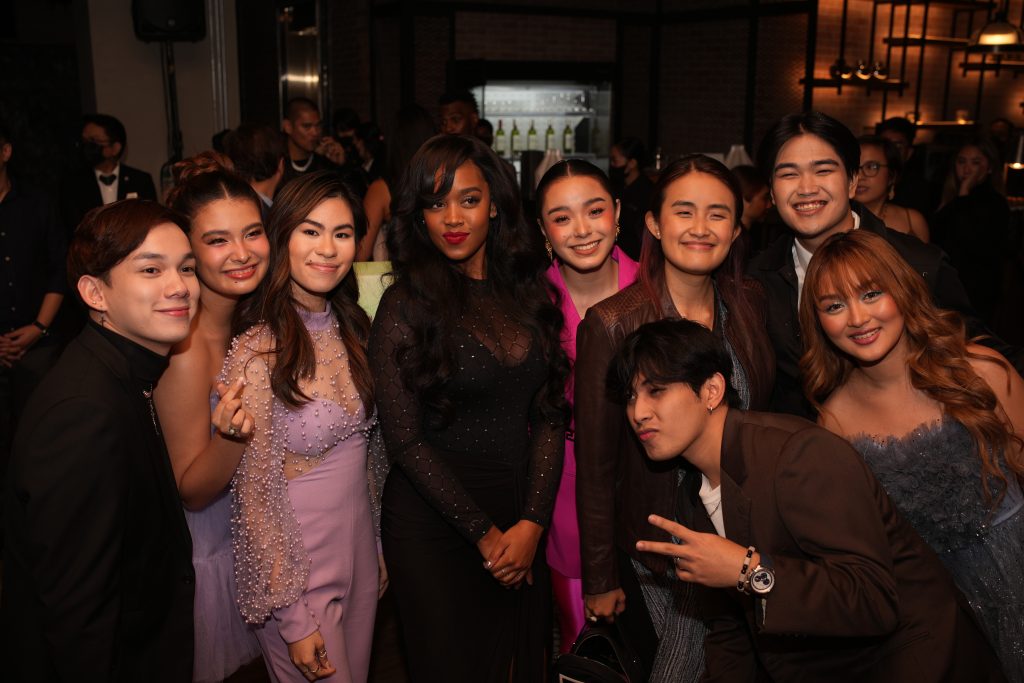 H.E.R. met with fellow artists from Star Music and local Filipino artists. This crossover between local and global artists is monumental as Filipinos continue to share their talents with the world.
With 25 GRAMMY nominations and five wins to date, H.E.R. has had an incredible journey, punctuated with inspiring projects and accolades that have ascended her to superstar status. In 2021, her powerful song "Fight For You" from the Warner Bros. Pictures film Judas and the Black Messiah won the Academy Award for Best Original Song.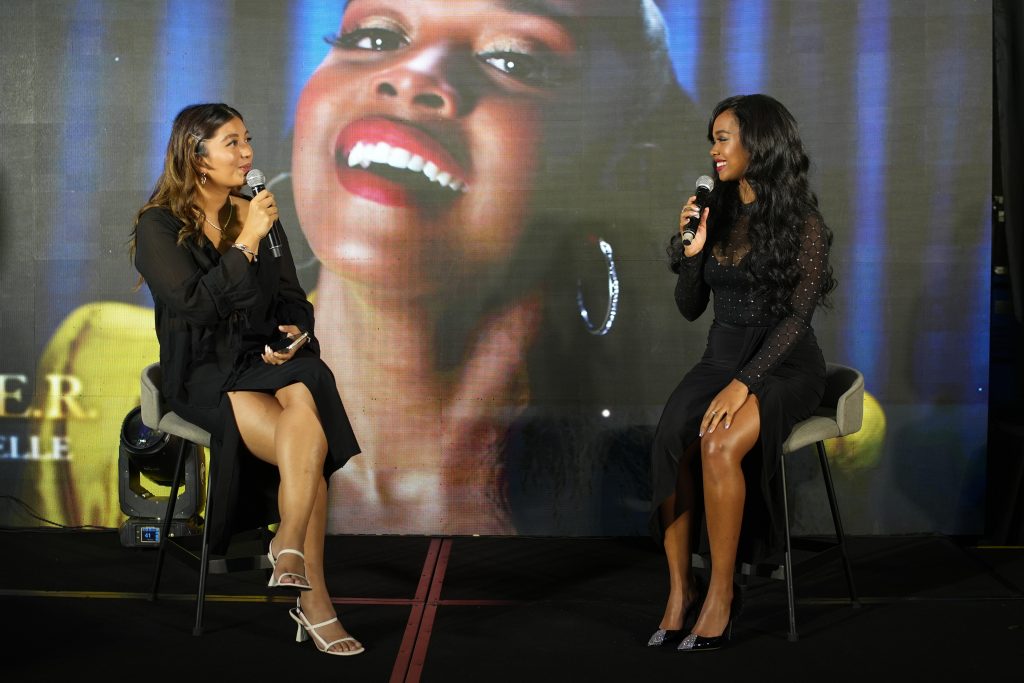 You can now catch H.E.R. as Belle in Disney's reimagined and reinvented part-live action, part-animated "Beauty and the Beast: A 30th Celebration" which is now available to stream only on Disney+.
Meet Def Jam Philippines' new Fresh New Icon, Karencitta. The Cebuana singer officially signed with the sublabel under UMG Philippines Inc. Def Jam which is also home to global stars like Justin Bieber, Rihanna, Jay-Z and more. The label first ventured to South East Asia talent in 2019 to widen the reach of hip-hop culture internationally. Other Def Jam PH talent JMara, VVS Collective, 8 Ballin' and Fateeha.
Karencitta moved back to Cebu in 2015 after previously pursuing in 2015. Her music is helping shape the Modern Filipina sound and break free from traditional views. She looks to bridge her roots with her work through highlighting thing she and the agency's values like authenticity.
She looks to collaborate with the label on her art. "One of the biggest factors is that they truly believed and invested in my vision. The team's first impression also gave an entrepreneurial spirit. [They are] forward-thinkers with strong work ethics, as well as transparent, collaborative, and family-driven." Her aim as an artist is to leave an image of being carefree, witty, and impactful. She wants to create meaning out of her art—one that can inspire and uplift others.
"You need to face life with a bring-it-on attitude. Having agency and freedom is the best feeling in the world! We should encourage young girls to sit down in the leader's seat, too!"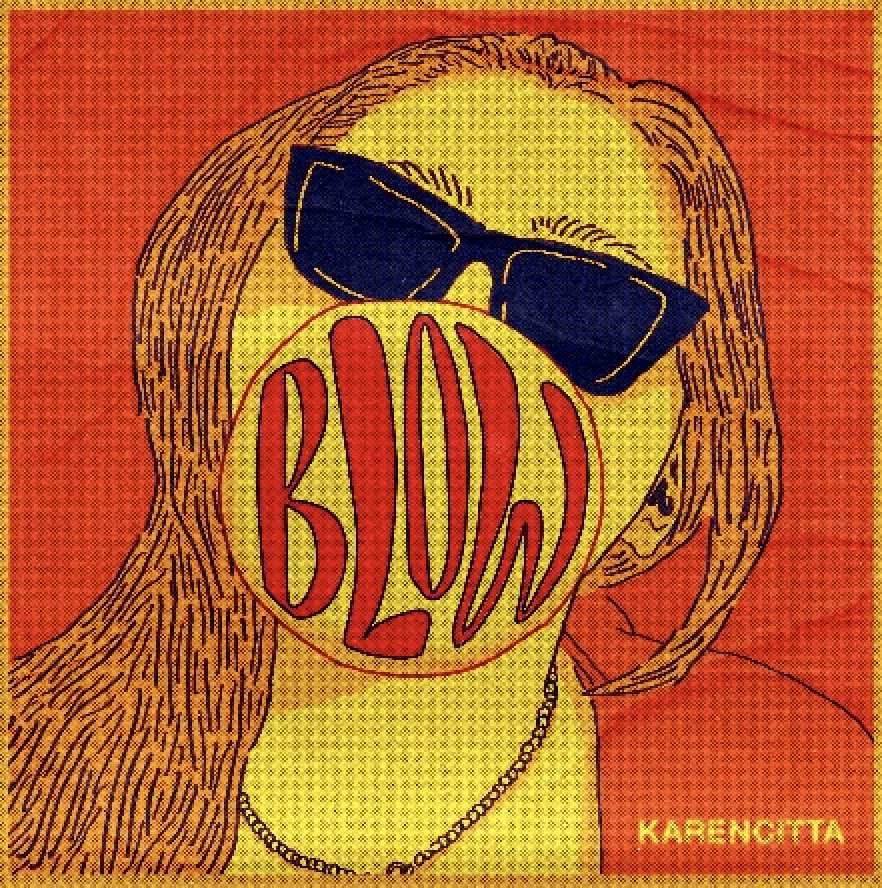 The debut song, "Blow" is an ode to femininity and how one can use it to empower themselves. She draws from personal experiences and even shares her perspective of the good and bad of the entertainment industry. More importantly, she tells women to boss up and ensure that women remember to reach their goals while staying true to themselves.
Be on the lookout for more new music, collaborations, tours and in-person events in 2023! Watch out as she grows as an artist and work with fellow OPM artists.
Cover Photo Credit: Def Jam PH
It's time to head back to the town of Wellsbury in the Netflix original as Ginny and Georgia navigate through their new life in the small town. Last season left off on a cliff hanger with Ginny running away after learning about secrets her mom, Georgia kept from her. Private investigator, Gabriel Cordova played by Fil-Canadian Alex Mallari Jr. is out to uncover the truth about Georgia's past.
The actor continues his guest role from Season 1 and as the Texan PI inches closer to finding out the truth about the mysterious deaths from Georgia's younger years, the more we see him interact with the people in town. He's starting to piece together his suspicions, but can't quite find the evidence he needs. Will he finally close the case and solve what kind of dangerous game Georgia Miller is playing? Tune in on Netflix for Season 2 for another wild ride.
Cover Photo Credit: Alex Mallari Jr. Instagram