While SB19 was in North America for their PAGTATAG World Tour, MYX collaborated with the P-pop group on an iconic Hollywood Blvd busking performance for the ages. During their surprise set, the collective validated their status as international rising stars with show-stopping live renditions of "Bazinga," "Gento," and "Crimzone."

We finally have full video recap footage from the MYX and SB19 Hollywood takeover! You can check out their live performances of "Gento," and "Crimzone" below. Stay tuned for the "Bazinga" live performance coming soon!

We love international music recognition! BINI has been nominated at the Brazil's BreakTudo Awards in the Music by New International Music Artist category. The all female P-pop group recently dropped their "Strings" album last year.
Founded in 2016, BreakTudo Awards states on its website its mission which is "to celebrate the most prominent and emerging highlights of the entertainment and pop culture scene. By relying on public collaboration, the BreakTudo Awards recognizes both renowned artists and categories, including National Male Artist, National Female Artist and National Hit, as well as emerging talent, exemplified by categories such as National Breakthrough Artist and Music by New National Artist. In addition, the award also sheds light on rising artists through categories such as Upcoming Artist, thus enriching their contribution to the entertainment industry." 
For a complete list of 2023 nominees which includes Asian superstars like Jungkook, BLACKPINK, New Jeans, EXO, and more,  visit https://www.breaktudoawards.com/breaktudo-awards-2023-nominees/.

In the Music by New International Music Artist category, BINI is included among the following acts:

Date Your Dad – Bellah Mae
Enough – charlieonnafriday
Fluo – Sangiovanni
I Feel Good – BINI
I Tried – Daniel Seavey
never knew a heart could break itself (acoustic) – Zach Hood
Nico Valdi Produciendo a Rochy – Nico Valdi, Rochy
QUITATE LA ROPA – La Cross

Photo Courtesy of BINI's Instagram

ALAMAT is back with new music and the group continues to prove why they are one of the names to watch in P-pop. If you're not familiar with the collective, they are a 6-member sing-rap-dance boy group from the Philippines that combines both traditional and modern Philippine cultural elements with Western/global influences in the various facets of their music, including dance, fashion, and iconography.

ALAMAT just dropped a new song titled "Walang Hangan" and the track is the second single from their upcoming album "IsaPuso." In addition to releasing the song, they also dropping an accompanying music video for the emotional ballad. You can watch ALAMAT's "Walang Hangan" music video below!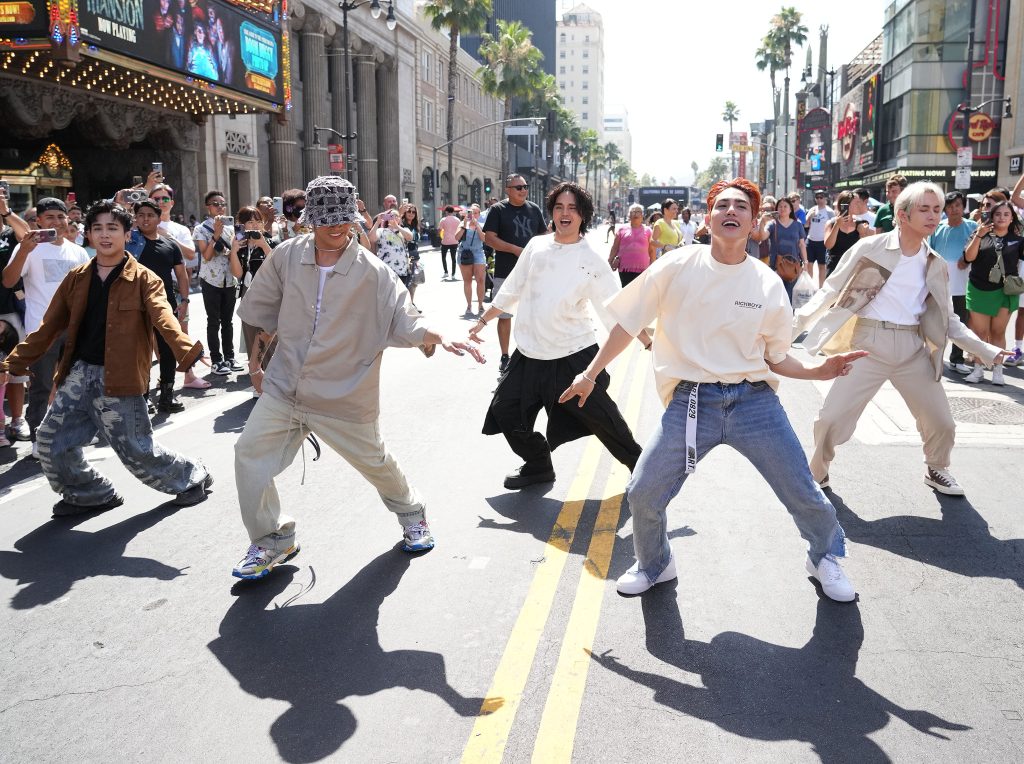 SB19 is currently in North America for their PAGTATAG World Tour and the P-pop act validated their rising stardom by taking over Hollywood Blvd in collaboration with MYX. In the memorable busking street performance, the Filipinos entertained both current and existing fans with damaging live renditions of "Bazinga," "Gento," and "Crimzone."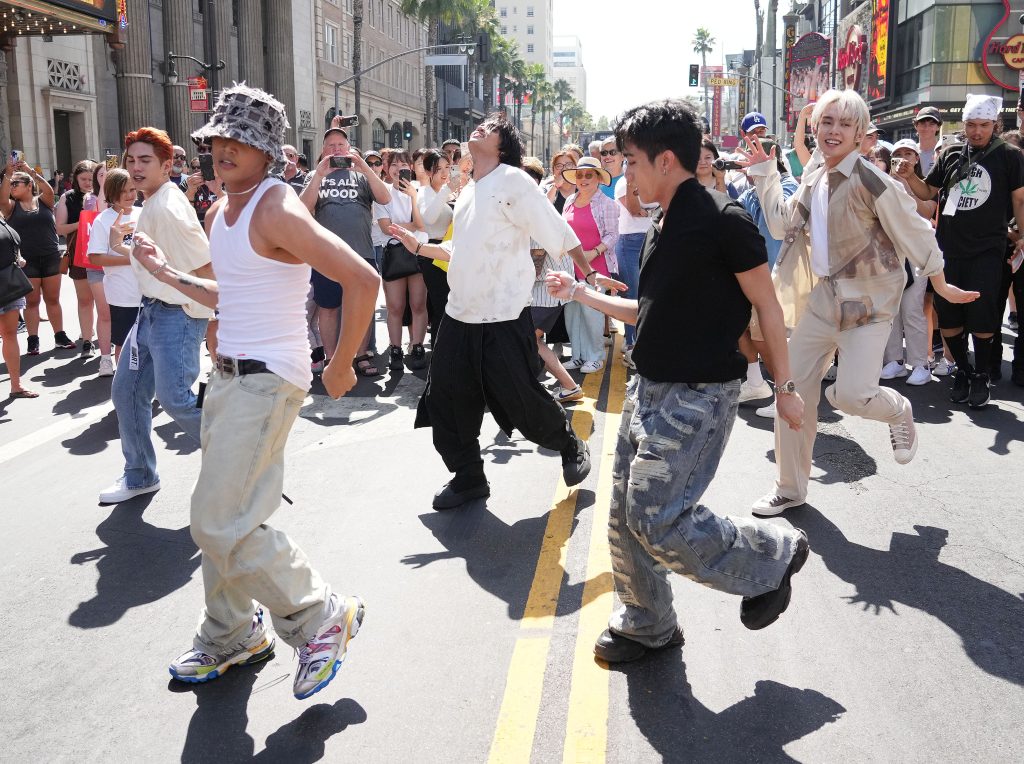 The group showed out for the audience, flexing their trademarked singing and dancing chops that have made them one of the biggest OPM acts worldwide. Stay tuned for the full performance video coming soon!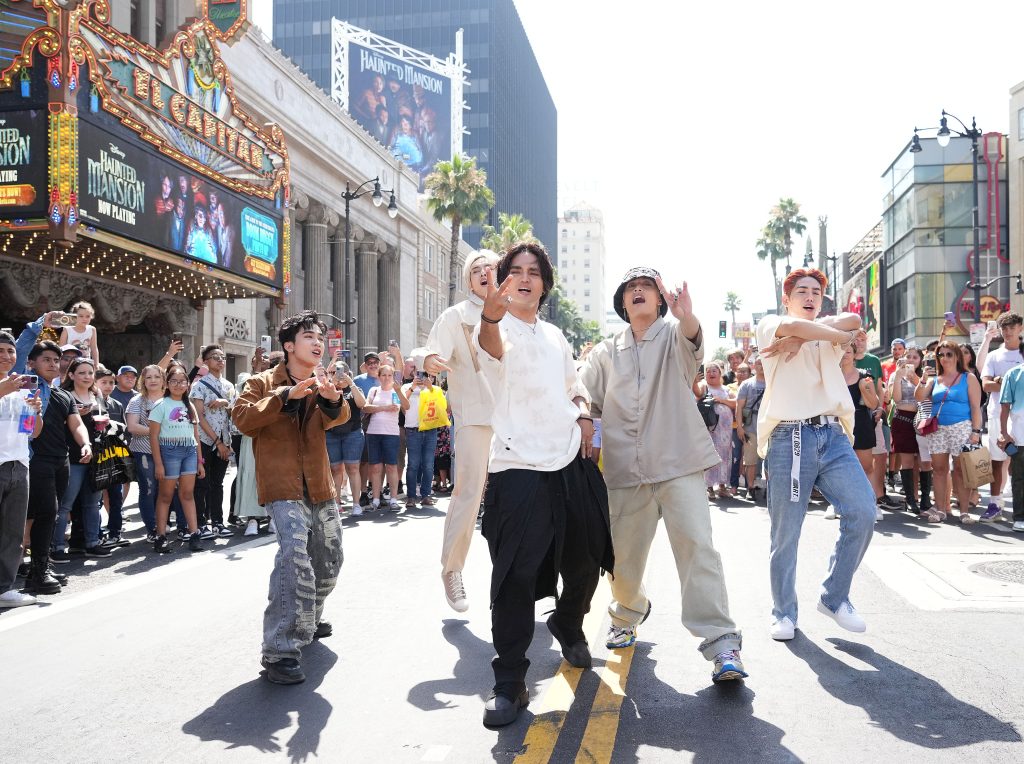 If you're in North America and would like to catch SB19 live, below are the remaining tour dates.

Aug 5, 2023 – NYC
Aug 6, 2023 – Washington DC
Aug 11, 2023 – Toronto
Aug 13, 2023 – Winnipeg
Aug 18, 2023 – Vancouver
Aug 19, 2023 – Edmonton

Photos Courtesy of Sthanlee Mirador
Get ready for the return of the largest Pinoy pop (PPOP) music celebration! The PINOY POP CONVENTION (PPOPCON) MANILA is going down July at 14-16 in Manila's Araneta City!
After its highly-successful inaugural event last year, PPOPCON is back in its second year to showcase Filipino pop culture and music. The event is the ultimate gathering of fans of the country's thriving PPOP scene, with interactive activities that will bring today's PPOP idols closer to the fans.
2023 PPOPCON MANILA has been extended from last year's two-day event to a three-day celebration this year to give attendees more chances to bond with the entire PPOP community. The PPOPCON MANILA convention will include interactive fan engagement activities, dynamic fan booth exhibitions, fan signing events, and other activities in a new exciting location – the electrifying Quantum Skyview at the newly-opened Gateway Mall 2 – that is open to the public for free!
Catch Josh Cullen, 1ST.ONE, ALAMAT, KAIA, and G22 as they take part in the fan signing activity. DIONE, R RULES, DAYDREAM, MONA, VALFER, VER5US, YARA, YES MY LOVE, Z2Z, SMS, BLVCK FLOWERS, ECLIPSE, 6SENSE, and SKOUTS will also deliver energetic performances that PPOP fans can watch for free at the 3-day convention.
The festivities will culminate with the much-awaited PPOPCON MANILA concert on July 16, 6PM, at the Smart Araneta Coliseum. The concert will feature some of the country's biggest local acts today: SB19, BGYO, BINI, MNL48, 1ST.ONE, ALAMAT, JOSH CULLEN, FELIP, SHEKI, KAIA, G22, PRESS HIT PLAY, VXON, PPOPGEN, DIONE, CALISTA, YES MY LOVE, and HORI7ON! They will be delivering electrifying performances on-ground, which will also be livestreamed for international fans.
"Expect the 2023 PPOPCON MANILA convention and concert to be filled with fun activities and breathtaking performances that will elevate the PPOP fan gathering experience. This is one big celebration to enjoy the best P-Pop has to offer this year," Irene Jose, COO of Uniprom Inc (the entertainment unit of the Araneta Group) said. 

To get your convention passes and concert tickets, please visit www.ticketnet.com.ph or https://ppopcon.ph/. You may also like and follow the 2023 PPOPCON MANILA on Facebook, Instagram, Twitter, TikTok, or subscribe to their YouTube page for more updates.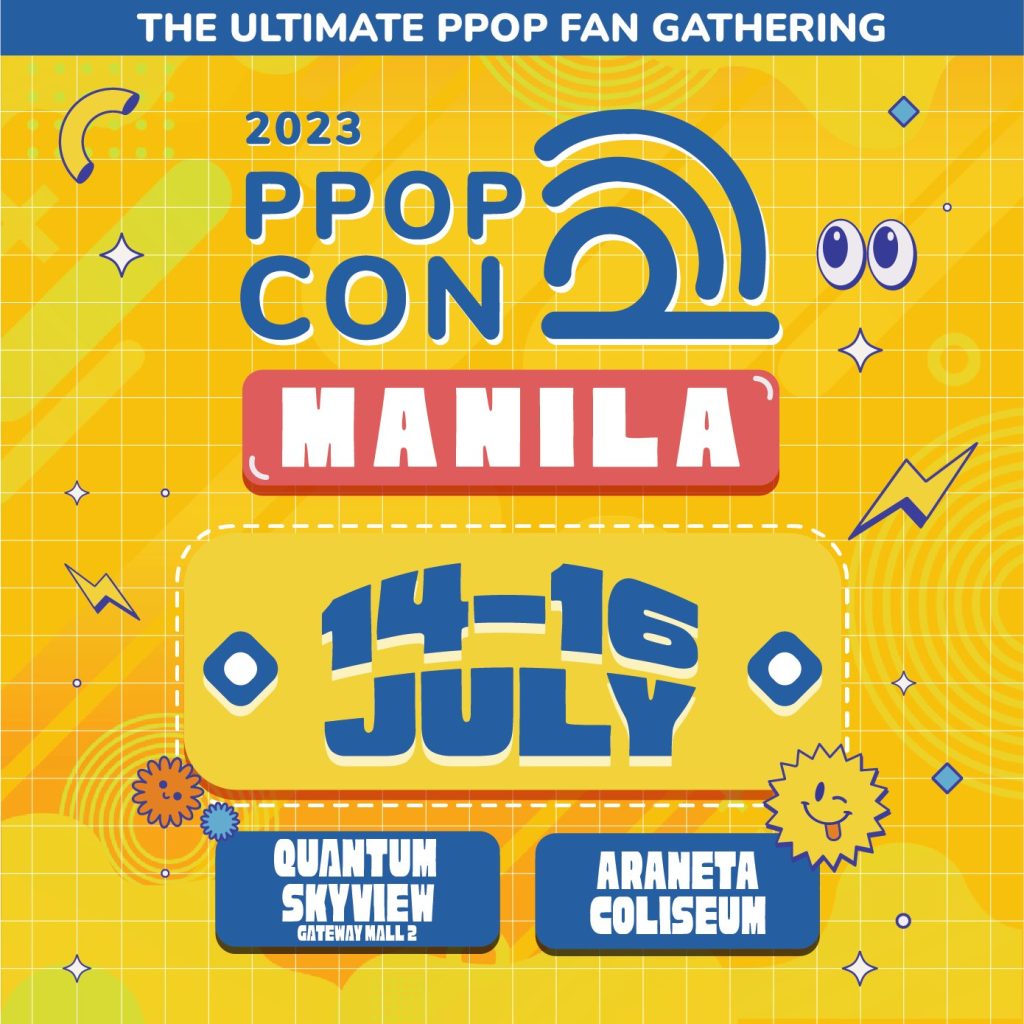 JVKE's hit record "golden hour" has just surpassed one billion streams and has celebrated the milestone by releasing a new remix featuring P-pop stars SB19. You definitely have heard this song, as the catchy record was a hit all over social media.
Produced by JVKE, "golden hour" is a classic love song that highlights his ability to articulate the feelings of romance and beauty through his lyrics. The vivid imagery is backed by a complex instrumental arrangement of a piano and strings that builds throughout the track. The remix of "golden hour" combines SB19's incredible vocal harmonies with JVKE's trademark production style, creating a stunning new bi-lingual version in Filipino and English.
On the release of "golden hour", JVKE shared, "This might just be my favourite song i've ever written. It feels like a pause in time, with all your attention on that special someone. the sun is shining... it's your golden hour. I wanted to capture the emotion that you feel when you see something beautiful. That feeling is golden hour."
Speaking on the remix with SB19 he noted, "It's always fun collaborating with another artist - just like how it is when we, as members of a group, collaborate with each other. But it's something else when there's a collaboration of two cultures, which is what happened when we collaborated with JVKE. It's really special how the embedded culture in each of us affects how we write songs and how we portray our experiences in a song, and we're glad that we're able to include some parts of our Filipino culture in this song.
JVKE added, "SB19 are crazy talented. As an artist, when I open my art to others so they can add their own interpretation, I never know how im going to feel about what they contribute. With SB19, I was just blown away. I hope this isn't that last time we work together."

Check out the JVKE x SB19 "golden hour" remix below!
We have new music from P-Pop boy group Alamat! The six-member group composed of Taneo, Mo, Jao, Tomas, R-Ji and Alas just dropped a new music video for their song "Day and Night" and the visuals feature 'Darna' star Jane De Leon.

In the music video for the feel-good banger, Jane De Leon pays homage to Magindaras, a mermaid in Bicol/Visayas mythology. This project stays aligned with Alamat's efforts to introduce "traditional and modern Philippine cultural elements with Western/global influences in the various facets of their music, including dance, fashion, and iconography."

Watch Alamat's "Day and Night" music video starring Jane De Leon below!
SB19 has kicked off their "PAGTATAG!" era with their newest single, "Gento." Earlier this month, the group previously their new EP and this is the first sample we have from the upcoming project.

"GENTO" places SB19's bold talent and confidence into the spotlight, highlighting their strength and versatility as a group. The song flex catchy wordplay, effortlessly flipping ganito (like this), ginto (gold), and gento, the Caviteño word for ganito. It delivers a powerful message of their growth as a group, after years of refinement—just like gold.
For this single, SB19 draws inspiration from transformational change—how incremental and everyday acts lead to success and change. Five years since their debut, the P-pop collective continues to test—and break—limits with their unconventional sound and unbounded talent. Check out their new song "Gento" below!
The P-Pop kings are officially back! SB19 just announced their upcoming new EP, titled "PAGTATAG!" releasing on June 9, 2023 and their first single dropping sometime this month.

The big news comes with a trailer that reflects the process of a plant in cultivation, depicting the early growing process of a strong tree.

The visuals revolve around the story of the Ikalawang Yugto trilogy, which continues the concept of their previously released EP, Pagsibol. In addition to their forthcoming drop "PAGTATAG!" the group will also release another project to continue this theme.  "PAGTATAG!" is a 6-track EP that aims to be their most sonically adventurous release yet, exploring new genres and music styles that will surely excite fans.
Xi-Anne Avanceña, and SB19's Pablo and Justin serve as creative directors of the cinematic trailer, which is set in a post-apocalyptic world where all resources are scarce, leaving all humans hopeless as they try to save the last plant that will save the world.

SB19 explains in a statement, "The trailer proceeds as everyone conducts different experiments to try and salvage their last hope. In the end, the only answer to the plant's propagation is their own blood."

Aside from getting their acting bag done with flying colors, SB19 also worked with acclaimed actor Pepe Herrera on the trailer for "PAGTATAG!". The WYAT chart-toppers are all praise for the collaboration with the versatile film/theater actor. "Pepe Herrera is one of the actors that we truly admire," shares the award-winning Filipino boyband. "Though we were not able to spend much time with him, he was very professional. But there's something about him that, even when he's serious, he still gave a funny vibe. It was very easy working with him. It was just a fun experience."
Apart from the trailer, SB19 also announced the schedule for their upcoming world tour, which will kick off at the Araneta Coliseum on June 24-25, 2023, and will have its stops in multiple cities across the Philippines, United States, Canada, and more. Check out the full list and watch the trailer below!
June 24-25, 2023 - Manila
July 21, 2023 - Chicago, IL
July 22, 2023 - Dallas, TX
July 28, 2023 - SFO
July 29, 2023 - LA
Aug 5, 2023 - NYC
Aug 6, 2023 - Washington DC
Aug 11, 2023 - Toronto
Aug 13, 2023 - Winnipeg
Aug 18, 2023 - Vancouver
Aug 19, 2023 – Edmonton
It's a celebration of star-studded proportions with the launch of Warner Music Philippines' We Play Here!
As part of the label's core mission to be at the forefront of championing Filipino music, Warner Music Philippines is celebrating its 30th anniversary in the country with a series of live performances and events to bring fans as well as local and international artists even closer together. To jumpstart the celebrations, six of the country's most beloved musical acts are coming together for a one-of-a-kind, high-energy event.
SB19's Ken—performing under his mononym FELIP—leads the lineup after his stellar solo debut earlier this year. After just three months since the release of his debut EP, COM·PLEX has over 3 million total streams on Spotify, with three of his singles charting on the platform's Viral 50 Philippines playlist. He also received rave reviews for his dark and edgy brand of hip hop.
The rising Davao-based hip hop group PLAYERTWO are expected to bring their a-game to the Samsung Hall stage. Composed of vocalists-producers Ivo Impreso, Luke April, Wave P, and visual directors Puhken and Ven Villariza, they soared to the top of the Spotify charts, with their breakout single "THAT'S MY BABY" garnering over 9 million streams. Their latest release, "TIKTIKTOKIN" has become a fan favorite as the quintet make their way all over the Philippines on their THAT'S MY BABY tour.
Rounding out the hip hop artists on the lineup is R&B singer and rapper JRLDM. A multi-awarded and internationally recognized performer, he is best known for his emotional and heartfelt flows that resonate with audiences. He, alongside labelmate Arkho of Midnasty, joined the inaugural edition of The Regionals: Philippines, the Philippine leg of the first ever Pan-Asia rap cypher series.
Rising pop band Dilaw will also be performing during the event. The band went viral on social media for their breakout song, "Uhaw (Tayong Lahat)," with over 22 million Spotify streams and over 1 million videos on TikTok. Just recently, the track clinched the top spot of Spotify's Top Songs Philippines chart. They're ready to bring their brand of unconventional lyricism and catchy tunes to the Samsung Hall stage.
Beloved pop rock band Lola Amour is one of the biggest acts in the music industry—playing in some of the biggest malls, schools, and festivals in the country. Their status as a fan favorite in the country definitely shows, especially with multiple Awit Award nominations to their name. As one of the most exciting bands in the scene today, they've played in venues all over the country, from malls, and even music festivals. Get ready to sing along to some of their biggest hits like "Fallen," "Pwede Ba," or "Madali."
Last but definitely not the least are the soul and R&B duo Leanne & Naara, who are set to complete the event's star-studded lineup. The pair is considered as one of the most decorated contemporary acts today, especially after they dominated the Awit Awards and snagged the highly-coveted Song of the Year and Album of the Year awards. Their silky smooth vocals are sure to sweep audiences off their feet.
Fans and music lovers alike can expect more events that showcase the pride of Filipino music in the coming months. Stay tuned!
We Play Here kicks off this April 27, 6 PM, Thursday at the SM Aura Samsung Hall. Pre-sale tickets for the first installment of We Play Here are sold out, but regular tickets are still available at P950. You can purchase tickets online via https://weplayhere.helixpay.ph and follow @weplayhere_ for event updates, artist meet & greet activities, and merchandise announcements.
Cover Photo Credit: Warner Music PH
HORI7ON is the newest P-pop group chasing international stardom. The collective, which is co-managed by South Korean label MLD Entertainment, just dropped their first ever music video with their pre-debut single "Dash." HORI7ON is composed of members Kim, Winston, Vinci, Jeromy, Reyster, Marcus, and Kyler.

"Dash" features the Filipino artists displaying their vocal and choreography chops over various sets, including a plane hangar and an area filled with shipping containers. The group plans to head to South Korean to finish their training before officially launching their career. You can catch HORI7ON live at the following mall shows: Robinsons Starmills (March 26,) KCC Koronadal (April 14,) KCC GenSan (April 15,) & KCC Zamboanga (April 16.)
Watch HORI7ON's first ever music video below and stay tuned for their official debut coming soon!


In honor of International Women's Month, P-Pop girl group KAIA has just dropped an empowering dance pop anthem. "5678" is not only a catchy song, but also serves as a fired-up anthem aimed towards inspiring women everywhere to never give up on their dreams.

"This is a living testament that we're always trying to make it on our own terms, one step at a time, without looking back," shares KAIA in a statement. "We are thankful for the opportunities that are presented to us, and we promise to deliver a message of positivity and hope in our songs, as a way to give back to our supporters."

The high energy K-Pop inspired track features themes about self-love and reminds women to be prepared to face any obstacle, no matter what naysayers believe. Watch the lyric video for "5678" below and be on the lookout for the official music video dropping on March 25th.