Bugoy Drilon guested on The Lunch Table with Nico Blitz to talk about his humble beginings as a janitor/farmer before joining the Pinoy Dream Academy music competition show and shared who he would love to collaborate with which included Justin Bieber, Shawn Mendes, J. Boog, FIA and the Common Kings.
The Common Kings responded to the interview on MYX saying "Let's do it!!!" as well as reposting an instagram story that included a clip from one of his past appearances singing "No Other Love," with the caption "Looking forward to collab with you bro!"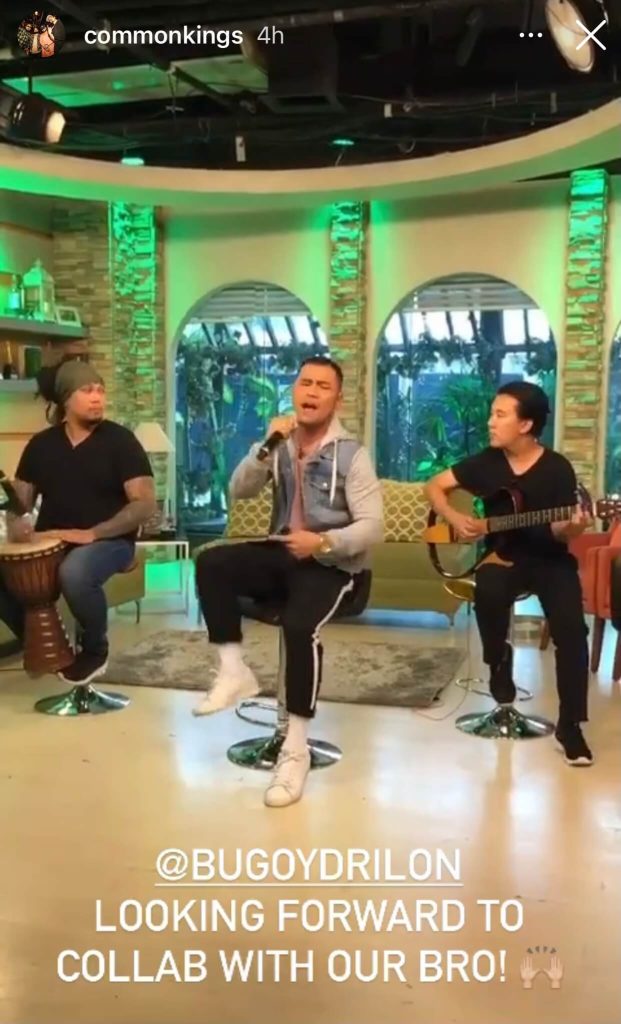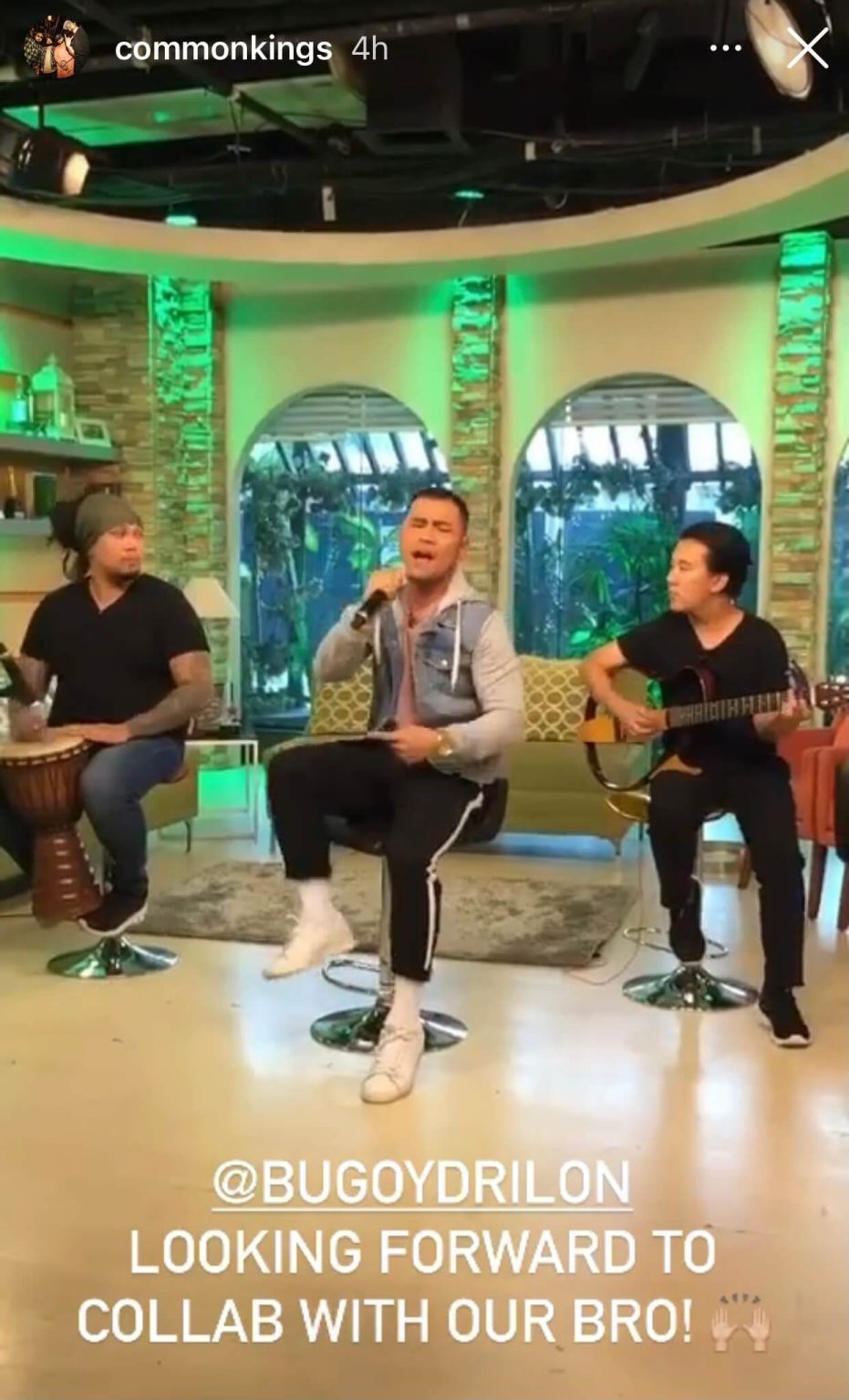 Hope to see the colab happen in the near future with the two talents. The Common Kings are loved by Filipinos across the globe.
Here's a flashback to when Bugoy performed "No Other Love" by the Common Kings and J. Boog at a ABS-CBN morning TV appearance and concert.
Philippines based, R&B & Reggae artist Bugoy Drilon pairs up for the first time with island pop producer & Tarsier Records Founder, Moophs, for a venture into the lovers rock genre. "Tied" is a reggae track that speaks of hope amidst unrequited love. Though it seems to sit at the sunny and bright side of reggae, the lyrical theme belongs to that of one-sided love left with hope for a new day melded in a remarkably infectious melody. A futuristic music video about love that cannot be is in the works. "Tied" by Bugoy Drilon and Moophs is now out on all digital streaming platforms.
ABOUT BUGOY DRILON:
Bugoy Drilon is one of the most talented and versatile voices coming out of the Philippine Islands today. From humble beginnings as a janitor and farmer, the young male vocalist has risen to become one of the most respected singers in his class, he is held in high esteem by the industry, his colleagues and his many fans. As an established pillar of OPM (Original Pilipino Music), Bugoy lent his talent to a series of hit-after-hit of Filipino love songs "Paano Na Kaya", "Muli", and "Hindi Na Bale," as the iconic theme music in both the big and small screen. Bugoy is ⅓ of the trio "BuDaKhel" - of fellow R&B and ballad artists Daryl Ong and Michael Pangilinan. The trio is one of the strongest forces of OPM in the YouTube space, with a massive following in the Philippines and abroad.
Bugoy is equally at home singing reggae, R&B, pop, rock, and anything in between. In 2016, US reggae/pop artist Matisyahu saw Bugoy's rendition of his hit single "One Day" online and was so overcome by his talent that he flew the speechless young artist out to California to perform the song live with him at the Avila Beach Festival and several other shows. The cover now has over 114M plays on YouTube and is loved by fans across the world. Bugoy forges a new path in his career by exploring the new era of his sonic identity through various collaborations. Thousands of fans can't wait until Bugoy is able to perform again live on stage doing what he does best.
The SARI NOT SARI Founders have just released their line-up for Week 3, it is another week of good music for a great cause. 16 Filipino DJs from all over the world will be DJing for 16 hours, encouraging people to DONATE TO THE ABS-CBN FOUNDATION ON TILTIFY during their streams. Week 4 will take place on 11/29 with a new line-up. See their Twitch URLS of the participating DJs or join twitch.tv/myxglobal who will be co-hosting the streams all day.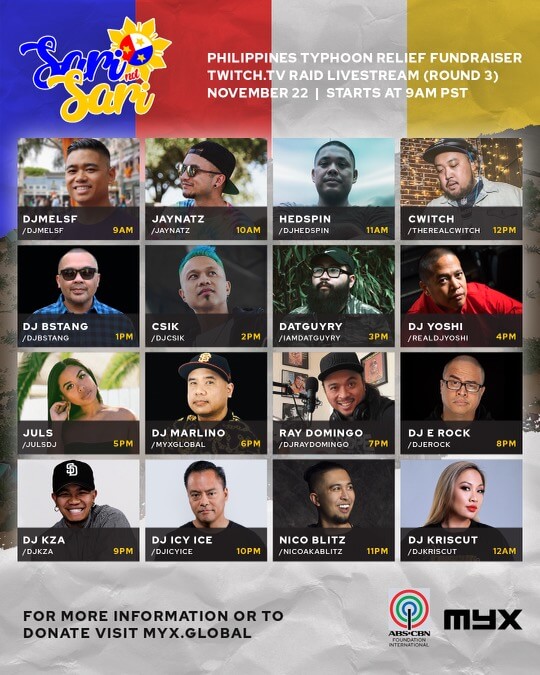 | | | | | |
| --- | --- | --- | --- | --- |
| Time | DJ | Twitch | Location | IG |
| 9AM | DJMELSF | twitch.tv/djmelsf | San Francisco, CA | @djmelsf |
| 10AM | JayNatz | twitch.tv/jaynatz | Sacramento, CA | @jayjaynatz |
| 11AM | Hedspin | twitch.tv/djhedspin | Toronto, Canada | @hedspin |
| 12PM | Cwitch | twitch.tv/therealcwitch | San Diego, CA | @cwitch |
| 1PM | DJ BStang | twitch.tv/djbstang | Las Vegas, NV | @djbstang |
| 2PM | DJ CSIK | twitch.tv/djcsik | Calgary, Canada | @djcsik |
| 3PM | datguyry | twitch.tv/iamdatguyry | Vancouver, Canada | @itsdatguyry |
| 4PM | DJ Yoshi | twitch.tv/realdjyoshi | Livingston, NJ | @realdjyoshi |
| 5PM | JULS | ttwitch.tv/julsd | San Diego, CA | @julxvnne |
| 6PM | DJ Marlino | twitch.tv/myxglobal | Los Angeles, CA | @myxglobal |
| 7PM | Ray Domingo | twitch.tv/djraydomingo | London, UK | @djraydomingo |
| 8PM | DJ E Rock | twitch.tv/djerock | Los Angeles, CA | @djerock |
| 9PM | DJ KZA | twitch.tv/djkza | San Diego, CA | @iamdjkza |
| 10PM | DJ Icy Ice | twitch.tv/djicyice | Los Angeles, CA | @djicyice |
| 11PM | Nico Blitz | twitch.tv/nicoakablitz | San Diego, CA | @nicoakablitz |
| 12AM | DJ Kriscut | twitch.tv/djkriscut | Las Vegas, NV | @djkriscut |
Recently, the SARI NOT SARI campaign brought together the DJs from around the world to raise funds to help the ABS-CBN Foundation continue their humanitarian efforts in the region. They have raised over $334,000 PhP ($7,000 USD) already and hope to raise over $500,000 PhP ($12K USD) over 4 weekends in November. Click here to donate to the ABS-CBN Foundation on Tiltify.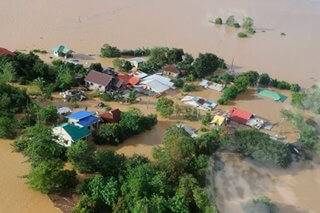 Super Typhoons, Goni (Rolly) and Ulysses (Vamco), pummeled across the Philippines over a week ago have left massive destruction in communities already hit hard by heavy storms in recent weeks.
According to the latest report from the UN Office for Coordination of Humanitarian Affairs (OCHA), key figures show that there are 24 million people in severely affected areas, 845,000 people in need of assistance, and $45.5 million in funding is requested. The same report says there are at least 24 dead, 399 injured, according to the National Disaster Risk Reduction and Management Council (NDRRMC) and Department of Social Welfare and Development (DSWD).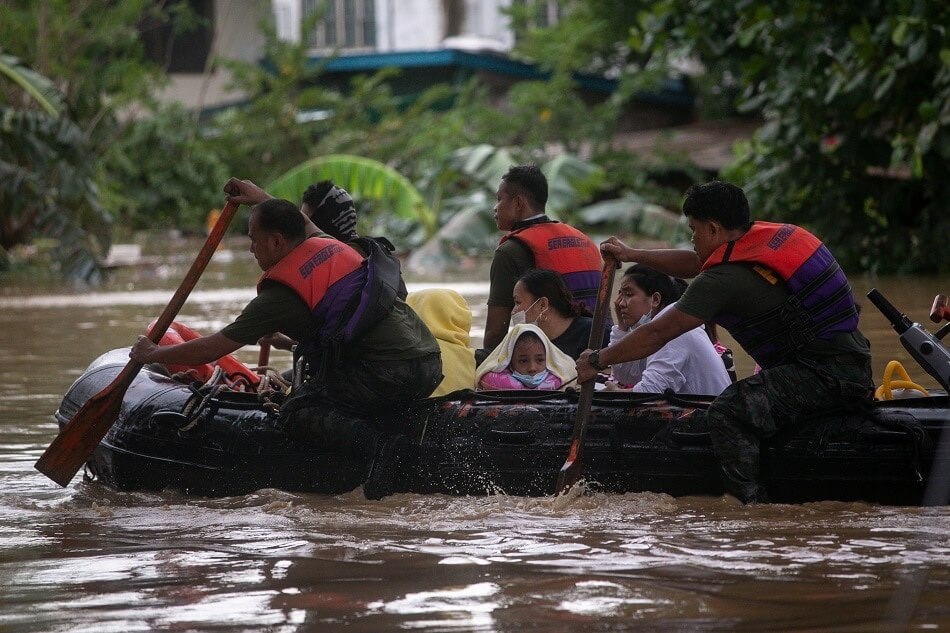 ABS-CBN Foundation International's HELP4PH Relief Fund will continue to provide calamity victims with food packs of rice and canned goods, hot meals for the temporary shelters, medical assistance and supplies, mats, hygiene kits, and protection from COVID-19 for those in cramped evacuation centers. To start your own fundraising campaign or to donate to the foundation, click here. Additional photos of the efforts of the foundation can be found here.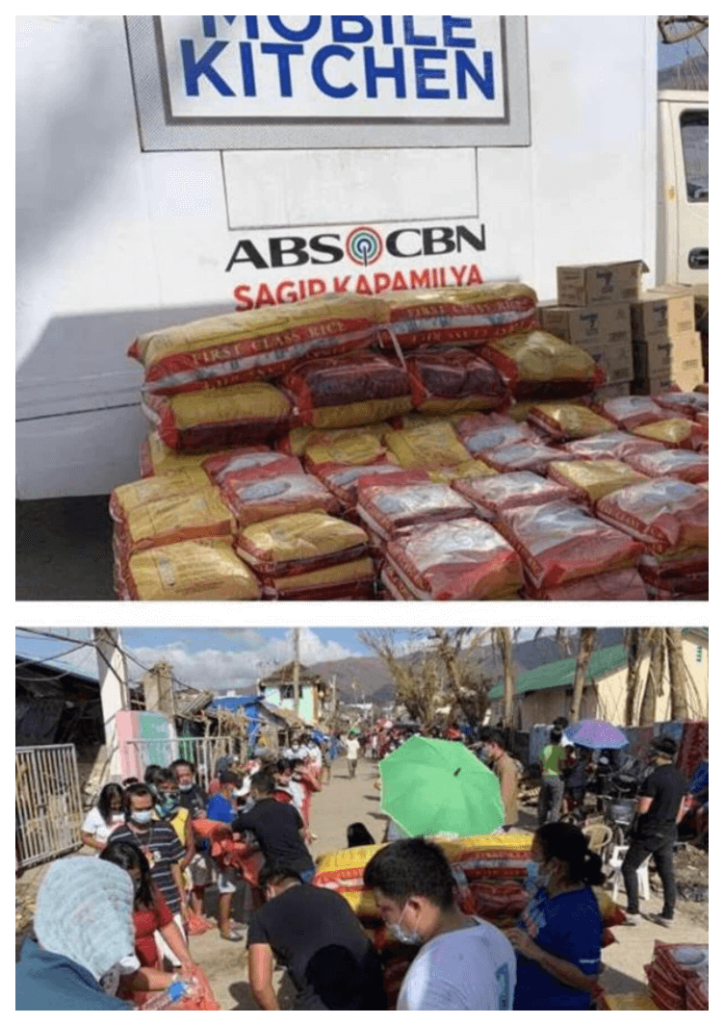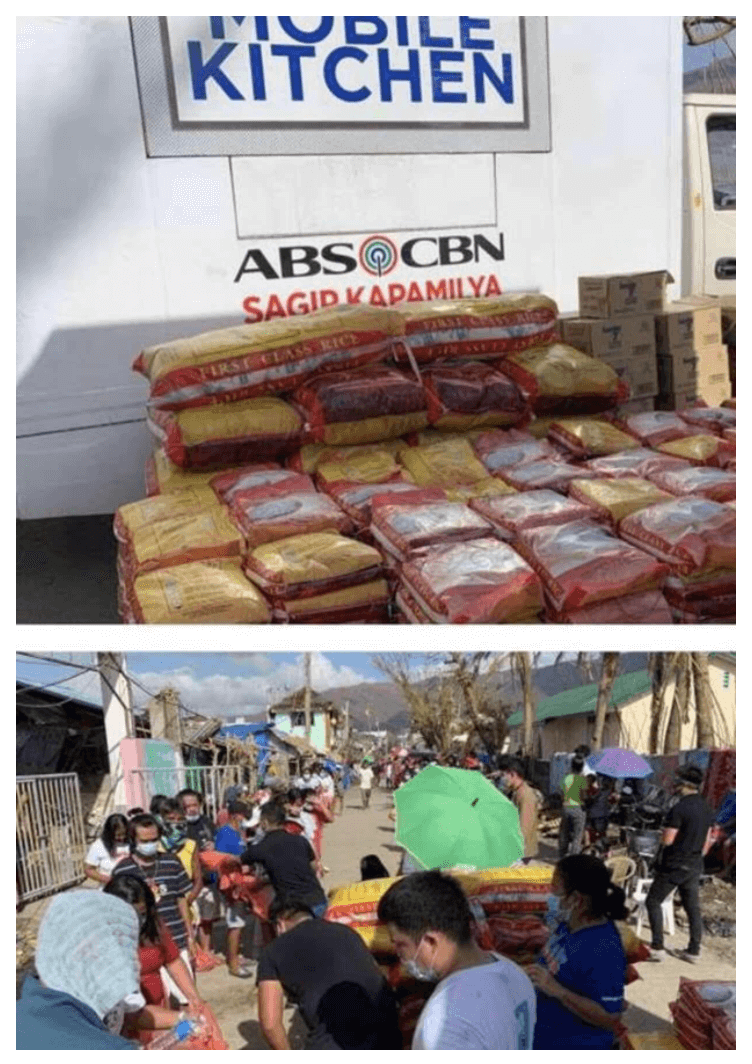 Nico Blitz above & DJ KZA below share how and why they started the SARI NOT SARI campaign.
Watch a highlight video of the Week 2 DJs that participated in the event this past Sunday that earned over $4K in just one event:
#SARINOTSARI Week 2 11/15 brang Filipino DJs together again from all over the world to raise disaster relief funds for the the typhoons that have devastated the Philippines & effected millions of families. Starting on 11/8, the SARI NOT SARI Co-Founders, @nicoakablitz (The Lunch Table myx Host, @cassandreaho, @iamdjkza & @itsdatguyry raised a total of over $335,131 PhP / $7,025 USD for the first two events on Tiltify with DJs from the US, Canada & Europe. Watch a highlight below of the 16 DJs myxing from across the world:
Tiltify is the the leading platform creators trust for all of their charity fundraising needs & a top full service fundraising platform made for the socially conscious generation, an exclusive partner for Tik Tok but also used by top platforms like Twitch & YouTube. Charities like Feeding America, Make A Wish & the St. Jude Children's Research Hospital are some of the global charities using the innovative platform where users can create their own personal fundraising campaigns for the charities of their choice. Click here to donate to the SARI NOT SARI campaign on Tiltify.
Owned by Amazon, Twitch is the top US based video live streaming service used by 140M+ monthly and 15M+ daily active users, mostly known for video gaming until the quarantine saw more music artists & DJs utilizing the platform. Filipino artists & DJs are amongst Twitch's most active users like producer Illmind, DJ Franzen, DJ Bella Fiasco, SOSUPERSAM, DJ E-Rock & the Snapback LIVE DJs gaining thousands of loyal followers & paying subscribers. Watch below why Nico Blitz & the SARI NOT SARI Co=Founders decided to put the series of events together:
myx was honored to partner with 16 Filipino DJs this weekend for their next event, raising money for the ABS-CBN Foundation on Tiltify. Tune in again for the next 2 weeks of another 16 hours each week of amazing DJs & good music for a great cause, a @Twitch raid to all of these channels, continuing on 11/22 & 11/29 with different DJs, also co-hosted on twitch.tv/myxglobal.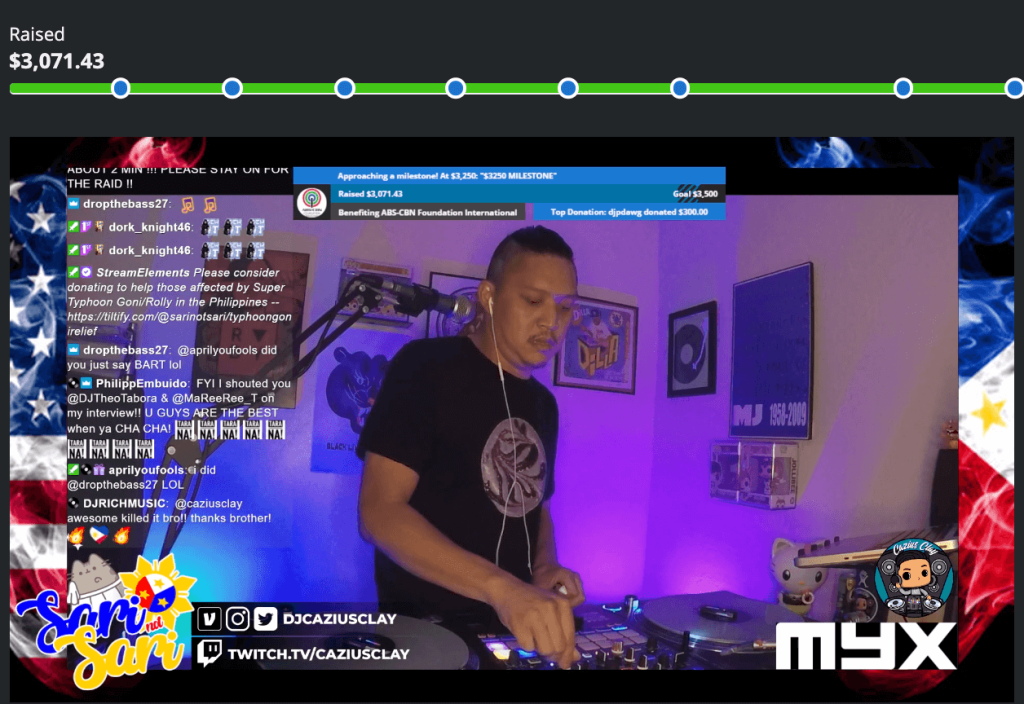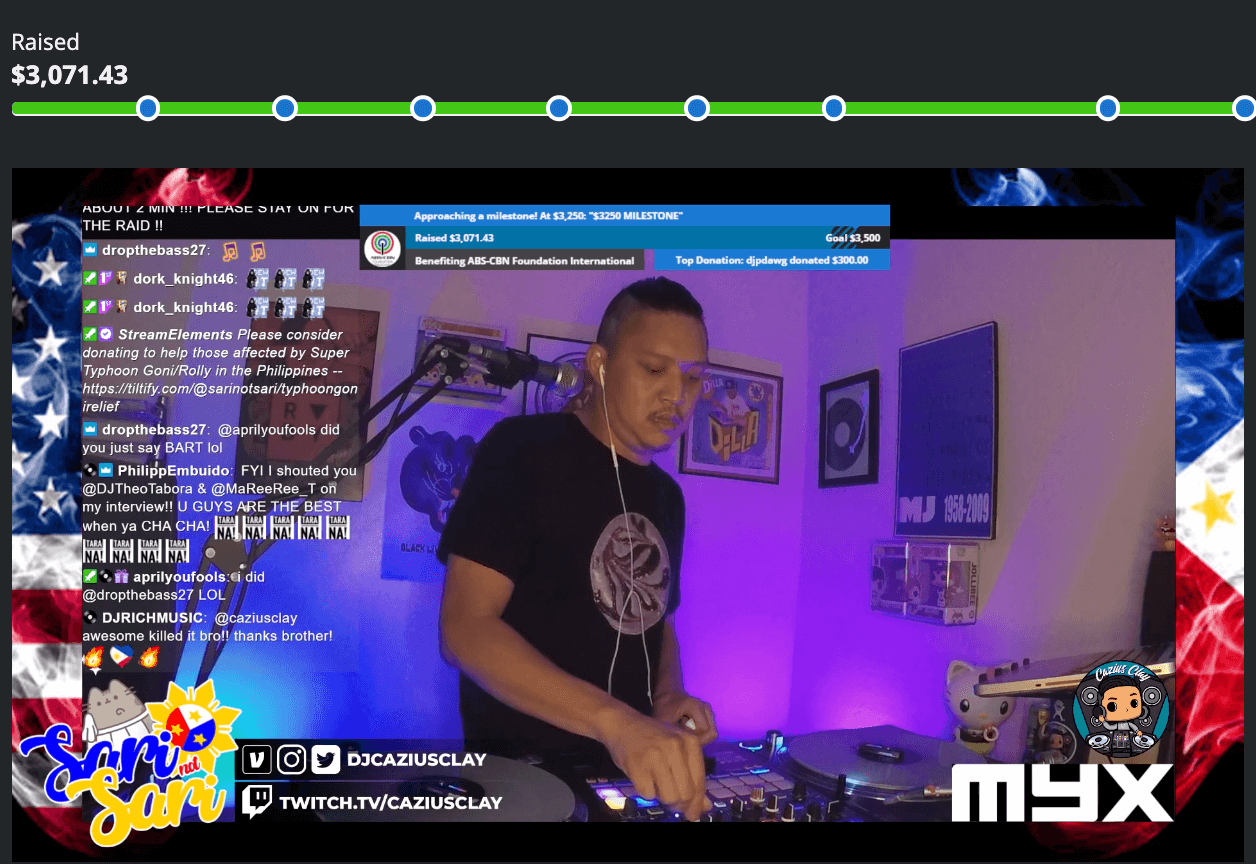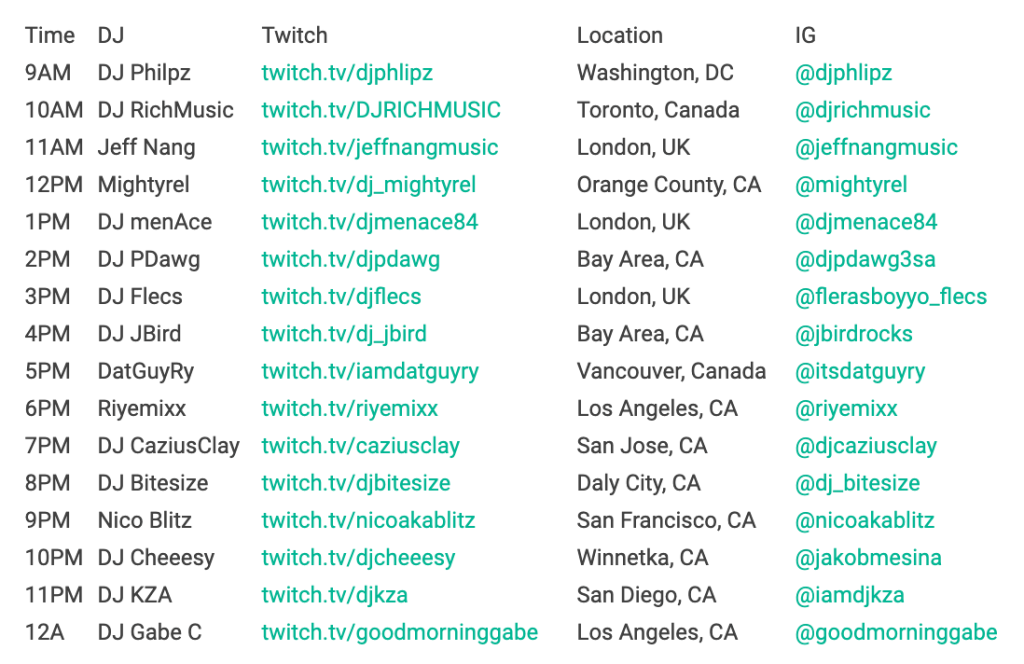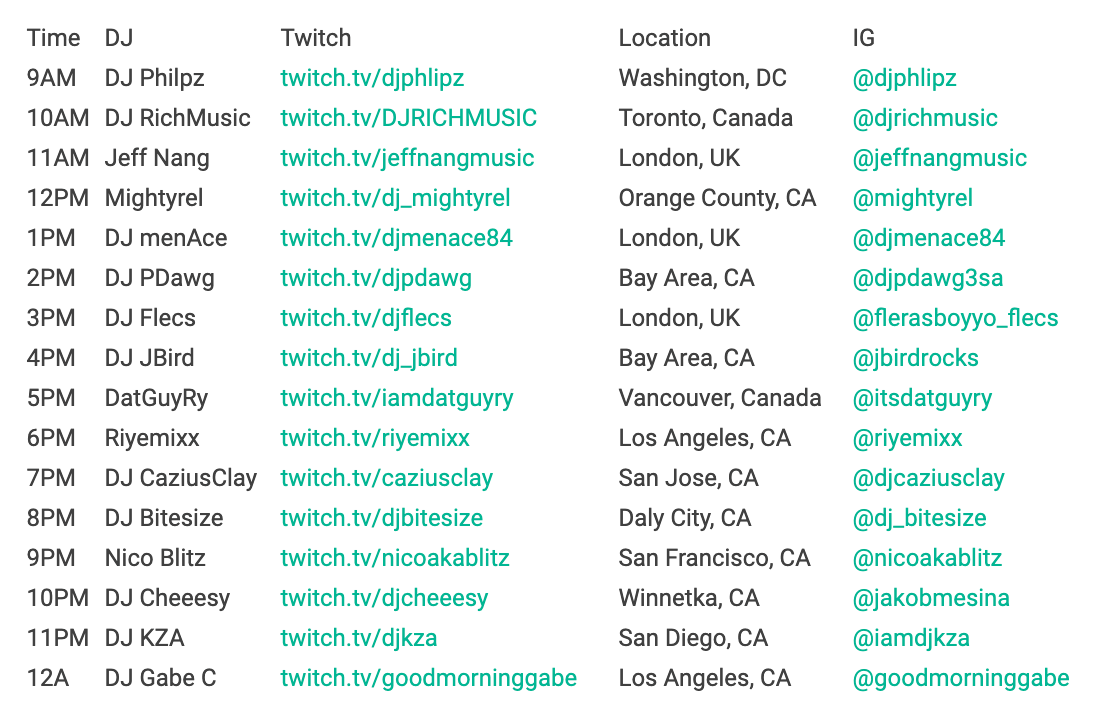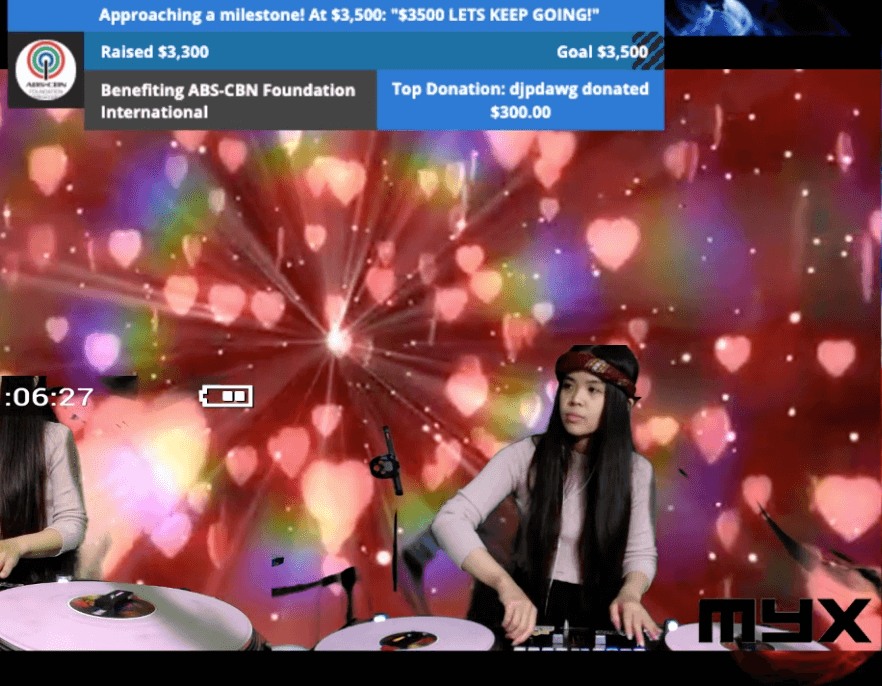 Catch a highlight video of the 16 participating DJs below, please make sure to follow them all on Instagram & subscribe on Twitch.
Phil Tayag Interview on The Lunch Table - A multimedia platform that shares stories from musicians, entertainers, and entrepreneurs for your knowledge.
Phil Tayag is a producer, and rapper, repping for Sacramento, California. He is best known for being one of the founding members of ABDC Season 1 winners the Jabbawockeez. Since his time with the masked dance crew, he's evolved into a choreographer for Bruno Mars, performing at major events like the GRAMMYS, Superbowl with Beyonce & classic music videos like Uptown Funk & Finesse.
Watch him perform halftime at the Sacramento Kings Filipino Heritage Night, presented by myx & Kollective Hustle.