Join the Harvard Square Philippine American Alliance for the first Filipino American Festival at Cambridge's Harvard Square in honor of Filipino American History Month! This debut event will take place on October 9th from 11am-6pm and intended to bring the Filipino American community together by showcasing a panorama of our rich heritage and traditions through music, dance, and food to the local community.
Join in on the fun as artists like EZ Mil, Bryan Termulo, Garth Garcia, and Rachel Anne Wolfe are set to perform plus bands like Sounds of Manila and AAPI Comedy Jam come to round out the entertainment.
The Harvard Square Oktoberfest and Honk! Festival organizers invites one and all to march in the parade to "Reclaim the Streets," starting at noon throughout the Square, interested in focusing everyone's presence on the good works that you, our local partners, are doing. It will feature live music on multiple stages from different eras catering to a multi-generational crowd, international vendors of crafts and items including those uniquely from the Philippines and Asia, and festive beer gardens from both local and national businesses.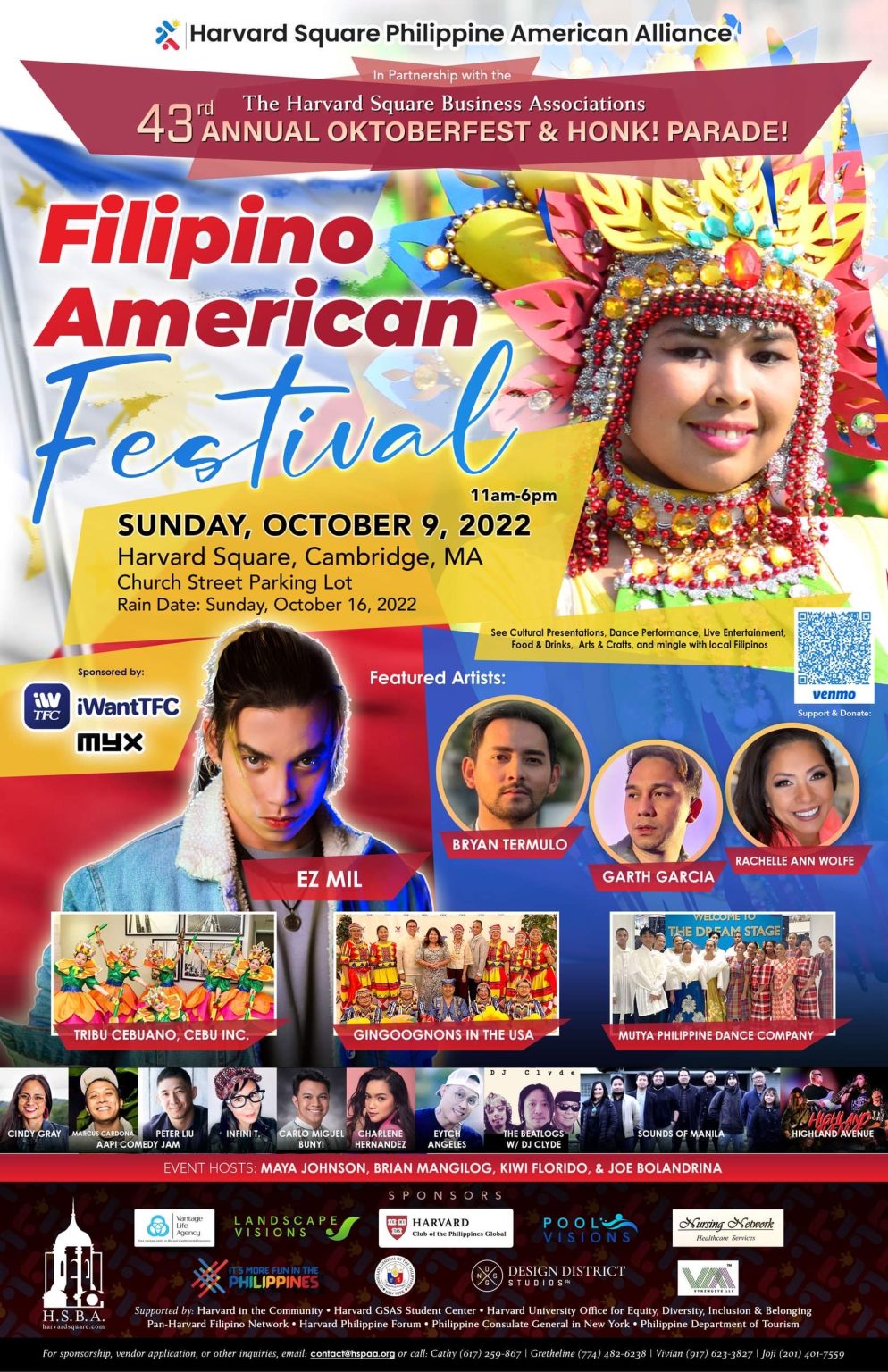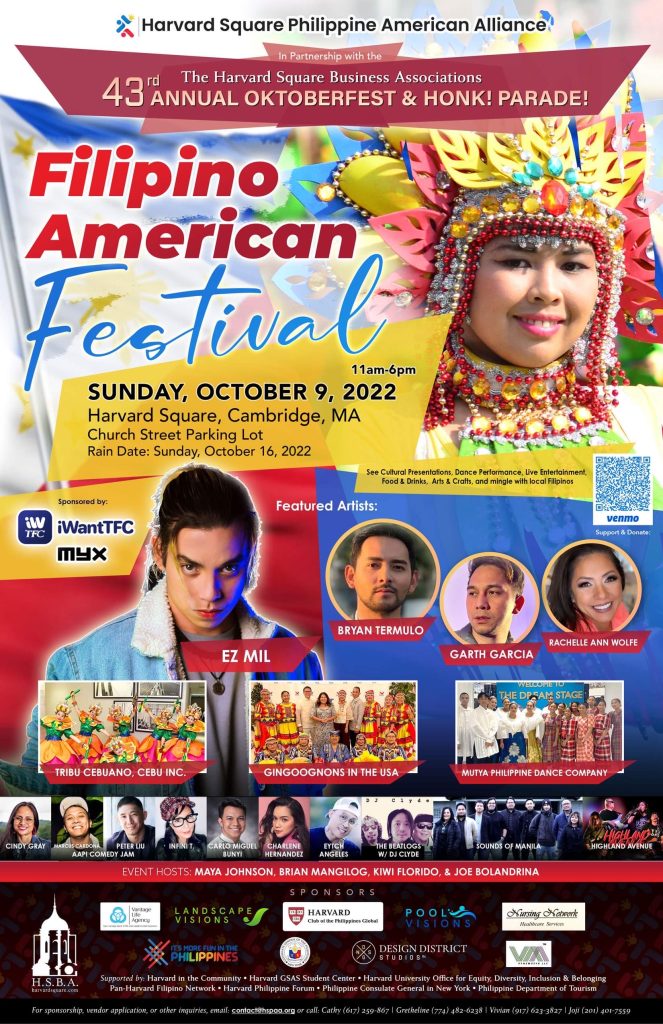 The Harvard Square Philippine American Alliance is a non-profit organization that believes in bringing the community together through cultural events that celebrate the core values of the rich and deeply rooted ancestry of the Filipino people. Our goal is to organize events on an annual basis in partnership with business owners and community leaders.
As younger generations of Filipino Americans mature, connectivity, exposure and interactions with people that share their cultural heritage is paramount to enriching overall community diversity, equity and inclusion efforts while promoting Filipino Americans through networking, outreaching, and researching to ensure the prosperity of every individual involved.
With fall already here, we're missing the summer vibes. Over the summer, a bunch of Star Magic artists came over to the U.S. for the 30th anniversary show, Beyond the Stars and although we got a lot of behind-the-scenes content, but the artists also took their own. We see Donny Pangilinan enjoy some free time golfing in San Francisco, Maris Racal enjoy halo-halo in Queens, and Alexa Ilacad watch Moulin Rouge on Broadway!
It looks like they all had a blast with each other and just enjoy the time to hang out outside of work. Who said you couldn't work hard and play even harder. The Star Magic crew not only put smiles on the many Filipinos who watched the show, but also experienced what it was like to be a Filipino abroad even just for a little bit.
Check out what they all got up to and let us know if you'd visited these places!
Cover Photo Credit: Alexa Ilacad Instagram
This week's MYX News Hot List, new episodes weekly at www.myx.global/myxnews.
1. MYX LIFESTYLE: DBTK X H&M - Popular philippine-based streetwear "Don't Blame The Kids" has released a major collaboration with clothing giant H&M.
2. MYX ENTERTAINMENT: Jo Koy Returns To Netflix - Fil-Am comedian Jo Koy has released his fourth Netflix special live from Los Angeles Forum.
3. MYX MUSIC: Zack Tabudlo: Pero - Singer-songwriter Zack Tabudlo has released his latest song, "Pero".
4. MYX MUSIC: VXON Comes Back on Fiyaah - P-pop group VXON has released its comeback track and it's burning with English, Tagalog, and Spanish lyrics!
5. MYX ENTERTAINMENT: New Season of MYX Live - This week, MYX has brought back the highly-acclaimed concert series, "MYX Live" featuring new acts.
BINI is officially back with a new song! The P-Pop group has just released their debut single "I Feel Good" off of their upcoming "Feel Good" album. The track is a fun and catchy banger about blissful love that is appropriately accompanied by a retro-inspired colorful music video that features the group singing and dancing along to the addicting bop.
"I Feel Good" is the first single from BINI's upcoming sophomore project, which releases on September 29. The eight member collective will celebrate their album release with another new song and music video dropping on the same day. Additionally, the female stars will be holding a showcase for fans at the SM North EDSA Sky Dome on October 1. Tickets can be purchased here.
Huge congratulations are in order to Fil-Am actor Eugene Coredero as he was upped to a series regular for the Disney+ series, Loki. The timey-wimey series starring Tom Hiddleston, Cordero plays the Time Variance Authority employee "Casey" and is set to reprise his role in Season 2.
The Easter Sunday actor brought some comic relief to the series with his confusion of what a fish is and how he uses the powerful infinity stones as office paperweights. A twist at the end of the season is how another variant of himself is shown as "Hunter K-5E" and not his original TVA character.
Eguene Cordero also stars in Broken Lizard's TruTV series Tacoma FD with credits also as "Stokez' in the Disney+ series The Mandalorian, NBC's The Good Place, the Focus Features' dramedy The High Note, and more! Can't wait to see what twists come in Season 2.
Cover Photo Credit: Culture Crave Twitter
The follow up to the The Mask of Haliya: Eye of the Serpent by Filipinx-American writer, filmmaker, and host, Kaitlyn Fae is back with another comic, Issue #2: Trace of the Past. It's a young adult urban fantasy that follows the journey of a troubled Filipina-American teen who discovers a mysterious mask at her great-grandmother's wake.
Kaitlyn Fae aims to rediscover and connect with her heritage while also commenting on taboo topics. A gritty drama inspired by Philippine mythology, the story engages with topics like mental health, intergenerational trauma, and corruption, with a major emphasis on its female characters.
A grisly murder in the forest… Strangers arriving in the night… As a sense of foreboding looms over the Reyes clan, Mari learns more about her mysterious cousin Isla, who appears to have secrets of her own… 
Cover Photo Credit: Kwento Comics Instagram
After the recent release of her latest single, "Bakit Nga Ba Mahal Kita, Filipina breakout artist, Gigi De Lana is headed back to the U.S. for the Gigi De Lana and The Gigi Vibes Domination: The U.S. Tour 2022. Fans got a taste of her artistry at the recent Star Magic Tour last month, but now they'll be getting the full experience.
Her track has already reached over 1.2 million streams on Spotify and on its way to 11 million views on YouTube. Her fiery and passionate live onstage presence will be sure to surprise the crowd again on this upcoming tour. Joining are her band, The Gigi Vibes and special guest Carlo Aquino.
The rising artist started her journey as a singing contestant -- a "kontesera" in the Filipino vernacular -- De Lana drew global attention during the pandemic when she just posted numerous covers of classic and modern pop songs on YouTube with her band and became an internet singing sensation. 
In a span of one year since being managed by Rise Studio and Star Magic, De Lana has released a chart-topping single (Sakalam), co-starred in a lead role opposite Gerald Anderson in her first series, "Hello, Heart", released her self-tltled album, performed at the 1MX Music Festival in Dubai, launched a successful Domination Tour that started in Manila, then to Dubai, Abu Dhabi, and Bahrain, joined the Star Magic tour in the U.S., and now, through iWantTFC, TFC, ABS-CBN Events and MYX will bring her Domination Tour to the U.S.
 "Gigi De Lana and The Gigi Vibes Domination: The U.S. Tour 2022" will start on October 15 at the Alex Theatre in Glendale CA, on October 21 at the Silverton Casino in Las Vegas, NV, and on October 16 at the South San Francisco HS Theatre in South San Francisco, CA.
Get ready to laugh with RuPaul's Drag Race Queen, Bianca Del Rio. She tells us to get our vaccinations and cocktails because our favorite "clown in a gown" is returning to the stage with her new comedy tour, "Unsanitized." Bringing the attitude, the queen is ready to take the funny to Asia especially to Manila and Singapore.
The sixth season winner of RuPaul's Drag Race, her snarky frankness, impeccable timing, and politically incorrect humor, she became the breakout star. "I'm incredibly excited to be returning to Asia with my comedy show to lighten things up and make people laugh after ewe've all had a rough couple of years dealing with the pandemic!"
Grab your ticks for the Unsanitized tour in Manila on October 11, 2022, at the Samsung Performing Arts Theater. She'll tackle life during the pandemic, her work challenges during this time, celebrities, LGBTQIA+ communities, and even her fellow RuPaul's Drag Race alumni. Check out the details below!
UNSANITIZED Manila 2022
October 11, 2022
Samsung Performing Arts Theater, Circuit, Makati City
Tickets: tinyurl.com/UnsanitizedPH
This week's MYX News Hot List, new episodes weekly at www.myx.global/myxnews.
1. MYX ENTERTAINMENT: Inigo Makes Monarch Debut - Inigo Pascual has made his first crossover onto American Primetime television with Fox's "Monarch".
2. MYX MUSIC: Ben&Ben Drops Music Video Ahead of World Tour - Ben&Ben is out with their new music video for "The Ones We Once Loved" featuring real-life former couple, Bea Lorenzo and Paolo Benjamin.
3. MYX MUSIC: Denise Julia Brings Energy in New Track - Singer-songwriter Denise Julia has released a new banger, "superficial energy" featuring co-stars North Star Boys member, Regie Macalino.
4. MYX SPORTS: Alex Eala Serves Historic US Open Win - 17-year-old Alex Eala wins for the Philippines at the U.S Open versus Lucy Havlikova of the Czech Republic.
5. MYX LIFESTYLE: Pinoy on NBA 2K23 Soundtrack - The new NBA 2k23 video game soundtrack is now out featuring Guapdad4000, Ruby Ibarra, and many more!
Unwind from the week with Netflix with lots of laughs! Jo Koy is back with another Netflix special straight from Los Angeles with more jokes! With his fourth special, he tackles how to use tabos, the pandemic, fatherhood, living with sleep apnea, and of course stories about his mom.
If you remember, Jo Koy wasn't given the chance to film for Netflix six years ago but he kept on grinding to get to where he is now. You don't want to miss this as he talks about his other specials in context like why he chose to film in Hawai'i and the Philippines and spotlight the beauty of not only the islands, but also it's people.
This special premieres just after the release of his film, Easter Sunday. It depicts a Filipino who get together for the Easter Sunday holiday and try to hash out family quarrels.
Cover Photo Credit: Jo Koy Instagram
Isn't it sad when your favorite band has a show you can't go to because you're in another city? Thankfully, this won't be a problem for Lola Amour fans, as they're taking their Fallen Concert tour to different cities around the country! 
Catch the band not only performing in Makati, they're also set to perform shows in Bacolod, Cagayan de Oro, Pampanga, and Cebu. This comes after kicking off their tour last July at the Ayala Malls Circuit Activity Center.
Their next stop is at the Ayala Malls Capital Central in Bacolod this September 10. Admission is completely free, and fans can check out the mechanics of the meet and greet on the Ayala Malls Capital Central Facebook page. Joining the band are special guests, Dizzy on Swings and &ND for the Bacolod leg of the tour.
In Cagayan de Oro, they'll be joined by Soulthrll. For fans in Metro Manila and Metro Cebu, catch them throughout October and those watching their U.P. Town Center show, Leanne & Naara and Arthur Miguel will also be taking the stage alongside Lola Amour. The last leg of the Fallen concert tour will happen in Pampanga on November 12th.
The set list is sure to have fan favorites like "Fallen," "Maybe Maybe," "Pwede Ba," all included, but catch the band performing their new song, "Dahan-Dahan." The tour marks a milestone for the band, which is something that lead vocals and guitarist Pio Dumayas acknowledges.
Follow Lola Amour's official Facebook page for further announcements, as well as the official Ayala Malls pages for more details! Until then, find Lola Amour's top hits on this playlist!
Cover Photo Credit: Lola Amour Instagram
Filipinos love their basketball and NBA 2K23 is no different. This year's edition of the popular video game features Fil-Am artists like Guapdad 4000, H.E.R., and Ruby Ibarra. The soundtrack's unique lineup will be regularly updated on Fridays just like how Ruby's song, "Us" dropped last week.
There's for sure something for everyone on the soundtrack, but if you don't see your favorite artist there's still hope they'll pop up on the playlist soon! If you can't wait to hear the track and don't yet have the game, stream it here!
Check out the complete tracklist:
2055 – Sleepy Hallow Ft. UV K****N EM & Great John
All Eyes On Me – Earthgang
Anxiety – Coi Leray
Are You With That? – Vince Staples
Astronaut In The Ocean – Masked Wolf
Black Iverson – Guapdad 4000
Changsha – Lay
Comic Sans – Audrey Nuna ft. Jack Harlow
Devin Booker – Blocboy JB & Co Cash
Dog Food (Prod. Kaytranada) – IDK & Denzel Curry
Don't Hit Me Right Now – Dreamville, Bas, Cozz, JID, Guapdad 4000, Buddy, Baby Tate
Fitt – Dua Saleh with Amaarae
Gone – Sam Dew ft. Kirby
Good Day – Kidd Kenn
Iffy – SIK-K, PH-1, Jay Park
Intimidated – Kaytranada ft. H.E.R
Love nwantiti (ah ah ah) [remix] – CKay feat. Joeboy & Kuami Eugene
Many Times – Dijon
Megan's Piano – Megan Thee Stallion
Nail Tech – Jack Harlow
Never Left – Lil Tecca
No Trends – Mike Dimes
On The One – The Lamonts
Que Oso – Snow Tha Product
Rapstar – Polo G
Richer – Rod Wave Ft. Polo G
Rocket Man – Dumbfoundead
Rucón – Alemán
Super – Cordae
Surround Sound – JID feat. 21 Savage & Baby Tate
The Matrix – Ski Mask the Slump God
The Revenge – Joey Bad***
TITANIC – Jackson Wang feat. Rich Brian
Wants and Needs – Drake feat. Lil Baby
West Like – Destiny Rogers feat. Kalan.FrFr
Woman – Doja Cat
Cover Photo Credit: Ruby Ibarra Instagram