Filgrimage is the coming-of-age story of a group of young people who chose to spend one summer in the Philippines to nurture their Filipino roots, discover more about their culture, and to answer the question: "What does it mean to be Filipino?"
EPISODE BREAKDOWN
Episode 1: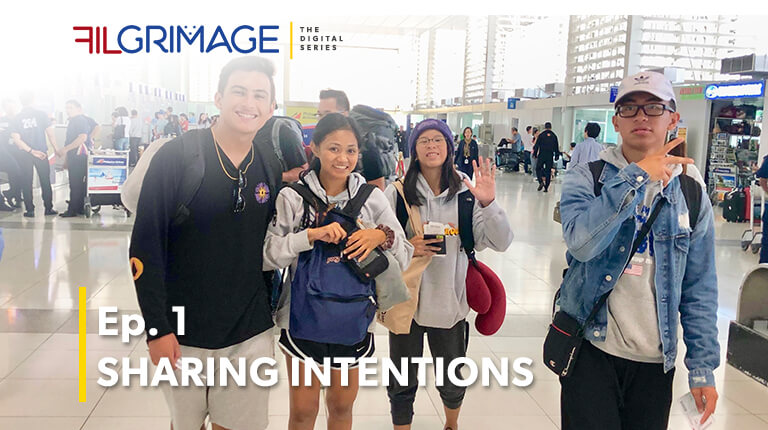 This is the very first time we are meeting the Filgrimage Ambassadors. While there are around 35 people who participated in Filgrimage 2019, FILGRIMAGE: A Digital Series tells the journey of eight (8) of them.

Here we meet Lauren Bumatay, Tyler Jacob, Jocelynne Montehermoso, AJ Asuncion, Luis Borromeo, Gabby Almazar, Riana Hernandez, and Ryah Hernandez.

Get to know them at The Filipino School in San Diego where they share their fears and expectations, and their thoughts on what it means for them to be Filipino.
Episode 2: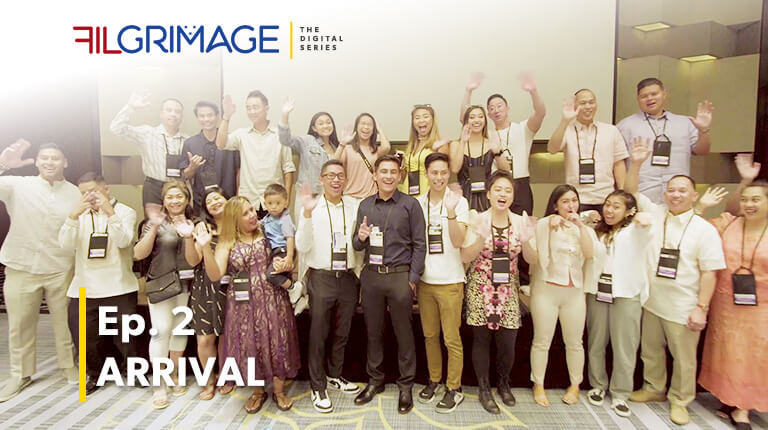 The Filgrimage Ambassadors have just arrived in Manila. They register to secure their rooms at the hotel. For many of them, this is the first time they are meeting their roommates.
It is that getting-to-know-you stage among these young people.
They are about to make a collective journey of knowing each other… knowing their motherland… and knowing themselves.
Episode 3: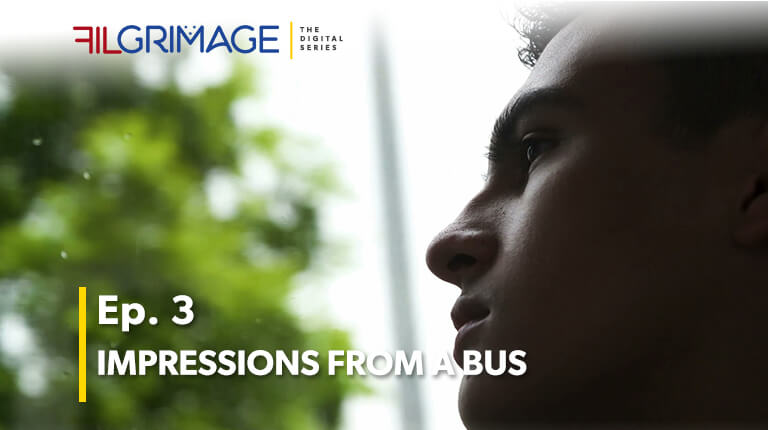 The Filgrimage Ambassadors take the bus to bring them to their first official stop on the Filgrimage tour: to visit the Rizal Monument in Luneta Park.
The road to Luneta is punctuated with the sights and sounds of a busy metropolis. Our Filgrimage Ambassadors witness the stark contrast between the lavish hotels on one side, and the shabby shanties on the other.
Episode 4: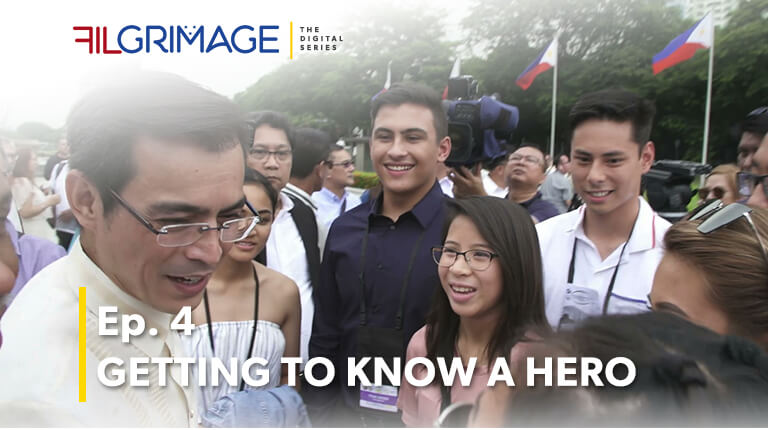 Many of the Filgrimage Ambassadors have just heard of Philippine National Hero Jose Rizal from what teachers have taught them in class.
For most of them, this is the first time they get to see the place where Rizal was executed by a firing squad, after he was arrested and convicted of sedition, on December 30, 1896.
Episode 5:
The Filgrimage Ambassadors spent their first afternoon making a quick stop at Intramuros and then visiting other museums like the University of Santo Tomas Museum of Arts and Sciences - which is the oldest existing museum in the Philippines. It started as a Gabinete de Fisica, or observation room, of mineral, botanical and biological collections in the 17th century
They also went to the Metropolitan Museum of Manila (the 'Met') - a world-class gallery tracing the evolution of Filipino art from the early 20th century to the present. Virtually, all great Filipino painters from the last century are represented here.
Episode 6: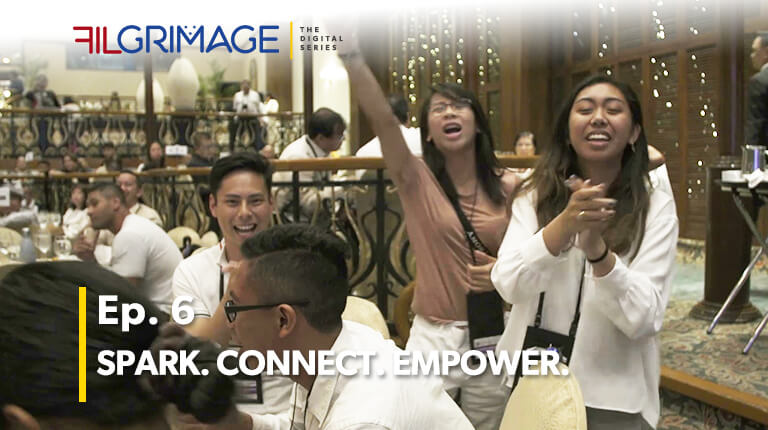 The Manila Hotel embodies a rich tradition of elegant living, fine dining, and gracious service that goes back over 97 years.
Our Filgrimage Ambassadors continue to build friendships while experiencing the grandeur of this historic five-star hotel located along Manila Bay.
Episode 7: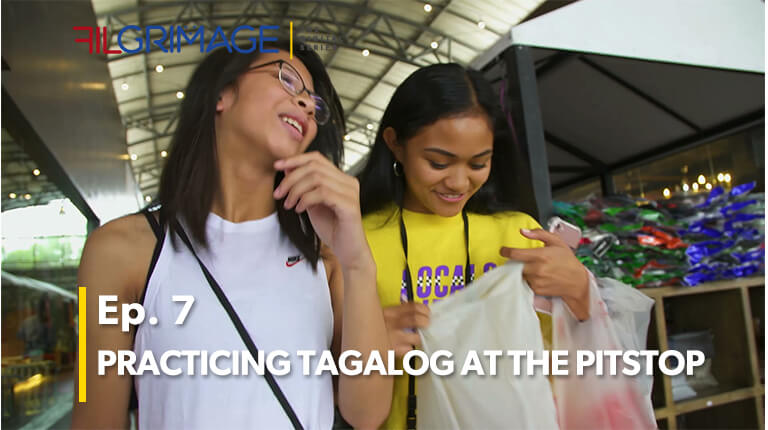 Road trip! On the way to Bataan, the bus stops for a break at a pitstop along the North Luzon Expressway (NLEX). There are several fast food joints and some stalls that sell souvenirs and other gift items and Filipino delicacies.
The Filgrimage Ambassadors grab this opportunity to practice their skills at conversing in Filipino with the local vendors. See how they nailed some great bargains.
Episode 8: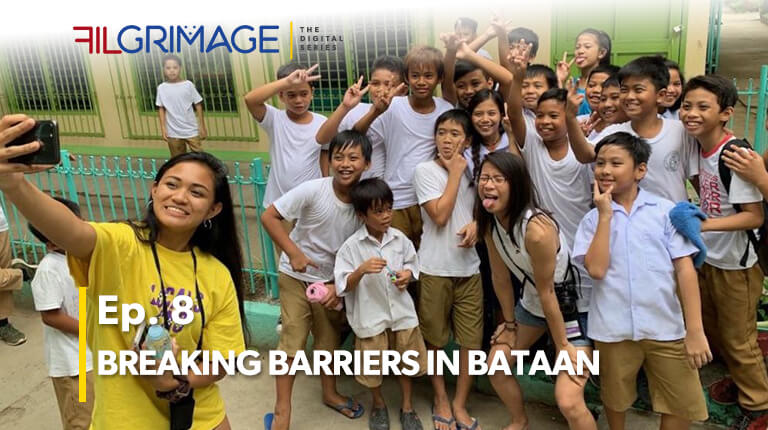 First stop on the road trip is at Bataan's Balanga Elementary School which also houses the Bataan World War II Museum and the Surrender Site Marker.
The grade school students welcome the Filgrimage Ambassadors with a marching band and the eager waving of tiny U.S. and Philippine flags.
Tyler gets to exercise his drumline skills when he joins the students' band. Lauren gets to practice conversing with the students, using words she learned in her Filipino class. Joce has a hard time and feels disconnected from children who are the same color skin as hers. This pains her terribly.
Episode 9: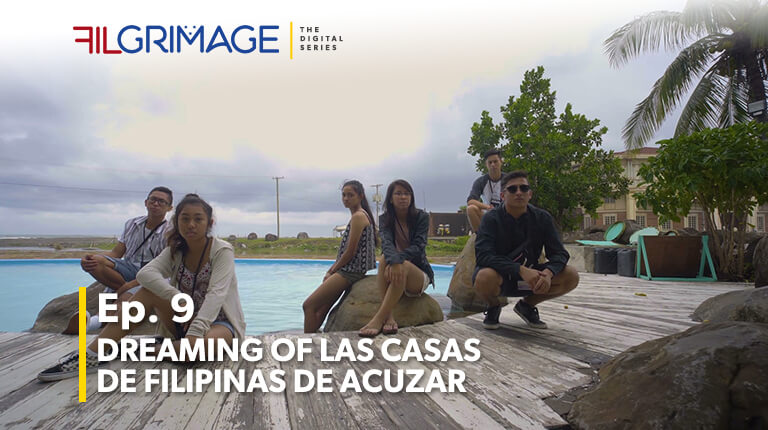 Vanguard of Filipino Heritage.
The quick overnight and day tour was not enough to marvel at the old-world charm and the picturesque allure of Las Casas Filipinas de Acuzar.
Home to Jose Acuzar's collection of restored Spanish-Filipino houses, this resort in Bagac, Bataan reflects Filipino craftsmanship intricately curated into a world-class historical haven. Our Filgrimage Ambassadors eat taho (Philippine snack made of fresh silken tofu and sweetener) and play sungka (Mandala).
Episode 10: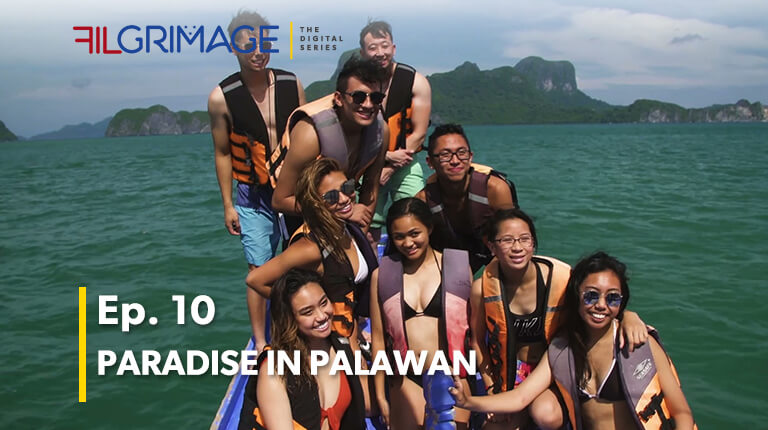 At this point, the Filgrimage Ambassadors have bonded well together and consider each other dear friends.
The days spent in Palawan were like Paradise. El Nido is surrounded by limestone formations that rise majestically above the turquoise water. For many of them, the stunning beaches and gorgeous islands are picture-perfect, almost like being in a postcard.
The group went island-hopping; snorkeling; had "kamayan" lunch at Papaya beach; and even drank fresh coconut juice straight out of the shell; and played basketball with the locals. Just another day in Paradise.
Episode 11: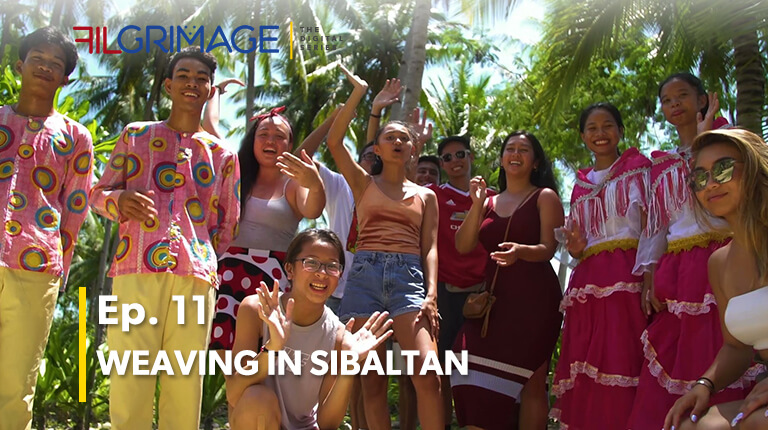 The Filgrimage Ambassadors met with members of the Sibaltan Women Weavers Association, Inc. (SWWAI) – a bold, band of women who have taken their skills passed on from generation to generation and had grown them to become an industry that empowers community artisans.
The women weavers taught the kids how to weave, and they were able to make some simple projects of their own. They also saw the Balay Cuyunon Museum along Sibaltan's beachfront that features a replica of a traditional Cuyunon house, and they also danced with the locals.
Episode 12: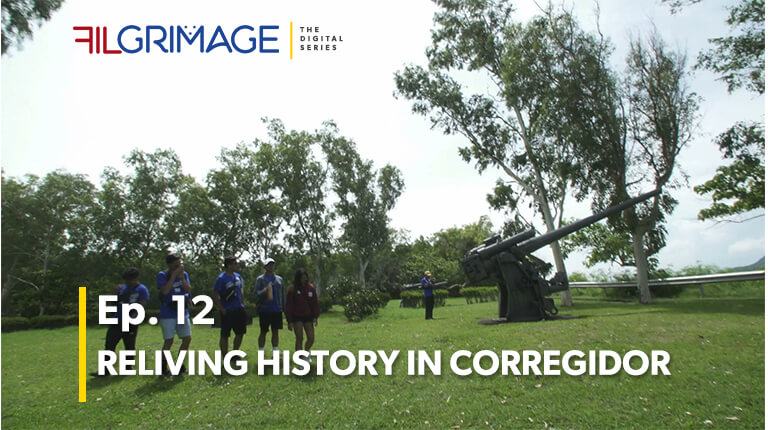 The Filgrimage Ambassadors took an early ferry boat ride to Corregidor Island – a rocky island, strategically located at the entrance of Manila Bay, just south of Bataan province in Luzon, Philippines.
They take a quick tour seeing the Pacific War Memorial, numerous gunneries, and the Malinta Tunnel, which served as a supply depot, hospital, and MacArthur's headquarters.
They gained appreciation for the national shrine commemorating the battle fought there by U.S. and Filipino forces against overwhelming numbers of Japanese during World War II.
Episode 13: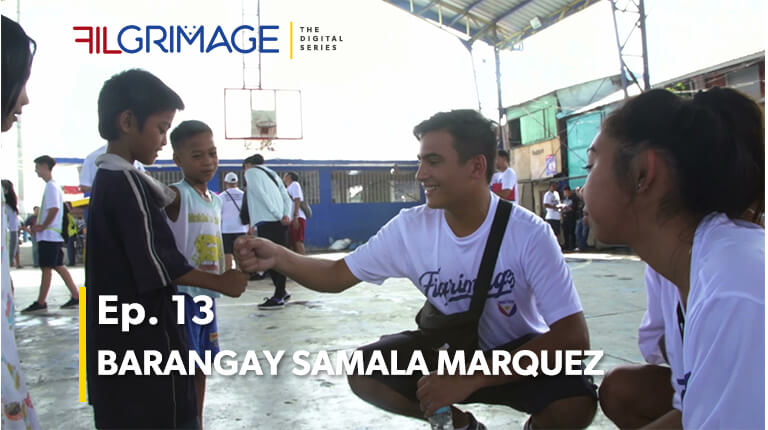 A major highlight of the trip was the visit to Barangay Samala-Marquez, an urban poor community in the municipality of Kawit, province of Cavite – about 15 miles from Manila.
Throughout the whole morning, the Filgrimage Ambassadors visited, and interacted, with the families from the community. They were welcomed into tiny houses.
For many of them, this is where their transformation manifests strongly. On this Filgrimage, their interior quest is greatly influenced by their "exterior passage" through the slums of Cavite.
Episode 14: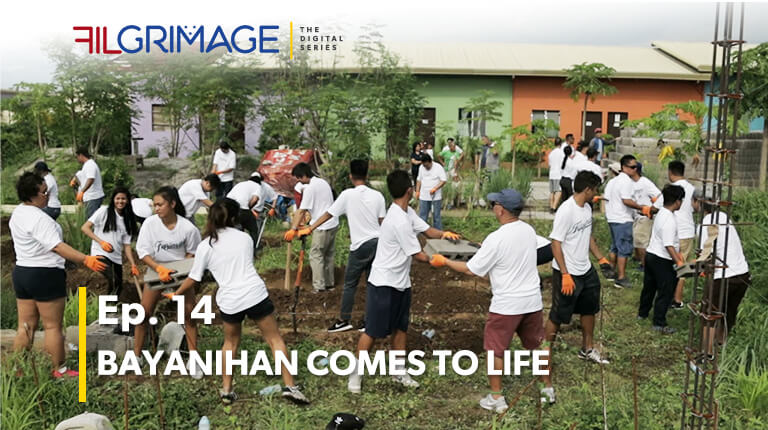 The Filgrimage trip culminates in building houses for the Gawad Kalinga Community in Cavite.
The Filgrimage Ambassadors experience the true meaning of Bayanihan as it comes to life.
They look back at an incredible, unforgettable summer where their visit to the country of their ancestors transforms them in ways they never imagined.
Episode 15: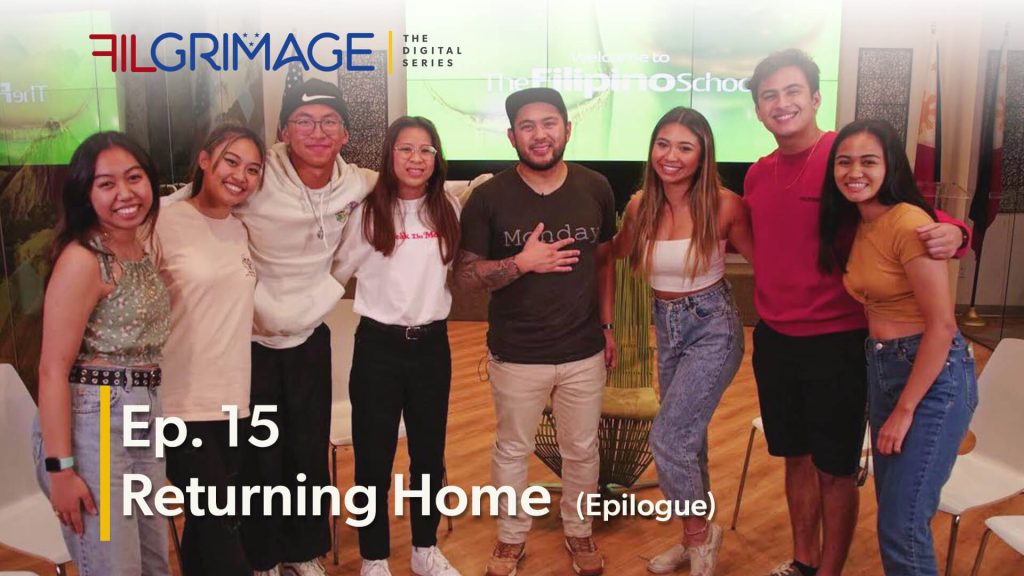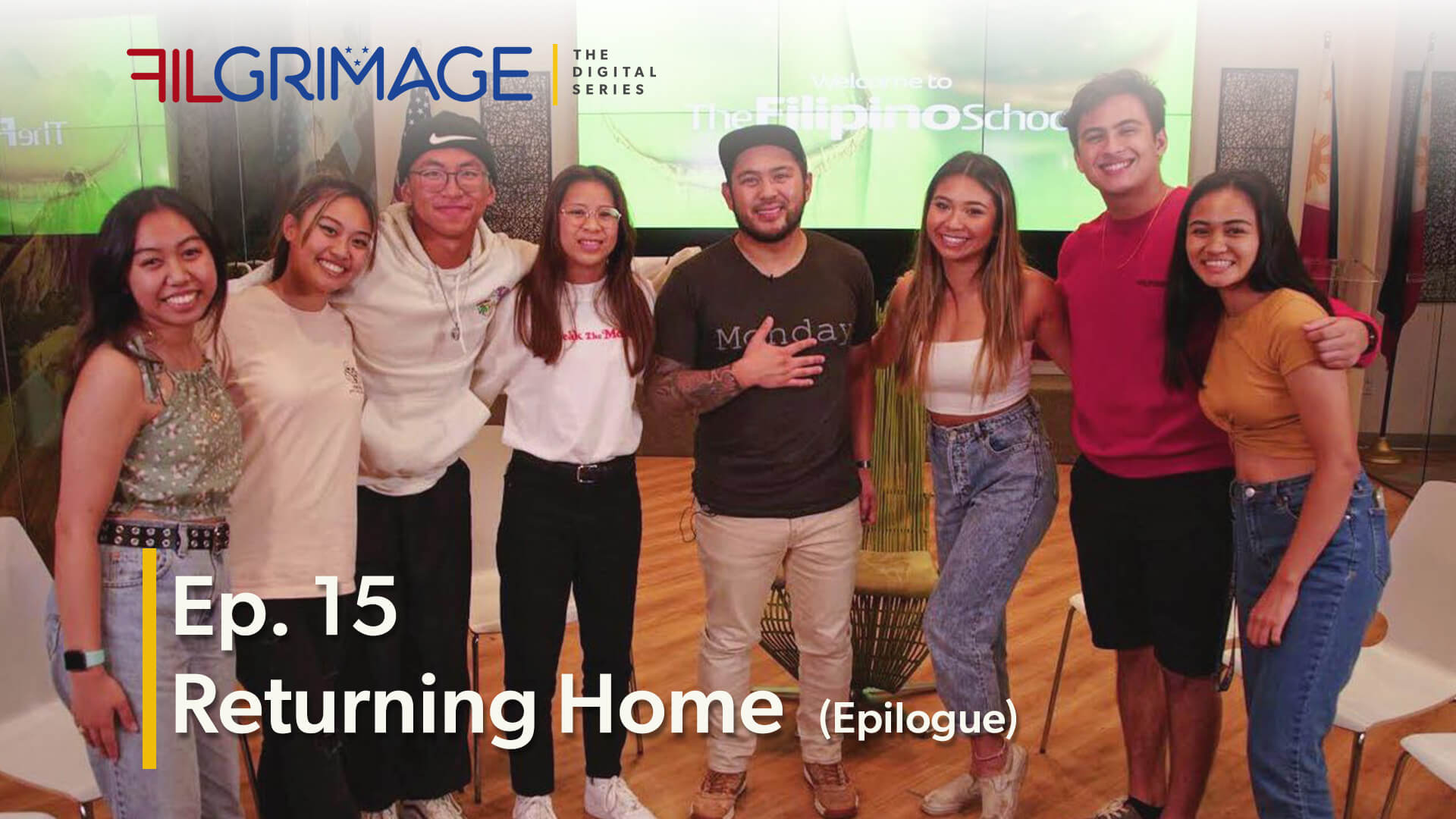 Mostra Coffee Co-Founder Sam Magtanong facilitates the session. (It is fitting to have Sam host the chat since he himself made a similar trip back to the Motherland with his other Mostra Coffee co-founders. That trip for them was also a big part of what drives their mission and vision for Mostra.)
In the "epilogue" the Filgrimage Ambassadors "return home" by sharing vivid experiences of their trip in a candid and authentic exchange. We hear them talk about where they are at in their journey of (re)discovery and how they plan to concretely realize their dreams of giving back.
They invite viewers to help them with their dream of building sustainable "Filgrimage villages" by visiting www.TheFilipinoSchool.com to find out more and support them.
MAIN CAST
AJ Asuncion
Gabby Almazar
Jocelynne Montehermoso
Lauren Bumatay
Luis Borromeo
Rianna Hernandez
Ryah Hernandez
Tyler Jacobs
EXECUTIVE PRODUCERS
Tony Olaes
Nerissa Fernandez
Tata Sy
PRODUCTION MANAGER
Rico Luancing
DIRECTOR/CINEMATOGRAPHER
Jeremiah Ysip
WRITER
Pia Lopezbanos-Carrion
PRODUCERS
Pia Lopezbanos-Carrion
Jeremiah Ysip
ASSOCIATE PRODUCERS
Sam Bañez
Nico Lucero
PHILIPPINES CREW
Leandro Mercurio
Kim Alexis Delos Reyes
Bon Jovi Tangco
Crispin Barja
Michael Brezniv Garcia
John Lawrence
Sulayel Aishi Balbuena
Erwin Briones
ADDITIONAL FOOTAGE
Alex Azansa
Bobby Ysip
Faith Austria
Miguel Carrion
Filgrimage Ambassadors

EDITOR
Jeremiah Ysip
ASSISTANT EDITORS
Amyra Soriano
Danny Manansala
SOUND
Jeremiah Ysip
GRAPHICS
Mike Carrion
Chris Olaes
Airing Saturdays 8P PDT on myx & now available on the iWantTFC app & iWantTFC.com. You can binge watch the entire season of Filgrimage at amazon.Com/v/TFCmovies.