At 23 years-old, H.E.R. already has Grammys for I Can't Breathe and an Oscar for Fight for You on her list of accomplishments. H.E.R. talks about the music, activism, and maybe a future in voice-overs in this Variety's Changemakers Issue. The Grammy-winning song, as much as any other, has become an anthem for the Black Lives Matter movement. Fight for You was the main track for the film Judas and the Black Messiah which follows the events of Black Panther's Fred Hampton. H.E.R. says in her Variety cover, "Knowledge is power, music is power, and as long as I'm standing, I'm always going to fight for us. I'm always going to fight for my people and fight for what's right. That's what music does, and that's what storytelling does."
H.E.R. is proud to say she's equally Filipino as she is Black. The article talks about how she is an "artist who is a member of three of the most oppressed groups of human beings in American history: African Americans, Asians and women." As an artist, she believes that as a creative there's a responsibility to use the platform to tell the truth, and to write history the way that it was and how it connects us to today. With the accessibility of social media we are able to see the world today in real time and tell our truths.
The Vallejo, Bay Area native talked about her upbringing and not always fitting. The storytelling in her songs come from parts of her life and experiences. H.E.R. shared stories of her mother's upbringing in the Philippines, and her father spoke of growing up Black in Arkansas. He also was an iron worker by day and a musician by night who brought young Gabriella Wilson along to gigs and performances. She remembers always standing out even in the diverse Bay Area. In middle school, she was too Asian for the Black kids or too Black for the Filipino kids. However during senior year, it all changed. Now, she's loud and proud of being Filipino and Black and attributes her being well-rounded to her wide perspective.
Now at 23, she's just as ambitious as she was as a kid. With G-O in EGOT already in her belt, she's aiming for an Emmy and Tony, but H.E.R. isn't placing a hard deadline. However, it may not be too far away as she's working on a Broadway score, but she is aiming for the EGOT before 30 years-old. Her main goal though is to inspire young women where they see her as an example of what is possible. "It means the world that there is another girl out there who [sees her success] and thinks, 'I can do that too,' H.E.R. tells Variety.
Also on the horizon is her new album, Back of My Mind which will showoff a wide range of styles we know she's capable of. As a multitalented artist and guitar protégé, she's slowly peeling off her talents and sharing it with everyone. Manager, Jeff Robinson describes H.E.R. as a genre-less artist and she wants to stay that way. She recently performed her new song Hold On with country singer, Chris Stapleton on the CMT Awards. H.E.R. crosses over genres so seamlessly while other artists can't wait to collaborate.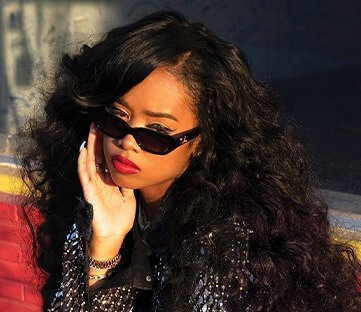 Besides music, she's looking into acting. We've seen H.E.R. on Netflix's Yes Day film, but she tells Variety "there is so much I want to do. People don't really get to see my comedic and fun side, except for when I'm impersonating my aunt." Remember her post Grammy IG post?
"But I definitely want to do a lot more voice-overs, and comedy, but also some serious roles —I'm trying to do it all, I know. Whatever it is, one thing at a time. I'm gonna get there." Keep on doing your thing Miss H.E.R. We're rooting for you all the way!
Cover Photo Credit: Variety Twitter