The LA Clippers have been known to have one of the most entertaining and packed Filipino Heritage Nights in the various professional sporting leagues. MYX is partnering with the Clippers & SoCal Filipinos Group on March 29, 2022 against FIl-Am star and NBA 6th Man of the Year Award winner, Jordan Clarkson. Black & Filipino American GRAMMY nominated artist, Guapdad 4000, will perform a medley of his hits at halftime. Philippines King of R&B, Jay R will be singing the national anthem, JUNOS nominated comedian Keith Pedro will be doing a T-shirt toss and more surprises in the game!
Get tickets HERE. $5 for every ticket sold will go to ABS-CBN Foundation International for their supply of food, water, health kids and shelter for Philippine typhoon victims.
Purchase tickets HERE to get the exclusive commemorative LA Clippers Filipino themed replica jersey shown above. NOT AN ARENA GIVEWAY: JERSEY COMES WITH SPECIAL EVENT TICKETS purchased on the link here. Tickets purchased on 3rd party sites will not be valid for the giveaway. Only tickets purchased on the LA Clippers GIVEAWAYS for special events page will be provided details of where to pick up the item with special ticket purchase.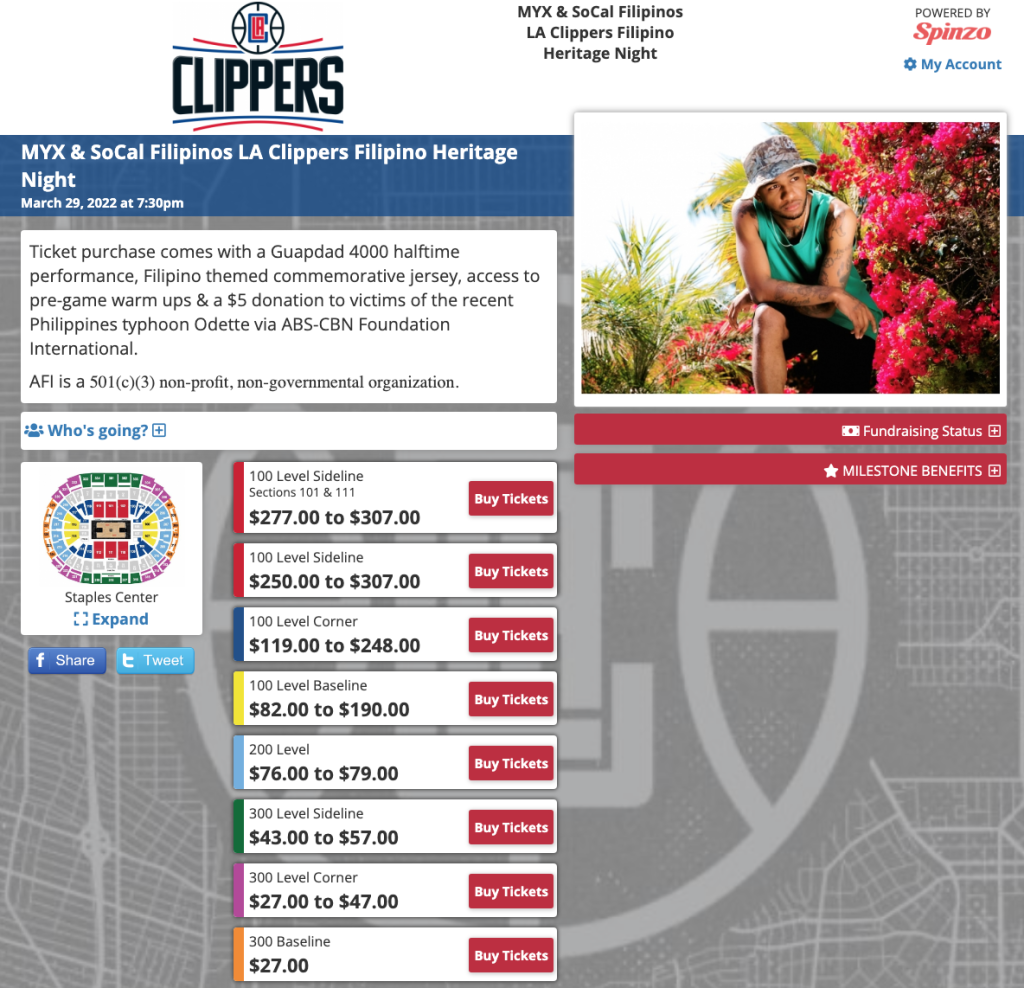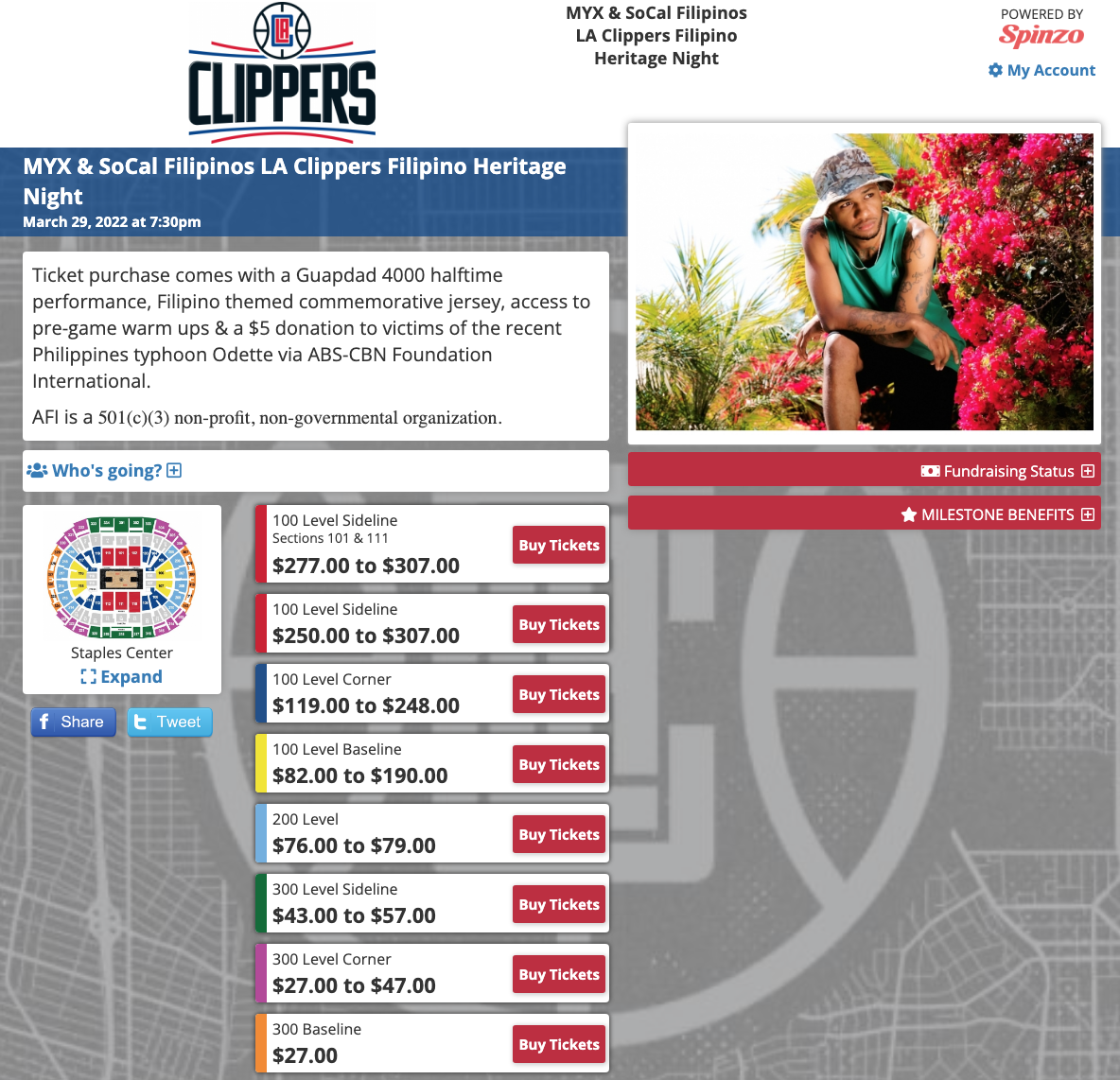 Details of where to pick up your jersey will be emailed prior to the game. Only tickets purchased on this special MYX link HERE will receive jersey and will not include 3rd party sites.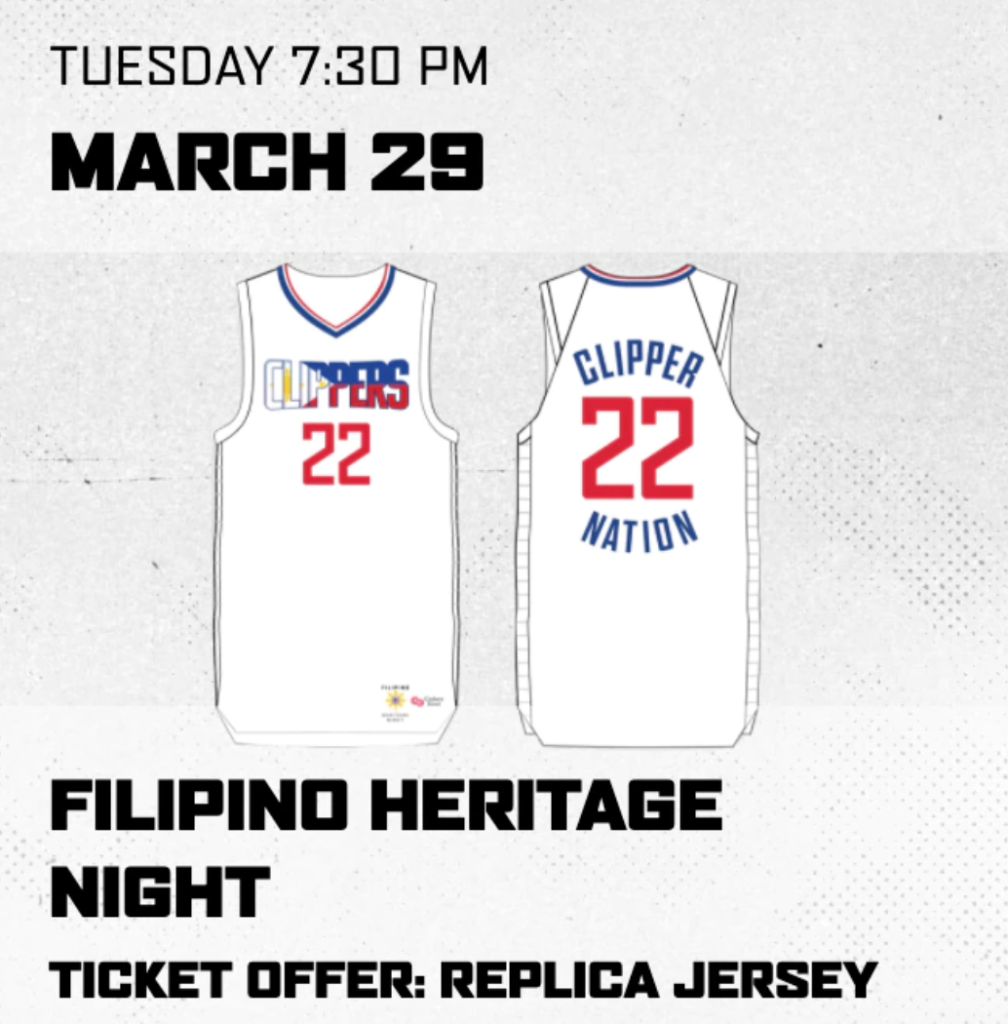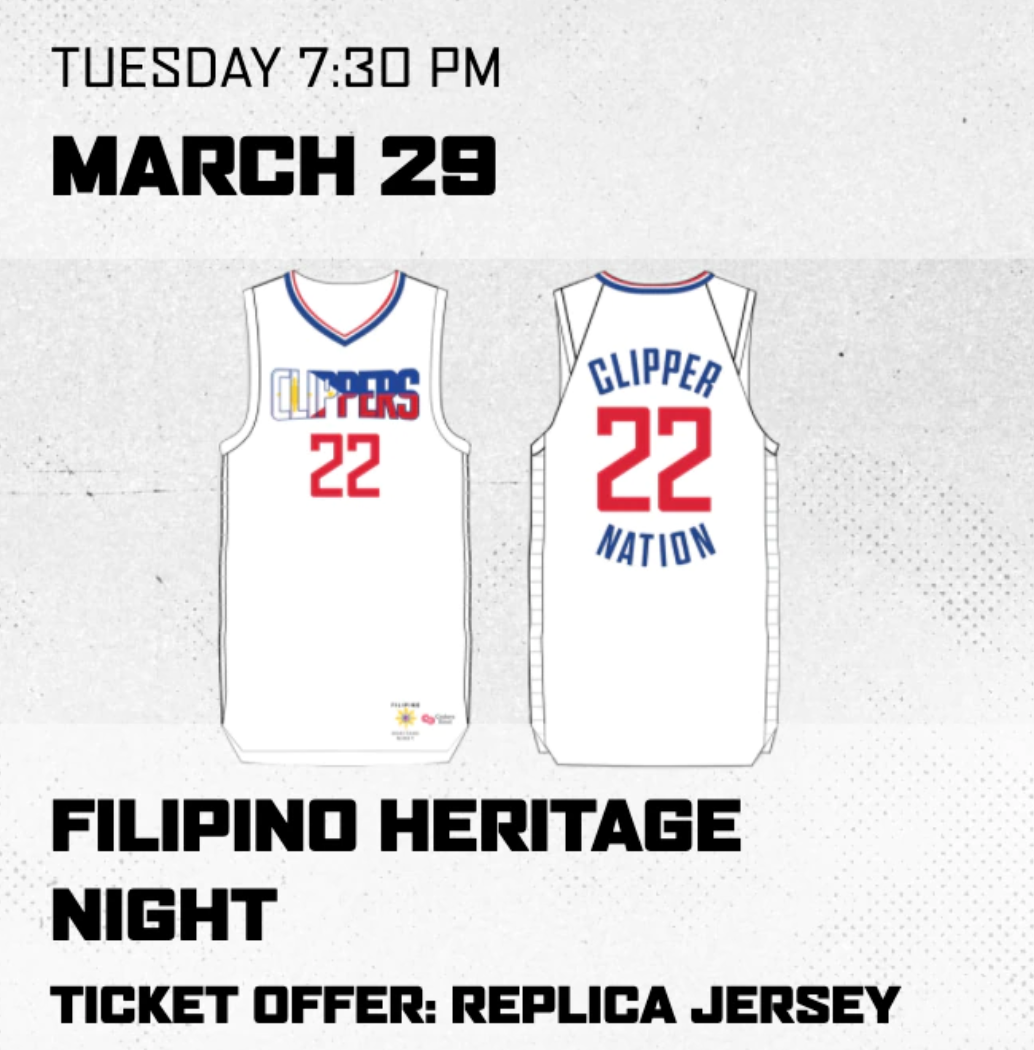 Jersey Pickup:
- Redemption table will be outside Aisle 24 starting at 5:30PM
- Everyone picking up will need to bring proof of ticket on the FILIPINO HERITAGE. NIGHT group sales link, you name will be checked against a list of those that purchased from the link. .
- The jerseys are first come first serve while supplies last and the table will be available until the start of the 4th quarter so get there early!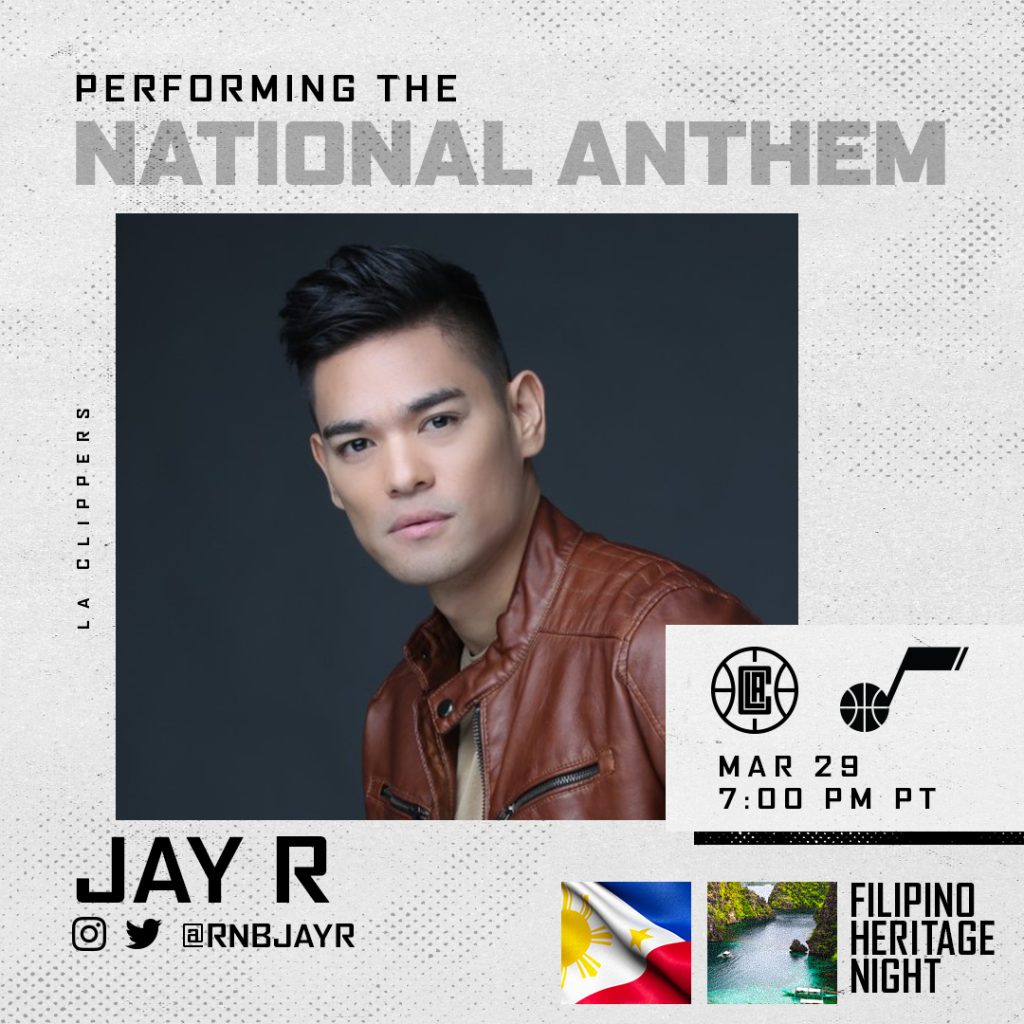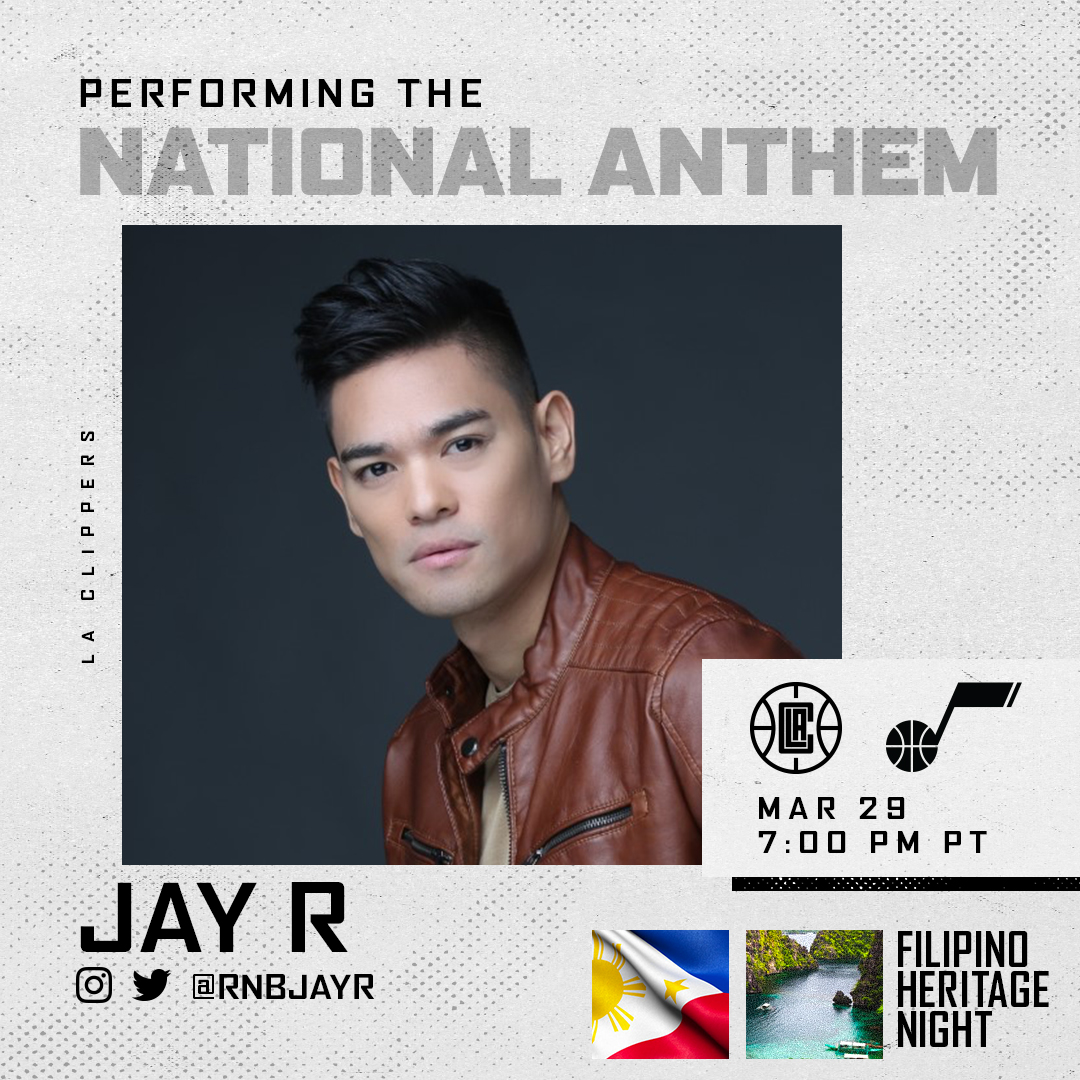 COVID-19 Related Guidelines:
In accordance with the Los Angeles County Department of Public Health order (effective September 20, 2021) all individuals 2 and older must be fully vaccinated against COVID-19 or have proof of a negative COVID-19 test conducted within 48 hours before event start time to enter Staples Center. To ensure a COVID-safe event and compliance with LA County and state guidance, vaccination cards or negative COVID test results will be verified as guests enter the venue.
All guests ages 2 and over are required to present either proof of full vaccination (two weeks after your final dose) or a negative COVID-19 test within 48 hours of the event date. A photo ID matching the vaccination or negative test record is required for all ticketed guests. Remember, if you're not feeling well, please stay home!
The following are acceptable forms of proof of full vaccination:
Attendee's physical COVID-19 vaccination record (i.e. CDC-provided white vaccination card or WHO-provided yellow vaccination card);
OR a photo of attendee's vaccination card as a separate document
OR a photo of attendee's vaccine card stored on attendee's mobile device or electronic device;
OR documentation of the attendee's full vaccination status against COVID-19 from a healthcare provider (on a mobile app, paper document, digital wallet card).
Vaccination records must clearly show the name of the vaccinated attendee, type of COVID-
19 vaccines administered, and date(s) of each dose administered.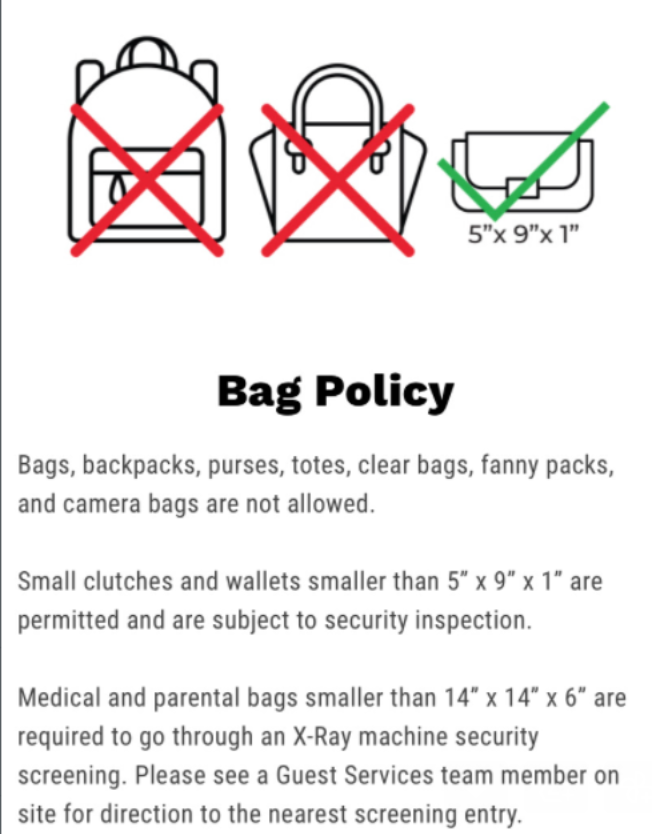 Security Procedures & Clear Bag Policy:
Bags, backpacks, purses, totes, clear bags, fanny packs, and camera bags are not allowed. Small clutches and wallets smaller than 5" x 9" x 1" are permitted and are subject to security inspection.
Medical and parental bags smaller than 14" x 14" x 6" are required to go through an X-Ray
machine security screening. Please see a Guest Services team member on site for direction to
the nearest screening entry.
Watch Jordan Clarkson speak about his Filipino heritage below:
See videos of past LA Clippers Filipino Heritage Nights below, produced & talent booked by the MYX team:
Inigo Pascual 2019:
Manny Pacquiao, Apl.de.ap & JReySoul & more in January 2019:
Apl.de.ap. J Rey Soul & more in January 2018:
Get tix fo the 2022 LA Clippers Filipino Heritage vs. Utah Jazz on March 29 HERE.