Just Stef just made a huge announcement on TikTok to her 2.9M+ followers that international singer/actress & dancer AC Bonifacio will be featured on the Filipino version of her viral hit song, "Miss U, Miss Me." See the announcement below & Pre-Save the international colab on all streaming platforms here.
Stef & AC also shared a snippet of the song on Twitter as they shared the pre-save link for "Miss U, Miss Me" on socials.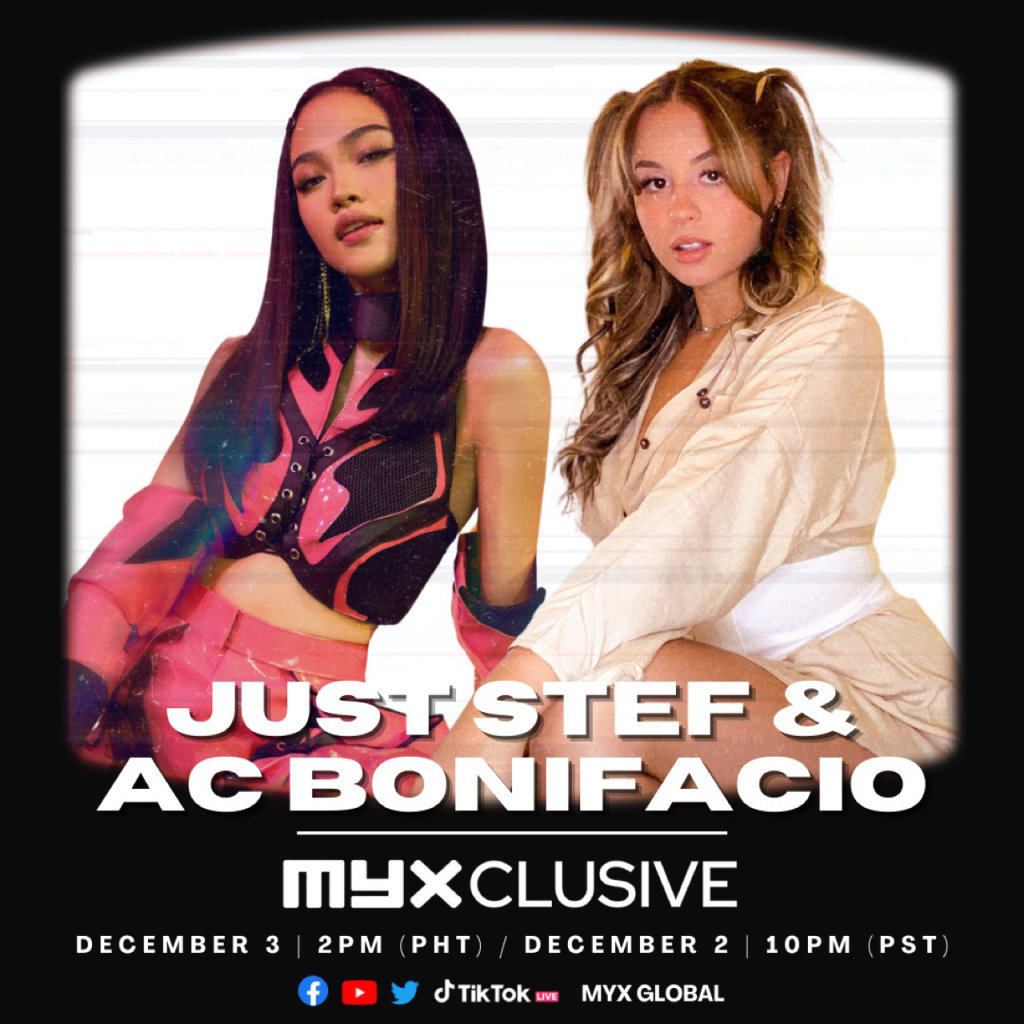 Watch the duo on MYXclusives LIVEstreaming from all @MYXglobal social platforms at 12/2 2P Manila (10P PST). If you have any questions for the duo, post them below:
Just Stef is known for her growing Southeast Asian fanbase including the Philippines being one of her top streaming countries in the world on Spotify. Watch as Just Stef tasted Jollibee for the first time here:
You can also check out her perform "Miss U, Miss Me" on our MYX original series, MYX Traks here.
ABOUT AC BONIFACIO:
AC BONIFACIO is an internationally known Artist, Actress, Dancer & Influencer with over 16M+ followers. She was the first ever grand champion of Filipino TV dance competition Dance Kids and was interviewed & performed on the Ellen Degeneres show after. With over 100M YouTube views and 77M likes on TikTok, "ACnatics" fans & industry peers alike follow AC for her daily content that includes intricate dance cover videos and vlogs. Internationally, she performed with Ariana Grande in Vancouver in 2015, and was a guest star on the CW's hit TV show, Riverdale while being a hired brand ambassador for brands like Sprite, Smart and Crocs. She recently released a single called, "Fool No Mo," on Star Magic Records and is a recurring singer and dancer on the Philippines' #1 variety show, ABS-CBN's ASAP Natin' To.
ABOUT JUST STEF:
In 2020, Just Stef was discovered by the former Global Head of Songwriter & Producer Relations at Spotify, Tiffany Kumar, who was building her Beat House production company. Tiffany started sending songs to Stef who learned how to record herself. One of those songs was "Miss U Miss Me," penned by hit songwriters Chelsea Lena and Kennedi Lykken (Dua Lipa, Kiana Ledé) and produced by Filipino-Canadian producer KyleYouMadeThat (NLE Choppa, Coi Leray).
Right now, "Miss u Miss Me" continues to gain traction on TikTok and DSP's as it approaches 3 million total streams. It is charting high on Spotify's viral charts in Indonesia (#1), The Philippines and Malaysia. For the first time, Just Stef was able to see that most of her fanbase is in SEA. She has leaned into this revelation and has been choosing popular SEA sounds on tik tok and dropped lyric videos in Indonesian and Filipino on Youtube.
Just Stef initially previewed a snippet of "Miss U Miss Me" to her 2.3 million TikTok followers, and it exploded right out of the gate. The teaser alone has racked up millions of views, hundreds of thousands of "likes," and tens of thousands of comments. She delivers an undeniable hook, "I miss you, you miss me, let's make it easy, tell me the same thing." Just Stef will tell you she's "a very simple girl." However, she's being modest. She's really a 21 year old vocal dynamo who can belt in English and Spanish and posts hilarious viral sketches. She appeals to an audience of millions on social media, because she's real and relatable. Born to Argentinian immigrants in the U.S., her family bounced around Southern California's Inland Empire. By 18-years-old, she had settled in Jacksonville, FL. At the time, she often sang on Instagram for fun before launching her TikTok. An "Alphabet Video" caught fire, catalyzing the explosion of her account. She would reenact Kevin Hart bits or perform comedy skits about her family. Along the way, she built an audience of 2.3 million followers on TikTok and generated 90 million "likes." Now, her unfiltered personality shines through a series of pop singles for The Heavy Group/Republic Records.