2) BRIEF DESCRIPTION
In collaboration with top social app, kumu, MYX Philippines gives you a chance to be in the spotlight with your favorite artists and MYX VJs! Be on MYX and appear in different MYX TV shows and online segments!
3) CAMPAIGN PERIOD – May 21 (6:00pm) to May 31, 2021 (9:00pm) Manila Time.
4) COVERAGE – Worldwide
5) WHO ARE QUALIFIED TO JOIN THE PROMO
• The promo is open to all kumu app users aged 18 years old and above.
6) WHO ARE DISQUALIFIED TO JOIN
a) Employees of ABS-CBN Corporation, Creative Programs, Inc., Kumu Technologies, Inc., and their respective subsidiaries and affiliates, and the respective employees' relatives up to the second degree of consanguinity or affinity are disqualified from joining the promo.
b) Persons reporting regularly to ABS-CBN Corporation, Creative Programs, Inc., and Kumu Technologies, Inc. under a contract of service and who, by nature of the service they render, may have a direct and personal knowledge of this promotion are likewise disqualified.
7) HOW TO JOIN THE PROMO:
Step 1:Participants must log on to the Kumu App, or for new users, download, install and register or sign up on, the Kumu App. Participants shall log in/sign up through their respective accounts on Facebook, Google, Apple, or SNS.
Step 2:Participants must livestream on the Kumu App from May 21 (6:00pm) to May 31, 2021 (9:00pm) Manila Time.
To livestream, go to the Kumu App homepage then click on Karlito (the blue tarsier in the middle of your tab) and press the GO LIVE button.
Participant must upload a cover photo (dimensions: 263px (w) x 404 px (h)). There is no specific theme required for the livestream. However, the livestream must not depict or promote any illegal, violent, dangerous or discriminatory behavior or contain any material that is threatening, indecent, violent, obscene or offensive and must abide the rules and regulations of Kumu which can be found here. Participant may also include his or her personal hashtag or any hashtag/s of Participant's choice.
Participant may include other persons in Participant's livestream; however, only Participant's Kumu account shall be credited with the KUMU RISING STAR virtual gifts. Click the GO LIVE NOW button to start your livestream.
Strictly public video livestreams only. Livestreams set in private mode will be disqualified.
Public audio streams will not be counted on the leaderboard.
Step 3: Ask your viewers for MYX MIC & MYX STAGE virtual gifts. Only diamonds from these virtual gifts will be counted:
- To send a MYX MIC virtual gift (500 coins) and MYX STAGE (2,500 coins), viewers must purchase coins through their kumu wallet or they can earn coins through various actions on the app such as referring friends and participating in some of the game shows on the kumu app.
- To purchase coins via kumu wallet: Go to your "profile" and select "my wallet." Tap on "buy coins" and choose the desired amount of coins that you wish to purchase. Choose which payment option you want to use and proceed with the purchase.
Step 4: Have fun and check the leaderboard regularly to see if you've received enough MYX MIC & MYX STAGE virtual gifts to be in the running for the top 5!
- To check the leaderboard, just log on to kumu. Go to the Campaigns tab. Select the KUMU RISING STAR OF THE MONTH ON MYX campaign page and then click Leaderboard.
- The top (1) user in the leaderboard with the most number of diamonds from the required MYX MIC and MYX STAGE virtual gifts will be declared as the kumu Rising Star of the Month on MYX, will be a special guest in one episode of MYX Daily Top 10, host one episode of MYX Moods, and receive an official merchandise from MYX.
- The user in the top two (2) slot will be a special guest in one episode of MYX Daily Top 10, Host one episode of MYX Moods, and receive an official merchandise from MYX.
- The user in the top three to five (3-5) slots will receive official merchandise from MYX.
- Winners will be announced through MYX Philippines' and kumu's official Facebook, Instagram, and Twitter accounts.
8) PRIZES
The winners will win the following prize according to his/her ranking on the leaderboard: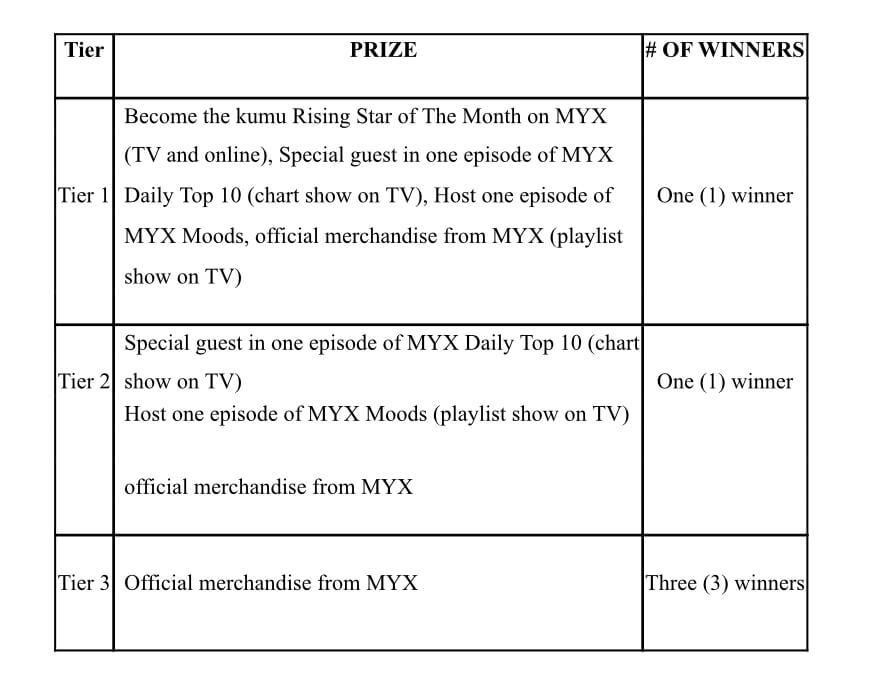 • Prizes are non-transferable. The Non-Cash Prize is non-refundable and not convertible to cash.
• Note: Shoot will be done virtually and all materials will be shown on MYX TV channel and other applicable online platforms.
o A representative from kumu will get the details of winners and will endorse them to MYX Philippines.
o MYX will be in contact with the Tier 1 & 2 winners and will send them the schedule for the taping.
o The shoot will be done and recorded via Streamyard, a live streaming studio in the browser (Google Chrome). A link to the Streamyard studio will be sent to the Tier 1 & 2 winners prior to the scheduled taping.
o The recorded materials will be aired on the MYX channel (MYX Moods & MYX Daily Top Ten) and uploaded on MYX's social media accounts.
9) VALIDATION OF ENTRIES/DETERMINATION OF WINNERS
The Competition will end on May 31, 2021, 9:00pm Manila time. Winners will be selected according to the leaderboards Top 5 CAMPAIGN gift earners in the kumu leaderboard system which will be updated real-time. Only the participants who manage to get into the Top 5 ranking as of May 31, 2021, 9:00pm Manila time, and who comply with all the terms and conditions herein shall be entitled to win.
*IMPORTANT REMINDER: Only the following gifts are counted fo
TERMS AND CONDITIONS:
Participants represent and warrant that they have read, understood, and agreed to abide by the promo and kumu's (https://kumu.zendesk.com/hc/en-us/articles/900003088946-How-to-join-campaigns-and-contests- ) and CPI's(https://myx.global/myxrisingstar) complete rules andregulations.
Promo duration:
May 21 (6:00pm) to May 31, 2021 (9:00pm) Manila Time. Per DTI Fair Trade permit number FTEB-119403 series of 2021