For over 40 years, CAAM (Center for Asian American Media) has been dedicated to presenting stories that convey the richness and diversity of Asian American experiences to the broadest audience possible. As a nonprofit organization, CAAM funds, produces, distributes, and exhibits works in film, television, and digital media. This year they are celebrating the 40th anniversary of their CAAMFest event.
CAAMFest is the world's leading showcase for new Asian American and Asian film, food, and music programs. This year they are excited to spotlight the SOMA Pilipinas Filipino Cultural Heritage District and Filipinx films and filmmakers in San Francisco, California. The event takes place May 12-22, 2022, and will hold in-person and virtual events in celebration of Asian and Asian American voices.
MYX is proud to be partnering with CAAMFest as an official Media Partner for this year's event. We will be conducting an exclusive interview with participating talent, Kiyomi who you can catch at the "Pinays On The Rise" program during CAAMFest, and we will also be covering some of the in-person events as well. So stay tuned. For now, check out some program highlights below and get full details for the event HERE.
IN-PERSON EVENT HIGHLIGHTS:
Saturday, May 21, 2022

SOMA Pilipinas Community Engagement
12:30PM | Yerba Buena Gardens, Free Event
Thúy Trần, Festival and Exhibitions Director at CAAM, introduces our spotlight for CAAMFest40 on the SOMA Pilipinas Filipino Cultural Heritage District. A celebration of the generations of Filipinos throughout San Francisco and beyond, the event partners with community organizations such as Bindlestiff and Balay Kreative. SOMA Pilipinas Filipino Cultural Heritage District organizations and supporters are invited to participate in creating the art installation that will find a home later in the district. 

DIRECTIONS IN SOUND: Pinays On the Rise
1:00PM | Yerba Buena Gardens, Free Event
Following the introduction of the SOMA Pilipinas Community Engagement, and, in partnership with the Yerba Buena Gardens Festival, revel in an outdoor music showcase featuring emerging Pinay voices. Up-and-coming turntablist and SOMA resident, DJ Bitesize, will start the event by spinning and scratching party tunes. Ouida, named one of Nylon Magazine's rising musicians, blends catchy pop melodies with jazz, R&B, and blues. Closing out the concert will be Union City's own singer-songwriter Kiyomi, who brings R&B stylings based on personal experiences. 
Artists Kiyomi, Ouida, and DJ Bitesize are all Filipinx and originally from the Bay Area 
CENTERPIECE PRESENTATION, NARRATIVE FILM: LEONOR WILL NEVER DIE*
5:30PM | SFMOMA Phyllis Wattis Theater
Directed by Martika Ramirez Escobar
What if you could change what was happening before your very eyes? Genres collide in this wild tale of an aging filmmaker who becomes the hero of her own unfinished script, after she's knocked into a coma by a television.
Filmmaker Martika Ramirez Escobar is Filipinx
Actors Sheila Francisco, Bong Cabrera, Rocky Salumbides, Anthony Falcon are Filipinx
The film was acquired by Music Box Films and won the Special Jury Prize for Innovative Spirit at Sundance, making filmmaker Martika Ramirez Escobar the first Filipinx feature director to win an award

Sunday, May 22nd

LOVE & CORONA*, directed by Nicole Maxali
Part of the Shorts Program: HOMEGROWN
2:30PM | New Parkway Theater 1
After losing her job during the pandemic, an energetic wallflower conducts virtual dates on a subscription service site—and perhaps love will go from URL to IRL along the way.
Filmmaker Nicole Maxali is Filipinx and local to Daly City. Nicole is also Program Manager of Balay Kreative, a Filipino Arts Accelerator in SOMA.
Actors Kristiana Torregosa, Francis Lansang, Jeff Francisco, and Giancarlo Cariola are Filipinx. Giancarlo is also an active member of the local SOMA theater company, Bindlestiff. 
Levi's releases a special collection of blogs dedicated to AAPI Heritage Month on their Off the Cuff newsletter. They recognized three Filipino-Americans. They are Levi's staffers Gem Mateo, Sr. Global Brand Creative and Melissa Ladines, Director of US PR and Entertainment Marketing and Paul Ocampo, Director of Development at Asian Americans Advancing Justice – Asian Law Caucus.
Gem Mateo is from Daly City, California. He mentions growing up with a large Asian community and just a melting pot of different cultures. Mateo expresses his gratitude in being exposed to different cultures and family backgrounds.
"I wanted to make a Trucker that not only represented me as an individual, but all Filipinos. So my design incorporates a barong, which is a sheer, ornately embroidered overshirt that's traditionally worn to formal occasions like weddings. Levi's® was a symbol of the USA, and my cousins in the Philippines would always ask us to bring them jeans when we visited. I mashed up the two together to represent Filipino Americans and my own cultural background."

Gem Mateo, Sr. Global Brand Creative
Melissa Ladines was born in Manila and at 7 years old she was sent to boarding school for 2 years in the U.S. Eventually her family moved to the U.S. to help her sister receive better health care. She shares the challenges in immigrating to a new country. "It took several years and financial sacrifices to become not only a legal immigrant but a United States citizen. It makes you realize that carrying an American passport is a privilege." 
Growing up, I would always see family members wear a gown with these sleeves (butterfly sleeves) to weddings or formal events. I always thought it was a bold fashion statement for a Filipina woman. I wanted to incorporate the sleeves into a Trucker Jacket to achieve the same statement and strengthen Filipino pride. 

Melissa Ladines, Director of US PR and Entertainment Marketing
Paul Ocampo was born in Cavite, Philippines and migrated to the U.S. at 11 years old. His family left the Philippines during the President Marcos' dictatorship and at the height of martial law. They looked to seek opportunities for a better life. However like Melissa Ladines mentioned, it came with challenges. Paul shared he struggled to fit in as people made fun of his accent. He worked hard to fix it and to be accepted by peers. This was his way to close the gap of his proximity to whiteness through language.
"As I reflect on the long process of accepting my identity as a first-generation, queer Filipino American, it seems like my whole life has been a constant struggle and journey of coming out. I now don't take for granted coming out as gay, as an artist, or as an activist—coming out has been a process that enabled me to know myself more deeply. Each stage of acceptance led to another, and ultimately, to where I am today. Full acceptance of my complete self, living my life on my own terms, is the song of myself."

Paul Ocampo, Director of Development at Asian Americans Advancing Justice – Asian Law Caucus
Check out all their stories and more on Levi's Off the Cuff.
Cover Photo Credit: Kollective Hustle Facebook
The video is part of #NetflixAAPIStories and features actors, actresses, and comedians from various Netflix shows and films. These artists celebrate culture, history, and stories. Like what the caption said, "we are more than a stereotype…celebrate who we are." Our very own Jo Koy closes out the video with "so welcome to our world, and leave your shoes at the door…"
Cover Photo Courtesy: Lana Condor Facebook
IDENTITY LA Fest is back again this year to celebrate the AAPI community. It is another virtual celebration filled with performances and inspirational messages, all while helping fundraise for the community. Make sure to catch the event on Saturday, May 15th at 5pm PST/ 8pm EST all on Twitch.tv/AmazonMusic.
IDENTITY 2021 is presented by Amazon Music, IMDb, IMDb Pro, Pacific Bridge Arts Foundation, Gold House, and Transparent Arts. The virtual event is hosted by artist and actor, Dumbfoundead and comedian and actress Sherry Cola. If you haven't checked out their stories, you're in for an inspirational boost!
Many artists are part of the lineup with a couple Filipino artists making the list. Guapdad 4000 and James Reid are set to take the stage. This marks Guapdad's first appearance at the digital event while this is James Reid's second time, as he performed last year for the Identity: Project Blue Marble event. Could we hear a new song by James Reid? He did mention that a new song, Crazy is out on May 7th. We'll just have to tune in and see!
Cover Photo Credit: Pacific Bridge Arts
Just as we start Asian American and Pacific Islander Heritage Month, AJ Rafael recently released the song, Our Friend, Larry Itliong. Larry Itliong had a huge impact Delano Grape strike of 1965. Unfortunately, it didn't make the history books. AJ Rafael helps tells Manong Larry's story of an aspiring lawyer, who became a storied Filipino-American labor leader and organizer. Check it out here!
According to NBC News, "Itliong was 16 when he arrived in the U.S. from the Philippines with a 6th grade education. He went on to lead the farm worker movement that many believed changed the world." He's considered the heart and soul of the strike wile Cesar Chavez may be the face we all recognized.
Cover Photo Credit: AJ Rafael Twitter
Join us as we celebrate AAPI Heritage Month this Saturday, May 1, 2021, 12-4 pm at Whimsy Pasadena!
The Spring Market Pop Up will have 7 BIPOC owned businesses (5 out of 7 are Pinay-owned) and fundraising to support the Stop AAPI Hate campaign.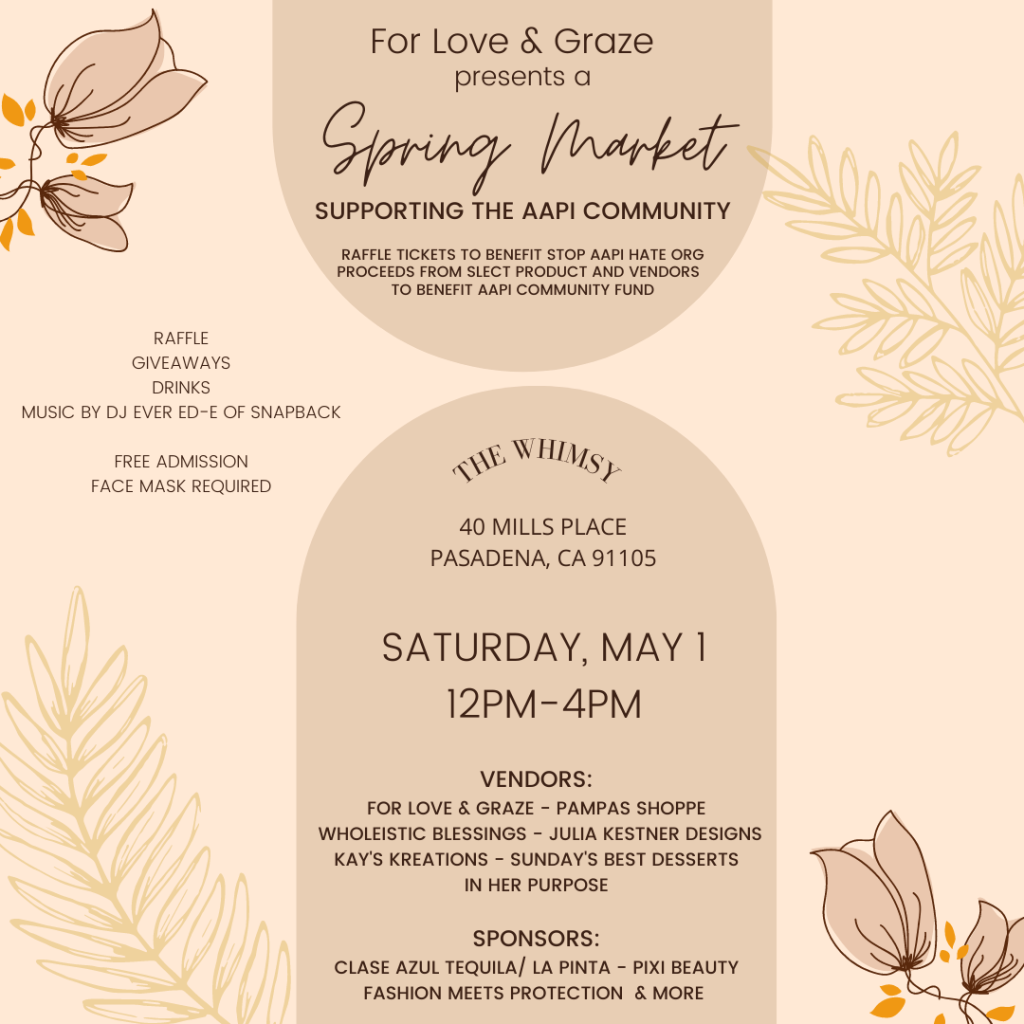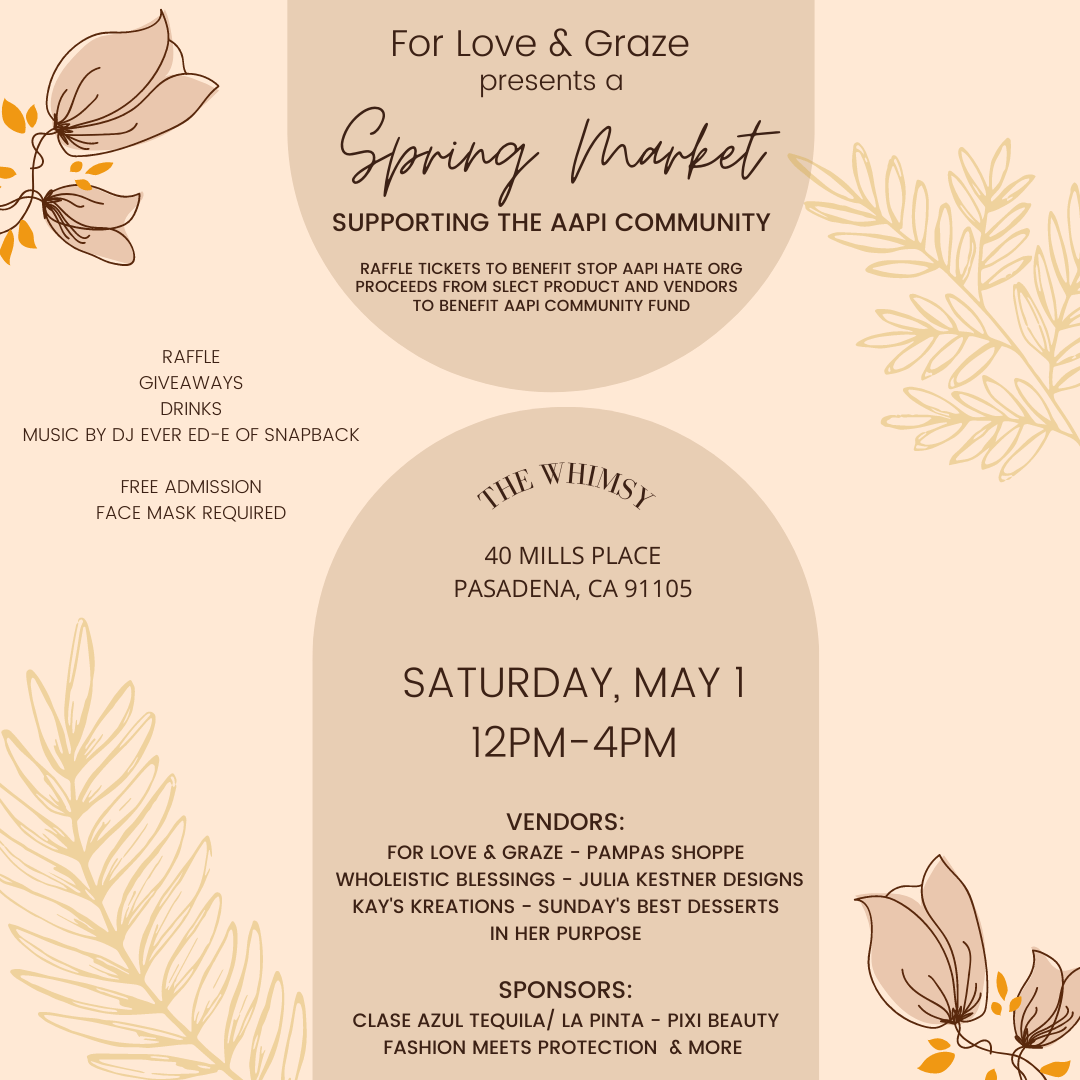 About the Fundraiser
Raffle tickets are $10 each and 100% of the proceeds are going to Stop AAPI Hate. A portion of the proceeds from select vendors and products will benefit Stop AAPI Hate and AAPI Community Fund. People can also purchase raffle tickets virtually during the event.
List of Vendors
For Love & Graze (Charcuterie boxes and gifts baskets)
Pampas Shoppe (Dried floral arrangements)
Julia Kestner Designs (Art prints and merch that spread mental health awareness, self-love, and self-care)
Wholeistic Blessings (Crystals)
Sunday's Best Desserts (Filipino fusion condensed milk cookies and desserts)
Kay's Kreations (Crochet Amigurumi plushies)
In Her Purpose (Books and other merch)
Be sure to arrive early! The first 30 attendees will receive gifts worth $250+ and many more!
With participation of DJ Ever Ed-E from Snapback and surprise guests!
See you there!