Influencer and now children's author, Laura Barber debuted her first book, Eddy Saves the World over Earth Day. To help inform people about the environmental changes happening in the world, Laura turned a tough topic into an education learning moment not only for kids, but adults too. The main character Eddy may have taken inspiration from Laura's brother and PBB alum Edward Barber where he wants to save the world from climate change.
The book was written during lockdown while Laura saw first-hand how fast environmental changes were happening around her. She wanted to teach children and everyone else that no action is too small to make a difference in the fight against climate change and Eddy is here to help.
Check out the synopsis to see how Eddy plans on saving the world one environmentally friendly step at a time.
"Eddy doesn't have time for things like homework.
Eddy wants to save the world. Instead of preparing for his presentation on climate change, Eddy daydreams about catching robbers and saving the world. But when Eddy shows his superhero costume to his friends, he's surprised to hear their reactions…
'I wish your costume could help me save the fish.'
'I went to watch the polar bears last week, but I didn't see any!'
'There was a fire in a forest nearby.'
Soon, Eddy discovers that a danger even bigger than thieves and robbers is threatening the world… …and it's up to him to save it."
If you're in the Philippines, grab your copy of Eddy Saves the World now!
Cover Photo Credit: Laura Barber Instagram
Co-Authors Monica and Eric Tuy wrote the children's book "My Pinsans & Me: Amara's Talent Show" in the fall of 2020 (before they even knew they were pregnant). "Pinsans" is the Filipino word for "cousins." The inspiration initially came from their good friend, Brandon, who wrote a book for his daughter called E is for Engineer: ABC's for Future Builders that introduces Science, Technology and Math (STEM) terms using the alphabet. While they racked their brains for ideas, they kept coming back to their childhood memories. Monica grew up very close to her cousins ("pinsans" in Tagalog) who were her first friends in life. Four of their Canlas families lived in three adjacent towns, only ten minutes away from one another. They spent every weekend and holiday together. They played SPUD until the sun came down, they hosted Snoopy parades in her parents' backyard, and performed songs and dances for their Lola (Grandmother). These memories defined what she believe a happy childhood should be and became the basis for why they moved back home to grow their family. They say you should "write what you know", and Monica memorialized her special childhood with the book, MPAM.
Their dream for this book is two-fold: to empower Filipino-American children by seeing themselves in a book and to expand the worldviews of non-Filipino families by seeing people who are different from them represented. Only about 20% of all children's books depict a main character from a non-white background. They hope that taking the chance on writing and self-publishing "My Pinsans & Me" plays a part in correcting this imbalance in diversity. Their book is now available for pre-order on Amazon.com and will be released on 4/28! This pre-sale period is very important so that Amazon will have enough inventory come 4/28.


Their Amazon pre-sale activity is vital to the stock status and overall selling success of the book. So please don't wait to order your copy--order it now! Gift a copy to your kids, nieces, nephews, friends' children, etc. Consider donating a copy to your children's classrooms or local schools and libraries to add color to their bookshelves. Representation matters and they think a lot of us wish a book like this existed when they were younger.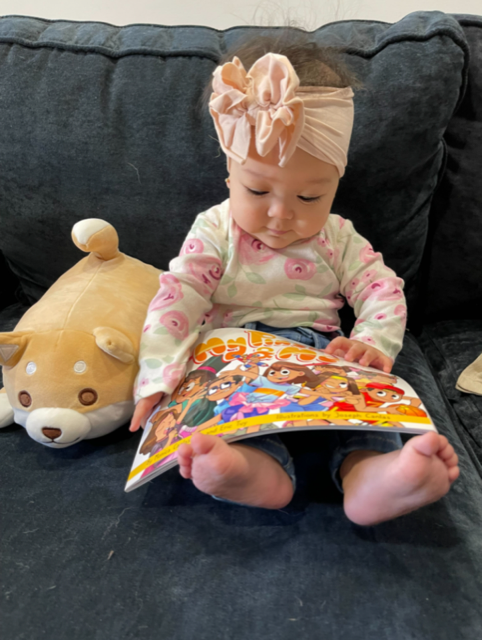 Monica's younger brother Joseph illustrated the book! This labor of love was created for their family and with their family. Isn't this the heart and very core of Filipino culture? They are so incredibly proud of this book and hope everyone will be, too.
Please help us spread the word by telling your friends, forwarding their pre-sale link, and re-sharing their @mypinsansandme social posts. Please be sure to follow them on Instagram for book updates, raffles, giveaways, and other exciting things they are working on.
Fil-Am comedian Jo Koy recently released his book Mixed Plate. The book offers and All-American combo story. "A funny, sad, at times pathetic but also kick-ass tale of how a half-Filipino, half-white kid whose mom thought (and still thinks) his career goal was to a become clown became a success."
He shares his success story but doesn't shy away from the hardships along the way. Readers will see how Jo Koy made his and his mom's American Dream come true. It will be interesting to know the story behind his family's story and how he came to embrace the craziness. We'll see Jo Koy get serious about his funny. Like a mixed plate, we'll get a little of this and a little of that to Jo Koy's life.
In a recent interview with Jobeth Devera on NBC LX, he goes more in depth about how some stories were hard to tell. The taboo things we don't talk about in the Filipino culture, Jo Koy realizes it shouldn't be ignored. We hear about his mom and his son, but we learn about his brother. He mentions how hard it was to talk about his brother and his struggles during the audio portion. Also, he talks about experiences he saw his mom go through in everyday life as an immigrant in American and dealing with microagressions. The book goes beyond the superficial side we see and dives into what it took to become Jo Koy.
Cover Photo Credit: Jo Koy Facebook