If you caught the latest episode of Monarch, then you saw the duet between Ace and Ana played by Inigo Pascual and Emma Milani. They sang an acoustic version of Harry Style's hit, "Watermelon Sugar." The full video isn't out yet, but the Monarch social channels have released a snippet that will leave fans wanting more.
Catch Inigo on the guitar and vocals while we see how well their voices mesh together. We can't wait to see how their characters' relationship grows throughout the season and hope this is the first of many duets.
Cover Photo Credit: Emma Milani Instagram
Trying to get over the Monday Blues? Vivoree has been getting back to music and releasing covers of her favorite songs. Her latest cover is Miko Reyes' "Perfect Two." According to Vivoree this track is one of her favorites, "This song is by far one of my favorite light-hearted songs to date!"
Her arrangements always stand out and matches so well to her voice. In this cover, we see a minimalist set up so we get to focus on her voice and the ukulele. You'll have to check out the rest of her covers as she sings Adele's "Easy on Me" and more all on her channel!
What's also on the horizon for Vivoree is she'll appearing again as "Ysay" in the top series, He's Into Her Season 2 coming this summer!
Cover Photo Credit: Vivoree Instagram
After a little hiatus, Vivoree is back with a new cover! She sings her heart out in an Arthur Nery cover for his song, "Pagsamo." The last time she uploaded a cover was about a year ago so it's a treat for us! Her pop sound matches will the original R&B vibe of the song. Vivoree hints that this is only the beginning and more music and covers are on its way!
The track, "Pagsamo" broke Youtube and Spotify chart records in the Philippines for OPM. Its lyric visualizer currently sits at 49 million views on Youtube and 52.7 million streams on Spotify. Check out Vivoree's take on the song below!
Cover Photo Credit: Vivoree Twitter
Zephanie and Ian Pangilinan add to kilig season with their cover of "Rewrite the Stars" from the film, The Greatest Showman. The song originally done by Zac Efron and Zendaya, Zephanie and Ian put their own original spin with a soulful cover and whimsical visual of the popular song from the soundtrack.
Zephanie was recently invited to the Now United Bootcamp early this fall as one of the global talents to join. She definitely made her presence known with her fantastic range and performance skills throughout the camp. Check out more on the camp here!
Cover Photo Credit: Cornerstone Entertainment Twitter
The A-Team just released their latest dance cover of Khalid's latest track "New Normal." They shared their thoughts about the song through movement and visuals. You have to see their interpretation on the song which brings out a new light.
The crew is also celebrating their 10 years as a group. They're currently under the Careless Music roster and collaborating with them for unique content.
To celebrate their milestone as one of the best dance crews in the Philippines, they shared some of their favorite moments together. The World Champs continue to rise and take the art to the next level.
1 Skydome - A venue that holds the most memories of their team and where they celebrated dance.
2 The Demo - Their annual concert and the most important performance of the year.
3 HHI - The competition that catapulted them to where we are now.
4 Dim The Lights - The special time they shared together during a vulnerable time.
5 Tour - A small performance that started in SM malls. We eventually found ourselves performing and teaching all around Asia, US and Europe.
6 The Vibe PH - It allowed groups from all over Philippines to share one stage in the name of dance.
7 Choreo Cup - The competition that started it all.
8 Zero Studio - A summer camp that started with 30 people grew to about 300 in a short span of time. We also gave birth to this already legendary studio.
9 Travels - Their bond got stronger during traveling together.
10 Concept Videos & Signing - Signed by Careless
We can't wait to see what else is in store and what the next 10 years will bring.
Cover Photo Credit: A-Team Facebook
Inigo Pascual is so talented in his own right. He sings, dances, acts, and writes to name a few of his many talents. So what else is Inigo aiming for in his young, but already accomplished career? Right after Bretman Rock's fabulous cover in July, Inigo takes a stab at it and sits with NYLON Manila to chat music and fashion. Inigo talks about his journey as an artist, what's keeping him inspired, and how he pays it forward to others. If you think you know Inigo Pascual, there's more to know!
Inigo's rise started with the OPM hit, "Dahil Sa'yo" back in 2016, but he's been grinding towards his dream long before then. The talkative, hugger shares the struggles of finding his purpose and the beginnings of his career when he was still Stateside. His go-getter personality and contagious energy allowed him to try different things like sports, but music never left him. Music became his safety net or something he kept coming back to. Inigo honed his energy towards performing and realized early on his niche and confidence was in theater arts.
Finding your calling is only half the story, how to get to life's grand plan is another undertaking. As an artist starting out, it was starting to look up and stars were aligning for Inigo until things fell through from not being able to audition for X Factor to passing on a boyband project. However, things always happen for a reason but that doesn't mean you can't be sad about it. Inigo recalls, "after that didn't work out, I would cry myself every night when I was in Tennessee, I just felt like I didn't belong. I felt like I didn't know what I was doing." Eventually he found himself back in the Philippines except this time as an actor, but like he said music wasn't going anywhere. While music was already a part of his life, his source of happiness had to take a back seat to carve space for himself in showbiz. 
His musical opportunities grew after the release of "Dahil Sa'yo" which led him to make his first album. Now you see his growth in his 2021 album, "Options" and the latest track "Finding Neverland." He was performing onstage, writing his own music just like he always hoped. "With music…It was always so fun to do it. I didn't feel like I was scared to do it. I was always in that space of experimenting; in terms of what I can do with my music." Music has helped him grow up and really find himself.
So how has he been dealing with the pandemic? Creating music of course, but also loads of video calls with friends and family. Inigo shares the journey of creating "Options." "With this album, I mean, we all went through so much. It was two years in the making...but we didn't stop." Don't stop, won't stop, am I right? Lots of patience went into making this album, but Inigo also realizes he was in a fortunate position to complete the project. To that, he's opened himself up to collaborating with other artists and simply sharing space or advice. "For them to kind of choose me to be able to say, you know, advice to them, it kind of made me feel like okay, I'm doing something right."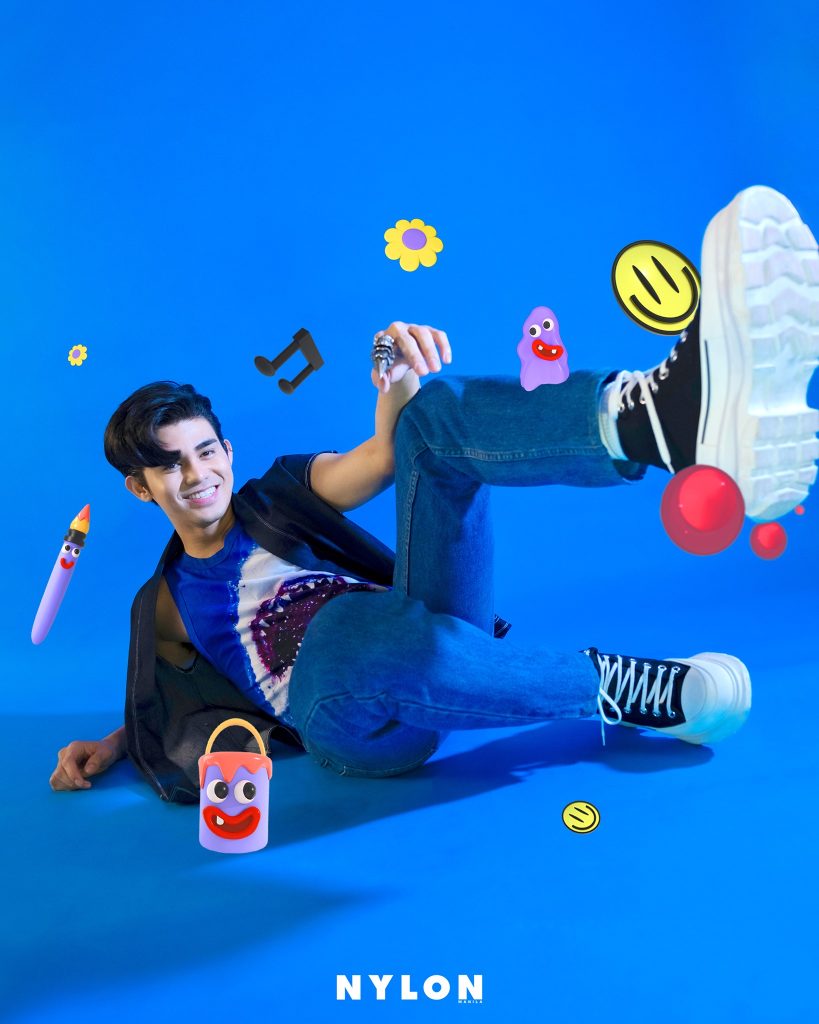 It's all a reality now for Inigo. He's performed at the Staples Center for Filipino heritage night, his songs are catching waves on KISS FM, and he's collaborating with some of the best in the game. Would he ever thought it'd happen? Sure, but it still blows this 23-year-old's mind that it did. "It's a crazy feeling to be honest, to be able to do these things like right now." Inigo takes and enjoys the ride of life. Sky's the limit for him, but Inigo keeps his next project on the down low and leaves readers with, "it's always good to challenge yourself."
Cover Photo Credit: NYLON Manila Facebook
In this cover of the theme song, He's Into Her originally done by boyband BGYO, lead actor and past MYX VJ Donny Pangilinan puts his own spin on the pop track. It's slowed down into a dreamy melody and sung in the point of view of his character on the series, Deib.
If you haven't yet seen the No. 1 trending show He's Into Her on the iWantTFC app, where have you been? The 10-episode series is the definition of kilig and stars Donny Pangilinan and Belle Mariano as Deib and Maxpein. She is a spunky provincial girl raised by her grandmother and uncle who recently reconnects with her father in Manila. In a new town with a new family and being the new girl at school, it isn't easy. Max becomes Deib's, the basketball varsity captain's next target, but he's met his match. Max doesn't let up without a fight however, feelings change and Deib finds that he's into her. Catch the first episode below!
Cover Photo Credit: Donny Pangilinan Official Facebook
Valentine's Day is right around the corner and Inigo Pascual brings us another hit produced by Moophs and Tarsier Records. This time, Inigo takes on a remake on a classic Air Supply song, All Out of Love. The remake bridges the generational gap and introduces a well-known hit to a new audience. Inigo, Moophs, Russell Hitchcock and Graham Russell of Air Supply were present at this MediaCon and talk about the song, a possible collaboration, and what's next after this release.
Listen to the track here:
Highlights from the Interview:
1. Air Supply is proud of the remake done by Inigo and Moophs
They were curious about the production of the track and interested in learning about the instruments Moophs used. Moophs says it was all recorded in Manila, using 808 beats and adding in guitars and base. He also mentions it was no small task and something that couldn't be taken lightly because he wanted to do the song justice.
2. Inigo and Moophs wanted keep the essence of the song in the remake
The main goal when creating this reimagined version of All Out of Love was bridging the gap between new and older audiences. There was initially 3 different versions of the song, more with an upbeat sound. However, Moophs kept in mind Inigo's style. They decided to keep the ballad essence to the song because "it's a positive song with a great message."
3. Air Supply is flattered to have their song recorded and have it done well
They had nothing but praise for Moophs' production and Inigo's vocals. With the band performing the song since the 1980s, they're happy to see that their music "could transcend generations." It's also a great testament to the song as they hope the song will continue to be heard even when they're not around anymore.

4. Great songs will live forever and it's a testament to Air Supply's writing
The song now belongs to the world and they interpret it how they want. Russell and Graham mentions that when their music is covered, it symbolizes the passing of the torch. They're excited to see younger people discovering their catalog for the first time and seeing it as new while hearing it all under a new perspective.
5. Air Supply is part of the Filipino DNA
Their first trip to the Philippines was around 1980 and it's always a treat when they perform. They recognize that they've become famous for their ballads and play other music, but it's the ballads that the Filipino people gravitate to and relate with. They describe Filipinos as very passionate people, natural musicians, and some of the best singers.
6. Moophs guarantees that there's more Air Supply remakes on the way
The collaboration with Air Supply tracks on this project will span the whole year. Moophs worked with a publisher in Los Angeles and they came up with a plan. The goal is to have different artists pair up with a song from their catalog. The covers will be released individually with a compilation album coming at the end of the year.
7. Inigo was excited to be given All Out of Love
Inigo explains that Moophs assigned him the song and he was excited about it because he grew up listening to Air Supply from his dad and grandpa. He thinks a lot of people could relate to the song especially this Valentine's Day...could myxers be your Valentine, Inigo?
8. Inigo intended to keep the feel of the remake a ballad but more intimate
When the song was recorded back in November, they had options in which direction to take it. Inigo and Moophs still wanted to make it big, but at the same time more intimate. The lower register of the song resulted in Inigo singing softer and the delivery became more intimate.

9. Producing the remake of All Out of Love was like a science project
Moophs explains the production took around 3 weeks to complete in the studio. The intent was keeping in mind the original track, to do it justice, and staying true to the artist's sound. He compares it to a science project because they had to find a balance between new and original while also catering to the fans.
10. Inigo is receiving the baton from Air Supply
With all the support Inigo has received from Air Supply, he doesn't take it lightly. Inigo says it's big shoes to fill and it's a dream to do a project like this, but it's still crazy for him to hear Graham and Russell's feedback. The legends of Air Supply ravels on about Filipino talent. "They have great talent and voices...No matter where we perform, there's a large Filipino crowd who can sing so well and so often."
It was mind blowing to see the legendary band Air Supply still rocking out and doing their thing while having rising talent like Inigo bring a fresh take on classic music. Music that can span generations is good music. We're excited to see what's next for this crossover project. Moophs hints we can hear a remake coming from Idol Philippines alumn, Miguel Odron. For now, listen to All Out of Love everywhere!
Make sure to also catch Air Supply's first digital livestream concert, "Love Letters" happening 2/14! They'll be performing many of their classics and 2 brand new songs no one has heard yet.
Cover Photo Credit: Inigo Pascual Facebook