It can't be stressed enough that representation matters and Fil-Am actress Netta Walker feels the same. She co-stars as Keisha McCalla in the spin-off CW series, All American: Homecoming that follows student-athlete Simone Hicks (Geffri Maya) and her friends as they balance being an HBCU student, sports, and relationships. Netta's character Keisha undergoes a tough time in the most recent episode, "Godspeed" as she remembers her Filipino mother's birthday.
Keisha tells her friends that in Filipino culture, birthdays are a big deal even after someone's gone. It's the first time Keisha and her father are unable to visit her mother's grave. This leaves her friends to band together to research and plan a traditional Filipino birthday celebration.
The friends at fictional Bringston University pull off a modern Filipino family dinner that included common dishes all the way down to the table setting. Some even honored cultural attire by wearing pieces of the national costumes. For the celebration, Keisha's friends prepared a kamayan feast with food laid out on a table of banana leaves and where they ate with their hands. If you look closely, the details are spot on with rice, fried fish, crispy pata, fried squid, buko pandan, fresh coconut drinks, and more!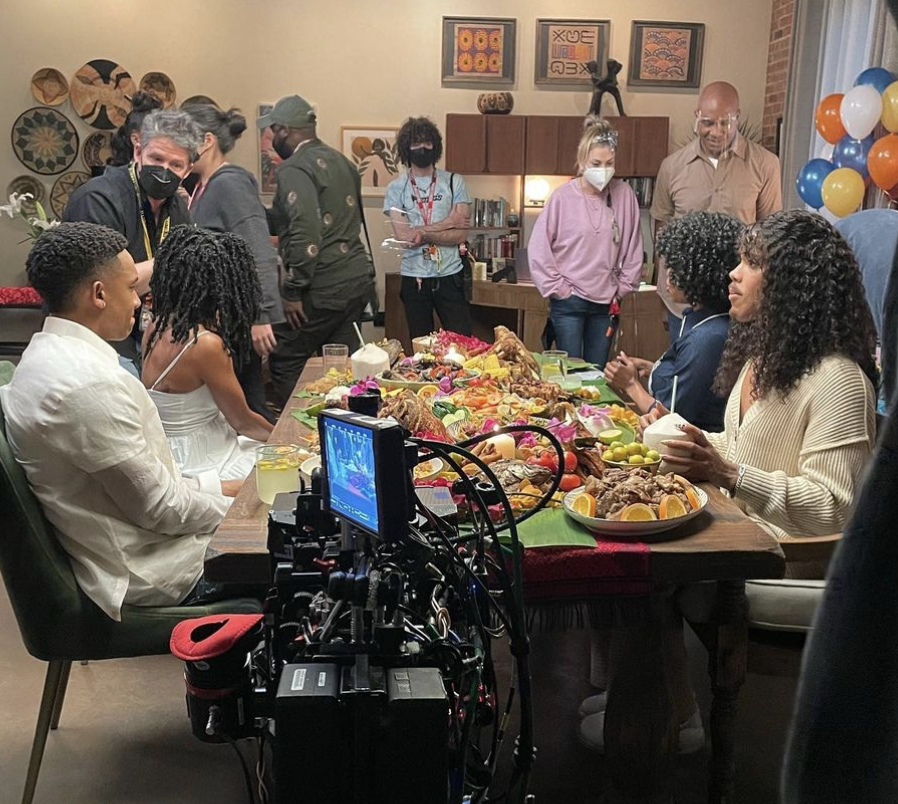 A few of the cast even wore traditional Filipino attire like Peyton Alex Smith who plays Damon wore a Barong Tagalog, and Keisha and Dr. P sported modern embroidered boleros. The tribute to the culture meant a lot not only to Keisha but also Netta Walker. She shared that many tears were shed as her younger self felt loved and seen in a way she never imagined. All the photos used in that scene are of her and her mother who is alive and well. This storyline also served as a healing experience as Netta lost her father as a young adult.
Netta adds, "I never thought I'd be lucky enough to tell a story so close to home. Because you actually saw me… a story about a Blasian girl who lost her parent…mahalaga ang representation (representation is important). This story means more to me than I can even begin to express, and this is a moment I'll cherish for the rest of my life."
Both Keisha and Netta represent a person who is half Filipino and half Black and looks to find their identity. The episode tackled the idea of nature vs. nurture and which is more important. Keisha shared that she's Team Nature and although she's proud to be from a two-culture household, there's part of both cultures she doesn't know about. In the absence of the parts she doesn't know, what she does know about her identity makes up who she is today.
Cover Photo Credit: Netta Walker Instagram
Fil-Am JB Tadena recently was casted along with Asian actors Vanessa Yao and Annie Q. for CW's series reboot of Kung Fu. Their characters, Mia, Juliette, and Sebastian will have large reoccurring roles in the series' second season after season one's crazy finale.
According to Deadline, Mia (Yao) is main character Nicky's cousin who's been supporting herself for years. It'll be a family reunion this season, but it won't be a pleasant one as Mia is a powerhouse. She's a Guardian and Warrior with insane skills. While Juliette (Annie Q.) is the daughter and heir to businessman, Russell Tan. She'll need to decide if she's willing to follow the dark path her father has set or forge her own.
Sebastian (Tadena) is an eager chef new to Harmony Dumplings and ready to show off his skills in the kitchen. He catches Ryan's eye, but are the feelings mutual? Speaking of relationships, Sebastian also fosters a new friendship with Mei-Li in the meantime. It looks like Tadena's Sebastian is stirring up interesting relationships this season.
JB Tadena has hustled as an actor after leaving his job of seven years as a satellite engineer. "…while the hustle never really ends, that's all it was for the first year and a half. I did research on how the business works, took classes, did networking, auditions, experienced rejections…" You can catch him featured on shows like Westworld, NCIS, SEAL Team, Agents of S.H.I.E.L.D, Grey's Anatomy, American Horror Story, and also in the Call of Duty: Vanguard lending his voice to one of the video game's character.
Cover Photo Credit: JB Tadena Twitter