Inigo Pascual has been a rising artist breaking through the music industry. He's not only a pop superstar in the Philippines, but Inigo is also marking his mark globally. An accumulation of 2 years of pushing out new music, music videos, and collaborations he's finally releasing his second album. The upcoming album Options releases June 25th and is the same title as his 2019 single with Tarsier Records. Expect a full-length record and it's ready to pre-order! The announcement was posted on social media along with a video snippet of a stripped down version of the single. Stay tuned on MYX Global for more info!
Inigo's most recent song with DJ Flict and Common Kings, Danger kicked off our summer jams playlist with its catchy hook. The artists recently caught up with each other and had their own jam session. TFTI! We can't wait to see this track performed live because it'll bring all the island vibes!
If you haven't yet heard Options but we're sure you already have, check out the music video below. You know you want to hear it again!
Cover Photo Credit: Inigo Pascual Facebook
DJ Flict, Common Kings, and Inigo Pascual released the summer track Danger not too long ago, but you can finally watch the official music video now! The music takes place in two different locations, over in LA and Manila. DJ Flict and Common Kings enjoy a kickback at a SoCal mansion while Inigo brings the heat from Manila. When making a music video, you need a catchy track, a dope background, and fun. This video has it all.
When we talked to DJ Flict and Common Kings last month, they're so excited to talk about the song with Inigo Pascual, Danger. Finally, the track is here!
Everyone we've come across predicted Danger to be the new summer anthem. The track has a fun, infectious beat, catchy lyrics and island-pop melody that fans love. 
Besides the song releasing, there's also a lyric video! A few weeks ago, MYX Global was on location for a secret project. DJ Flict and Common Kings had a blast shooting the video and honed in their meta acting skills. Check out the lyric video above and the MYX Global Premiere happening on Twitch & kumu this weekend 5/14-5/16 and a "Danger" raid train hosted by Nico Blitz 5/24 + 5/25.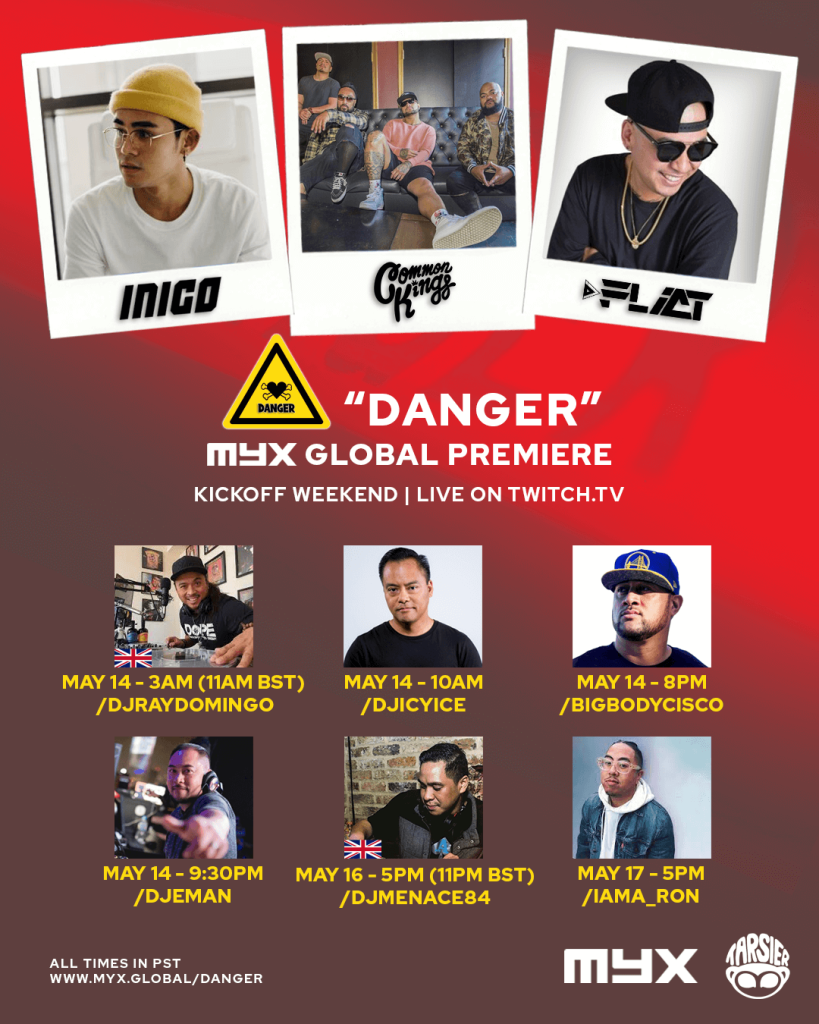 Also on 5/16, Beleaf Better Burgers is celebrating the release of the single with us with a special plate! The Chicken Katsu Plate will only be available at their Stanton, CA location. Plus it's Island Reggae Night, perfect to match the vibe of the song. They're serving up a special Danger sauce with the dish that definitely brings the heat! Fair warning, it's dangerously spicy.
DJ Flict and Common Kings stopped by and chatted with VJ Ai for a MYXclusive that'll leave you wanting to be part of the crew.
From the interview, we learned Inigo traveled to California last winter and during that time he got in the studio to record Danger. DJ Flict showed us the exact spot in his studio where all the brainstorming and producing happened. DJ Flict worked with songwriter Zak Waters for the track. The song started Common Kings' melody then turned it into a whistle intro. Check it all out here!
ABOUT INIGO PASCUAL:
Inigo Pascual is a young, international pop superstar from the Philippines with over 4M+ social media followers. His 2016 release "Dahil Sa'yo," a song he penned himself, topped Billboard PH charts at #1 for 3 months and remains as the most dominant OPM (original pilipino music) release in history. A tireless worker in constant demand from his millions of fans, Inigo turned his attention toward the international market in 2019, collaborating with Australian-Chinese vlogger and musician, Wengie, Singaporean rapper Akasha, GRAMMY nominated reggae artist J Boog as well as UK/US popular boybands, New Rules and PRETTYMUCH. He worked with GRAMMY award winning producers from Manila to Los Angeles, CA on a solo album, giving birth to his lead single, "Options" and island pop hit "Catching Feelings." Inigo became a familiar name in media and international radio while doing promo rounds in Los Angeles, New York, and even taking the stage during halftime at an NBA game. Radio airplay was followed by appearances in San Francisco, London, Toronto, Tokyo, and Sydney on popular stations like IHeartRadio in the US, SBS Pop Radio in Australia and BBC Radio in the UK. The "Catching Feelings" (Bimwala Remix) charted on Top 5 new songs on stations like Island 98.5 and HI93 in Hawaii. He has recently been part of 88Rising's exclusive online festival, "Asia Rising Forever" and performed "Catching Feelings" on Jo Koy's Netflix special, "In His Elements", with the track racing to the top of Shazam Charts in various cities globally.
After album singles "Should Be Me," and "Lost" dropped in 2020, Inigo joined a band of international artists assembled by Tarsier Records for "RISE" - a cross-cultural unity track featuring Eric Bellinger (USA), Sam Concepcion (PH), Moophs (PH), Zee Avi (Malaysia), and Vince Nantes (USA), putting him in front of a new category of listeners and proving that no pandemic can stop his international track. To close off his 2020 streak, Inigo releases "Always" - a dancehall-pop tune that sprouted with "RISE" co-collaborators, Vince Nantes, Sam Concepcion and Moophs. He plans to release his "Options" album in 2021.
ABOUT COMMON KINGS:
The GRAMMY nominated Common Kings have toured and worked with some of the world's biggest pop stars like Justin Timberlake and Meghan Trailor. They have also toured countries like Japan, Australia, New Zealand and the United States on their own sold out tours. Currently they have over 914,000 monthly Spotify listeners with over 85M YouTube plays, making them one of the most popular island reggae groups of all time. Their unique style and music is a collection of inspirations orchestrated into an array of head rocking beats, feel good vibes, and emotional fever. Their crazy, fun-loving attitude compliments Common Kings' live sound, producing phenomenal hits with rock, reggae, and island influences. These influences originate from each band members love for various genres, and widespread knowledge of music.
The majority of Common Kings were born in the South Pacific, and raised in Orange County, California. Growing up with households full of colorful personality and vibrant passions for music, Common Kings' members naturally grew up forming individual musical paths. This musical journey involved mimicking and listening to artists such as Van Morrison, Stevie Wonder, Geourge Benson, Jim Croce, Michael Jackson, The Who, Led Zepplin, Gypsy Kings, Earth Wind and Fire, Bob Marley and more. The culmination of these musicians explains exactly who the Common Kings are.
Where everything comes to a point is through lead singer Sasualei "Jr King" Maliga. Jr King is perhaps one of the most powerfully impressive vocalists amongst today's leading artists. Born with this untrained raw-talent, Jr King's singing ability seems boundless, as he amazes listeners with a wide range of belting notes and soulful passion. His humble demeanor off-stage needs no introduction as to when the band is rocking out on-stage creating a young, wild, and free atmosphere.
ABOUT DJ FLICT:
Chris "Flict" Aparri is an LA-based Grammy nominated, platinum record producer, songwriter, artist DJ & musical director. A lover of all music genres, Flict's versatility has allowed him to work with everyone from Meghan Trainor and Wiz Khalifa to Sublime with Rome and Fifth Harmony. It is his youthful "Hit" sound and humble nature that attracts various artists, songwriters, and record labels around the world.
Born in Sta. Mesa, Manila, Flict began playing music at the age of 5. Learning any instrument he could get his hands on, he became a true and lifelong student to music. In college, he was a music performance brass major and eventually earned a degree in Recording Arts and Production. His professional career began as a DJ where he developed his distinctive style and love for hip hop that remains a major influence in his sound today.
Flict's "big break" came when he was asked to be the musical director and producer for the legendary Lauryn Hill. He considers that his first musical boot camp, giving him the confidence to tackle any project thrown his way.
A good friend and longtime collaborator of Flict's is Grammy award winning artist, Meghan Trainor. They have written and produced numerous records together that have been placed with several artists including Fifth Harmony and Common Kings. Flict has had numerous records reach #1 on iTunes overall charts. He produced 3 records on Fifth Harmony's "Reflection" Album which was #1 on iTunes in 25 countries and went platinum. As well as have peaked at #5 on the Top 200 Billboard overall charts. He is Grammy Nominated for his work on the album: Lost In Paradise by the Common Kings. He landed the Global Campaign song for Weight Watchers alongside Oprah, Diane Warren, and Ally Brooke. He also has executive produced the band 4th & Orange under Latium/Atlantic recs.
As of recent, he has landed a song deal with ABS-CBN producing hit songs for top Filipino artists Inigo Pascual, KZ Tandingan, Moira Dela Torre, Jayda, Morissette, & more.
⚠️5/16 Island Reggae Night + Chicken Katsu Plate by @beleafburgers, to celebrate #Danger new ? single produced by @djflict ft @inigopascual & @commonkings. Join #DJFlict & @beleafburgers for a special food collab, available this Sunday 5/16 ONLY at their Stanton location come to try his limited edition Danger Style Chicken Katsu Plate! The Danger sauce is legit spicy ? but you can also get it not spicy if you don't like heat ?
⚠️ Be sure to check out the new single, Danger by #InigoPascual #CommonKings & #DJFlict streaming on all platforms & during our #MYXGlobalPremiere this Friday 05/14. ?
? Island Reggae Night 3
? Sunday 05/16, 4PM-9PM
⚠️ Danger Style Chicken Katsu Plates available all day
? Beleaf Burgers at @rodeo39pm
12865 Beach Blvd.
Stanton, CA 90680