The time is almost here as P-Pop groups BINI and BGYO are teaming up for the first ever sibling concert, "One Dream: The BINI x BGYO Concert." BGYO's been making waves with their debut album, The Light as it reached 5 million streams on Spotify. Their track "The Baddest" music video crossed 1.5 million views and landed a top spot in Billboard's Next Big Sound chart. BINI's also released their debut album a week after BGYO called, Born to Win and landed the No. 4 spot on the iTunes All Genres Chart its first week.
With already two headliners in this historic concert, it can't get any better right? Well it just did! Just announced to the line up are more of your favorite artists like AC Bonifacio, Kritiko, and the one and only KZ Tandingan. This is a show you don't want to miss or you'll have deep FOMO.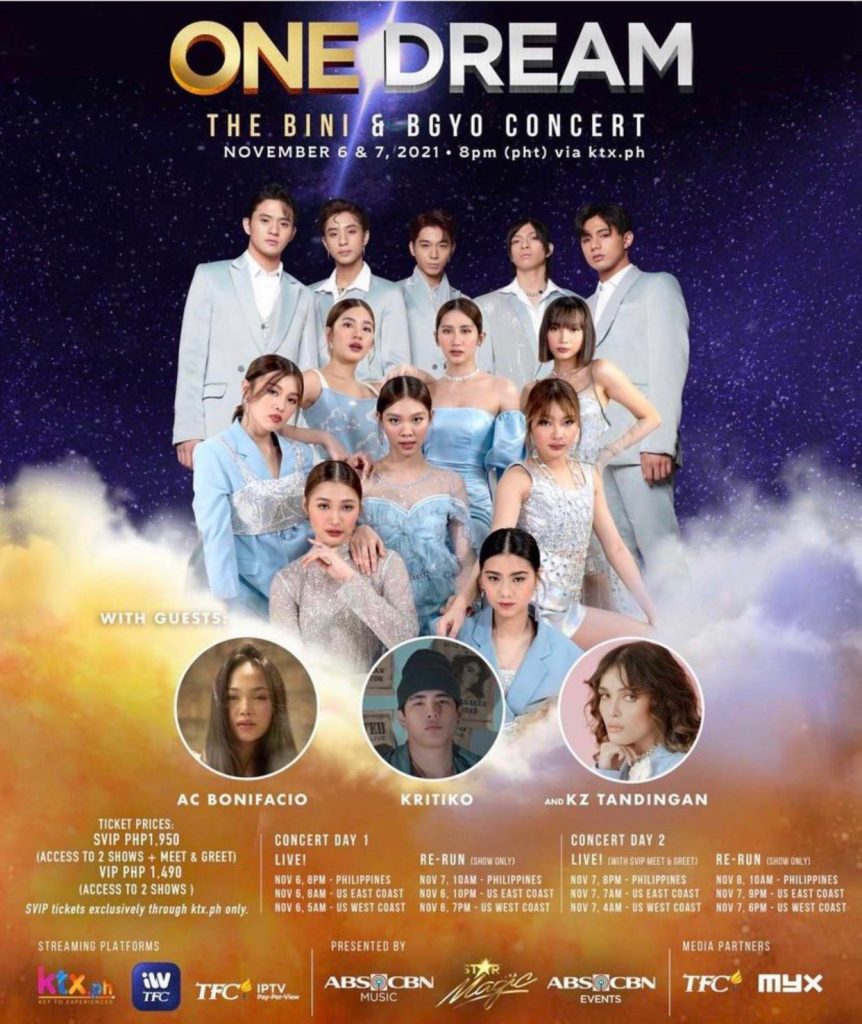 Less than a year after their official launches, the groups have grown together from being trainees to full-fledged rookie idol groups. They'll take the next steps toward their one dream of being the next big thing! The joint concert will be a defining moment for them as they showcase their debut albums and the journey that led them to this moment.
BINI and BGYO are making history with their sibling concert which will be streamed worldwide on KTX.PH, iWantTFC, and TFC IPTV. The show is set for November 6-7 with tickets ranging from general admission to SVIP which includes access to both days and meet and greets!
Fans interested in buying the SVIP tickets which are available now and priced at P1,950 or US$39.99. SVIP tickets come with access to the two shows and joining the fan meet on KTX.PH. While regular VIP tickets are sold at P1,490 or US$29.99 on KTX.PH, iWantTFC, and TFC IPTV and will provide access to the two shows.
Expect both concert days to be packed with performances, collaborations, and surprises! Besides being the first sibling concert, "One Dream: The BINI x BGYO Concert" is also the first two-day concert in the Philippines. The November 6 show will be filled with electrifying performances by each group, collaborations on fan-favorite songs, and exciting numbers by surprise guest artists. On November 7, BINI and BGYO will present more live collabs, sub-unit performances, powerful vocal showcases, and a fan meet on KTX.PH.
ABOUT BINI and BGYO:
Before their joint concert in November, both groups are coming out with their much-awaited full-length debut albums, both of which will have all-original songs. Some members of each group get to flex their creativity by composing song for the albums.
For BINI, fans can anticipate the release of the group's sophomore single in September before the whole debut album drops in October.
While for BGYO, they'll continue promoting "The Baddest" music video which recently trended worldwide on YouTube and hit number one on iTunes Philippines. Their album is also set to release in October.
Get regular updates by following BINI_ph and BGYO_ph on Facebook, Twitter, and Instagram, and subscribing to their official YouTube channels, BINI Official and BGYO Official.
Cover Photo Credit: BGYO Twitter
Hottest news this week, Careless Music and Kumu Live just announced Nadine Lustre's first solo concert entitled "Absolute Madness." As the culmination to her debut solo album "Wildest Dreams", the concert will air online through Kumu Live's streaming platform on July 3, 2021 at 7 PM. Purchase tickets now on the Kumu Live website (www.kumu.live) to experience the grand spectacle from the safety of your own homes.
Kumu, a mobile streaming platform in the Philippines, kicked off a desktop version of their app to cater to live streaming ticketed events. Their continued support for Careless Music and for Nadine herself since the release of the Wildest Dreams Visual Album back in October of 2020 led to another big collaboration for this upcoming show made by and in collaboration with world class Filipino talents.
While the visual album last year was groundbreaking in itself for being the first of its kind in the Philippines, all eyes are on this concert again as it is said to be another first in the country for its unique blend of live concert and theatrical stage play.
Produced by Careless Music and shot by The Finest, Menchu Lauchengco-Yulo joins the team as director of the production. Known to be the "first lady of Philippine musical theatre," Direk Menchu was associate director and also main cast of the musical theater play "Ang Huling El Bimbo" which ran for two successful seasons back in 2018 and 2019. Additionally, even Nadine herself was hands-on in putting together her first-ever solo concert since the onset of her career. Rehearsals are well under way as Nadine goes all in with the cast and crew, which also features James Reid, Massiah, and A-Team in the production. And with Kumu Live as a platform to stream this, "Absolute Madness" is truly another product of great Filipino artists' and creators' joint effort.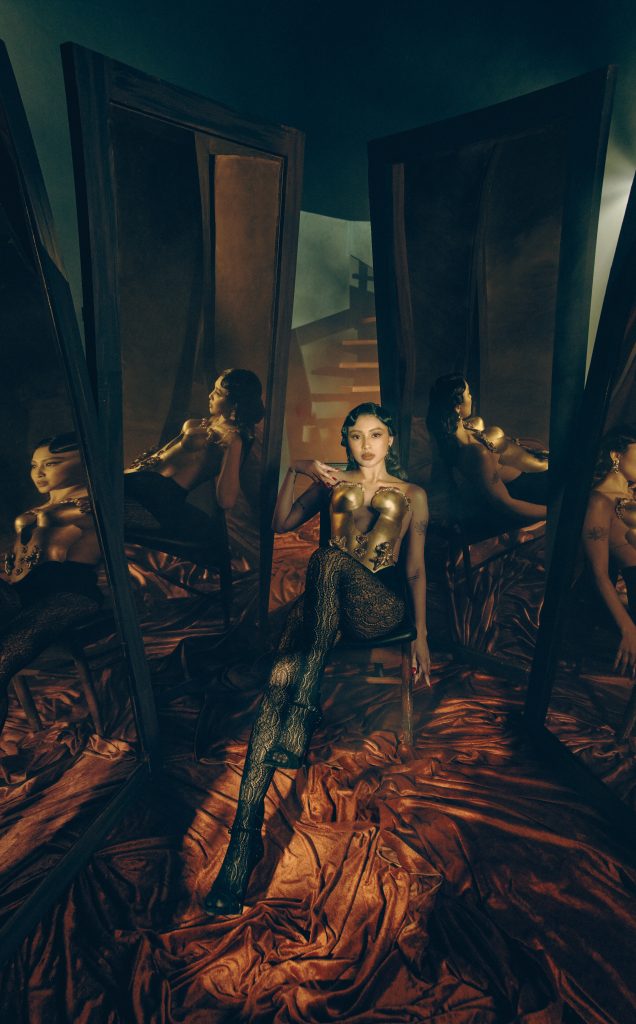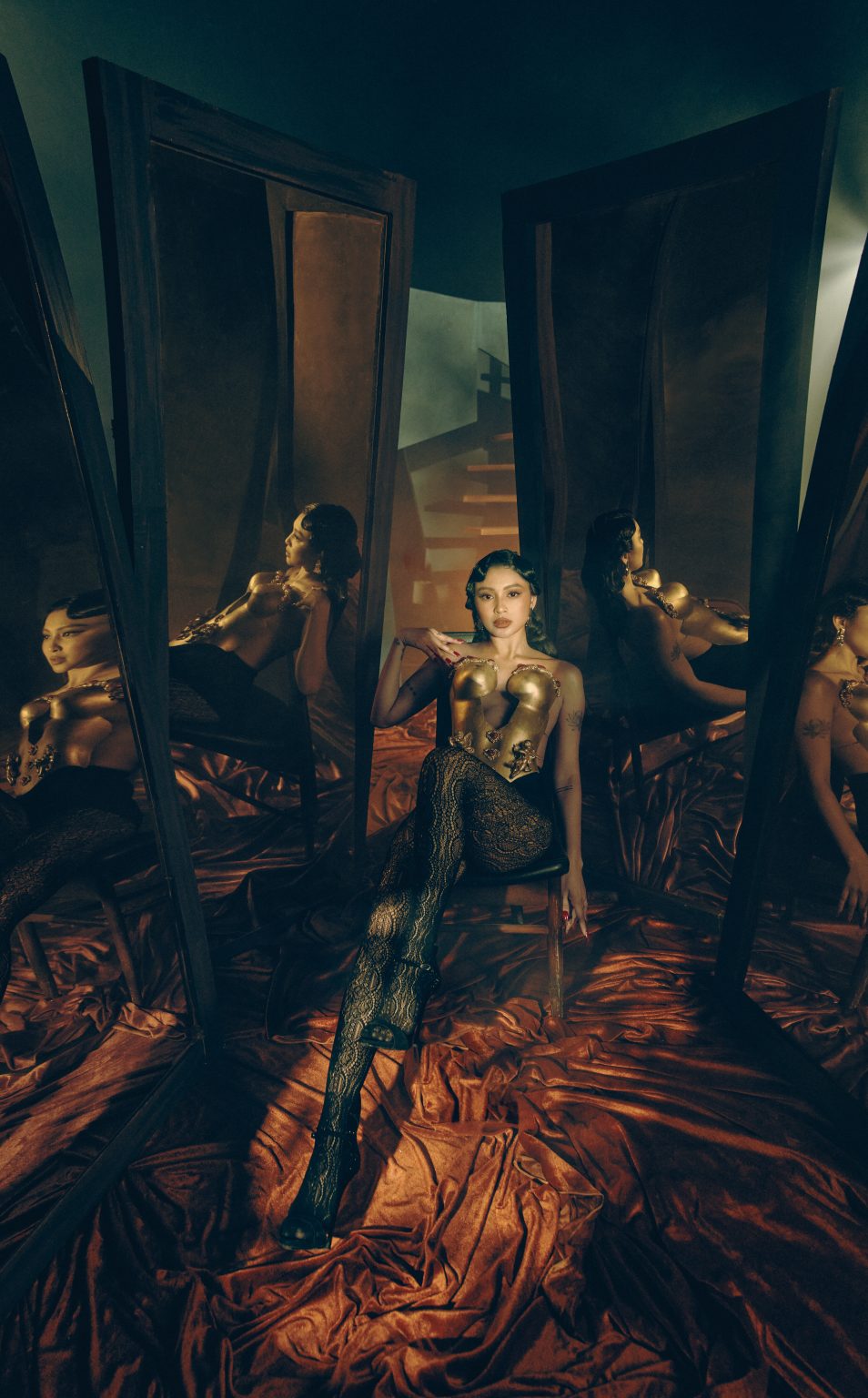 Direk Menchu shares the creative process she went through with Nadine saying, "She [Nadine] was instrumental in creating the concept. It was inspired by 'Alice Through The Looking Glass.' Nadine wanted it to encompass a magical land. When I asked her what her idea of refuge or fantasy was, she replied NATURE."
She also said that the experience of working with Nadine is nothing short of amazing and unlike anything she has ever done before. "Being able to collaborate with Nadine and create a totally new concept was incredible. Nadine had all these great ideas, my challenge was to see those ideas through."
In a nutshell, Nadine Lustre's "Absolute Madness" picks up from the Wildest Dreams Visual Album to cement how Nadine has found the answer to the quest of finding herself. Fans can expect never-before-seen performances of tracks from her "Wildest Dreams" album, set on the backdrop of a fantastical theater stage.
Ticket price starts at PHP 499 for Gen Ad, PHP 999 for Gen Ad + official concert merch, PHP 1499 for VIP + post-concert backstage pass, and PHP 1999 for VIP + post-concert backstage pass and official concert merch. To get even more of the concert experience, you may opt to get VVIP access which also includes pre- and post-show backstage passes with official concert merch for PHP 2999, but hurry because these are capped at only 100 tickets!
A sonic and visual experience like no other, witness Nadine Lustre's and Careless Music's first-ever online concert 'Absolute Madness' conquering the world of digital and theater stage!
For more announcement and ticket guidelines, check out KUMU Live and Careless Music's official pages:
Careless Music's Website: https://carelessmusic.com/
KUMU Live's Website: https://www.kumu.live/
Careless Music Twitter Link: https://twitter.com/CARELESS_PH
Absolute Madness Ticket Selling Website: https://www.kumu.live/live/event?id=FCE38822B5499C6E5F62A60CEE00C6DE
Since the release of Nadine Lustre's visual album Wildest Dreams, there's been BTS content, podcasts, and interviews on making this project. Now as the world slowly adapts to coming out of the pandemic, more live shows and performances are scheduled. With that said, Careless Music announced Nadine's first-ever digital concert on July 3rd called Absolute Madness through Kumu Live Events.
The show is described as an experience "conquering the world of digital and theater stage." Expect to see a theatrical project that matches the detail and art form of the album's visual videos. Careless Music partnered up with the livestreaming app Kumu and Mountain Dew to make the event possible. More congratulations are in order as Wildest Dreams hit 1 million streams on Spotify. Nadine and Careless Music celebrated by posting a couple behind-the-scenes photos while filming the visual album.
Tickets are now available to purchase for Absolute Madness on kumu.live
Cover Photo Credit: Careless Music Facebook