And that's what friends are for! The Toronto DJ community spins for @barkadatoronto as part of @myxglobal Toronto DJ Weekend—where local DJs corralled to share great music and support @djtilt and his push to keep his restaurant open. Special S/O to @4korners@dj_dsmooth Watch full story and see how you can be part of it!
Support Barkada via take-out order or delivery if you are in the local area.
Barkada restaurant serves a fusion mix of Asian, Filipino, Spanish and American cuisine.
DJ Mensa & the STFDJs (Riccachet & DJ Thera-P) launched MYX Toronto DJ Week below:
ABOUT DJ TILT:
A true music connoisseur, Jordan "DJ Tilt" Rulloda is quickly rising as one of the most demanded DJ's not only in North America, but internationally as well. Playing a multi-genre style of music, his mixes include everything from the latest House, Hip Hop & Top 40 tracks with everything in-between from rock to old school. He knows what his crowd likes and he knows how to please their ear and keep them dancing until the wee hours of the night.
A university graduate, DJ'ing was never a career vision. "I just sort of got into it," Tilt chuckles. "I love to dance & just want others to as well." "I admire what DJ's like AM, David Guetta, Calvin Harris and Diplo are doing for music", Tilt says. "They have a huge following and are exceptional at breaking in new sounds constantly, no matter where they play. That's what I'm trying to accomplish as a DJ."
In 2011, Tilt signed with HP (Hewlett-Packard) to be a brand ambassador & Official DJ. He did an ad campaign which was featured in every Cineplex Theater and Best Buy all throughout Canada. His selection of music has been enjoyed by A-list celebrities including Kim Kardashian, Jamie Foxx, Ashley Judd, Jessica Alba, Ben Afleck, Anne Hathaway Lebron James, Dwayne Wade, Carmelo Anthony, Lauren Conrad, Chris Nunez, Brody Jenner & many more. Visit DJTilt.ca for more info.
Bar'kada Toronto restaurant founder is Fil-Canadian's celebrity DJ Tilt. DJ Tilt is one of the most demanded DJs not only in North America, but internationally as well, he headlined the Taste of Manila Festival in 2019 with Inigo Pascual & Ruby Ibarra where over 400K people attended. The restaurant is seeking support to stay alive during the pandemic, donations are encouraged.
DJ Tilt's selection of music has been enjoyed by A-list celebrities including Kim Kardashian, Jamie Foxx, Jessica Alba, Ben Afleck, Anne Hathaway, Lebron James, Dwayne Wade, Carmelo Anthony, & many more. Due to an extensive client list, Tilt's resume as a DJ expanded beyond the club as he provided services for companies including Google, HP, Vanity Fair, Audi, Toronto FC, L'Oreal, Ralph Lauren, YouTube, Skky Vodka, Diesel, and more.
In fact on Tuesday, Jan 20th 2009, DJ Tilt spun at the Google Inaugural Ball for U.S.A. President, Barack Obama on his inauguration day. 2000 A-list attendees were invited & CBC News did an exclusive piece on DJ Tilt on his visit to DC. Prior to the pandemic, he had down residencies in Toronto for thousands with ongoing events in New York, Bahamas and Vancouver a couple times a year.
Fast forward to 2020 when DJ Tilt and his founding partners for Bar'kada were scheduled to open in March of 2020, but because of Covid and the subsequent lockdowns, they had to delay our opening to late Fall 2020. Because they were a new business in 2020, they didn't qualify for any government relief programs; No Rent subsidy, No Wage subsidy, and No 40K CEBA loan. They are even still required to pay full rent even during these lockdowns. You can help the restaurant by donating to their GoFundMe here.
DJ Tilt has put his life savings into the project, at the same time losing all his regular income with his work in the events industry.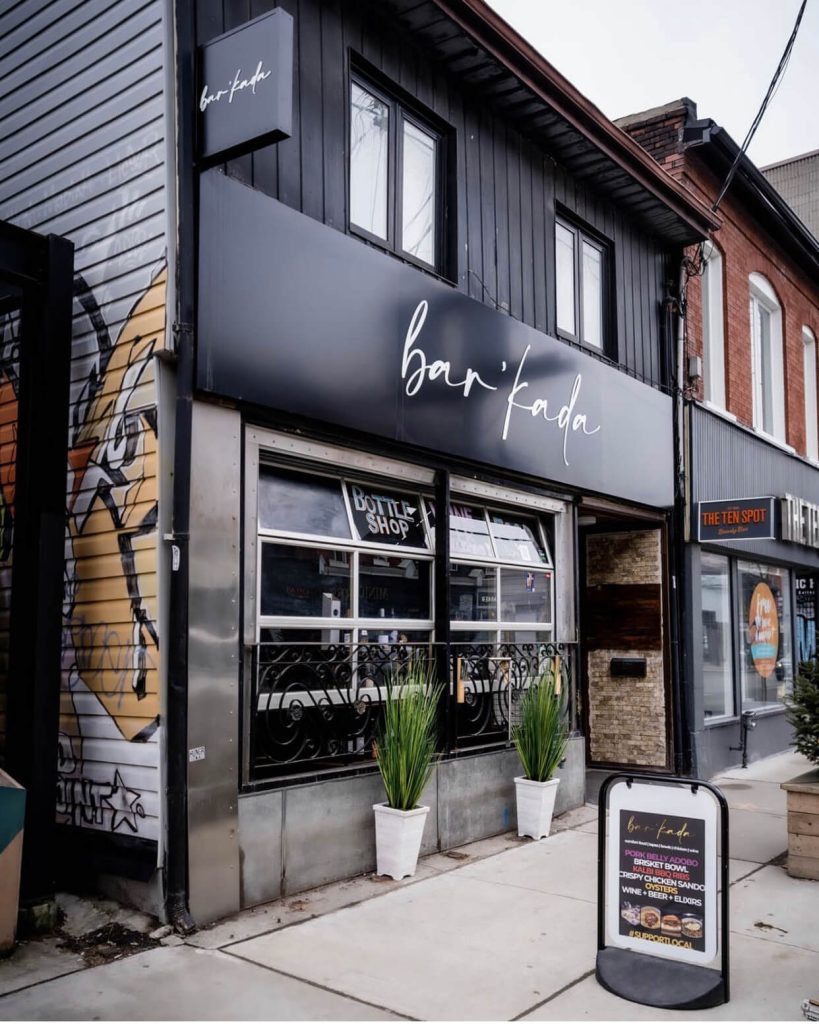 Bar'kada is still being asked to pay full rent while being in lockdown and unfortunately might not be able to stay open much longer. They won't be able to show everyone the beautiful space they have created.
How can you help?
Every donation helps keep their doors open; they want to stay afloat so that one day, hopefully soon, they can go back to normal and drink and eat and enjoy life together!
Starting January 21, MYX will partner for a special "Toronto DJ Week" feature for various DJs from Toronto during their weekly Twitch streams and will sponsor a Bar'kada meal of choice from the menu to the DJs. Tune in to hear great music, see the yummy Barkada food samples provided to the DJs & donate to the Bar'kada GoFundMe account. Check back soon for the full DJ schedule & set times.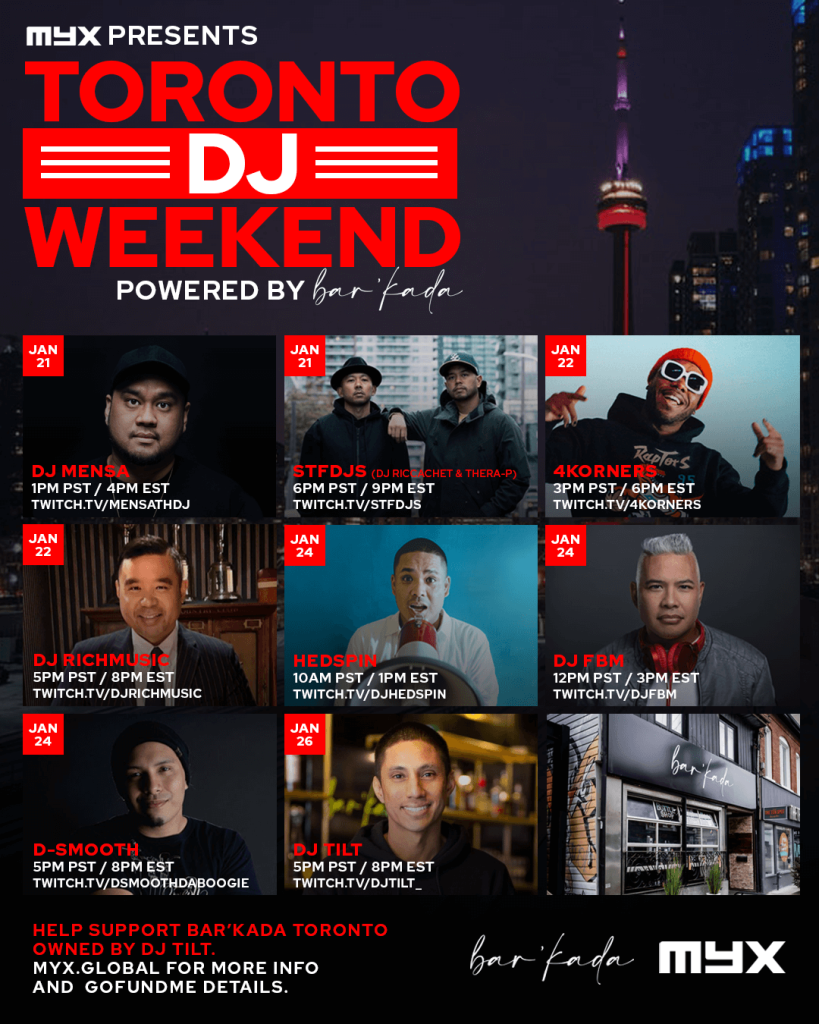 If you are in the local Toronto area or visiting soon:
Visit Bar'kada to order/pick up food at ⬇️⬇️
▪️745 Queen Street West, Toronto, ON
▪️www.barkadato.com to place your order for pickup or delivery.
▪️416-551-8889
▪️They are also on Uber Eats, Ritual, Door Dash, Skip The Dishes.
You can also donate anytime to the Bar'kada team on GoFundMe here. See the special video message from DJ Tilt below to support the struggling business:
For a list of Filipino DJs around the world to support in USA, Canada, EMEA & APAC, visit myx.global/filipinodjs.