The annual celebration of Filipino heritage and culture returns to Dodger Stadium on Thursday, July 7th.
This ticket package includes your ticket to the game and an exclusive Filipino Heritage Night jersey.*
*This special event ticket package must be purchased from this link OR through a Group Sales representative to obtain item. Third-party purchases will not include the item and this is not a stadium-wide promotion.
For groups of 15+ ONLY, you can contact: (Mention you want the Filipino Heritage Night jersey and referred by MYX / Roslynn)
jacobp@ladodgers.com Direct Line: 323.224.1472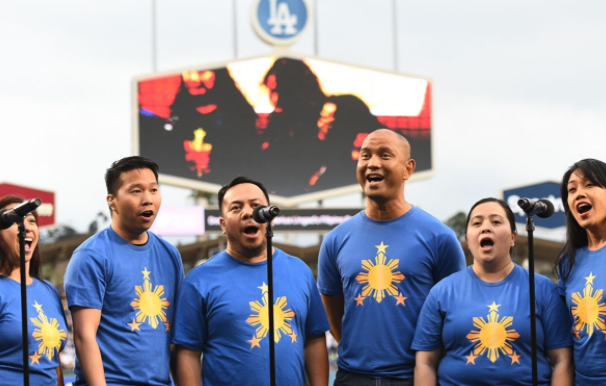 See highlights of the last event ft. Jo Koy, Martin Nievera, Jules Aurora, Nico Blitz HERE and below.
It was a Filipino Family party at The Dodger Stadium last night in Los Angeles. Filipino Heritage night was in full effect, and our talent shined throughout the whole night. So let's walk you through it!
When guests arrived, and after they picked up their limited FHN Jerseys, they were met with MYX Host Nico Blitz setting the tone for the night. He was live on the decks hyping up the party.
Then we have the national anthems. Jules Aurora, fresh from her performance at The FORD Theater for A Night of "Pinoy" Tainment, took the field for the U.S. National Anthem.
Up next, the one and only Martin Nievera has been in town working and making appearances, and one of them was last night at the game where he sang the Philippine National Anthem.
To round things off, funny man Jo Koy took to the pitcher's mound to throw in that first Pitch!
What a great night of pride and celebration. Up next for Filipino Heritage Night is the Padres vs. Angels game in San Diego. Are you coming?
Stay posted on future Filipino Heritage Nights across the country with different professional leagues at:
https://myx.global/filipinoheritagenight/
Cover Photo Courtesy of Jules Aurora Instagram