Zack Tabudlo love songs just hit different and the singer's newest release stays true to the singer/songwriter's reputation. Zack's new song "Pinadama" is on the official soundtrack for Star Cinema's recently released rom-com film: "An Inconvenient Love." "An Inconvenient Love" is the latest project starring DonBelle: Donny Pangilinan and Belle Mariano.

In other Zack Tabudlo news, the Filipino artist is set to represent his home country next weekend at 88rising's HITC Manila. Zack's smash single "Binibini" also recently took home 'Song of the Year' at the Awit Awards 2022. You can find more Awit Awards 2022 results and content on our Instagram page.

Check out the lyric video for Zack Tabudlo's new song "Pinadama" off of the "An Inconvenient Love" soundtrack below!
The awaited Star Cinema film, An Inconvenient Love starring Donny Pangilinan and Belle Mariano is soon to hit theaters this November 23rd and they're teasing songs from the upcoming official soundtrack. Get excited to hear songs from BINI, BGYO, Moira, and Zack Tabudlo. Star Cinema dropped snippets of the tracks along with clips from the movie. Check it all out below!
BINI – "Huwag Muna Tayong Umuwi" and "Lagi"
BGYO – "Tumitigil Ang Mundo"
Moira – "Aking Habang Buhay"
Zack Tabudlo – "Pinadama"
Be prepared for the kilig coming soon again with Star Cinema's upcoming film, An Inconvenient Love starring Donny Pangilinan and Belle Mariano. The rom-com follows a young couple who looks for love that's quick, easy, and convenient. DonBelle strike up a receipt that gives their relationship an expiration date.
Belle plays Ayef, a convenience store worker who aspires to be a professional animator in Singapore, and Manny, played by Donny is a company heir who runs his own plant shop and who secretly works as a social activist. Their relationship is set to end when Ayef takes her talent abroad, but Manny looks to stand by her side.
Directed by Petersen Vargas and written by Enrico Santos and Daisy Cayanan, "An Inconvenient Love" marks DoneBelle's second film following "He's Into Her" and their debut movie "Love Is Color Blind."
Catch it in theaters on November 23 nationwide in the Philippines.
The short film, "Graduation" starring Donny Pangilinan and Nour Hooshmand for Called to Rescue, a nonprofit organization that helps rescue children who are missing, have been abused or trafficked. The short film focuses on an often-overlooked aspect of the human trafficking problem: the victim's reintegration into society. "Graduation" aims to liven the road to recovery by focusing on a real-life interaction between a survivor and a close family member.
Donny plays the kuya who grounds his sister with the words that give her the strength and courage to carry on. The simple action is a timely reminder that victims of abuse can be helped by acts of kindness through friends and family paving the way for healing.
See the powerful video below.
Cover Photo Credit: Called to Rescue Instagram
With fall already here, we're missing the summer vibes. Over the summer, a bunch of Star Magic artists came over to the U.S. for the 30th anniversary show, Beyond the Stars and although we got a lot of behind-the-scenes content, but the artists also took their own. We see Donny Pangilinan enjoy some free time golfing in San Francisco, Maris Racal enjoy halo-halo in Queens, and Alexa Ilacad watch Moulin Rouge on Broadway!
It looks like they all had a blast with each other and just enjoy the time to hang out outside of work. Who said you couldn't work hard and play even harder. The Star Magic crew not only put smiles on the many Filipinos who watched the show, but also experienced what it was like to be a Filipino abroad even just for a little bit.
Check out what they all got up to and let us know if you'd visited these places!
Cover Photo Credit: Alexa Ilacad Instagram
As podcasting continues to grow, there's a show for everyone. One of the coolest young hosts out there is Hannah Pangilinan who has a show called, Pausecast where she talks about ways to approach well-being. This week, she started a special sidebar segment, "Kuya Kwento" with her brother and actor, Donny Pangilinan where they chat life, work, and more. Check it out below!
From guided "talk-throughs" and explorative dialogues that focus on body, mind, and spirit, Pausecast helps its listens take that much needed pause in daily life that even the busiest person needs to take. Donny talks about his upcoming trip, how he balances life in entertainment while being an introvert and how to find rest in the middle of a hectic schedule.
The Kuya Kwento segment gives a glimpse of the behind-the-scenes as to where Donny's mind wonders when working or balancing personal and family life. What's nice about the podcast is each episode are made digestible for listeners. The mostly half an hour or less episodes keep listeners on track on the topic while getting straight to the point. It's time to take a pause!
Cover Photo Credit: Donny Pangilinan Instagram
To gear up for this week's episode of He's Into Her Season 2, catch the new music video for the song "Closer" with Belle Mariano and Donny Pangilinan. The video focuses on the Max and Deib's second month anniversary and how the couple are going to celebrate. They don't see eye-to-eye on how to celebrate, but the pull to be close to each other brings them back together.
The catchy track is performed by Belle and is the perfect summer pop track. It talks about that young love and finding how special that kind of relationship is. Belle's performance is fresh and brings on the kilig that's sure to get you in the summer vibe. Catch the extended music video below!
Cover Photo Credit: Star Music PH
Star Magic is the premier talent management agency in the Philippines, and they are celebrating their 30th anniversary this year. As they continue to celebrate this great accomplishment, they are extending that celebration stateside by bringing some of the brightest Filipino talents of this generation to the U.S for a few shows.
Star Magic artists will be turning up the summer heat with their concert series Beyond the Stars slated to happen in New York, San Francisco, and Los Angeles. The stacked lineup includes some amazing artists, and we can't wait to see what they bring to the stage.
The Beyond the Stars lineup includes:
Zanjoe Marudo; Belle Mariano; Donny Pangilinan; Andrea Brillantes; Gigi De Lana; AC Bonifacio; Kyle Echarri; Angela Ken; Sab; Lian Kyla; Janine Berdin; Eric Nicolas; Maymay Entrata; Edward Barbers; Alexa Ilacad; KD Estrada; Maris Racal; Charlie Dizon; Carlo Aquino; and Kim Chiu.
The shows are made possible through the collaboration of Star Magic with iWantTFC and TFC. Beyond the Stars is co-presented with World Remit with Tancinco Law as a major sponsor. Tickets are already available for purchase at mytfc.com/StarMagic30.
If you can't get enough of this newest season of He's Into Her, now you can listen to the official soundtrack on repeat! The OST track listing includes BGYO, Nameless Kids, Jon Guelas, Vivoree, Sam Milby, and more. The album has 17 new tracks from the season 2 theme song, "Best Time" by BGYO to stripped versions of your favorite songs throughout the season and a remix to the original track, "He's Into Her."
So grab your headphones, put the playlist on repeat or shuffle then sit back and relax to the music… then play another episode on iWantTFC.
Before the start of Season 2 of He's Into Her, the series stars Donny Pangilinan and Belle Mariano who play Deib and Max get personal in these BTS videos. Want to know more and get personal with DonBelle? Here's your chance to know about their music tastes, favorite travel spot, go-to meals, and more.
Donny answers questions about his favorite foods, what motivates him, and the biggest risk he taken so far like entering showbiz. One fun fact, Donny likes the song, "Sweet Dreams (Are Made of This)" and would make it the track to play every time he entered a room if he could and this shouldn't be a surprise but he'd love to live like a Jedi. Want to know what kind of friend he is, he's the type who's always down to eat, designated DJ, and planner…well sometimes. Donny would blend right in with our barkada (friend group).
Belle gets personal with answering questions about relationships like the qualities she looks for in a partner and turn-offs. One thing we find out is her love for food from baked sushi, popcorn, and coffee. Girl loves her food and we all can relate. What does Belle hope to accomplish? She wants to win an award for Best Actress one day and work on an international film. Belle is definitely on her way there! Find out more about here likes, dislikes, and quirks below!
He's Into Her Season 2 premieres on April 20 on iWantTFC for Premium users outside of the Philippines, April 22 in the Philippines and Indonesia. New episodes drop Wednesdays for international premium users or Fridays for users in Philippines and Indonesia.
Cover Photo Credit: He's Into Her Instagram
HOO-HAH! Who's been waiting for the newest season to drop the most watched iWantTFC series, He's Into Her? The wait is almost over as Season 2 is set to stream this April, but to hold you off we have the latest teaser for you! The series stars the love team DonBelle, comprised of the hottest actors right now, Donny Pangilinan and Belle Mariano. After the huge Season 1 cliffhanger, audiences have been wanting to find out what happens to Deib and Max and see DonBelle back on screen.
As DonBelle makes their return so does most of the cast, aka the BearKada. You'll get to see your favorite friends like the boys of Alpha 3: Lee (Joao Constancia) and Lorde (Gello Marquez). Also Naih (Criza Taa), Michiko (Kaori Oinuma), Ysay (Vivoree), and Migz (Limer Veloso) are set to also make their return. New faces are also debuting in Season 2 as the cast grows. The series welcomes new characters played by JC Alcantara, Reich Alim, Zach Castañeda, Shanaia Gomez, River Joseph, CJ Salonga, Rajo Serrano, and BINI member Mikha. Director Chad V. Vidanes and head writer, Vanessa Valdez are also back at the helm spearheading the series.
The new season will premiere first on iWantTFC on April 20 for Premium users outside of the Philippines before it premieres on April 22 in the Philippines and Indonesia. Then catch new episodes dropping every Wednesday for iWantTFC Premium users outside the Philippines and every Friday for iWantTFC users in the Philippines and Indonesia. If you want to watch it on TV, the series will make its broadcast premiere on April 24 on Kapamilya Channel, Kapamilya Online Live, and A2Z, with a new episode every Sunday.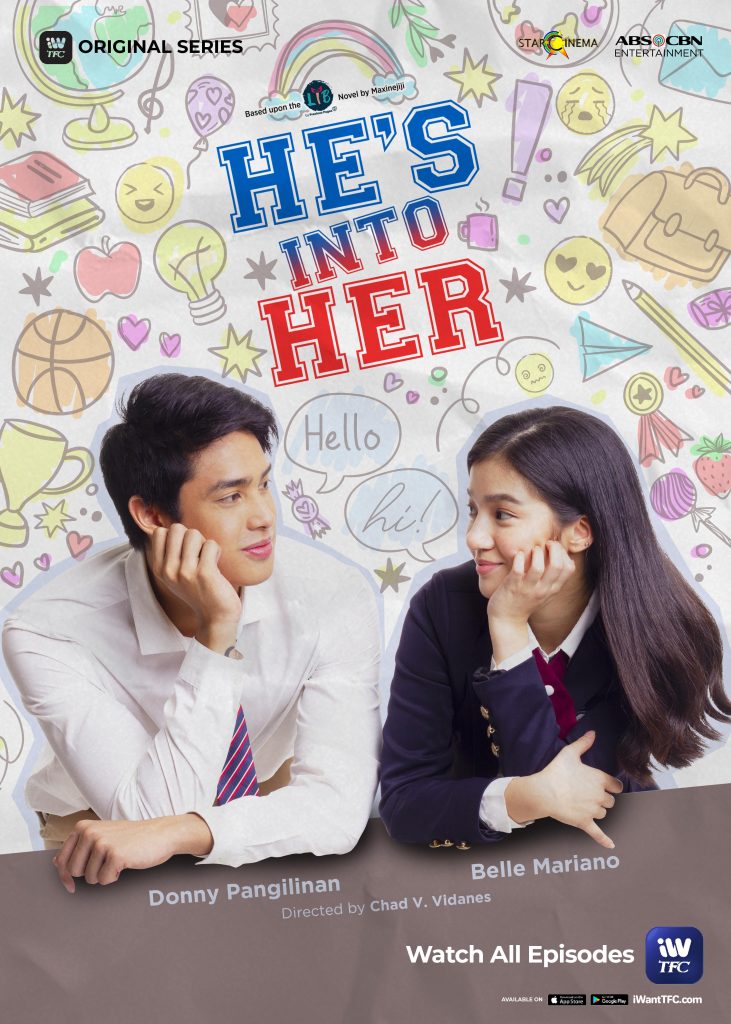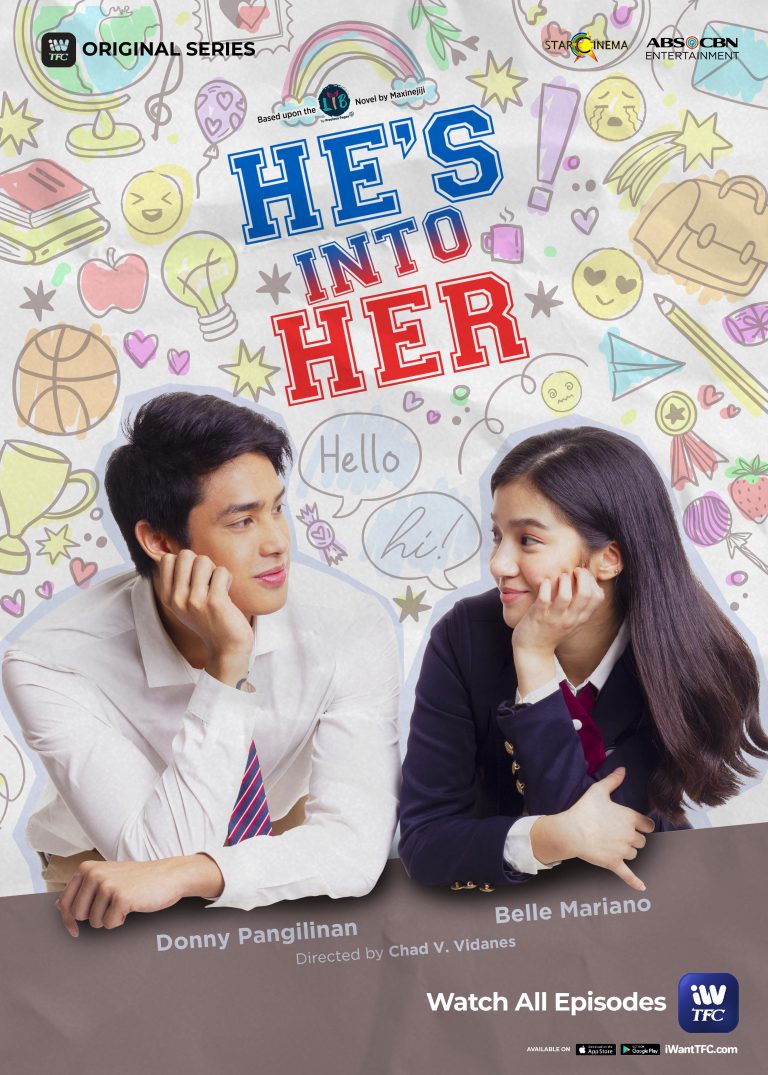 Until then, binge and re-watch Season 1 of He's Into Her, and more like the BTS He's Into Her: The Journey and The Benison Ball all available for streaming on iWantTFC. A special primer of the series will be available for FREE worldwide on April 17.
| | | | |
| --- | --- | --- | --- |
| | | | |
| | | | |
| | | | |
| | | | |
| | | | |
| | | Gloc-9 feat. Yeng Constantino | |
| | | | |
| | | | |
| | | | |
| | | | |
| | | | |
| | | | |
| | | Christian Bautista and Julie Anne San Jose | |
| | | | |
| | | | |
| | | | |
| | | | |
| | | | |
| | | Shanti Dope feat. Pricetagg | |
| | | | |