The anticipated Wanderland Music Festival is set for a comeback in 2023 on March 4-5th at the Filinvest City Event Grounds in Metro Manila. Those who are still holding tickets for the postponed 2020 festival will still be honored for the 2023 event. Pre-lineup tickets are now available via Tickelo for standard and VIP tickets.
The 2020 festival was postponed due to the pandemic and to maintain health concerns. Although no official lineup is set yet, who do you want to see on stage? Stay tuned for more details and who's rocking the stage!
Cover Photo Credit: Wanderlust Festival Twitter
Curious what a Filipino-theme park would look like? Well, Undiscovered SF has put together a creative market for this year's much-awaited event! Come out October 22nd to celebrate, the event is held in a huge new open space at The Parks filled with emerging artists and merchants to spotlight San Francisco's Filipino cultural district – SOMA Pilipinas!
Expect local artisans, food vendors, art, and live music/dance performances when you venture the streets of SF! Start the journey at The Parks starting at 5PM and make your way down to 6th. The site is accessible through public transportation, biking, and you'll definitely want to have your comfy shoes on.
Did we mention that it's totally FREE! Bring the whole family for an eventful afternoon celebrating Filipino American History Month in SOMA Pilipinas. Check out UndiscoveredSF.com for all the details on who's showing up, which vendors are bringing you the goods, and what activities to do!
Cover Photo Credit: Undiscovered SF Instagram
Mark your calendars because 88Rising's Head in the Clouds is coming in hot this summer. The annual music festival features musical artists across the Asian diaspora including some of your favorite Filipino artists. Part of this year's newly announced lineup are Fil-Aussie Ylona Garcia, Fil-Am Yeek, and London-based Filipino No Rome. The event is set to take the stage in Pasadena, California at Brookside at the Rose Bowl on August 20th – 21st.
Register now at LA.HITCFESTIVAL.COM for first access to 2-DAY passes and presale begins Thursday, May 26 at 12pm PT.
Ylona Garcia: the Filipino-Australian actress, singer, songwriter began her career in entertainment at 13-years old. She currently is working on new tunes to showcase a different side of her musical journey and take her music global.
Yeek: the New Jersey born and Florida raised Fil-Am is an early adopter of the "genre-bending" space and breaking through as a DIY musician. He's a creative in every sense dabbling in music, film, fashion, and art.
No Rome: Born in Manila and now based in London began making music at a young age. His name is an ode for his laid-back electronic pop songs. Now signed with Dirty Hit Records also home to beabadoobee and The 1975, No Rome has collaborated with The 1975, Charlie XCX, and released his debut album It's All Smiles.
Cover Photo Credit: 88Rising Instagram
One of the chillest music festivals in Sacramento is back after a 2-year break. With a new location and extended dates, Sol Blume 2022 is ready to come out and bloom in Sacramento this spring. With headliners Jorja Smith, PARTYNEXTDOOR, Jhené Aiko, and Summer Walker all ready to take the stage April 30-May 1st, it's a show you don't want to miss.
Also part of the Saturday line up is Fil-Am artist, Yeek. He follows in the footsteps of Filipino artists joining the festival like Fil-Australian Jess Connelly back in 2019. Originally from New Jersey, but Yeek calls South Florida home, Yeek has been taking his music on tour. The Yeek Tour was a 4-date tour around the U.S. Last year, he released his 10-track album, Valencia, which focuses on relationships and family. His music is powered by the community for the community.
Valencia Tracklisting:
1. Lumbago
2. Overthinking
3. 3000 Miles (Baby, Baby)
4. Back N Forth
5. M.H
6. ETA
7. Valencia
8. This Time
9. Watch Me
10. Dirty Pillow
Enjoy good music, food, and vibes at Sol Blume. Grab your tickets starting Monday, January 31st at 10am on solblume.com.
Cover Photo Credit: Sol Blume Twitter
Time for take 2! Coachella has been postponed cancelled the last couple years because of the pandemic, but third time's the charm. The music and arts festival is set for 2 weekends in April starting April 15 until April 24. So it's time to celebrate in the desert once again because the lineup is good
With a line up that accommodates all music genres, there's something for everyone. The headliners include Harry Styles, Billie Eilish, and Ye aka Kanye West. While my inner directioner is screaming, there's so many artists to look forward to like Filipino-Brit beabadoobee, Manila based singer Eyedress, and 88Rising artists.
beabadoobee who took TikTok/radio by storm with the remix "death bed (coffee for your head)" with Powfu for her track "Coffee." She's been blazing in the indie-pop scene blazing her own path with the dreamy vocals and recently going on a US Tour. We can't wait to catch her on stage.
You may not be familiar with Eyedress, but Idris Vicuña is making a mark in the Philippines with his shoegaze and bedroom pop sound. Born and raised in the Philippines, Eyedress moved to the U.S. where he was introduced to punk music, which influenced his current vibe. He's come a long way from making beats on his laptop to now performing at the biggest festival.
To top it off, catch 88Rising artists throughout the festival. Part of the lineup are Rich Brian, Niki, Joji, and Japanese Breakfast so it's going to be a good time! It's about time we get to see Asian artists take the stage and share their music at the most popular festival. They'll be taking the stage at the Head in the Clouds Forever along with beabadoobee and Eyedress.
Make sure to grab your tickets as presale for Weekend 2 starts Friday, 1/14 at 10am PT, but you'll have to register first at Coachella.com.
Cover Photo Credit: beabadoobee Twitter / Eyedress Twitter
One of the biggest international live events, "1MX Dubai 2021" is back and happening on December 3 at the Trade Centre Arena in Dubai World Trade Centre. But it doesn't stop there, TFC, ABS-CBN Music, One Music PH, and MYX together with DJMC Events, Camella Homes, and Philippine Airlines are bringing "1MX Manila 2021" for one night filled with music and world-class Filipino talent.
Queue up the lights, set the stage, and get ready for a rockin' lineup with your favorite artists. Similar to many events now, many precautions and safety measures are in place for a great festival experience. Aldrin Cerrado, ABS-CBN Global Chief Operating Officer says, "While we are still mindful of precautions and safety measures, we know how fans of Filipino artists and music around the world have been itching to see and hear them live again. Back-to-back 1MX with in-person and virtual components offer the best of both worlds to Filipino music lovers everywhere."
The lineup for "1MX Dubai 2021":
Bamboo: Filipino rock superstar who is also a coach in "The Voice Philippines"
Moira dela Torre: The most-streamed Filipino singer-songwriter
EZ Mil: Los Angeles-based Filipino American rapper whose popularity soared internationally with his hit single "Panalo."
Gigi De Lana: Philippines' newest pop-rock diva
BINI: All-female P-Pop group with a growing fan-base internationally
BGYO: Internationally fast-rising all-male P-Pop group
The lineup for "1MX Manila 2021":
AC Bonifacio: An artist who made an appearance at the Netflix series "Riverdale," and whose dancing skill was praised by choreographer Kiel Tutin for her dance cover of the song "Money" by K-Pop star Lisa.
Angela Ken: TikTok music star turned recording artist
Carlo Bautista: A product of the talent search show "Idol Philippines" and recently released his single "Kwarto" under Tarsier Records
Fana: Singer-songwriter who has shown her musical growth since her "The Voice Teens" stint in 2017
Jayda: Singer-songwriter who made a directorial debut with the music video of her song "Paano Kung Naging Tayo?" that won Best Music Video at the International Film Festival Manhattan.
Jeremy G: An artist whose sound is a mix of old school and modern music
Kritiko: rapper-songwriter whose song "AMAZAK" was among the most streamed song on Spotify in the U.S., Canada, Singapore, and UAE in 2020
Lian Kyla: Singer-songwriter who also wrote songs for the P-Pop sibling group BINI and BGYO
Nameless Kids: A five-man rising OPM band whose music brings laidback vibes
Sab: Singer-songwriter who composed one of BINI's hit singles "Golden Arrow"
Trisha Denise: Singer-songwriter who have written songs for some OPM big names like Moira dela Torre and Jake Zyrus
"ABS-CBN have always been after giving platform and opportunities for artists to showcase their talents and offering something different to the table. We are excited for everyone to witness what this new breed of Filipino music artists can offer and possibly contribute to the music scene," said ABS-CBN Global Managing Director for Europe, Middle East, and Africa (EMEA) and Head of ABS-CBN Global Events and Experience Joseph Arnie Garcia.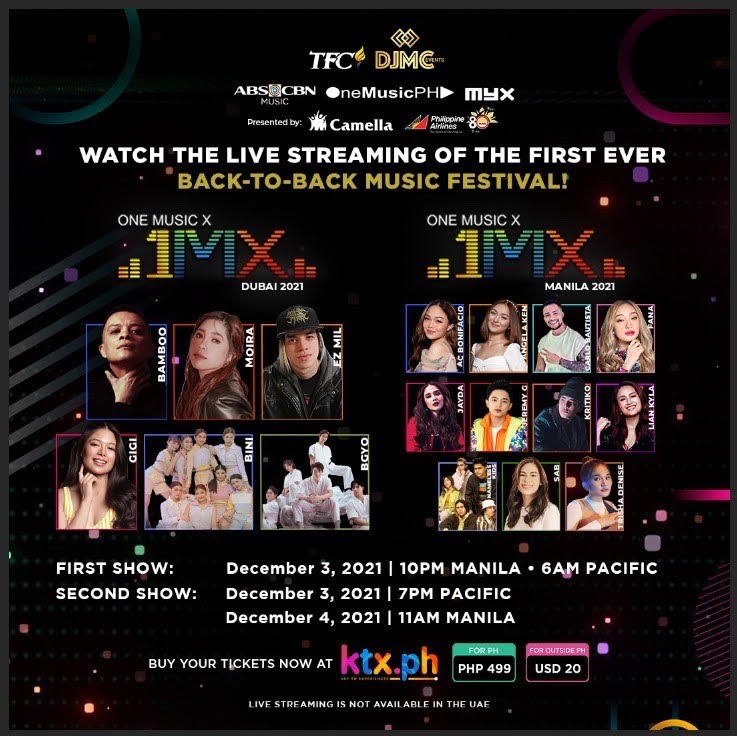 Do not miss this big celebration of Filipino music all over the world on December 3 with "1MX Dubai 2021" happening live at the Trade Centre Arena in Dubai World Trade Centre, and "1MX Manila 2021" streaming live worldwide (except UAE) via ktx.ph.
For those watching the "1MX Dubai 2021" on-site in Dubai, tickets are sold at AED 299 for Platinum, AED 249 for Diamond, AED 199 for Gold, AED 149 for Silver, and AED 99 for Bronze. You may purchase your tickets on Virgin Megastore, Platinumlist, and on 800Tickets.
While for those watching the back-to-back "1MX Manila 2021" and "1MX Dubai 2021" via KTX.ph, tickets are sold at Php 499 for viewers inside the Philippines and $20 for viewers outside the Philippines (except UAE). Purchase your tickets via ktx.ph.
Live music is back and H.E.R. did not disappoint with round two of her own "Lights On Festival." When she meant that her friends are pulling up to the show, she did not disappoint. H.E.R. already had a dope lined up set with artists like Bryson Tiller, Ari Lennox, Ty Dolla $ign, Lucky Daye, Masego, Kiana Ledé, Keyshia Cole and Erykah Badu. She definitely pulled out all the stops.
With the festival kicking off in the Bay Area, you know she had to bring out other Bay natives for a hometown show. Goapele and Saweetie surprised the crowd as they stepped out on stage to perform with H.E.R. You know everyone was hyped as the crowd listened to mashups of Goapele's "Closer" and H.E.R.'s "Closer To Me." Icy girl herself, Saweetie killed it with a duet of "Best Friend." The coolest part is when H.E.R. shouts out the Filipino when they performed together. It's safe to say they're BFF goals.
Ty Dolla $ign also brought up Yay Area favorite P-Lo to the stage and everyone went off! Some let him be P-Lo's official hype man please!
H.E.R. was so excited to have her own festival that she celebrated it the only way we all know how, with food. She's a real one coming through with that Starbread Seniorita bread. If you haven't tried it yet, you're missing out big time.
You have to check out the dope footage that recaps highlights from the festival! Don't worry, we got fomo too watching these fan videos! The quality though made us feel like we were front row!
Courtesy of Broadcast Houston
Tons of more surprises were lined up as Chris Brown came through for a duet of the R&B track "Come Through" and the crowd went wild as Chloe Bailey rocked out singing "Black Dog" at Concord Pavilion.
Courtesy of Broadcast Houston
The festival lit up the Bay Area and we can't wait to see more from H.E.R. and what's in store for the next Lights Up Festival Bay Area. Next up is Brooklyn at the Barclays Center on October 21 & 22. Grab your tickets at http://LightsOnFest.com and http://Ticketmaster.com!
Cover Photo Credit: H.E.R. Twitter