Summer is right around the corner and Kolohe Kai and Hirie are brining the aloha spirit with Feel the Sunshine. The song about being back on the islands and feeling the warmth and its energy. Hirie recently moved back to Oahu and remembers why it's a special place. Kolohe Kai and Hirie (aka Roman and Trish) shows us that there's still a bright side to all that's happened. They remind us to stay grounded and take the time to feel the sunshine. It's such a feel good song that will immediately put you in a great mood.
DJ Marlino had the chance to chat with them about their latest collab Feel The Sunshine, touring the Philippines and growing up Filipino in Hawaii. Here are some of the highlights from the interview.
Kolohe Kai and Hirie went to the same school and were one year apart, but they didn't know each other
They didn't know about each other right away and only connected in January 2018 through a mutual friend. They also ended up writing Feel the Sunshine in 2018 which they described as an organic process.
2. Hirie believes that being back in Hawai'i has been a blessing in disguise
Last we talked with her, she mentioned buying a one-way ticket to Hawai'i for her and the family. "I think all of us got to really find that inner strength with our Ohana." Her latest Instagram posts have us feeling a little bit FOMO with how much fun she's having. However being back on the islands, it's been a time to connect with herself and her family. Although Roman and Trish touch on how the islands' tourism has been hit, both are still thankful and staying positive we'll all bounce back.
3. They talk about the importance of sharing their experiences with mental health
Both artists are big advocates on bettering one's mental health. Hirie shares recharging her batteries since she's been back home. "My mental health, everything gets grounded again when I'm in the sand." She says it's an indescribable feeling and something you just feel. For Kolohe Kai, he shares advice from his mom. "...giving up isn't an option. You've got to climb this mountain in order to see the sunrise." Also, he shares that writing songs is an outlet for him to express the emotion he experiences.
4. The Hawai'i scenery doesn't hurt when need inspiration for songs
Both artists are not only great performers, but amazing songwriters. Who hasn't had a Kolohe Kai or Hirie song stuck in their head? They say in Hawai'i, it's easy to be around each other and sounds and melodies run through your mind. From the beaches to the palm trees, it's not a bad backdrop. However, they both agree that past and present experiences are what inspires them most. You have to see Kolohe Kai's MV for Catching Lightning.
5. They're proud of their Filipino roots and represent the Asian community globally
They're proud of who they are and share the different experiences they had growing up Filipino. While Roman was raised in Hawai'i, Trish went to a British school in Italy. Fun fact, she had a British accent when she arrived in Hawai'i. However she did also talked about the rough transition. However, now they both know themselves as people and want to constantly promote positivity. This wouldn't be possible without the influence their grandparents and parents had on them. To carry on the tradition of love and hospitality.
6. Feel the Sunshine is about feeling the energy after being away from home for a long time
People visit Hawai'i to get away on vacation right? That's how Feel the Sunshine came about, wanting to be refreshed and the feeling of sunshine on your skin. The song all started with the melody then Hirie wrote her second verse on the spot. The bridge was written by both of them and the collaborative process came together smoothly. Kolohe Kai says it's been one of the easiest set up he's done and one of the first collaborations back since Good Morning Hawaii. When you listen to the song, it makes you reminisce about a care-free time and gives you hope that you'll find better days again.
Kolohe Kai is a local Hawaiian reggae band, represented by singer/songwriter/frontman Roman de Peralta. In 2009, Kolohe Kai broke out on the music scene with its debut release This is the Life. Following that were songs Ehu Girl and Cool Down.
After a 3-year break to enjoy life's experiences, Kolohe Kai came back strong with "Paradise" in 2014. The title track Paradise and Heʻe Roa captures the Hawaiian reggae sound that captures the audience.
Roman uses his experiences, both the good and the not-so-good, as inspiration for his music.
San Diego's seven-piece band HIRIE brings the reggae vibe to the scene. HIRIE is poppy and purposeful, harnessing the power of accessible songcraft, social consciousness, world­ class musicianship, and the disarming and spellbinding qualities of reggae, the band exudes mainstream appeal without diluting its artistic vision. "Hirie is a lifestyle choice, it's about healing the body, the mind, and the spirit. It's a way to detach from the painful complexities of the world, and bask in joyous energy."
Cover Photo Credit: Kolohe Kai Facebook
​Guapdad 4000 celebrated the release of his new album, 1176 in good 'ole Bay Area fashion. The event had great food, music, and the hyphy vibe. The complimentary menu included chicken adobo lumpia and egg and peach mango lumpia with Ube Magnolia Ice Cream by The Lumpia Company. You can't forget the drinks, Trapiscato and Presecco from E-40's Earl Stevens Selection. Then the music was a mix of Bay Area​ classics and songs off the latest project.
Guap tells MYX Global that he's grateful for the opportunity to make music and to have this kind of platform to share it with. Then to have people like it and show up is something he could only hope for. The event brought out Filipino small businesses to one of the biggest event since coronavirus started.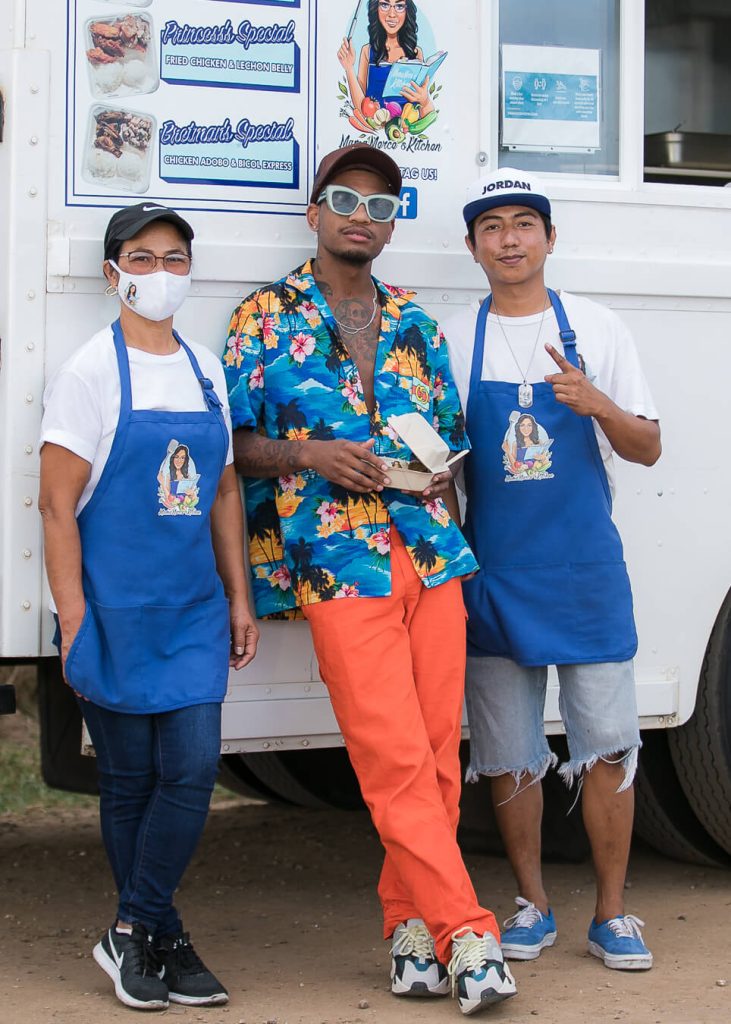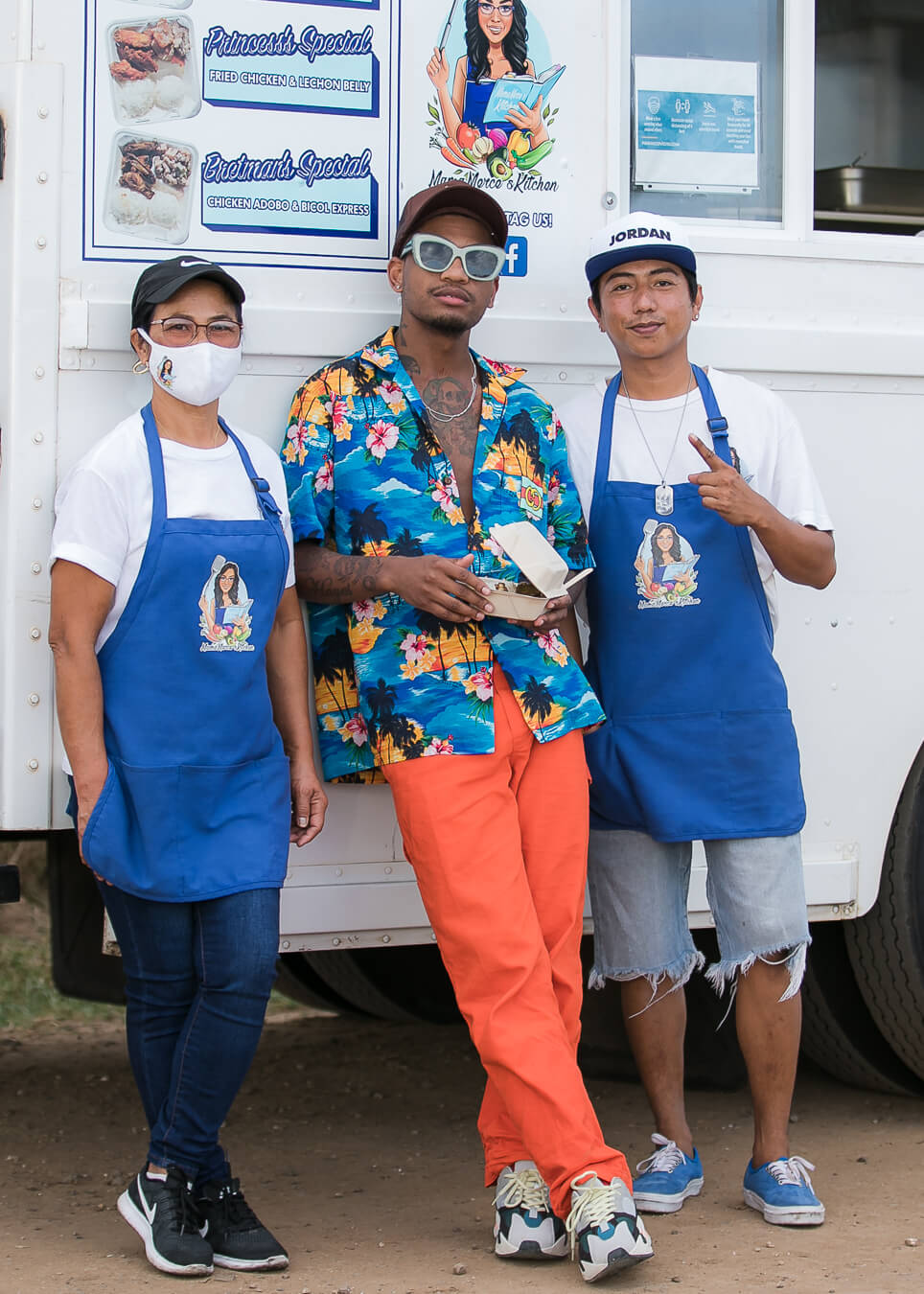 The album focuses on growing up in West Oakland as a young Black-Filipino man. It was only fitting to have producer Illmind executively produce the album. "An album about '1176' the house I was living in has to pay that homage to my Filipino side. That's what I was raised in, what I was raised around. That's what I want to talk about."
Guap did more than pay tribute to his childhood home, but also his grandma creating Lola Appreciation Day on March 19, 2021. It was a heartwarming and tear jerking day. People shared the love they had for their own grandmas and for Guap it was "comforting for him to put it [love] out there," during a tine we need it the most with the rise of Asian hate crimes.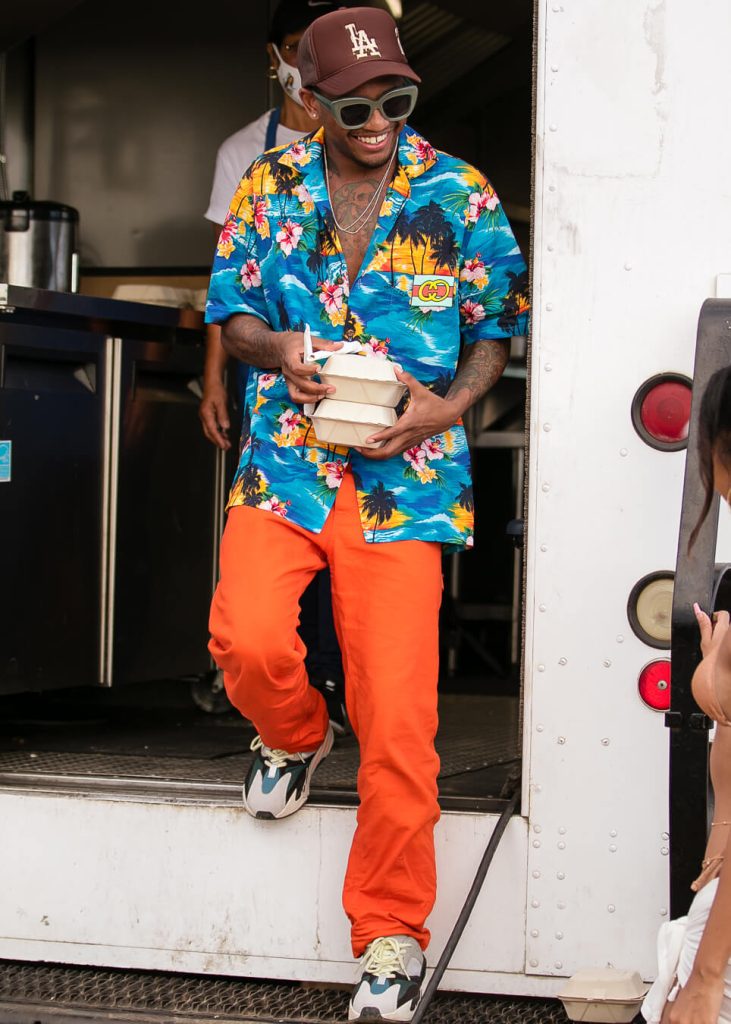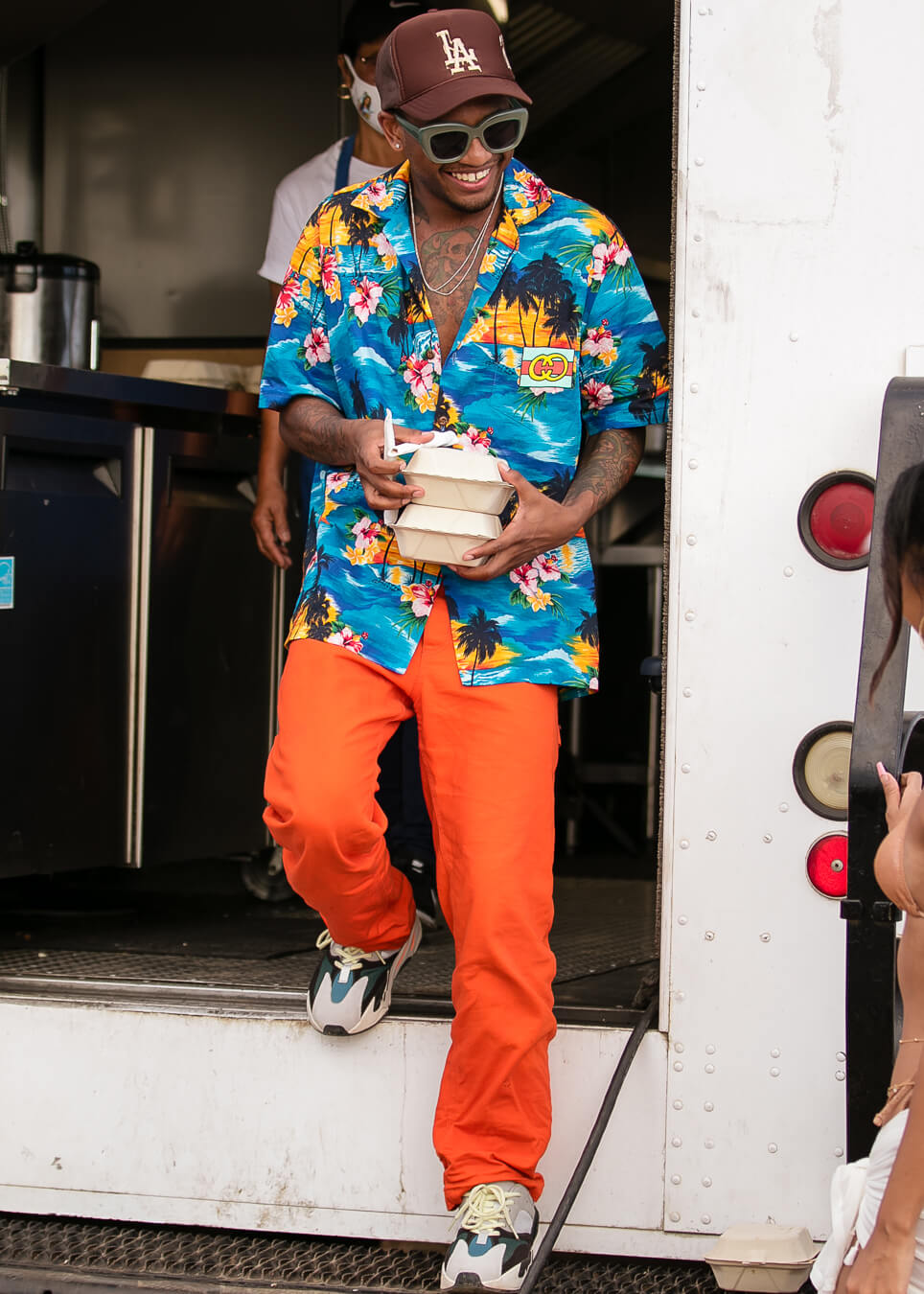 One of the tracks, Chicken Adobo is a love song on an authentic Filipino dish. The music video was shot in Hawai'i and featured Princess Nae & Bretman Rock's family food truck, "Mama Merces Kitchen." The collab between Guapdad and Mama Merces Kitchen was an OTP. The family owned truck by Edmund Laforga was apart of the video that also featured their mom, Mama Merce. With Filipino-Americans inching toward the spotlight Guapdad 4000 is proud to be part of the movement alongside H.E.R., Saweetie, P-Lo and many more, helping pioneer the new space for generations to come. He looks to continue to encourage people to come out, be proud and talk about their heritage.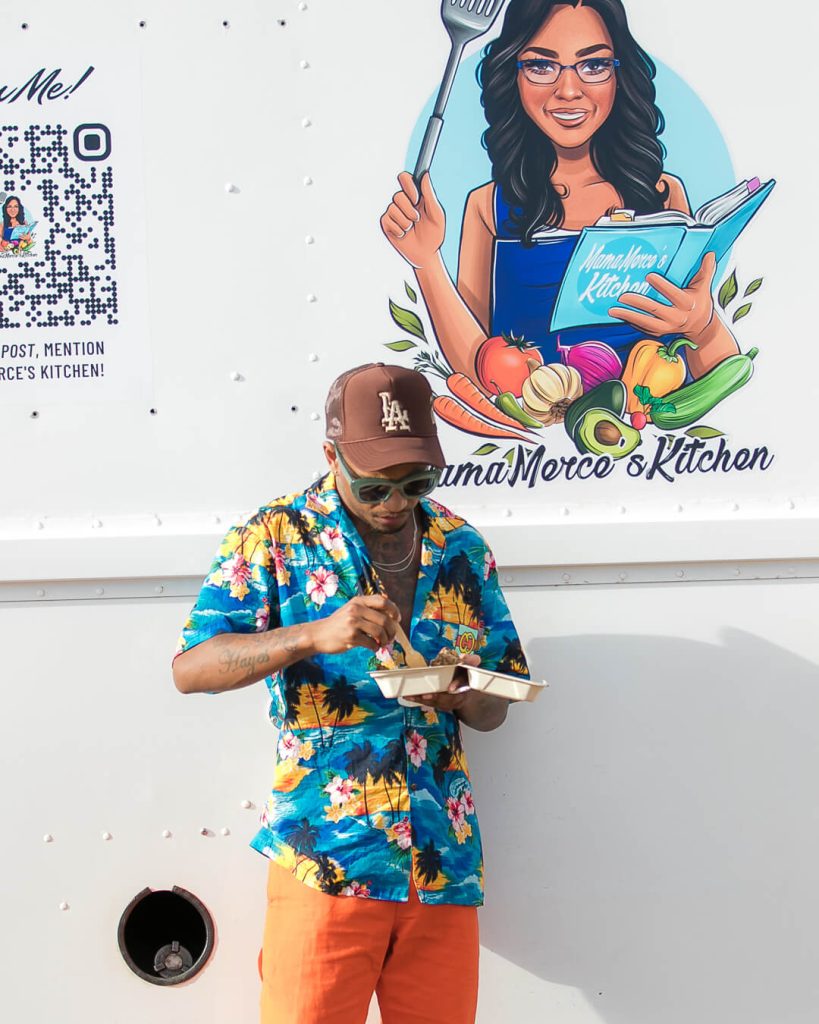 Cover Photo Credit: Guapdad 4000 Facebook
Music video photo credits: Brian Bautista @trafficjam808z
It's the FEEL THE SUNSHINE OFFICIAL GIVEAWAY! Courtesy of Alaska Airlines & Kaimana Beach Hotel.
Win a trip to HAWAII! Includes airfare for 2 & hotel for 6nights, 7 days!
RULES TO ENTER GIVEAWAY:
1. Must be following @alaskaair @kaimanabeach @kolohekaimusic & @hiriemusic.
2. Post a picture or video of how you would "Feel the Sunshine" with hashtag #feelthesunshine.
3. TAG your SUN BUDDY in this post.
WINNER is chosen randomly in IG hashtag. Additional amazing prizes to be announced for runner ups!

CONTEST begins March 8 & ends March 22. Winner + runner up prize winners will be announced on March 23.
This week, we chatted with multitalented artist, Daniel Bayot to talk about his musical journey and the latest single Like You Love Me. Born and raised in Hawai'i, music ran in the family. Daniel is a vocalist, songwriter, producer, and classically trained multi-instrumentalist known for his soulful sound and catchy melodies. Like You Love Me showcases a sophisticated pop arrangement that will definitely get stuck in your head.
Lets get to know Daniel a little better!
Thanks for taking the time to chat with us! Could you tell us more about yourself and how you got into music?
DANIEL: My trajectory was a little weird. I went from singing pop songs as a kid with my dad, to lots of formal classical training, to a masters degree in film scoring, to ultimately doing this interview for the pop single I wrote and produced.
I was first on stage singing Celine Dion's "My Heart Will Go On" with my father when I was two years old. It was such a rush. Then I started taking piano lessons before my feet could reach the pedals. My parents also didn't buy video games for my brother and me growing up, but my dad always has had a home studio, so there wasn't much else to do but make music. My elementary school also freely gave me excused absence slips to sing with my dad around the island.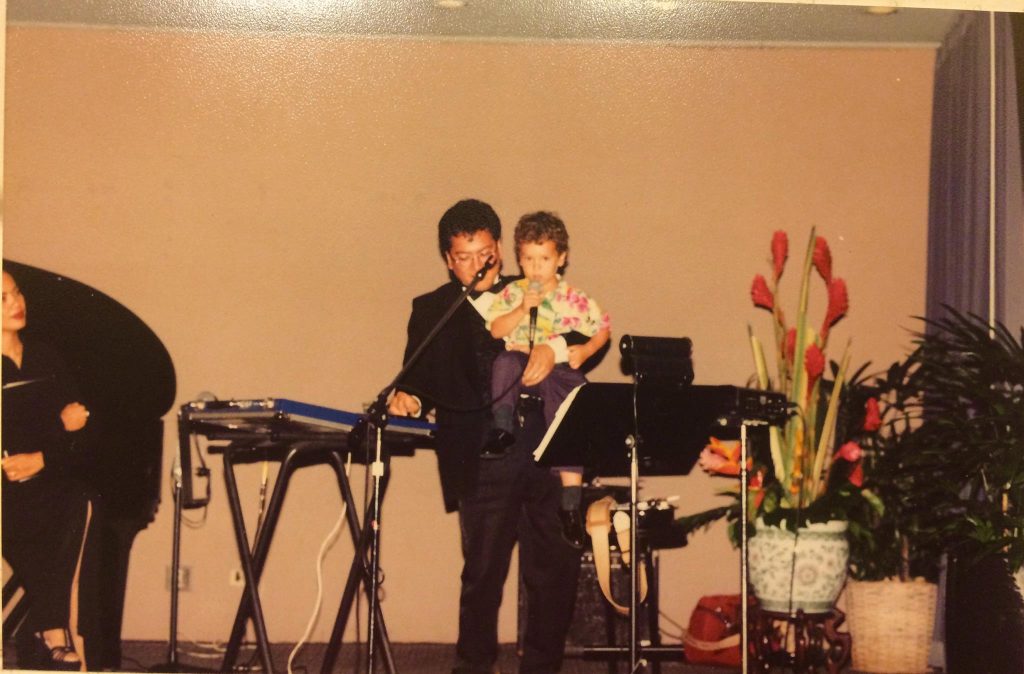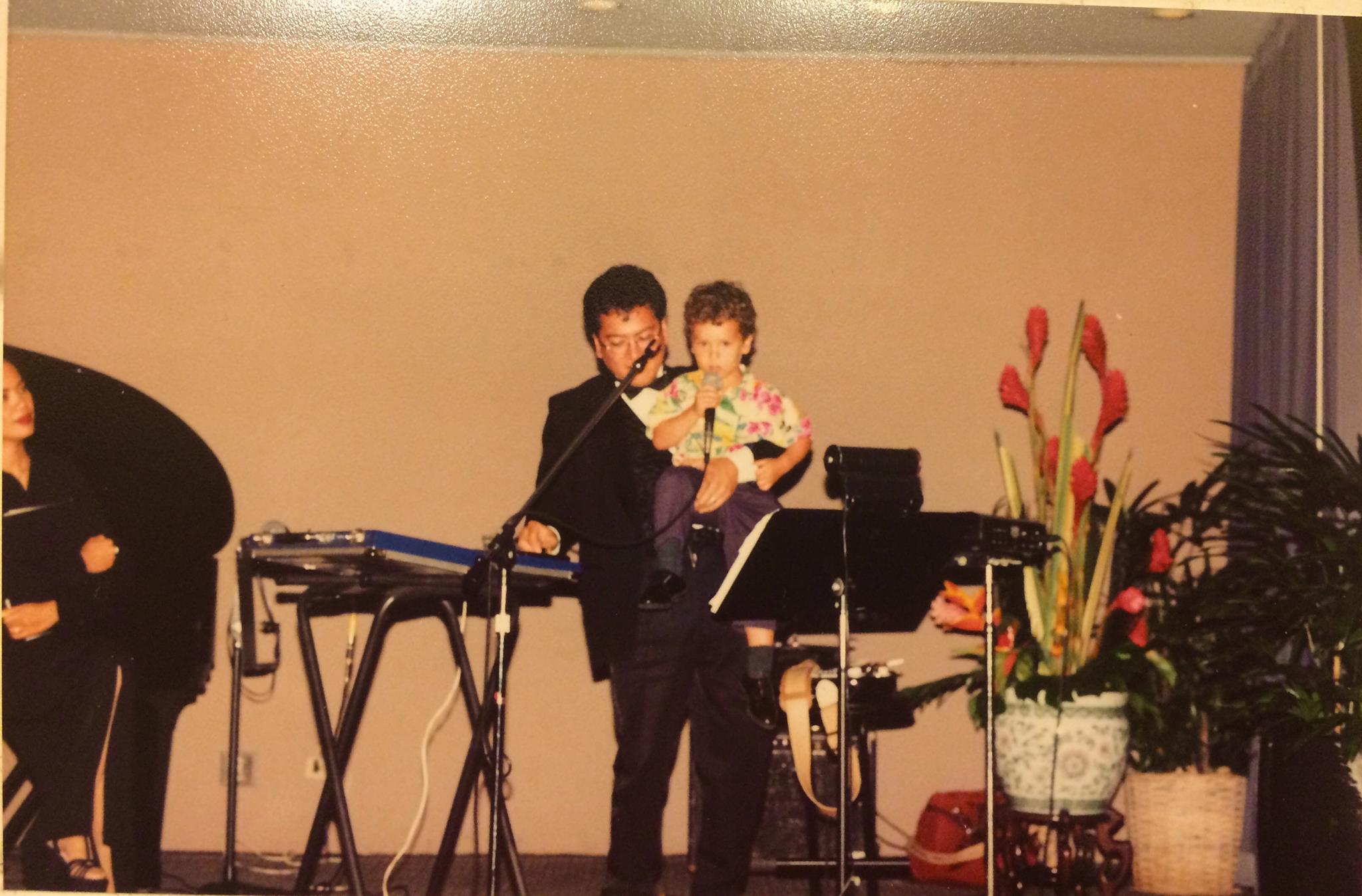 When I was eleven years old, I jumped into playing the cello and fell in love with classical music and the orchestra. I was a huge nerd. Still am. I moved to the mainland US after high school and got two music composition degrees. After spending my undergrad neck-deep in classical music, my dad got me and my brother a bar gig for some extra cash. It was then I rediscovered my love for pop music. I started experimenting with electronic music production, started producing pop music for myself, and here we are!
Where did you grow up in Hawai'i and what's the music scene like on the island from your experience?
DANIEL: I grew up on Oahu. Music is a vital part of the local culture. I think it's unusual for a Hawaii family gathering not to include singing and dancing. Hawaii is home to a lot of talent, and the dense Filipino population definitely doesn't hurt.
You have collabs with your dad and brother, what was it like growing up in a musical family?
DANIEL: Well, the house was pretty loud. We had to learn how to tune each other out. My brother would play heavy metal drums while my dad played jazz guitar and I played cello all in separate rooms (while my poor mother tried to work in her home office). We actually play together way more often now when I visit Hawaii than we ever did when I was growing up. Our tastes were too different then.
I love singing with my dad, and I love collaborating with my brother. He's a great percussionist and producer himself. We put out a cover not too long ago of Banks' Contaminated.
How would you describe your sound?
DANIEL: Unapologetically pop with marks of my classical roots. I grew up loving the symphony orchestra. Orchestral music tends to be very dynamic, continually thickening and thinning, expanding and collapsing. Whether I'm writing in a classical idiom, using orchestral instruments, or not, I love playing with a symphonic sort of range of energy.
Your latest track, Like You Love Me is so catchy! I hear the pop and electronic influence. What's the story behind the song?
DANIEL: Thank you! The bass-line came to me first, and I drafted a melody and some lyrics. It sat in the notes app of my phone for a while. While visiting Hawaii, I got a surge of inspiration, borrowed one of my dad's microphones, produced the whole thing on my laptop. My dad also recorded all the guitar licks.
The lyrics are inspired by my experience trying to date in West Hollywood. I was struck by a particular experience with a particularly beautiful man.
What's your creative process like? Your music training was primarily in composition. Do you start with lyrics or the melody when creating music?
DANIEL: Lyrics, melody, and chords all tend to come to me at roughly the same time. I then like to sketch out a rough energy map to blueprint the music's peaks and troughs. I draw out what sounds I think should appear. It's the process I was taught as a classical composer. I usually veer from my original plans, but it at least gives me a great starting point.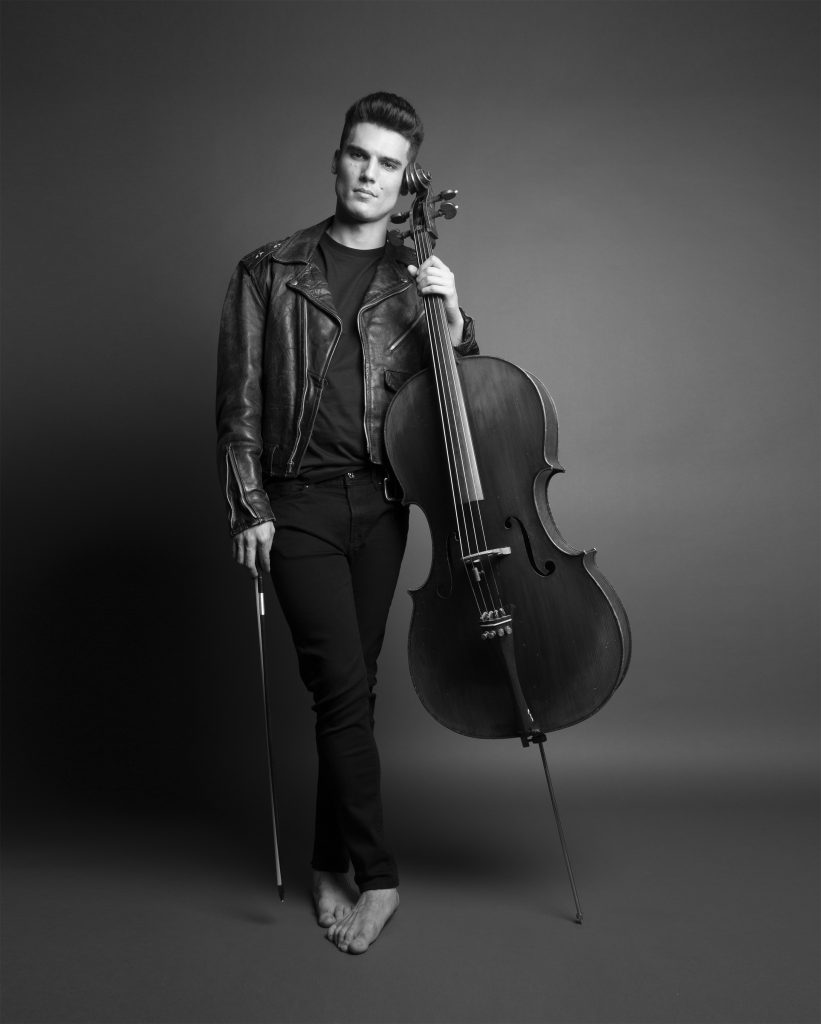 You also play lots of instruments. Which one do you tend to pick up first?
DANIEL: These days, I play the piano the most as it's the most useful to accompany myself. I've tried singing and playing the cello at the same time, and it's tough.
You've won an Emmy for composing the score on the Bigger Than Basketball video for LeBron James's I Promise School. What was it like working on that project?
DANIEL: My good friend Alex Berko called me in the middle of the night about this LeBron James project he was hired to do. Alex is an incredibly talented, highly educated musician. Over-educated.
He was stuck and panicking. I calmed him down, helped him realize he was way over-thinking, and offered some more straightforward ideas. We finished the whole thing right there on FaceTime, then he brought me on board to help orchestrate and produce it. LeBron James did such a fantastic thing for these kids. Alex and I freaked out when he retweeted our music.
I see you're also a vocal coach, what's your #1 piece of advice when singing?
DANIEL: You can't drive the car with the hood open! Self-judgment isn't useful while onstage. Save the analysis for practice sessions. When you perform onstage, shut your brain off, turn your heart on, and let it out. Flow through each moment. Go, go, go. Don't look back.
To close, we have a few rapid-fire questions for you:
Filipino families love their karaoke, what's your go-to song?
DANIEL: George Michael, I Can't Make You Love Me.
Favorite Filipino artist?
DANIEL: KZ Tandingan and Nicole Scherzinger.
Favorite lyric you wished you wrote?
DANIEL: "It's Britney, bitch." Pure poetry. One of our favorite answers yet!
Who's an artist that you'd love to collaborate with and produce for?
Yebba.
Did you know you always wanted to be a musician?
Without a doubt.
3 songs or artists you currently have on repeat.
DANIEL: Jacob Collier ft. Tori Kelly, Running Outta Love.
Nao ft. Lianne La Havas, Woman.
Yebba, Evergreen.
Best piece of advice you've received?
DANIEL: I asked a Tony-winning composer for advice on entering this industry.
"If you can do anything else with your life, do it.

If you can't do anything else with your life, save your money, find a good life partner, and find a good therapist."
I live and breathe music, and I don't think I could stomach doing anything else with my life, so again, here we are!
Mahalo Daniel! It was great to chat with him and we're looking forward to hearing more music in the future! Don't forget to stream Like You Love Me and tell us what you think!
Cover Photo Credit: Daniel Bayot & Ruben Tomas