MYX chats with Moonfall actor, Kelly Yu about her experience shooting her first disaster film, portraying the character Michelle, and if she prefers outer space or Earth. Check out some of the highlights below from the interview and be sure to catch Moonfall, out now in theaters!
Ever wonder what would happen if the Moon got too close to Earth? In the latest film, Moonfall starring Halle Berry, John Bradley, and Patrick Wilson are faced with saving the planet in this apocalyptic, disaster themed movie. With a mysterious force knocking the Moon off its orbit around Earth, it creates a new path headed directly into Earth. Can these astronauts and conspiracy theorist save the Earth from what lurks beyond?
Kelly and her costars bonded while filming.
Although she is a veteran actor in China, this was her first movie in America and first disaster film. Her character, Michelle spent a lot of time looking after Halle Barry's character's son Jimmy, played by newcomer Zayn Maloney. She shared that both her and fellow screen partner, Charlie Plummer gave advice to Zayn about their experiences in the industry so far.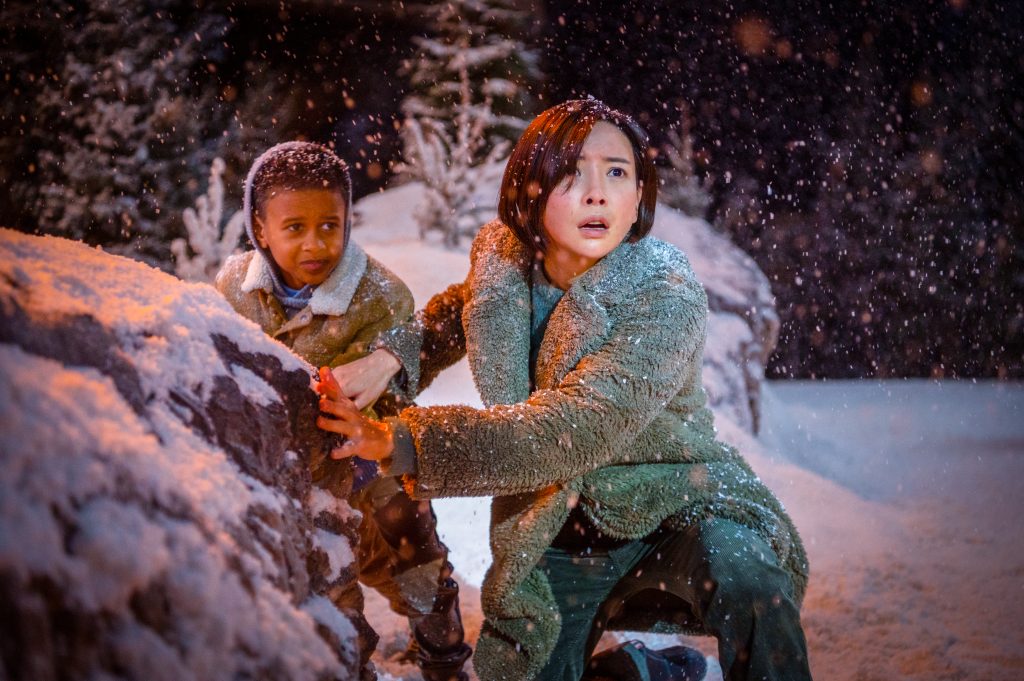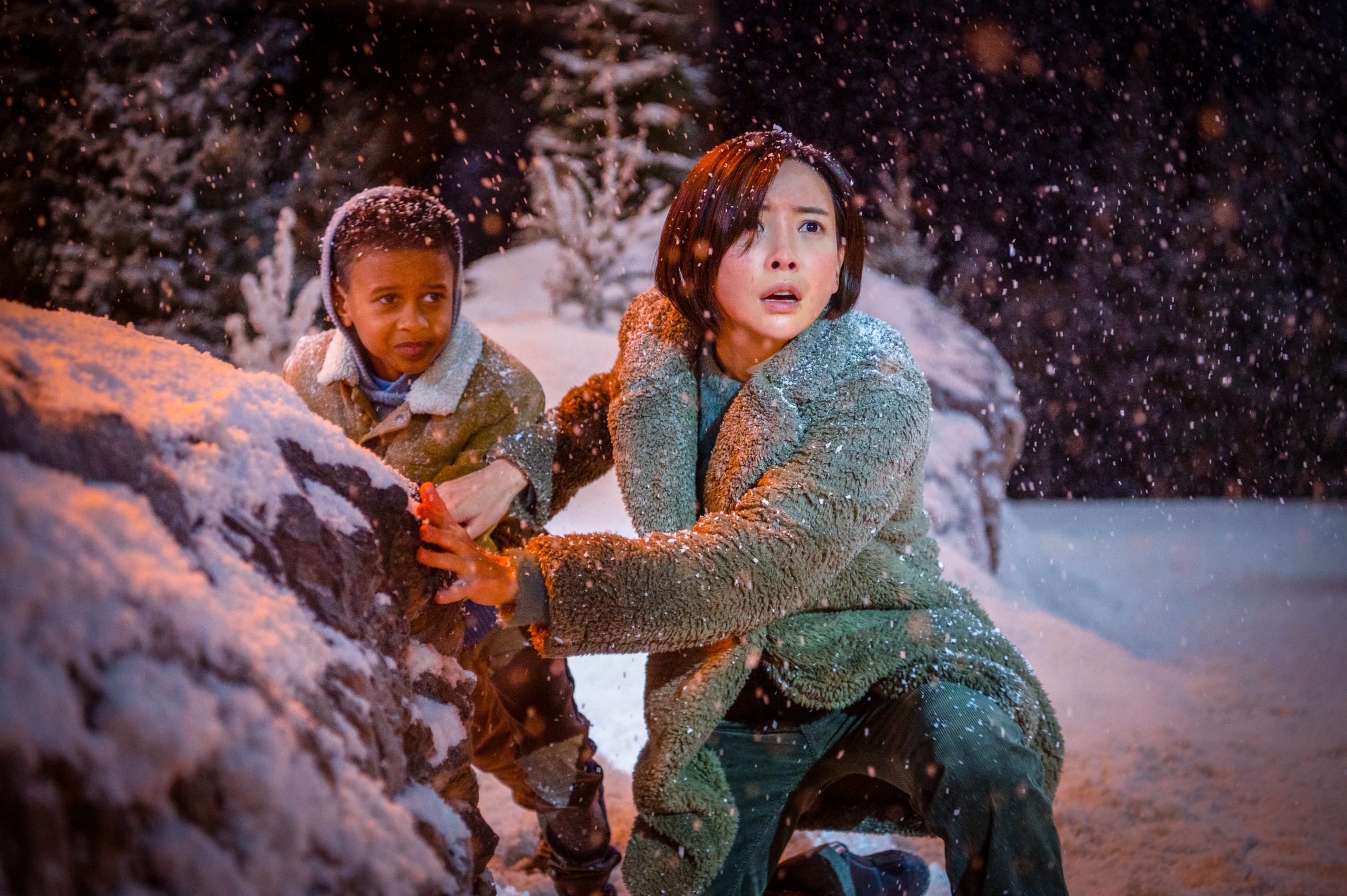 If you didn't know, Kelly is also a singer and had her music featured in projects she's involved in.
Kelly shared that for Moonfall, she's releasing a couple of songs for the film in the Asian market. She's excited to share a track that was specifically made for the movie once there's a release date for the film in China.
With the film taking place between space and Earth, we asked Kelly if she wanted to venture into outer space.
Because her character Michelle didn't venture out into space, Kelly would want to experience space. She would love to say that she's gone to space and saw what the unknown is like. For the film, the cast was placed on harnesses for certain scenes and Kelly shared that was the closest feeling of "floating" around in space.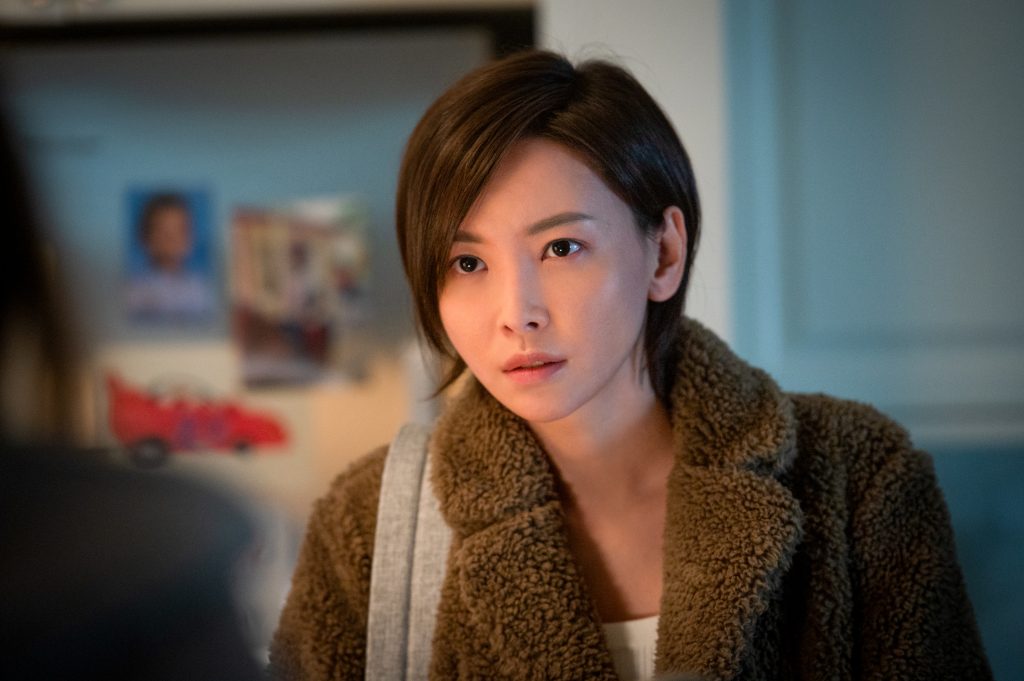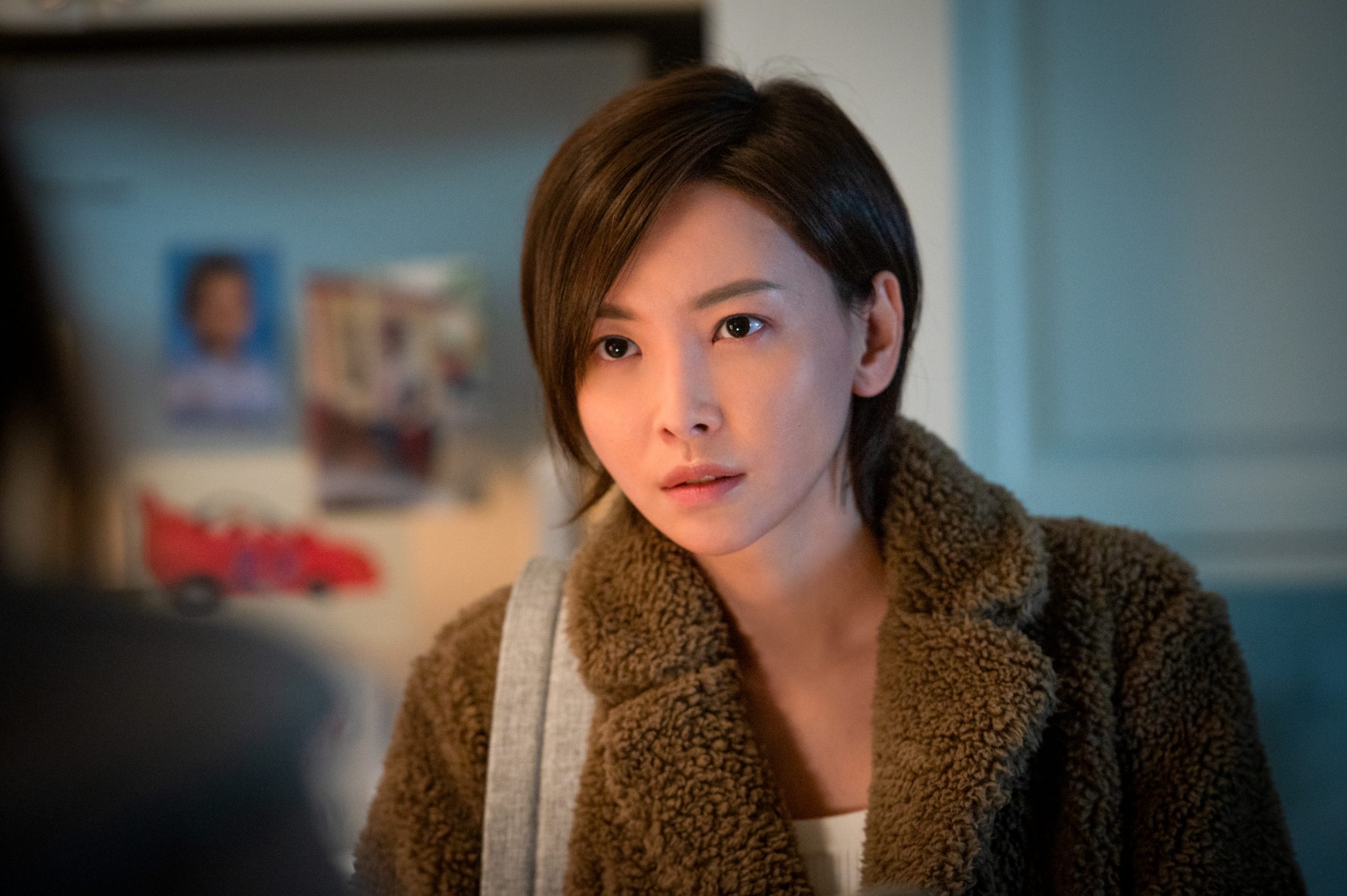 Kelly sings us one of her favorite go-to karaoke songs!
She gave us two of her favorite songs to sing along to during a karaoke session. The first being the Eagles' "Hotel California," which is definitely a classic. The other song being one of her own. Kelly even graced us by singing her song in Mandarin. It's a first for us here on MYX and we totally loved it!
We look forward to seeing Kelly in more projects and hearing more music! Catch Kelly Yu and the rest of the cast of Moonfall in theaters now!
Cover Photo Credit: Lionsgate
Jacob Batalon may play Ned Leeds, Peter Parker/Spider-Man's sidekick on-screen, but he's now ready to be at the top of the call sheet. "The Guy in the Chair" actor isn't only working on a new SYFY series, as the lead role in Reginald the Vampire, but Batalon also lands his first cover with 1883 Magazine. He talks about his experience filming during the Spider-Man era and being casted as Ned, what his relationships are like with his co-stars, and a few ventures he looks to take on.
For you who aren't familiar with Batalon, he's a Hawai'i native who didn't have much acting experience before landing the role of Ned. He sent in a self-tape audition and literally the rest is history. Batalon is proud to bring representation to the role and reflect "the real people who exist in the world around us." Playing the role for 5 years, the process of it all has become his own coming of age story.
"I guess it was more of a surprise than anything. I feel like I've become a completely different person from who I was back then. I've grown up in a lot of ways and I feel like I had to take that path and learn about who I am on my own. That has helped me become more of myself and helped mould me into who I really am."
After being casted along with Zendaya as MJ, he said it was received with mixed comments. His character in the comics is described as white, tall with blue eyes. "It's something a lot of people have asked my opinion on, and I feel like it's such a sign of the times. Tons of people supported us being people of colour playing these characters, but Zendaya got this weird amount of hate..." Batalon with his optimistic personality didn't let the negativity get to him. "If you choose to not let that type of chatter impact you, there's an even more powerful message that you're showing those people. All we can do is choose to be good people and do our best to be successful and not listen to any of that noise."
At least he had a great group of people on set who become his family like Tom Holland and Zendaya. He shared how emotional it was to shoot the third film of the franchise because of how close they became. "They're my family and we've really grown a lot together; we've seen each other go through a lot. It was a pretty emotional moment for us because we just couldn't believe we had accomplished something so amazing together." We all know about his and Tom Holland's bromance. Jacob mentioned how they checked in on each other during the pandemic and stayed hopeful to continue filming. The break from filming really showed how strong the bromance was.
As for the future, Batalon's currently working on the SYFY series but also has a couple of other ideas up his sleeve. He's looking into opening a food truck in New York along with investing in the cannabis industry. Food wise, Batalon shares how there isn't much representation from Hawai'i. We all know how good Hawaiian food is! "I would love to share Hawaiian cuisine with people because it's such a delicious, decadent type of food that I feel like a lot of people are missing out on." He also talks about how he's gone vegan and wants to try vegan Filipino food. We think he's up to something with this two investment ideas.
Check out the whole spread here! This definitely won't be the last we see of Jacob Batalon. It's only the beginning of many firsts for this Hawai'i native. With a promising career ahead and already an impressive resume, there's so much to look forward to. If he ever establishes his food truck, we'll be the first one there, guarantee! We're already manifesting a MYX Eats in the future!
Cover Photo Credit: 1883 Magazine
If you ever wonder where Vanessa Hudgens gets a bubbly personality, she definitely gets it from her mom! Gina Cuangco or Mamma G as she's called can light up a room based on snippets we get from Vanessa's socials. Vanessa shared with Glamour UK that she hopes to one day make a movie about her Filipina mother's immigrant journey.
She also tells the magazine how important it is to tell Mamma G's story. "It's so important to share all the different stories because America is a massive melting pot, [just like the] world. There are so many different stories that need to be told so that we are exposed to them and can have more empathy towards different people."
Vanessa encourages her mother to one day write about her life so she can turn it into a movie. Momma G's story is one of a young mother, raising Vanessa and younger sister Stella while navigating through a new country. Vanessa shared, "As an immigrant, coming into the States and not knowing anyone, I can't even imagine how difficult and challenging that is and what challenges she faced as a woman. And my father was a firefighter, so he was gone for a week and home for a week."
With such a close family dynamic it's no wonder Vanessa wants to share it with everyone. It's a story many of us are familiar with coming from a longline of immigrant history. "I feel like that's such a relatable story to so many women all over the world. The more that we can share, the more we can lift each other up." Her main goal when taking on a project is to hopefully lift up others in the process. Our fingers are crossed and hope this all comes to together because we would love to see this!
Cover Photo Credit: Glamour UK Twitter
keshi released a new track in October called, "SOMEBODY" a year after the one year anniversary of his last project, always. The song is the first single and music video from his upcoming, debut studio album. After the track released, he took the stage at 88 Rising's Head in the Clouds Festival in Los Angeles earlier this month with NIKI to perform "right here" and eaJ of Day 6 to perform "pillows" to over 30,000 fans.
"SOMEBODY," co-produced with Eli Rizk, brings out keshi's edgier side, but balances it with a perfect equilibrium between lo-fi and pop sound with a touch of 832. You can expect to hear keshi's harmonies along with his artistry. "With "SOMEBODY" and the upcoming album as a whole, I felt like it was time to shift the tone to something more well rounded. It all exudes a newfound confidence that I think fans will be refreshed to hear and see in all the new videos," keshi tells us.
Along with releasing his latest single, keshi teamed up with Mindset and Dive Studios for the keshi x Mindset podcast collection. The platform is dedicated to normalizing the conversation of human experiences through authentic stories. keshi talks about everything from who he is as Casey Luong and his upbringing, what he did before music, and answers some fan questions. He's featured in 8 episodes so time to grab some headphones and listen away!
When keshi broke into the scene with his 2018 project, The Reaper, it earned him early recognition for shaping the lo-fi discourse that's flanking pop music. VICE said, "the rawness that underpins keshi's sound keeps fans coming back for more." The Houston, Texas native gained popularity in the lofi-hip hop/study beats community and continues to have success in that genre. He wrote, produced, engineered and played all the instrumentation on his EP projects (Skeletons (2019), Bandaids (2020), and Always (2020)), which describes the cycle of a relationship.
Since then, keshi has been gaining more traction in mainstream like appearing on the 88rising-curated Shang-Chi and the Legend of the Ten Rings: The Album for his song "War With Heaven," YSL's special guest at their Venice show and he's currently tour with LANY. keshi wants to be remembered as an artist and he's on his way there. "I think the biggest goal for me right now is to create a record that will outlast me."
Get to know him as an artist and jump into his mindset in this recent MYXclusive with VJ Samm where they chat about songwriting, his album, and more!
Cover Photo Credit: UMG Philippines
We all want to protect Olivia Rodrigo at all cost because we can't get enough of her. We finally catch her debut late night show interview on Jimmy Kimmel. She talks about visiting the White House and her initiative on encouraging young people to get vaccinated, she's also reached the threshold of over a billion streams on Spotify, and what's next for her music.
Olivia recalls her visit to the White House earlier this year and hanging out with President Biden himself. She mentioned she received gifts from her visit like the aviators, M&Ms, and a shoe horn with the presidential seal. That's uhm... very interesting but at least the sunglasses balance it out.
She's asked about what's next for her music even with SOUR still soaring the charts and new radio singles coming out. Songwriting is therapeutic for Olivia as it describes her feelings that are uncomfortable, she said "you can be a happy person and still be upset sometimes." Preach, Olivia!
What she was happy about was meeting Alanis Morisette for their Rolling Stone cover. With similar career paths, they chatted about starting out on TV, shared dating advice, and the move to music. With SOUR being so successful and reaching over a billion stream on Spotify, we can't help think when's the next album coming and what would it be called? Obliviously "sweet" would make sense, but Olivia is keeping it all under-wraps for now.
Olivia also performed her current single, "Traitor" to close out the show. Check it out below!
Cover Photo Credit: Jimmy Kimmel Live Twitter
BGYO sits down with MYX Global's Nino to answer fan submitted questions and hang out with us! In this exclusive, we get to know more about the boys. They share which song would be part of the soundtrack to their life, who's their inspiration, and what their fandom ACEs means to them.
The group also talked about things they continue to discover about each other and of course we had to hit them with a rapid fire segment. Find out who prefers TikTok over Instagram, who would go back in time or want to see their future, and who prefers nature life over city views. It's so much fun to see the boys' personalities off-stage. #BFFGoals
The boys have been busy gearing up for their online concert with sister group BINI in One Dream: The BINI x BGYO Concert, but also they just released a new single, "Kulya." The catchy tune is part of the soundtrack for Miss Universe Philippines 2021 and will have you dancing along. This marked the group's first all-Filipino song. Take a listen to it below!
Don't worry, we'll be hearing more music from BGYO soon as their debut album is coming this month! According to NME, BGYO's The Light will be released on October 7, followed by BINI's Born To Win a week later, on October 14. BGYO have included 'The Light' and 'Kulay' in the album, along with prior singles 'He's Into Her' and 'The Baddest'. There will also be four alternative versions of the title track, performed in Japanese, Thai, Bahasa, and Spanish.
With all the hard work they've been putting in, they're also being recognized for their talents as the group won two awards at the Asian Academy Creative Awards. BGYO claimed Best Theme Song for "He's Into Her" from the trending series of the same name and the show itself was named the Best Original Program by Streamer/OTT. Their director Chad Vidanes received the Best Direction award. They'll only receive more awards from here on.
The BGYO boys are making all ACEs proud! With a lot more music and projects lined up for them, we can't wait to see how they'll round out the year. They're definitely the baddest out there right now in the P-pop scene.
Cover Photo Credit: BGYO_ph Facebook
Justin Chon is one of the OGs in the business and has had a long career spanning from early days in Nickelodeon to blockbuster films like the Twilight franchise or comedies like 21 & Over, but now he's been diving more into directing. If you didn't know, Justin also had a Youtube channel where he started directing shorts that led to his first directorial debut at the Sundance Film Festival with Gook. Now, he tackles his first major studio collaboration with Focus Features for the film, Blue Bayou as a writer, actor, and director. The 2021 Cannes Film Festival selection looks to tell an authentic experience of foreign born adoptees in the U.S.
MYX Global and I were lucky enough to chat with Justin himself about the film and the process of making it, growing up as an Asian-American, and we had a few fun questions lined up. Find out why he loved shooting in New Orleans, his favorite comfort foods, and his top karaoke songs!
Blue Bayou follows Korean-American adoptee Antonio LeBlanc, played by Chon who was brought to the U.S. as an infant and grew up in Louisiana. As Antonio struggles to make a better life for his family, he confronts his past when he discovers the possibility of being deported from the only country he has ever called home. The film tackles the meaning of family, identity, and what makes a person American.
Justin Chon looked to portray a storyline of an immigrant experience that's rarely talked about in media. According to NBC News, Chon says, "My purpose as an Asian American filmmaker is first and foremost to bring empathy to our entire community. And one of the things that's important is not to only represent my own experience or my own culture. It's to represent all of us." Although he does not have direct experience as an adoptee, his intent is to try to represent a group of people who were done wrong and to create a dialogue around international adoption.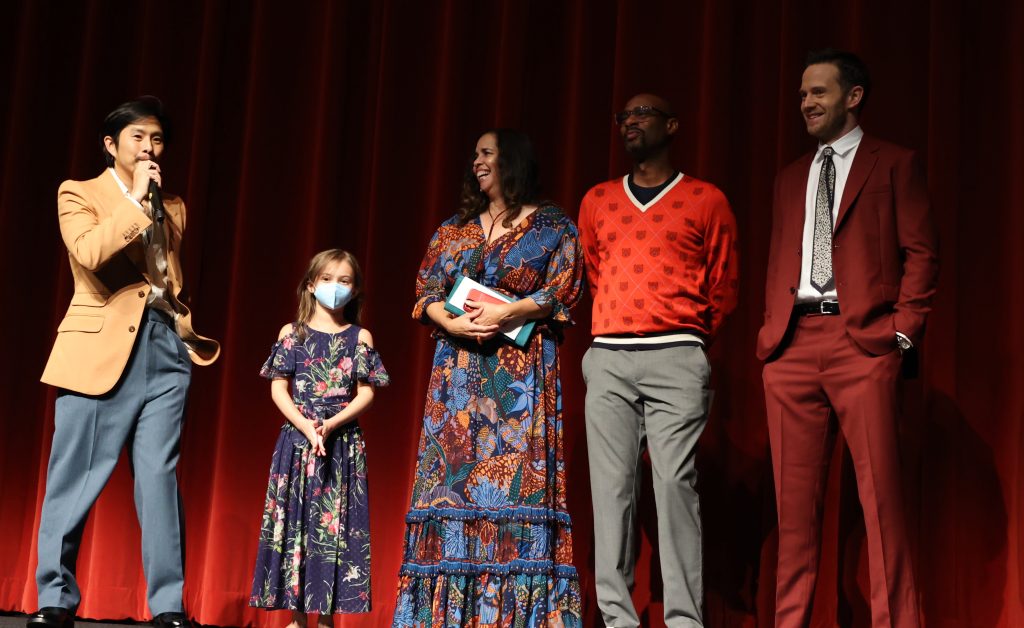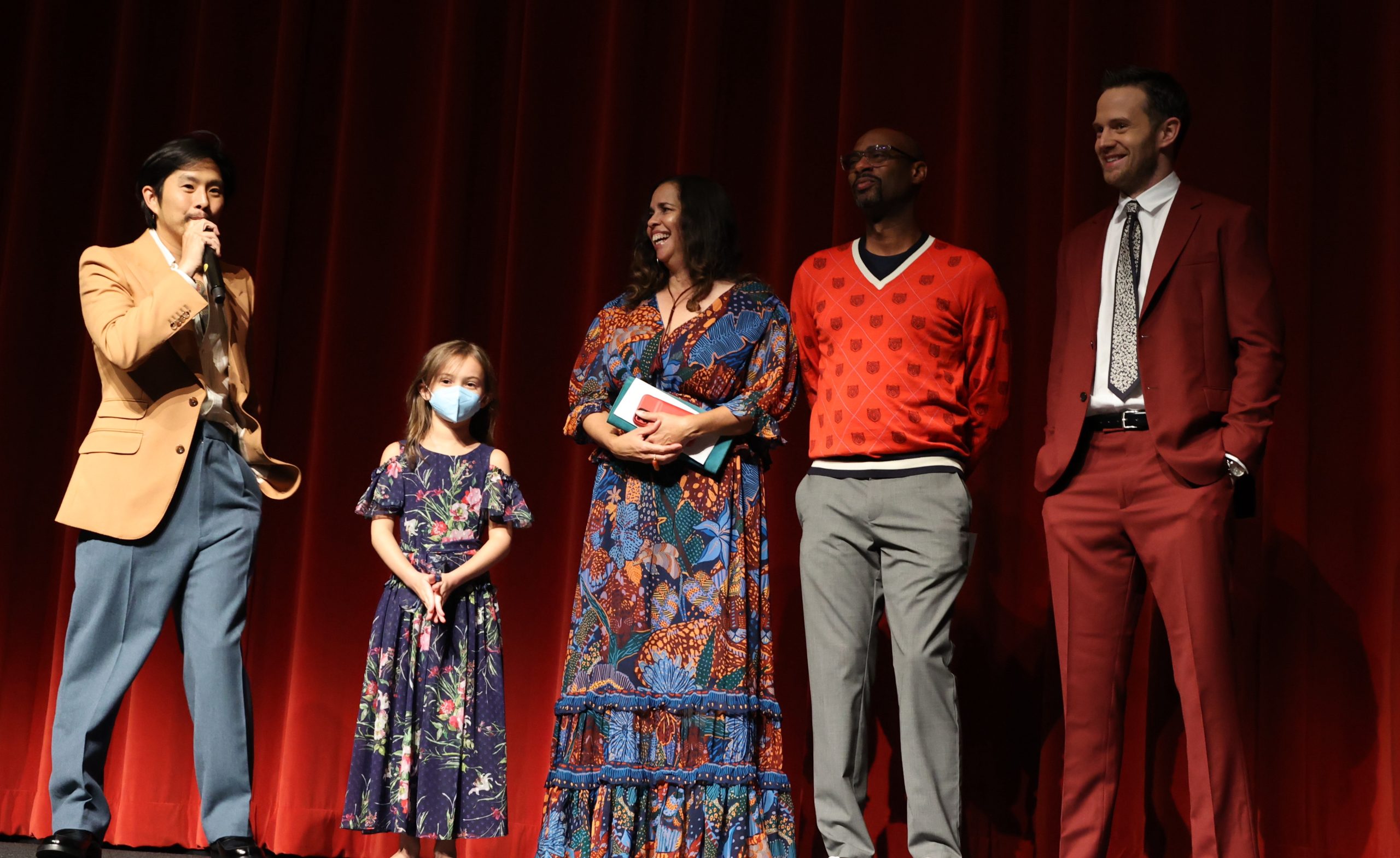 It's a film that tugs on your heartstrings and shows us a harsh reality of a confusing and sometimes broken system. Justin Chon produced a film filled with intent and looked to represent a community just wanting to belong. Catch Blue Bayou in theaters near you!
Check out photos from the star-studded LA premiere!
Cover Photo Credit: Focus Features
Kyle Echarri is back with MYX for a chat with VJ Samm on why he called his album New View, musical influences, and what's been keeping him busy. Check it out below and get a little peak about upcoming music.
If you're a fan of Drake just like Kyle then you see the similarities between Drake's album Views and Kyle's album New Views. However, the title goes deeper than paying tribute to one of his favorite artist. The album is practically genre-less as the songs dip into many different genre like R&B, pop, and ballads. New Views showcases how Kyle has evolved and changed as an artist and person, sharing new experiences and his new views on life.
We weren't the only ones excited to talk to Disclosure in this myxCLUSIVE. Dannieboi was stoked to talk with Howard of Disclosure and catch up on their newest release and their last visit to Manila. Plus we were excited to ask about their experiencing working with Fil-Canadian directors and producers of Kid.Studio.
Check out the interview below!
1. Disclosure is still creating music and writing a lot
Howard shares that a lot of the music they've been making has been created online. He shares that a lot of what musicians do are touring and writing music. Although touring and performing live isn't doable now, they are happy to have released Watch Your Step.
2. Their parents are musicians and influenced by various artists
Growing up with musician parents, Disclosure discovered good music and records. He shares some of that artists they listened to include: Stevie Wonder, Earth, Wind, and Fire and the classic rock bands like Genesis and Led Zeppelin.
3. They didn't think they were going to be artists, but knew they were going to be musicians
Howard said being artists was really unlikely because it rarely works out. However, they knew they were going to be in music whether as teachers or in the industry in general. "We wanted to be involved. It's all we're good at."
4. Disclosure's last trip to Manila, they remember getting treated so nicely
One of the main differences of performing in Manila are the fans. Howard remembers they got their first police escort wherever they went. He adds that fans are so friendly and always smiling.
5. Disclosure has been trying to work with Kelis for 11 years
The latest track, Watch Your Step has been long in the making. They remember wanting to work with Kelis since they were 16 years old. The cards finally aligned and Disclosure just popped the question. Luckily, Kelis agreed to collaborating and wrote the song from scratch.
6. The theme of the music was made around a Filipino family party
They trusted Kid. Studio to create a music video because of their creativity and out-of-the-box ideas. Although Disclosure haven't attended a Filipino party, they have tried Filipino food. Howard admits that he may have been a bit bias. "I hope we go with Kid. Studio." When he realized it was about Filipino parties, they were okay with giving Kid. Studio creative control.
Know more about Kid. Studio on our interview with the Filipino-Canadian directors for Watch Your Step Glenn Michael and Christo Anesti.
About Kid. Studio
Kid. Studio started in 2014 as an outlet to create videos, music content, and design. While showcasing their skills, they want to help bring awareness to the new creative vibrancy coming out of Toronto. It originally started with Glenn, and co-founder Vince Tran, and quickly brought on other extraordinary talents like director Christo, editor Red Barbaza, and producer Julian Nieva, who has since gone on to do incredible work outside of Kid. In 2016, in partnership with their sister company HPLA, led by Ryan Hahn and Chanel Urban, they've been able to create and compete in a whole new arena of video making. From there, they've created music videos, shorts, and commercials for some of our favorite musicians and brands.
Cover Photo Credit: Disclosure Facebook
Malaysian artist, Yuna chats with Dannieboi in this myxCLUSIVE. They talk about her latest single, Dance Like Nobody's Watching, her past collabs with G-Eazy, Usher, and her hope to one day sing with BTS. She also shares her musical evolution and how she got to her sound now. Check it all below or check out the highlights from the interview!
Yuna was originally supposed to visit the Philippines for a month
She says that it's crazy to that she's only been to the Philippines once and yet they're the second largest streaming country for her latest track. "I can't wait for this whole thing to be over so I can go out there and just you know play music." She appreciates the love and support the Philippines constantly gives to her and her music.
2. She started writing original music around the age of 14
Yuna explains that growing up, she listened to a lot of Malaysian artists and also Mariah Carey and Whitney Houston. She also liked Alanis Morissette and Sheryl Crow which shows her diversity in music. However she discovered Lauryn Hill around 12 or 13 years old, which became the first proper album she bought.
3. Yuna started in the music business around 2006 and has been going the last 15 years
Her creative process of creating music is always changing. She knew that she wasn't going to be an artist who just stuck with one thing. When she first started, Yuna says she really focused on singer-songwriter stuff like acoustic vibes. Fast forward to moving to Los Angeles and challenging herself to see where her English songs could take her.
4. She loves finding opportunities to evolve in her craft
Yuna compares her experience to painting a blank canvas. "People are giving me paint in different colors and I'm able to let go." The collab with Usher on Crush, she credits it to her management team but also the stars aligned for the opportunity. However she shared it wasn't something that happened instantly, "I didn't have anything for him yet so I kept that in mind" until Crush came around.
5. Yuna shares that getting rappers to feature in her songs has to be organic
"The way I approach getting a rapper to be on my song, it has to be something organic." One of the tracks, Blank Marquee featuring G-Eazy and Dannieboi was curious about the process of asking a rapper to feature in her projects. She explains that collaborating with anyone has to come from the heart where it's a mutual thing. They also have to also love the song and the project and come from a place of sincerity.
6. She had no idea at first that BTS followed her on social
We had to ask if there's an upcoming collab with BTS since they follow each other. Yuna's honest answer was not yet. They followed her a few years ago before they were the global sensation they are now. "Only time will tell. We got time to do it properly so that everyone will enjoy the process and the music."
7. The most random thing she has is her dictionary she's had since 13
She's really proud of it because Yuna explains she was never used to speaking English well. The dictionary was her best friend. She had it when reading English books and trying to write a song.
8. The song Stay Where You Are was put on the back burner and fans asked to be released to help comfort them during the pandemic
Yuna shares that the song didn't fit the concept of her last album, "Rouge" (2017). She then revisited it while staying home and performed a live video. Fans reacted positively and resonated with it saying it's something they need right now. Yuna gives a little explanation about the song:
Cover Photo Credit: Yuna Facebook