The star-studded young cast of Lyric & Beat, The Music of Jonathan Manalo showcase their voices and dancing abilities in the latest performance/music video. The lead track to the series was performed by the talented cast including: Andrea Brillantes, Seth Fedelin, Darren Espanto, AC Bonifacio, Sheena Belarmino, Awra Briguela, Angela Ken, and Kyle Echarri with words and music by Jeremy G. and Jonathan Manalo.
As this iWantTFC musical series has kicked off, the songs featured are just as catchy as the storyline that focuses around the young talent of the fictional Philippine National Conservatory of Music. Onscreen, it's healthy competition among all these talented students looking for their big break while offscreen, these artists bring out the best out of each other. Check out the visualizer below! 
Cover Photo Credit: Star Music Instagram
Singer and songwriter, Jayda can now add actor to her resume as she will be one of the stars of the upcoming Black Sheep series, Teen Clash. The Wattpad title will also star young stars, Markus Paterson and Aljon Mendoza. The trilogy book series is finally being adapted on-screen at iWantTFC following after the success of another Wattpad novel, He's Into Her.
Based on the book by Ilyn Anne Danganan, the school-set "Teen Clash" will feature Paterson as Jude, Avanzado as Zoe, and Mendoza as Ice. All three actors are excited to bring the characters to life.
"I remember having major writer's block while working on my second album when I first got wind of 'Teen Clash' then while shooting something different for RISE. We had the chance to read some of the script and it got me so excited to begin the project," Paterson shared after Monday's announcement.
While Mendoza had been familiar with the source material before he was given the project as he may have borrowed his sister's copy of the books. He tweeted, "…Who would've thought? Grateful and so excited for this."
Jayda is excited for fans to meet Zoe, "…I am pretty nervous but all the more excited for this new adventure that I'm embarking on with Direk Gino Santos, Aljon and Markus to bring life to this story!" There's not many details yet released regarding its premiere, but stay tuned with us for more info coming soon!
Cover Photo Credit: Jayda Instagram
The future is bright for Star Magic and their talented roster as the agency celebrates its 30th anniversary in the business. To commemorate the big event, they're producing their first feature film. The movie, Connected debuts and starts streaming on July 22, which will include popular reality TV stars from recent seasons of Pinoy Big Brother.
The young cast of the film consists of former "PBB" housemates Amanda Zamora, Chico Alicaya, Gail Banawis, Ralph Malibunas, Kobie Brown, Andi Abaya, and Richard Juan as they tackle young love and the challenge of feeling isolated in a "connected" world. The 7 actors will navigate all their different personalities while finding a sense of purpose, love, and attention.
Theodore Boborol will be spearheading the project as director who's responsible for creating some of your other favorite romcoms like Vince & Kat & James, Finally Found Someone, and Just The Way You Are. Don't miss Connected streaming it on KTX, iWantTFC, TFC IPTV video-on-demand, and SKY Cable pay-per-view distributed by Cine Express starting July 22 and find out if fate will bring these individuals together.
ABOUT STAR MAGIC
Star Magic has been the home and training ground for the biggest and brightest names in Philippine entertainment for three decades. It has provided workshops in acting, dance, art, script appreciation, styling, voice production, as well as physical fitness training in order to develop disciplined, well-rounded and world-class performers. Star Magic artists are also encouraged to use their influence for good by supporting ABS-CBN Foundation's advocacies .

Kyle Echarri and friends are starring in the iWantTFC original series, Beach Bros. Welcome to the beach life where Kyle Echarri plays Dave Alon, the leader of the pack where he and his boys go with the flow of life. His friends played by Brent Manalo, Raven Rigor, Sean Tristan, and Lance Carr all meet a group of girls who change their outlook on life.
The "Baler Boys" as the group is called, meet three mysterious girls played by Chie Filomeno, Kira Balinger, and Angelica Lao who have complicated backgrounds and give the boys a run for their money. See who ends up with who while both friend groups navigate through love, life, and growing up. Check out more about Kyle Echarri as Dave below!
Cover Photo Credit: Kyle Echarri Instagram
HOO-HAH! Who's been waiting for the newest season to drop the most watched iWantTFC series, He's Into Her? The wait is almost over as Season 2 is set to stream this April, but to hold you off we have the latest teaser for you! The series stars the love team DonBelle, comprised of the hottest actors right now, Donny Pangilinan and Belle Mariano. After the huge Season 1 cliffhanger, audiences have been wanting to find out what happens to Deib and Max and see DonBelle back on screen.
As DonBelle makes their return so does most of the cast, aka the BearKada. You'll get to see your favorite friends like the boys of Alpha 3: Lee (Joao Constancia) and Lorde (Gello Marquez). Also Naih (Criza Taa), Michiko (Kaori Oinuma), Ysay (Vivoree), and Migz (Limer Veloso) are set to also make their return. New faces are also debuting in Season 2 as the cast grows. The series welcomes new characters played by JC Alcantara, Reich Alim, Zach Castañeda, Shanaia Gomez, River Joseph, CJ Salonga, Rajo Serrano, and BINI member Mikha. Director Chad V. Vidanes and head writer, Vanessa Valdez are also back at the helm spearheading the series.
The new season will premiere first on iWantTFC on April 20 for Premium users outside of the Philippines before it premieres on April 22 in the Philippines and Indonesia. Then catch new episodes dropping every Wednesday for iWantTFC Premium users outside the Philippines and every Friday for iWantTFC users in the Philippines and Indonesia. If you want to watch it on TV, the series will make its broadcast premiere on April 24 on Kapamilya Channel, Kapamilya Online Live, and A2Z, with a new episode every Sunday.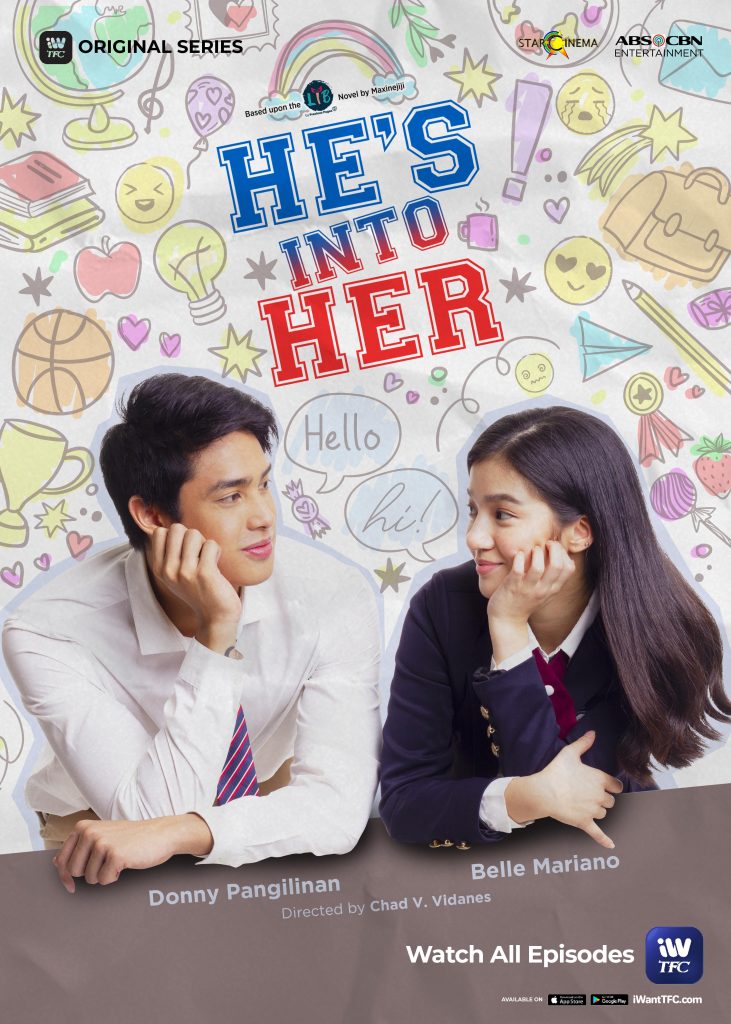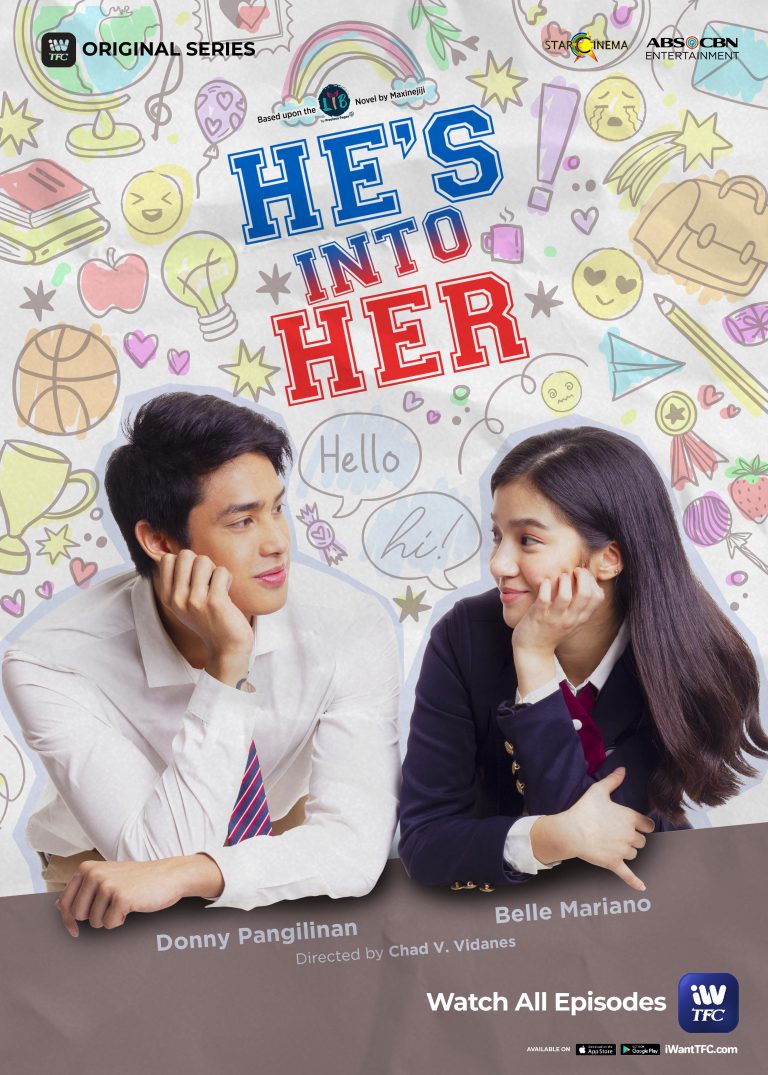 Until then, binge and re-watch Season 1 of He's Into Her, and more like the BTS He's Into Her: The Journey and The Benison Ball all available for streaming on iWantTFC. A special primer of the series will be available for FREE worldwide on April 17.
The Manny Pacquiao Executive Produced film Zeus has inked a worldwide distribution partnership with ABS-CBN. The movie is written, directed and stars Chris Sorriano who plays Zeus a young boxer who goes viral helping protect an old Asian man getting attacked at park.
Sorriano mentions in an interview with CBS Los Angeles that he felt the need to create and realease this movie right at this moment because of the ongoing racial hate crimes that we see on the news daily.
You can watch the film on iWantTFC, TFC, and KTX.PH starting 8/19.
About The Film:
When an old Asian man is attacked and sprayed with hand sanitizer, a young boxer knocks out the aggressor. This turns him into a viral star which gets the attention of the Middleweight champion who decides to challenge the young boxer in the ring to an unorthodox boxing match in a COVID-19 pandemic. 
Follow them on:
Instagram: @zeusthefilm
Facebook: Zeus The Film
Twitter: @zeusthefilm
Official Website: www.zeusthemovie.com
Cover Photo Courtesy of: Zeus Film
Get your tix at iWantTFC.com.
This week we have actors and reality stars Jameson Blake and Joao Constancia from the Philippines joining us on myxCLUSIVE! They chat with DJ Marlino to talk about their latest movie My Lockdown Romance, how they've been during the pandemic, and explain what it was like shooting the film. Get to know more about them and the film, right here on myx Global.
We have some of the highlights from the interview:
1. They didn't always know they wanted to be in the entertainment industry
Here we find out that Jameson was hesitant at first and didn't have any plans of entering the business. His confidence grew as he played more roles and went off to win awards. However for Joao, he wanted to be an actor since he was 14. They both moved to the Philippines at a young age and eventually took their shot at acting and we are glad they did.
2. Jameson and Joao both turned to TV series or movies to get tips on acting
Jameson explained that he isn't a huge movie goer because like he mentioned early on he didn't think of becoming an artist. Once he got into it, he watches a lot of series "to get tips to pick up ideas on how to portray characters." As for Joao, he watches tons of movies. He notes that Leonardo DiCaprio is his favorite actor and The Great Gatsby is the film that inspired him to act.
3. Choosing the right roles for themselves comes from just feeling it out
Both of them explain that the types of roles they're pegged for are typically the "bad boy" characters because of their looks, but they're both really just nice guys. Joao says "hopefully in the future, I get a leading man role with a kilig scene." He also touches on how they feel when they think they're not fit to portray a role. They just have to overcome it and play it the best they can. Jameson shares that for him, his body usually lets him know if a role is right. "When we read the script synopsis, I try to connect to it. Feel it out."
4. The guys are just like us
When asked what their hobbies are during the pandemic, we see it's they do the same thing as us. Their list includes: Netflix, video games, streaming, and hoping on TikTok. They both lean more on the dancing side, but Joao says he really likes to dance. We can tell Joao, we've seen Boyband PH. One thing that Jameson says he learned during the lockdown is using time wisely. He went back to his hometown of Pampanga to stay with family and he mentions that pre-pandemic he only rarely visited because of his work schedule. However, now he realizes how much time he lost with them. We feel you Jameson!
5. Jameson and Joao are super humble
We had them rate their career so far and if it's what they expected for themselves. They both gave honest answers. Jameson says, "in terms of how many projects I've done, it's more than what I expected. In terms of skills, not yet." Joao had a similar response, "there's always more we can achieve, but personally I feel I've grown a lot as an actor and became more confident." Don't worry, this is only that start for them!
6. They both had to learn the production side to producing a film
Because of the film shooting during the lockdown, Jameson and Joao learned how to film scenes themselves and stage a shot. Their production team assisted in guiding them through what needed to be done and how to set up. Joao mentions going through a workshop just on how to set up the camera, lights, and going through production.
7. The guys now understand better what it's like being behind the camera
The guys both agree that the first day of shooting was the hardest because it was a new environment. Jameson remembers the first day, "I had to do everything from setting up lights, audio, and my own wardrobe." Both agree that although it was difficult, it's now a skill they can take with them on future projects. "Now we understand the people behind the camera. We're used to being in front, but now we learned what each person's job is and how important it is."
8. Jameson and Joao helped keep each other's motivation going
Initially, Jameson and Joao didn't know who they were being paired with for this film. However, when they found out that it would be with each other, it made it easier to act together. Joao says, "since we're friends and know each other, we wanted to help. The chemistry was there." Jameson agrees that having a friend to act with allowed comfort when it came to helping each other learn lines and perform scenes. They also both consider themselves lucky to be working while everything that is happening.
If you haven't yet seen it, catch it on ktx.ph or stream it on iWantTFC then tell us what you think! Jameson and Joao finds that people will relate to the light-hearted film because it's a story about love and finding companionship during the pandemic.
Check out the trailer:
Brian McKnight Jr. gives us this stripped version of Marry Your Daughter that has us all kilig! This version was perfect in the iWantTFC show, "The House Arrest of Us" starring Kathryn Bernardo and Daniel Padilla. Who else caught the song in the recent episode?
Brian McKnight Jr. said that there were so many requests for a stripped version that they went all out with a karaoke track! Are you ready to give your rendition? Check out what he said about it!
Download / stream here
Watch and stream "The House Arrest of Us" on iWantTFC or ktx.ph.