Singer and songwriter, Jayda can now add actor to her resume as she will be one of the stars of the upcoming Black Sheep series, Teen Clash. The Wattpad title will also star young stars, Markus Paterson and Aljon Mendoza. The trilogy book series is finally being adapted on-screen at iWantTFC following after the success of another Wattpad novel, He's Into Her.
Based on the book by Ilyn Anne Danganan, the school-set "Teen Clash" will feature Paterson as Jude, Avanzado as Zoe, and Mendoza as Ice. All three actors are excited to bring the characters to life.
"I remember having major writer's block while working on my second album when I first got wind of 'Teen Clash' then while shooting something different for RISE. We had the chance to read some of the script and it got me so excited to begin the project," Paterson shared after Monday's announcement.
While Mendoza had been familiar with the source material before he was given the project as he may have borrowed his sister's copy of the books. He tweeted, "…Who would've thought? Grateful and so excited for this."
Jayda is excited for fans to meet Zoe, "…I am pretty nervous but all the more excited for this new adventure that I'm embarking on with Direk Gino Santos, Aljon and Markus to bring life to this story!" There's not many details yet released regarding its premiere, but stay tuned with us for more info coming soon!
Cover Photo Credit: Jayda Instagram
| | | | |
| --- | --- | --- | --- |
| | | | |
| | | | |
| | | | |
| | | | |
| | | | |
| | | | |
| | | | |
| | | | |
| | | | |
| | | | |
| | | | |
| | | | |
| | | | |
| | | | |
| | | | |
| | | | |
| | | | |
| | | | |
| | | | |
| | | | |
| | | | |
| --- | --- | --- | --- |
| | | | |
| | | | |
| | | | |
| | | | |
| | | | |
| | | | |
| | | | |
| | | | |
| | | | |
| | | | |
| | | | |
| | | | |
| | | | |
| | | | |
| | | | |
| | | | |
| | | | |
| | | | |
| | | | |
| | | | |
This week's MYX News Hot List, new episodes weekly at www.myx.global/myxnews.
1. MYX MUSIC: BINI, SB19, JONATHAN MANALO JOIN FORCES – P-pop groups BINI and SB19 team up for a new version of PBB Teens' "Kabataang Pinoy" produced by Jonathan Manalo.
2. MYX MUSIC: JAYDA RELEASES "TOXIC" VIDEO – Jayda released a colorful music video for her all-tagalog song, "Toxic". This new song is also co-composed by her dad, the original prince of pop, Dingdong Avanzado.
3. MYX ENTERTAINMENT: FRANCINE DIAZ STARS IN BOLA-BOLA – Francine Diaz is gearing up to star in her first solo lead series, "Bola-bola". Catch it this March 26 exclusively on iWantTFC!
4. MYX LIFESTYLE: LOUIS DE GUZMAN LAUNCHES ANOTHER NEW BALANCE SHOE – Visual artist Louis De Guzman is back with a new sneaker launch paying tribute to his mom.
5. MYX LIFESTYLE: HAIL TO THE CHEF! HAPPY BIRTHDAY, CHEF VAL! – Hollywood came in their disco outfits to celebrate the birthday of Yamashiro's Executive Chef, Vallerie Castillo Archer. Among those spreading their well-wishes were James Reid, Ylona Garcia, Jay R, Mica Javier, Arci Munoz, Alex Wassabi, and Apl.de.Ap of the Black Eyed Peas.
Singer-songwriter Jayda comes out with a new flashy music video for her song, "Toxic." The track that she co-wrote along with her dad, Dingdong Avanzado and produced by Jonathan Manalo talks about the consequences of having a toxic personality. No one likes a toxic person because it just brings the entire mood down.
The lyrics says what goes around, comes around and toxic traits will eventually catch up to you. The music video portrays two very different personas that Jayda plays. One persona, she's a jaded, unapproachable diva while on the other hand the alternative persona is telling her to tone it down as karma is always right around the corner.
There's no room for toxic traits here, let's all treat everyone with kindness then just sing and dance it out!
Cover Photo Credit: Jayda Twitter
Jayda is going global as she takes center stage for Revelation: The U.S. Tour. With live events back in full force, the Los Angeles leg of the tour didn't disappoint as the crowd gathered and packed the venue. Alongside her equally talented parents, Jessa Zaragoza and Dingdong Avanzado, the family delivered a powerhouse show.
The show encompassed an energy that was enjoyed by persons of any age from songs that took concert goers down memory lane to songs the whole family can dance to. Jayda showed off her talent as a musician who's ready to take the big stage.
She sang songs from her debut album, "Bahagi" while playing her own instruments live proving how versatile she is as an artist. Developing and perfecting her artistry has always been Jayda's mantra. She explains that for her, the highest form of compliment is when people recognize her artistry, "which is something I really work hard at, and I am really proud of."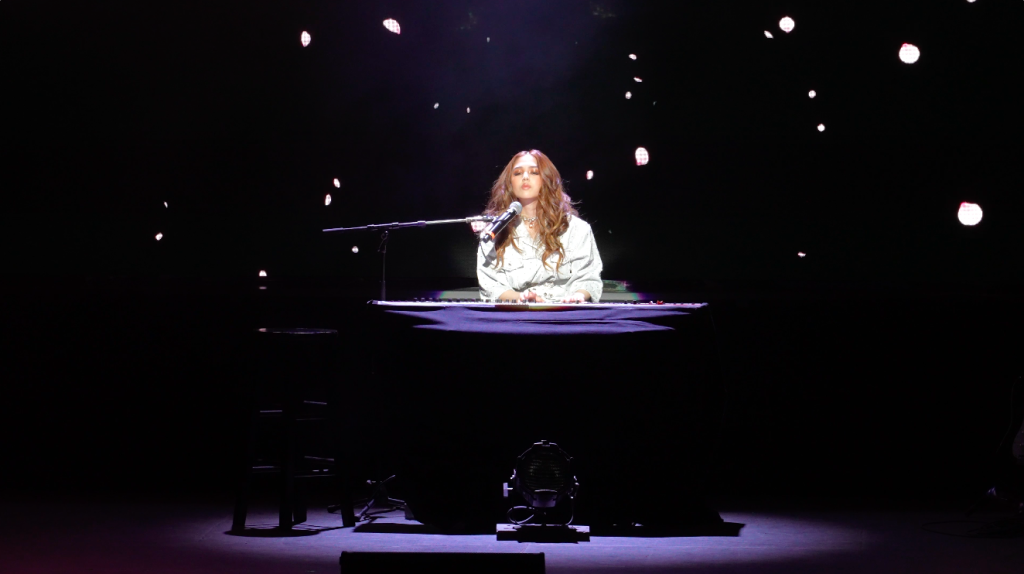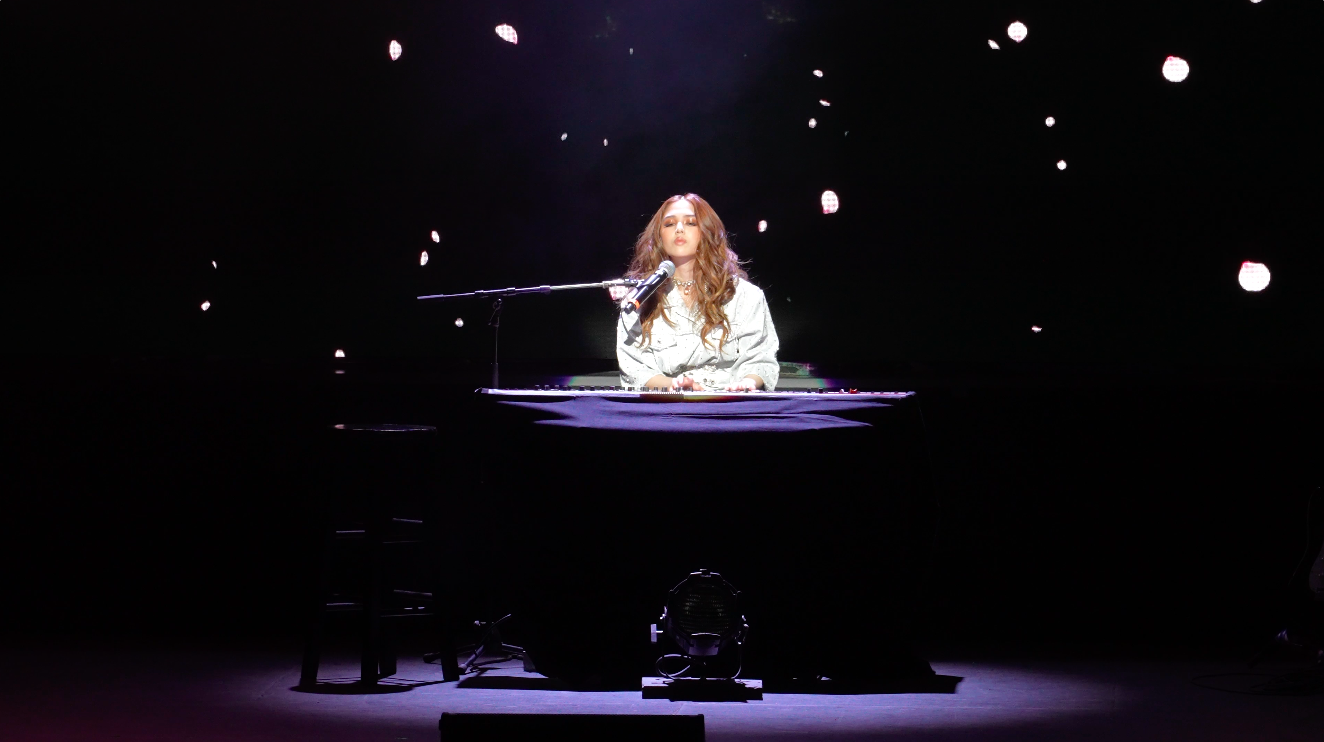 It was a night of fun and many amazing revelations. Jayda and her family are gearing to head up to Northern California for another show on March 26th at the Fox Theatre in Redwood City, CA. This Bay Area show will be a hometown show for Jayda as she was born an hour away in Vallejo, CA. Don't miss out and grab your tickets which start at $25 and part of the proceeds will go to the ABS-CBN Foundation International for the continuing rehabilitation efforts for the victims of Super Typhoon Odette.
Cover Photo Credit: Jayda Instagram
This week's MYX News Hot List, new episodes weekly at www.myx.global/myxnews.
1. MYX MUSIC: ALAMAT FIGHTS COLORISM IN NEW VIDEO – Alamat is making waves on social media with their new single, "ABKD".
2. MYX MUSIC: G22 DEBUTS WITH A BANG – Cornerstone Entertainment's highly anticipated G22 has popped off with their debut single and music video, "Bang".
3. MYX MUSIC: ELLE MILLS MAKES DIRECTORIAL DEBUT – Disney Star Joshua Basset is starting a new chapter in his career with his latest single, "Doppelganger" directed by Phil-Canadian Filmmaker and Youtuber Elle Mills.
4. MYX MUSIC: JAYDA TOURS US – Jayda along with her famous parents, Dingdong Avanzado and Jessa Zaragoza will be taking the stage together as part of Revelation: The US Tour. Tickets are available on myTFC.com.
5. MYX ENTERTAINMENT: DOMINIC FIKE CLOSES OUT EUPHORIA SEASON 2 – Last Sunday, the HBO hit series "Euphoria" had its epic and dramatic season finale complete with a musical number from Dominic Fike.
Jayda is gearing up to perform at Revelation: The U.S. Tour with no other than Dingdong Avanzado and Jessa Zaragoza this March! This tour is about to be a family affair as they make stops in Los Angeles (3/12) and San Francisco (3/26). As one of the Philippines' rising stars, Jayda is ready show the world what she's got. Before hitting the road, let's get to know Jayda.
1. Singing runs in the family
Revelation: The Tour is a family show where Jayda gets to perform with her famous parents Dingdong Avanzado and Jessa Zaragoza. Her parents are two OPM legends, but Jayda is talented in her own right. She's making her own mark in the industry as a musician, director, and composer.
2. Jayda isn't a newbie when it comes to live performances
With concerts making a comeback, Jayda just performed at one of the biggest shows in Dubai. She took the stage in December for 1MX as one of the Filipino artists who's making splash in the international music industry. The event was held in-person with a livestreamed telecast in Manila.
3. Not only is she a great artist, she's also an award winning director
Last year, Jayda won Best Music Video" for "Paano Kung Naging Tayo?" at the 2021 International Film Festival Manhattan. The song was co-written with her father while collaborating with Edrex Clyde Sanchez for the music video. The video co-stars PBB alumn Rhys Miguel. What a huge accomplishment for Jayda as this music video was her directorial debut.
4. Add songwriter and composure to her list of talents
In addition to writing her own music, she likes to write for other artists too. One of the tracks she's wrote was Belle Mariano's song, "Rise" of the album, Daylight. The track explores the idea of rising about the obstacles and setbacks in life, leaving listeners with a positive message. Jayda has the talent to take any idea and topic and turn it into a meaningful song.
5. Jayda dropped her debut album just last year
At 18, Jayda dropped her first album, Bahagi. The 8-track album, shows her range in music from ballads to pop and soulful tracks. She collaborates with Darren Espanto for the hit, "Sana Tayo Na" that topped charts in the Philippines. After releasing the album, Jayda also held her own digital concert to celebrate the debut. If you haven't listened to the album yet, it's time to pop in your headphones and enjoy the music.
Cover Photo Credit: Jayda Twitter
This is the week we've all been waiting for, 1MX is happening in a couple days! We got a few more artists to highlight to help you get geared up for this weekend. Jayda is a young and upcoming artist who is taking the her career by storm. She has a great lineage of musicians in the family so it's only natural that she has taken part in the family business.
Jayda is the daughter of 2 OPM legends.
It's no biggie that her parents are OPM artists Dingdong Avanzado and Jessa Zaragoza. IYKYK and you've probably sang a few of their hits on karaoke. But now, she's set to make her own mark in the industry as a musician, director, and composer.
2. Only early in her career, Jayda is already racking up awards.
In 2019, she won best performance by a new female recording artists for the song, "Happy For You" at the AWIT Awards 2019.
3. Not only is she coming up with the hits, but Jayda's is also receiving recognition internationally
She bagged the Best Music Video Award for the OPM song, "Paano Kung Naging Tayo" at the most recent International Film Festival Manhattan. Speaking of international, Jayda also just headlined her first major digital show, "Jayda in Concert" that attracted viewers globally!
We're watching her break into the industry and we can't help but follow her on the journey!
Cover Photo Credit: Jayda Twitter
Singer-Songwriter Jayda Avanzado wins "Best Music Video" for "Paano Kung Naging Tayo?" at the 2021 International Film Festival Manhattan. Believe it or not but this is Jayda's music video directorial debut. Talk about first impressions and setting the bar high. She co-directed this video with guidance and collaboration from Edrex Clyde Sanchez. To top things off, it was also for her own song that she co-wrote with her father, Dingdong Avanzado.
Jayda was ecstatic when she announced the good news on social media, admitting that she did not expect to win in the category. 
"I'm over the moon to announce that 'Paano Kung Naging Tayo?' has won best music video at the International Film Festival Manhattan 2021! Never would've seen it coming that my directorial debut into the world of music video directing would be recognized as my first win in a category like this."

Jayda Avanzado
Released on Valentine's Day this year, "Paano Kung Naging Tayo?" has raked over a million views on Youtube and counting.
About Jayda:
Jayda Avanzado is a Filipina songwriter, music producer, singer, and model. She is the daughter of singers Jessa Zaragoza and Dingdong Avanzado who was previously a councilor of Quezon City and vice governor of Siquijor. Jayda's released songs like "Happy For You," "Perfectly Imperfect," "In My Room," "Paano Kung Naging Tayo?" and just recently released her debut album in June of 2021.
| | | | |
| --- | --- | --- | --- |
| | | | |
| | | | |
| | | | |
| | | | |
| | | | |
| | | | |
| | | | |
| | | | |
| | | | |
| | | | |
| | | | |
| | | | |
| | | | |
| | | | |
| | | | |
| | | Kyle Echarri and Seth Fedelin | |
| | | | |
| | | | |
| | | | |
| | | | |
| | | | |
| --- | --- | --- | --- |
| | | | |
| | | | |
| | | | |
| | | | |
| | | | |
| | | | |
| | | | |
| | | | |
| | | | |
| | | | |
| | | | |
| | | | |
| | | | |
| | | Kyle Echarri and Seth Fedelin | |
| | | | |
| | | | |
| | | | |
| | | | |
| | | | |
| | | | |