MYX chart-topper Zack Tabudlo will be checking in with MYX Global soon and we will be asking him some of your MYXer fan questions. Submit yours below and watch the exclusive interview soon!
Zack performed with KZ on ASAP recently and posted his excitement on Instagram, watch the powerful collaboration below:
He has already received over 3M+ views for his memorable "Bini Bini" Wishclusive performance:
Manila's leading independent record label released a series of yearbook photos of the artists they will be releasing this year which includes artists like Kiana V, KZ Tandingan, Inigo Pascual, Bugoy Drilon, Sam Concepcion, Markus Patterson, Russell Reyes, SAB, Moophs & more. See the full list below & on Instagram @tarsierrecords.
They recently launched Wish USA featuring performances from their Hollywood, CA location. Artists like rapper Ez Mil have garnered attention by fans worldwide by discovering his recent performance on the bus, 26M+ views and counting.
Wish 107.5 is an all-hits FM radio station based in Quezon City, Philippines. Equipped with state-of-the-art broadcast facilities, the Wish Bus took the traditional radio experience beyond the four-walled booth as it brought music right where most of the listening public are -- streets, roads, and parks with WISHCLUSIVE performances watched by millions across the world. International fans react to various performances. Filipino artists like IV of Spades, Michael Pangilinan, Bugoy Drilon, Morisette, KZ Tandingan, O.C. Dawgs & Ben&Ben have all benefitted from the exposure to new audiences after their filmed performances of their amazing talent.
MYX interviewed the Wish 1075 team to share more details of Wish 1075 and how it came to be below:
When, where and why did you create the Wish Bus, what inspired the idea?
Kuya Daniel Razon Created the Wish Bus to be a neutral platform for upcoming artists without the boundaries of regular networks and agencies.

2. What was your goals in creating the series?
Our goal is mostly to shed a spotlight on independent artists and introduce them into the music industry.

3. Who was the first artist to go viral internationally?
In 2015, Darren Espanto cover of "Chandelier" was globally recognized. It was first reposted as a post on 9GAG and from there, other website and blogs around the globe picked up the story.

4. What has been some of the most memorable moments?
Artists such as KZ Tandingan and Bugoy Drilon, among other OPM favorites, have all given us our favorite Wish Bus moments. Those who have won the Wish Music Awards have also left a memorable mark because these artists have been known to extend a helping hand to those in need, alongside Wish.

5. Did you ever realize this series would grow to be the international talent discovery platform that it is now?
It was one of the simple wishes of the company when it first started, but we never thought that it would grow to what it is today, for that, we are thankful.
6. When / why did you create Wish Bus USA in Hollywood, CA? What are the goals of the US version?
Planned in early 2017, Wish executive, Kuya Daniel envisioned a platform that would cater to the hidden Filipino talents that the entertainment industry often overlooked. In 2018, this vision came to life when Wish USA launched the Wish USA bus in the Universal City Walk. Los Angeles was made to be the center of the Wish USA operations as it is only fitting that we provide a platform for music talents in the entertainment capitol of the world - as our slogan states, Wish USA, your gateway for opportunities, your gateway to the world.

7. A lot of platforms have been discovering Ez Mil from the new US platform, how do you find new talent to be featured?
Most times, they come to us, but we also scout for talents thru social media and connect with them. Find more information if you are in LA at @WishUSAMusic on Instagram.
8. What do you think Filipino artists need to do to help shine on the world stage?
Hone your skills. We believe that it is natural for Filipinos to have various talents and, with focus and determination, you can make them shine. Always be humble, never forget your roots, and remember the people who helped you throughout your journey. focusing on the career will help you shine. Always be humble and never forget your roots and those people who helped in your journey.
9. How can we all support your mission?
Stop crab mentality. Wish was created from a simple wish, to help all kinds of people throughout the power of music. To support our mission, support the talents that we feature.
10. Why did you create the WISH Awards?
We created the awards to give back to the community who has continuously supported us. Through the Wish Music Awards, artists donate a portion of their prizes to a charity institution of their choice. Second to that is to highlight and thank all of the artists who have shared their talents with us on the Wish Bus.
11. What's next? Where do you want to take wish next?
Only God knows where we'll go from here, but, no matter what, we will continue to be a music platform that caters to all kinds of artists from different genres.
ABOUT WISH 107.5:
Wish 107.5 is an all-hits FM radio station based in Quezon City, Philippines. When it first hit the airwaves in August 2014, it promised to grant your fervent wish of making your radio more than a typical music-box-on-air. Wish 107.5 unveiled the first and the only Mobile Radio Booth in the Philippines, now known as the WISH 107.5 Bus.
Equipped with state-of-the-art broadcast facilities, it took the traditional radio experience beyond the four-walled booth as it brought music right where most of the listening public are -- streets, roads, and parks. With the capabilities it offers, the Wish 107.5 Bus is on the right track in leaving an indelible mark in the music scene.
The desire to bring this concept to more audience fuels the station to continue embarking on a journey that would forever change the course of music and radio broadcast history of the Philippines and the World, transforming itself from being a local FM station to becoming a sought-after WISHclusive gateway to the world.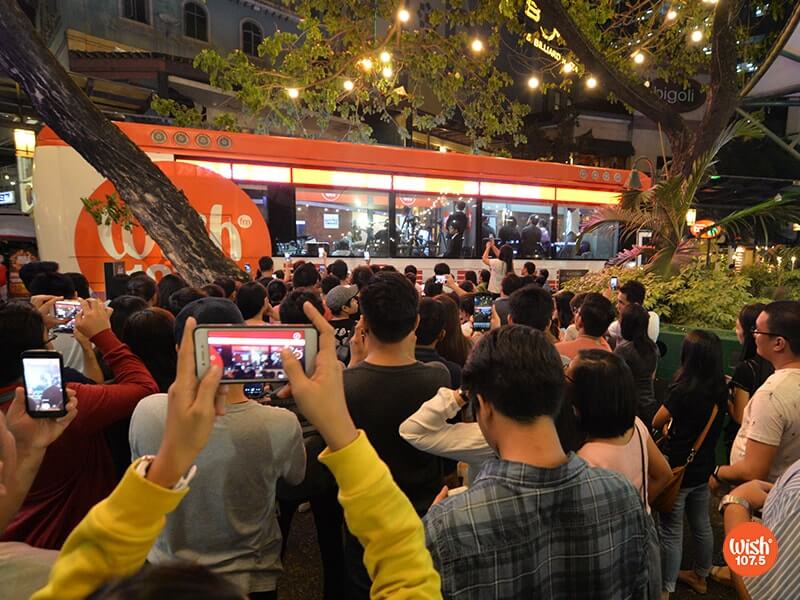 WISHclusive performances are uploaded on their official YouTube Channels WishFM1075official (Philippines) & Wish1075Live (USA) channels.

@RayaDisney stars sat with MYX @MYXglobal host @nicoakablitz to talk about their new animated South East Asian film, their love for pancit & in true Filipino fashion, sang happy birthday to @88Rising@ParadiseRising latest signee, #YlonaGarcia. #Ylo releases her first single "All That" on her BDay 3/3, on all streaming platforms. Fans are encouraged to #AllThatYlo on TikTok, IG & Twitter of how they are leaving "All That" Sh*t behind from the pandemic, toxic relationships, limiting beliefs & more.
Stay tuned at www.myx.global/ylonagarcia for more updates & catch her @dannieboirnb LIVE interview today at 8P PST / 12P Manila on twitch.tv/myxglobal & @kumuph.
Our #MYXGlobal featured artist premiere launches tomorrow.
ABOUT #RayaAndTheLastDragon:
In theaters & on Disney+ with Premier Access 3/5, The film features a predominantly Asian American cast, including the voices of #KellyMarieTran as the titular #Raya & #Awkwafina as Sisu, the titular dragon, along with Gemma Chan, Daniel Dae Kim, Sandra Oh, Benedict Wong, Izaac Wang, Thalia Tran, and Alan Tudyk.
??Superstar @KZTandingan was chosen to sing the first-ever Disney track in Filipino! Tune in on March 5 as "Gabay" from Disney's Raya and the Last Dragon drops on Spotify. (The same day #BrunoMars drops his first track off his new album with #AndersonPaak.)
ABOUT #YlonaGarcia:
#Ylona Garcia is an international star in the making, and she's beautifully talented while doing it. At only 19 years old, she has accumulated over 4 million global followers on Instagram and one million followers on TikTok. "Ylo" is a Filipina-Australian pop artist who sees herself taking over the music game on a global scale.
She is excited and now equipped with the right international marketing team and management to support her.
Fans have been asking for #88Rising & #ParadiseRising to collaborate with her since she performed at their #DOUBLEHAPPINESS music festival last year.
KZ Tandingan puts her spin on this year's Himig Handog with the song Marupok composed by Danielle Balagtas. The songwriting and music video contest allows aspiring composers to submit their original songs and be interpreted by top artists.
Tell us what you think of the track!
Download / stream here
Newlyweds and super talented stars KZ Tandigan and TJ Monterde joined myx to take a musical journey through their humble beginnings to their most memorable moments to their latest song that they wrote about their wedding day, "Can't Wait to Say I Do." The music video was comprised of footage from their wedding party and the song was written about the excitement they both felt for their wedding day, they hope that other couples use the song on their special day.
myxCLUSIVELY they announced that they will have additional singles together and an ENTIRE NEW EP together! In a few days they will have a new song out, so follow them on social media so you'll be the first to know when it comes out. Watch the full interview below where they also played a fun game of song roulette, solidifying why they are the ultimate #relationshipgoals.
The couple talked relationship, careers, and what's next for them both. Here are 10 highlights from the interview.
Doing music wasn't the first choice
KZ shared that she didn't think doing music was possible because it was considered a hobby and not a career. While TJ came to Manila at 21 years old and gave himself 2-3 years in music. If it didn't pan out, he'd go back home and get a job. When asked what profession they could become for a day, KZ said an astronaut and TJ said he'd love to be a NBA ball person catching the basketballs and cleaning the court. Lucky for us, music is their calling!


They write songs together
When asked about their favorite songs to sing, it ranged from OPM (Original Pilipino Music) to acoustic pop songs and power ballads. TJ shared that he once attended a writing camp where he got to work with one of his favorite artists from the group Apo Hiking Society. He was speechless at the opportunity and was soaking every moment in. When he returned, KZ was inspired by his excitement that they wrote 5 songs together.


KZ and TJ love the journey of writing music
They both agreed that it's always exciting to write new songs. TJ's favorite part is performing at schools and campus tours because he can encourage students to write. "As long as it's an expression that comes out of your heart, don't be afraid. It doesn't have to be a good song or perfect every time."


XFactor was an important part of KZ's life
She won the only XFactor season in the Philippines and reflecting back on it 8 years later, she's still overwhelmed and grateful to where it's led her. She was rejected many times, but she's thankful to have taken one more chance on herself. The biggest takeaway she shares is to "never stay in your comfort zone."


TJ is part of the KZ fan club
They're their biggest supporters. From events to tours they still find time to make each other a priority. TJ said, "Even if we're married and a (normal) couple when we're alone, when she performs, I'm a fanboy."


They support each other 100%
With both of them having crazy schedules, they explained that sometimes connecting can get tough. TJ shared a story of KZ being on tour and they would sometimes just catch up in the car going from one place to another or grab coffee before she's off to the next top. KZ says that TJ supports her in many ways, "He always texts and calls. We put each other in the other person's shoes."


Their relationship started out in the kuya zone
They initially met through balladeer Martin Nivera as TJ was a host for events and KZ was a mentee of Sir Martin on XFactor. There was an automatic connection because they're both from the Visayas region. KZ teased that TJ was president of the friend zone or in this case, the "kuya zone." It wasn't love at first site as she was the shoulder TJ turned to.


When KZ was filming for the movie, "The Art of Ligaw," she asked TJ to pretend to break up with her so she could cry in a scene
KZ was nervous to film a movie because she's a singer, but the whole cast was supportive and there to help her navigate this new role. What she liked about the film is that "ligaw" means lost and also could mean love. KZ said the movie is about how people need to be lost before they love and find each other.


KZ and TJ would be open to have a movie about their relationship
TJ gave it the title, "Love in 2 Letters." He chose this title because love is in the letters TJ and KZ. How cute is that! Plus, they'd want Kathniel (love team of Kathryn Bernardo and Daniel Padilla) to star in the film and play them!


The most memorable moments in their careers has been performing for fans
KZ's most memorable moment was on her 'Supreme' Concert at the Dubai World Trade Center as it was the first time an Asian act had sold out the arena. For TJ, it was his first concert when he sang all his own original songs. KZ adds that she was very proud of him as because the whole crowd was singing his songs back to him.
For now, watch the music video for "Can't Wait To Say I Do," all the earnings from the video will be be to raise funds for INSPIRE CHURCH METRO by watching & sharing this video: