This past weekend, K-pop boy band Stray Kids took the stage in Manila and did not disappoint! To say, the first day of their 'MANIC' concert which was presented by Pulp Live World was a success is an understatement. They took on the SM Mall of Asia Arena where Filo STAYs got to witness Bang Chan, Lee Know, Changbin, Hyunjin, Han, Felix, Seungmin, and I.N. perform hits such as "Maniac," "Venom," "Red Lights," and much more.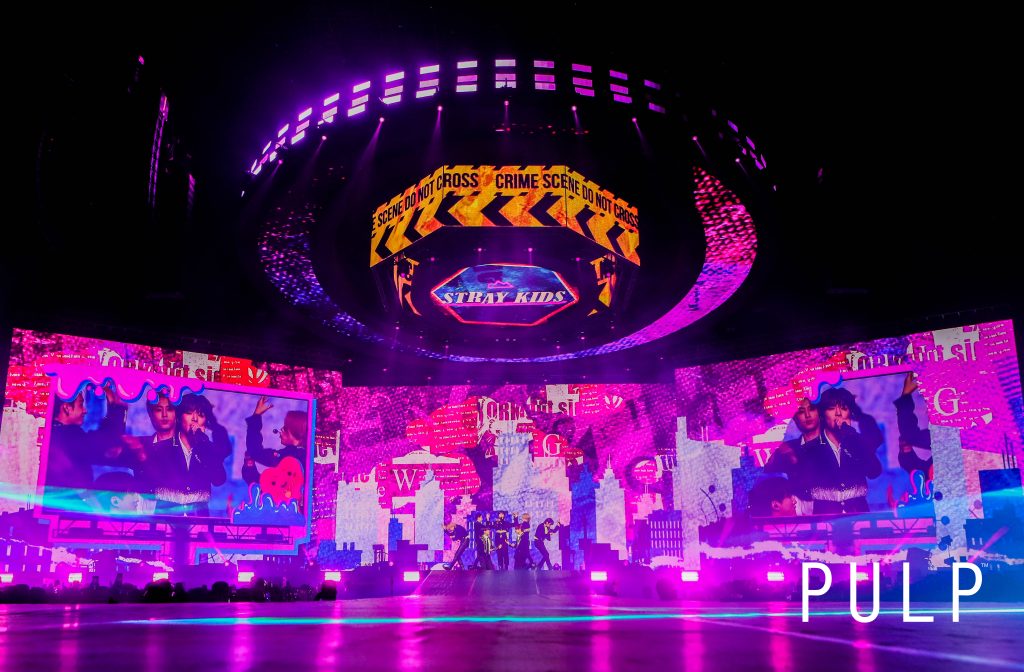 It was a night to remember with all the energy and fun associated with the night. The Stray Kids felt the love from their Filo STAYs, who have been waiting for their return back to the Philippines, and luckily the band was there for back-to-back nights. Bang Chan even took on an OPM song and gave his own rendition of Yeng Constantino's "Ikaw" on the second night of their Manila stint. More dates are lined up for their world tour, which is set to head over to the U.S. in the coming months.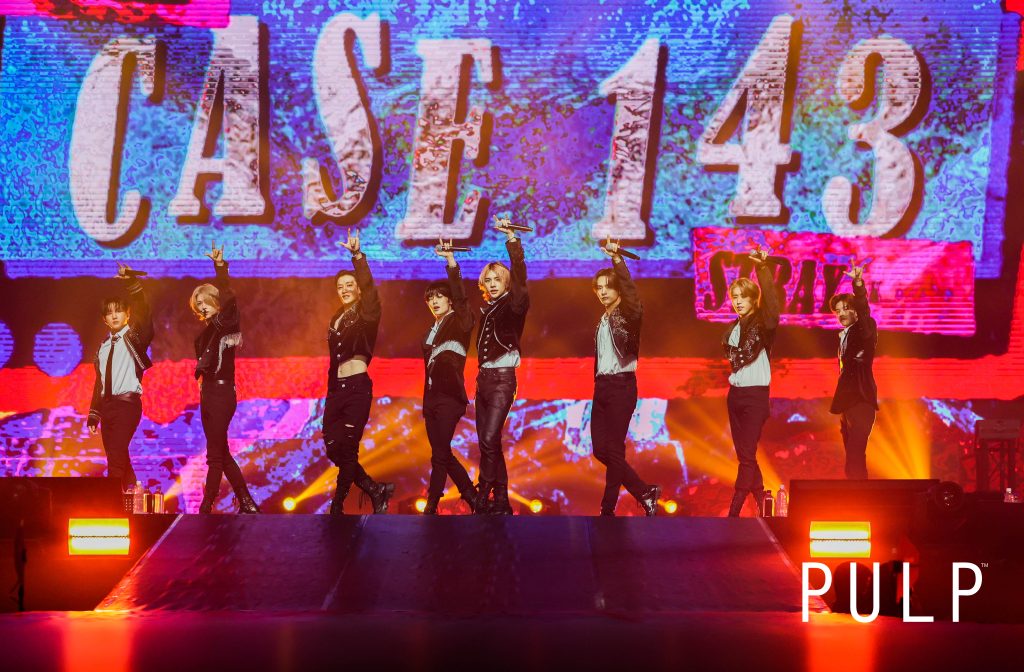 The upcoming concert of Filipino rock icons, the Eraserheads, will be their last in the Philippines as confirmed by the producers.
"This will be the last reunion of the group that's why we want to give the fans one last epic show," Francis Lumen, one of the producers of the concert and president of WEU, said. Diane Ventura, one of the co-producers of the concert and manager of lead vocalist Ely Buendia, confirmed saying "this is indeed the last reunion."
The show was aptly dubbed as Huling El Bimbo, signaling that it is the group's finalperformance. The tickets sold out after four days from its initial release, moving the producers to expand the capacity of the venue to accommodate more concert goers.
Lead vocalist Ely Buendia said that the Huling El Bimbo isn't like any other previous reunion concerts.
"Mounting an Eraserhead's show is no easy feat. But this is no ordinary show, it's their last and final act in the Philippines that's why we are making sure it's a show that would etch in the memories of all us fans, me included," Paolo Valenciano, concert director, shared. "Watch out for the drone show and a hologram of the late Francis M., " Valenciano added. The reunion concert is Eraserheads' gift to fans as they kick-off the Christmas spirit before the yuletide celebrations.
The show will be complemented by the wonders of an 18-piece orchestra. Mel Villena, the musical director of the show, said that "the concert promises an unforgettable musical experience of Eraserheads."
The Huling El Bimbo – Eraserheads Reunion Concert 2022 is a production by WEU Event Management Services, Ant Savvy Creatives and Entertainment Inc., DVent Productions and Myriad Entertainment Corporation. The event is presented by SMART,
Coke Studio, PLDT, Angkas, and Maya. This concert is co-presented by SM Supermalls, and in participation with San Miguel Corporation and Okada Manila. Tickets are available at SM Tickets outlets and online.
Curious what a Filipino-theme park would look like? Well, Undiscovered SF has put together a creative market for this year's much-awaited event! Come out October 22nd to celebrate, the event is held in a huge new open space at The Parks filled with emerging artists and merchants to spotlight San Francisco's Filipino cultural district – SOMA Pilipinas!
Expect local artisans, food vendors, art, and live music/dance performances when you venture the streets of SF! Start the journey at The Parks starting at 5PM and make your way down to 6th. The site is accessible through public transportation, biking, and you'll definitely want to have your comfy shoes on.
Did we mention that it's totally FREE! Bring the whole family for an eventful afternoon celebrating Filipino American History Month in SOMA Pilipinas. Check out UndiscoveredSF.com for all the details on who's showing up, which vendors are bringing you the goods, and what activities to do!
Cover Photo Credit: Undiscovered SF Instagram
88rising, the pioneering and internationally-renowned music and media company amplifying Asian talent and culture, and Live MNL announced the 2022 Head In The Clouds Music & Arts Festival lineup in Manila. From December 9th through 10th, one of the biggest events of the year is taking place at SM Festival Grounds Parañaque City. Grab your tickets starting Wednesday, October 5th at 10am Manila time. 2-day GA passes are priced at Php 12,888 and 2-day VIP passes are Php 15,888.
So if you're wondering who's coming to Manila as part of the HITC lineup, you'll see a few of your favorites from headliners Joji, Jackson Wang, NIKI, Rich Brian, eaJ, and YOASOBI to also live performances from BIBI, MANILA GREY, Warren Hue, Ylona
Garcia, GUAPDAD 4000, ATARASHII GAKKO!, MILLI, Zack Tabudlo and many more. If that wasn't enough, check out special guest Grammy-winning hitmaker and  electronic producer ZEDD.

Last month, Head In The Clouds hosted 70,000 people over two days at Brookside at the Rose Bowl in its fourth year in Los Angeles, California. 88rising earlier announced Head In The Clouds Music & Arts Festival will travel to Indonesia later this year, marking the debut of the festival in both Indonesia and the Philippines. "I am so excited to perform at the inaugural Head in the Clouds Manila. I missed y'all and it's time to bring it to the Philippines," says headliner Rich Brian.
Check out the full lineup below:
Joji
Jackson Wang
NIKI
Rich Brian
eaJ
YOASOBI
Adawa
Akini Jing
Atarashii Gakko!
BIBI
Elephante
GUAPDAD 4000
JinxZhou
MANILA GREY
MILLI
Spence Lee
Stephanie Poetri
Warren Hue
Ylona Garcia
Zack Tabudlo
Very Special Guest
ZEDD
Join the Harvard Square Philippine American Alliance for the first Filipino American Festival at Cambridge's Harvard Square in honor of Filipino American History Month! This debut event will take place on October 9th from 11am-6pm and intended to bring the Filipino American community together by showcasing a panorama of our rich heritage and traditions through music, dance, and food to the local community.
Join in on the fun as artists like EZ Mil, Bryan Termulo, Garth Garcia, and Rachel Anne Wolfe are set to perform plus bands like Sounds of Manila and AAPI Comedy Jam come to round out the entertainment.
The Harvard Square Oktoberfest and Honk! Festival organizers invites one and all to march in the parade to "Reclaim the Streets," starting at noon throughout the Square, interested in focusing everyone's presence on the good works that you, our local partners, are doing. It will feature live music on multiple stages from different eras catering to a multi-generational crowd, international vendors of crafts and items including those uniquely from the Philippines and Asia, and festive beer gardens from both local and national businesses.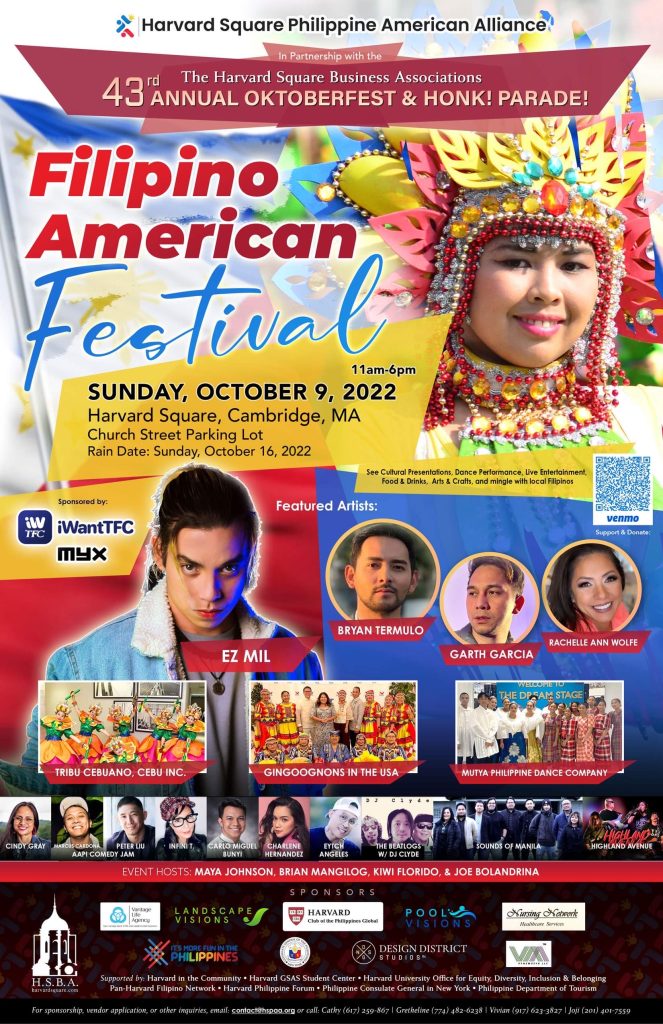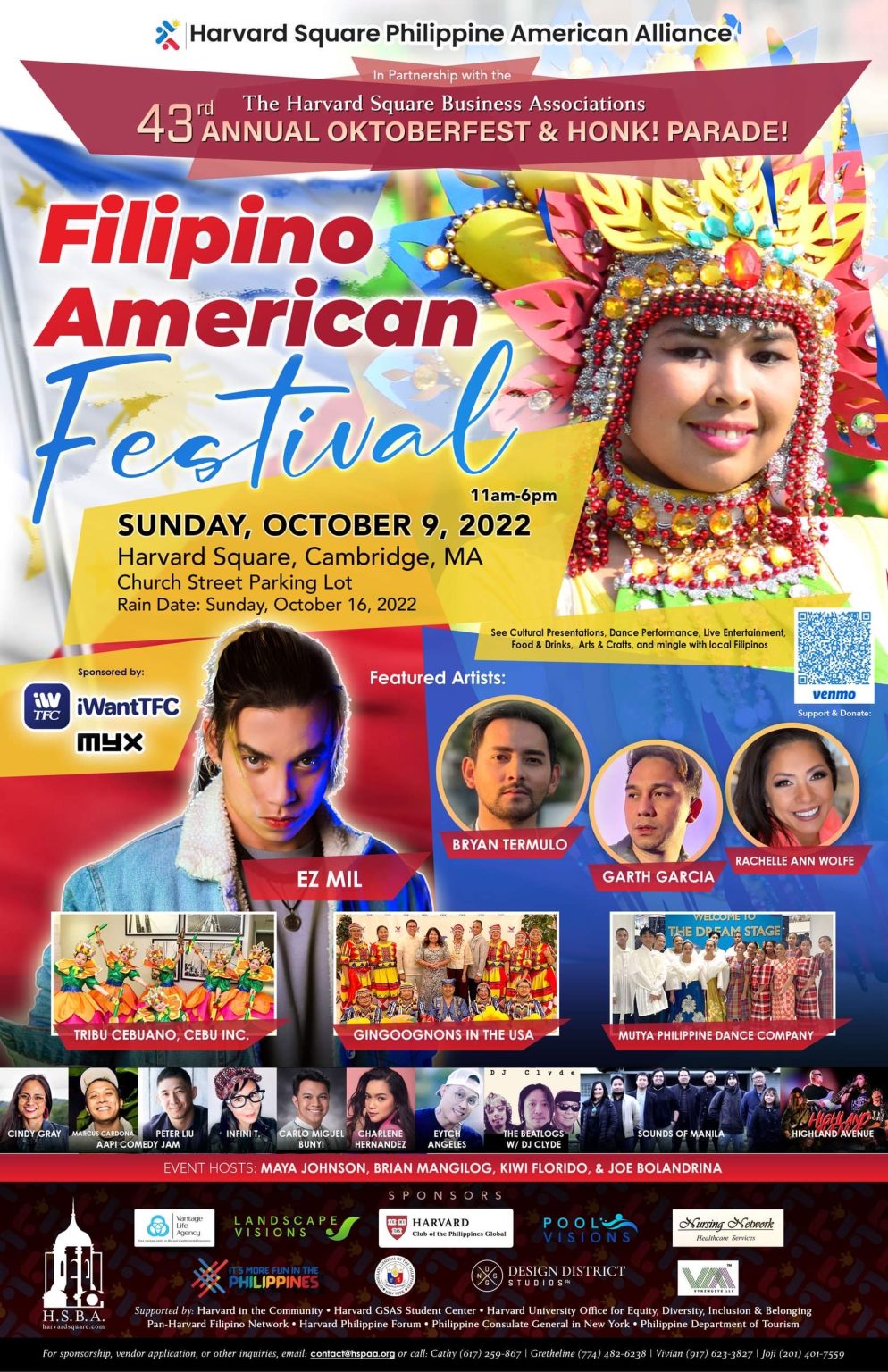 The Harvard Square Philippine American Alliance is a non-profit organization that believes in bringing the community together through cultural events that celebrate the core values of the rich and deeply rooted ancestry of the Filipino people. Our goal is to organize events on an annual basis in partnership with business owners and community leaders.
As younger generations of Filipino Americans mature, connectivity, exposure and interactions with people that share their cultural heritage is paramount to enriching overall community diversity, equity and inclusion efforts while promoting Filipino Americans through networking, outreaching, and researching to ensure the prosperity of every individual involved.
After the recent release of her latest single, "Bakit Nga Ba Mahal Kita, Filipina breakout artist, Gigi De Lana is headed back to the U.S. for the Gigi De Lana and The Gigi Vibes Domination: The U.S. Tour 2022. Fans got a taste of her artistry at the recent Star Magic Tour last month, but now they'll be getting the full experience.
Her track has already reached over 1.2 million streams on Spotify and on its way to 11 million views on YouTube. Her fiery and passionate live onstage presence will be sure to surprise the crowd again on this upcoming tour. Joining are her band, The Gigi Vibes and special guest Carlo Aquino.
The rising artist started her journey as a singing contestant — a "kontesera" in the Filipino vernacular — De Lana drew global attention during the pandemic when she just posted numerous covers of classic and modern pop songs on YouTube with her band and became an internet singing sensation. 
In a span of one year since being managed by Rise Studio and Star Magic, De Lana has released a chart-topping single (Sakalam), co-starred in a lead role opposite Gerald Anderson in her first series, "Hello, Heart", released her self-tltled album, performed at the 1MX Music Festival in Dubai, launched a successful Domination Tour that started in Manila, then to Dubai, Abu Dhabi, and Bahrain, joined the Star Magic tour in the U.S., and now, through iWantTFC, TFC, ABS-CBN Events and MYX will bring her Domination Tour to the U.S.
 "Gigi De Lana and The Gigi Vibes Domination: The U.S. Tour 2022" will start on October 15 at the Alex Theatre in Glendale CA, on October 21 at the Silverton Casino in Las Vegas, NV, and on October 16 at the South San Francisco HS Theatre in South San Francisco, CA.
Isn't it sad when your favorite band has a show you can't go to because you're in another city? Thankfully, this won't be a problem for Lola Amour fans, as they're taking their Fallen Concert tour to different cities around the country! 
Catch the band not only performing in Makati, they're also set to perform shows in Bacolod, Cagayan de Oro, Pampanga, and Cebu. This comes after kicking off their tour last July at the Ayala Malls Circuit Activity Center.
Their next stop is at the Ayala Malls Capital Central in Bacolod this September 10. Admission is completely free, and fans can check out the mechanics of the meet and greet on the Ayala Malls Capital Central Facebook page. Joining the band are special guests, Dizzy on Swings and &ND for the Bacolod leg of the tour.
In Cagayan de Oro, they'll be joined by Soulthrll. For fans in Metro Manila and Metro Cebu, catch them throughout October and those watching their U.P. Town Center show, Leanne & Naara and Arthur Miguel will also be taking the stage alongside Lola Amour. The last leg of the Fallen concert tour will happen in Pampanga on November 12th.
The set list is sure to have fan favorites like "Fallen," "Maybe Maybe," "Pwede Ba," all included, but catch the band performing their new song, "Dahan-Dahan." The tour marks a milestone for the band, which is something that lead vocals and guitarist Pio Dumayas acknowledges.
Follow Lola Amour's official Facebook page for further announcements, as well as the official Ayala Malls pages for more details! Until then, find Lola Amour's top hits on this playlist!
Cover Photo Credit: Lola Amour Instagram
OPM artist, Rico Blanco is preparing for another performance this fall, but this time at the Smart Araneta Coliseum on September 11th. The anticipated concert will be a night of hits, nostalgia, and a showcase of musical talent. He teams up with KDR Music House to help bring back the music scene. Grab your tickets starting at PHP 500 for a one of a kind performance.
Rico Blanco will be bringing a few guests on stage with him including singers Zild Benitez, and Ebe Dancel as part of the lineup. He hopes to help bring back the experience of live music. "The pandemic situation is still around, and we're starting to somehow live with it, [changing] our lifestyles a lot to accommodate and to be safe. There's a lot of uncertainty. I feel that concerts [are] a product of habit, you know? Going out is a habit, the lifestyle of going out, going to restaurants and concerts is a habit."
The concert marks the first show in years that the artist is staging as a full-set solo concert. He is known for his hits like "Umaaraw, Umuulan", "Your Universe", "Yugto" and more.
Cover Photo Credit: KDR Music House Twitter
On the rise arist, Joji announces his new album, entitled SMITHEREENS, set for release on November 4th, 2022 via 88rising. SMITHEREENS – already one of the most anticipated new albums of the year – is the follow-up to Joji's 2020 sophomore album Nectar and features the worldwide hit single "Glimpse of Us," which has gone Gold since its release in June 2022. 
The song also garnered Joji's highest-ever Billboard Top 100 chart position at #8 and has over 520 million global streams to date. "Glimpse of Us" is Joji's highest charting single at radio to date. The record has also gone Platinum in both Australia and Canada, while remaining in the top 3 on the Spotify Global and U.S. charts for a month. SMITHEREENS is now available for pre-order.
Also available today is new song "YUKON (INTERLUDE)", which offers another taste of SMITHEREENS and was written and produced by Joji himself alongside Isaac Sleator. Accompanying the track is a psychedelic and mind-bending visual directed by the visionary duo and longtime Joji collaborators BRTHR (pinkpantheress, Lana Del Rey, The Weekend). The visual is Joji's first music video appearance in nearly 2 years.
The good news for Joji continues, with his full North American tour selling out within minutes when it went on sale this June.  The tour has now sold over 110,000 tickets throughout the country.
The Japan-born singer and producer Joji is one of the world's most enthralling, enigmatic artists with over 12 billion streams to date. Joji's sophomore album, Nectar, debuted at #1 on Spotify's inaugural US Weekly Top 50 Albums chart, #1 on Billboard's Independent albums chart, and #3 on the Billboard 200. Nectar debuted at #1 in Australia and in the top 10 in New Zealand, Canada, UK, and Norway. Joji's hit song "Run" has been RIAA-certified Gold, and he made his national television debut on the Tonight Show with Jimmy Fallon in 2020.
Cover Photo Credit: Joji Instagram
The Pistahan Parade and Festival in San Francisco recently brought Filipinos together in the Bay Area. It also celebrated the next generation of Filipino artists globally as they paraded together on the MYX Float. Those who made an appearance include: Edward Barber, Kiana V, AC Bonifacio, Kyle Echarri, Gigi De Lana, Ashley Mehta, Russ Coson, Janine Berdin, SAB, Lian Kyla, Larren Wong, and Angela Ken. Check out the photos from the parade!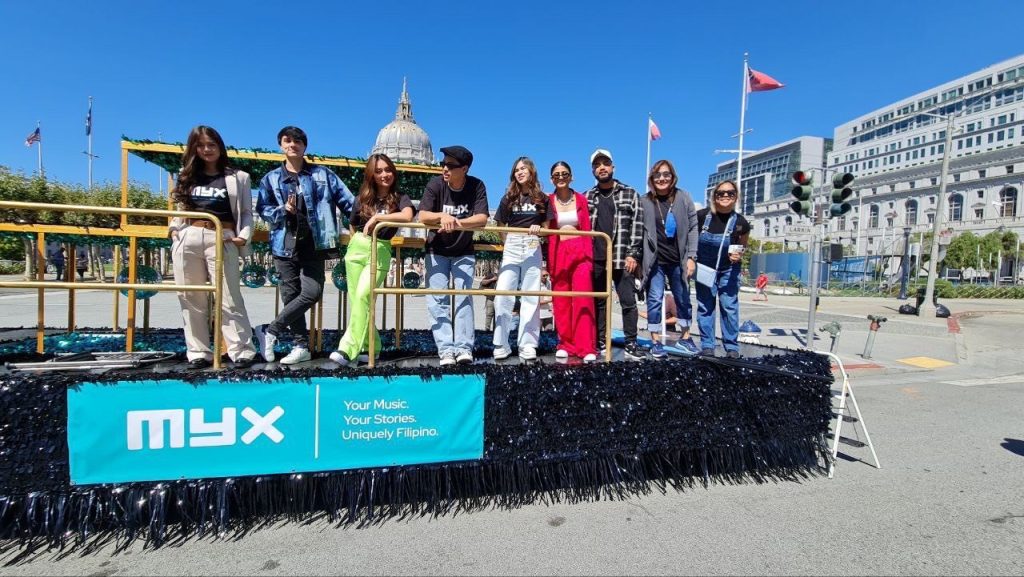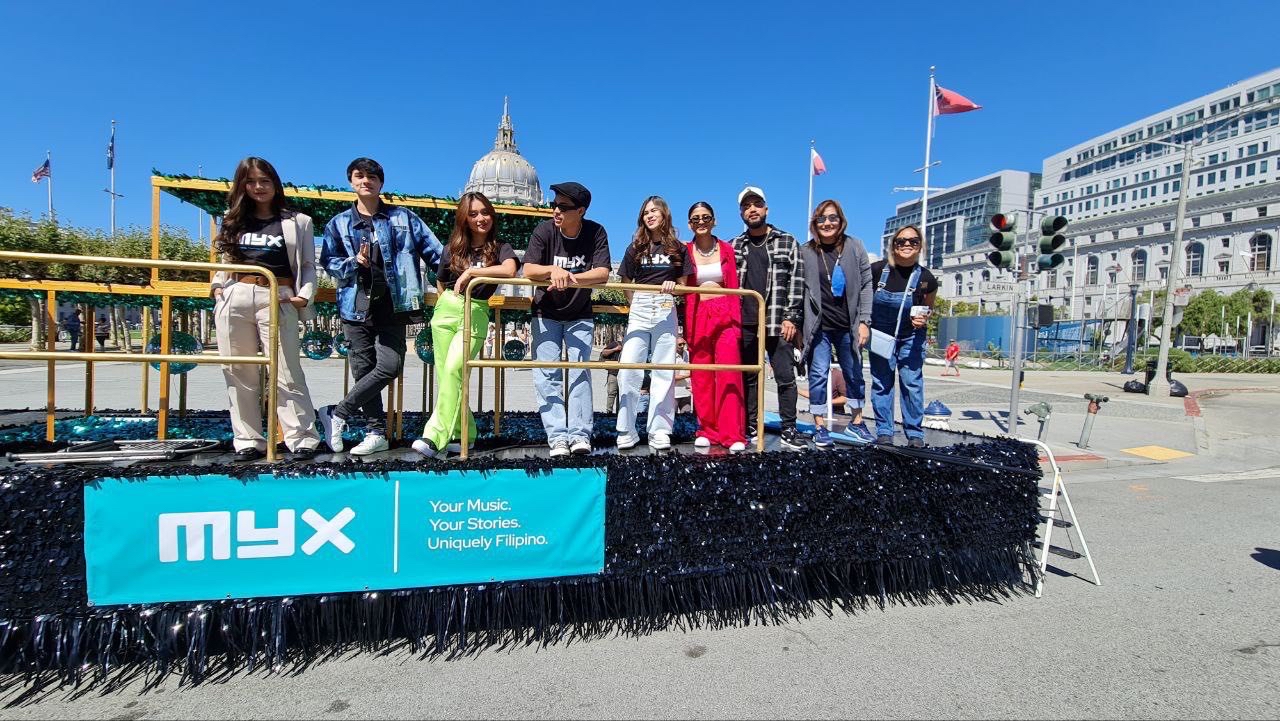 See them hold up the Philippines' flag and share smiles all around. This is also the first time where some of the US-based artists met artists from the Philippines. It goes to show how music is a universal language that touches all parts of the world.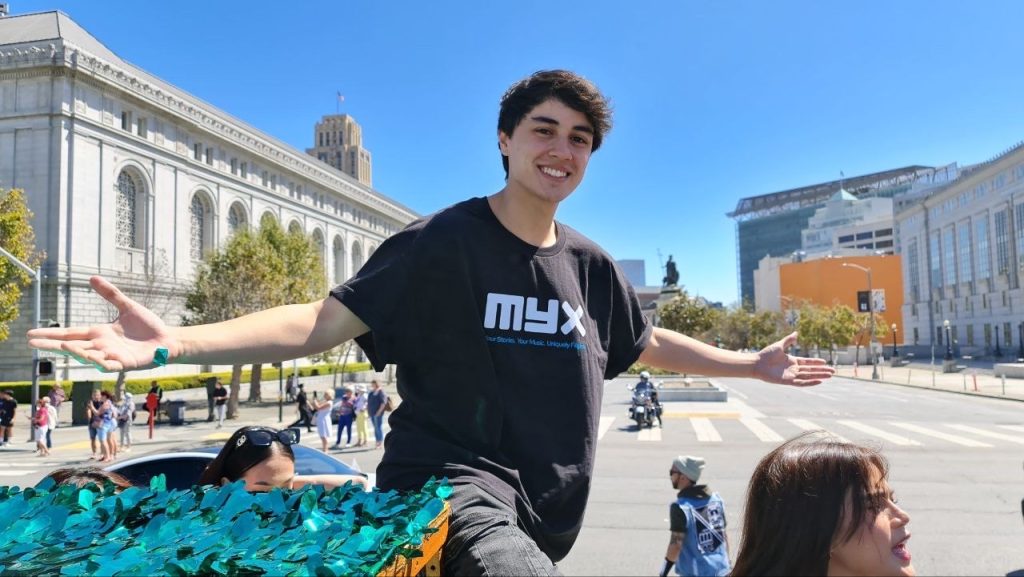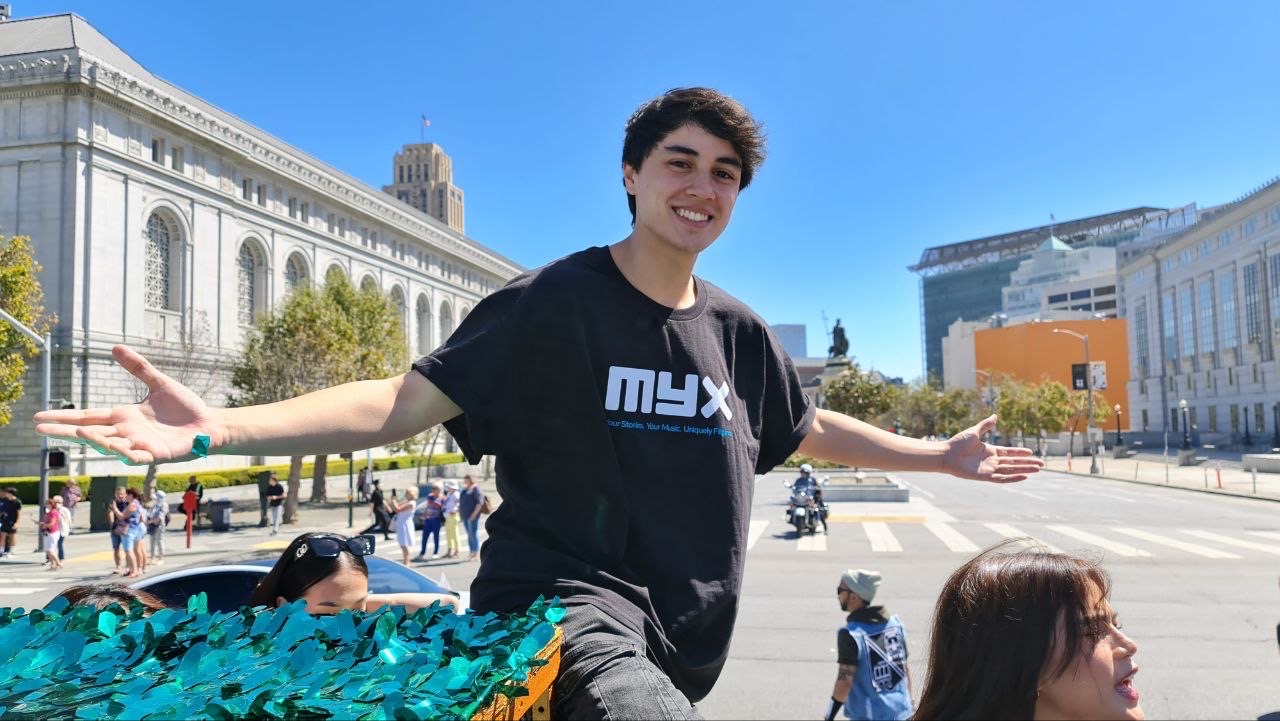 To get in the spirit of the 29th Annual Pishtahan, everyone had a great time on the MYX Float while fans were able to catch their favorite artists in-person or see them perform live. Adding to the excitement, MYX Global had a booth where we gave away a custom BumpBoxx prize!
We don't know about you, but we're already excited for the next one and can't wait to see who also comes on board!
Who's ready to meet your favorite stars of Star Magic as they begin their US tour? The first date is in Brooklyn, New York this August 6th. They took off from Manila a couple of days ago and made the trek from Asia to the States. Check out these pics of the young and fresh crew looking excited to put on a great show not only in NY, but also San Francisco and Los Angeles August 13th-14th.
This batch of travelers included Donny Pangilinan, Belle Mariano, Maris Racal, Charlie Dizon, Janine Berdon, Andrea Brillantes, Gigi De Lana, Eric Nicolas, and Carlo Aquino. For coming off almost half a day's trip the crew are all smiles!
Want to see them live in NY, SF, or LA? Grab your tickets now!
The alternative rock band, Lola Amour is gearing up for their Fallen Concert Tour at the Ayala Malls Circuit Activity Center this July 30th! Fans can expect the band to perform their bittersweet hit "Fallen," as well as other hit songs like "Pwede Ba" and "Maybe Maybe." In addition to performing their hits, they're bringing special guests along like Clara Benin and Leanne & Naara.
This is a concert OPM lovers can't miss. All the details are available on the Ayala Mall Circuit social media page where fans can find information on general admission tickets, VIP passes, and a chance to meet Lola Amour! Fans simply have to either present an accumulated purchase receipt worth Php500 dated from July 23-30, purchase an exclusive Fallen shirt, or buy Php250 worth of Lola Amour merchandise.
Lola Amour's single, "Fallen" has been generating a lot of buzz in the past few weeks. It entered Spotify's Top 100 songs in the Philippines, and continuously climbed the chart then was also added to the steaming platform's Viral Hits Philippines playlist with the band featured on its cover.
To prepare yourself for the concert, watch them perform the live version of "Fallen" over and over again on the "Looking Back" Documentary/Online Show. Their heartfelt rendition of the song effectively sends its message across – that things can get complicated once you confess your romantic feelings for someone. Lola Amour's vocalist and songwriter Pio Dumayas shared, "The song isn't about falling in love. It's about settling for walking in circles because the only way out doesn't lead to a good place."
With their unique sound, relatable lyrics, and infectious energy, it's easy to see why so many fans love Lola Amour. Don't miss out on the chance to watch them perform live! Make sure to drop by Ayala Malls Circuit this July 30 for their Fallen Concert Tour. Visit this link to learn more.
Cover Photo Credit: Warner Music