Patrick Starrr welcomes Filipina artist and actress, Liza Soberano to the studio for a gorgeous makeup tutorial just in time for the Miss Universe pageant. They talk career, makeup tips, Liza playing Pia Wurtzbach, and more! Check out the chica between these two stars below!
The biggest takeaway in the video is that Liza wants to embody the LA-girly life. She's been flying in and out of California to not only work on her acting career, but also starting her music career under Careless Music. So we can expect new content from her coming soon!
Patrick Starrr transformed the 2017 Most Beautiful Faces into a potential Miss Universe contestant. Viewers are taken through the makeup journey to take on the Miss Universe stage. You need tips on blending your eye shadow, applying foundation, getting those lashes, don't worry it's all covered!
Cover Photo Credit: Patrick Starrr Instagram
What happens when you put a group of talented creatives together overseas? You get a Careless Music team living under one roof in Los Angeles. James Reid and his crew of 11 others take on one of the cities for entertainment.
You know they can't not be making music while they're down in California. The main goal of the trip to expand their horizons and share with the team a large scale version of their creative talents. With this behind-the-scenes look of what went down in those two months, it couldn't be without the fun antics like Liza Soberano's odd favorite food combo of oatmeal and tuna.
There's a lot to see in this debut episode but don't worry they'll be more to come! This is only the beginning to #CarelessInLA.
Cover Photo Credit: Careless Music Instagram
Careless Music talents, James Reid and Liza Soberano take their moves to South Korea when they meet up with Korean-American artist Jay Park and part take in the "Need to Know" dance challenge. Together they pulled off one of the smoothest dances that had all K-Pop and P-pop fans going crazy.
James and Jay Park show off their skills in a studio and add a little more flare to the original choreography. We dog this pairing and can feel something brewing between these two pop stars.
Liza and Jay Park take the challenge outdoors in unintentional matching outfits. We definitely need more of Liza doing these dance challenges!
These were collabs we didn't know we needed and can't wait to see what else these Careless Music artists have in store for us!
Cover Photo Credit: Careless Music Instagram
The Careless Music family is growing. New signees, Liza Soberano and Issa Pressman are looking to venture into a new part of their careers. The independent record label is a force of nature in fostering fresh unknown talent from all over the Philippines, but also encourages artists to step into the unknown and encourage new journeys.
Liza Soberano said she is looking forward to working with the record label known for taking care of "young talent." The young actress says, "The fact that they work with young creatives — I'm currently 24 — so it's very exciting and encouraging to see a lot of people pursuing their dreams and passion at a very young age in a way that they wanna do it." She's at a turning point in her career where she'd like to have more control over the projects she does and meeting James Reid's team boosted her confidence in trying new things. "I also wanted to work with people my age to be honest … and when I met James and his team it really made me even more excited to work with because their team is so young, so creative and they are so fearless to take risks and try to chase after things that we would think is impossible," she added.
Issa Pressman, another talented actress, and artist is another addition to the Careless team. She looks to lean more towards her singing career and trusts the team to carry her forward. "It's something that I could focus on and I want something that my heart had. (At first,) I don't wanna show it but my heart was in it, my soul was in it and I'm happy doing it. So, I needed help and growth and I think I could do it with them," Issa says.
Cover Photo Credit:
Gold House just hosted its inaugural "Gold Gala," the largest gathering of top Asian and Pacific Islander leaders in the community. The Gala celebrated the 2022 A100 List, the absolute honor that recognizes the 100 APIs that have most significantly impacted American culture and society in the last year, and special awards honoring some A100 legends in the community.
Over a handful of Filipinos made it onto the prestigious A100 list this year, and even more, were present at the Gala. Celebrity Photographer and community advocate Sthanlee B. Mirador was there on the Gold Carpet, capturing guests as they made their way into the event. Check out some Filipino talents and leaders who helped celebrate Gold House's special night below.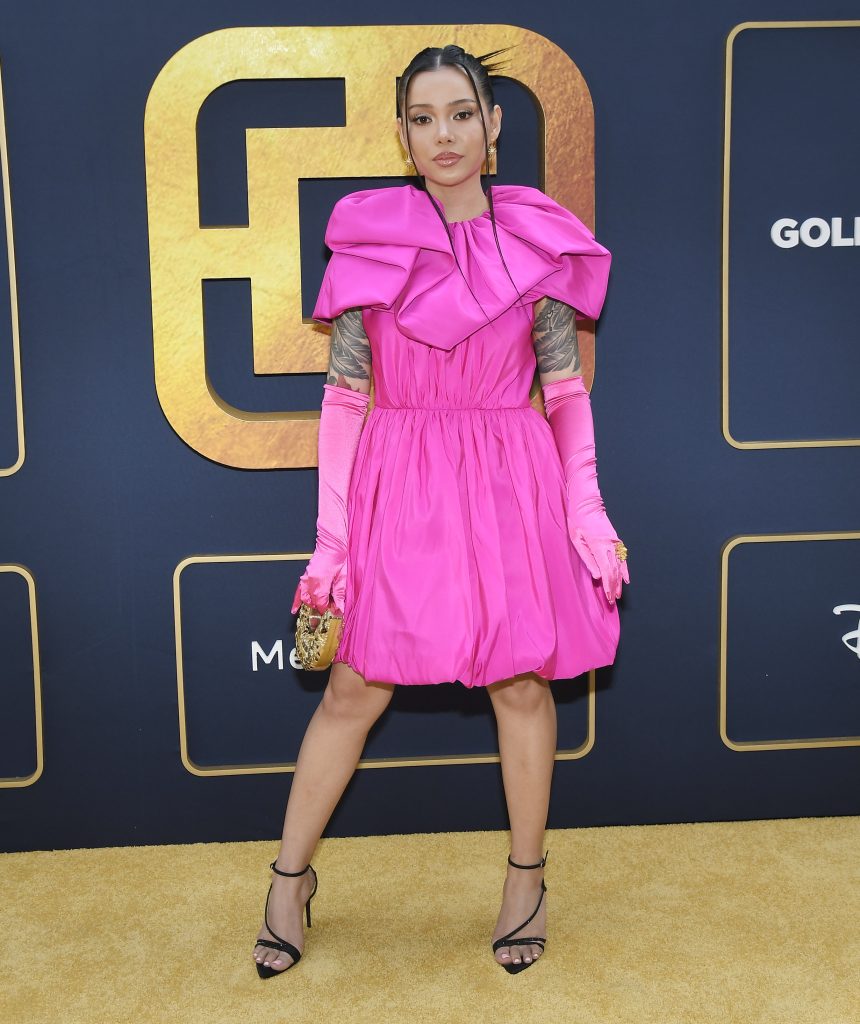 Over 500+ API celebrities, cultural leaders, and business executives attended this special night. The night's theme was "The New Gold Age," representing "unparalleled API brilliance and defiance amidst continued violence and racism against the community." In addition, the evening consisted of honoring the A100 list, Mindy Kaling accepting the A100 Legend award, and fellow A100 Legend Michelle Yeoh accepting the first-ever "SeeHer" award at the Gold Gala for defying gender stereotypes throughout her career.
During the gala, Gold House also unveiled some new initiatives which will help the organization continue to unite, promote, and invest in API creatives and companies. See some of their new initiatives below.
Unity March: in partnership with Asian Americans Advancing Justice, APIAVote, and a dozen other major nationwide organizations, Gold House announced a historic slate of policies and a convening event in Washington, D.C. on June 25, 2022.
Gold Storybook: Gold House launched the definitive guide and resource hub on authentic API portrayals in media, based on years of cultural consultation expertise with every major studio, streamer, and network. The guide was created with support from key partners like The Walt Disney Company and features additional resources through work with SeeHer, P&G, and more.
#WriteHerRight AAPI: SeeHer and Gold House also announced a major partnership to develop a guide focused on the importance of increasing accurate portrayals of AAPI women and girls in advertising and entertainment.. A number of studios and networks, including AMC Networks and Paramount, are committed to participating in the guide, which will launch later this year.
Gold House Venture Network: on the heels of launching its $30M fund, Gold House Ventures, Gold House announced a new vehicle for executives, cultural leaders, and founders to invest in sought-after venture deals and procure prominent Board Director and Advisor positions.
Gold Rush Accelerator Food & Beverage and Women Tracks: as part of their community-leading accelerator, Gold Rush (whose alumni have raised $400 million+ in follow-on capital), presented two new tracks that provide funding, promotion, and distribution to culinary and women founders in partnership with Panda Express and Julia Gouw, respectively.
Photos and Cover Photo Courtesy of Sthanlee B. Mirador
Identity LA just released the date for their annual music festival, helping celebrate and showcase Asian American and Pacific Islander (AAPI) talents during AAPI/APA Heritage month. The festival presented by Amazon Music is set for May 28th at 5 PM PT/8 PM ET and will be streamed live from the GRAMMY Museum on Amazon Music's Twitch channel.
Guapdad 4000 is set to perform alongside B.I, Rhea Raj, Su Lee, Aaryan Shah, thuy, Dolly Ave, DANakaDAN, and more to still be announced. The show will be hosted by Dumbfoundead and Sherry Cola with appearances from Liza Soberano, Stephanie Hsu, Soji Arai, Luna Li, Elodie Yung, MIYAVI, mxmtoon, and apl.de.ap.
As we wait for more details to come out, take a look at last year's show recap below.
It's Aries season and it looks like many of your favorite celebs are celebrating their birthdays to kick off this zodiac year. What does the season possibly entail? As Aries is the first sign of the season, it's set to be a bright time for beginnings like new jobs, kicking off new projects, or even creating new relationships. So what are you looking forward to taking on this season? Let's take a look at how Aries-born Filipino celebs are kicking off the season with birthday activities.
Kathryn Bernardo celebrates with friends at El Nido for an island-hopping time!
Enrique Gil also takes to the beach for some fun in the sun with his family and on and off-screen partner, Liza Soberano.
Ria Atayde joins Kathryn Bernardo and friends on their El Nido adventure. The saying is right, your vibe attracts your tribe.
Andrea Brillantes is in good company as she holds the ultimate kickback with her family and closest friends.
Alamat's Alas turned 21 years old this year. More than likely he celebrated with his bandmates as they're gearing up for PPOP Con 2022.
Janella Salvador celebrates her birthday with a euphoric photo shoot that leaves us speechless.
Our very own VJ Samm is giving us all hope as she celebrates her 25th birthday. Who said you had to be sad about having a quarter life crisis?
Megan Batoon is embracing 31 as her light year focusing on self-care and following what feels light and shining from the inside.
Podcasts are taking over the streaming waves as there's a broad range of topics for everyone. Actress, Liza Soberano teams up with Mind You and Podcast Network Asia for a new series called, An Open Mind with Liza Soberano. It fosters honest, unfiltered conversations about mental health with impactful individuals from different fields like entertainment, healthcare, mental health advocates, and more.
There's a total of 10 episodes so far in the series. Each new episode premieres on Sundays. Here's a list of episodes you should check out.
Episode 3: Gab Valenciano
This episode is a dialogue about the depiction of traumatic events. *Please see trigger warning beforehand.
Episode 5: Enrique Gil
It's a Valentine's Day episode where the couple plays, We're Not Really Strangers and take a dive into the fun and hard questions about their relationship.
Episode 6: Kiana Valenciano
Musician, Kiana V joins Liza to talk about her songwriting process and how her mental head space plays into her music. Also, she shares her turning point in seeking professional help. *Please see trigger warning beforehand.
Episode 10: Nadine Lustre
The ladies talk about Typhoon Odette in Siargao while Nadine also shares when she first noticed starting her mental health journey.
Cover Photo Credit: Mind You Inatagram
With February being the month of love, we're going to take a look at some of our favorite love teams. Whether or not you know what a love team is, don't worry we got you covered! Before there was a Brangelina or Bennifer, Filipino pop culture was mashing up their favorite celebrities together with creative fandom names. Let's find out how far back love teams have been dominating the Filipino entertainment scene and go through some of the most kilig team-ups.
If you ask anyone in your family, they'll tell you who their favorite love teams are. This formulaic phenomenon is basically foolproof. Fans cannot get enough of seeing their fave celebs pair up for a film, tv, or even a song. The chemistry is real on-screen and making all the fans tip over with kilig. Filipinos are definitely experts when it comes to rom-coms and drama. Here's a rundown of only a few of the love teams that have spanned over decades.
'80s – '90s:
Aga Mulach and Lea Salonga
Sharon Cuneta & Gabby Concepcion
'00s – '10s:
Piolo Pascual and Judy Ann Santos
Rico Yan and Claudine Barretto
Bea Alonzo and John Lloyd Cruz
Jericho Rosales and Kristine Hermosa-Sotto
Kim Chiu and Gerald Anderson (Kimerald)
'10s – Present
Kathryn Bernado and Daniel Padilla (Kathniel)
James Reid and Nadine Lustre (JaDine)
Liza Soberano and Enrique Gil (LizQuen)
Joshua Garcia and Julia Barretto (JoshLia)
Seth Fedelin and Andrea Brillantes (SethDrea)
Donny Pangilinan and Belle Mariano (DonBelle)
Love teams have been around a long time and celebs have had more than one team up. It all depends on the chemistry between the two actors, the relationship they form on-screen, and the support from fans. As new actors come into the industry, there's going to be more team ups and the cycle continues, the kilig continues. Tell us your favorite love team couples on @myxglobal
Catch some of these love teams and their films this month on MYX Global! Check out the upcoming schedule and tune in at https://myx.global/livetv/
2/17: Talk Back and You're Dead – James Reid and Nadine Lustre (JaDine)
2/24: Vince & Kath & James – Joshua Garcia, Julia Barretto, & Ronnie Alonte
Cover Photo Credit: Kathryn Bernardo Instagram
ACEs unite! Your secret agents are here, and they did not come to play! BGYO's comeback is coming in strong, with views continuing to rise and reaction videos to their official Music Video flooding the Youtube algorithm. The characters were revealed throughout the week, with Gelo as "The Mastermind, JL as "The Mad Scientist," Akira as "The Faceless Man," Nate as "The illusionist," and Mikki as "The MetaHuman."
The futuristic secret agent video shows each character at a home base, the boys on the battlefield, and finally meeting up at the headquarters, revealing the boss behind the missions, Liza Soberano!
At the end of the video, we are left with a cliffhanger as the boys face their first mission. That growl at the end from the creature or thing in front of them left us wanting more. One thing is for sure, we know BGYO will be coming out on top! Let the mission begin!
Cover Photo: Courtesy of: Liza Soberano Instagram
Although the Filipino anime series Trese doesn't premier until June 10th, Netflix released a behind the scenes look of the show. The short video has Trese leads, Shay Mitchell and Liza Soberano who are playing Alexandra Trese, a detective who deals with crimes of supernatural origin. Mitchell will voice Trese in the English version while Soberano takes the lead in the Filipino version. To have this anime available in both language is a big deal to reach a wider audience while staying authentic to the stories' origins. Hearing snippets of scenes in Tagalog will send chills up your spine as it adds another level of eeriness but beautiful to hear. Both actresses are excited to share this project with the world.
Shay Mitchell describes Trese as "based on a graphic novel that's set in modern day Manila that uses Filipino folklore to tell its stories." While Liza Soberano describes the character Alexandria Trese "as a female detective who's the protector of peace and harmony between the living and supernatural beings who coexist in the Philippines." With all the twists and turns, the anime series will keep you on the edge of your seat. Stream it starting June 10 on Netflix and learn more about superstitious beliefs that have been a part of Filipino folklore for ages.
Cover Photo Credit: Liza Soberano Twitter
The anime series Trese is set to premiere on Netflix this year. It's based on the award-winning Filipino graphic novel created by Budjette Tan and KaJO Baldisimo. According to Netflix, the series takes place as Alexandra Trese is protecting Manila from a supernatural threat. Netflix also recently announced that Filipina actress Liza Soberano will voice Alexandra Trese in the Filipino language version of the series while Fil-Canadian Shay Mitchell will be the voice in the English version.
According to AnimationMagazine.net, Shay says Philippine folklore is rich and fascinating.
"I'm so excited to be a part of a unique and amazing project like Trese, and to voice a character as brilliant as Alexandra Trese. Philippine folklore is rich and fascinating, and I am thrilled to be a part of the team bringing this story to life," said Mitchell.
The Trese team composed of executive producer Jay Olivia and producers Shanty Harmayn and Tanya Yuson are excited to have Liza and Shay on the roster:
"Shay's Alexandra exceeded my expectations and she delivers a performance of strength, determination and family duty that is at the very core of the character."
"Having Liza play Alexandra Trese for the series makes this project even more special to me and my team!"
Cover Photo Credit: NetflixPH Facebook