Count on Saweetie to always keep it icy and she's taking her Saweetie McDonald's Meal further. She adds a little dessert to her collab by celebrating with brand new merch. The pieces will be available for a limited time and prices start at $18. Featured are hoodies, a crewneck, a pair of t-shirt designs, a fanny pack, joggers, shorts, a trucker hat, and more. You can only order this sweet collection through icybysaweetie.com so don't miss out!
"Now ya'll know I stay dipped in the latest fashion, so it was only right I drop some icy merch to celebrate my McDonald's collab," Saweetie said in a press release. "There are so many oversized pieces that I love, like my favorites: the Saweetie 'N Sour Hoodie and Fry Tees."
The iced-out streetwear collection features unisex items inspired by Saweetie's love of air brush. The collection has more than 10 vibrant and pastel-colored designs symbolize some of her favorite things – a volleyball for her love of sports, palm trees as a nod to her West Coast roots, and of course her go-to McDonald's meal, including her signature Saweetie 'N Sour sauce. 
Still haven't tried the Saweetie Meal? MYX got you! Enter To Win $500 Icy Shopping Spree Gift Card or $100 McDonald's Arch Card to treat yourself, friends and family like Saweetie does! You have until September 5th to enter the MYX sweepstakes by posting a photo of you at a local McDonald's OR a photo of you with The Saweetie Meal on Twitter or Instagram using the hashtags #TheSaweetieMeal #MYXSweepstakes, tagging @MYXGlobal on Instagram or @MYXglobal on Twitter. No purchase is required. Read all the details!
If you're curious what's in the Saweetie Meal, it features a Big Mac®, 4-piece Chicken McNuggets®, medium World Famous Fries®, a medium Sprite®, Tangy BBQ Sauce and "Saweetie 'N Sour" sauce – the same Sweet 'N Sour sauce you know and love, re-named in honor of the new meal. Mix and match however you like and show us how you get your grub on!
Cover Photo Credit: McDonald's Facebook
Enter to win a $500 Gift Card for an "Icy" shopping spree or $100 McDonald's Arch Card to treat yourself, friends and family like Saweetie does!
HOW TO ENTER:
Starting August 9 to September 5, enter to win a MYX Sweepstakes by posting a photo of you at a local McDonald's OR a photo of you with The Saweetie Meal on Twitter or Instagram using the hashtags #TheSaweetieMeal #MYXSweepstakes, tagging @MYXGlobal on Instagram or @MYXglobal on Twitter. No purchase is required.
-6 Lucky winner(s) will randomly selected to win:
$500 Gift card for an "Icy" shopping spree/day (1 winner) A.$100 McDonald's Arch Card to treat their friends/family like Saweetie typically does (5 winners)
See below to see full sweepstakes rules.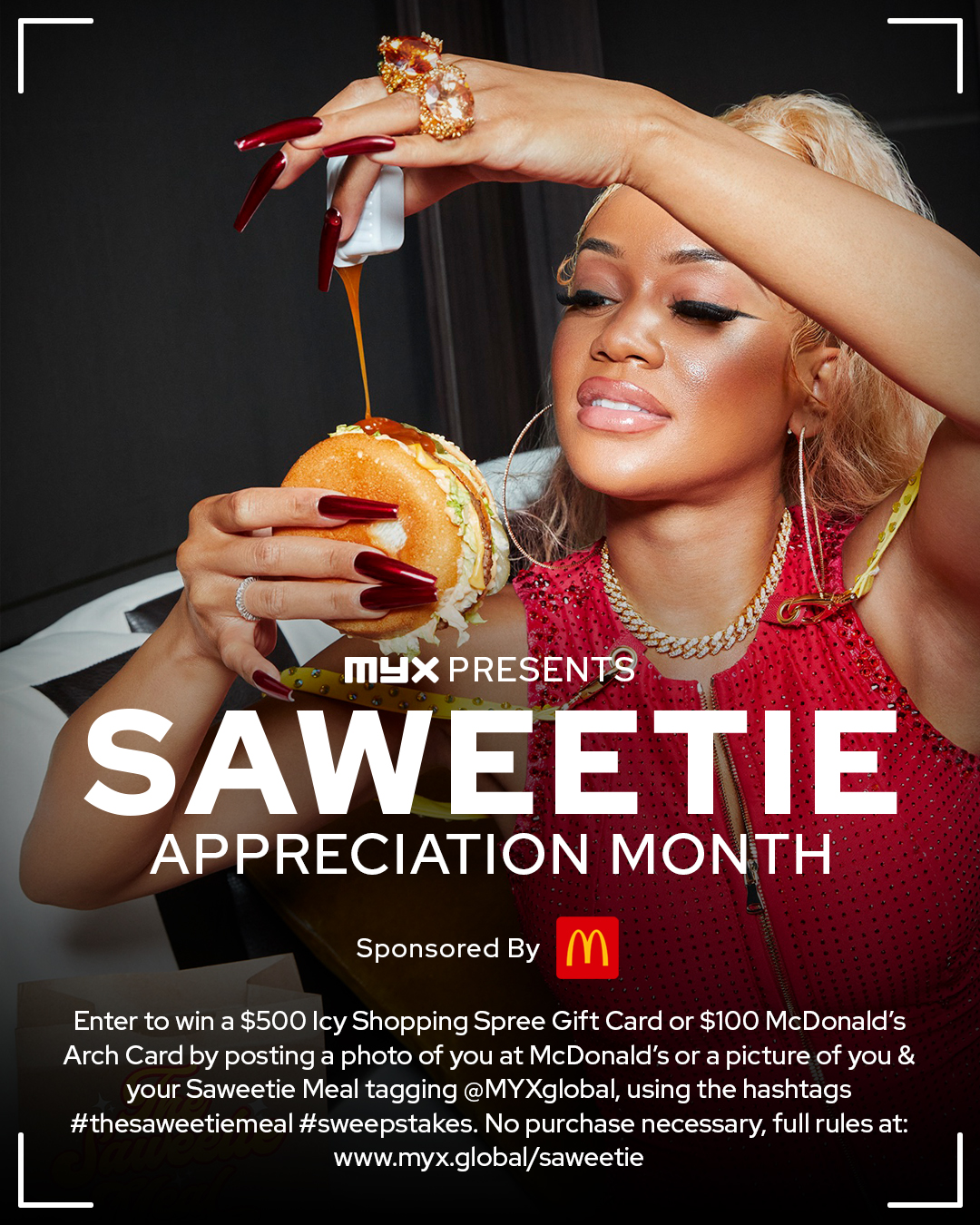 OFFICIAL RULES
NO PURCHASE NECESSARY TO ENTER OR WIN.
A PURCHASE DOES NOT INCREASE YOUR CHANCES OF WINNING.
Important: Please read these Official Rules before participating in this promotion. By participating in this Sweepstakes, Entrant ("You"; "Entrant") agrees to be bound by these Official Rules and represent that you satisfy all of the eligibility requirements below.
This Promotion is in no way sponsored, endorsed, or administered by or associated with Facebook, Instagram, or Twitter. The Entrant agrees to release Facebook, Instagram, and Twitter completely of all liability in relation to their participation in the Promotion.
: The MYX SAWEETIE MEAL Sweepstakes (the "Sweepstakes") is sponsored by ABS-CBN International ("Sponsor") and begins at 6:00 PM Pacific Time ("PT") on August 17, 2021, and ends at 10:00 PM PT on September 5, 2021 (the "Sweepstakes Period").
The Sweepstakes is open only to legal residents of the fifty (50) United States and the District of Columbia, who are 18 years of age or older as of date of participation. Employees of Sponsor and their respective subsidiaries, divisions, affiliates, suppliers, distributors, and advertising, promotional (collectively, "Released Parties"), and their respective employees' relatives up to the second degree of consanguinity or affinity are not eligible to participate or win. Void where prohibited by law. All federal, state, and local laws and regulations apply.
During the Sweepstakes Period, Entrant should follow the instructions below to have a valid online entry ("Entry") to be entered into the Sweepstakes:
Step 1: Entrant to go to a local McDonald's and take a photo or video inside the McDonald's with or without the Saweetie Meal. No purchase is necessary.
Step 2: Entrant must log on to the Instagram or Twitter app and upload the photo or video to their social media feed with the hashtags #thesaweetiemeal and #sweepstakes, tagging @MYXglobal.
Step 3: Strictly public photos or videos only, those set in private mode will be disqualified.
Limit one (1) Entry per person throughout the Sweepstakes Period.
(Total ARV of US$1,000)
Six (6) Winners will be randomly selected on or about September 6, 2021 from among all eligible Entries received during the Sweepstakes Period. Winners will be determined and validated based on a randomized drawing of numbers correlating to the amount of Entries. Random drawing will be conducted by Sponsor whose decisions are final on all matters relating to the Sweepstakes. The odds of winning will depend on the total number of eligible Entries received during the Sweepstakes Period.
The potential winners will be notified on or about September 10, 2021 by direct message on Instagram or Twitter to claim their prizes. Winners should claim their prize within sixty (60) days from receipt of notification. Otherwise, the prize will be forfeited in favor of Sponsor. Noncompliance within the timeframe specified or return of any prize/prize notification as undeliverable, or declining the prize for any reason, will result in disqualification without further notice and an alternate winner may be selected.
Any federal, state, and local taxes are solely the responsibility of the Winner/s. No transfer, assignment, substitution, or cash equivalent for a prize will be permitted, except at the sole discretion of the Sponsor due to prize unavailability for any reason. In such circumstance, an alternate prize of equal value will be awarded and Sponsor's obligation to the winner will be fulfilled, and no other additional compensation will be provided. Any attempt by any entrant to obtain more than the stated number of Entries by using multiple/different email addresses, identities, registrations and logins, or any other methods will void that entrant's Entries and that entrant may be disqualified. Normal internet access and data charges imposed by your internet/wireless phone service provider may apply. See your internet/wireless provider for pricing plan details. Entries generated by script, macro or other automated means and Entries by any means which subvert the Entry process are void.
Entries will not be acknowledged and/or returned. Sponsor is not responsible for lost, late, incomplete, invalid, or misdirected Entries, which will be disqualified. Any use of robotic, repetitive, automatic, programmed or similar Entry methods or agents (including, but not limited to, promotion Entry services to create fraudulent email addresses, and/or identities) will void all Entries by that entrant. In the event of a dispute as to any Entry, the authorized account holder of the email address associated with the Entry will be deemed the Entrant. Potential winner may be required to show proof of being the authorized account holder associated with the Entry.
Entrants/Winners agree to release, discharge and hold harmless Released Parties from and against any and all liability (including damages caused or claimed to be caused) arising out of participation and/or acceptance/use of prize, and agree to be bound by the Official Rules and the Sponsor's decisions, which are final. Acceptance of prize constitutes permission for the Sponsor and its agencies to use winner's name and/or likeness for purposes of advertising and trade without further compensation, including a winners list, unless prohibited by law.
NOTICE: ANY ATTEMPT BY AN INDIVIDUAL TO DELIBERATELY DAMAGE ANY WEBSITE OR APP OR UNDERMINE THE LEGITIMATE OPERATION OF THIS SWEEPSTAKES IS A VIOLATION OF CRIMINAL AND CIVIL LAWS, AND SHOULD SUCH AN ATTEMPT BE MADE, SPONSOR RESERVES THE RIGHT TO SEEK DAMAGES FROM ANY SUCH INDIVIDUAL TO THE FULLEST EXTENT PERMITTED BY LAW.
The Released Parties are not responsible for faulty, incorrect, undeliverable or mistranscribed phone/email transmissions, incorrect announcements of any kind, technical hardware or software failures of any kind including any injury or damage to any person's computer, phone or Device related to or resulting from participating in or experiencing any materials in connection with the Sweepstakes, lost or unavailable network connections, or failed, incomplete, garbled or delayed computer transmission that may limit a user's ability to participate in the Sweepstakes. Sponsor reserves the right to cancel or modify the Sweepstakes if fraud, misconduct or technical failures threaten the integrity of the Sweepstakes; or if a computer virus, bug, or other technical problem corrupts the administration or security of the Sweepstakes as determined by Sponsor, in their sole discretion. In the event of termination, a notice will be posted online, and the drawing will be conducted from among all eligible Entries received prior to termination.
Sponsor reserves the right, in its sole discretion, to cancel, modify or suspend the Sweepstakes without notice, if it is not capable of running as planned, including, but not limited to, any acts of God, infection by computer virus, tampering, unauthorized intervention, fraud, technical failures or any other problems beyond the control of the Sponsor. The Prize may or may not be awarded, in the sole discretion of the Sponsor.
By submitting an Entry for the Sweepstakes, the Entrant agrees to be eligible to enter the Sweepstakes as described in these Official Rules and will comply with the Official Rules. Entrant grants permission for Sponsor to use their name, and contact information for purposes relating to the administration and promotion of this Promotion and for the Sponsor's additional advertising without further compensation, unless prohibited by law.
Except where prohibited, Sponsor reserves the right to make all decisions in its sole discretion arising out of or relating to the Sweepstakes, and the decisions by Sponsor are final and binding on all matters relating to the Sweepstakes. Except where prohibited, Entrant agrees that any and all disputes, claims and causes of action arising out of, or connected with the Sweepstakes or any prize awarded shall be resolved individually, without resort to any form of class action, and exclusively by the appropriate court located in the State of California. Further, in any such dispute, under no circumstances shall Entrant be permitted to obtain awards for, and hereby waives all rights to, punitive, incidental, or consequential damages, including reasonable attorney's fees, other than Entrant's actual out-of-pocket expenses (i.e., costs associated with entering the Sweepstakes). Entrant further waives all rights to have damages multiplied or increased.
These Official Rules cannot be modified or amended in any way except in a written document issued in accordance with law by a duly authorized representative of Sponsor. The invalidity or unenforceability of any provision of these rules shall not affect the validity or enforceability of any other provision. In the event that any provision is determined to be invalid or otherwise unenforceable or illegal, these rules shall otherwise remain in effect and shall be construed in accordance with their terms as if the invalid or illegal provision were not contained herein. The Sweepstakes is void where prohibited by law.
Any personal information that an Entrant provides in connection with the Sweepstakes shall be used by Sponsor to administer this Sweepstakes, contact Entrants, and for the other purposes set forth in the Sponsor's Privacy Policy located at https://myx.global/privacypolicy. Sponsors' Privacy Policy is hereby incorporated by reference into these Official Rules and applies to the applicable Entries.
Winners will be identified on Sponsor's website. To obtain a copy of the Winners' names, mail your request along with a stamped, self-addressed envelope to: MYX SAWEETIE MEAL Sweepstakes 432 N Canal S., Unit 21, South San Francisco CA 94080.
ABS-CBN International: 432 N Canal S., Unit 21, South San Francisco CA 94080.
Date: August 17, 2021
---
Saweetie announced on her Instagram today, "IT'S HERE !!! ?❄️ Introducing The Saweetie Meal @mcdonalds" ❄? #IKDR
Check out the new photos she posted from the colab below and pick up your own Saweetie Meal, you can order from a delivery app or in person at participating McDonald's.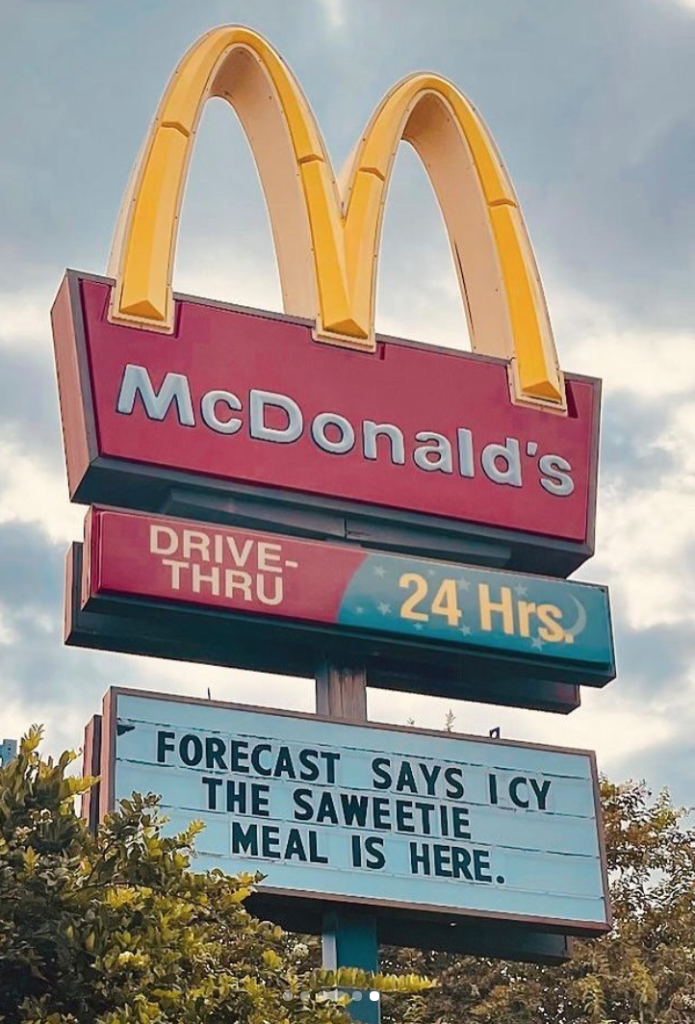 Summer is about to get icy as McDonald's and platinum artist Saweetie team up to bring her favorite order to fans nationwide.
You can order the meal here on the McDonald's app starting August 9.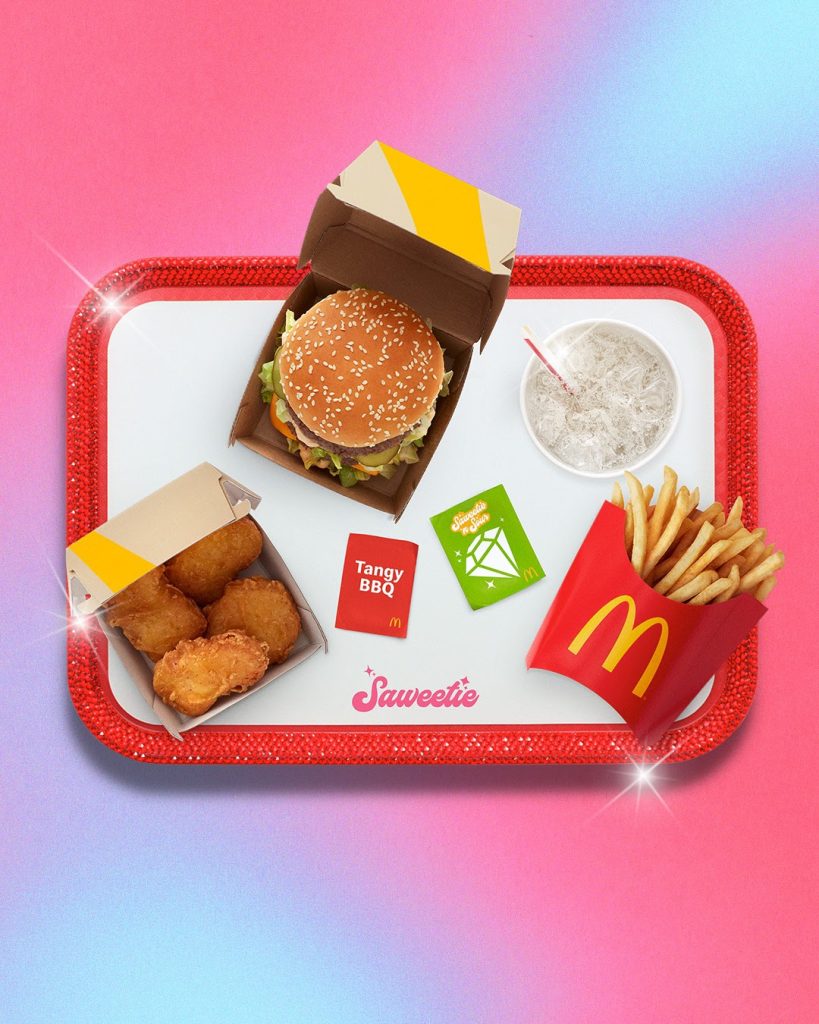 Starting Aug. 9, everyone can order The Saweetie Meal, which features a Big Mac®, 4-piece Chicken McNuggets®, medium World Famous Fries®, a medium Sprite®, Tangy BBQ Sauce and "Saweetie 'N Sour" sauce – the same Sweet 'N Sour sauce you know and love, re-named in honor of the new meal.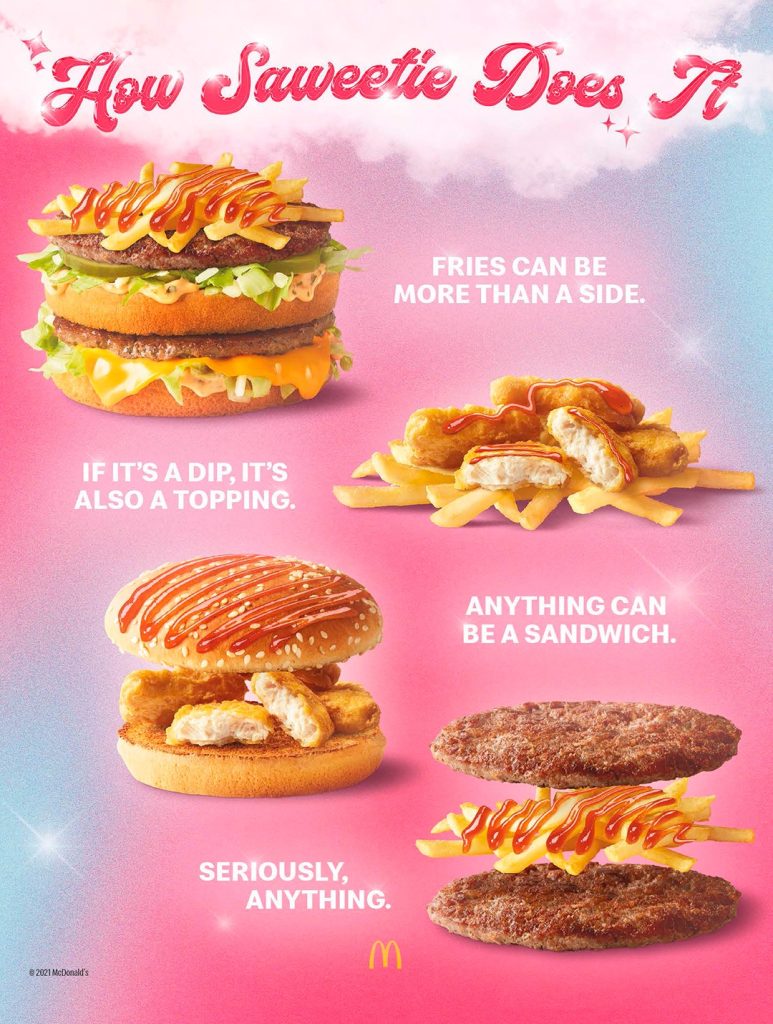 If you know Saweetie, you know she likes to put her own spin on all her favorite foods to create unique combinations and flavors. And so can McDonald's fans... simply order the Saweetie Mealand $ try remixing it in one of these four tasty ways on your own, just like she does.
-Fries can be more than a side. Add a little crispiness to your Big Mac when you top it with some fries.
-If it's a dip, it's also a topping. Top your World FamousFries with Chicken McNuggets... what could be a better combo?
-Anything can be a sandwich. Chicken McNuggets + Big Mac buns = Chicken McNugget sandwich.
-Seriously, anything. But you don't need buns. Put the best fries in the world between two fresh Big Mac patties for a new kind of sandwich.
… And no matter how you mix it up, don't forget to add the Saweetie 'N Sour and Tangy BBQ sauces.
Saweetie is the latest chart-topping artist to be featured on McDonald's menu since the Famous Orders program kicked off last year. Like so many fans who have their own menu hacks, her combinations bring a creative twist to McDonald's iconic food.
"McDonald's and I run deep – from growing up back in Hayward, California, all through my college days – so I had to bring my icy gang in on my all-time favorites," said Saweetie. "Depending on the mood I'm in, there are so many ways to enjoy my order. I like to keep things fresh – I know that's right."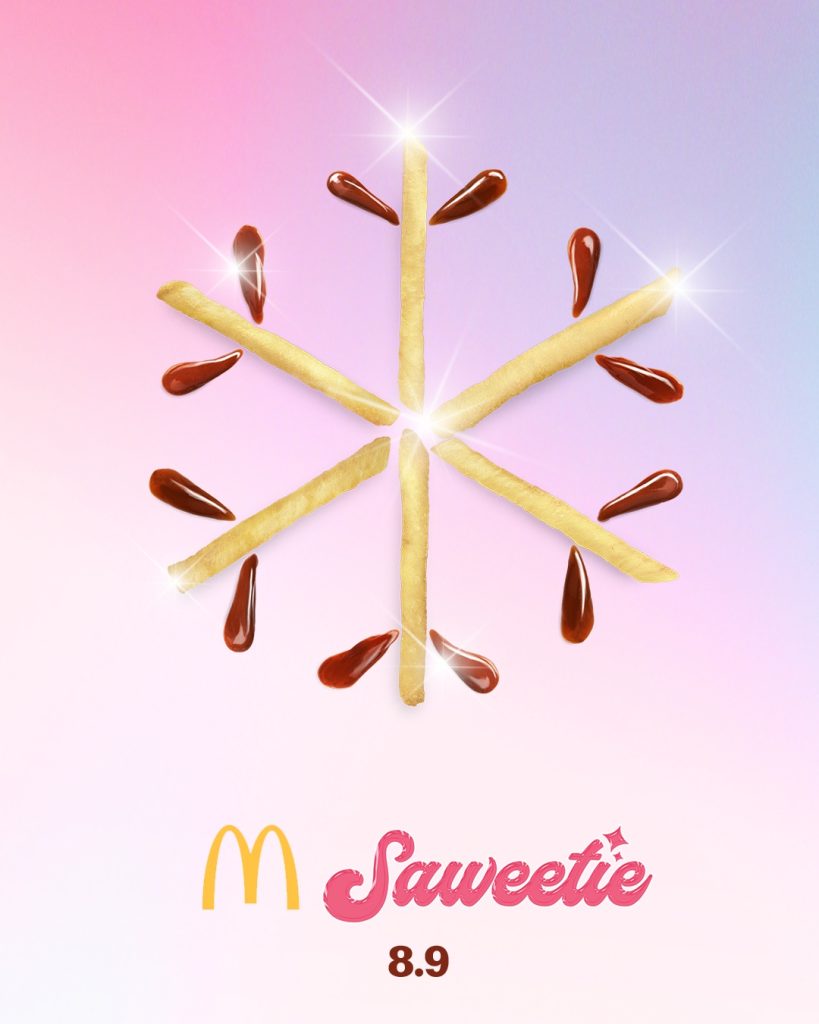 Since first hitting the scene with her viral single My Type, Saweetie has quickly become one of the most sought-after hip-hop artists. And in true Saweetie fashion, she's not just mixing up her go-to order... her meal will also be served in icy new packaging inspired by her one-of-a-kind style.
"We're thrilled to team up with Saweetie, a true brand fan who puts her own spin on everything she touches across music, fashion, beauty and culture," said Morgan Flatley, Chief Marketing and Digital Customer Experience Officer, McDonald's USA. "And now she's brought that spark and creativity to her signature McDonald's order by celebrating her love for our food and passion for mixing things up."
Watch an exclusive MYX interview with Saweetie about the colab below:
So starting Aug. 9, grab your Best Friend, turn up the music, and swing by McDonald's to grab Saweetie's order. The meal will be available in the U.S. in-restaurant, through McDelivery, and on the McDonald's app using contactless mobile order and pay. And, through MyMcDonald's Rewards*, you can now earn points on every dollar you spend at McDonald's – unlocking different delicious rewards across the menu.
Stay tuned for some more saweet(ie) surprises from McDonald's and Saweetie over the coming weeks!
*Program available only at participating McDonald's in the local area. Refer to MyMcDonald's Program Terms for details. Excludes delivery. McD App download and registration required.
Check out this week's MYX News Hot List below:
McDonald's is continuing to celebrate the beautifully diverse Asian Pacific American community. They're introducing #WeAreAPA – a digital photo series spotlighting the roles less traveled by Asian Pacific Americans. This new series is in partnership with Dear Asian Americans (DAA) podcast and the Center for Asian American Media (CAAM). They look at seven inspirational people and their stories. Included are two Filipino-Americans Mike Magpayo and Georgina Pazcoguin.
Mike Magpayo – he's the current head basketball coach of University of California, Riverside, and the first-ever Asian American Division 1 basketball head coach
Georgina Pazcoguin – a half-Filipina New York City Ballet dancer who is leading the charge to remove "yellow face" in ballet
Other trailblazers' stories who are spotlighted include:
Carol and Andrew Chin – Carol, a Chinese immigrant from Venezuela, and McDonald's franchisee, with her son Andrew, a former professional baseball player
Kana Hatakeyama – a Japanese-American actor and CAAMfest 2021 filmmaker who explores her experiences of living in Japan and the U.S. in her works
Steve Kim – a Korean-American and formerly incarcerated University of Southern California professor who founded Project Kinship, a prison reform and human rights advocacy organization
Sapna Pandya – a queer Indian-American pandita (Hindu religious scholar and marriage officiant) who is reimagining inclusivity within South Asian faith and cultural traditions
Sunmi – a non-binary diasporic Korean cartoonist whose zines and upcoming graphic novel inspire other Asian American youth
Up to three stories will be featured weekly on DAA's Instagram throughout May, while CAAM's social channels will post select content throughout May. Each feature will include a set of portraits that represent their story, and a complementary interview that will highlight life lessons and what it means to them to be APA today.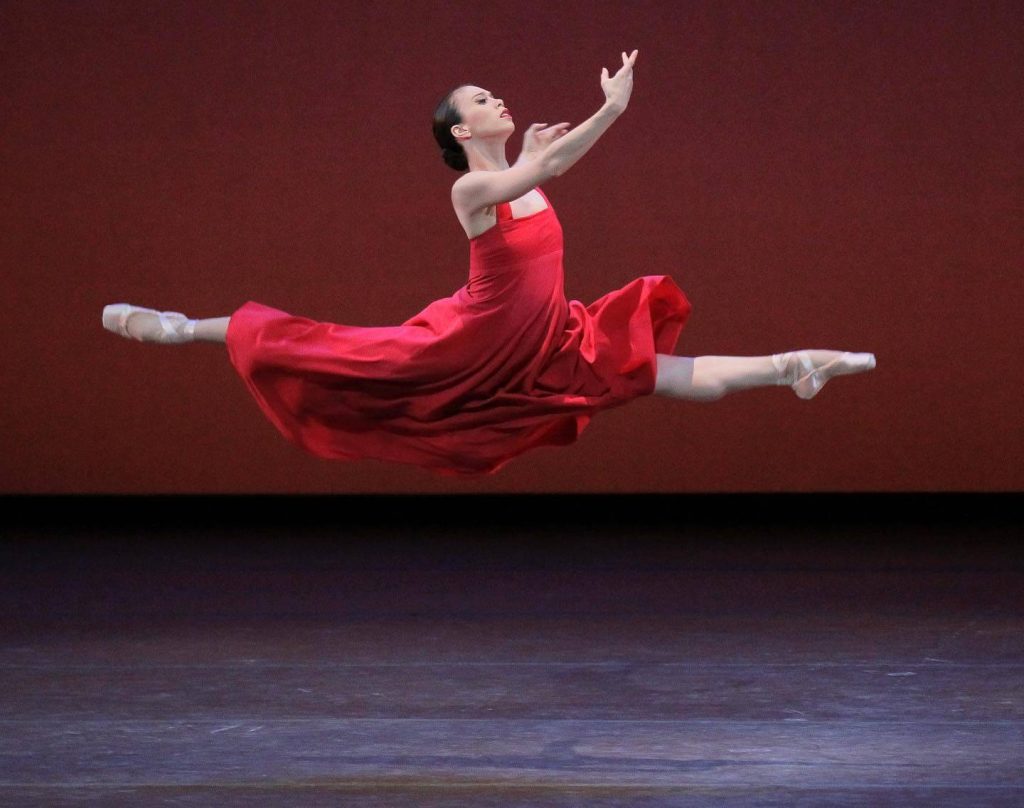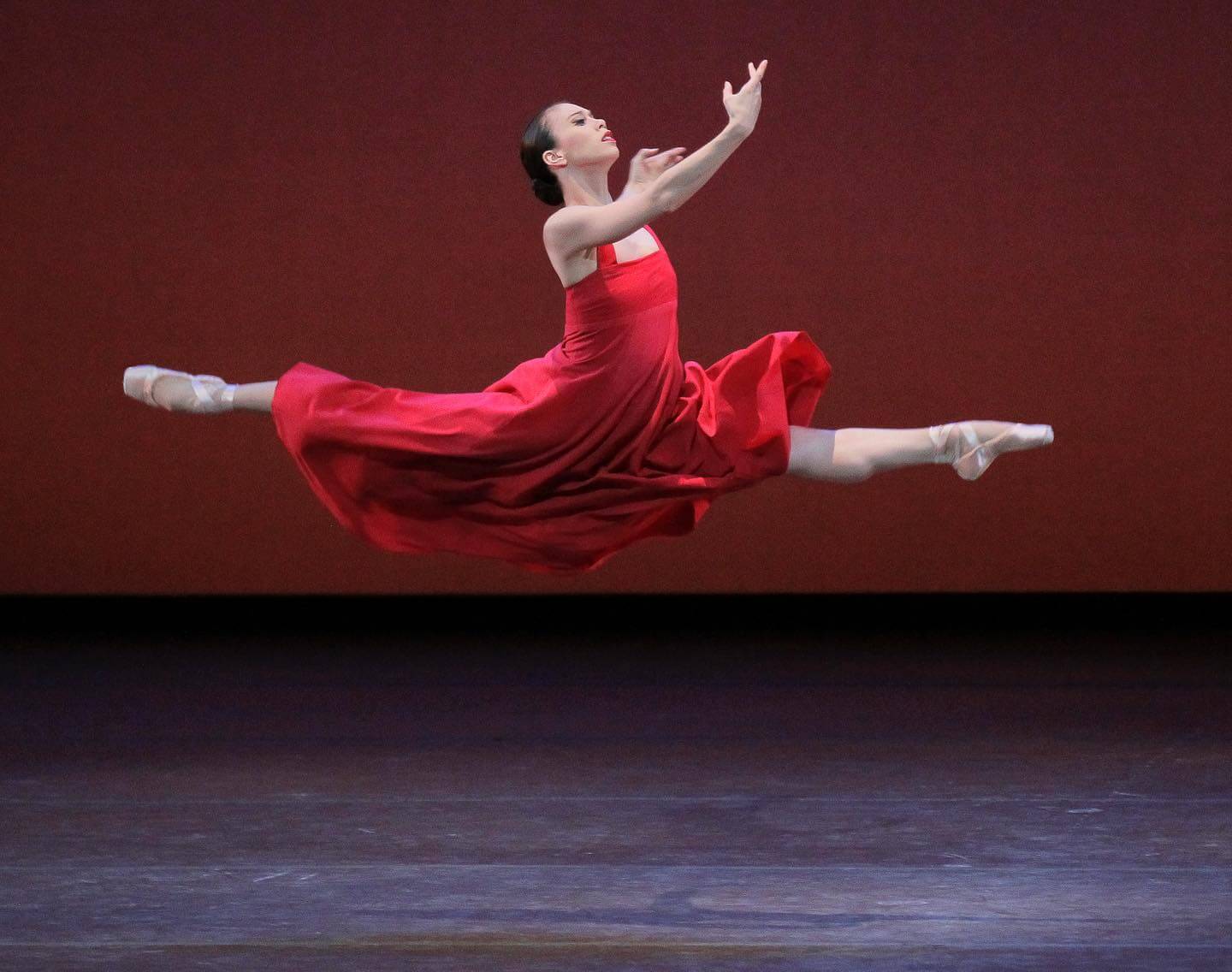 Independent photojournalists Eric Lee and Emanuel Hahn, whose work has been featured in major national publications, captured each person and their story. Lee and Hahn's personal ties to the APA community provided an authentic point of view that aided in capturing the complexity of each story.
As a company that serves diverse communities, McDonald's is committed to celebrating and bringing awareness to important moments that reflect the communities we serve. McDonald's has previously celebrated Asian Pacific American Heritage Month with APA Legacy, a series of public service announcements highlighting Asian-American changemakers, that aired nationally for more than seven years.
About McDonald's USA Community Efforts
The McDonald's #WeAreAPA is just one of many company initiatives created to connect with the communities McDonald's serves. These efforts also include hosting webinars such as Classroom Convos, which focus on topics currently impacting Asian and Pacific Islander American students, the HACER® Education Tour, which provides information to navigate the college application process, the Black & Positively Golden Mentors Program, which pairs industry leaders with up-and-coming changemakers in the same fields, and the Archways to Opportunity program for restaurant crew which provides educational resources to eligible employees at participating U.S. restaurants. Together, with franchisees, we are creating opportunities to feed and foster our communities.
About McDonald's USA
McDonald's USA, LLC, serves a variety of menu options made with quality ingredients to nearly 25 million customers every day. Ninety-five percent of McDonald's 14,000 U.S. restaurants are independently owned and operated by businessmen and women. For more information, visit www.mcdonalds.com, or follow us on Twitter and Facebook.
Cover Photo Courtesy: IW Group Agency
MYX got our hands on the @McDonald's exclusive Crispy Chicken Sandwich merch that is SOLD OUT! But don't worry, we gotchu, we will be giving away a merch set to one of our MYXers in the continental United States to one lucky winner.
McDonald's gave fans access an early taste of the new Crispy Chicken Sandwich with a limited-edition capsule, available exclusively at CHKNDrop.com.
So, what's the hype behind this tasty release? Here's what you're going to get:
An original, never-before-heard audio track created by super music producer Tay Keith on 7" vinyl. Created for their new Crispy Chicken Sandwich, and debuting soon in their advertising, you can hear it below first and only get a copy with this drop.
A limited-edition hoodie that reps the deliciousness of their new Crispy Chicken Sandwich in one word "crispyjuicytender" (yeah, they made that up), features a waveform design of Tay Keith's original track running up one sleeve. Available in sizes S through XXL.
To win the SOLD OUT exclusive merch, fill out the form below and let us know which Crispy Chicken Sandwich is your favorite and why. The winner will be chosen at random by 3/5 at 11:59pm.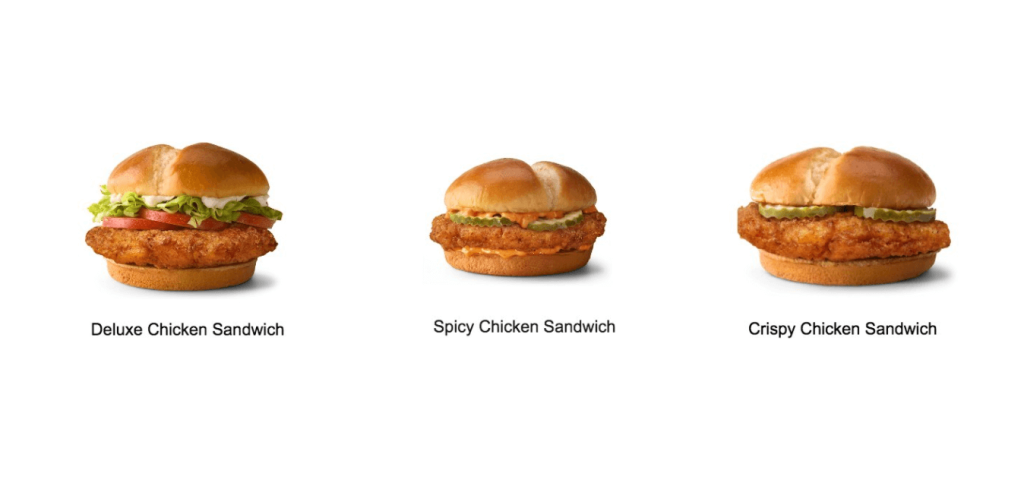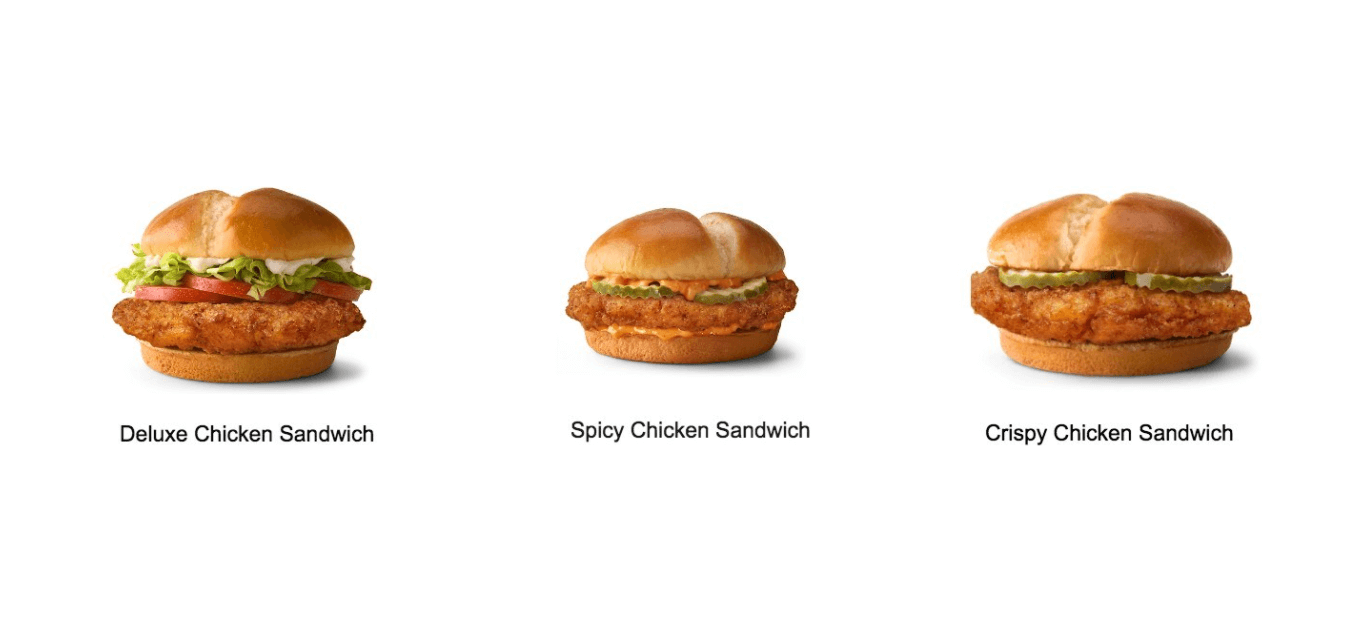 Deluxe Crispy Chicken Sandwich: For those looking for a little extra somethin' in the toppings department– served with shredded lettuce, Roma tomatoes and mayo.
Spicy Crispy Chicken Sandwich: For those craving some heat – served with a Spicy Pepper Sauce and crinkle cut pickles on a toasted potato roll.
Crispy Chicken Sandwich: For those who want to keep things simple – topped with our crinkle cut pickles and served on a new toasted, buttered potato roll.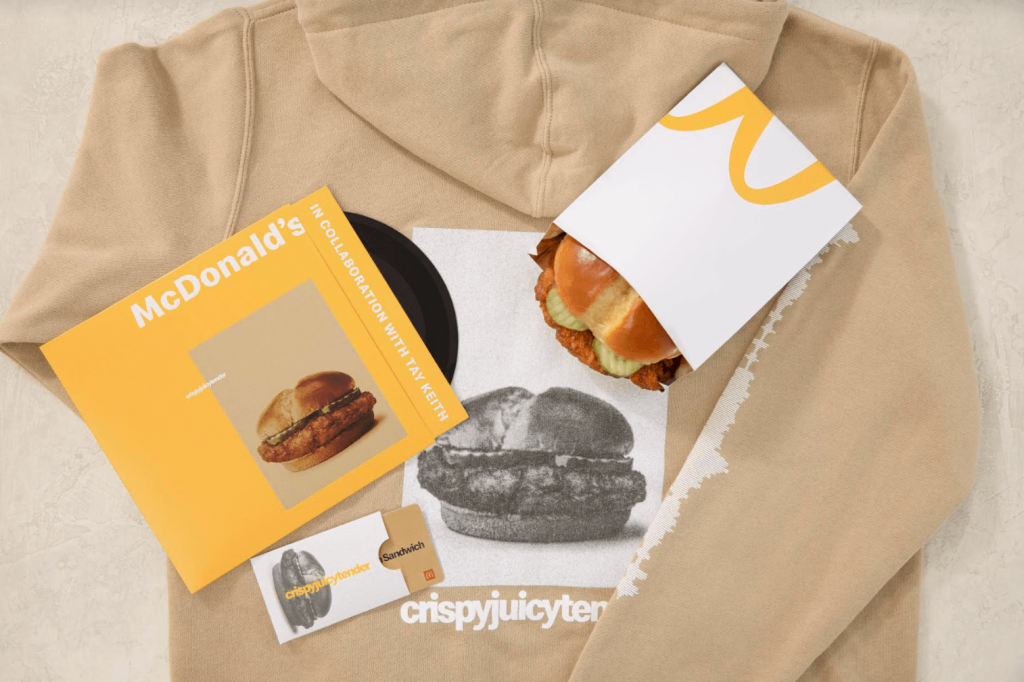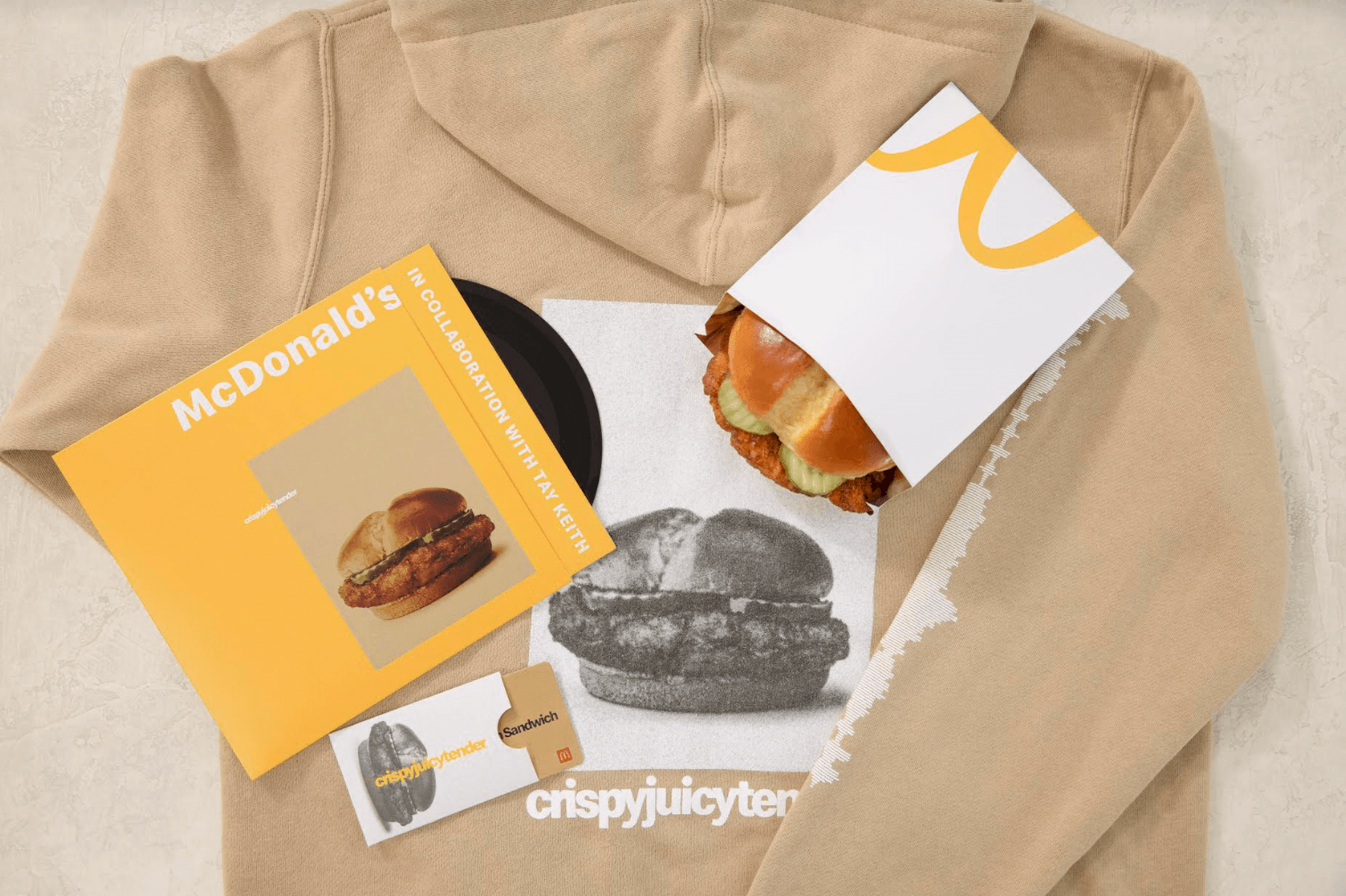 McDonald's is also teaming up with DoorDash offering a FREE Crispy Chicken Sandwich on McDelivery with orders of $15 or more, 3/1-3/7. Place your order here on DoorDash or the app.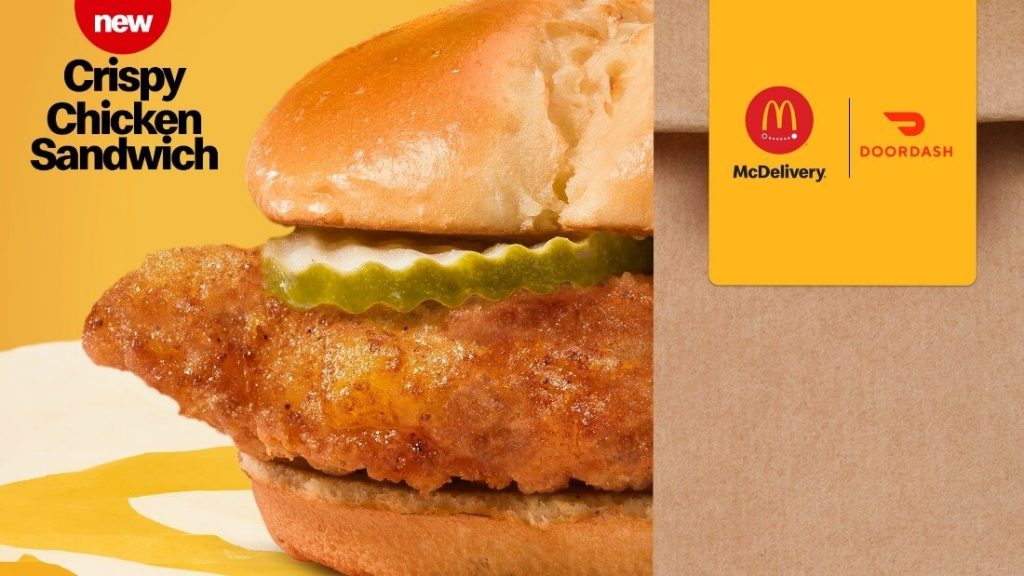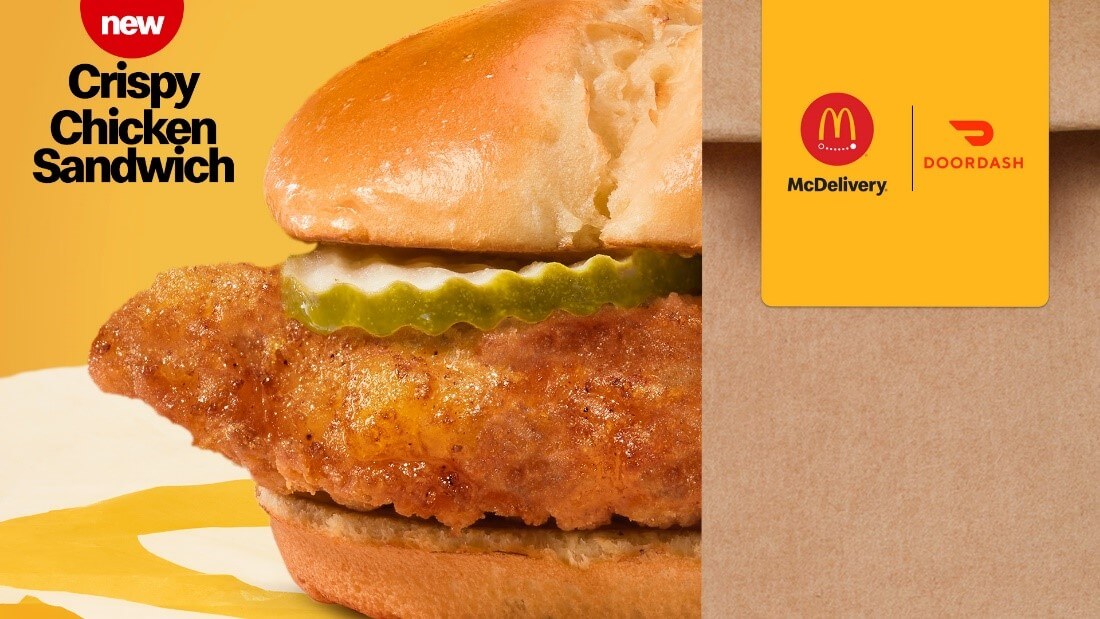 You can grab the Crispy Chicken Sandwich that inspired it all now via carry-out, Drive Thru, the McDonald's app or McDelivery. And be sure to stay tuned for more ways they are celebrating crave-worthy chicken options at McDonald's all year long.
About McDonald's USA's Chicken Journey
For decades, customers have enjoyed fan-favorite chicken offerings at McDonald's like our iconic Chicken McNuggets and the McChicken sandwich. Today, demand for craveable chicken options is greater than ever before, and McDonald's continues to introduce delicious new menu items and flavor profiles – from bringing Chicken McGriddles and the McChicken Biscuit sandwich to our breakfast menus nationally, to introducing popular limited-time offerings like our Spicy Chicken McNuggets with Mighty Hot Sauce. The new Crispy Chicken Sandwich lineup marks the latest step in our ongoing journey to deliver great-tasting chicken to our customers.
Respiratory therapist, Christian Cruz showed appreciation for his hardworking colleagues with a gift of arch cards in partnership with MYX, & TFC that could be redeemed for "Thank You Meals" at their local McDonald's. Pictured in the photo is Christian alongside Veralyn Benitez, Magda Martin-Leli, Jackie Deharo, Paul Has & Mirabel Sabugo.
Christian was also featured in TFC's "Heroes Without Capes" commercial that aired when quarantine first began in April 2020 that featured H.E.R., Saweetie, Jo Koy & Apl.de.ap thanking the frontline workers for their hard work:
Sending a sign of appreciation to the hardworking health care team in La Mirada, CA including Patrick Sanchez, Maurice Pham, John Maryland and Bobbie Ledesma.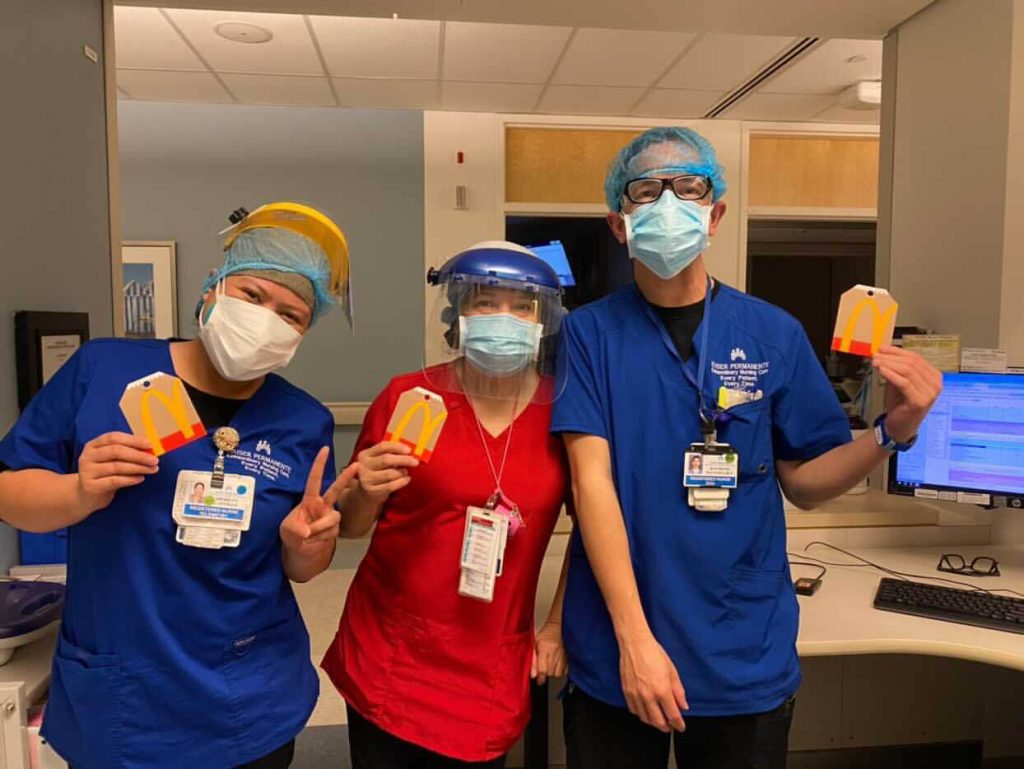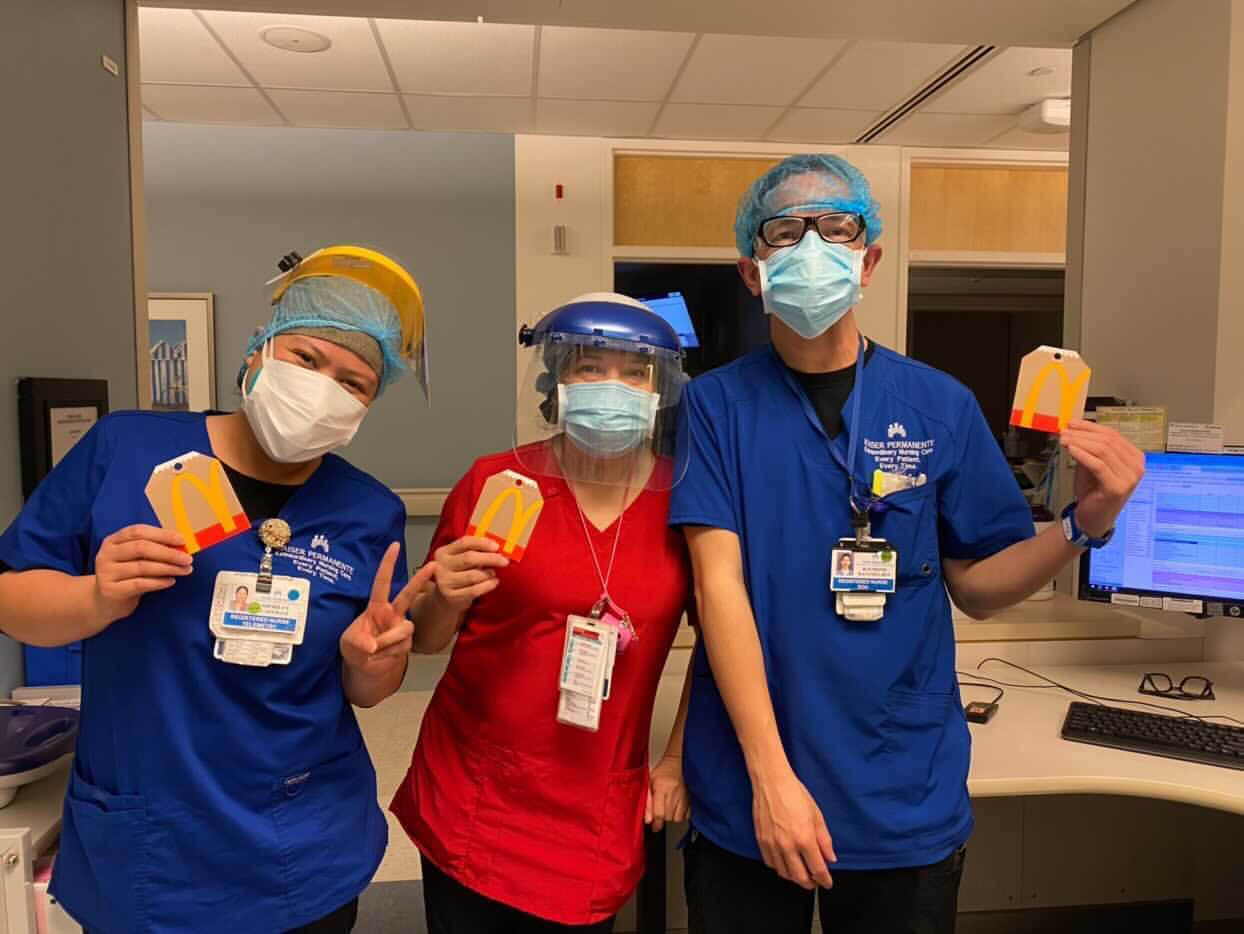 Respiratory therapist, Rich Jimenez greeted his team with arch cards from him in partnership with MYX, TFC & McDonald's before sharing them with his family of twin boys.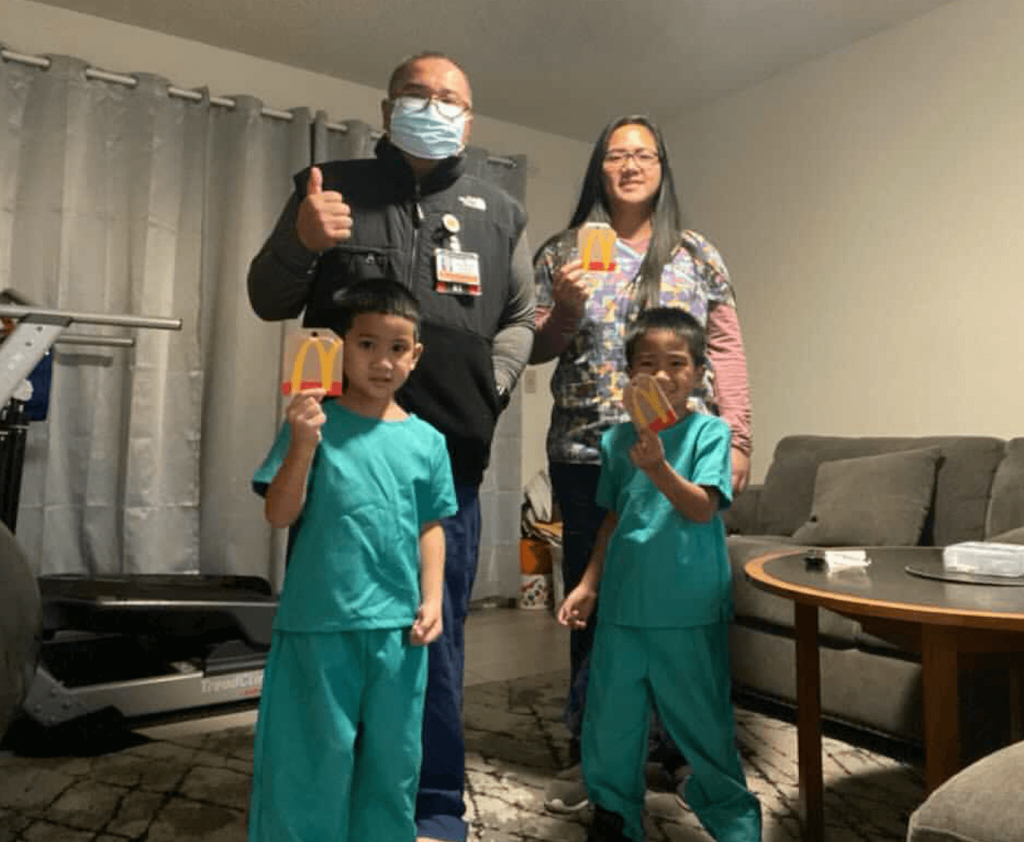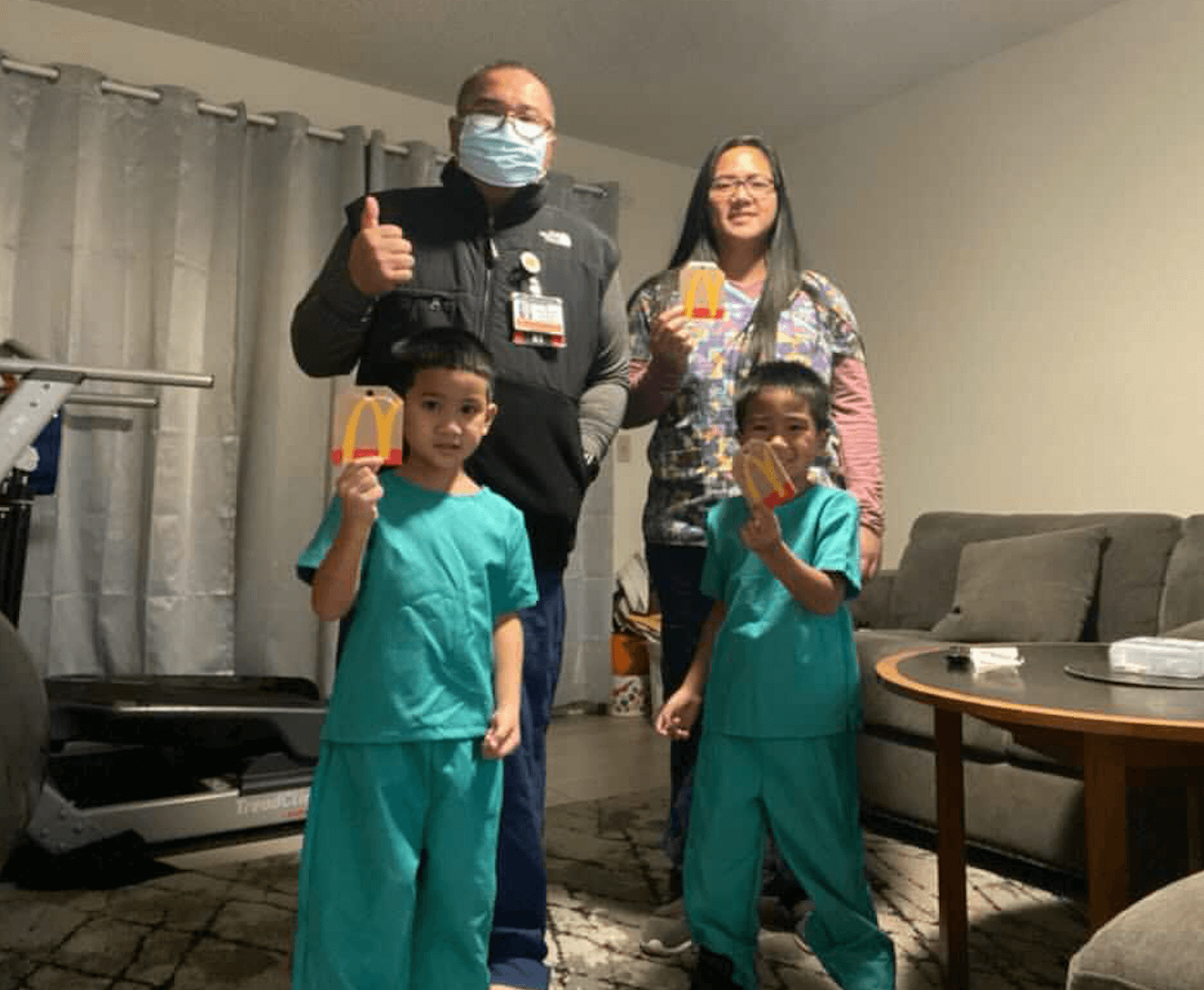 The boys will be enjoying Happy Meals on their Winter Break from their first year of Kindergarten in Walnut, CA.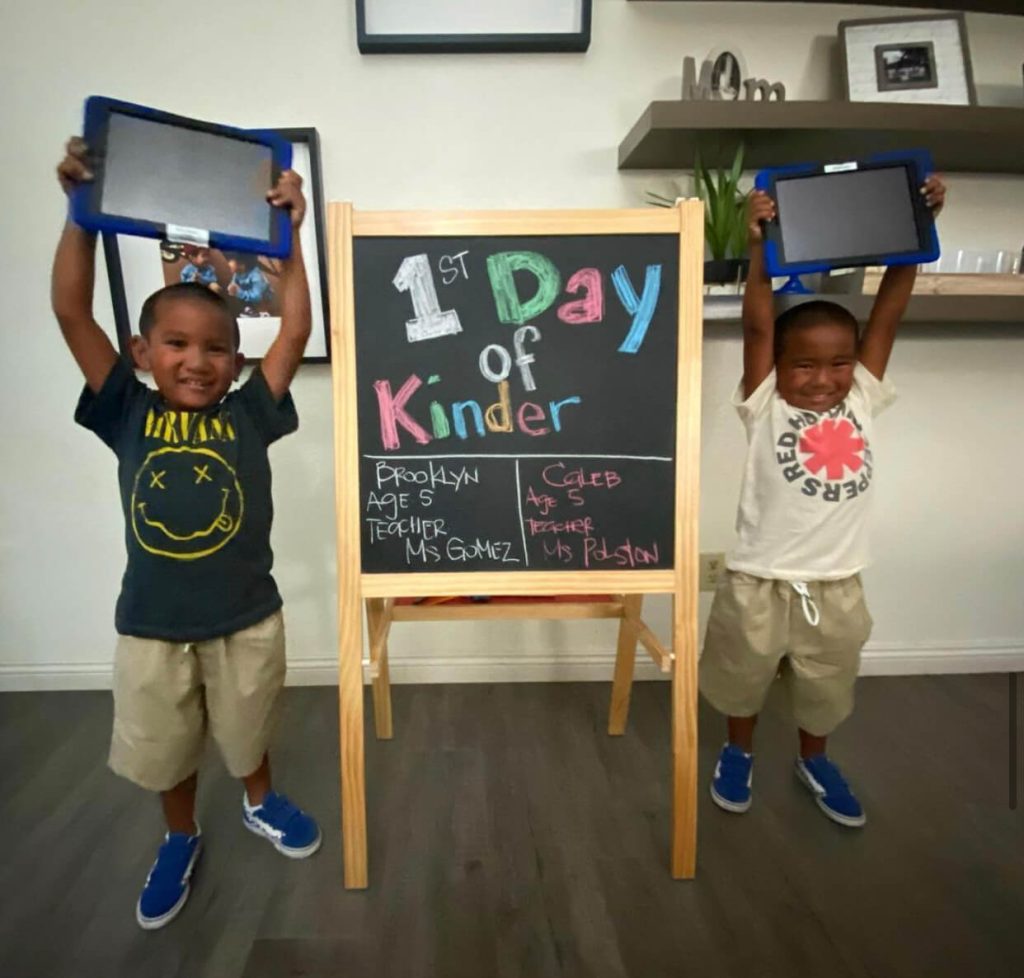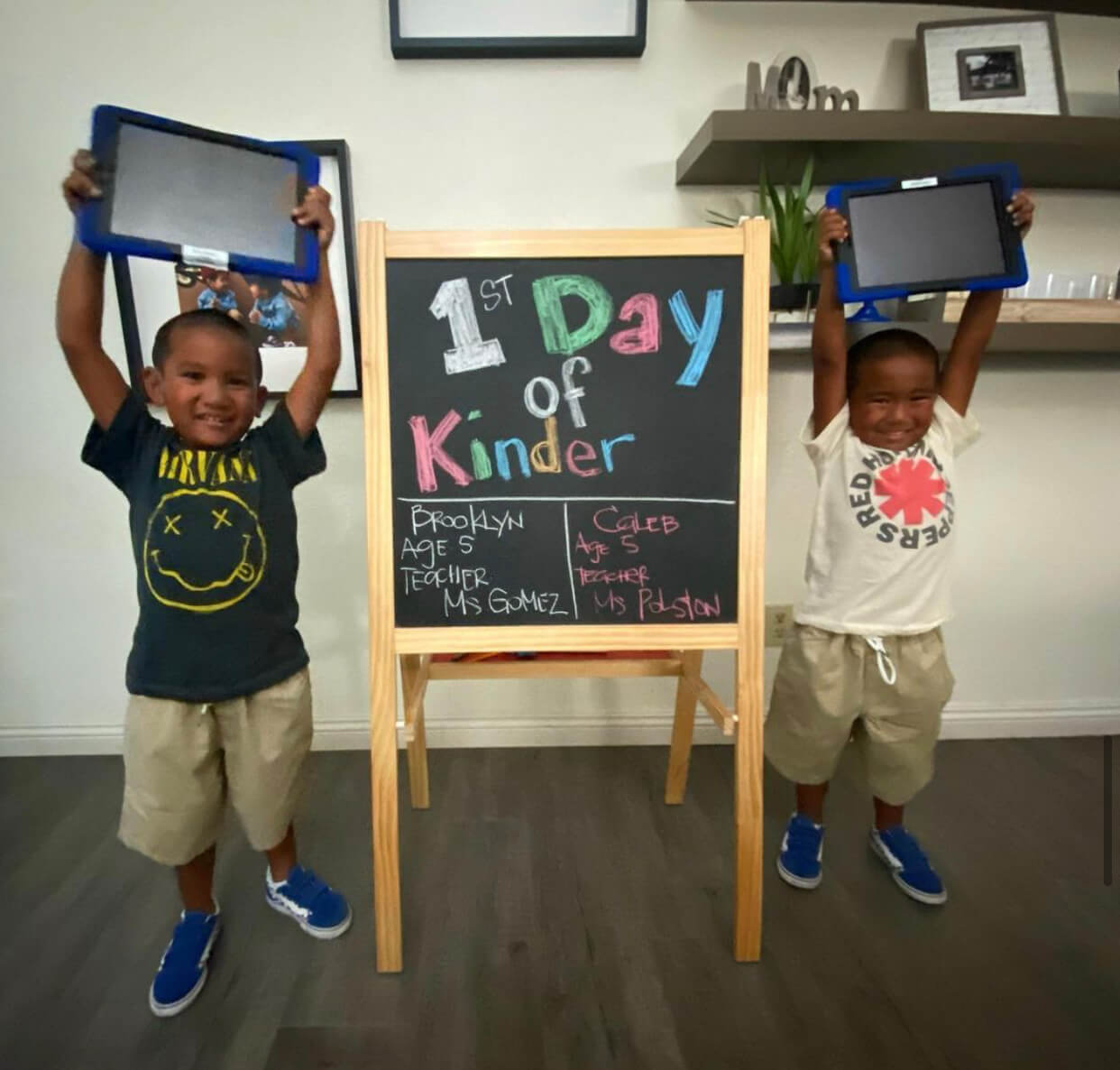 For more info, visit myx.global/frontliners.
Singer / Songwriter / Radio Host Dannieboi living in Manila, PH but originally from the Bay Area, CA was a special guest on MYX this week where he interviewed popular Filipina artist, Claudia Barretto on kumu & Twitch that aired on myxRADIO on Dash Radio.
After his show, he chose his personal San Francisco based frontline healthcare workers of the day as a sign of appreciation for their hard work as apart of the MYX & TFC "Salamat Meals" program. Each frontliner was awarded 5 McDonald's arch cards to be redeemed for a "Thank You" meal for themselves and their family.
For more info, visit: myx.global/frontliners
Filipino nurse who oversees frontline workers in one of the first Bay Area counties to get hit by the coronavirus recruits McDonald's in thanking her staff for their sacrifices. Rommel Conclara has this story.
See additional photos from the hardworking health care workers below. Thank you (Salamat)!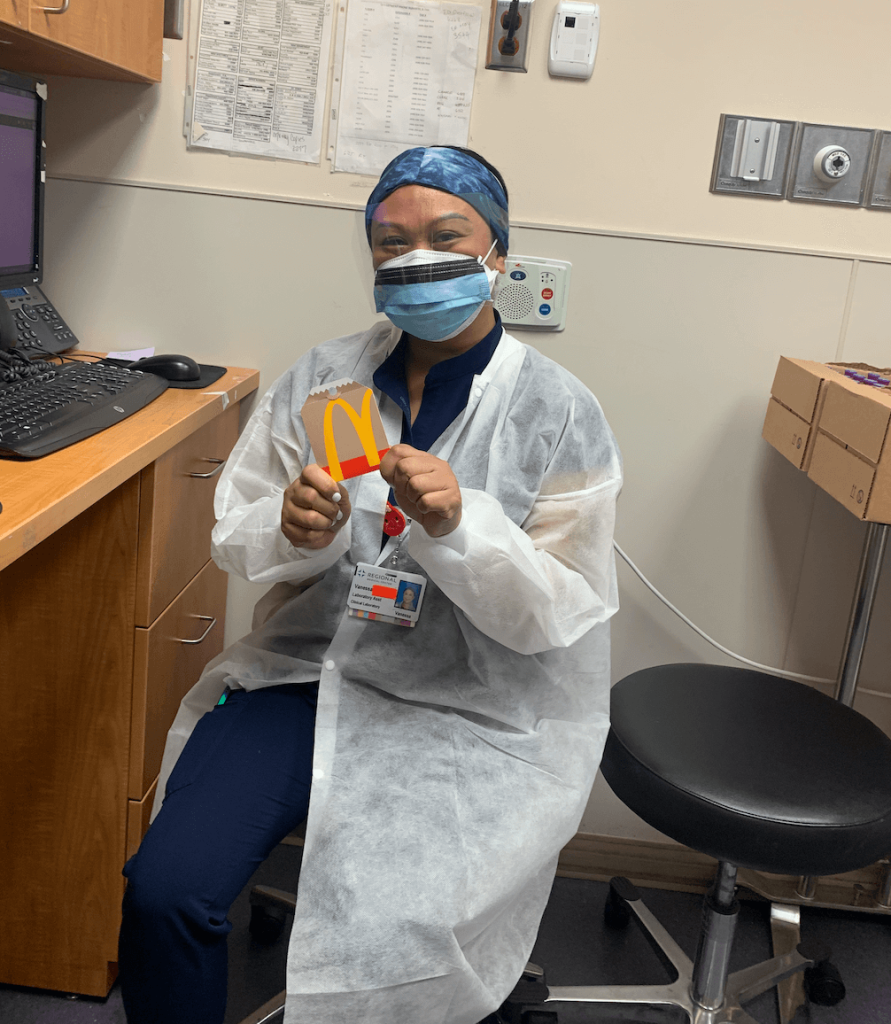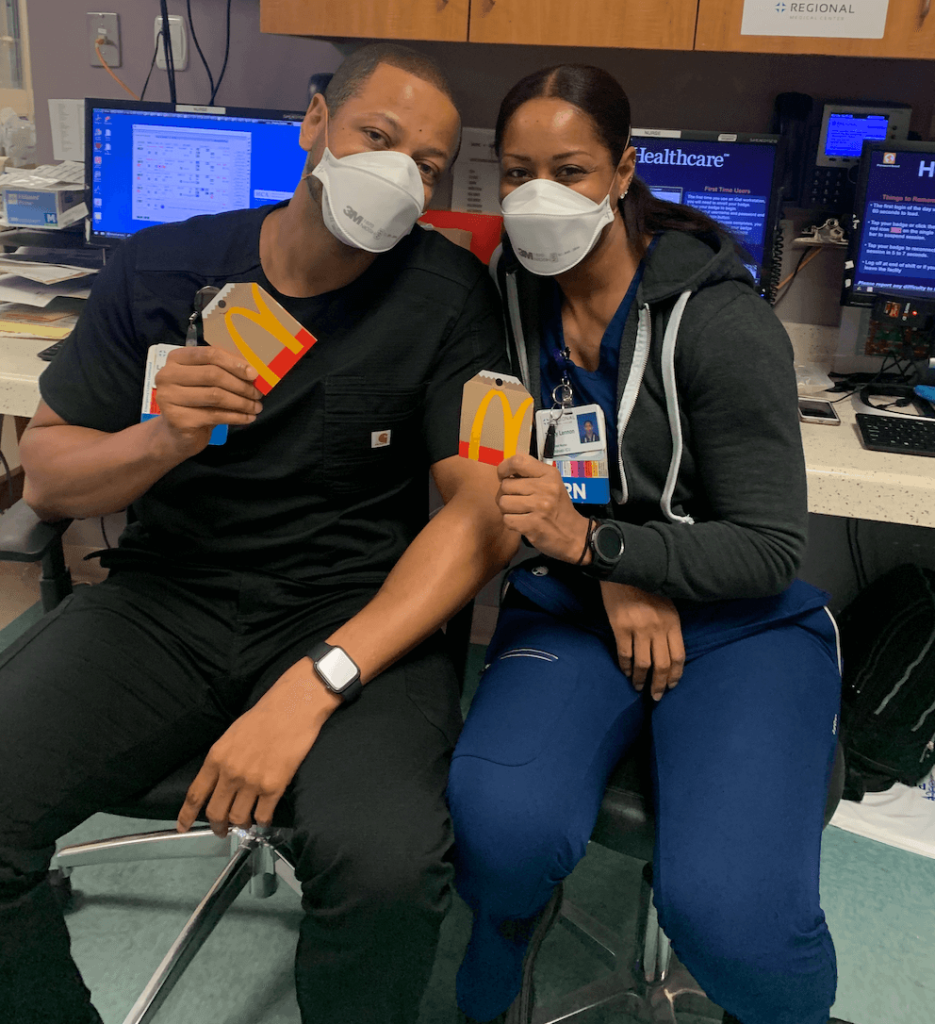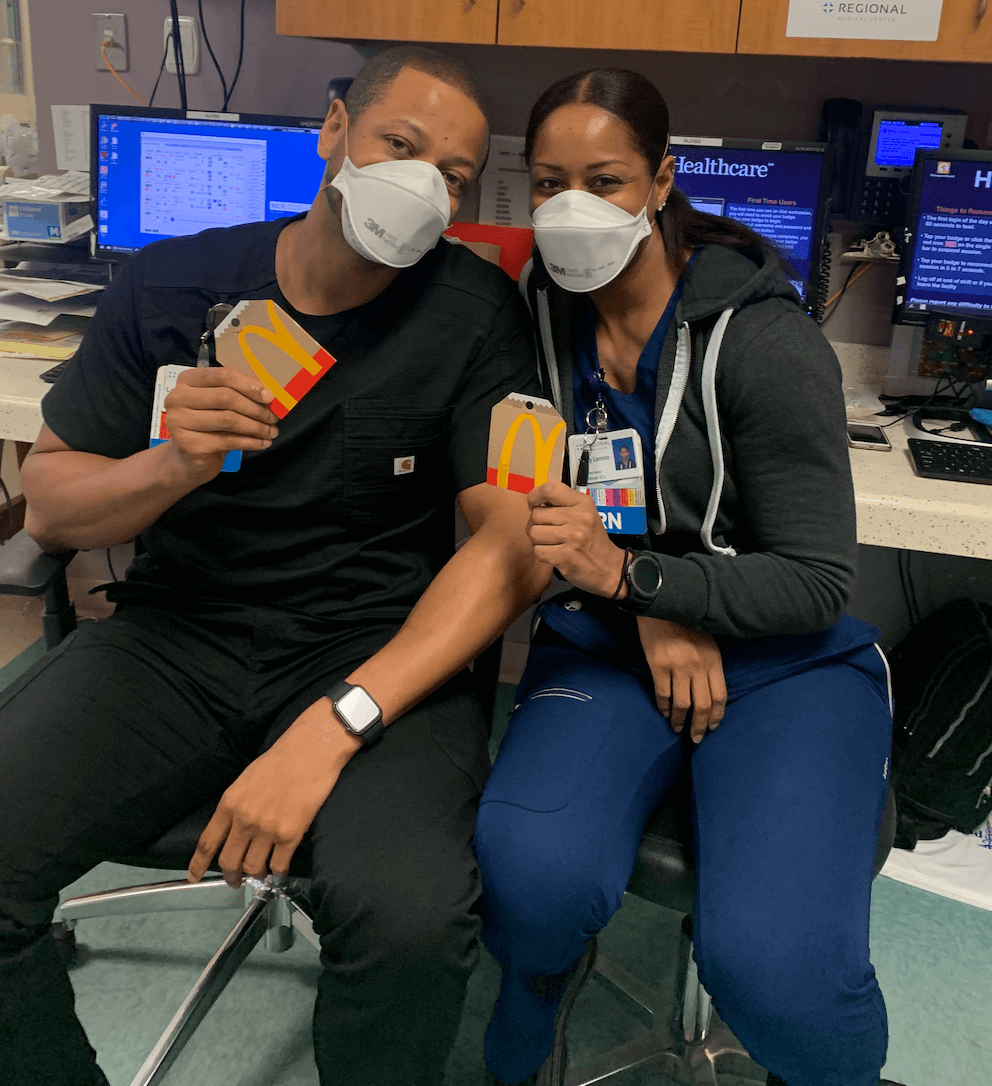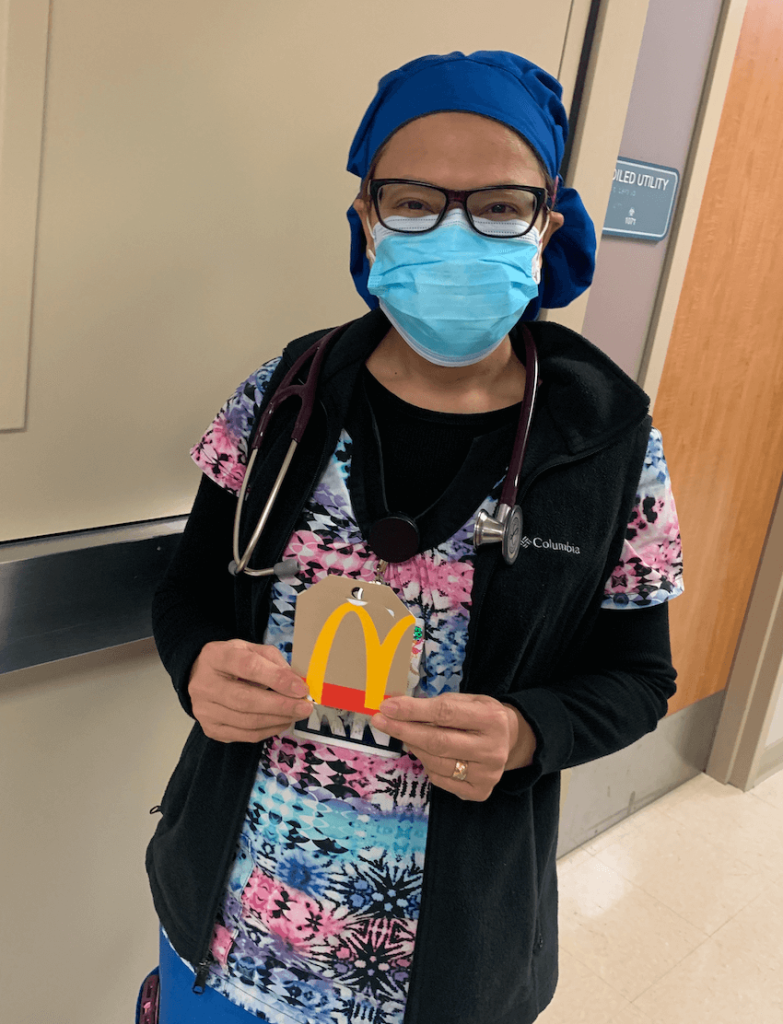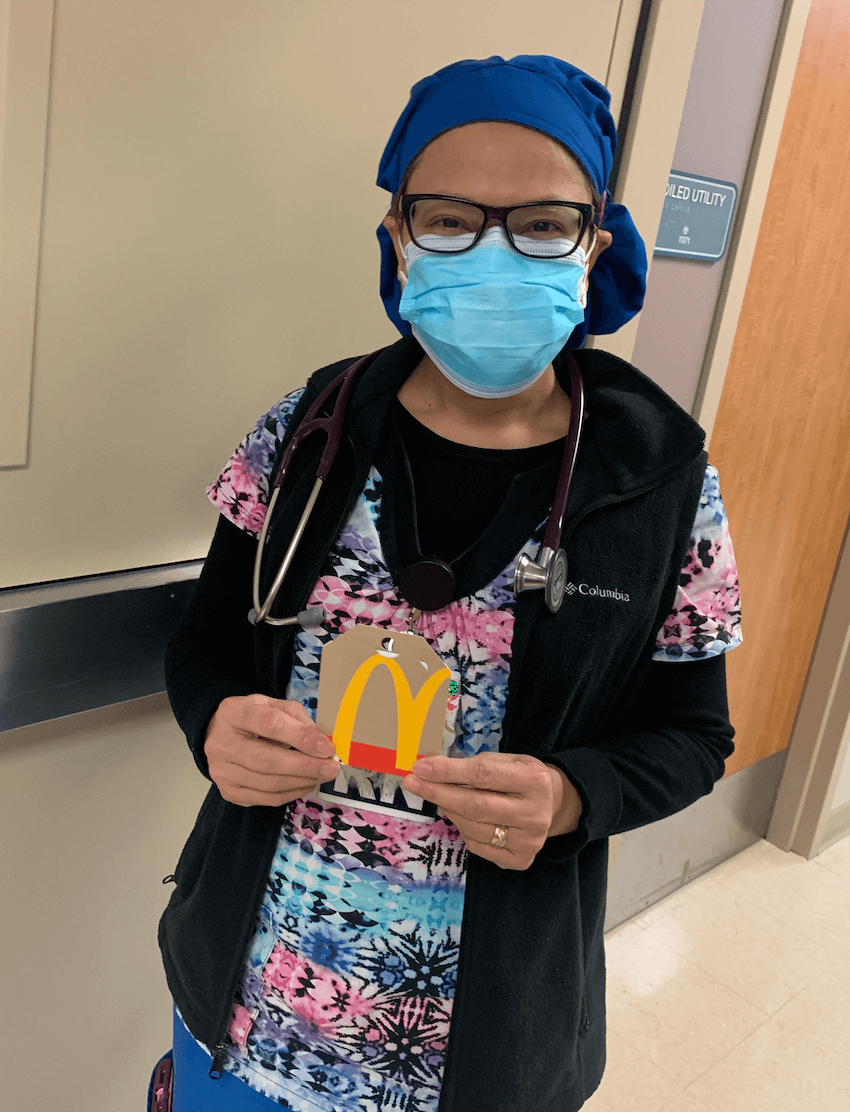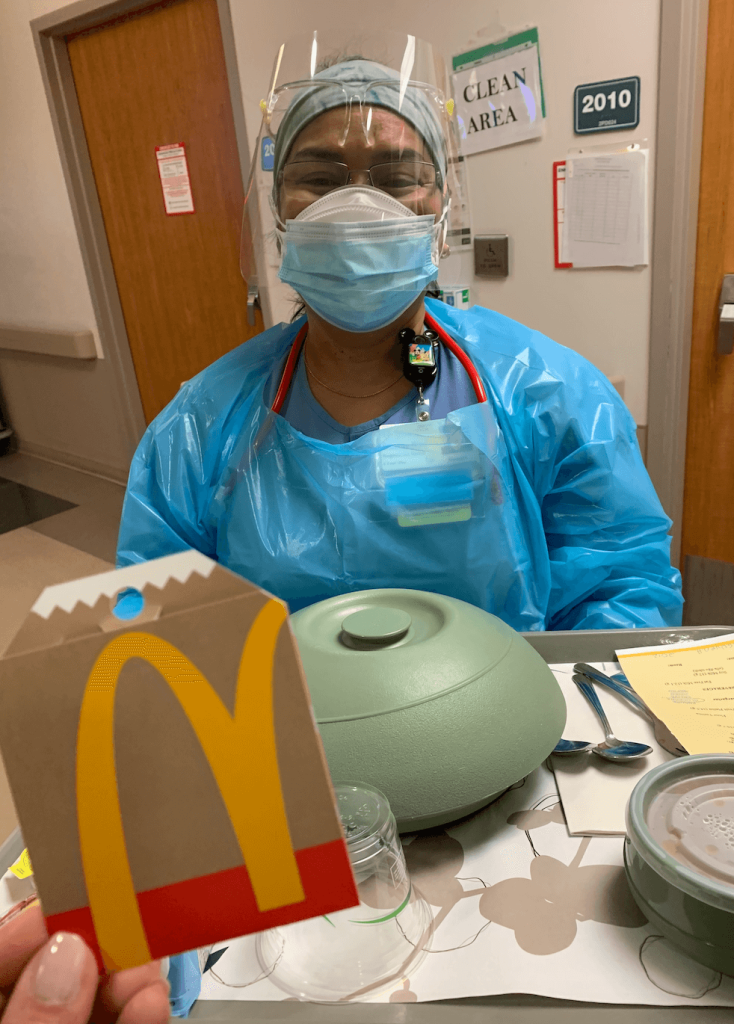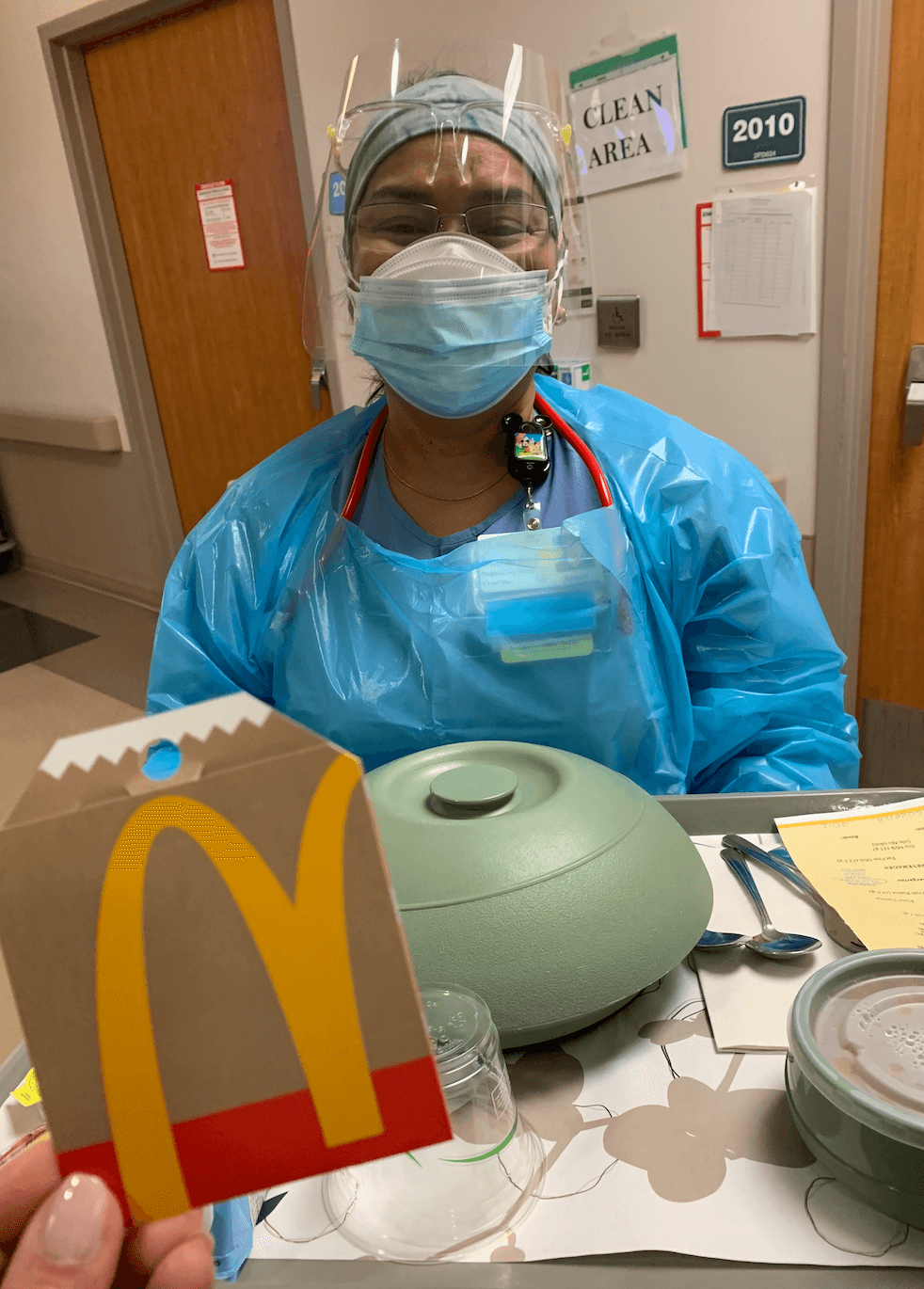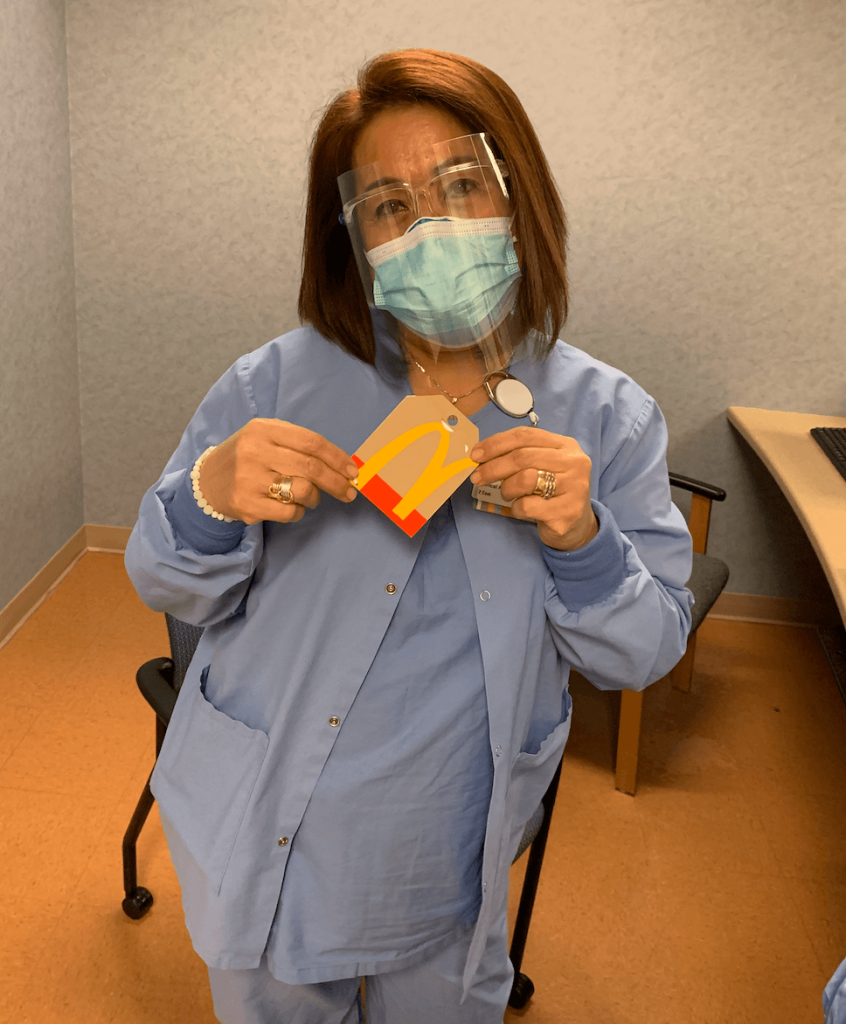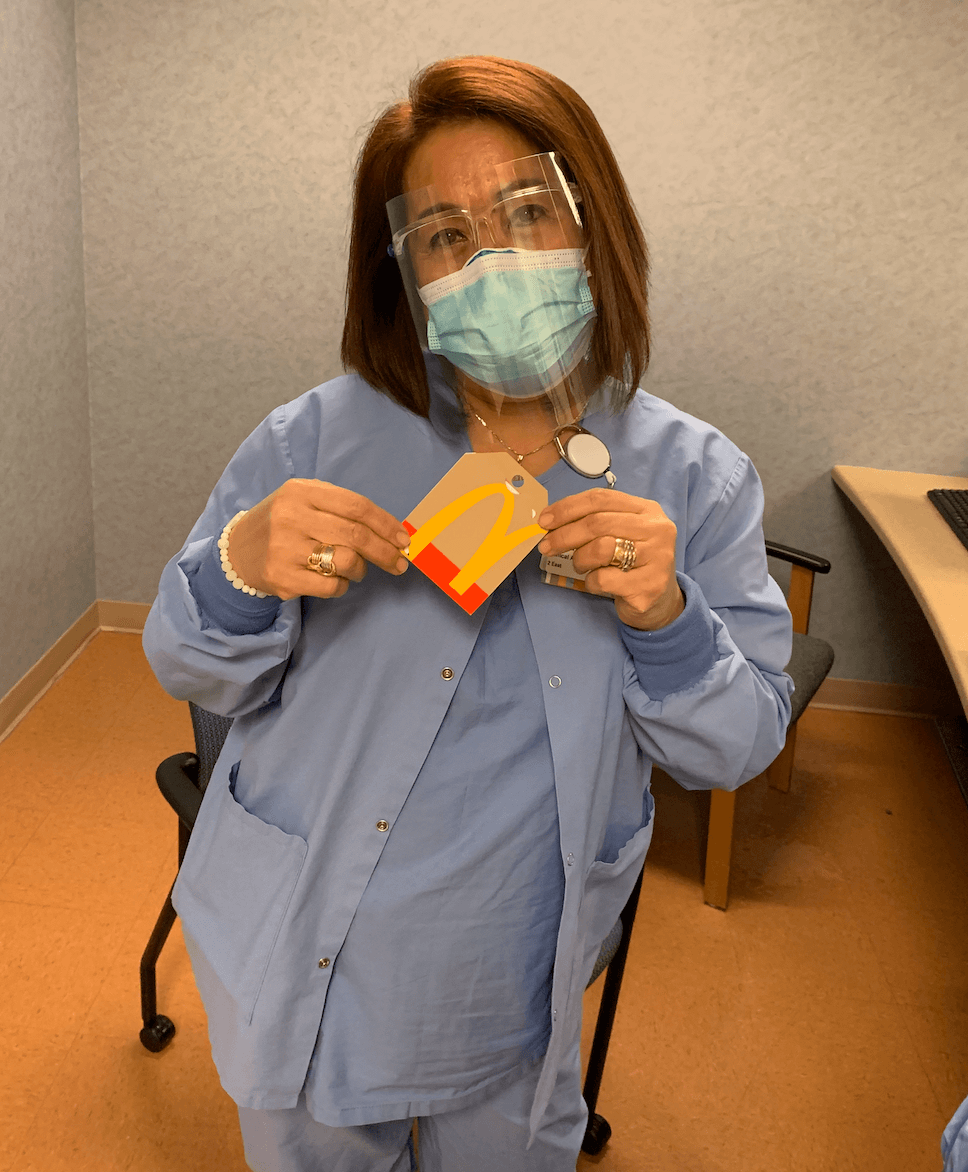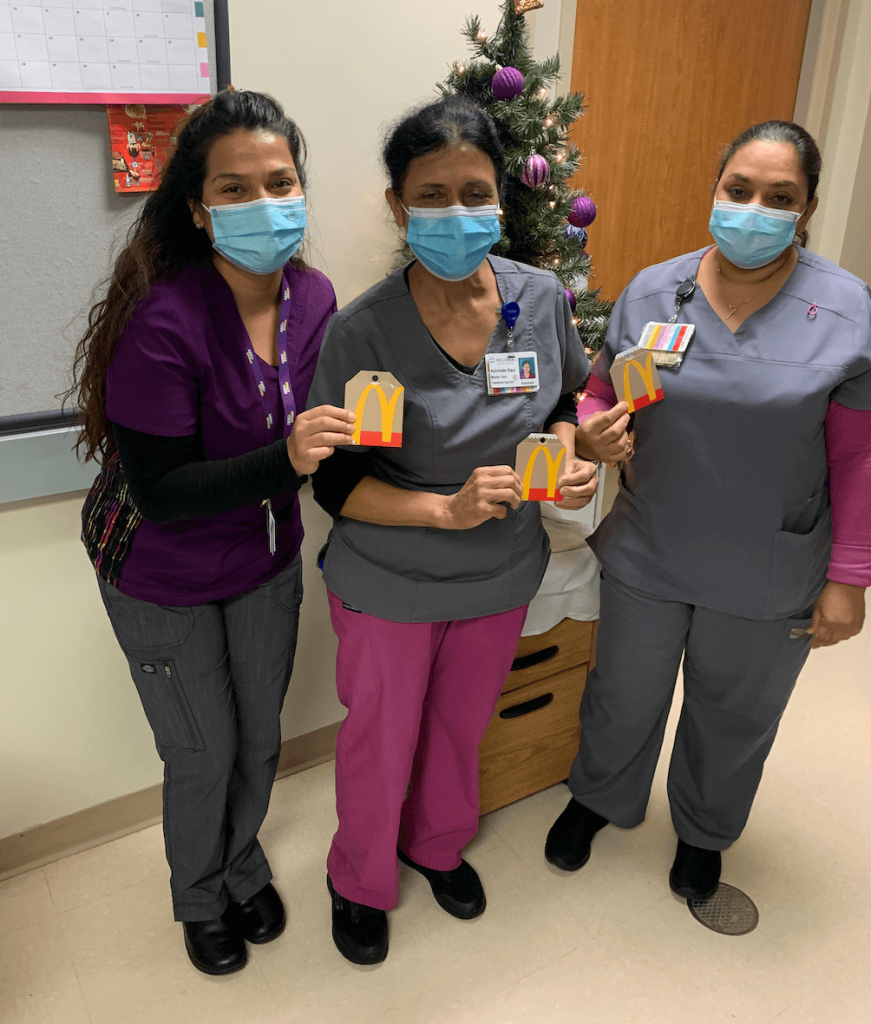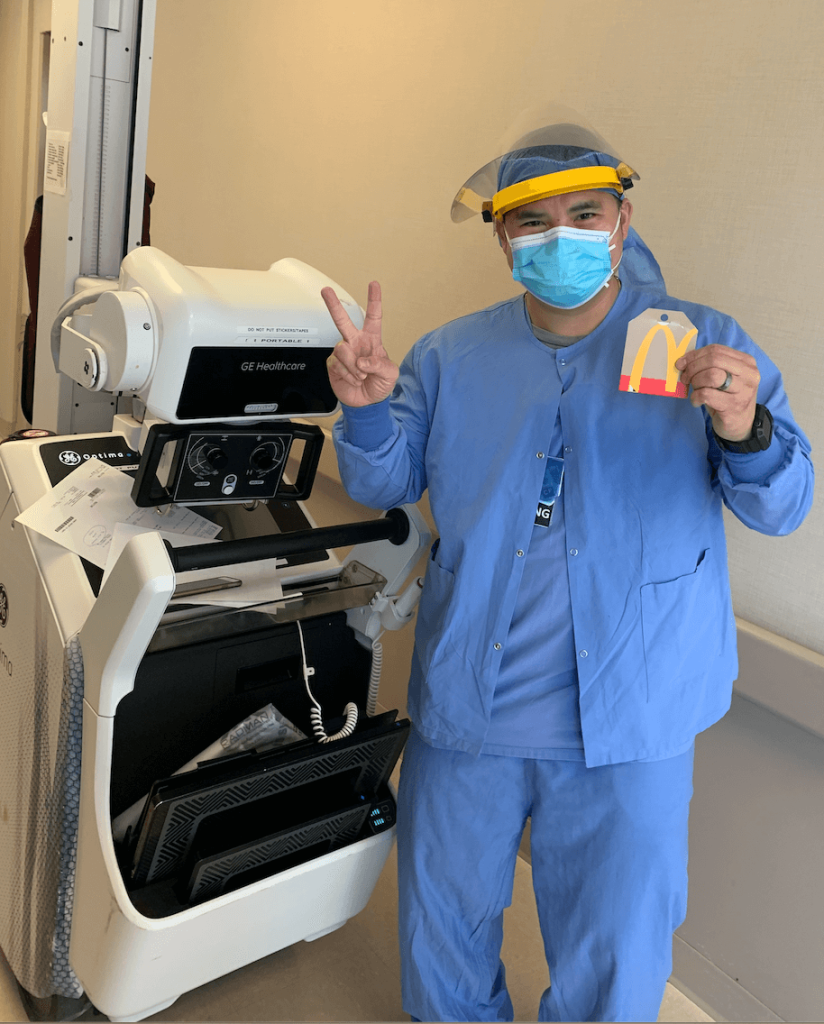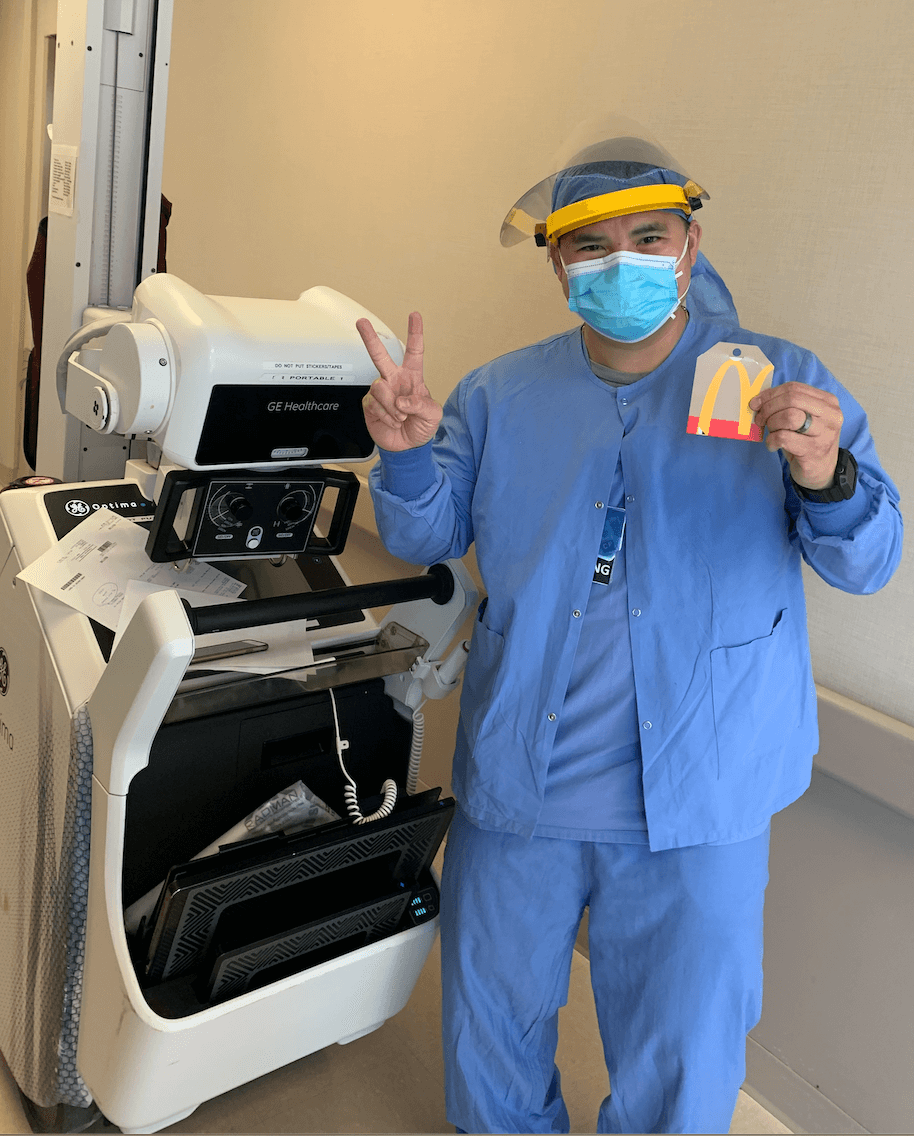 Elenita Obciana has been a dedicated charge nurse for over 30 years, and great mother to her sons Jay & Joshua, who are also nurses in Newport Beach, CA. As a small token of our appreciation for all of their hard work & long hours, MEA & Associates Insurance Agent Rachelle Cobarrubias, in partnership with MYX, TFC & McDonald's, provided arch cards to the family that they redeemed for Salamat (Thank You) meals. We hope all of our recipients including the Obcianas enjoy more family time together during the holidays.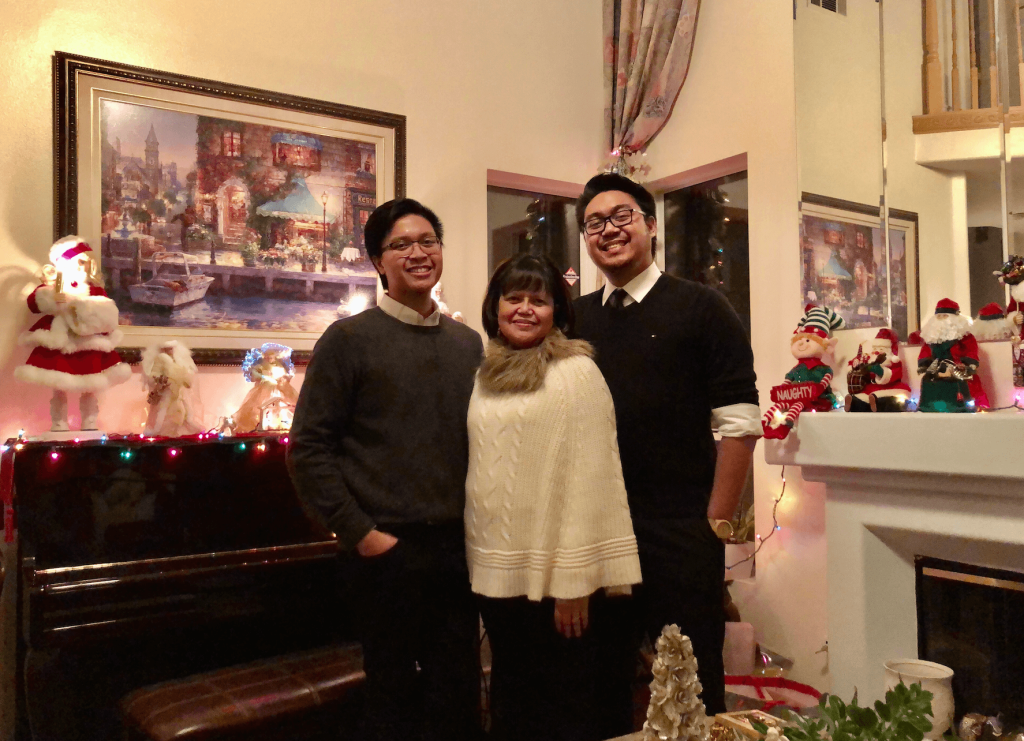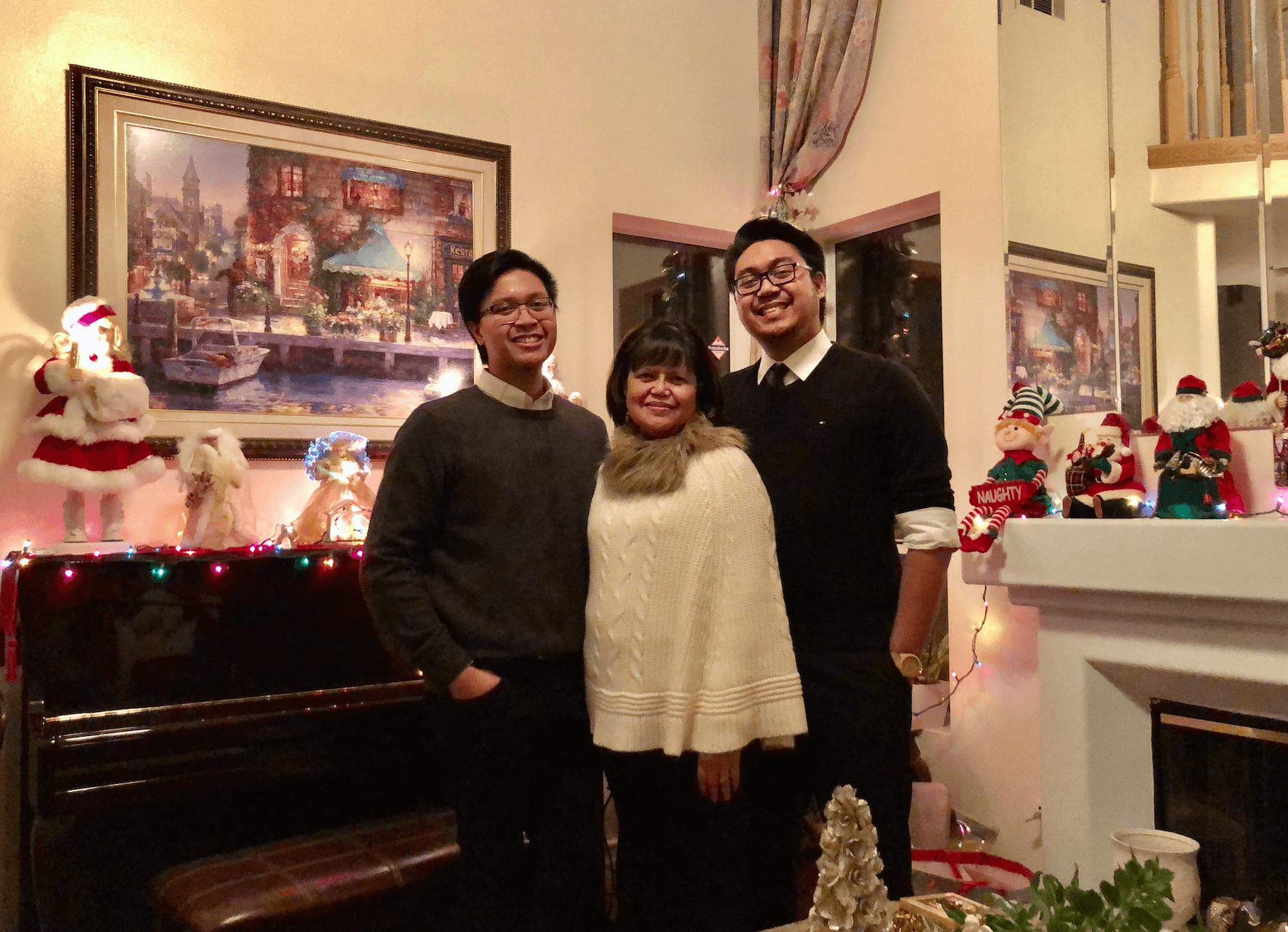 Watch the Balitang America interview below with Filipina nurse Lotta, who oversees frontline workers in one of the first Bay Area counties to get hit by the coronavirus recruits McDonald's in thanking her staff for their sacrifices. Rommel Conclara has this story.
For more info, visit myx.global/frontliners.