The 2023 Grammy nominations are here and your favorite songs and artists are dominating the list. The 65th annual Grammy Awards will be held on February, 5th at Crypto.com Arena in Los Angeles. Beyoncé leads the with 9 nominations with Kendrick Lamar following right behind with 8 and other artists like Adele, Brandi Carlile, Harry Styles, Mary J. Blige, Future, DJ Khaled and, The-Dream all with a shot with taking an award on music's biggest night. See the full list here!
However, there's also Fil-Am artists who also made the list. H.E.R. is featured in 2 tracks that racked up nominees, one with Mary J. Blige for her song "Good Morning Gorgeous" and Kaytranada for "Intimidated." Grayson Villanueva is nominated alongside members of 4*Town from Pixar's film, Turning Red. Check out which categories these Fil-Am artists are up for.
Record Of The Year
ABBA – Don't Shut Me Down
Adele – Easy on Me
Beyoncé – Break My Soul
Brandi Carlile Featuring Lucius – You and Me on the Rock
Doja Cat – Woman
Harry Styles – As It Was
Kendrick Lamar – The Heart Part 5
Lizzo – About Damn Time
Mary J. Blige Featuring H.E.R – Good Morning Gorgeous
Steve Lacy – Bad Habit
Best R&B Song
Beyoncé – Cuff It
Jazmine Sullivan – Hurt Me So Good
Mary J. Blige Featuring H.E.R. – Good Morning Gorgeous
Muni Long – Hrs & Hrs
PJ Morton – Please Don't Walk Away
Best Dance / Electronic Song
Beyoncé – Break My Soul
Bonobo – Rosewood
David Guetta & Bebe Rexha – I'm Good (Blue)
Diplo & Miguel – Don't Forget My Love
Kaytranada Featuring H.E.R. – Intimidated
Rüfüs Du Sol – On My Knees
Best Song Written For Visual Media
Beyoncé – Be Alive
Carolina Gaitán – La Gaita, Mauro Castillo, Adassa, Rhenzy Feliz, Diane Guerrero, Stephanie Beatriz & Encanto – Cast – We Don't Talk About Bruno
Jessy Wilson Featuring Angélique Kidjo – Keep Rising (The Woman King)
Lady Gaga – Hold My Hand
Taylor Swift – Carolina
4*Town, Jordan Fisher, Finneas O'Connell, Josh Levi, Topher Ngo & Grayson Villanueva – Nobody Like U
Cover Photo Credit: Grayson Villanueva Instagram
Filipino Comedy Night is ready to bring you tons of laughs and have you trying to catch your breath from laughing so hard you're actually crying. Join us and Anthony Presents for fun and conversations this August 11th at the San Jose Improv and August 14th, live from Brea Improv. For both shows, doors open at 6:30pm with the show starting at 7pm. Tickets are $15 and you can purchase yours here.
We got a line up that won't disappoint from comedians to DJs like Keith Pedro, Andrew Lopez, Aivy Cordova, and DJ Icy Ice. Also making appearances are Andrew Orolfo, Kevin Camia, Norm Alconcel, Alex Retodo, and DJ Ekspoe who are all sure to bring the funny and good vibes.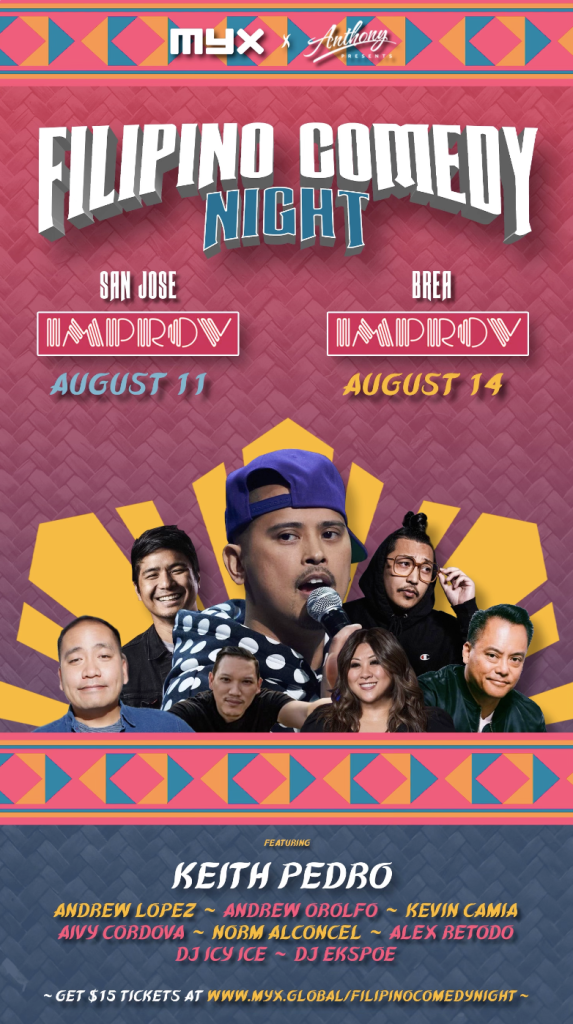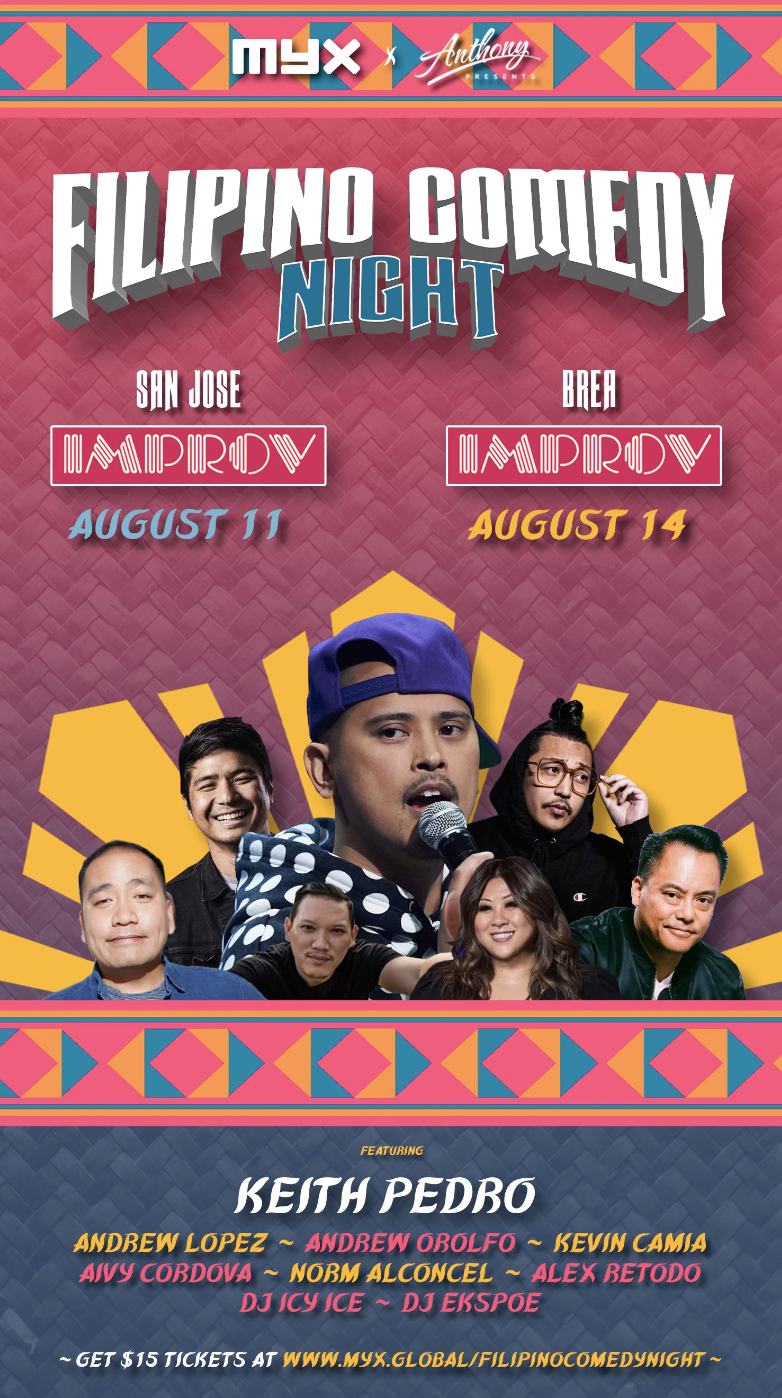 Headliner, Keith Pedro is known for his off-the-top improvisational and crowd work skills displaying his in-your-face persona and his fast-talking, smart-ass swagger. Even aside from stand-up comedy, Keith has done everything from being a part of the Sketch Crew "THE BOOM" all the way to acting on Degrassi The Next Generation, a docuseries was filmed about Keith Pedro's comedy journey on the MYX original TV series, "Making it in Canada" in 2021.
Filipino Comedy Nights and MYX Comedy Specials both fall under the umbrella of MYX Comedy Nights which features the best and brightest comedians in around the world, including comedians of Filipino descent. Join us to help us pave the way for these aspiring stand-ups and spread joy across the globe!
Filipino music group, Ben&Ben is set to take their music on the road in North America. The 8-date tour is going from the West Coast in California and all the way to New York in the East Coast with 4-dates in Canada in between.
This will be the group's first time in North America performing so they're excited to meet fans across the Pacific and have you jam with them! You may even hear their latest song, "Langyang Pag-Ibig." Don't be late and grab your tickets here!
Cover Photo Credit: Ben&Ben Instagram
Venturing off towards a new path, Bret Jackson established a music and video production company called 7640. Their mission is to bridge culture and innovation in the music industry while producing global content that's relatable and purposeful. With the launch of its official site, 7640 is a powerhouse for production, marketing, and distribution.
"By Infusing our DNA into your projects, you can take advantage of the taste and identity of 7640.  Positioning you as strong advocates of tasteful innovation, authentic talent, and branded creativity. Go beyond the commercial norm and be part of the ever-progressing culture and narrative."
As it looks, Bret Jackson is the Founder and Creatives Head of 7640, Inc., but it was also co-founded alongside Isagani Palabyab, Mic Palabyab, Liz Jao and Archie Carrasco. Bret began his artistic profession in 2011, and since then has piloted major projects. He previously was the co-founder and former A & R of Careless Music, but also worn hats as a creative director, record producer, and songwriter.
7640 aims to bring out the next phase of content creation and marketing to the industry. The team is a mix of underground tastemakers and culture shakers ready to elevate the music scene with cultural relevance.
Cover Photo Credit: 7640
Ylona Garcia is staying busy already. Already dropping a new single this year, she also gifts us with a new music video for "Entertain Me." The Filipino-Australian singer released a pop, sassy tune ahead of the launch for a new Filipino character in the video game, Valorant.
The music video brings us to the future to match the video game's aesthetic. Ylona channels her gammer side and we also catch a little bit of the new character, Neon who's out of this world.
The first character from Southeast Asia, Neon joins the team as Agent 19 who is voiced by Filipino voice actor Vanille Velasquez. "I am unbelievably honored, stoked and PROUD AF to announce that I am the voice of VALORANT Agent 19 NEON! This has been such a dream come true. I'm kind of at a loss right now. This doesn't feel real. I can't believe I'm really saying this right now." – Vanille Velasquez
Two Filipina women team up to create a strong Southeast Asian character in a global video game.
The track and music are fun and playful with a beat that has us dancing along. It's a different tempo from her last single, "Don't Go Changing," but just as catchy. What's not entertaining about playing your cards close in a relationship. Ylona hooks us in with this one.
Cover Photo Credit: Ylona Garcia Twitter
Christmas may be over, but we all know that Christmas is still going in the Philippines as we have one of the long holiday seasons. One thing that's for sure is that Christmas wouldn't be without music and luckily there are OPM tracks that keep us in the festive mood. Check out some of our favorite OPM Christmas songs and let us know yours.
"Pasko Na Sinta Ko"
Tuloy na Tuloy Pa Rin Ang Pasko
"Give Love on Christmas Day" ( We know that it's a cover BUT we had to throw KATHNIEL Kilig on the list)
"Araw-Araw Pasko"
"Ang Pasko Ay Sumapit"
It's Wednesday so you know what that means, another episode of James Reid and Nadine Lustre's teleseyre Till I Met You tonight at 7PM on www.myx.global/livetv. This week we're at Episode 6 and trio of Iris, Basti, and Ali team up for a new business venture. Despite their misunderstanding, Iris and Basti rush to Ali's aid when trouble brews at the resort.
To help us get prepared for a new episode, let's get in the mood for kilig with some of our top Jadine duets. Let us know which ones are you favorites or if we missed any!
"Bahala Na" from the movie, Talk Bad and You're Dead
"Hanap-Hanap" from the album, Reid Alert.
"No Erase" from the film, Diary ng Panget
"Prom" from the film, Never Not Love You
"On the Wings of Love" from the series, On the Wings of Love
"This Time" from the film, This Time
"IL2LU" from the album, Palm Dreams
"Complicated Love" from the album, Wildest Dreams
Apple Music recently released the winners to the third annual Apple Music Awards and among those who were recognized for their influence in music and global culture are Olivia Rodrigo and H.E.R. These talented musicians won Breakthrough Artist of the Year, Album of the Year, and Song of the Year (Rodrigo) and Songwriter of the Year (H.E.R.).
Olivia Rodrigo had a massive year to say the least from her debut single, "Driver's License" that took pop culture by storm to releasing her charting album, SOUR there's no stopping her. The streaming service recognized that "'Drivers License' registered the highest first-week streams ever for a debut single by an artist on Apple Music globally, reaching No. 1 on the Daily Top 100: Global chart." It also became the fastest debut solo track by a US artist to rack up 5 million Shazams.
As for the album, SOUR earned an Apple Music First Listen virtual event with fans and an accompanying interview with Zane Lowe. The album had the highest first-week streams for a debut album on Apple Music globally, with all 11 songs on the album ranked on the Daily Top 100: Global chart, as well as the Daily Top 100 chart in 66 additional countries. As Olivia takes home 3 Apple Music Awards, she talks about her surreal journey so far. "I did my first interview for 'drivers license' with Apple Music, and so much has happened since then," Rodrigo said. "It's truly surreal. Thank you to Apple Music for these amazing awards."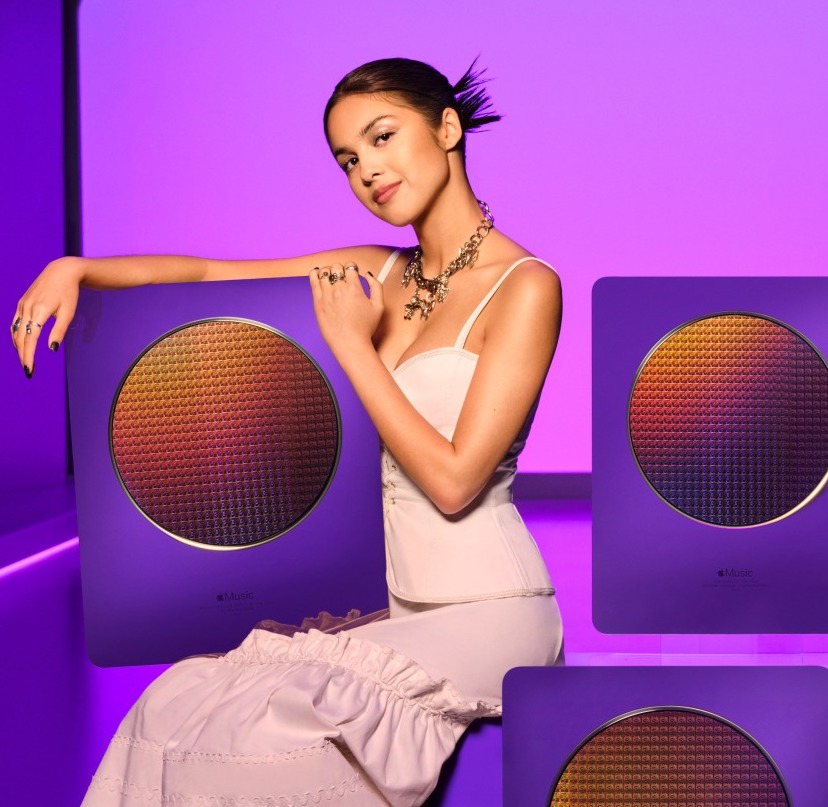 H.E.R. equally had a monumental year from winning a Grammy to an Academy Award, she's been a pioneer in her craft. The 2021 album, Back of My Mind captured H.E.R. as an artist that's "brilliant, confident, and freewheeling." Apple Music highlights that the chart-topping album was the third most streamed R&B/Soul album on Apple Music in its first week of release by a female artist. The singles "Damage" and "Come Through" (featuring Chris Brown) both spent weeks on the Daily Top 100 chart in over 30 countries.
She also collaborated the streaming service for the exclusive "Juneteenth: Freedom Songs" compilation covering Marvin Gaye's "Inner City Blues (Make Me Wanna Holler)." As H.E.R. guests on various Apple Music 1 shows and playlists, she recognizes how important the recognition is in diversifying music as a whole. "I am very honored and blessed to receive this recognition. As a young Black and Filipino artist, and a woman who is on the stage giving my all, there's no doubt that representation is important. Thank you so much, Apple Music."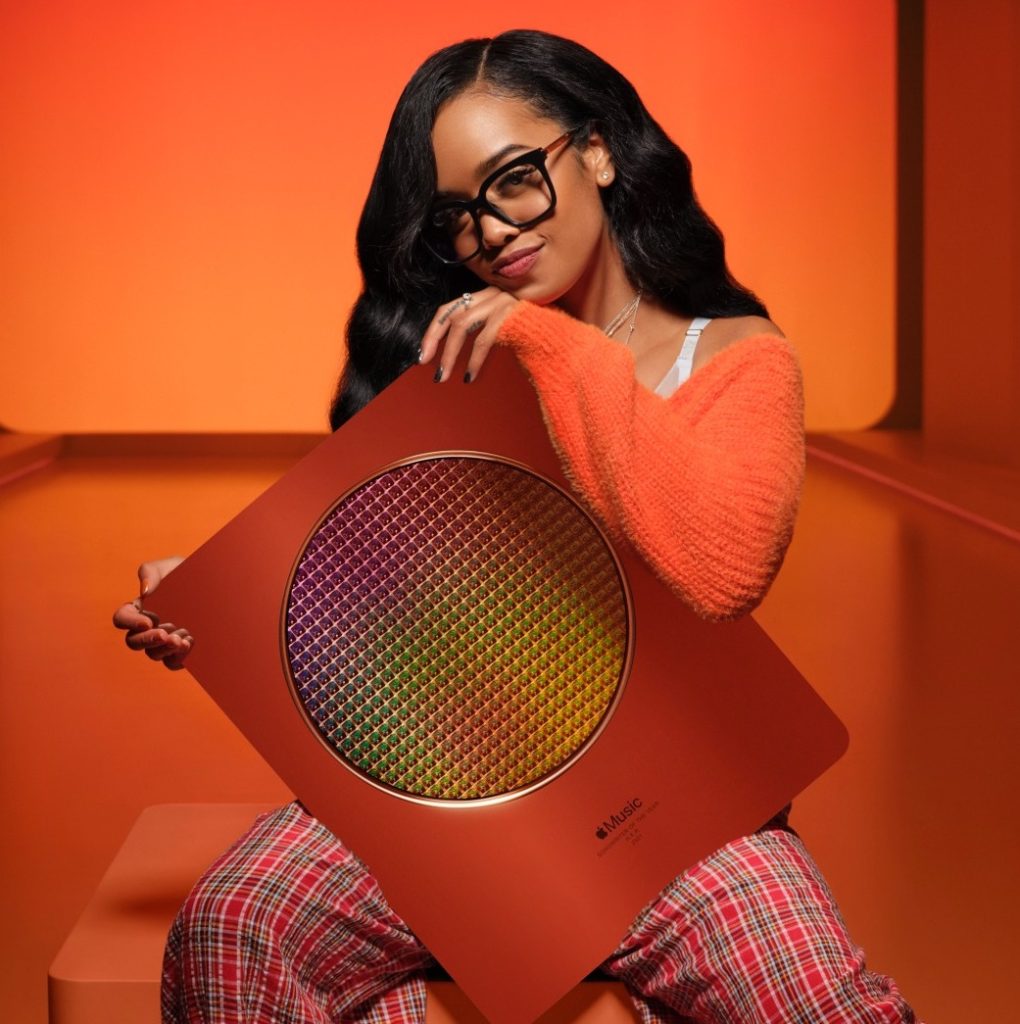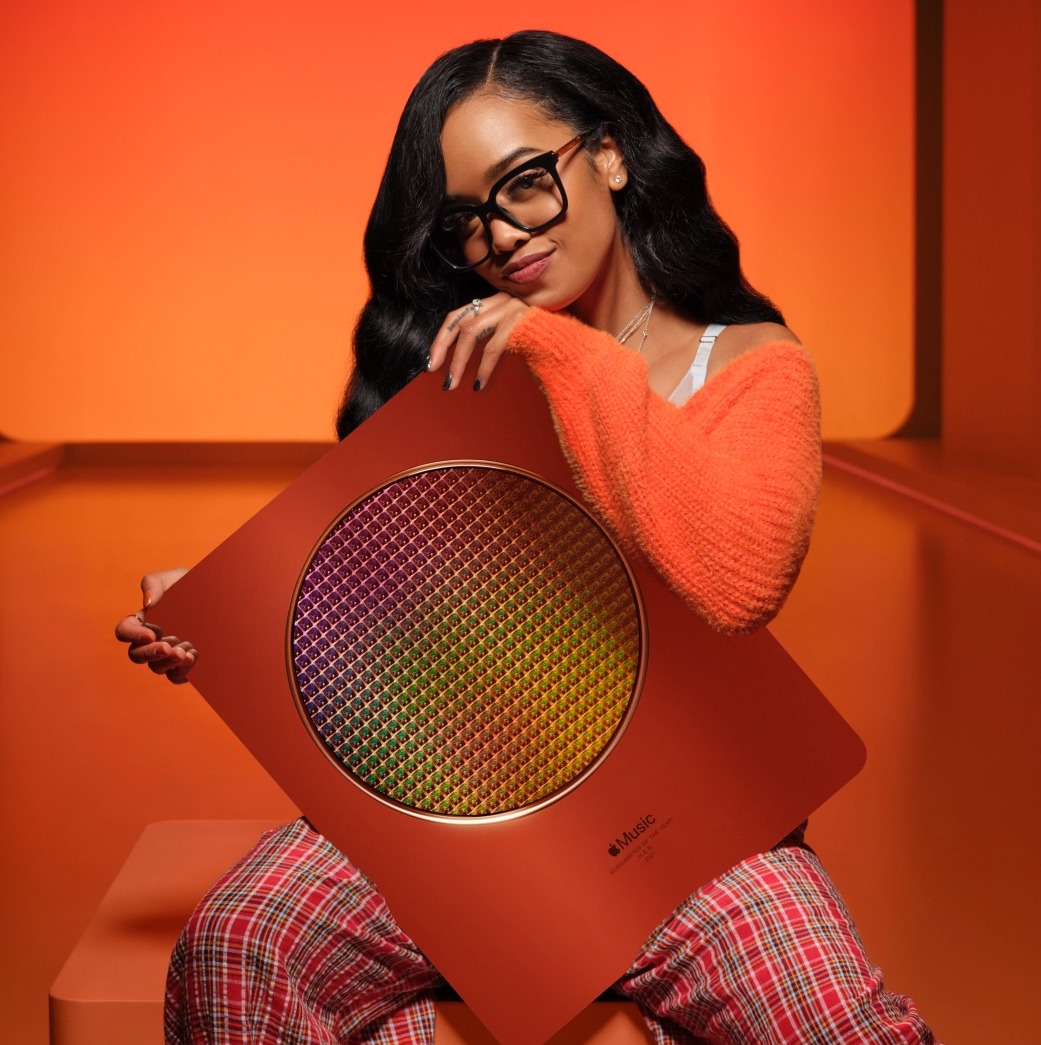 Check out the complete lists of winners here.
Cover Photo Credit: Apple Music Facebook
This is the week we've all been waiting for, 1MX is happening in a couple days! We got a few more artists to highlight to help you get geared up for this weekend. Jayda is a young and upcoming artist who is taking the her career by storm. She has a great lineage of musicians in the family so it's only natural that she has taken part in the family business.
Jayda is the daughter of 2 OPM legends.
It's no biggie that her parents are OPM artists Dingdong Avanzado and Jessa Zaragoza. IYKYK and you've probably sang a few of their hits on karaoke. But now, she's set to make her own mark in the industry as a musician, director, and composer.
2. Only early in her career, Jayda is already racking up awards.
In 2019, she won best performance by a new female recording artists for the song, "Happy For You" at the AWIT Awards 2019.
3. Not only is she coming up with the hits, but Jayda's is also receiving recognition internationally
She bagged the Best Music Video Award for the OPM song, "Paano Kung Naging Tayo" at the most recent International Film Festival Manhattan. Speaking of international, Jayda also just headlined her first major digital show, "Jayda in Concert" that attracted viewers globally!
We're watching her break into the industry and we can't help but follow her on the journey!
Cover Photo Credit: Jayda Twitter
Zephanie and Ian Pangilinan add to kilig season with their cover of "Rewrite the Stars" from the film, The Greatest Showman. The song originally done by Zac Efron and Zendaya, Zephanie and Ian put their own original spin with a soulful cover and whimsical visual of the popular song from the soundtrack.
Zephanie was recently invited to the Now United Bootcamp early this fall as one of the global talents to join. She definitely made her presence known with her fantastic range and performance skills throughout the camp. Check out more on the camp here!
Cover Photo Credit: Cornerstone Entertainment Twitter
Bella Poarch, the social media sensation who's taking the music industry by storm. She graces the cover of this month's issue of NYLON Manila and shows she's more than just a social media star, but a serious artist ready to show the world what she's got. In the feature, Bella shares her personal story of what they called A Series Of Unfortunate Events, but also how she was able to rise above it all. Here's some highlights from the issue.
Bella treats music and songwriter as her love letter to herself and the art.
If you didn't know, Bella has been singing all her life. She can belt out a Beyonce song or a Tagalog song like Hanggang Ngayon. However, creating her own music has been a different journey than performing other artists' songs. Bella shares how it's a personal journey for her to make music as it's been a way to cope with anxiety She shared, "Music has always been a huge part of my life. It calms me like it when I'm anxious. It helps me a lot and now that I'm making music, it helps me express myself."
She wants to help bring mental health awareness to people
Bella doesn't shy away from sharing her traumatic past, but she does admit that it's hard for her to open up to people. She wants to send the message that it's okay to ask for help and tell people you need help. Bella also had music to turn to and now wants to share the same message with her audience. She held on to hope and wants her audience to do the same. "…I feel happy that I get to share that to my audience. And sharing music, I feel like it's the best way to share a message."
Bella grew and found more of herself when she enlisted for the U.S. Navy
Although her time in the Navy was far from perfect, she painted a picture of her grit and determination by sharing, "The Navy taught me a lot of things. You can be the tiniest person in the room, and you can still carry the biggest… machine guns." Bella does suffer from PTSD from her time in service, but she was able to hang on to her music. After signing up for the division choir, performing as a soprano for boot camp ceremonies, it gave her a sense of peace and happiness. "It was just a whole day of me singing…I was really, really happy."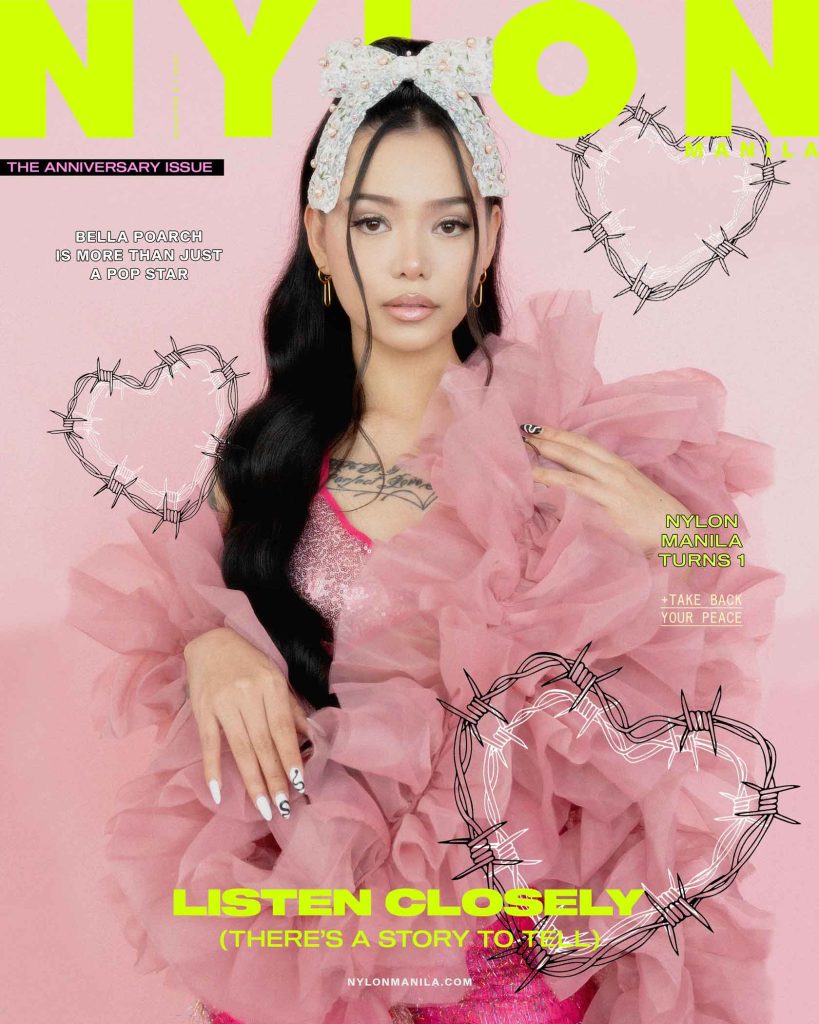 Perfection is overrated, Bella aims to be herself
With all the followers, views, and hits, Bella admits there's pressure in getting things "perfect." However, she's now aiming to dismantle the concept of perfection. "When I put out music or when I post a picture, I just want it to be me. If I'm myself, that's so much better than trying to be perfect, because we can't please everybody. And what is even perfect, you know? Someone could see you as a different person."
Her proudest moment so far is still being alive
Bella Poarch shows everyone that although life can throw things your way, it's still possible to overcome it all and thrive. She won't be going down without kicking, screaming or in this case singing, and making sure she tried her hardest. Now, coming out of it on the other side, she looks to also encourage others to do the same. "It makes me feel happy that I have young audiences and they can look up to me. I want to be a good example, and yeah, that's why I open up a lot when it comes to mental health and that kind of stuff. And that's why I put out important messages through my music."
Catch the whole feature on nylonmanila.com where Bella talks about loads more like what's next for her and she continues to tell her story to help others.
Cover Photo Credit: NYLON Manila
Massiah releases his final track of the year with "Higher" which rounds out his trilogy compilation. The Dumaguete City native and certified island boy raps about his day-to-day hustle, but with an appreciation for life and all its pleasures.
We catch a glimpse of missing sitting high overlooking his hometown of Dumaguete City then taking a spin around his go-to spots in his city. One of the aspects of the track that surprised us is the tempo change because it brought a different energy to the song. Massiah lets us know that all we need is good music, friends, and vibes to lighten our mood and appreciate life.
Massiah pushed out 2 previous singles in the last few weeks from "Stay With Me" and "Paid for It." Could we possibly see an EP coming in the future? For now, catch up on Massiah's 3-part series Novel Trouble with Episode 2 where he chats with Lux Valor, owner and resident witch of House of Hecate, as they make candles and do a tarot card reading.
Cover Photo Credit: Careless Music Twitter