Inaugural Complex Philippines Council member and 88rising/PARADISE RISING affiliated artist CA Christian Alexander is back with a new release. "Right Back" is a seven track mini R&B album that features a curated selection of both old and new songs from the NYC native and currently Manila-based lyricist/songwriter.
Sonically, "Right Back" showcases CA's signature songwriting talents and his ear for catchy melodies, caption worthy lyrics, and playback worthy punchlines. Throughout the project, the Filipino-American musician seamlessly switches between rapping and singing, sometimes even on the same track.
"I took most of 2022 off from rapping. To be honest, I attended 88rising's HITC Festival as an audience member in December 2022 and that experience of being surrounded by my peers is what really sparked a fire in me to make music again. For the next few weeks, I turned to music as my creative outlet again and we packaged some of the new songs that I was excited about with some unreleased songs I had in my vault so that they wouldn't go to waste."
"Right Back" also introduces a more vulnerable side to the self-proclaimed "Black Hearts" artist. The 20-minute playlist narrates a theme all too familiar to "relationships" in 2023: on and off situationships, toxicity, trust issues, vice-fueled lust and intimacy, and more.

One of the clear standout records on "Right Back" is "Sides" with Kiana V, the album's lone guest appearance. The song features the two PARADISE RISING alumni acts collaborating on a track that's definitely giving classic 2000s R&B vibes. In true Y2K fashion, both artists even share a back and forth segment to end the track.

Another standout record is the title track "Right Back," CA floats on the wavy beach-inspired production before performing our favorite chorus on the album: "Let me tell you sumn / Girls just wanna have fun / Girls just wanna get drunk / On the weekends, we can 100 on the freeway, yeah / Money on the way, he say, she say, yeah / City where the team stay, everybody eats, yeah yeah."

In addition to these two tracks, "Right Back" also features a popular South Border sample on the appropriately titled "OPM Freestyle (Interlude)." "South Border's 'Rainbow' was one of my favorite OPM songs growing up and I had the idea to sample the track in 2020 and Gelo was able to bring my vision to life," CA shared. "This track means a lot to me because it's important to me as a Filipino-American living in Manila to pay homage to the music and culture here."
"Right Back" also included "No Complications" is a fun song where the smooth songwriter flexes his 'w rizz,' while the contrasting "No Title" serves as the perfect canvas for the MC to deliver his hardest hitting rap verses on the tape. The intro ("DNS") acts as a trippy leadoff track to start off the project sonically and the outro ("SPF") serves as an upbeat Afrobeats inspired vibe that finds the artist right back in the nightlife looking for company.
ABOUT CA
CA Christian Alexander is one of the most sought out names in the global Filipino music scene. The NYC native and currently Manila-based lyricist/songwriter has earned a reputation for his versatility in the Rap and R&B genres due to his ear for catchy melodies, caption worthy lyrics, and playback producing punchlines.
Since moving to the Philippines, the artist's talent has been recognized and co-signed by some of the biggest names in the industry. For example, CA has previously been featured in 88rising's PARADISE RISING "semilucent 2" EP and the inaugural Complex Council class recently launched by Complex Philippines. Christian Alexander is one of the pioneers bridging the gap between the Philippines and the world.
"I almost retired from music in 2022 and throughout that whole experience, all I could think about was all of the unreleased songs that I never dropped. Now that I'm back to making music, one of my goals is to share as much of my art with the world as possible and hopefully I can inspire others to do the same."
CA Christian Alexander plans to release music all of 2023, starting with "Right Back," a mini R&B album released March, 16 2023.
Bay Area artist, Ashley Mehta is currently on the road with Thuy for the "Girls Like Me Don't Cry" Tour but she's also busy promoting her new single, "I Wish I Didn't Love You." The banger also landed her on Spotify's Pop Fresh Finds Chart. We can't wait to see what else she has up her sleeves, but we'll take what we can get right now.
Check it out on all streaming platforms!
Cover Photo Credit: Ashley Mehta Instagram
Actress and singer, Vivoree released her new music video for the song, "Matapang." The magical fairy tale-themed video was directed by Karlo Calingao, composed by Danielle Balagtas, and produced by Ashley Aunor. It's available to stream on all plaforms.
"It's a song about being brave in love. Let's say may gusto ka sa isang tao or mahal mo yung isang tao, nung una 'di mo alam kung paano i-express [yung feelings] at takot ka pa. Pero in the long run, you'd have the courage to admit to yourself na 'okay gusto ko itong taong 'to,'" Esclito said in a statement.
The former "Pinoy Big Brother" housemate wrote her first single "Kaya Pa" which was released in 2016 while inside the "PBB" house. Last year, Esclito teamed up with Jon Guelas for the duet version of "Did I Let You Go." Aside from her music career, Esclito also starred in different shows such as the IWantTFC series "Hello Stranger," "Tara, G!" and "He's Into Her."
Cover Photo Credit: Vivoree Instagram
Ed Sheeran is set to release his new album '-' (Subtract) – the last in his decade-spanning mathematical album era – on 5 May 2023 through Asylum/Atlantic. An album that revisits Ed's singer/songwriter roots, and one that was written against a backdrop of personal grief and hope, '-' (Subtract) presents one of the biggest stars on the planet at his most vulnerable and honest.
Ed shares that writing songs is his form of therapy, "It helps me make sense of my feelings. I wrote without thought of what the songs would be, I just wrote whatever tumbled out. And in just over a week, I replaced a decade's worth of work with my deepest darkest thoughts."
Life had other plans for the award-winning singer-songwriter. He was dealing with a lot personally as within the space of a month, his pregnant wife was diagnosed with a tumour, with no route to treatment until after the birth. His best friend Jamal, a brother to me, died suddenly and I found myself standing in court defending my integrity and career as a songwriter. He felt the emotions of fear, depression and anxiety.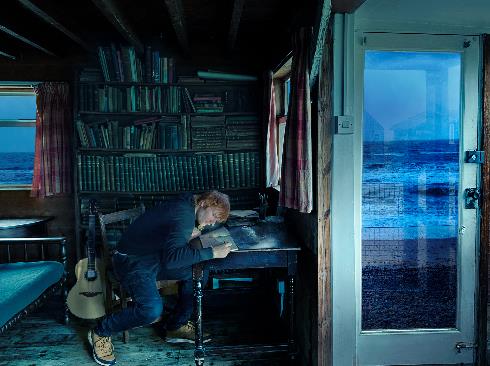 Since he first learnt 'Layla' by Eric Clapton on guitar at the age of 12-years-old, Sheeran's love of the singer/songwriter began. Growing up with the likes of Damian Rice, Bruce Springsteen and Bob Dylan playing on repeat in his parents' house – artists that his dad, John, introduced him to – '-'was always on Ed's horizon. Yet as the songs and writing process took on a whole new meaning and direction after a series of hard-hitting events impacted Ed's world in 2022, one thing that remained untouched was his strong desire to make a record anchored in his love of singer/songwriter compositions. And now, as he gears-up for the release of his most soul-baring work to date, '-' serves as a timely reminder for why Sheeran remains one of the most gifted lyricists of his generation; an artist who breaks down his own experiences for fans to seek comfort and belonging.
"I felt like I was drowning, head below the surface, looking up but not being able to break through for air. As an artist I didn't feel like I could credibly put a body of work into the world that didn't accurately represent where I am and how I need to express myself at this point in my life. This album is purely that. It's opening the trapdoor into my soul. For the first time I'm not trying to craft an album people will like, I'm merely putting something out that's honest and true to where I am in my adult life.This is last February's diary entry and my way of making sense of it. This is Subtract."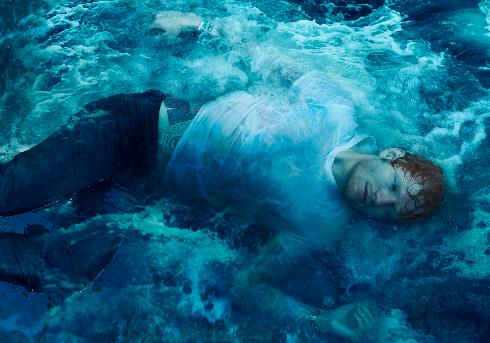 '-' is the result of Sheeran pushing the boundaries of his songcraft, as he delivers the most profound songwriting of his career. Teaming-up with Aaron Dessner (The National) on writing and production after the pair joined forces following an introduction from mutual friend Taylor Swift, Ed and Aaron began crafting the album in February last year. Writing over 30 songs during their month-long studio stint, the album's fourteen tracks are seamlessly tied together by exquisite production from paired back, folk-leaning textures to bolder, full-band/orchestral arrangements.
Ed Sheeran burst onto the UK music scene in 2011 with his debut album '+'. Rapidly establishing himself as a history-making artist, he followed with 'x', '÷', 'No.6 Collaborations Project' and '=' – a catalogue that has seen Sheeran become one of the world's biggest musical success stories of the 21st century.
'-' (Subtract) Tracklisting:
Boat
Salt Water
Eyes Closed
Life Goes On
Dusty
End Of Youth
Colourblind
Curtains
Borderline
Spark
Vega
Sycamore
No Strings
The Hills of Aberfeldy
Cover Photo Credit: Warner Music
Young singer-songwriter Mizael continues to leave his own mark on the local music scene with the release of his sincere acoustic pop single, "Dahan-Dahan" under Universal Records Philippines. "Dahan-dahan" follows his previously released love song "Wag Naman" in 2021. Right now, Mizael is taking his time performing in different gigs around the metro with the help of his artist management team, Soupstar Entertainment.
Talking about this new single, the artist says that it's about a person who loves someone so much but at the same time, feels like it's already time to let go of that person — deliberately, little by little, and slowly but surely. 
Encapsulating the melancholic vibe of the song is a newly released cinematic official music video that will surely touch the viewers' hearts, just in time for Love Month!
Mizael's "Dahan-dahan" is included in both Fresh Finds and OPM Rising playlists on Spotify. Stream it now!
The latest music video from Ez Mil, "Up Down (Step and Walk)" is a collaboration between the rapper himself and Creative Director & TRYBE founder Phil Tayag. The song first premiered at the NBA LA Clippers vs. Utah Jazz halftime performance and was well received with millions watching the performance live or online.
The visual art focused on dance and he was excited to work with the award winning choreographer who's also worked with Bruno Mars, Anderson .Paak, and Paul McCartney. Growing up Ez was a big fan of hip hop and dance, he would spend countless hours studying dance and music videos any chance he could whether at school or in Internet cafes in the Philippines.
Ez watched countless videos of America's Best Dance Crew, where he first discovered Founding Member and Former CEO/Director of the Jabbawockeez, Phil Tayag, in their memorable performances and interviews that he would go on to teach to his high school classmates. 
Getting to work with Phil in his hometown of Sacramento, Ca was an honor to longtime fan Ez Mil. He created a unique "Up Down (Step & Walk)" movement that was showcased in the "one shot take" video that will soon go viral on Tik Tok and Instagram alongside some of the best dancers & choreographers in Sacramento and Northern California, followed by thousands on social media, including Wren Crisologo, Heatgottem, Chonkie (The Smeeze Creator), Koncept and of course SACBxY himself, choreographer, music director and producer Phil Tayag of TRYBE. 
Cover Photo Credit: 1587 Marketing
See this latest performance by singer-songwriter Moira, "Babalik Sa'yo" on the Wish 107.5 Bus. She was accompanied by her full band from percussion, to the keys, and guitars. The pop-soulful track shows off her soothing vocals that will instantly put you in a good mood and make you feel the kilig. If we could listen to her sing all day, we would.
Listen to her smooth melody and runs that will keep you replaying the performance. Watch it down below!
Cover Photo Credit: Moira Instagram
The P-pop group, ALAMAT is back with a new music video for the track, "Maharani" off their EP, Pasulong. The word maharani translating to "queen," the song was produced and written by singer-songwriter, Thyro Alfaro. The group look to combine genres and Filipino sounds into a cohesive tune.
Fusing neo-soul with traditional southern Philippine music, it infuses a R&B and trap vibe using instruments like kanun, gamelan, gangsa, and byeon. The meaning behind the song looks to take a spin on modern romance, "contemporary musical masterpiece that blurs the line between archaic and current."
The video video taps BINI member, Jhoanna and Viva Records' Migo Valid for special appearances and leading ladies. Catch the members of ALAMAT show us how a queen should be treated.
Cover Photo Credit: ALAMAT Instagram
The Tarsier family is growing with their newest addition and signed artist, Viñas Deluxe. The RuPaul's Drag Race Philippines alumni gained popularity on the show for her comedic punchlines, gags and big smile, which earned her the title of Pambansang Bunganga. Now, she's venturing out to music with her upcoming single, "I'm Feeling Sexy Tonight" out January 27th,
Her social presence earned herself a loyal following with her campy looks and entertaining content. It makes her a standout in the industry with her fun personality, fabulous looks, and talent.
The track is fun, sexy, flirty, and remake of the 80's hit. She adds her own flavor with a modern twist, making it more edgy and sexy. She wants her listeners to know that you could feel sexy no matter what.
The goal is to help everyone feel empowered because she believes the more empowered you feel, the sexier you become. It's all about inspiring people to feel the best they are. Save the track and listen this Friday!
Cover Photo Credit: Tarsier Records
It's only halfway through January and Fil-Canadian duo, Manila Grey already released a new track to kick off the new year. Their latest track, "Comfortable in Silence" is a lo-fi hip hop track that is for any mood whether you need a chill vibe, something to jam to, or cruise along to.
Check out the acoustic vibe for the video performance where Neeko and Soliven jam along to the track which also featured producers, azel north and Nxsty. Let us know what you think in the comments!
Cover Photo Credit: Manila Grey Instagram
The Aussie-Filipina artist, Jess Connelly released a new track in early November called, "2AM." We all know when we're up late, we tend to overthink and our thoughts are racing. In this new song, she shares her own 2 AM thoughts and explores that "what-if" relationship. After dropping the track, she's back with a brand new music video.
The R&B and soul singer has been dropping singles this year and the track marks her 7th release of the year. There's still more to come from Jess as she drops brand new music again soon with "Bittersweet" by the end of the week.
"2AM" was produced by Ervin Garcia and DreEazy.
Cover Photo Credit: Jess Connelly Instagram
After the Noon Records proudly presents their  newest single entitled "Meet Me at Sunrise," written  by Arthur Tan and Lesha, with music by Tan and vocals by Lesha. The track delivers a new take on a breakup song and by channeling an upbeat banger and that brings the singular crucial realization, "You are not the  same no more." 
Once you press play, there's no stopping the groove. Listeners will know they're in for a treat. "Meet Me at Sunrise" starts on an introspective note as Lesha laments, "I  thought about all the times we used to get along."  As the track progresses and the instrumental grows,  she becomes more confident in herself, concluding:  "Now I'm just thankful that I never even tried to stay." 
It's rare to find breakup songs that sound warm and enlightening, and that's exactly what Tan achieves with his charismatic music production. He brings buoyancy to the concept with his light snare rhythm and simple piano-synth track. Along with Lesha's  seductive vocals, the uplifting rave tune balances out  its heart wrenching message. 
"Meet Me at Sunrise" successfully conveys that feeling of post-separation consolation. Whether or not you've experienced that feeling, the song's overall hopeful energy will have you rooting for anyone going through that similar situation.  
It's safe to say that Arthur Tan and Lesha will bring their own novelty to the table in this instant DJ classic; a sure bet to get everyone (including those with broken hearts) back up on their feet. 
"Meet Me At Sunrise" will be available for streaming  on November 25, 2022, on Spotify, Apple Music, Tidal, and Amazon Music.
Cover Photo Credit: After The Noon Records