SOS continues to explore new directions and expand their repertoire with their latest track, "Roses," the second single from their forthcoming EP.
"Roses" is the follow-up to last year's "Seryoso," the band's first Filipino-language track which starred award-winning actor Jericho Rosales in the accompanying visual. Both will be part of the upcoming EP, which marks SOS's first release under local label Careless Music.
The single dovetails SOS's renewed approach to songwriting and music production, which they started delving into in 2020's The Other Side EP after they announced the band's name change from She's Only
Sixteen last year.
"'Roses' is a little more intimate than most of our songs," explains vocalist Roberto Seña. "It has a feeling of lushness that I always aim for when producing songs lately. It's rare that we write a love song that is free from the angst and jadedness that I think we have become known for." Seña adds the production was inspired from the 1980s, incorporating synths and guitar work from the pop-dominated decade, but still grounded on the familiar sound fans have enjoyed from SOS over the years.
More lyrically optimistic than their pre-pandemic releases, "Roses" also continues to employ new and more varied stylistic choices reflective of the rest of the EP, with each song meticulously going through the band's "musical cutting board," shares guitarist Andrew Panopio.
Titled It Was A Moment, the five-track EP is due on September 29, 2023. The band committed to a two-week production schedule for the project, says drummer King Puentespina. "We set schedules, deadlines and did a proper pre-prod to solidify our intentions for the project. The concept of the songs revolve around the moments and the anxieties of growing up and facing these emotions."
Also following last year's major change to the Manila-based band's decade-long career is the addition of Ram Alonzo on keys. He has been a session player for SOS since their time in college and has long been considered an unofficial member.
Alonzo recalls being asked to formally join the band lineup earlier this year. "Seña asked if I was game to join the band. I only had one answer in mind: 'Hell yeah.' And then we all drank to it. I've been playing with SOS since 2014 and joining the band felt right."
"With all the different experimentation with samples, keys and synths, we thought it was about time to add a new member. In the studio, Ram glues in all our musical ideas together because of his knowledge of music theory and vast musical taste," shares Seña.
Bassist Anjo Silvoza adds, "There's so much more depth to how we sound live that I think has been missing all these years." Especially now that he felt the new EP serves as a transitional era to SOS. "We're not boxed into categories anymore, we're taking the good things we've learned from our listeners and fans and building off of that and hopefully 'Roses' and the rest or our upcoming releases will be able to stand alone."
Filipino singer-songwriter/producer Ace Banzuelo reflects on the uncertainties of romantic commitment in his new single "Pag-ibig (Meron Ba?)"—out via Sony Music Entertainment.
On the R&B-inflected, dream pop track, the young multi-hyphenate unpacks multiple reasons as to why love can be quite difficult to find. "Pag-ibig (Meron Ba) was inspired by a particular scenario in my life when I was looking for something not everyone can provide an explanation for," shares Banzuelo. "If you ask someone what love is, you will get a different answer every single time."
Produced and written by Banzuelo himself, "Pag-ibig (Meron Ba?)" effortlessly glides through bedroom synths and ethereal, minimalist arrangements, while making the kind of music that is easy to get lost in.
Ace Banzuelo also emphasized that he got to finish the track in one sitting. According to him, the second verse remains his favorite part of the song, as it explores the realistic experience of falling in love when you're young. "Sonically, the song sounds like a dream, but it's very real at the same time," the breakthrough chart-topper adds.
"Pag-ibig (Meron Ba?)" is out now on all digital music platforms worldwide via Sony Music Entertainment.
Cover Photo Credit: Sony Music Entertainment
Internationally-renowned Filipina drag artist, Marina Summers, brings on the heat and is ready for summer as she releases her second single under Tarsier Records, "ride 4 me." Marina shows a sultry, sexy side of herself with this track. This track encourages people, especially those in the LGBTQIA+ community, to explore their sexuality.
"ride 4 me" is an alluring R&B track with a sultry and infectious beat that will leave listeners grooving along. The lyrics paint a picture of a thrilling journey with a special someone. It beckons the listener to take a ride with the singer and experience a wild, passionate adventure together. The melodic vocals, irresistible beat, and fiery lyrics of "ride 4 me" make it a must-listen for anyone seeking a thrilling and emotional musical experience.
ABOUT MARINA SUMMERS
Marina Summers (she/her/hers) is an internationally-renowned Filipina drag queen, performer, reality TV star, influencer-model, producer and singer-songwriter from the Philippines. Marina is currently one of the top contenders for Drag Race Philippines, a local adaptation of the TV reality competition RuPaul's Drag Race. Marina is known for her tropical Filipina bombshell aesthetic, powerful dance performances and sultry music. She has shared how important it is for her to champion local drag and queer talent to bigger audiences. She has also expressed how she wants to be a powerful representation of queer people on local TV and mainstream media.
Right after her stint in Drag Race Philippines, Marina released her sophomore single "Divine." The track gained 10k streams in less than 24 hours. Ever since the release of the track, Marina has been actively touring different bars, clubs, hotels and restaurants to perform in drag events where she performs her track alongside her usual repertoire.
Currently, she is abroad working on an international project.
Anji Salvacion's new song "Paraiso" is a vibrant, upbeat track that will not only make you dance, but will also empower you to feel confident and embrace your own version of paradise. It expresses confidence and self-assurance with a bold and alluring turn, showcasing Anji's sophisticated side through her music. It has intricate beats and complex harmonies that showcase her musical prowess. The song is a testament to Anji's growth as an artist, both in terms of her musical style and branding.
As she steps into a new chapter in her career, Anji brings a bolder, more alluring and sophisticated version of herself. She takes her music to the next level with tracks that explore a different sound and side to Anji Salvacion.
ABOUT ANJI SALVACION
Anji Salvacion is a fresh, upcoming singer-songwriter from the beautiful shores of Siargao. She began her showbiz career in 2019 as she joined Idol Philippines in search of her missing father. She got her big break when she joined Pinoy Big Brother: Kumunity Season 10, with the moniker, "Ang Singing Sweetheart ng Siargao."
She officially entered the music industry by releasing three OSTs, "Buo" from the series Marry Me, Marry You (starring Janine Gutierrez and Paulo Avelino), "Keeps on Coming Back" from the series Unloving You (starring Loisa Andalio and Ronnie Alonte), and "Don't Be Afraid", from the series My Sunset Girl (starring Charlie Dizon and Jameson Blake), which also features KD Estrada, one of her fellow PBB housemates.
She has immersed herself in the music industry as a force to be reckoned with. Debuting with self-penned originals through her 6-track debut EP, "Kasingkasing Dalampasigan." Her debut single, "Dalampasigan" has over 2M streams across different platforms already. Her sweet and youthful nature is reflected in her music, wherein her soft vocals and acoustic instrumentals allow listeners to experience nostalgic memories as she tells her story to the world.
As she steps into a new chapter in her career, Anji brings a bolder, more alluring and sophisticated version of herself. She takes her music to the next level with tracks that explore a different sound and side to Anji Salvacion.
Maki starts off the year with an upbeat yet nostalgic track that's bound to make you want to reconnect or reminisce about a lost love. "Saan?" by R&B singer/songwriter, Maki, is the perfect anthem for any young heartbroken soul out there. The track takes you on a journey of heartbreak and longing about a love that slipped away. The lyrics express the desire to reconnect with a lost love and hoping to cross paths again in familiar places. The upbeat production, combined with Maki's heartfelt vocals, creates a sound that is fresh and current, yet nostalgic and melancholic at the same time.
Maki is the freshest face of OPM. The R&B singer has proved he's here and ready with his unique child-like view on life. His debut single, "Halaga" under Tarsier Records and has since gained over 45,000 streams across different platforms. The R&B singer wants to write songs that will make people feel understood with melodies that bring good memories, peace and calmness. His quirky personality and unique outlook on life will help Maki standout in the clutter - and this is only the beginning.
Cover Photo Credit: Tarsier Records
Inaugural Complex Philippines Council member and 88rising/PARADISE RISING affiliated artist CA Christian Alexander is back with a new release. "Right Back" is a seven track mini R&B album that features a curated selection of both old and new songs from the NYC native and currently Manila-based lyricist/songwriter.
Sonically, "Right Back" showcases CA's signature songwriting talents and his ear for catchy melodies, caption worthy lyrics, and playback worthy punchlines. Throughout the project, the Filipino-American musician seamlessly switches between rapping and singing, sometimes even on the same track.
"I took most of 2022 off from rapping. To be honest, I attended 88rising's HITC Festival as an audience member in December 2022 and that experience of being surrounded by my peers is what really sparked a fire in me to make music again. For the next few weeks, I turned to music as my creative outlet again and we packaged some of the new songs that I was excited about with some unreleased songs I had in my vault so that they wouldn't go to waste."
"Right Back" also introduces a more vulnerable side to the self-proclaimed "Black Hearts" artist. The 20-minute playlist narrates a theme all too familiar to "relationships" in 2023: on and off situationships, toxicity, trust issues, vice-fueled lust and intimacy, and more.

One of the clear standout records on "Right Back" is "Sides" with Kiana V, the album's lone guest appearance. The song features the two PARADISE RISING alumni acts collaborating on a track that's definitely giving classic 2000s R&B vibes. In true Y2K fashion, both artists even share a back and forth segment to end the track.

Another standout record is the title track "Right Back," CA floats on the wavy beach-inspired production before performing our favorite chorus on the album: "Let me tell you sumn / Girls just wanna have fun / Girls just wanna get drunk / On the weekends, we can 100 on the freeway, yeah / Money on the way, he say, she say, yeah / City where the team stay, everybody eats, yeah yeah."

In addition to these two tracks, "Right Back" also features a popular South Border sample on the appropriately titled "OPM Freestyle (Interlude)." "South Border's 'Rainbow' was one of my favorite OPM songs growing up and I had the idea to sample the track in 2020 and Gelo was able to bring my vision to life," CA shared. "This track means a lot to me because it's important to me as a Filipino-American living in Manila to pay homage to the music and culture here."
"Right Back" also included "No Complications" is a fun song where the smooth songwriter flexes his 'w rizz,' while the contrasting "No Title" serves as the perfect canvas for the MC to deliver his hardest hitting rap verses on the tape. The intro ("DNS") acts as a trippy leadoff track to start off the project sonically and the outro ("SPF") serves as an upbeat Afrobeats inspired vibe that finds the artist right back in the nightlife looking for company.
ABOUT CA
CA Christian Alexander is one of the most sought out names in the global Filipino music scene. The NYC native and currently Manila-based lyricist/songwriter has earned a reputation for his versatility in the Rap and R&B genres due to his ear for catchy melodies, caption worthy lyrics, and playback producing punchlines.
Since moving to the Philippines, the artist's talent has been recognized and co-signed by some of the biggest names in the industry. For example, CA has previously been featured in 88rising's PARADISE RISING "semilucent 2" EP and the inaugural Complex Council class recently launched by Complex Philippines. Christian Alexander is one of the pioneers bridging the gap between the Philippines and the world.
"I almost retired from music in 2022 and throughout that whole experience, all I could think about was all of the unreleased songs that I never dropped. Now that I'm back to making music, one of my goals is to share as much of my art with the world as possible and hopefully I can inspire others to do the same."
CA Christian Alexander plans to release music all of 2023, starting with "Right Back," a mini R&B album released March, 16 2023.
Ed Sheeran is set to release his new album '-' (Subtract) - the last in his decade-spanning mathematical album era - on 5 May 2023 through Asylum/Atlantic. An album that revisits Ed's singer/songwriter roots, and one that was written against a backdrop of personal grief and hope, '-' (Subtract) presents one of the biggest stars on the planet at his most vulnerable and honest.
Ed shares that writing songs is his form of therapy, "It helps me make sense of my feelings. I wrote without thought of what the songs would be, I just wrote whatever tumbled out. And in just over a week, I replaced a decade's worth of work with my deepest darkest thoughts."
Life had other plans for the award-winning singer-songwriter. He was dealing with a lot personally as within the space of a month, his pregnant wife was diagnosed with a tumour, with no route to treatment until after the birth. His best friend Jamal, a brother to me, died suddenly and I found myself standing in court defending my integrity and career as a songwriter. He felt the emotions of fear, depression and anxiety.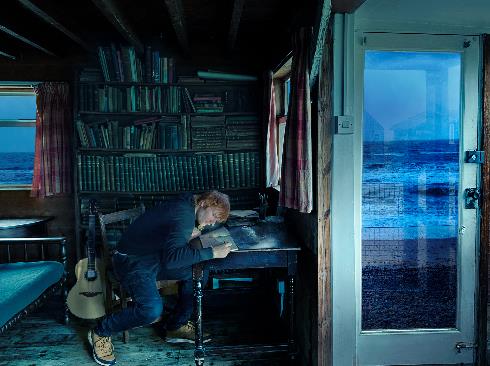 Since he first learnt 'Layla' by Eric Clapton on guitar at the age of 12-years-old, Sheeran's love of the singer/songwriter began. Growing up with the likes of Damian Rice, Bruce Springsteen and Bob Dylan playing on repeat in his parents' house – artists that his dad, John, introduced him to – '-'was always on Ed's horizon. Yet as the songs and writing process took on a whole new meaning and direction after a series of hard-hitting events impacted Ed's world in 2022, one thing that remained untouched was his strong desire to make a record anchored in his love of singer/songwriter compositions. And now, as he gears-up for the release of his most soul-baring work to date, '-' serves as a timely reminder for why Sheeran remains one of the most gifted lyricists of his generation; an artist who breaks down his own experiences for fans to seek comfort and belonging.
"I felt like I was drowning, head below the surface, looking up but not being able to break through for air. As an artist I didn't feel like I could credibly put a body of work into the world that didn't accurately represent where I am and how I need to express myself at this point in my life. This album is purely that. It's opening the trapdoor into my soul. For the first time I'm not trying to craft an album people will like, I'm merely putting something out that's honest and true to where I am in my adult life.This is last February's diary entry and my way of making sense of it. This is Subtract."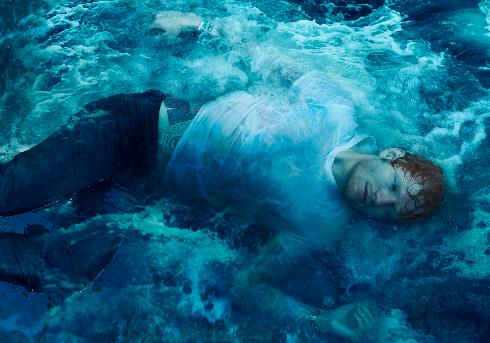 '-' is the result of Sheeran pushing the boundaries of his songcraft, as he delivers the most profound songwriting of his career. Teaming-up with Aaron Dessner (The National) on writing and production after the pair joined forces following an introduction from mutual friend Taylor Swift, Ed and Aaron began crafting the album in February last year. Writing over 30 songs during their month-long studio stint, the album's fourteen tracks are seamlessly tied together by exquisite production from paired back, folk-leaning textures to bolder, full-band/orchestral arrangements.
Ed Sheeran burst onto the UK music scene in 2011 with his debut album '+'. Rapidly establishing himself as a history-making artist, he followed with 'x', '÷', 'No.6 Collaborations Project' and '=' - a catalogue that has seen Sheeran become one of the world's biggest musical success stories of the 21st century.
'-' (Subtract) Tracklisting:
Boat
Salt Water
Eyes Closed
Life Goes On
Dusty
End Of Youth
Colourblind
Curtains
Borderline
Spark
Vega
Sycamore
No Strings
The Hills of Aberfeldy
Cover Photo Credit: Warner Music
The latest music video from Ez Mil, "Up Down (Step and Walk)" is a collaboration between the rapper himself and Creative Director & TRYBE founder Phil Tayag. The song first premiered at the NBA LA Clippers vs. Utah Jazz halftime performance and was well received with millions watching the performance live or online.
The visual art focused on dance and he was excited to work with the award winning choreographer who's also worked with Bruno Mars, Anderson .Paak, and Paul McCartney. Growing up Ez was a big fan of hip hop and dance, he would spend countless hours studying dance and music videos any chance he could whether at school or in Internet cafes in the Philippines.
Ez watched countless videos of America's Best Dance Crew, where he first discovered Founding Member and Former CEO/Director of the Jabbawockeez, Phil Tayag, in their memorable performances and interviews that he would go on to teach to his high school classmates. 
Getting to work with Phil in his hometown of Sacramento, Ca was an honor to longtime fan Ez Mil. He created a unique "Up Down (Step & Walk)" movement that was showcased in the "one shot take" video that will soon go viral on Tik Tok and Instagram alongside some of the best dancers & choreographers in Sacramento and Northern California, followed by thousands on social media, including Wren Crisologo, Heatgottem, Chonkie (The Smeeze Creator), Koncept and of course SACBxY himself, choreographer, music director and producer Phil Tayag of TRYBE. 
Cover Photo Credit: 1587 Marketing
The Tarsier family is growing with their newest addition and signed artist, Viñas Deluxe. The RuPaul's Drag Race Philippines alumni gained popularity on the show for her comedic punchlines, gags and big smile, which earned her the title of Pambansang Bunganga. Now, she's venturing out to music with her upcoming single, "I'm Feeling Sexy Tonight" out January 27th,
Her social presence earned herself a loyal following with her campy looks and entertaining content. It makes her a standout in the industry with her fun personality, fabulous looks, and talent.
The track is fun, sexy, flirty, and remake of the 80's hit. She adds her own flavor with a modern twist, making it more edgy and sexy. She wants her listeners to know that you could feel sexy no matter what.
The goal is to help everyone feel empowered because she believes the more empowered you feel, the sexier you become. It's all about inspiring people to feel the best they are. Save the track and listen this Friday!
Cover Photo Credit: Tarsier Records
Fil-British singer and artist, beabadoobee is about to have a huge year as she gets ready go on tour with Taylor Swift. However, she's been hitting the festivals in 2022 and right before the year ended, she made an appearance at the popular BBC 1 Radio Live Lounge. Many artists have come through the live lounge to perform their hits and cover some of their favorite songs.
beabadoobee performs two songs, "The Perfect Pair" off of her album, Beatopia and she also sings a cover of Vanessa Carlton's "Thousand Miles." Check them both out below!
Cover Photo Credit: beabadoobee Instagram
Do you have your favorite Filipino food? There may be a Latino food that's similar to it and may even have the same name. Jo Koy visits mitú, a digital media company that brings a Latino POV to mainstream entertainment to try Filipino dishes with host, Alejandro Perez. They swap dishes and try each other's version. Alejandro gives his feedback on Filipino dishes and Jo Koy with Latino dishes.
The two talk about the similarities and where the dishes are usually seen. They kick off with champorado which are very similar, while the polvoron and polvorones differ in texture and shape. Lastly, they try each culture's version of leche flan. The Filipino version of the flan didn't quite look like its usual, but more of a brûlée. The crossover between the two cultures just shows how connected we are. Check out the full video below!
Cover Photo Credit: we are mitú
The Fil-Am executive, Faith Santilla was previously the Director of Field Operations for the Directors Guild but was promoted as Assistant Executive Director of the organization. The Hollywood Reporter shared the news and in her new role she working on behalf of the organization's assistant directors and unit production managers members, using her experience in union and specialized labor to work.
National executive director, Russell Hollander shared how Faith's experience will be an asset for the team, "Since joining the DGA in 2015, Faith has helped to grow our field representative operations to address the unique needs of our members working in all categories." The article says, Santilla will focus on assistant directors (ADs) and unit production managers (UPMs) in the DGA's western region and will represent guild staff on the Western AD/UPM Council.
Santilla started at the DGA as a field representative in 2015 then moved up in the ranks as a special assignments executive then to the director of field operations supervising the Western Field Representative Department. Before her career at the DGA, Santilla worked as an organizer for an immigrant workers center in Los Angeles' Filipinotown and various other union organizer positions.
Cover Photo Credit: Faith Santilla Instagram