Inigo Pascual is so talented in his own right. He sings, dances, acts, and writes to name a few of his many talents. So what else is Inigo aiming for in his young, but already accomplished career? Right after Bretman Rock's fabulous cover in July, Inigo takes a stab at it and sits with NYLON Manila to chat music and fashion. Inigo talks about his journey as an artist, what's keeping him inspired, and how he pays it forward to others. If you think you know Inigo Pascual, there's more to know!
Inigo's rise started with the OPM hit, "Dahil Sa'yo" back in 2016, but he's been grinding towards his dream long before then. The talkative, hugger shares the struggles of finding his purpose and the beginnings of his career when he was still Stateside. His go-getter personality and contagious energy allowed him to try different things like sports, but music never left him. Music became his safety net or something he kept coming back to. Inigo honed his energy towards performing and realized early on his niche and confidence was in theater arts.
Finding your calling is only half the story, how to get to life's grand plan is another undertaking. As an artist starting out, it was starting to look up and stars were aligning for Inigo until things fell through from not being able to audition for X Factor to passing on a boyband project. However, things always happen for a reason but that doesn't mean you can't be sad about it. Inigo recalls, "after that didn't work out, I would cry myself every night when I was in Tennessee, I just felt like I didn't belong. I felt like I didn't know what I was doing." Eventually he found himself back in the Philippines except this time as an actor, but like he said music wasn't going anywhere. While music was already a part of his life, his source of happiness had to take a back seat to carve space for himself in showbiz. 
His musical opportunities grew after the release of "Dahil Sa'yo" which led him to make his first album. Now you see his growth in his 2021 album, "Options" and the latest track "Finding Neverland." He was performing onstage, writing his own music just like he always hoped. "With music…It was always so fun to do it. I didn't feel like I was scared to do it. I was always in that space of experimenting; in terms of what I can do with my music." Music has helped him grow up and really find himself.
So how has he been dealing with the pandemic? Creating music of course, but also loads of video calls with friends and family. Inigo shares the journey of creating "Options." "With this album, I mean, we all went through so much. It was two years in the making…but we didn't stop." Don't stop, won't stop, am I right? Lots of patience went into making this album, but Inigo also realizes he was in a fortunate position to complete the project. To that, he's opened himself up to collaborating with other artists and simply sharing space or advice. "For them to kind of choose me to be able to say, you know, advice to them, it kind of made me feel like okay, I'm doing something right."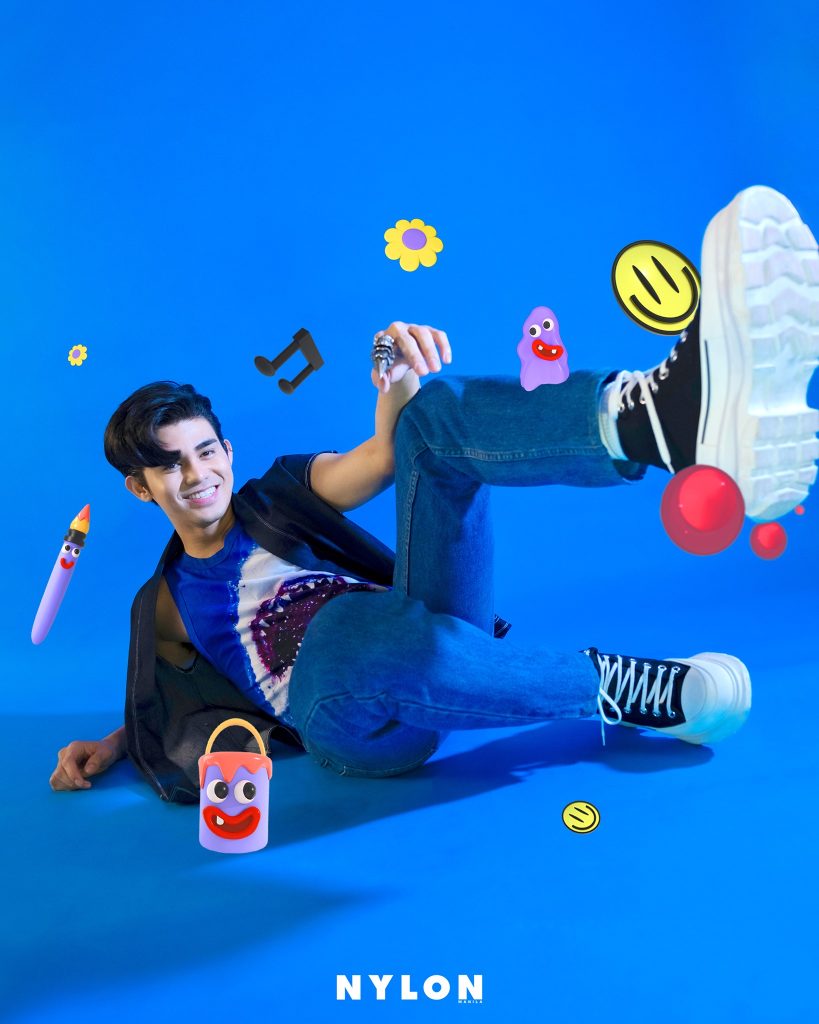 It's all a reality now for Inigo. He's performed at the Staples Center for Filipino heritage night, his songs are catching waves on KISS FM, and he's collaborating with some of the best in the game. Would he ever thought it'd happen? Sure, but it still blows this 23-year-old's mind that it did. "It's a crazy feeling to be honest, to be able to do these things like right now." Inigo takes and enjoys the ride of life. Sky's the limit for him, but Inigo keeps his next project on the down low and leaves readers with, "it's always good to challenge yourself."
Cover Photo Credit: NYLON Manila Facebook
It's a big day for Inigo Pascual as he debuts his second album Options. The album now available on all streaming platforms has 12 tracks with hits like Danger, Catching Feelings, Should Be Me, and Always. However to accompany the release of the album is a music video to the latest single, Neverland.
According to Rappler.com, "Inigo is set to "bring Original Pilipino Music (OPM) to the global stage with a refined collection of songs that he recorded with multiple producers and songwriters from Manila to California in a span of two years." The album revolves around the concept of self-discovery as he explores the options in his musical journey. The leading single, Neverland was produced by Bernard "Harv" Harvey. He's also worked with artists such as Justin Bieber, Summer Walker, Omarion, Kandi Burruss, Gucci Mane and Eminem. He's described the track as "allure of staying in the unknown" rather than deciding to stay in an "unconventional relationship."
1 Options
2 Lost feat. Moophs
3 Danger feat. Common Kings & DJ Flict
4 Love U Right
5 Catching Feelings feat Moophs
6 Neverland
7 Should Be Me Lyrics
8 Always
9 First Impressions
10 Not Him
11 Ride Lyrics
12 On my way! (Stripped)
Cover Photo Credit: Inigo Pascual Facebook
MYX Headliner of the month, Inigo Pascual, will release his 2nd album, "Options" on June 25 on Tarsier Records. Due to the delay of promotion during the pandemic, the album release date was pushed to 2 years passed it's original production. Here's a flashback of Inigo's journey since he began the process of recording the album and traveling the world to Toronto, Hawaii, London, Australia and more to promote it on the MYX original show, "The Crossover."
Episode 1: Los Angeles
Inigo met Harv in LA, January 2019 to vibe and discuss potentially working together, in February, Inigo returned to LA to record music for his new LP, Options out soon on Tarsier Records. With producer/songwriter duo Harv & Felisha, Inigo recorded 2 songs – Options and Neverland. They detail the meaning behind the song and you see the reaction of the crowd when he performs it for the first time to thousands of people for the first time at the Carson Philippine Independence Day Festival. Stay tuned for more of "The Crossover" on myxTV. Shot & edited by @charlesjgray.
Episode 2: New York
Inigo stopped by the Genius HQ in Brooklyn, New York & breakdowns the lyrics of his new song, "Options" with Mikey Fresh.
Episode 3: London
Inigo visited London for the second time to perform at London Barrio Fiesta, produced by TFC London for thousands of people in Europe. He visited BBC Radio as well and ended the weekend with a colab with UK's emerging sold-out band, New Rules, coming soon.
Episode 4: San Francisco, CA
Inigo stops in the Bay Area for the bi-annual ASAP Official Tour with the biggest artists & celebs from the Philippines and stops by radio stations 99.7NOW & 92.7FM to premier the song. Backstage at the concert he did a dance colab with Kylee Charri & Darren Espanto, a cover with Jeremy Passion, Gabe Bondoc, The Filharmonic & AJ Rafael. He caught up with Bruno Mars' choreographer/creative director Phil Tayag before his ASAP colab medley with Darren Espanto & Billy Crawford.
Episode 5:
FIA x Inigo Pascual "Love Me" & "Catching Feelings IHeartRadio Island 98.5FM exclusive medley will change your life & feed your soul. Fia swept the IslandMusicAwards last year with the chart topping single & Inigo premiered it on the biggest Hawaii TV & radio stations thanks to Romeo Valentine, Jay Park & many more! Special thanks to the "Luther Vandross" of Hawaii Josh Tatofi & Kelandy for blessing the stage as well. Hosted by Big Koa & KC of 93.9 The Beat.
Episode 6: Toronto, Canada
Inigo performs at the Taste of Manila Festival in Toronto, Canada for over 100K people in attendance, Ruby Ibarra joins Inigo on stage for a special version of "Killing Me Softly." This was Inigo's biggest international show to date.
Episode 7: Sydney, Australia
Inigo Pascual headlined the annual TFC Australia's Fiesta Kultura in Sydney, Australia. While in town he visited News Corp Australia's Daily Telegraph newspaper, SBS Radio, Rave It Up Australia & visited all the major sites like the Sydney Opera House on this episiode of The Crossover on myxTV.
Episode 8: Manila, Philippines
Traveling the world is fun, but there's no place like home. Inigo Pascual #TheCrossover returns to Manila, Philippines where his new single #CatchingFeelings is currently #1 on the Wave 89.1FM radio charts.
Episode 9: Manila, Philippines
Inigo shows us how he spends his annual birthday with children's cancer patients.
Episode 10: Anaheim, CA
Inigo performs at a sold-out concert opening for top island reggae band, Tribal Theory in Orange County.
Episode 11: Los Angeles, CA
Inigo guested on Travis Mill's Beat1 Apple Music Podcast to talk about his new music and list out his Heavy Rotation playlist.
Episode 12: Los Angeles, CA
Inigo Pascual dreamt of performing at the legendary Staples Center in LA where teams like the LA Lakers, Clippers and Kings play alongside the biggest artists in the world for an arena that fits 19,000+ people. In this episode of The Crossover, he details his dream and the moment it recently came true as he was the halftime headlining artist for the sold-out crowd in celebration of Filipino Heritage Night, following the year that members of the Black Eyed Peas and Manny Pacquaio appeared in representation. It's been a great month for Inigo, also opening the SEAGames alongside Apl, KZ Tandingan and more. He's taking it all in, excited for the opportunities that are coming in both of his homes – LA and Manila. "Tiwala" he says…
Inigo Pascual has been a rising artist breaking through the music industry. He's not only a pop superstar in the Philippines, but Inigo is also marking his mark globally. An accumulation of 2 years of pushing out new music, music videos, and collaborations he's finally releasing his second album. The upcoming album Options releases June 25th and is the same title as his 2019 single with Tarsier Records. Expect a full-length record and it's ready to pre-order! The announcement was posted on social media along with a video snippet of a stripped down version of the single. Stay tuned on MYX Global for more info!
Inigo's most recent song with DJ Flict and Common Kings, Danger kicked off our summer jams playlist with its catchy hook. The artists recently caught up with each other and had their own jam session. TFTI! We can't wait to see this track performed live because it'll bring all the island vibes!
If you haven't yet heard Options but we're sure you already have, check out the music video below. You know you want to hear it again!
Cover Photo Credit: Inigo Pascual Facebook