keshi released a new track in October called, "SOMEBODY" a year after the one year anniversary of his last project, always. The song is the first single and music video from his upcoming, debut studio album. After the track released, he took the stage at 88 Rising's Head in the Clouds Festival in Los Angeles earlier this month with NIKI to perform "right here" and eaJ of Day 6 to perform "pillows" to over 30,000 fans.
"SOMEBODY," co-produced with Eli Rizk, brings out keshi's edgier side, but balances it with a perfect equilibrium between lo-fi and pop sound with a touch of 832. You can expect to hear keshi's harmonies along with his artistry. "With "SOMEBODY" and the upcoming album as a whole, I felt like it was time to shift the tone to something more well rounded. It all exudes a newfound confidence that I think fans will be refreshed to hear and see in all the new videos," keshi tells us.
Along with releasing his latest single, keshi teamed up with Mindset and Dive Studios for the keshi x Mindset podcast collection. The platform is dedicated to normalizing the conversation of human experiences through authentic stories. keshi talks about everything from who he is as Casey Luong and his upbringing, what he did before music, and answers some fan questions. He's featured in 8 episodes so time to grab some headphones and listen away!
When keshi broke into the scene with his 2018 project, The Reaper, it earned him early recognition for shaping the lo-fi discourse that's flanking pop music. VICE said, "the rawness that underpins keshi's sound keeps fans coming back for more." The Houston, Texas native gained popularity in the lofi-hip hop/study beats community and continues to have success in that genre. He wrote, produced, engineered and played all the instrumentation on his EP projects (Skeletons (2019), Bandaids (2020), and Always (2020)), which describes the cycle of a relationship.
Since then, keshi has been gaining more traction in mainstream like appearing on the 88rising-curated Shang-Chi and the Legend of the Ten Rings: The Album for his song "War With Heaven," YSL's special guest at their Venice show and he's currently tour with LANY. keshi wants to be remembered as an artist and he's on his way there. "I think the biggest goal for me right now is to create a record that will outlast me."
Get to know him as an artist and jump into his mindset in this recent MYXclusive with VJ Samm where they chat about songwriting, his album, and more!
Cover Photo Credit: UMG Philippines
Who's all hyped with us to catch Marvel's latest film, Shang-Chi and The Legend of the Ten Rings starring our faves Simu Liu and Awkwafina. If you've already seen it or on the way to, the official soundtrack is now available to stream and IT. IS. GOOD. Shang-Chi and The Legend of the Ten Rings: The Album was co-produced by 88Rising and Sean Miyashiro so you know we're about to hear our people represented in the soundtrack. It'll showcase artists we may already now, but it's time for the whole world to also know. This is our time to shine!
88Rising worked closely with Shang-Chi director Destin Daniel Cretton to develop the film's soundtrack. The album's lineup includes so many artists and collabs you never knew you needed. 88Rising artists like Rich Brian, NIKI, and Guapdad 4000 are all featured plus other artists like 21 Savage, Anderson .Paak, Swae Lee and Jhené Aiko, Warren Hue, Rick Ross, and the ICY girl herself Saweetie all show up and go off! We couldn't list out everyone so you're just going to trust us it's worth a listen! Don't believe us, check out the tracklist!
1. "Always Rising" – NIKI, Rich Brian, Warren Hue
2. "Diamond + and Pearls" – DPR LIVE, DPR IAN, peace.
3. "In The Dark" – Swae Lee, Jhené Aiko
4. "Lazy Susan" – 21 Savage, Rich Brian, Masiwei, Warren Hue
5. "Nomad" – Zion.T, Gen Hoshino
6. "Fire in the Sky" – Anderson .Paak
7. "Lose Control" – JJ Lin
8. "Every Summertime" – NIKI
9. "Never Gonna Come Down" – Mark Tuan, BIBI
10. "Foolish" – Rich Brian, Warren Hue, Guapdad 4000
11. "Clocked Out!" – Audrey Nuna, NIKI
12. "Act Up" – Rich Brian, Earthgang
13. "Baba Says" – Various Artists
14. "Run It" – DJ Snake, Rick Ross, Rich Brian
15. "Swan Song" – Saweetie, NIKI
16. "War With Heaven" – keshi
17. "Hot Soup" – 88rising, Simu Liu
18. "Warriors" – Warren Hue, Seori
We honestly can't decide which track is our favorite because all of them are so good!
The track "Run It" with DJ Snake, Rick Ross, and Rich Brian will be catching attention soon as it'll be the lead track used for ESPN's 2021-2022 college football coverage. Also, if you didn't know Simu Liu is a total performer and can sing too! *Queue his national anthem performance at the 2019 Clippers Chinese Heritage Night. Well now he graces us with his voice again with his track "Hot Soup."
This soundtrack breaks barriers and the stereotype of both Asians and Asian Americans. According to the NY Times, the character of Shang-Chi is the lesser known players in the comic company's roster. Shang-Chi, a.k.a. the Master of Kung Fu even stumped the Disney and Marvel Studios team who were going to bring the character to life in the MCU. This is after all, Marvel's first and only superhero film starring an Asian lead, with an Asian American director and writer, and based on a character who was actually Asian in the original comic.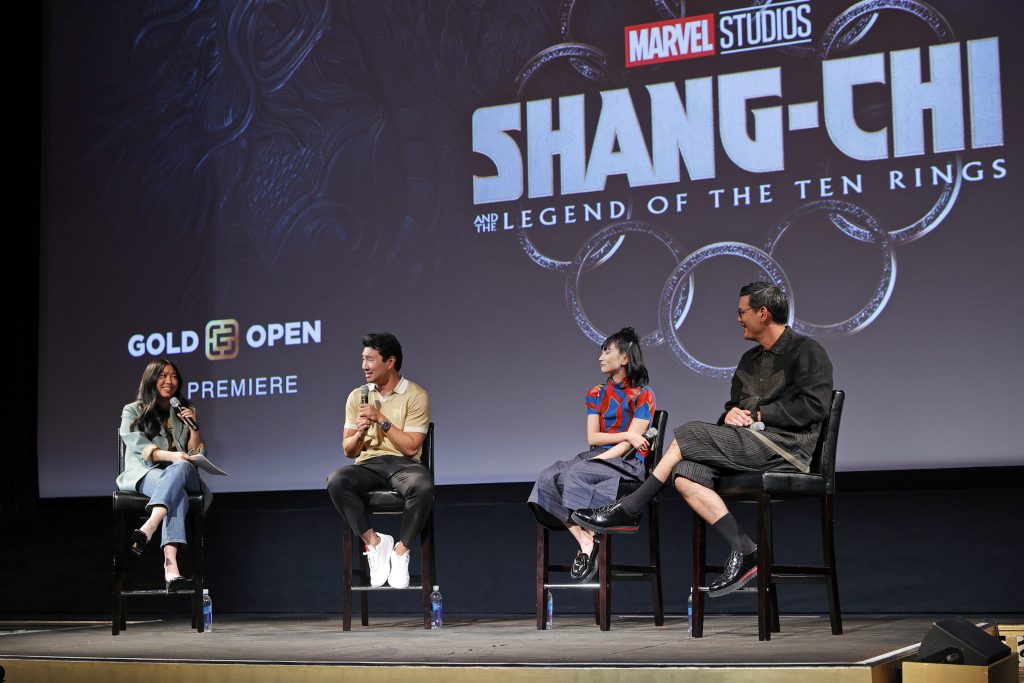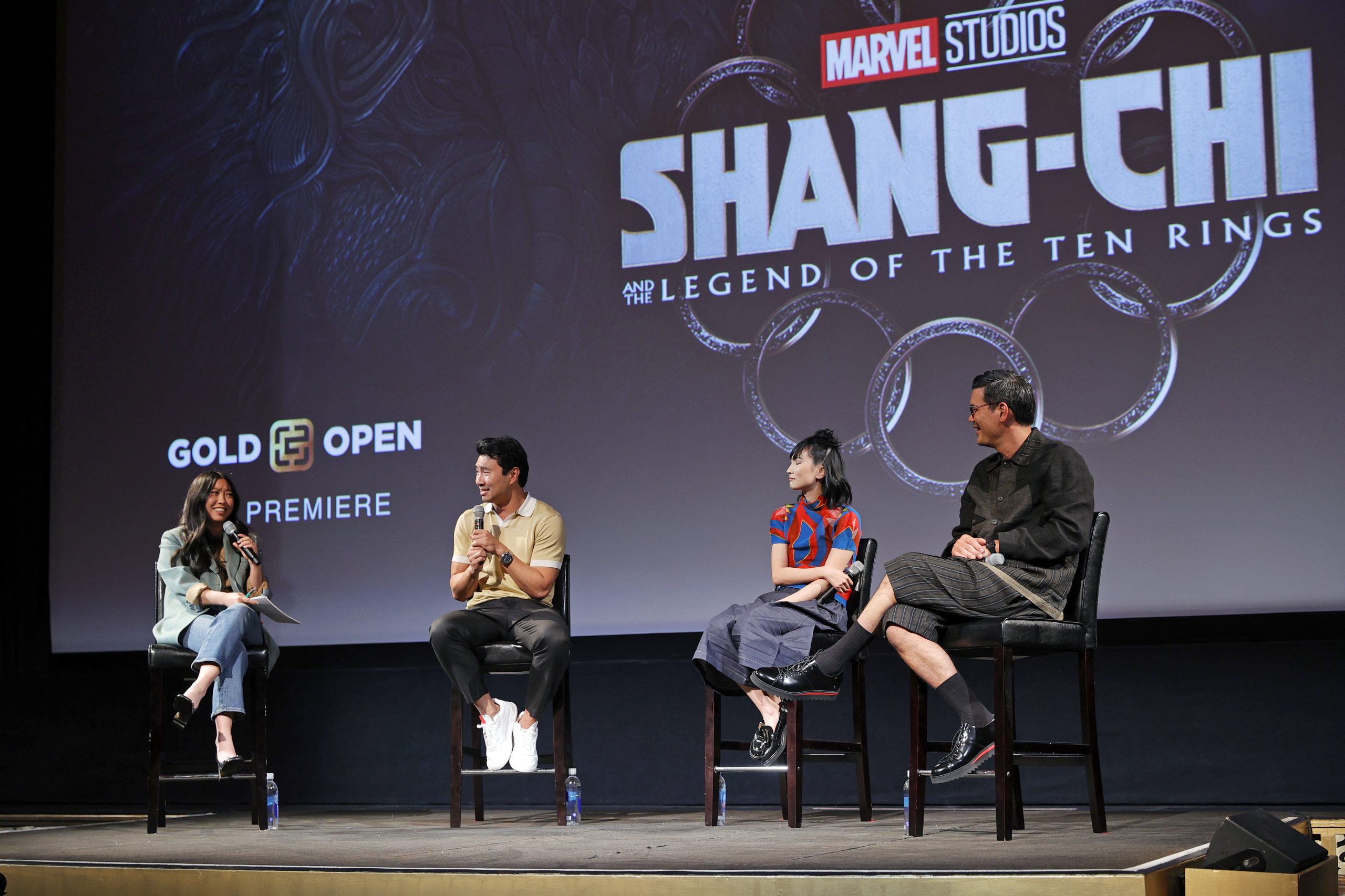 Producer Sean Miyashiro wanted to bring artists together to tell stories of "unconditional love and memories of growing up…" The songs are dedicated to parents, family, love, and youth. He says, "this album is for their sacrifice, their grit, and their endless endurance to give us the platform to be great. We wanted to make music and write songs celebrating all of that, while marrying the themes of the film of cherishing family, being fearless, and realizing your destiny."
Now this film and soundtrack have the opportunity to inspire not just this generation, but also the next group of young ones looking to see themselves represented both in film and music. It honestly is the first of its kind for our community and we celebrate this time, but continue to push forward our stories.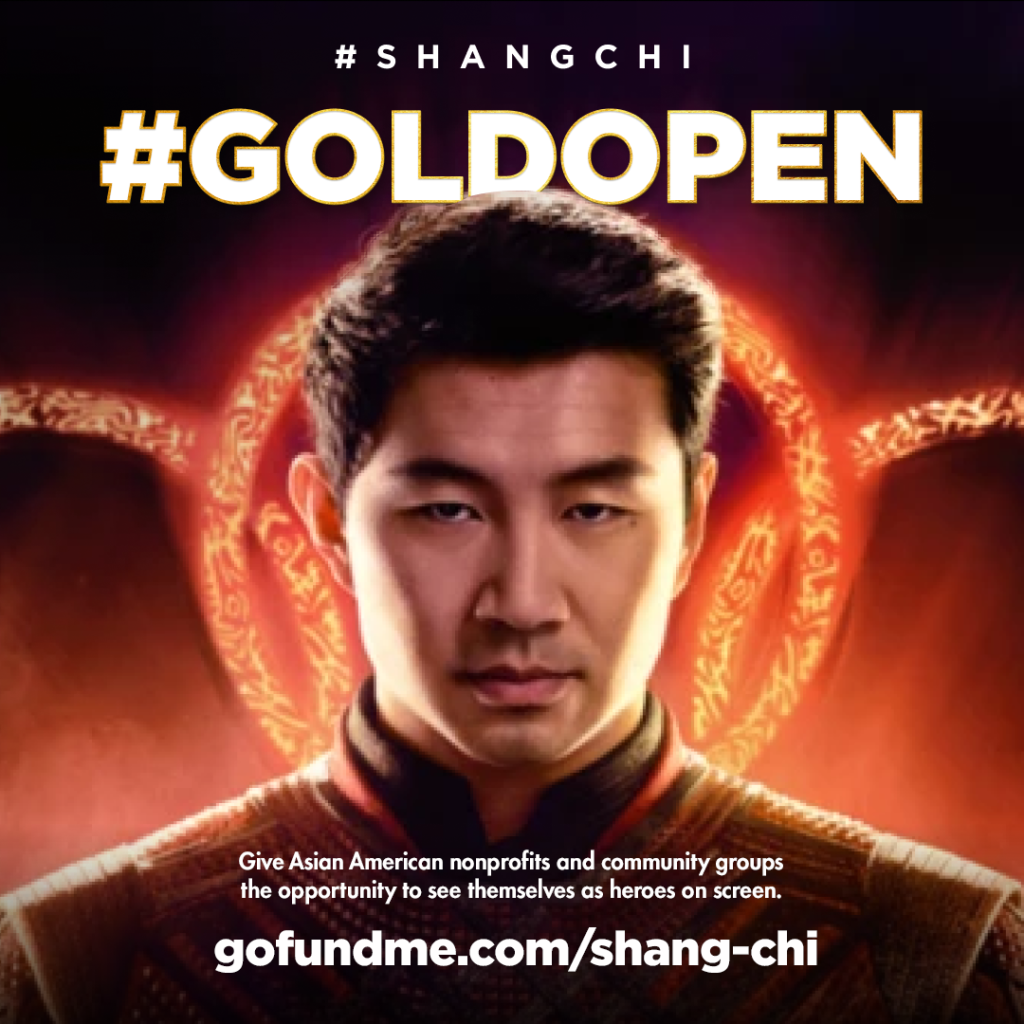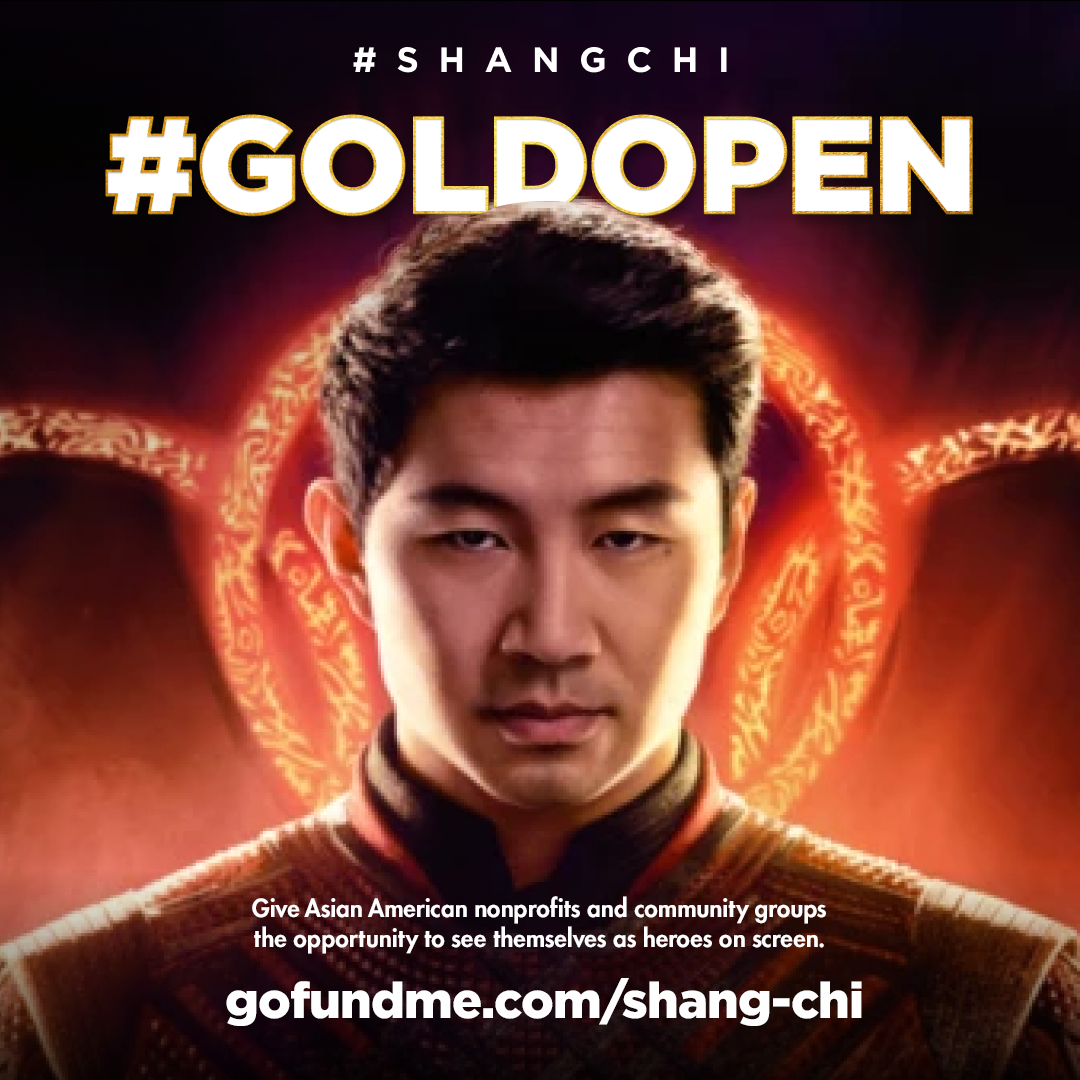 Looking to help make that push? You can help give Shang-Chi a #GoldOpen! Gold House is inviting you to help more youth experience the first titular Asian superhero, Shang-Chi, in the upcoming film Shang-Chi and the Legend of the Ten Rings. Donate to the fundraiser to cover the cost of tickets for youth programs across the country, or join the Shang-Chi challenge and start your own GoFundMe for a program in your area.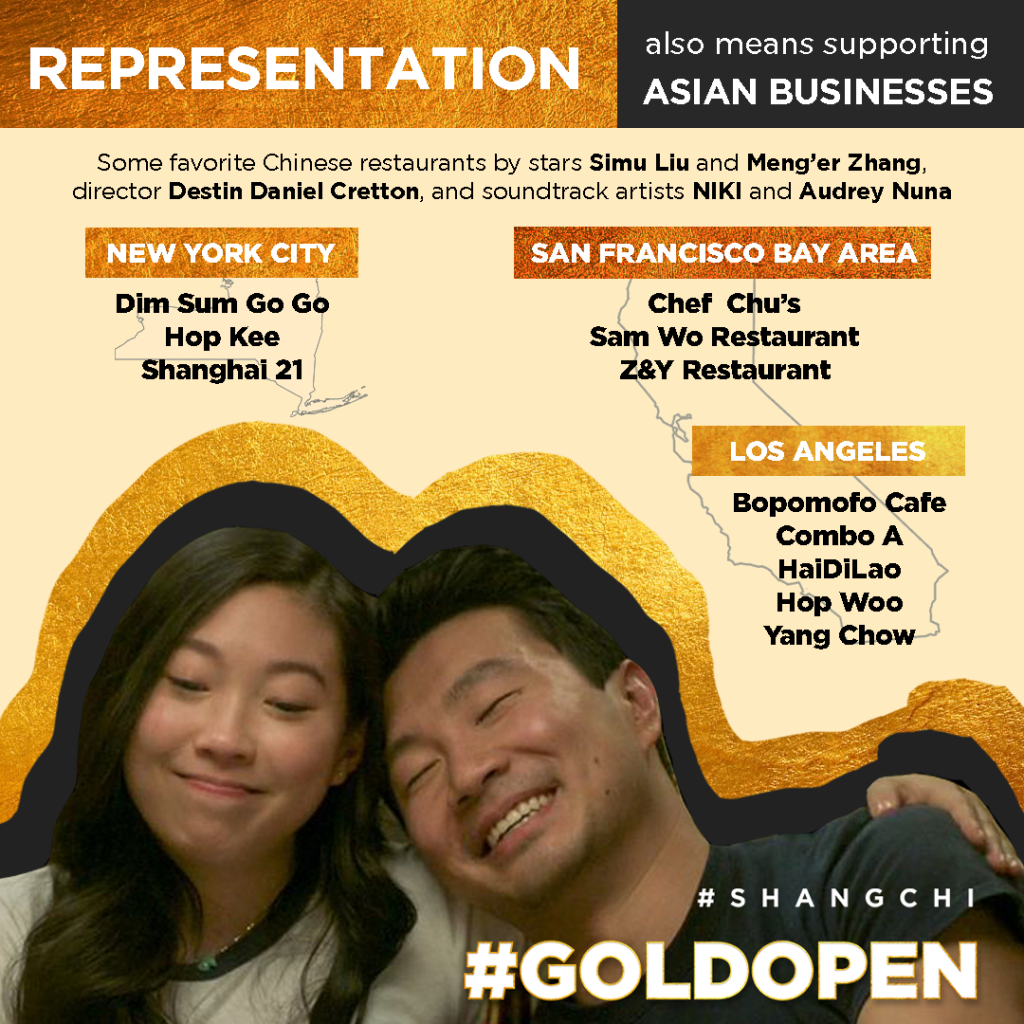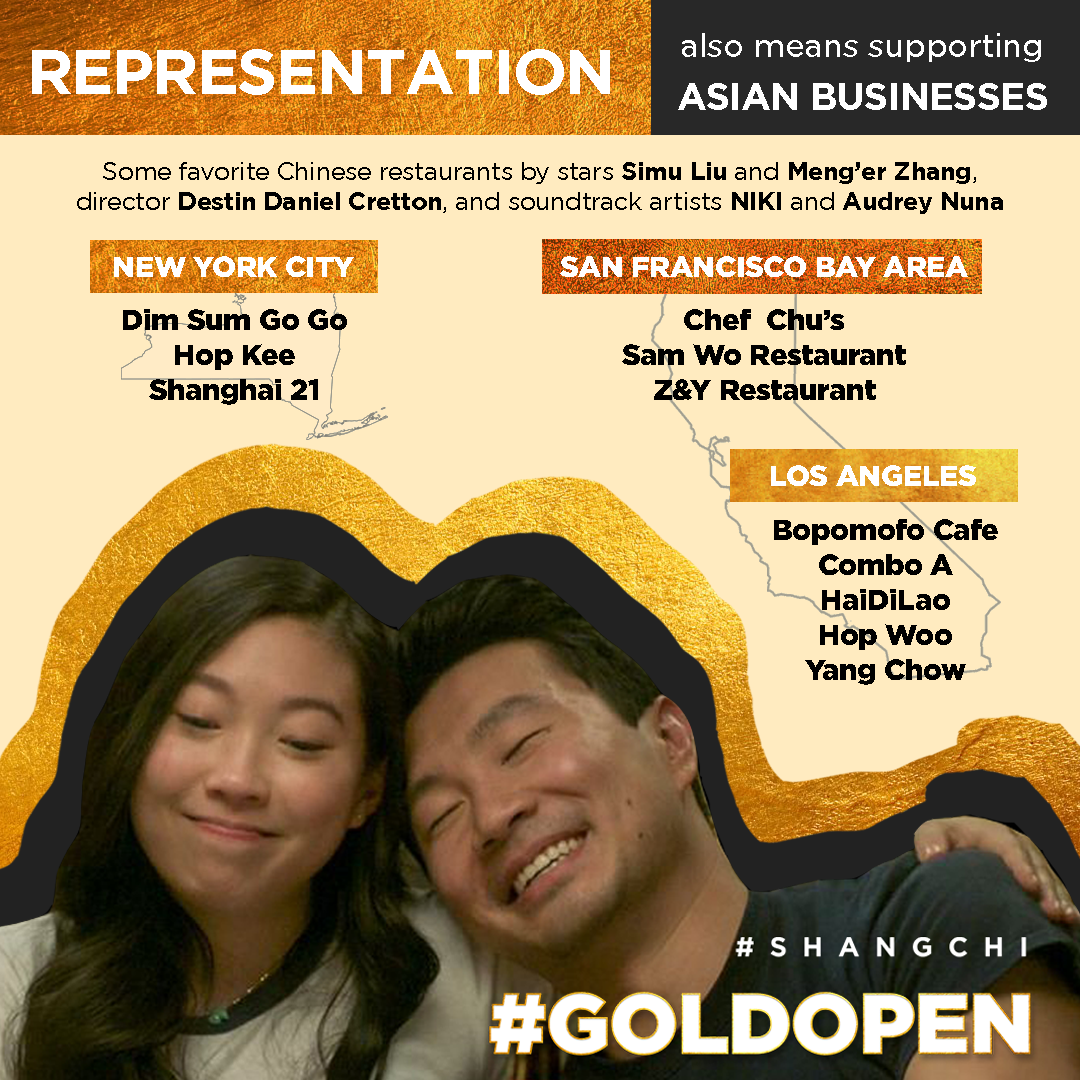 Every child deserves to feel seen. Help more youth see themselves represented on screen as strong, worthy, and as the superheroes that they are! Proper representation of different cultures is critically important for all children so that they understand that people of all colors and backgrounds are to be embraced and valued. 
We want to see everyone pull up this weekend and wherever you catch Shang-Chi: The Legend of the Ten Rings in theaters! Send us your pics @myxnews on Twitter
Cover Photo Credit: Official Shang-Chi Facebook
Hollywood premieres are back with some adjustments to keep everyone safe, of course. From onsite covid testing to limited media space on the carpets, the new normal has set in, and Hollywood Blvd. is back in business, and this week it was the World Premiere of Marvel's Shang-Chi!
ABS-CBN's Hollywood Correspondent and newly appointed member of the Hollywood Critics Association Yong Chavez was 1 of 18 media Journalists and Outlets that made the cut to witness the Asian excellence in Hollywood that evening.
Our favorite Hollywood Photographer, Sthanlee B. Mirador, was also in attendance and captured Social Media Personality and Singer Bella Poarch's first red carpet premiere. Bella stunned in an all-black look from head to toe, looking like she just stepped out of her "Build a B***h" music video. It might have been her first big premiere, but she was absolutely ready for her close-up.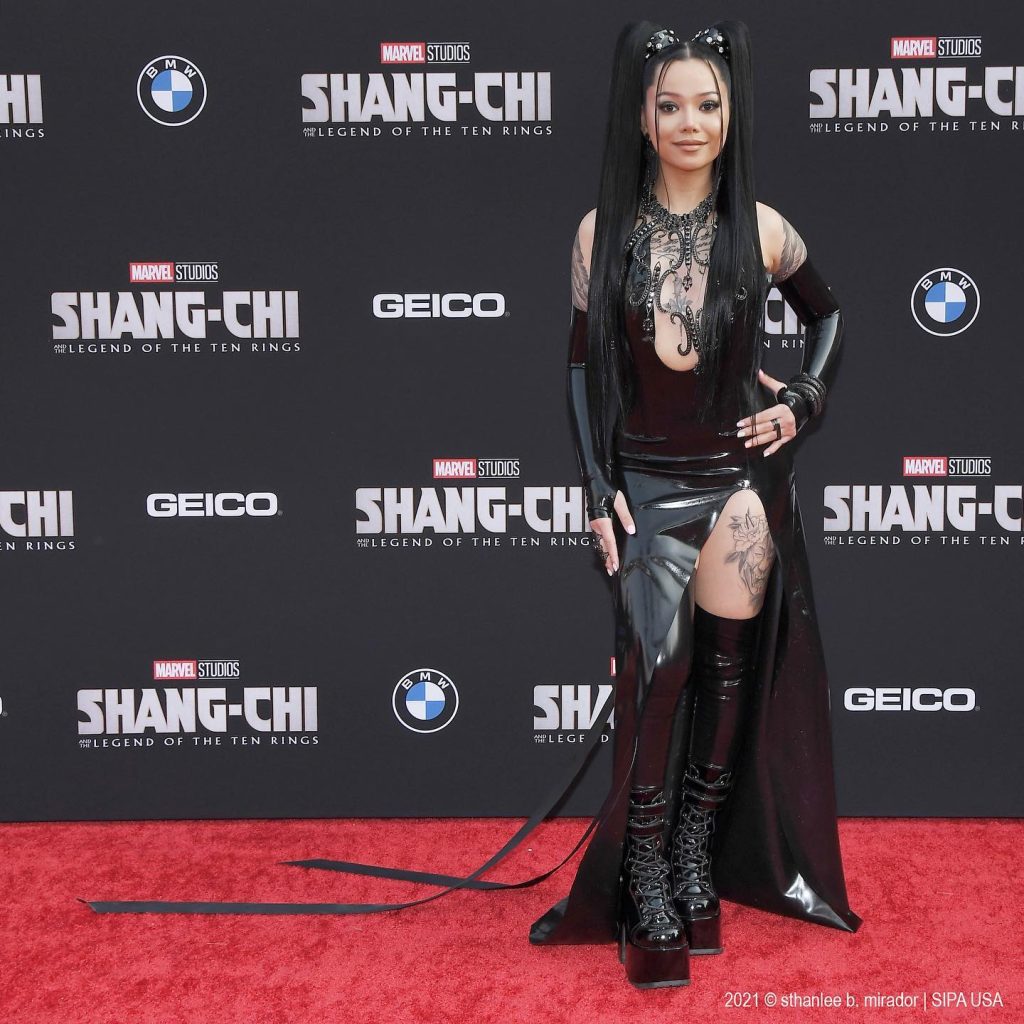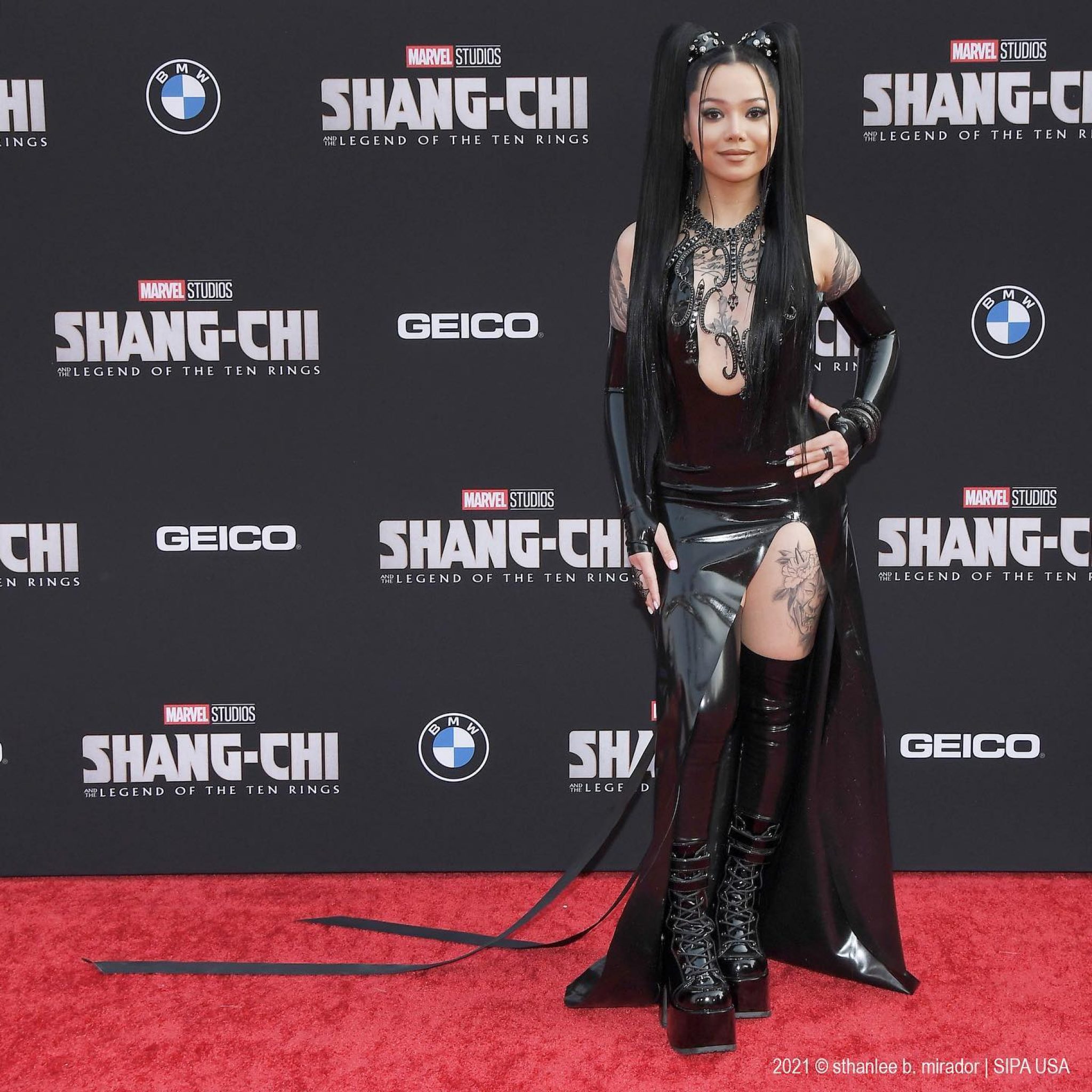 Also in attendance was newly engaged Singer/Songwriter AJ Rafael and Executive Producer of Disney's Launchpad Short Film series and retired Disneyland Princess Alyssa Navarro. As well as our guy Guapdad 4000 dripping in some Alexander McQueen.
With Shang-Chi being Marvel's first Asain superhero movie and helping break barriers in Hollywood for actors of Asian descent to lead blockbuster movie roles, Gold House Co. has once again stepped up to help advocate for this history-breaking event.
Gold House continues to lead their "Gold Open" movement, pushing for films such as Shang-Chi to be seen, ensuring that these opening weekends are a success. To date, the Gold Open community has supported over 25 Asian-led films and engaged hundreds of thousands of people in showing the world that we are here to be seen and valued.
Speaking of representation, we can't forget about the superheroes behind the scenes. Check out the latest installment of our MYX Original Series "Making it in America," featuring Marvel's Senior Visual Development Artist, Anthony Francisco!
Cover Photo Credit: Sthanlee B. Mirador
Producer Kevin Feige, stars Simu Liu and Awkwafina, and director Destin Daniel Cretton explore Shang-Chi's backstory and his connection to the Ten Rings in "Destiny" – a new, exciting, action-packed featurette for Marvel Studios' "Shang-Chi and The Legend of The Ten Rings." 
Shang-Chi's journey is told with stunning visuals, the MCU's signature spectacle and displays of mind-blowing action, along with the talents of a diverse, stellar cast and a relatable story. Behind part of the visual development for the film is Marvel's Senior Visual Development Artist and the "Visual Father of Baby Groot" Anthony Francisco.
If you are a fan of the MCU, Anthony has had a part in some of the visual development in many of your favorite films and tv shows including Black Panther, Loki, Avengers Infinity War and End Game, WandaVision, and now "Shang-Chi and The Legend of The Ten Rings" which opens in U.S. theaters on September 3rd.
You can also get to know Anthony and his work in his episode of our new MYX Original series "Making it in America" airing 8/23 on MYX or learn "How to Draw from Your Imagination" with his new courses on Nas Academy.
If you're a Marvel fan, you're in for a treat. The company that brings your favorite Marvel superheroes to life is introducing a new hero into the Marvel Cinematic Universe. Shang-Chi also known as the Master of Kung Fu and Brother Hand will have its own standalone film coming September 3, 2021. Shang-Chi and the Legend of the Ten Rings stars Chinese-Canadian actor Simu Liu from the sitcom, Kim's Convenience.
The film marks the first Asian lead in a Marvel project. Based on the teaser, Shang-Chi is skilled in martial arts who looks to live a normal life. However, the life he previously left behind is back to catch up with him. He's left to confront it and choose which path to follow. Also featured in the film is the hilarious Awkwafina, Michelle Yeoh, Tony Leung, and Ronny Chieng. It is directed by Destin Daniel Cretton from a screenplay by David Callaham, Cretton and Andrew Lanham.
Cover Photo Credit: Marvel Studios Facebook