Filipinos love their basketball and NBA 2K23 is no different. This year's edition of the popular video game features Fil-Am artists like Guapdad 4000, H.E.R., and Ruby Ibarra. The soundtrack's unique lineup will be regularly updated on Fridays just like how Ruby's song, "Us" dropped last week.
There's for sure something for everyone on the soundtrack, but if you don't see your favorite artist there's still hope they'll pop up on the playlist soon! If you can't wait to hear the track and don't yet have the game, stream it here!
Check out the complete tracklist:
2055 – Sleepy Hallow Ft. UV K****N EM & Great John
All Eyes On Me – Earthgang
Anxiety – Coi Leray
Are You With That? – Vince Staples
Astronaut In The Ocean – Masked Wolf
Black Iverson – Guapdad 4000
Changsha – Lay
Comic Sans – Audrey Nuna ft. Jack Harlow
Devin Booker – Blocboy JB & Co Cash
Dog Food (Prod. Kaytranada) – IDK & Denzel Curry
Don't Hit Me Right Now – Dreamville, Bas, Cozz, JID, Guapdad 4000, Buddy, Baby Tate
Fitt – Dua Saleh with Amaarae
Gone – Sam Dew ft. Kirby
Good Day – Kidd Kenn
Iffy – SIK-K, PH-1, Jay Park
Intimidated – Kaytranada ft. H.E.R
Love nwantiti (ah ah ah) [remix] – CKay feat. Joeboy & Kuami Eugene
Many Times – Dijon
Megan's Piano – Megan Thee Stallion
Nail Tech – Jack Harlow
Never Left – Lil Tecca
No Trends – Mike Dimes
On The One – The Lamonts
Que Oso – Snow Tha Product
Rapstar – Polo G
Richer – Rod Wave Ft. Polo G
Rocket Man – Dumbfoundead
Rucón – Alemán
Super – Cordae
Surround Sound – JID feat. 21 Savage & Baby Tate
The Matrix – Ski Mask the Slump God
The Revenge – Joey Bad***
TITANIC – Jackson Wang feat. Rich Brian
Wants and Needs – Drake feat. Lil Baby
West Like – Destiny Rogers feat. Kalan.FrFr
Woman – Doja Cat
Cover Photo Credit: Ruby Ibarra Instagram
The singer-songwriter from Florida, Dominic Fike took Euphoria Season 2 by storm with his character, Elliot. A new member to the Rue and Jules crew, Elliot shares similar troubles and stirs the pot between the friends. With all current episodes now on HBO Max to stream, fans can also listen to the music from the season with Euphoria (Original Score from the HBO Series).
The score composed and produced by Labrinth includes the track "Elliot's Song," featuring Dominic Fike, Zendaya, and Labrinth which made waves on social media after its debut on Episode 8 of the season. The score also includes loads of instrumental tracks plus other favorites like "Rue's I'm Tired," "Fez's Interlude (with Angus Cloud), and more. Fans can order the special edition box set which includes a CD and t-shirt.
Labrinth expressed his gratitude to the Euphoria fans for letting him share this experience with them and work with the cast like Zendaya and Dominic Fike on the score. "I want to thank all of you for making this music come alive much more than I could ever imagine. You make the work I put into creating even more worth the love and the grind. This is a big part of how I make music now all because of you."
Dominic Fike will be returning to Euphoria next season as Elliot. He shared the news with Jimmy Fallon before the Season 2 finale. There's some time before Season 3 kicks off, but before then check out what Dominic thinks of some of the fan theories people are cooking online.

Cover Photo Credit: Euphoria Instagram
With 7 episodes in to ABS-CBN newest digital series, How to Move On in 30 Days starring Maris Racal, Albie Casiño, and Carlo Aquino is deep into the storyline between Jen and Jake, but will Franco be what she needs? If you can't get enough of the series, then you'll definitely fall for the official soundtrack of the same name. The How to Move On in 30 Days Official Soundtrack by Dreamscape Entertain features 3 tracks brought to you from artists, Jeremy G and Angela Ken. We all know the best medicine to heal a heartbreak is good music. Check out and listen to the tracks below and also stream on all digital platforms!
"Your Everything" - Jeremy G, Angela Ken
"Hanggang Sa Muli" - Angela Ken
"Your Everything" - Jeremy G
ABOUT HOW TO MOVE ON IN 30 DAYS
Maris Racal attempts to mend a broken heart with the help of an online app and her fake boyfriend Carlo Aquino in the romantic-comedy series, "How to Move On in 30 Days." The series revolves around the story of Jen (Maris), a vlogger in her 20s who suddenly gets dumped by her long-time boyfriend Jake (Albie Casiño). As Jen struggles to cope with the break-up and gets drunk, she goes viral as the "The Winarak Girl." She's determined to change her image and move on by downloading the 'break app' - a navigation app that will give her a step-by-step guide and useful tips that will help her move on within 30 days. Watch it all unfold daily and see if Jen can move on and find a better match.
Cover Photo Credit: Jeremy G Instagram
The latest Disney+ Pixar film, Turning Red has been making its rounds on the streaming platform. The film is a coming of age story that follows an Asian-Canadian teen, Mei Lee who navigates between fitting in and balancing family duties. If that wasn't enough, she discovers she turns into a big red panda when she's filled with too much emotions. In comes the boyband, Jesse, Tae Young, Robaire, Aaron T. and Aaron Z, the boys of 4*Town who gives her so many feelings.
As Mei Lee goes through growing pains, she wants to go to her first concert. She'll have to convince her protective mother to catch the biggest pop group around. The members of 4*Town are voiced by Fil-Am and Filharmonic member Grayson Villanueva, Jordan Fisher, Josh Levi, Topher Ngo, and FINNEAS. If you've seen the movie then you know how catchy their tunes are like "U Know What's Up" and "Nobody Like U" debuting on the Billboard Hot 100 at No. 50.
The soundtrack is now available to stream with already 10 million official U.S streams recorded and counting. "Nobody Like U is the first song from a Pixar film to hit the charts.

Cover Photo Credit: Grayson Villanueva
Who's all hyped with us to catch Marvel's latest film, Shang-Chi and The Legend of the Ten Rings starring our faves Simu Liu and Awkwafina. If you've already seen it or on the way to, the official soundtrack is now available to stream and IT. IS. GOOD. Shang-Chi and The Legend of the Ten Rings: The Album was co-produced by 88Rising and Sean Miyashiro so you know we're about to hear our people represented in the soundtrack. It'll showcase artists we may already now, but it's time for the whole world to also know. This is our time to shine!
88Rising worked closely with Shang-Chi director Destin Daniel Cretton to develop the film's soundtrack. The album's lineup includes so many artists and collabs you never knew you needed. 88Rising artists like Rich Brian, NIKI, and Guapdad 4000 are all featured plus other artists like 21 Savage, Anderson .Paak, Swae Lee and Jhené Aiko, Warren Hue, Rick Ross, and the ICY girl herself Saweetie all show up and go off! We couldn't list out everyone so you're just going to trust us it's worth a listen! Don't believe us, check out the tracklist!
1. "Always Rising" – NIKI, Rich Brian, Warren Hue
2. "Diamond + and Pearls" – DPR LIVE, DPR IAN, peace.
3. "In The Dark" – Swae Lee, Jhené Aiko
4. "Lazy Susan" – 21 Savage, Rich Brian, Masiwei, Warren Hue
5. "Nomad" – Zion.T, Gen Hoshino
6. "Fire in the Sky" – Anderson .Paak
7. "Lose Control" – JJ Lin
8. "Every Summertime" – NIKI
9. "Never Gonna Come Down" – Mark Tuan, BIBI
10. "Foolish" – Rich Brian, Warren Hue, Guapdad 4000
11. "Clocked Out!" – Audrey Nuna, NIKI
12. "Act Up" – Rich Brian, Earthgang
13. "Baba Says" - Various Artists
14. "Run It" – DJ Snake, Rick Ross, Rich Brian
15. "Swan Song" – Saweetie, NIKI
16. "War With Heaven" – keshi
17. "Hot Soup" – 88rising, Simu Liu
18. "Warriors" – Warren Hue, Seori
We honestly can't decide which track is our favorite because all of them are so good!
The track "Run It" with DJ Snake, Rick Ross, and Rich Brian will be catching attention soon as it'll be the lead track used for ESPN's 2021-2022 college football coverage. Also, if you didn't know Simu Liu is a total performer and can sing too! *Queue his national anthem performance at the 2019 Clippers Chinese Heritage Night. Well now he graces us with his voice again with his track "Hot Soup."
This soundtrack breaks barriers and the stereotype of both Asians and Asian Americans. According to the NY Times, the character of Shang-Chi is the lesser known players in the comic company's roster. Shang-Chi, a.k.a. the Master of Kung Fu even stumped the Disney and Marvel Studios team who were going to bring the character to life in the MCU. This is after all, Marvel's first and only superhero film starring an Asian lead, with an Asian American director and writer, and based on a character who was actually Asian in the original comic.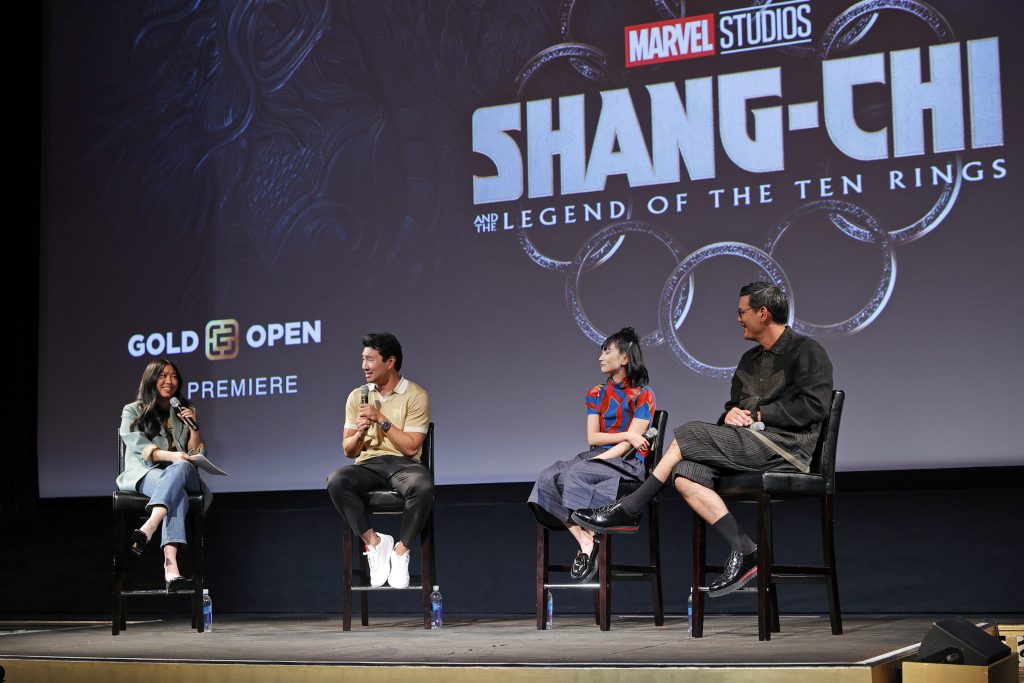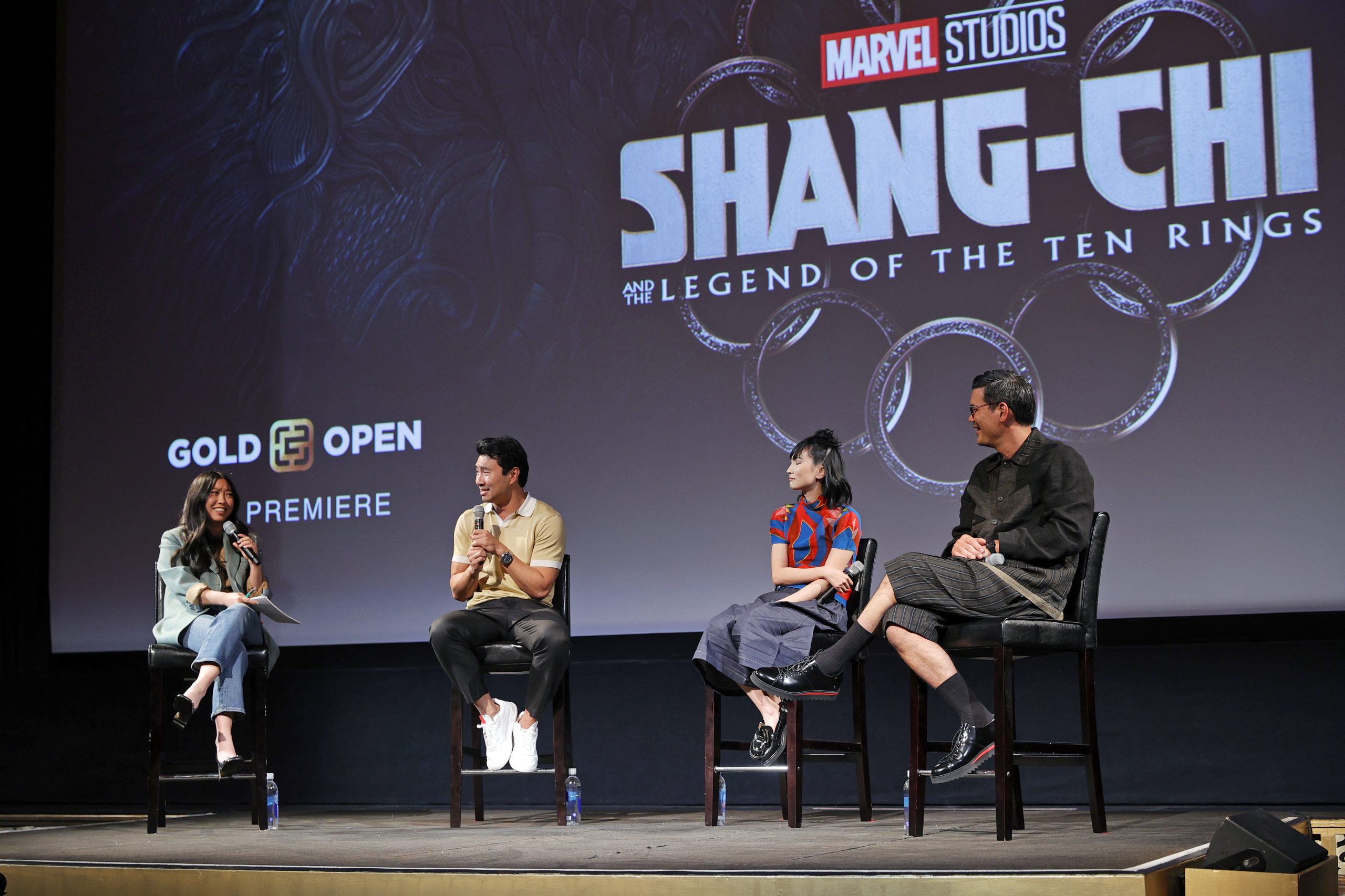 Producer Sean Miyashiro wanted to bring artists together to tell stories of "unconditional love and memories of growing up..." The songs are dedicated to parents, family, love, and youth. He says, "this album is for their sacrifice, their grit, and their endless endurance to give us the platform to be great. We wanted to make music and write songs celebrating all of that, while marrying the themes of the film of cherishing family, being fearless, and realizing your destiny."
Now this film and soundtrack have the opportunity to inspire not just this generation, but also the next group of young ones looking to see themselves represented both in film and music. It honestly is the first of its kind for our community and we celebrate this time, but continue to push forward our stories.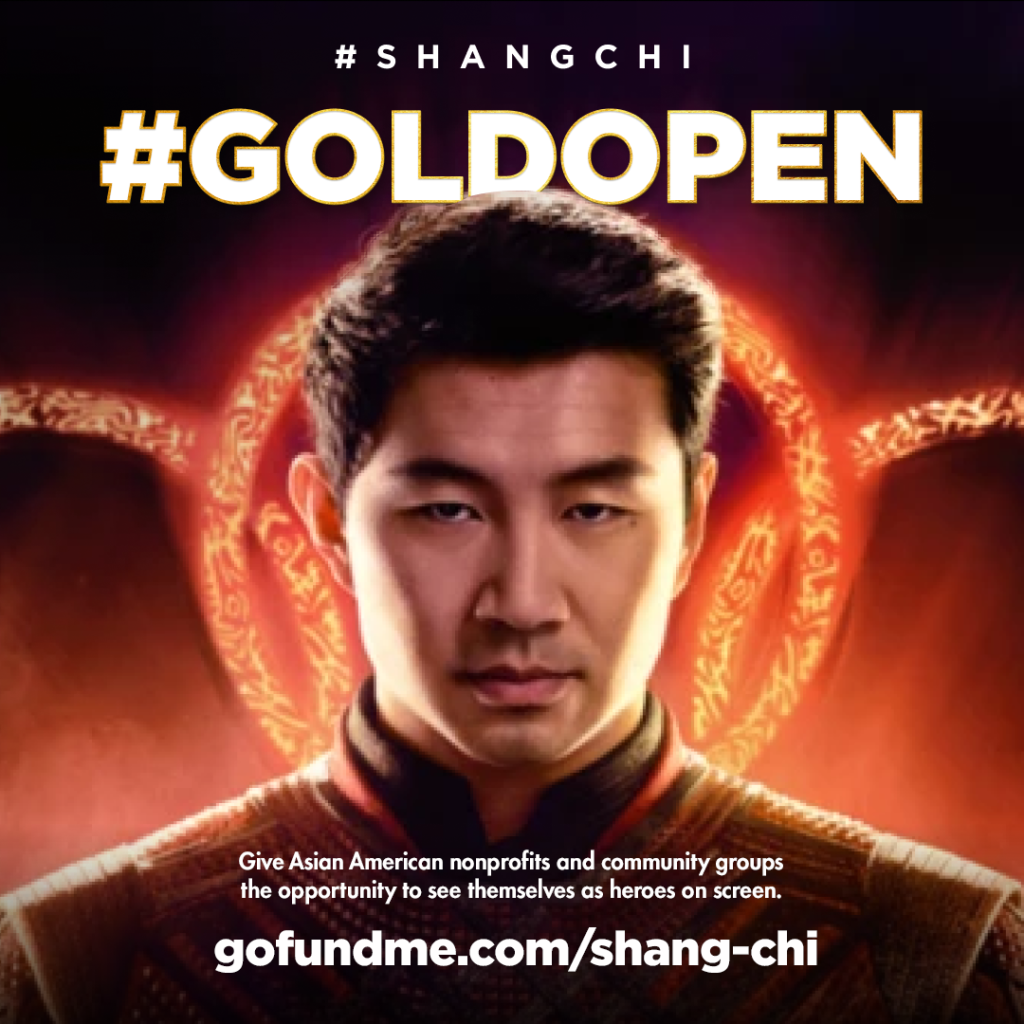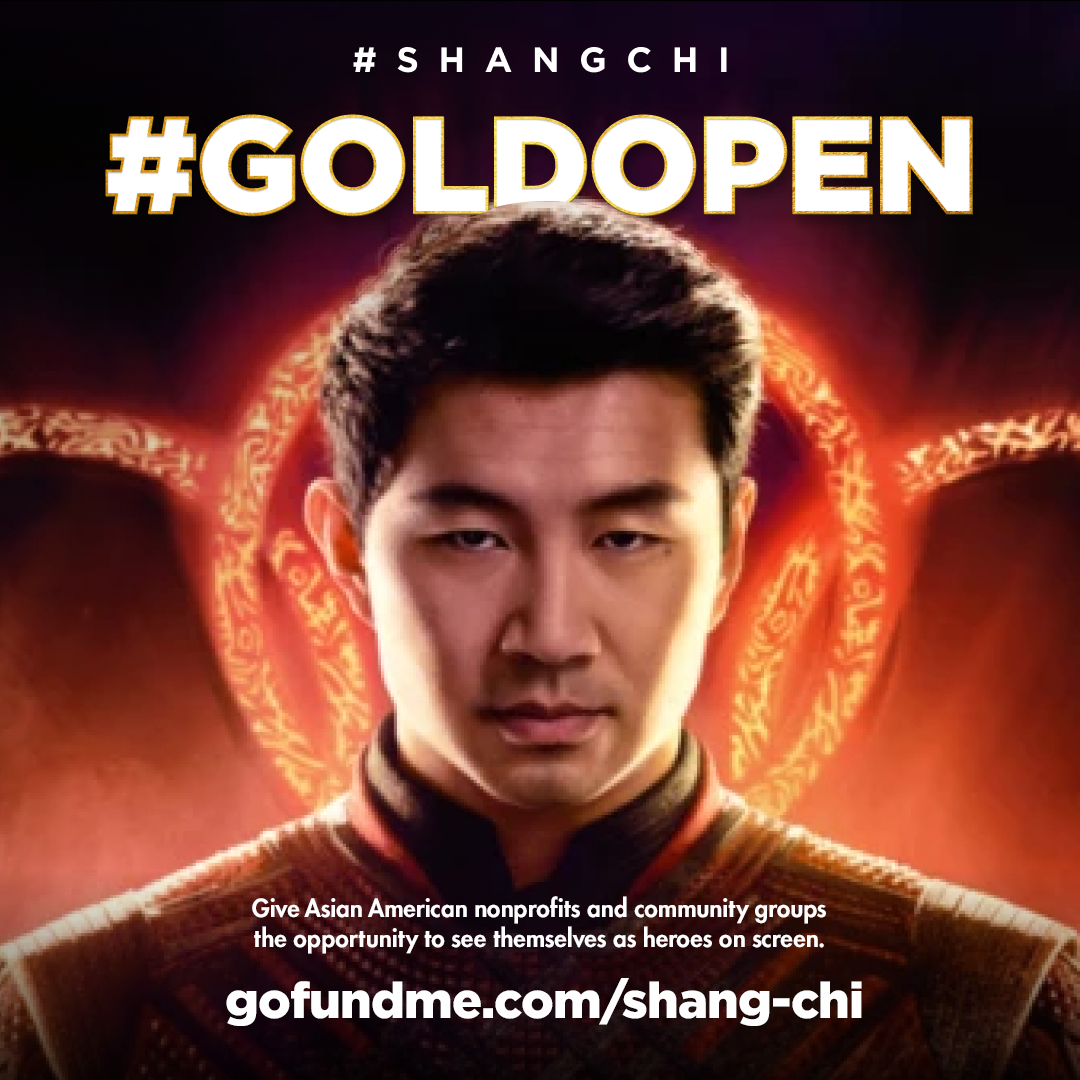 Looking to help make that push? You can help give Shang-Chi a #GoldOpen! Gold House is inviting you to help more youth experience the first titular Asian superhero, Shang-Chi, in the upcoming film Shang-Chi and the Legend of the Ten Rings. Donate to the fundraiser to cover the cost of tickets for youth programs across the country, or join the Shang-Chi challenge and start your own GoFundMe for a program in your area.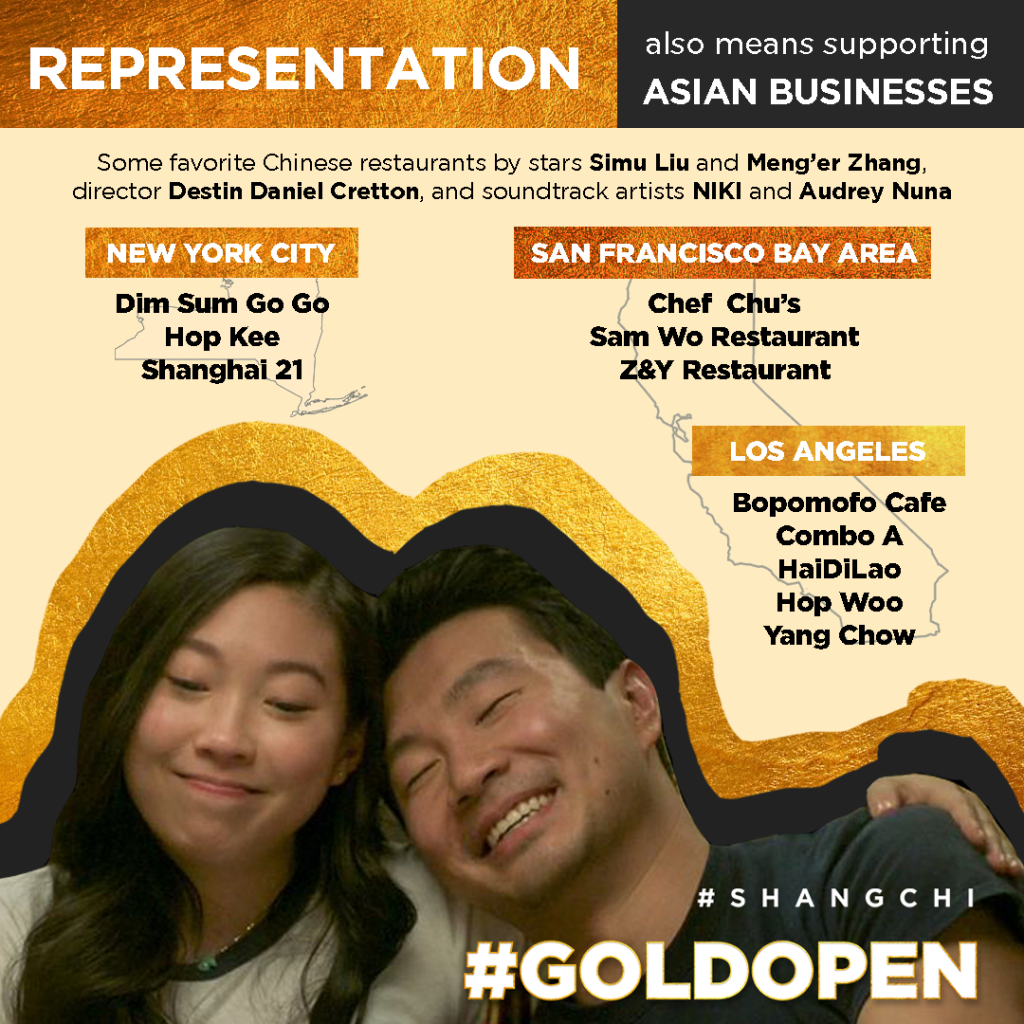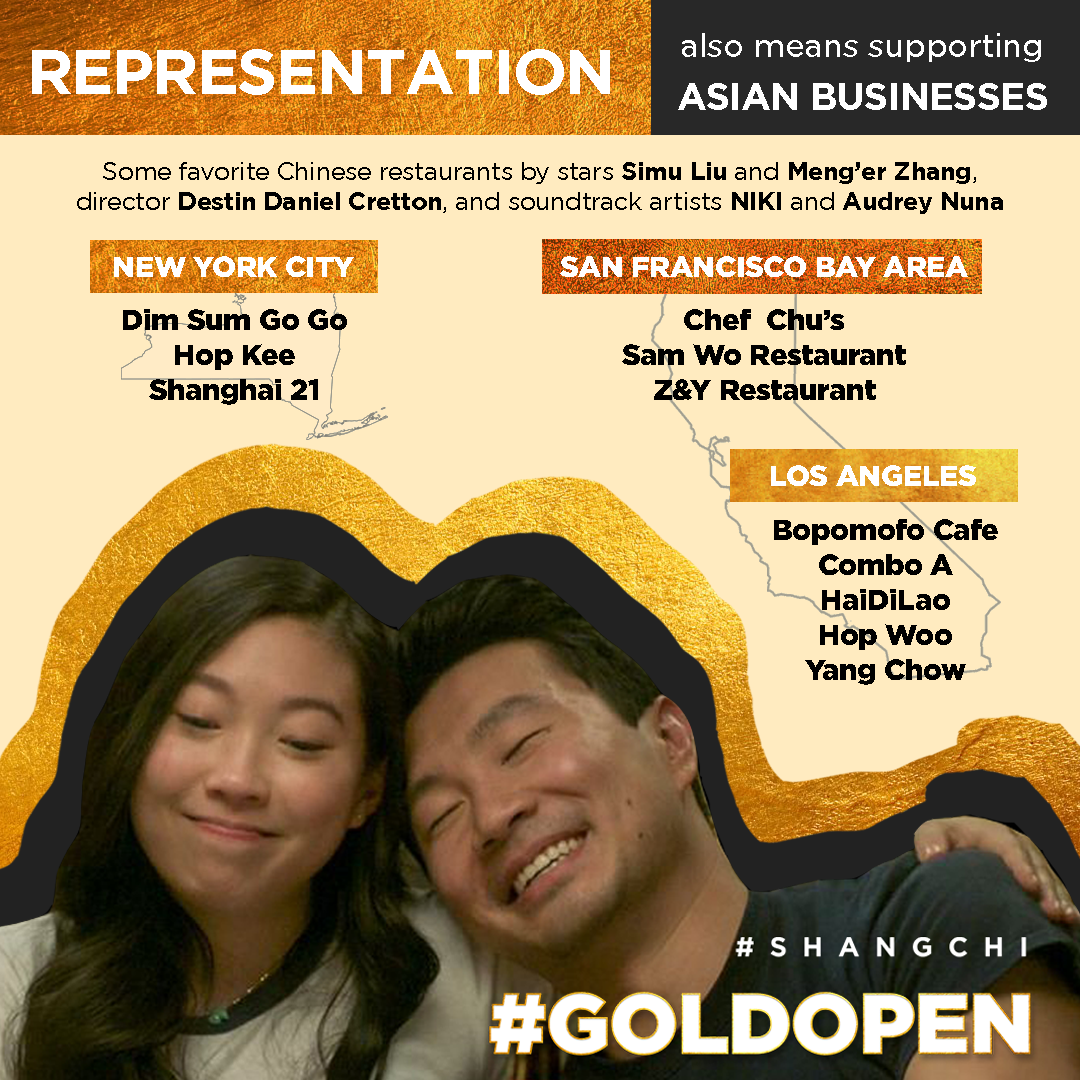 Every child deserves to feel seen. Help more youth see themselves represented on screen as strong, worthy, and as the superheroes that they are! Proper representation of different cultures is critically important for all children so that they understand that people of all colors and backgrounds are to be embraced and valued. 
We want to see everyone pull up this weekend and wherever you catch Shang-Chi: The Legend of the Ten Rings in theaters! Send us your pics @myxnews on Twitter
Cover Photo Credit: Official Shang-Chi Facebook
The official Space Jam Movie Instagram just released a teaser for the upcoming soundtrack. It features so many artists ranging from pop to hip-hop to R&B artists. P-Lo and Saweetie are mentioned along with 16 other artists like the Jonas Brothers, Chance the Rapper, John Legend, Leon Bridges, Lil Baby & Kirk Franklin, Big Freedia, Brockhampton, and In the Heights' Anthony Ramos. The Bay Area is represented in the soundtrack with a collaboration between P-Lo, Dame D.O.L.L.A (aka Damian Lillard from the NBA's Portland Trailblazers), G-Eazy, and White Dave. While Saweetie is collaborating with rapper Dash Doll and hip-hop legends Salt-N-Pepa. The track listing isn't yet available but we're sure it'll be coming out soon.
The Space Jam A New Legacy Soundtrack on July 9, while Space Jam: A New Legacy comes to theaters and HBO Max on July 16. Space Jam: A New Legacy features LeBron James as himself, as he and his son Dom played by Cedric Joe get stuck in the universe run by an A.I., voiced by Don Cheadle. In order to save his son, James teams up with the Looney Tunes to beat the Goon Squad in a basketball game. We spotlighted back in January that the voice of Bugs Bunny is Fil-Canadian voice actor and comedian, Eric Bauza. The "What's Up Doc?" voice actor is the seventh person to voice the bunny. He's also voiced in shows like 'The Fairly Oddparents,' 'Ren & Stimpy,' and other Cartoon Network and Nickelodeon series.
Cover Photo Credit: Space Jam Movie Facebook