Get ready Toronto! On July 23 & 24, Bathurst St. and Wilson Ave. plays host to a new and massive Filipino Street Festival called FUN PHILIPPINES! Organized by the Philippine Legacy and Cultural Alliance (PLACA), the festival celebrates 2022 and Filipino diversity with food, music, and culture through inclusive and fun collaborations with artists and creative partners, community leaders, food establishments and chefs, and various groups that advocate for true Filipino representation in the mainstream.
Spanning a one-kilometer stretch in Bathurst St., festival attendees will enjoy live performances, Filipino games and activities, cultural showcases, street dancing, karaoke, storytelling, kamayan feasts, food, craft demos, and carnival rides.
In addition to the fun weekend of Filipino cultural recognition, MYX will be inviting a few special guests on the first day of the festival: Ylona Garcia, Keith Pedro, and Darren Espanto for performances. To learn more about the event, please visit the official website here. We hope to see you there!
On April 6, adidas Canada and Rise Tribe, a non-profit aimed to power the next generation of Filipnx Canadians welcomed Jalen Green to Toronto with a Filipinx Night Market. Hosted by Rise Tribe founder Abby Albino, Abby said, "
"Partnering with a brand like adidas Canada and an icon like Jalen to curate an event that celebrates the Filipinx community and basketball is really a dream come true," said Albino,Co-Founder of Rise Tribe. "Growing up, there wasn't really anything or anyone celebrating our community in this way and this event was an opportunity for us to do so. For a brand like adidas Canada to shine a light on our community in this way means so much to me now and to the 11 yr old version of myself who would have never thought this was possible."
Watch the highlight video of the memorable event below by @alisontayagvideo:
Jalen Green participated in a Q&A where he gushed over his favorite filipino dishes (lumpia and tocino), his memories of his 2018 trip to the Philippines and his love for the culture. To end the Q&A Jalen surprised everyone with a $10K donation to Rise Tribe to support basketball programming for Fil-Can youth.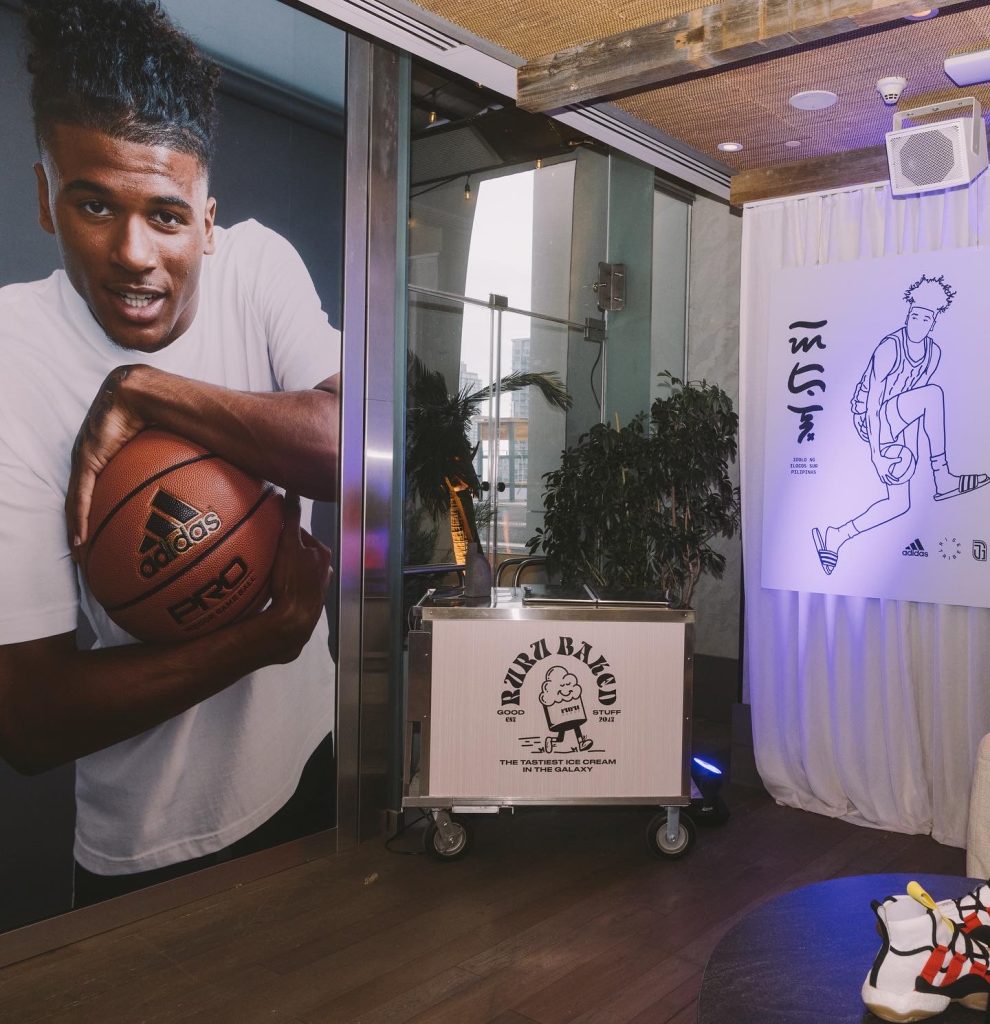 The night market featured Fil-Can small businesses/creatives, a floral bar by @paraluman.flora, a custom Calamansi Crunch ice cream flavour by @rurubaked, a sari sari by @auntiessupply, artwork/tshirt design by @okcaveat and sounds by @mikeroc @raestory.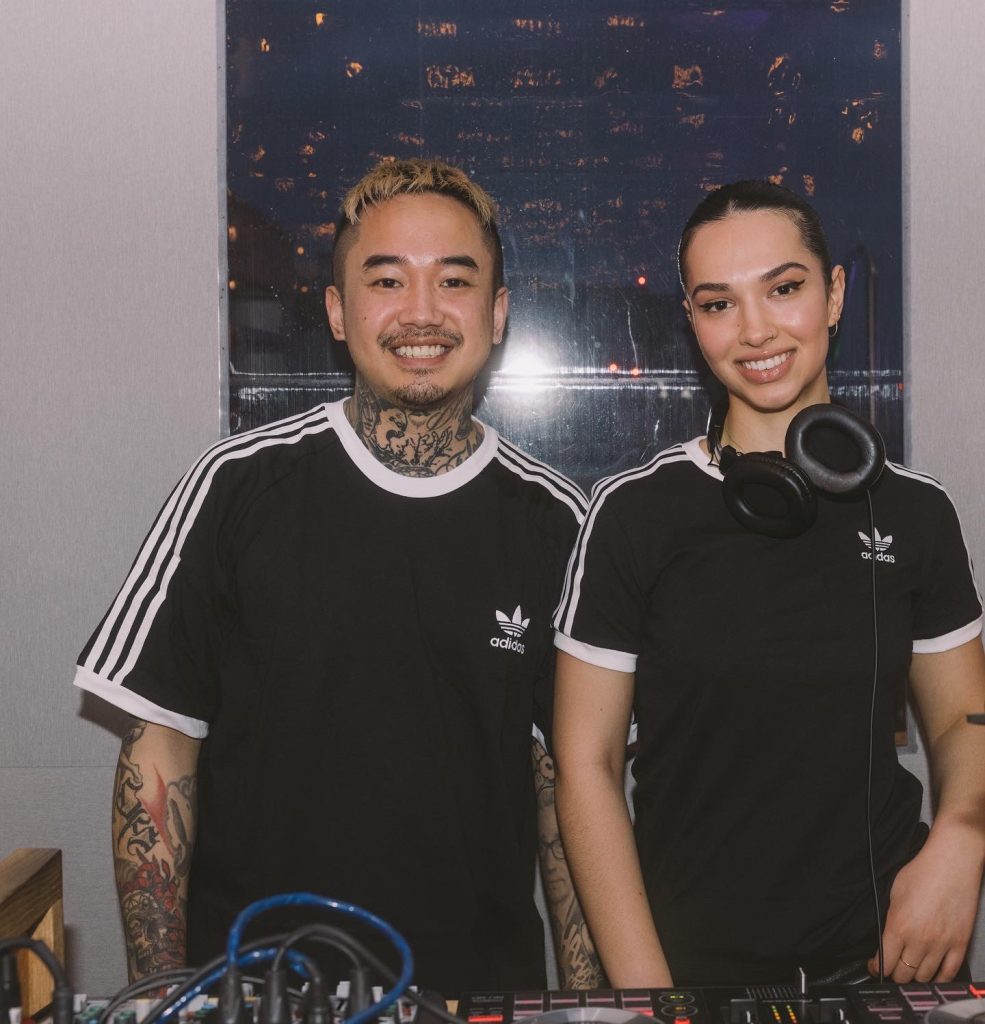 Two nights later, Jalen Green and the Houston Rockets faced the Toronto Raptors and adidas Canada hosted 10 Fil-Can youth from @megacitybasketball. After the game, they were surprised with a meet and greet with Jalen and paired with a home team W.,. they had a more than memorable evening.
@rise_tribe was founded with the hope to power the next generation of Filipinx-Canadian leaders and shine a light on our community like never before. Growing up, it was rare to see Filipinx in sports, in media, in entrepreneurship, in creative fields etc and they wanted to change that narrative and show the next generation that they belonged in these spaces. Follow them on all social media for upcoming events and community news.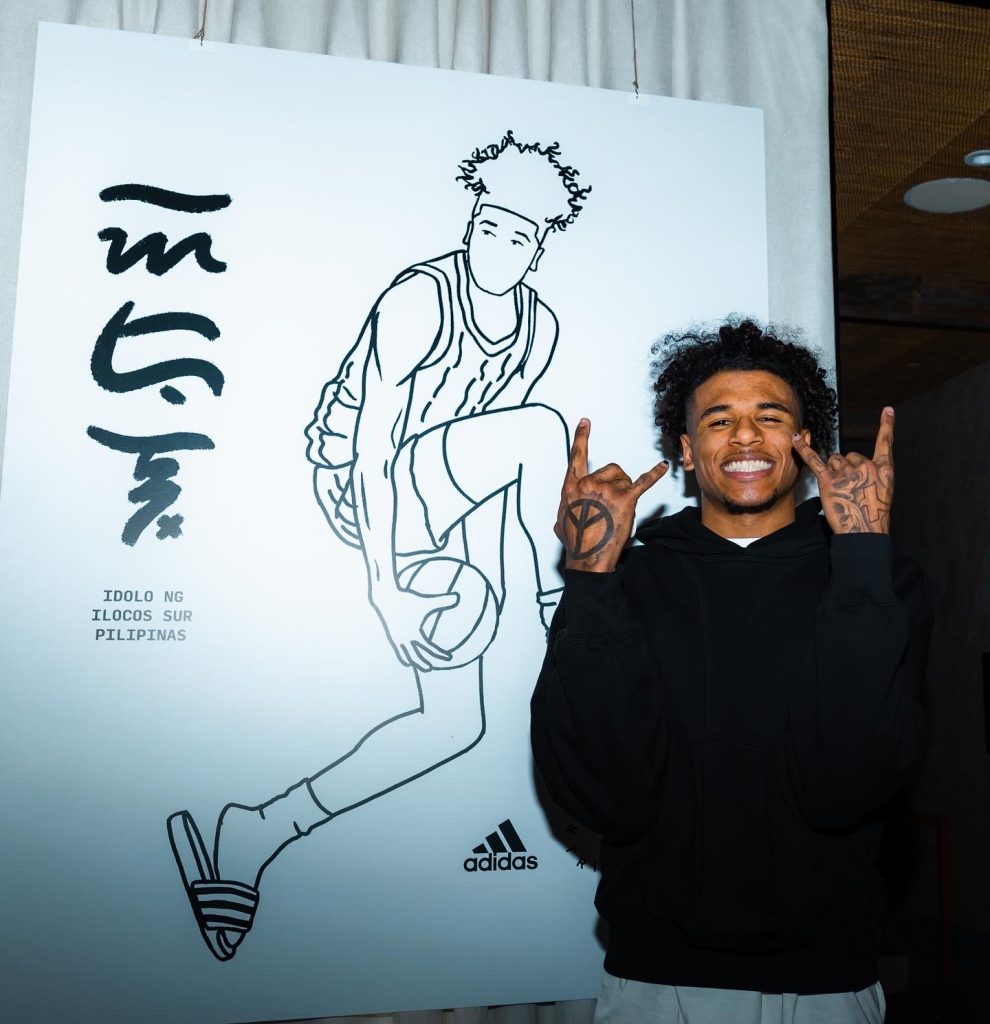 Photos By: @mr.jobeezy, @mkswrld_
Earlier this summer, rapper Killy announced his 2021 EURO Tour, but due to Covid, a shift in plans has made its way to 2022 dates instead. But European fans don't have to worry because all purchased tickets will be honored for the new dates. So who is this rising star? Let's get to know him.
Killy is a 24-year-old Filipino Candian Rapper from Toronto who has been a fast-rising star in Canada these past few years, even dubbed "Toronto's biggest rap export since Drake." Killy first entered the scene with a break-out single, "Killamonjaro," certified Platinum by Music Canada.
In 2019 he released Drake approved track "Triple Helix" under Epic Records. He's had two studio albums, an extended play, and an ongoing list of singles, including his certified platinum hits, "Killamonjaro" and "No Sad No Bad." To say he stays busy is an understatement.
Killy is constantly releasing new music and updates so make sure to follow him on all his socials to keep up to date for what's next.
Follow Killy:
Cover Photo Courtesy of Killy Instagram
Kim's Convenience is the funny, heartfelt story of The Kims, a Korean-Canadian family. While running a convenience store in downtown Toronto, the members of a Korean-Canadian family deal with customers, each other and the evolving world around them.
You can watch the trailer for Season 5 that begins this week below and full episodes here if you are in Canada, but if you aren't, you can also binge-watch previous Seasons 1-4 on Netflix.
ABOUT KIM'S CONVENIENCE:
"Kim's Convenience" depicts a Korean Canadian Kim family that runs a convenience store in the Moss Park neighbourhood of Toronto: parents "Appa" (Paul Sun-Hyung Lee) and "Umma" (Jean Yoon) – Korean for dad and mom, respectively – along with their daughter Janet (Andrea Bang) and estranged son Jung (Simu Liu). Other characters include Jung's friend and coworker Kimchee (Andrew Phung) and his manager Shannon (Nicole Power).
The series is based on Ins Choi's 2011 play of the same name. Mr. and Mrs. Kim have worked hard to give their now-twenty-something children, Janet and Jung, a better life in Canada. This comedy finds laughter in the trials of running a literal 'Mom and Pop' shop while raising kids in a culture not quite your own.
Main Cast:
Bar'kada Toronto restaurant founder is Fil-Canadian's celebrity DJ Tilt. DJ Tilt is one of the most demanded DJs not only in North America, but internationally as well, he headlined the Taste of Manila Festival in 2019 with Inigo Pascual & Ruby Ibarra where over 400K people attended. The restaurant is seeking support to stay alive during the pandemic, donations are encouraged.
DJ Tilt's selection of music has been enjoyed by A-list celebrities including Kim Kardashian, Jamie Foxx, Jessica Alba, Ben Afleck, Anne Hathaway, Lebron James, Dwayne Wade, Carmelo Anthony, & many more. Due to an extensive client list, Tilt's resume as a DJ expanded beyond the club as he provided services for companies including Google, HP, Vanity Fair, Audi, Toronto FC, L'Oreal, Ralph Lauren, YouTube, Skky Vodka, Diesel, and more.
In fact on Tuesday, Jan 20th 2009, DJ Tilt spun at the Google Inaugural Ball for U.S.A. President, Barack Obama on his inauguration day. 2000 A-list attendees were invited & CBC News did an exclusive piece on DJ Tilt on his visit to DC. Prior to the pandemic, he had down residencies in Toronto for thousands with ongoing events in New York, Bahamas and Vancouver a couple times a year.
Fast forward to 2020 when DJ Tilt and his founding partners for Bar'kada were scheduled to open in March of 2020, but because of Covid and the subsequent lockdowns, they had to delay our opening to late Fall 2020. Because they were a new business in 2020, they didn't qualify for any government relief programs; No Rent subsidy, No Wage subsidy, and No 40K CEBA loan. They are even still required to pay full rent even during these lockdowns. You can help the restaurant by donating to their GoFundMe here.
DJ Tilt has put his life savings into the project, at the same time losing all his regular income with his work in the events industry.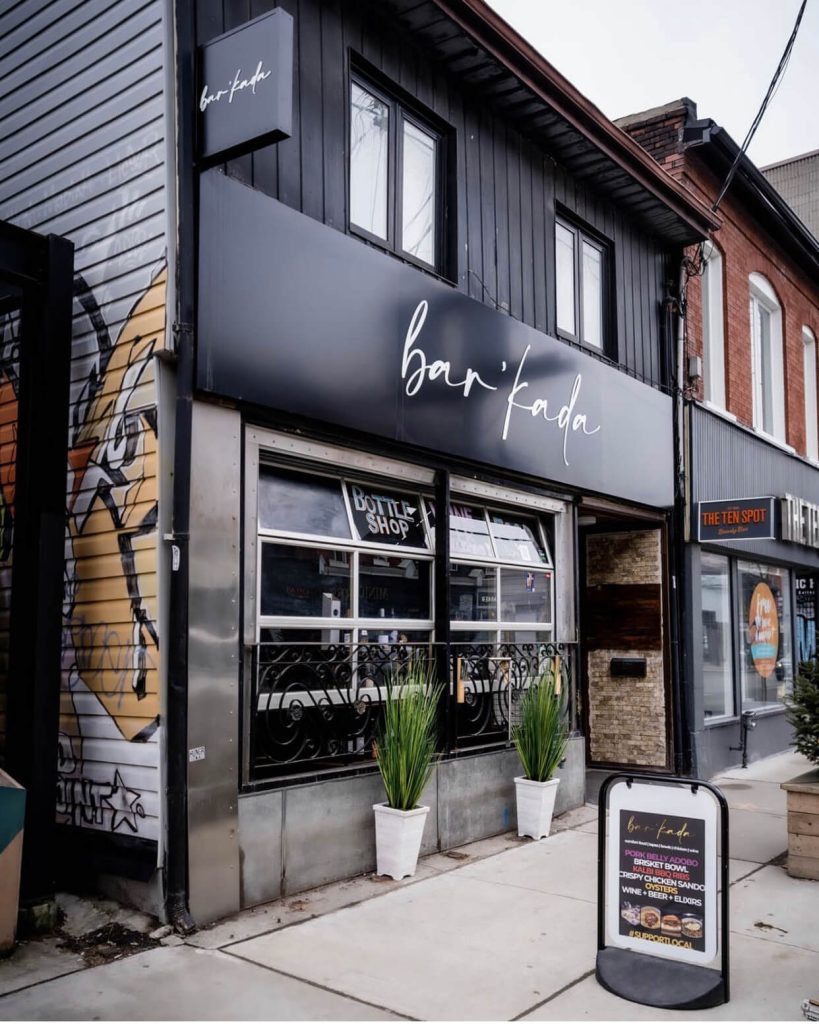 Bar'kada is still being asked to pay full rent while being in lockdown and unfortunately might not be able to stay open much longer. They won't be able to show everyone the beautiful space they have created.
How can you help?
Every donation helps keep their doors open; they want to stay afloat so that one day, hopefully soon, they can go back to normal and drink and eat and enjoy life together!
Starting January 21, MYX will partner for a special "Toronto DJ Week" feature for various DJs from Toronto during their weekly Twitch streams and will sponsor a Bar'kada meal of choice from the menu to the DJs. Tune in to hear great music, see the yummy Barkada food samples provided to the DJs & donate to the Bar'kada GoFundMe account. Check back soon for the full DJ schedule & set times.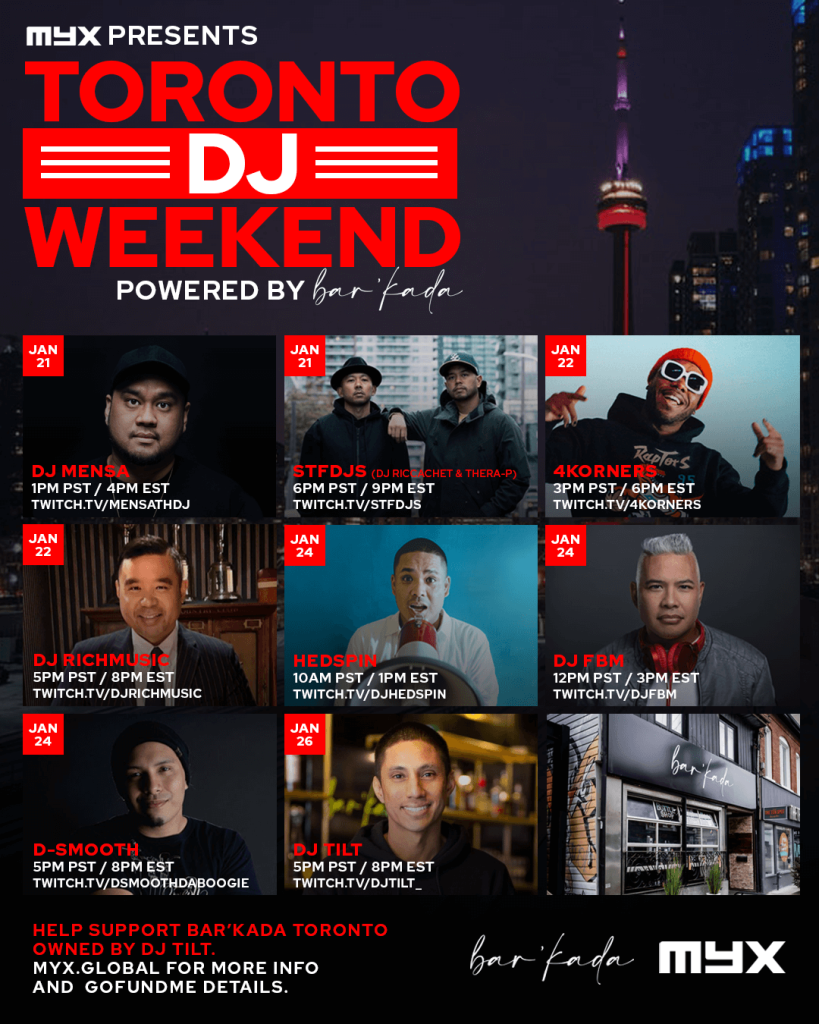 If you are in the local Toronto area or visiting soon:
Visit Bar'kada to order/pick up food at ⬇️⬇️
▪️745 Queen Street West, Toronto, ON
▪️www.barkadato.com to place your order for pickup or delivery.
▪️416-551-8889
▪️They are also on Uber Eats, Ritual, Door Dash, Skip The Dishes.
You can also donate anytime to the Bar'kada team on GoFundMe here. See the special video message from DJ Tilt below to support the struggling business:
For a list of Filipino DJs around the world to support in USA, Canada, EMEA & APAC, visit myx.global/filipinodjs.