#SARINOTSARI brings Filipino DJs together from all over the world every Sunday in November to raise disaster relief funds for the the typhoons that have devastated the Philippines & effected millions of families. Starting on 11/8, SARI NOT SARI Co-Founders, @nicoakablitz (The Lunch Table myx Host), @cassandreaho, @iamdjkza & @itsdatguyry raised over $3K at the first event for the American Red Cross on Tiltify. Tiltify is the the leading platform creators trust for all of their charity fundraising needs & a top full service fundraising platform made for the socially conscious generation, an exclusive partner for Tik Tok but also used by top platforms like Twitch & YouTube. Charities like Feeding America, Make A Wish & the St. Jude Children's Research Hospital are some of the global charities using the innovative platform where users can create their own personal fundraising campaigns for the charities of their choice. Click here to donate to the SARI NOT SARI campaign on Tiltify.
Owned by Amazon, Twitch is the top US based video live streaming service used by 140M+ monthly and 15M+ daily active users, mostly known for video gaming until the quarantine saw more music artists & DJs utilizing the platform. Filipino artists & DJs are amongst Twitch's most active users like producer Illmind, DJ Franzen, DJ Bella Fiasco, SOSUPERSAM, DJ E-Rock & the Snapback LIVE DJs gaining thousands of loyal followers & paying subscribers.
myx is honored to partner with 16 Filipino DJs this weekend for their next events, raising money for the ABS-CBN Foundation on Tiltify. Tune into 16 hours of amazing DJs & good music for a great cause, a @Twitch raid to all of these channels, starting at 9A Sunday 11/15 & continuing on 11/22 & 11/29 with different DJs, also co-hosted on twitch.tv/myxglobal.
Below you'll find the list of participating DJs & set times in Pacific Time:
| | | | | |
| --- | --- | --- | --- | --- |
| Time | DJ | Twitch | Location | IG |
| 9AM | DJ Philpz | twitch.tv/djphlipz | Washington, DC | @djphlipz |
| 10AM | DJ RichMusic | twitch.tv/DJRICHMUSIC | Toronto, Canada | @djrichmusic |
| 11AM | Jeff Nang | twitch.tv/jeffnangmusic | London, UK | @jeffnangmusic |
| 12PM | Mightyrel | twitch.tv/dj_mightyrel | Orange County, CA | @mightyrel |
| 1PM | DJ menAce | twitch.tv/djmenace84 | London, UK | @djmenace84 |
| 2PM | DJ PDawg | twitch.tv/djpdawg | Bay Area, CA | @djpdawg3sa |
| 3PM | DJ Flecs | twitch.tv/djflecs | London, UK | @flerasboyyo_flecs |
| 4PM | DJ JBird | twitch.tv/dj_jbird | Bay Area, CA | @jbirdrocks |
| 5PM | DatGuyRy | twitch.tv/iamdatguyry | Vancouver, Canada | @itsdatguyry |
| 6PM | Riyemixx | twitch.tv/riyemixx | Los Angeles, CA | @riyemixx |
| 7PM | DJ CaziusClay | twitch.tv/caziusclay | San Jose, CA | @djcaziusclay |
| 8PM | DJ Bitesize | twitch.tv/djbitesize | Daly City, CA | @dj_bitesize |
| 9PM | Nico Blitz | twitch.tv/nicoakablitz | San Francisco, CA | @nicoakablitz |
| 10PM | DJ Cheeesy | twitch.tv/djcheeesy | Winnetka, CA | @jakobmesina |
| 11PM | DJ KZA | twitch.tv/djkza | San Diego, CA | @iamdjkza |
| 12A | DJ Gabe C | twitch.tv/goodmorninggabe | Los Angeles, CA | @goodmorninggabe |
Watch below of how the group also made the record-setting impromptu 100+ hour Twitch crawl & how they created the SARI NOT SARI raid to become a fundraiser for the millions of families effected in the Philippines.
You can also donate directly by visiting abscbnfoundation.org. Over the years, the ABS-CBN Foundation has raised millions of dollars in legacy programs supporting disaster relief & child welfare in the Philippines.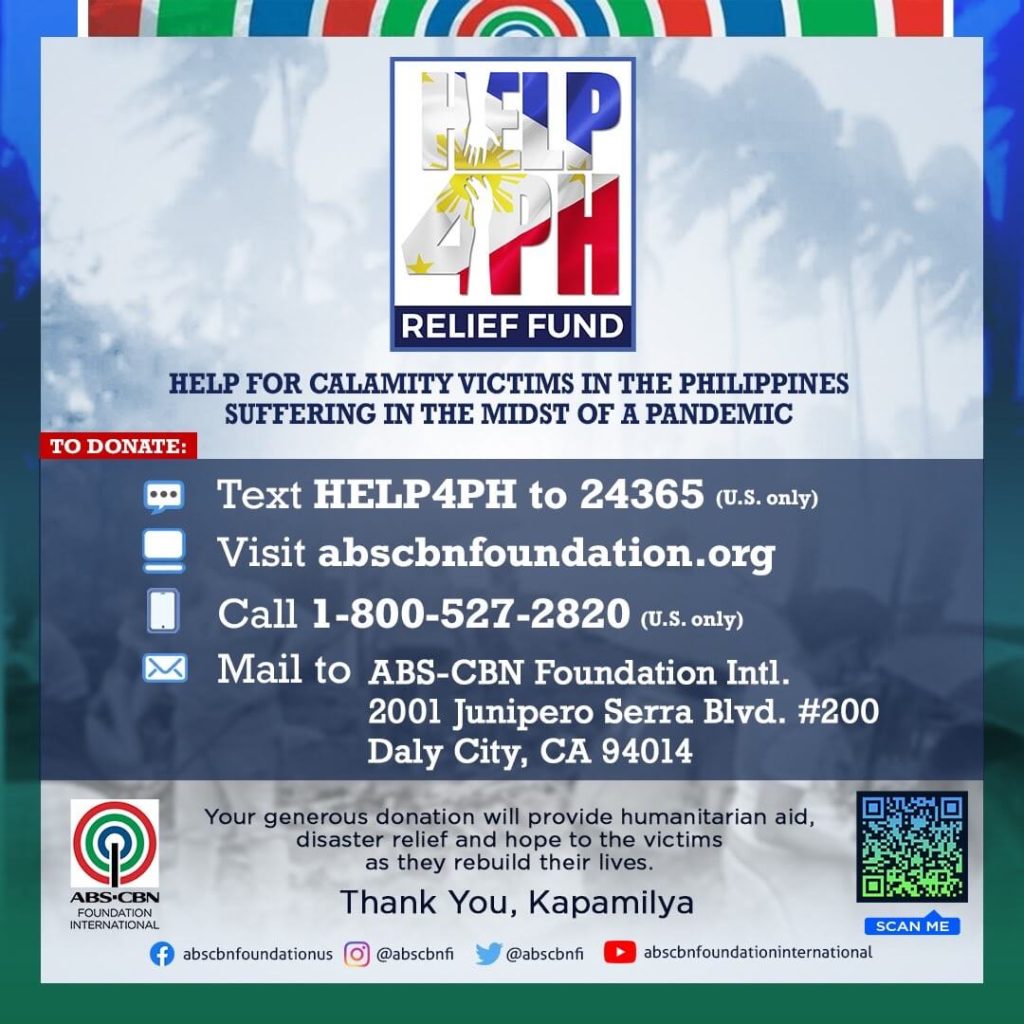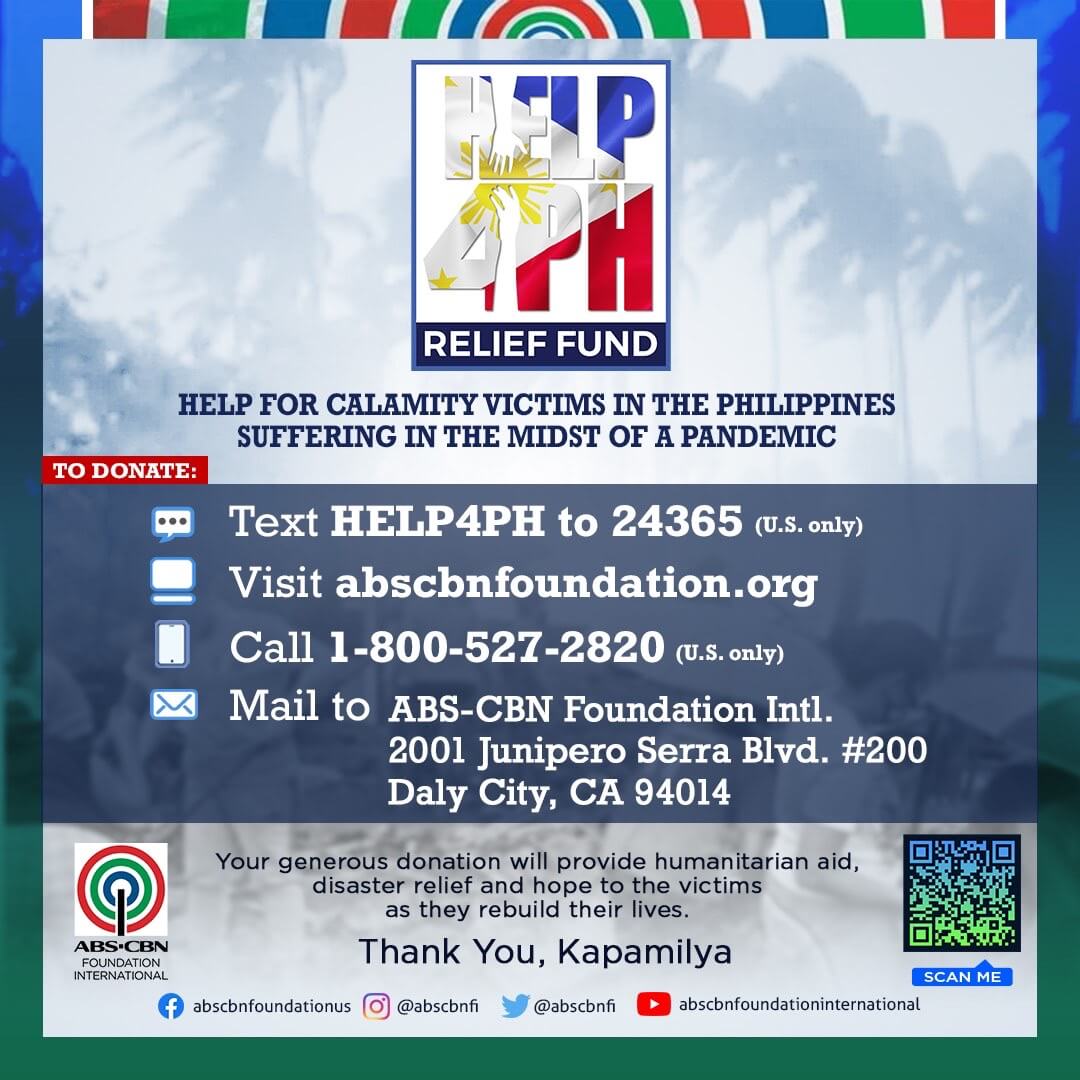 ABOUT ABS-CBN Foundation:
Service to the Filipino people with the highest standards of excellence, compassion, integrity, and accountability is the heart of ABS-CBN Foundation International (AFI).
AFI is a 501(c)(3) non-profit, non-governmental organization dedicated to improving the lives of disadvantaged Filipino families in the Philippines and around the world. AFI strives to become a major social change partner for the Philippines through multi-sectoral projects and partnerships in areas essential for building brighter future.
AFI serves as the public service arm of The Filipino Channel (TFC) and the umbrella department of all corporate social responsibility activities of one of Asia's biggest media conglomerate. AFI is a committed advocate of public service and accomplishes its mission through supporting the programs of ABS-CBN Lingkod Kapamilya Foundation Inc. (ALKFI) in the Philippines.
Using the power and reach of media that stimulates creation of critical multi-sectoral partnerships, AFI will continue to rally Filipinos and like-minded individuals to support and fund child care, disaster management, and environment conservation. AFI strongly believes that the three core programs will help realize a bright future for our Kapamilyas that will become the hope for tomorrow. Donate now.