Hottest news this week, Careless Music and Kumu Live just announced Nadine Lustre's first solo concert entitled "Absolute Madness." As the culmination to her debut solo album "Wildest Dreams", the concert will air online through Kumu Live's streaming platform on July 3, 2021 at 7 PM. Purchase tickets now on the Kumu Live website (www.kumu.live) to experience the grand spectacle from the safety of your own homes.
Kumu, a mobile streaming platform in the Philippines, kicked off a desktop version of their app to cater to live streaming ticketed events. Their continued support for Careless Music and for Nadine herself since the release of the Wildest Dreams Visual Album back in October of 2020 led to another big collaboration for this upcoming show made by and in collaboration with world class Filipino talents.
While the visual album last year was groundbreaking in itself for being the first of its kind in the Philippines, all eyes are on this concert again as it is said to be another first in the country for its unique blend of live concert and theatrical stage play.
Produced by Careless Music and shot by The Finest, Menchu Lauchengco-Yulo joins the team as director of the production. Known to be the "first lady of Philippine musical theatre," Direk Menchu was associate director and also main cast of the musical theater play "Ang Huling El Bimbo" which ran for two successful seasons back in 2018 and 2019. Additionally, even Nadine herself was hands-on in putting together her first-ever solo concert since the onset of her career. Rehearsals are well under way as Nadine goes all in with the cast and crew, which also features James Reid, Massiah, and A-Team in the production. And with Kumu Live as a platform to stream this, "Absolute Madness" is truly another product of great Filipino artists' and creators' joint effort.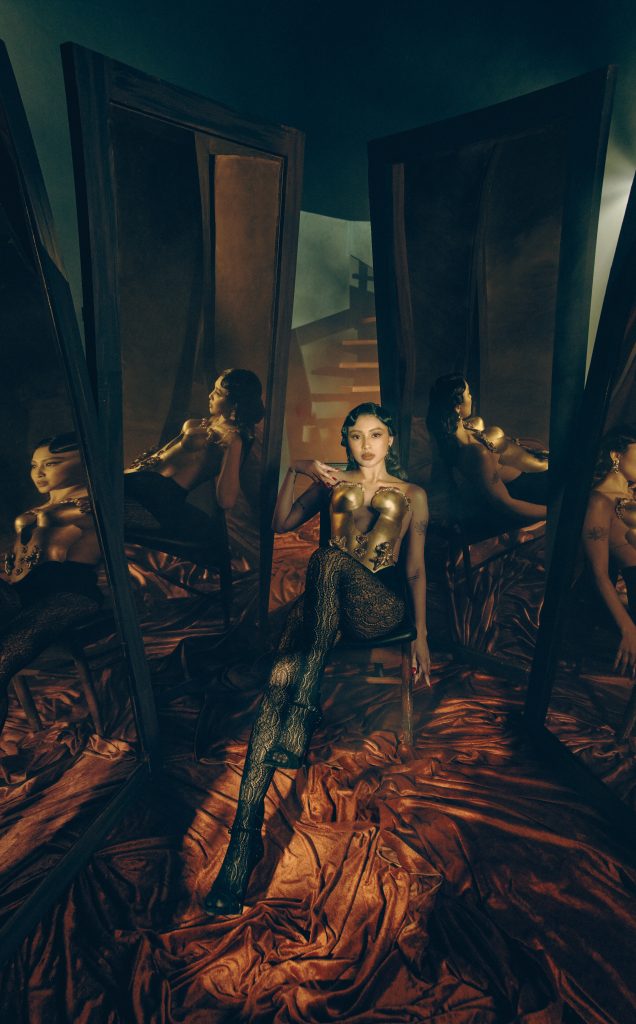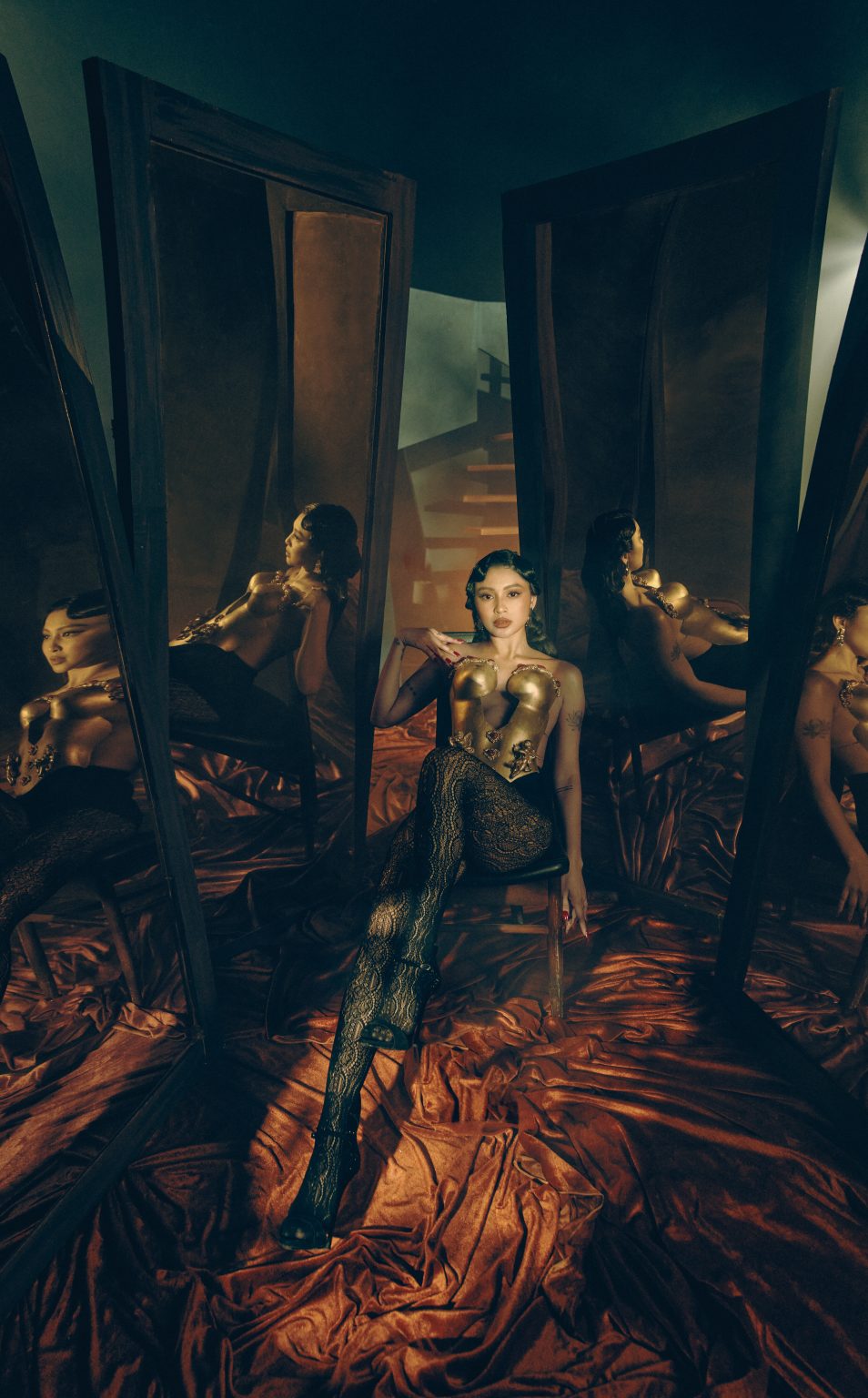 Direk Menchu shares the creative process she went through with Nadine saying, "She [Nadine] was instrumental in creating the concept. It was inspired by 'Alice Through The Looking Glass.' Nadine wanted it to encompass a magical land. When I asked her what her idea of refuge or fantasy was, she replied NATURE."
She also said that the experience of working with Nadine is nothing short of amazing and unlike anything she has ever done before. "Being able to collaborate with Nadine and create a totally new concept was incredible. Nadine had all these great ideas, my challenge was to see those ideas through."
In a nutshell, Nadine Lustre's "Absolute Madness" picks up from the Wildest Dreams Visual Album to cement how Nadine has found the answer to the quest of finding herself. Fans can expect never-before-seen performances of tracks from her "Wildest Dreams" album, set on the backdrop of a fantastical theater stage.
Ticket price starts at PHP 499 for Gen Ad, PHP 999 for Gen Ad + official concert merch, PHP 1499 for VIP + post-concert backstage pass, and PHP 1999 for VIP + post-concert backstage pass and official concert merch. To get even more of the concert experience, you may opt to get VVIP access which also includes pre- and post-show backstage passes with official concert merch for PHP 2999, but hurry because these are capped at only 100 tickets!
A sonic and visual experience like no other, witness Nadine Lustre's and Careless Music's first-ever online concert 'Absolute Madness' conquering the world of digital and theater stage!
For more announcement and ticket guidelines, check out KUMU Live and Careless Music's official pages:
Careless Music's Website: https://carelessmusic.com/
KUMU Live's Website: https://www.kumu.live/
Careless Music Twitter Link: https://twitter.com/CARELESS_PH
Absolute Madness Ticket Selling Website: https://www.kumu.live/live/event?id=FCE38822B5499C6E5F62A60CEE00C6DE
Since the release of Nadine Lustre's visual album Wildest Dreams, there's been BTS content, podcasts, and interviews on making this project. Now as the world slowly adapts to coming out of the pandemic, more live shows and performances are scheduled. With that said, Careless Music announced Nadine's first-ever digital concert on July 3rd called Absolute Madness through Kumu Live Events.
The show is described as an experience "conquering the world of digital and theater stage." Expect to see a theatrical project that matches the detail and art form of the album's visual videos. Careless Music partnered up with the livestreaming app Kumu and Mountain Dew to make the event possible. More congratulations are in order as Wildest Dreams hit 1 million streams on Spotify. Nadine and Careless Music celebrated by posting a couple behind-the-scenes photos while filming the visual album.
Tickets are now available to purchase for Absolute Madness on kumu.live
Cover Photo Credit: Careless Music Facebook
Artist and actor James Reid kicks off the year with a new single, Soda. The groovy track will have you placing it on your driving playlist ready to vibe along anytime. The track released by his own independent label, Careless Music explores the nonlinear journey we've all experienced the past year. The song has been hitting the top of the charts in the Philippines. He hopes that Soda along with soon to be released tracks will show people a different side of him. Dannieboi chats with him to talk more about music and asks your myxer questions!
Although James mentions that the title, Soda doesn't have anything to do with the lyrics it relates more with the sound. The track created last November then recorded in December, James says the "title came before the lyrics." Soda was the name of the beat then they ran with it. He wanted to incorporate things he grew up with while mixing his own style into the track.
However, the meaning behind the lyrics may not be as straightforward. While creating the track with Bret Jackson and producer Isagani Palabyab, Soda looks at rolling with the punches. It talks about the ups and downs while seeing how situations affect people differently.
While Soda might not be part of an album, we can hold out that an album is in the works. However, the surprises aren't over yet. A visualizer is coming out this Saturday, 2/6 on Careless Music's Youtube channel for the track. The visualizer isn't a music video, it's more of 3D art of the cover but a music video is coming too! Before we can experience a full-length album, expect to be hear more singles on the way. James explains that he's looking to play around with styles and just create before putting an album out. He also enjoys the feedback from fans as he experiments with his music.
After chatting music, Dannieboi then turns to the myxers to ask James' a few questions:
What are you grateful for in the past year?

James first mentions he's grateful for the support of his friends and family. Going independent is a daunting journey, but "I'm surrounded by talented people who are ambitious and want to make a difference. They look to place their mark on the world." Secondly, he's thankful for the fans. It's been a while since his last project, but fans have been supporting the track since its release.
2. What do you hope listeners get out of the track?

Honestly he tells us that hee didn't think too much about it. "I want people to get to know me better and how my mind works." A lot of the song is being introspective. It's the feeling of peace and knowing that we are where we're supposed to be right now.
3. Is there another compilation album for Careless? Vol. 2?

Before another Careless Mixtape, the team would like all artists to release their own catalog first. Everyone has their own sound and when a collab happens, they want to create a fusion of music.
4. Are there any live events coming soon?

James hints that there will be more digital live events and performances from Careless Music. In the meantime, look out for Nadine's online concert for her visual album, Wildest Dreams, which will include collaborations and remixes.
If you're curious about the other myxer questions James answered like who their next signee will be, you'll just have to watch to find out. Before heading out, James teases there will be merch for Soda and promises to release a lot more bangers!
Cover Photo Credit: Careless Music Manila Facebook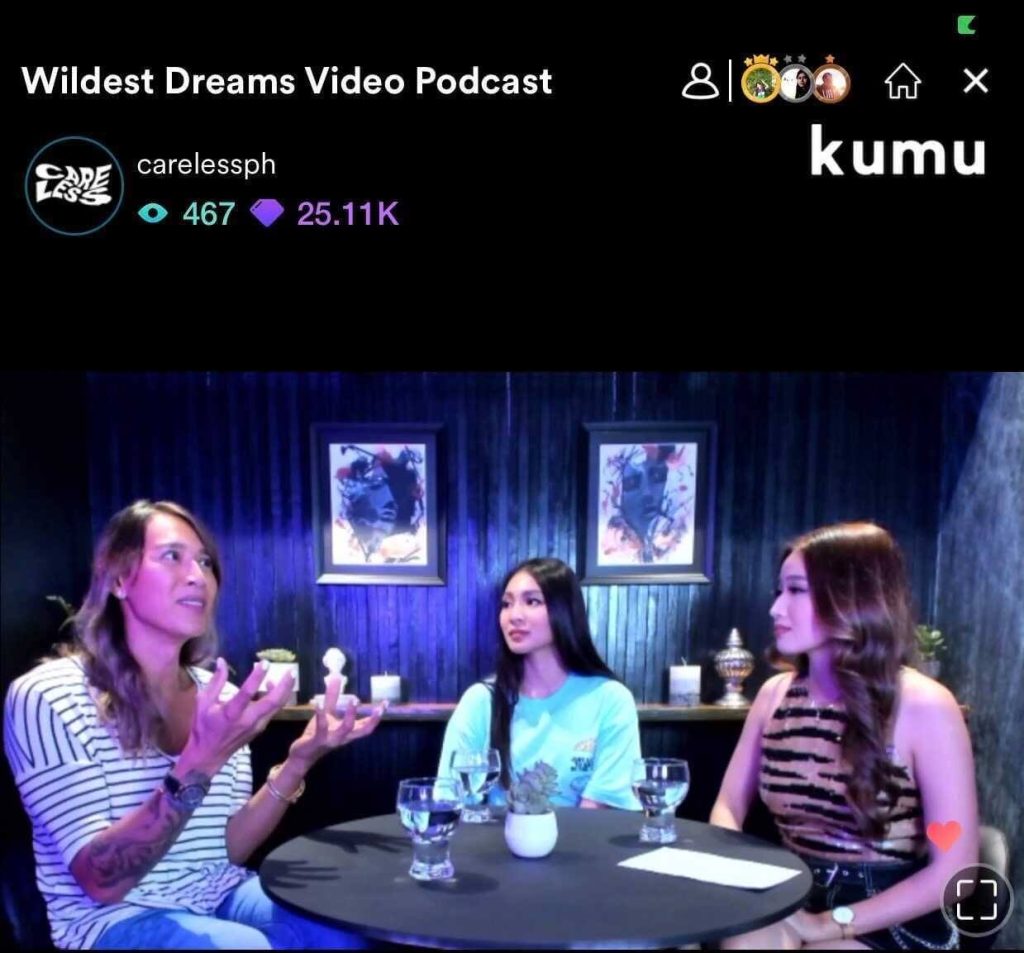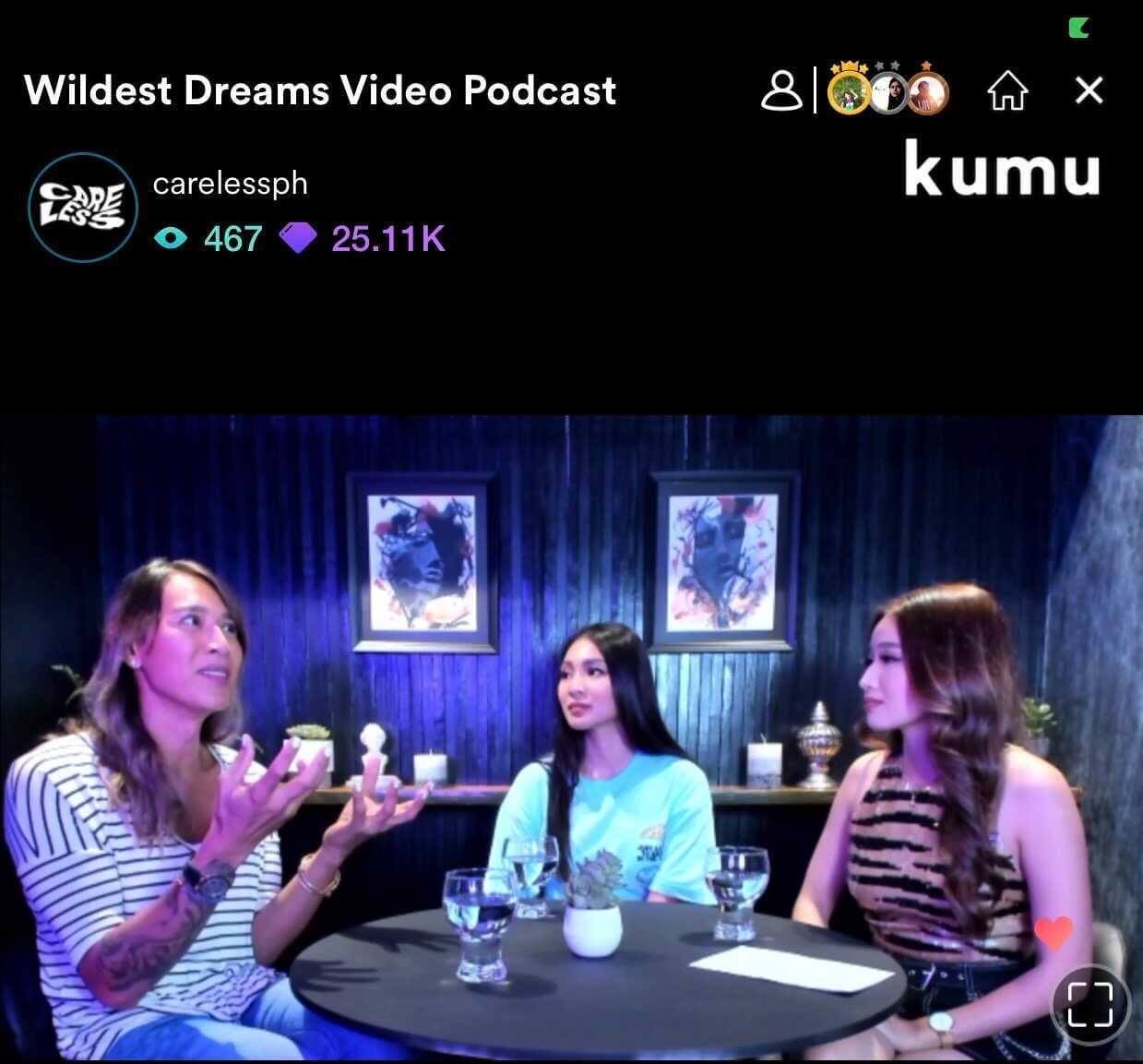 Manila, PH - In the first of a four-part video podcast series streamed on kumu, Nadine invites Angie for a casual discussion on topics that revolve around losing and finding oneself - a nod to one of the themes of Nadine's freshly dropped album Wildest Dreams.
No subject matter seemed to faze the two queens as the podcast's host Debbie Then threw questions at them alternatively, which the two ladies answered with unconcealed honesty.
Struggling Through Darkness
The conversation begins smoothly with Debbie asking the ladies what they feel about the word change and their life before they found the resolve to transform it.
Nadine opens up about the many struggles she has gone through from the beginning of her career up to the point of conceptualizing her album. Many of these challenges were brought about by self-doubt, embodying the character that others say she should have, and finding acceptance from all the wrong places. She shares that years of stress and pressure from these matters made her lose sight of her true self.
On the other hand, Angie struggled to find the courage to come out and show the world who she really is. She was anxious about how the general public would take the news, considering the conservative background of the country. This worry only prolonged the process of coming out, even taking a couple of years to gradually reveal her true self to her inner circle of family and friends before she did to the public.
Moment of Clarity
However, they both acknowledge that these hardships were essential in forming the person they are now. They agreed that what is important is that there was a point wherein they realized things had to change for the better.
Angie's wake-up call was when her father passed away. She recounts that this made her realize how fleeting human life could be and how she would only waste it if she would continue living but was hiding her true self in fear of what others may say.
For Nadine, she used the time in this pandemic's lockdown to look deep within her and rediscover the side that other people pressured her to bury. She shares that she had conversations with herself to become aware of who she is and what her heart truly yearns for.
Life After Rebirth
While these two journeys may be contrasting in the details, Nadine and Angie easily related to each other because of the similarities in how they eventually found themselves and became better off for it in the end.
Angie took the emotional pain of her father's death to forge a fire within her that gave her courage. Now she proudly affirms that she can live her life to the fullest and do whatever makes her happy. Fascinatingly, she recalls that almost all of the stories about her coming out were positive. She was relieved to find out that it wasn't as bad as she expected it to be. Ultimately, she was thankful to everyone who showed their love and support for her and her wife, Joey.
And for Nadine, her realizations led her to actualize Wildest Dreams. Not only was the album an outlet to pour out her feelings, but it also became a physical manifestation of her growth as a person. She expressed how happy she was that she found the strength to let go of all the insecurities she had about the album (which was a lot) and released it along with visuals. The album speaks something never before heard from her - something her heart has been yearning to voice out all these years. It's Nadine at her most authentic form.
Follow Careless Music @carelessph and catch the next Wildest Dreams Video Podcast on kumu.

kumu is a powerful social media platform that brings the voices of Filipinos from all over the globe at the forefront. Aside from presenting users real-time earning opportunities as a live streamer, chances to win cash in various game shows, and engagement in campaigns, kumu also fosters communities that ignite relevant discussions among Filipinos.
Be part of the Kumunity now and download the app for free at Google Play or the App Store.
White Rabbit from Nadine Lustre's Wildest Dreams album features up and coming rapper Massiah. It's impossible not to feel the beat so you'll find yourself vogueing along too. Although the music video is from the visual album, it's great on its own. Who else is getting Alice in Wonderland vibes? Nadine recently premiered it in the United States at the kollectivehustle.com launch LIVE on @myxglobal kumu.
There's lots of easter eggs in this video along with the rest of the visual album so let us know what are some you found!
Download / stream here
Dannieboi is back with Careless Music in this myxCLUSIVE talking to the creative minds behind the label, James Reid and Bret Jackson. We catch up with them since the release of Careless artist, Nadine Lustre's Wildest Dreams visual album, talk about the venture toward more international exposure, and find out what's coming up on the horizon for Team Careless.
The Whole Thing is a Crazy Dream:
Bret and James agree the last 2 weeks have been hectic for the label. Within the first 3 days of its release, the Wildest Dreams visual album reached over 1 million views on Youtube. With this project, they hoped to get people thinking and asking deeper questions about growth and breaking down mental barriers. Bret highlights that it's a wholistic experience.
"It's about the overall message and watching the whole thing gives you the full message we were trying to go for ."
The Wildest Dreams visual album is the first of its kind in OPM (Original Pilipino Music) history and the feedback has been positive. James says, "people's minds seem to have been blown and that's the reaction we were going for." If you're like us and need more content, Bret and James reveal that merch has dropped with designs inspired by each song on the visual album. You'll have to cop your gear soon as items are selling out fast!
The guys also hinted to an alternate ending, which they'll eventually reveal along with more behind-the-scenes footage, podcasts with Nadine, and director's commentaries about the process of making the music and its videos. BRB, clearing our schedules real quick!
­Great Time to Do Something New and Innovative:
2020 didn't stop Careless Music from creating and expanding their reach. Moves are being made for 2021! Bret believes that now is the time to step up. "2020 is a cultural reset for people. It leveled the playing field for everyone…gave opportunities to others like Careless to step forward." Earlier this year, it was a big step when James performed on the IDENTITY: Project Blue Marble global charity music fest hosted by Transparent Arts. We asked James about his signing with Transparent Arts, co-founded by Virman from Far East Movement and what that means for Careless.
"Before quarantine, I spent time in LA with Virman and James Roh, it really was just the people. They see potential in the Philippines and they recognize what we're trying to achieve with Careless…they want to help us expand into other markets."
Lots to Look Out for Early Next Year:
Dannie tries to get Bret and James to drop more hints as to who their female signee is, but they wouldn't budge. However, we can expect an official announcement early next year! Anyone have any guess yet? With that, loads of new stuff are also on the horizon come January. The team has been working hard on music and maybe we can expect James to officially release "I Know You Care" which we've all been waiting for.
The guys also answered a few fan questions and filled us in on James' current agricultural initiative. Besides music, James is also an Ambassador of Food Security for the Philippines' Department of Agriculture. He tells us about the Re-Terra initiative which is a "design competition that targets architecture students to help come up with ways to solve the problems of food security and integrate agriculture into the city." Honestly, what can't they do?
Careless is taking over and we can't wait to see what they'll do next. Keep up to date with all things Careless: Instagram, Twitter, Facebook, and kumu (@carelessph).
ICYMI watch our past myxCLUSIVES with Bret and Nadine!