They recently launched Wish USA featuring performances from their Hollywood, CA location. Artists like rapper Ez Mil have garnered attention by fans worldwide by discovering his recent performance on the bus, 26M+ views and counting.
Wish 107.5 is an all-hits FM radio station based in Quezon City, Philippines. Equipped with state-of-the-art broadcast facilities, the Wish Bus took the traditional radio experience beyond the four-walled booth as it brought music right where most of the listening public are — streets, roads, and parks with WISHCLUSIVE performances watched by millions across the world. International fans react to various performances. Filipino artists like IV of Spades, Michael Pangilinan, Bugoy Drilon, Morisette, KZ Tandingan, O.C. Dawgs & Ben&Ben have all benefitted from the exposure to new audiences after their filmed performances of their amazing talent.
MYX interviewed the Wish 1075 team to share more details of Wish 1075 and how it came to be below:
When, where and why did you create the Wish Bus, what inspired the idea?
Kuya Daniel Razon Created the Wish Bus to be a neutral platform for upcoming artists without the boundaries of regular networks and agencies.

2. What was your goals in creating the series?
Our goal is mostly to shed a spotlight on independent artists and introduce them into the music industry.

3. Who was the first artist to go viral internationally?
In 2015, Darren Espanto cover of "Chandelier" was globally recognized. It was first reposted as a post on 9GAG and from there, other website and blogs around the globe picked up the story.

4. What has been some of the most memorable moments?
Artists such as KZ Tandingan and Bugoy Drilon, among other OPM favorites, have all given us our favorite Wish Bus moments. Those who have won the Wish Music Awards have also left a memorable mark because these artists have been known to extend a helping hand to those in need, alongside Wish.

5. Did you ever realize this series would grow to be the international talent discovery platform that it is now?
It was one of the simple wishes of the company when it first started, but we never thought that it would grow to what it is today, for that, we are thankful.
6. When / why did you create Wish Bus USA in Hollywood, CA? What are the goals of the US version?
Planned in early 2017, Wish executive, Kuya Daniel envisioned a platform that would cater to the hidden Filipino talents that the entertainment industry often overlooked. In 2018, this vision came to life when Wish USA launched the Wish USA bus in the Universal City Walk. Los Angeles was made to be the center of the Wish USA operations as it is only fitting that we provide a platform for music talents in the entertainment capitol of the world – as our slogan states, Wish USA, your gateway for opportunities, your gateway to the world.

7. A lot of platforms have been discovering Ez Mil from the new US platform, how do you find new talent to be featured?
Most times, they come to us, but we also scout for talents thru social media and connect with them. Find more information if you are in LA at @WishUSAMusic on Instagram.
8. What do you think Filipino artists need to do to help shine on the world stage?
Hone your skills. We believe that it is natural for Filipinos to have various talents and, with focus and determination, you can make them shine. Always be humble, never forget your roots, and remember the people who helped you throughout your journey. focusing on the career will help you shine. Always be humble and never forget your roots and those people who helped in your journey.
9. How can we all support your mission?
Stop crab mentality. Wish was created from a simple wish, to help all kinds of people throughout the power of music. To support our mission, support the talents that we feature.
10. Why did you create the WISH Awards?
We created the awards to give back to the community who has continuously supported us. Through the Wish Music Awards, artists donate a portion of their prizes to a charity institution of their choice. Second to that is to highlight and thank all of the artists who have shared their talents with us on the Wish Bus.
11. What's next? Where do you want to take wish next?
Only God knows where we'll go from here, but, no matter what, we will continue to be a music platform that caters to all kinds of artists from different genres.
ABOUT WISH 107.5:
Wish 107.5 is an all-hits FM radio station based in Quezon City, Philippines. When it first hit the airwaves in August 2014, it promised to grant your fervent wish of making your radio more than a typical music-box-on-air. Wish 107.5 unveiled the first and the only Mobile Radio Booth in the Philippines, now known as the WISH 107.5 Bus.
Equipped with state-of-the-art broadcast facilities, it took the traditional radio experience beyond the four-walled booth as it brought music right where most of the listening public are — streets, roads, and parks. With the capabilities it offers, the Wish 107.5 Bus is on the right track in leaving an indelible mark in the music scene.
The desire to bring this concept to more audience fuels the station to continue embarking on a journey that would forever change the course of music and radio broadcast history of the Philippines and the World, transforming itself from being a local FM station to becoming a sought-after WISHclusive gateway to the world.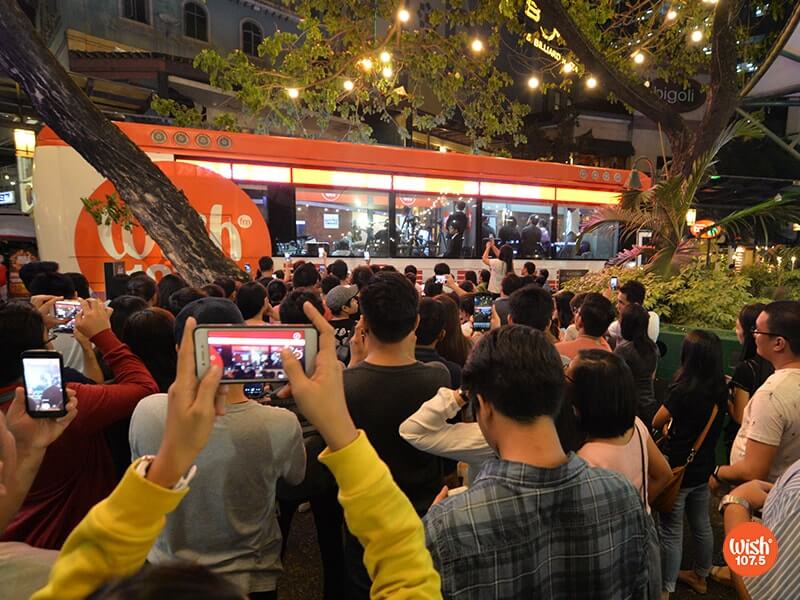 WISHclusive performances are uploaded on their official YouTube Channels WishFM1075official (Philippines) & Wish1075Live (USA) channels.

Ez Mil is back on the Wish USA Bus with a live performance of his rap track "Panalo." The catchy R&B beat expresses the singer's take on Filipino nationalism. Read his AllHipHop.con feature here.
Ez Mil created a reaction video with english translations with Hbom to break down the song and meaning.
Ez Mil & Hbom collaborated on "Cultura" earlier this year, watch the music video below alongside reactions videos from around the world as the performance has reached over 10M+ globally.
International foreigners reaction:
ABOUT Ez Mil from Bandcamp:
With Ez's biggest influences as Chris Brown and Eminem; The music that he writes and releases usually hit closer to his real life and are less theatrical than his heavy and destruction-driven metal music, but he doesn't let that get in the way of his passion to deliver a solid experience to whomever takes a listen.
Hailing from the 2200; at the 27th of July, 1998, EZ was born a Filipino, half Caucasian in Olongapo City, Philippines. Born into parents that were tearing it up in the nation's local Rock & Roll scene, that city was his place of birth and where he was raised. As the norm of rebellion from over-exposure, instead of Rock, Hip-Hop / Rap was the first musical genre he fell in love with. Then as he grew up, being exposed to the peek of R&B / Pop infused with Hip-Hop.
Chris Brown & Eminem's music and dancing became the first obsession for Ez's childhood self-expression, with there being a point where it was only Chris Brown songs and videos as his choice of entertainment. But from that obsession, brew his practice on the basics of vocal athleticism because of Brown's songs, and led to the love for dancing; which led him to another obsession for the Jabbawockeez. Having him diversify his dancing style from Krump, Michael Jackson, Pop n' Lock, Isolation (robotic dance subgenre), and a little bit of B-Boy.
But as any child who grows out of certain obsession phases, Ez was far unlike those children. For anything he falls in love with and obsesses over, he will for the rest of his life. Up to now, Ez Mil keeps stacking up on things that he loves to do, and no one has, or ever will keep him in one box. From musical genres in his music, producing, dancing, skateboarding, illustrative art, and many more.
Indulge on your favorite Wishclusives of the Week. Use the tag #WishBusMYX to let us know which was your favorite on Twitter tagging @myxglobal & @wish1075.
Folk-pop ensemble Ben&Ben perform their heart-breaking track "Sa Susunod na Habang Buhay" live on the Wish 107.5 Bus for the sixth installment of the Wish Music Awards.
2. Pop singer-songwriter Sam Mangubat performs "Hangganan" live on the Wish 107.5 Bus! The heartbreaking track is about giving your all when it comes to love despite your romantic relationship being short-lived.
3. Folk singer-songwriter syd hartha performs "hiwaga" live on the Wish 107.5 Bus! The hip-hop-influenced track is introspective in nature: It narrates her journey from experiencing an existential disarray to becoming a better version of herself.
4. Indie-pop duo Leanne and Naara perform "Let Go" live on the Wish 107.5 Bus! The song — which tackles love and parting — is the closing track of their debut album, "Daybreak."
5. Hip-hop group ALLMO$T performs "Tampo" live on the Wish 107.5 Bus! The R&B-leaning track, which talks about reconciling with your lover after a quarrel, is taken from their first full-length album "This is Us."
Wish 107.5 held their 6th Annual Wish 107.5 Music Awards at the Araneta in Manila that was live-streamed on social media.
Here are the 2021 Wishclusive nominees & winners from your favorite performers of the year from the Wish Music Awards. The winners have been bolder in the various categories.
The 2021 Wish Music Awards: Nominees & Winners
Wishclusive Pop Performance of the Year
Wishclusive Ballad Performance of the Year
Wishclusive R&B Performance of the Year
Wishclusive Rock/Alternative Performance of the Year
Wishclusive Hip-hop Performance of the Year
Wishclusive Contemporary R&B Performance of the Year
Wishclusive Contemporary Folk Performance of the Year
Wishclusive Collaboration of the Year
Wish Pop Song of the Year
Wish Ballad Song of the Year
Wish R&B Song of the Year
Wish Rock/Alternative Song of the Year
Wish Hip-hop Song of the Year
Wish Contemporary R&B Song of the Year
Wish Contemporary Folk Song of the Year
Wish Song Collaboration of the Year
Best Quarantine-Produced Song
This category is a special distinction dedicated to artists who have challenged the limitations brought forth by the pandemic to come up with a fresh release that best resonates with people during these challenging times.
Wish Breakthrough Artist of the Year
Wish Group of the Year
Wish Artist of the Year
As in the previous years, winning acts of the major awards will be receiving a cash prize worth Php 25,000, plus an additional Php 100,000 for their handpicked beneficiaries. For more info and exclusive videos & photos visit Wish 107.5.