USC Athletics USC Mens Basketball team hosted their Filipino Heritage Celebration with MYX on Saturday January 29, 2022 at 4P against Pac12 team, Cal Berkeley. Watch the highlight video below of the event that included a special halftime performance by Ruby Ibarra, national anthem by Ranella Ferrer and a season high scoring game by Fil-Am player Boogie Ellis!
See photos below by @VaronP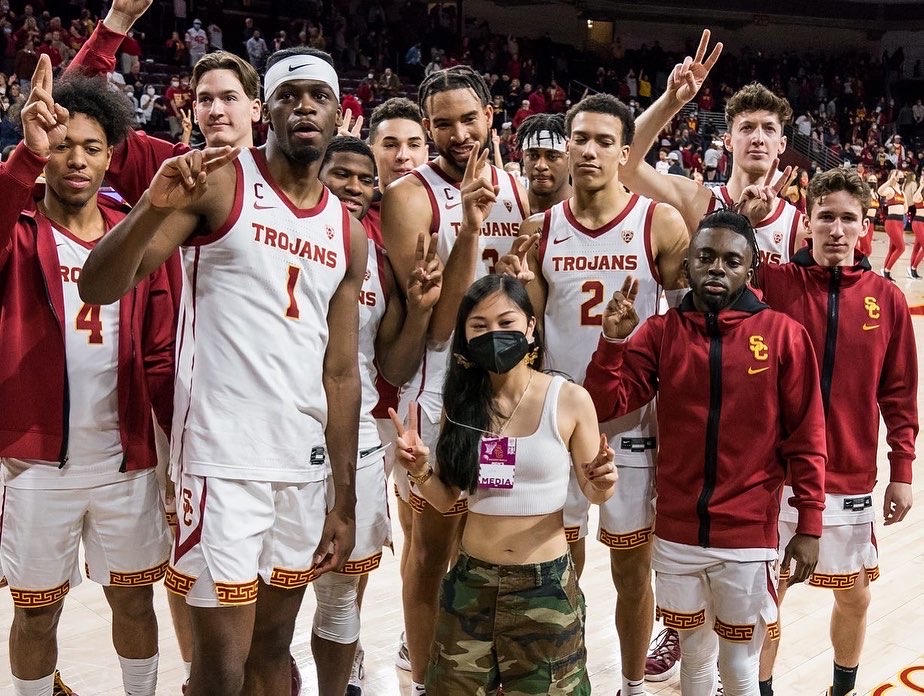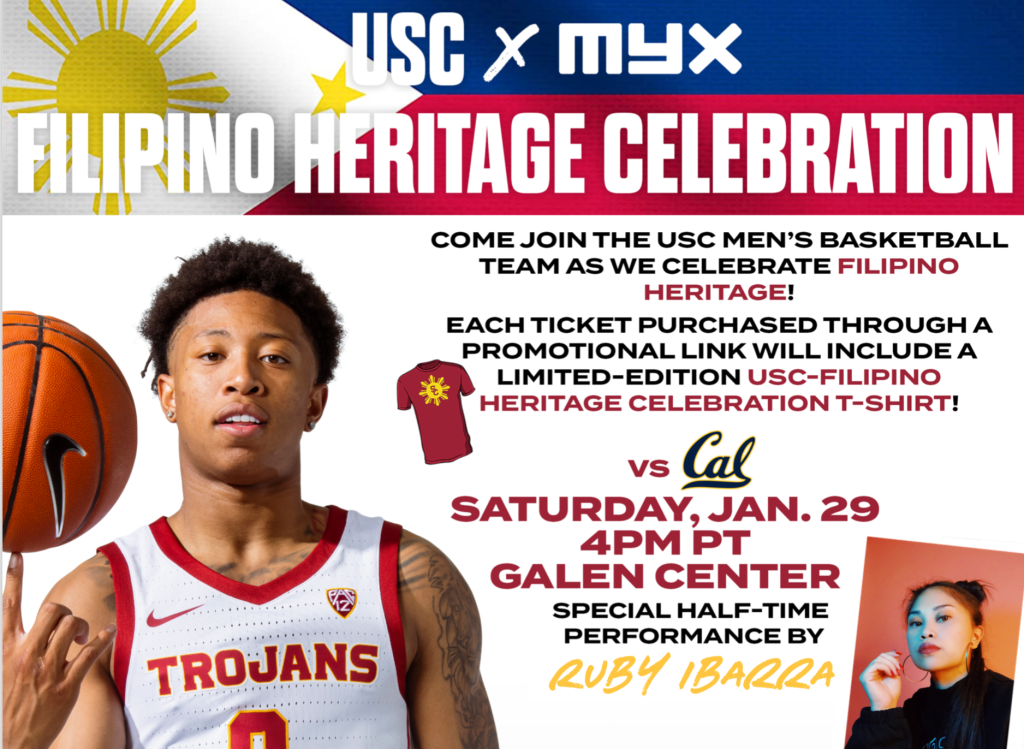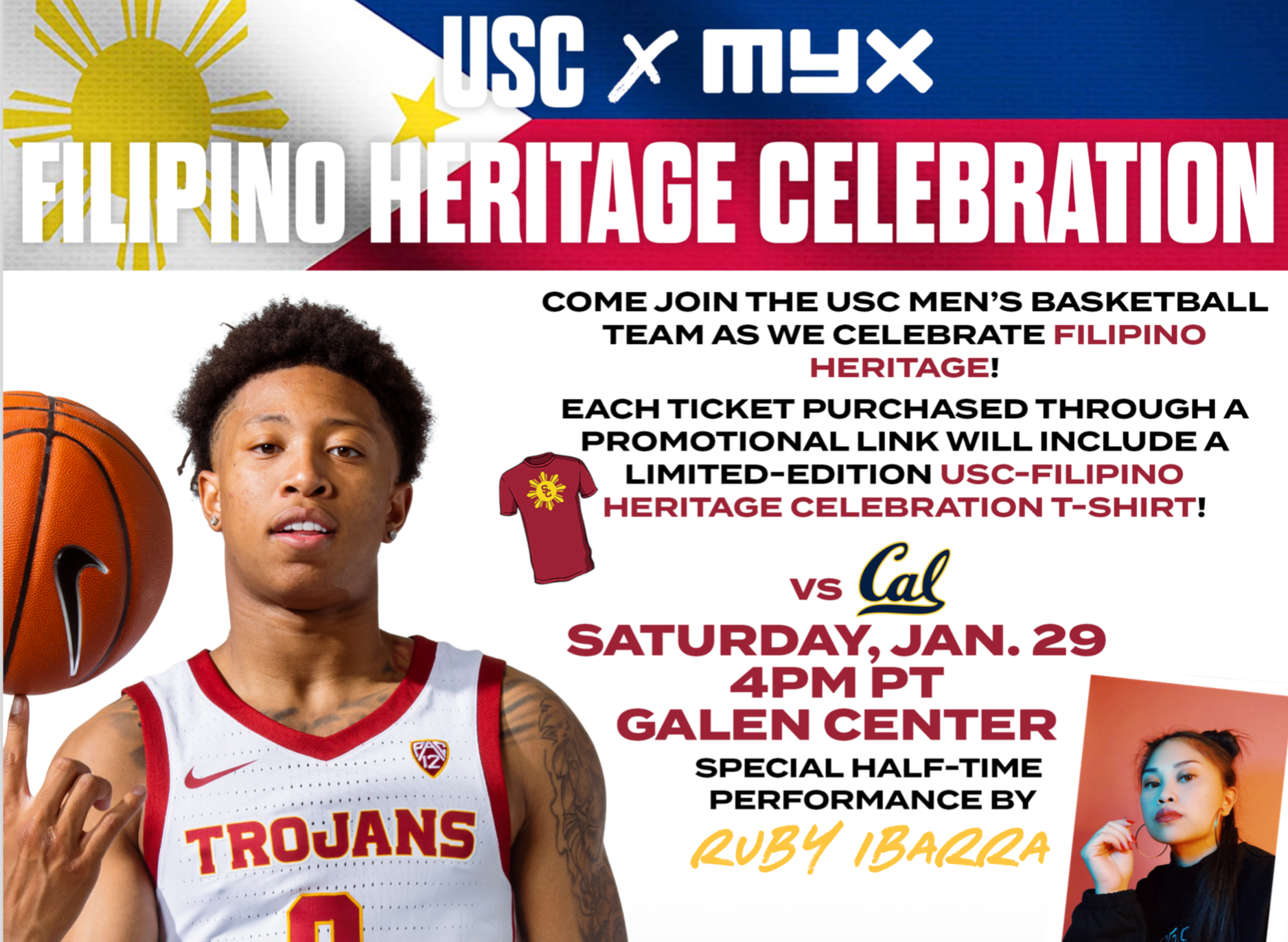 Fil-Am USC Mens Basketball Junior Point Guard sat down with MYX alongside his mom, Rowiena Simpson and grandmother, Corazon Simpson to discuss the upcoming night, his focus right now and opportunity to play for his community.
The celebration will feature a special performance by Bay Area hip hop artist, producer & scientist, Ruby Ibarra.
You can purchase your tickets here before they sell out on this special discounted group link will include a special USC Filipino themed t-shirt in the University of Southern California's legendary cardinal and gold colors.
Originally from San Diego, CA, USC point guard with Black and Filipino heritage, Boogie Ellis, has been impressing audiences with his talent. He dropped 20 points in the opener and has been a force on the court since. Witness the phenom and spend a night celebrating Filipino heritage with music and basketball with fellow MYXers, Trojans & fans in LA and those coming in to celebrate. Each ticket purchased here will receive one ticket and one shirt.
ABOUT BOOGIE ELLIS:
Junior Rejean "Boogie" Ellis is a 6-3, 185-pound guard who transferred to USC after two seasons of playing at Memphis, where he was named the American Athletic Conference Co-Sixth Man of the Year in 2021. Ellis. He has shown the ability to score by driving into the paint and from beyond the three-point arc and is a strong defender.
BEFORE USC: 2020-21: Ellis played in all 28 games for Memphis, making 15 starts, and averaging 10.2 points per game en route to being named AAC Co-Sixth Man of the Year. He made 51 three-point baskets and hit at a 38.6 percent from beyond the arc. Ellis finished third on the team in scoring and second in three-point baskets made. He became a starter in February and averaged 12.3 points in Memphis' final 13 games. He scored 20 or more points three times, including a career-high 27 points in a loss to No. 7 Houston in the AAC Tournament on March 13, making 5 of 8 from three-point range. He was named to the AAC All-Tournament team. He made three or more three-pointers in a game six times, including tying a career-best with six makes vs. Saint Mary's on Nov. 25, finishing with 24 points in the season opener. Ellis scored a team-high 23 points in Memphis' 77-65 NIT championship victory over Mississippi State on March 28.
2019-20: During his freshman season, Ellis started 27 of 31 games and averaged 8.0 points and 3.3 rebounds. He finished third on the team with 36 three-pointers made and was second on the team with 39 steals. He scored a season-best 22 points and made six three-pointers vs. UIC on Nov. 8. He had a career-best five steals in back-to-back games, first on Nov. 16 vs. Alcorn State and then on Nov. 20 vs. Little Rock. In the Barclays Center Classic in Brooklyn on Nov. 28, he scored 21 points on 7 of 11 shooting in a win over North Carolina State. Ellis averaged 11.3 points and 4.0 rebounds during the team's 2019 foreign tour to the Bahamas.
HIGH SCHOOL: Ellis graduated from San Diego Mission Bay High in 2019 as the No. 32 overall recruit according to 247Sports.com. He averaged 18.3 points as a senior. As a junior at Mission Bay High, Ellis averaged 24 points, 6 rebounds and 6 assists and was named the San Diego Section Player of the Year. He led his team to the 2018 Open Division title by scoring 34 points vs. Torrey Pines. He led his team to an 18-13 record as a senior and narrowly missed out on repeating as San Diego Section Player of the Year. He averaged 17.2 points and made 46.0 percent of her shots on the 2018 NIKE EYBL Circuit.
PERSONAL - Boogie was born on December 21, 2000 in San Diego, California. His mother's name is Rowiena Simpson, (she is mixed Black & Filipino) and his father is Rejean Tremaine Ellis and he has four siblings. His favorite musical artists are Drake and Lil Uzi and his favorite movie is "He Got Game." His sports hero is Kobe Bryant. Someday he would like to travel to Cabo, Mexico as his favorite food is Mexican. He is a Communication major at USC.
Cheer Boogie Ellis and the USC Trojan Mens Basketball Team, purchase tickets here.