Huge congratulations are in order as Vanessa Hudgens is engaged to MLB player Cole Tucker. The news was first shared by TMZ and said the couple are taking their relationship to the next level. The two have been dating since 2020 after her split from a 10-year relationship. We've been seeing Vanessa supporting Cole at his games and wearing all the team merch. We can't wait to hear more news and see how Mama G and her sister, Stella Hudgens are also celebrating!
So the "T" necklace wasn't for Troy after all but for Tucker.
Cover Photo Credit: Vanessa Hudgens Instagram
We all had the song, "Nobody Like U" stuck in our heads after the Pixar film, Turning Red released last year. Since then, the track has been nominated for a Grammy, Best Song Written For Visual Media. Fil-Am singer, Grayson Villanueva and 4*Town member performed with the rest of the fictional boy-band group at the 20th Unforgettable Gala.
They shocked the crowd with their performance which was filled with influential Asian-Americans in the entertainment industry. In the recap video of the performance, not all original members of 4*Town were in attendance but the tracks, "1 True Love" and "Nobody Like U" turned into a stunning medley. Check out how hyped this live performance got the crowd going. We can all agree that we'd be the first in line if a tour happened.
Cover Photo Credit: Grayson Villanueva Instagram
Many dream about becoming a Disney Princess and seeing themselves represented on screen. Recently, Filipina-American artist H.E.R. made that dream come true. The Bay area native is one of the music industry's most celebrated and accomplished singer-songwriters. Now, she can add another bullet to her resume as Disney's latest Belle. She expressed her excitement about what this role means not only for her but also for the community. "It's crazy! I can't believe it, honestly. I can't believe that I've come this far and that I have the impact that I have," H.E.R. told Philstar.com in an exclusive interview about being the first Afro-Filipino Disney princess in the new live-action hybrid 30th-celebration special of the Disney classic Beauty and the Beast.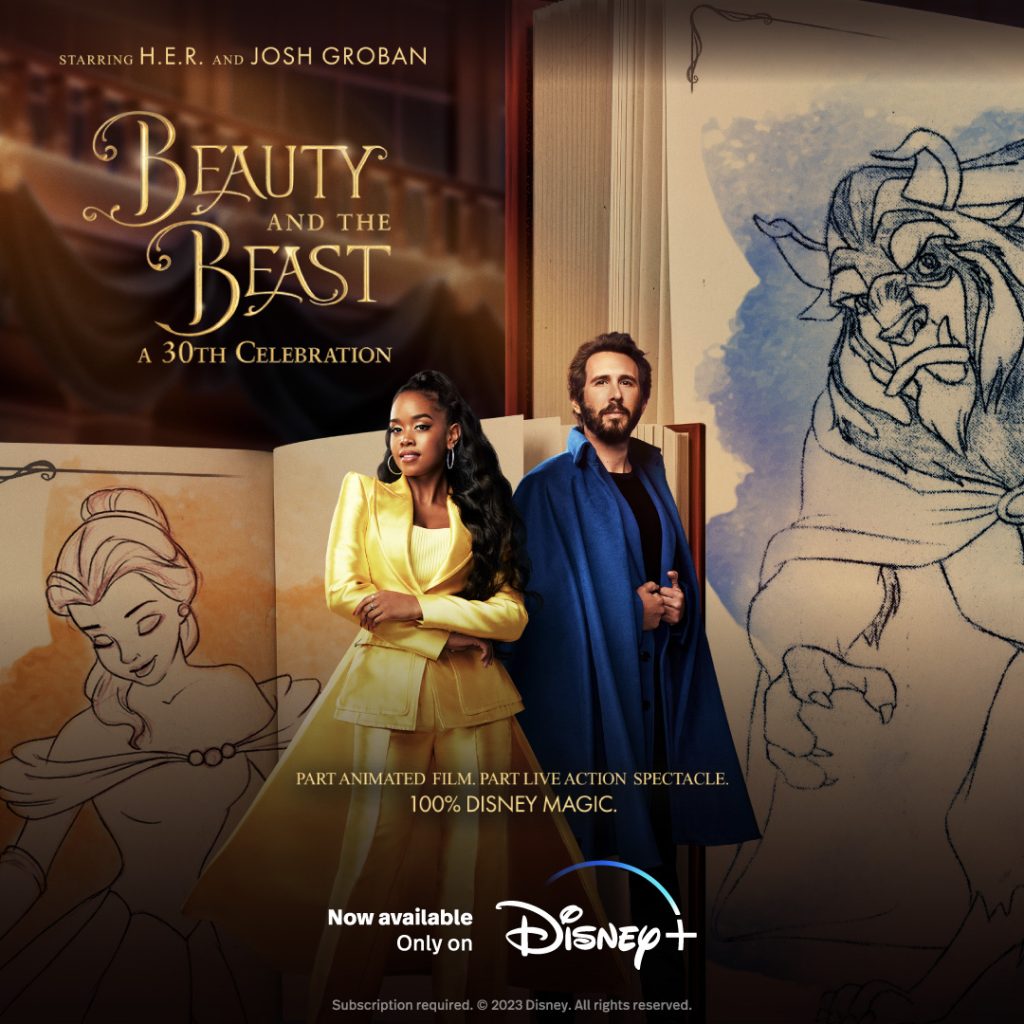 Viewers can catch subtle elements of H.E.R.'s Filipino roots during the live-action musical. The apron worn in character includes a Philippine script called "Baybayin," which spelled out "Belle" in the ancient dialect. Also, Belle's father, Maurice, was played by fellow Fil-Am actor Jon Jon Briones. Lastly, H.E.R. included the go-getter attitude exhibited by many Filipinos in her character.
The multi-hyphenate artist not only showcased her vocals during the production but also her acting and guitar talents. In a rendition of one of the most popular Disney tunes, "Beauty and the Beast," accompanied by the Beast himself, played by Josh Groban, she added her own flavor to the song by including a guitar solo. Overall, H.E.R. shares how happy she is with the outcome of the production, "I feel like I've always had that in me. I'm just really grateful, and I'm so happy on how it turned out."
H.E.R. also traveled to Manila for an ABS-CBN Global and MYX-hosted event that took place in late December at the Sheraton Manila Hotel. It was attended by partners, personalities from the music industry, and the country's leading entertainment press.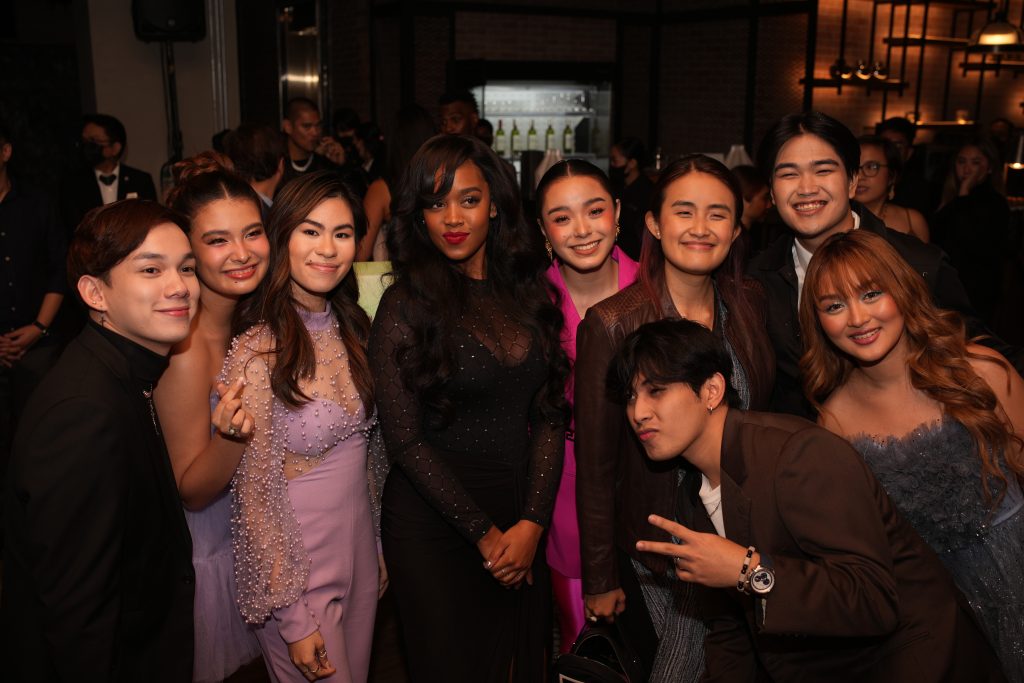 H.E.R. met with fellow artists from Star Music and local Filipino artists. This crossover between local and global artists is monumental as Filipinos continue to share their talents with the world.
With 25 GRAMMY nominations and five wins to date, H.E.R. has had an incredible journey, punctuated with inspiring projects and accolades that have ascended her to superstar status. In 2021, her powerful song "Fight For You" from the Warner Bros. Pictures film Judas and the Black Messiah won the Academy Award for Best Original Song.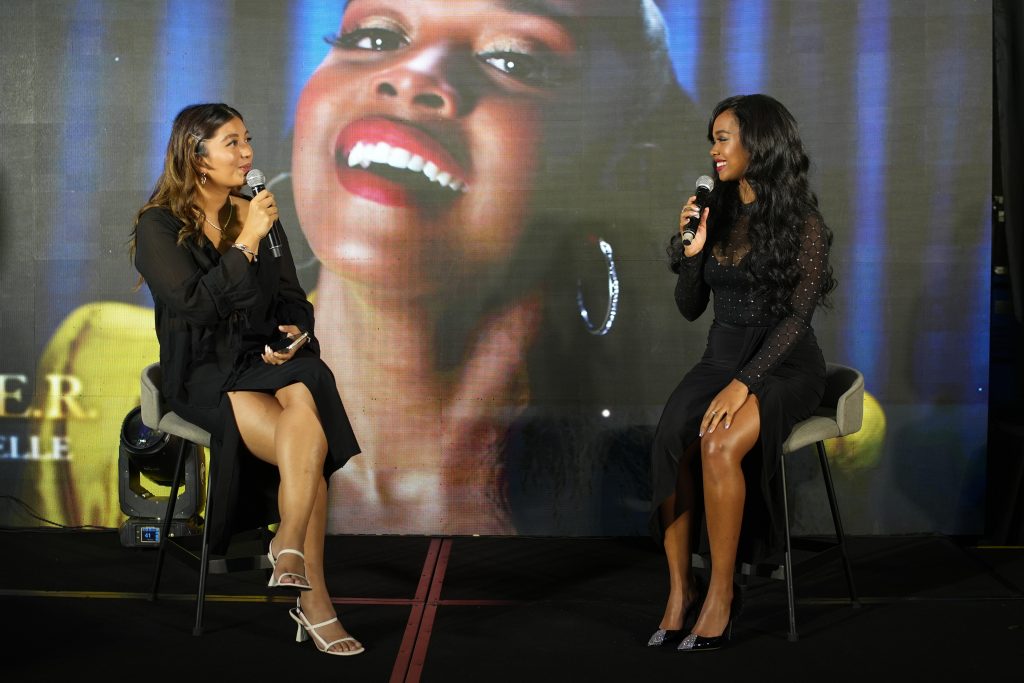 You can now catch H.E.R. as Belle in Disney's reimagined and reinvented part-live action, part-animated "Beauty and the Beast: A 30th Celebration" which is now available to stream only on Disney+.
It's time to head back to the town of Wellsbury in the Netflix original as Ginny and Georgia navigate through their new life in the small town. Last season left off on a cliff hanger with Ginny running away after learning about secrets her mom, Georgia kept from her. Private investigator, Gabriel Cordova played by Fil-Canadian Alex Mallari Jr. is out to uncover the truth about Georgia's past.
The actor continues his guest role from Season 1 and as the Texan PI inches closer to finding out the truth about the mysterious deaths from Georgia's younger years, the more we see him interact with the people in town. He's starting to piece together his suspicions, but can't quite find the evidence he needs. Will he finally close the case and solve what kind of dangerous game Georgia Miller is playing? Tune in on Netflix for Season 2 for another wild ride.
Cover Photo Credit: Alex Mallari Jr. Instagram
Are you still on vacation mode and looking for something to watch? There's a few films and series to with that have you covered if you're looking to see a few Fil-Am actors in the craft. Actors like Dave Bautista, Paris Berlec, and Evan Mock all had recent work released on Netflix and HBO Max.
Look no further because you can add these to your Watch List: Glass Onion: A Knives Out Mystery, Do Revenge, and Gossip Girl Season 2. Check out the trailers below!
Cover Photo Credit: Evan Mock Instagram
If you're looking for your next holiday watch, look no further for a family-fun movie, Blue's Big City Adventure on Paramount+. Josh Dela Cruz takes on the Big City with his friend, Blue but also see a couple more familiar faces like Steve and Joe. The musical spectacular is fun for all ages to enjoy!
When Josh gets the opportunity of a lifetime to audition for Rainbow Puppy's Broadway musical, Josh and Blue skidoo to NYC for the very first time where they meet new friends and discover the magic of music, dance, and following one's dreams! The entire Blue's Clues crew is reunited for this special movie musical event, with the beloved animated friends and all three hosts – Josh, Steve, and Joe – together for the first time in the Big Apple like fans have never seen them before!
Cover Photo Credit: Josh Dela Cruz Instagram
This summer is about to be epic with the Guardians back protecting the galaxy. Dave Bautista is back with friends as they debuted the trailer in Brazil at the Comic-Con Experience (CCXP).
According to Collider.com, "we see that Gamora (Zoe Saldaña) is now working with the Ravagers and is attempting to explain to Peter Quill (Chris Pratt) that the Gamora he's in love with is no longer here. Like the two before, music holds a special place in Star-Lord's heart, and the soundtrack will no doubt reflect that." The group set off for the final adventure to close out this trilogy in the MCU.
Catch Drax back in action! Watch the trailer below and wait until the very end.
Cover Photo Credit: Dave Bautista Instagram
The awaited Star Cinema film, An Inconvenient Love starring Donny Pangilinan and Belle Mariano is soon to hit theaters this November 23rd and they're teasing songs from the upcoming official soundtrack. Get excited to hear songs from BINI, BGYO, Moira, and Zack Tabudlo. Star Cinema dropped snippets of the tracks along with clips from the movie. Check it all out below!
BINI - "Huwag Muna Tayong Umuwi" and "Lagi"
BGYO - "Tumitigil Ang Mundo"
Moira - "Aking Habang Buhay"
Zack Tabudlo - "Pinadama"
Catch Sam Concepcion in the upcoming third season of the action-fantasy series, "Halfworlds" for HBO Asia. It was first announced in 2019 and co-starring Bianca Umali and lead by Mikhail Red. The series will follow a half-human, half-Engkanto who is on a mission to find the original source of a mysterious plant that is said to have the power to heal all Engkantos of their hunger for human flesh.
Set in the middle of an ongoing war, the sci-fi fantasy takes you on an adventure. "We had been working on it, but the pandemic affected everyone's timeline. It's now in postproduction, I believe. It's action and fantasy—that's all I can say for now. We had a great director and cast, so for sure, it's going to be a good one. I'm looking forward to seeing it," Sam Concepcion told Inquirer.
Cover Photo Credit: Sam Concepcion Instagram
Be prepared for the kilig coming soon again with Star Cinema's upcoming film, An Inconvenient Love starring Donny Pangilinan and Belle Mariano. The rom-com follows a young couple who looks for love that's quick, easy, and convenient. DonBelle strike up a receipt that gives their relationship an expiration date.
Belle plays Ayef, a convenience store worker who aspires to be a professional animator in Singapore, and Manny, played by Donny is a company heir who runs his own plant shop and who secretly works as a social activist. Their relationship is set to end when Ayef takes her talent abroad, but Manny looks to stand by her side.
Directed by Petersen Vargas and written by Enrico Santos and Daisy Cayanan, "An Inconvenient Love" marks DoneBelle's second film following "He's Into Her" and their debut movie "Love Is Color Blind."
Catch it in theaters on November 23 nationwide in the Philippines.
The short film, "Graduation" starring Donny Pangilinan and Nour Hooshmand for Called to Rescue, a nonprofit organization that helps rescue children who are missing, have been abused or trafficked. The short film focuses on an often-overlooked aspect of the human trafficking problem: the victim's reintegration into society. "Graduation" aims to liven the road to recovery by focusing on a real-life interaction between a survivor and a close family member.
Donny plays the kuya who grounds his sister with the words that give her the strength and courage to carry on. The simple action is a timely reminder that victims of abuse can be helped by acts of kindness through friends and family paving the way for healing.
See the powerful video below.
Cover Photo Credit: Called to Rescue Instagram
Jon M. Chu is reimagining the Disney princess classic, Beauty and the Beast into a live action special on ABC. H.E.R. is set to portray Belle and Josh Groban as the Beast. The two-hour special of Beauty and the Beast will be taped in front of a live audience at Disney Studios in Burbank, CA and will air Thursday, December 15th from 8-10 pm EST/PT on ABC, and on Disney+ the next day.
Jon Jon Briones has been the latest actor added to the cast. He'll play Maurice, Belle's father. The inventor who's deemed odd by the villagers for his unusual devices, gets lost in a forest and finds Beast's castle. After getting captured for trespassing, Belle tries to save her father by living with the Beast.
Catch the music and talent happening this Winter!
Cover Photo Credit: Jon Jon Briones Instagram