Come join MYX and the LA Kings as we celebrate Filipino Heritage, Thursday January 19, 2023 at crypto.com arena versus the Dallas Stars! Each Ticket includes an exclusive LA Kings Filipino heritage hat.
Fan Experiences:
Your ticket enters you for a chance at a pre-game tunnel experience
Pregame cultural entertainment
See special surprise guests
Exclusive LA King Filipino Heritage hat
Giveaways, contests and more!

Plus stay tuned for special announcements leading up to the game!
GET YOUR TICKETS HERE!
https://www.lakings.com/filipino-myx
Crypto.com Arena
1111 S Figueroa St Los Angeles, CA 90015
Thursday, January 19th at 7:30 PM
From $43
Please join the 49ers vs. the Cardinals on January 7/8, 2023 (TBD) for the final game of the regular season! A portion of the ticket will go toward a local non-profit in the Bay Area Filipino Community! Hosted by MYX!
Fan Experiences:
Your ticket enters you for a chance at a post-game FIELD ACCESS experience!
Plus stay tuned for special announcements leading up to the game!
GET YOUR TICKETS HERE!
https://fevo.me/49ers-myx
How it Works:
Click on the game date.
Choose the section where you'd like to be seated (don't worry, we'll do the rest).
Complete our easy purchase process.
Share your personal link with your community. Invite them to join you.
Enjoy the game with your group!
Ticket Delivery:
You will receive an email from Fevo before the event with instructions to access your tickets through your 49ers account.
Join the New York Mets as we celebrate Filipino Heritage Night at Citi Field on Saturday, August 13, 2022! Enjoy festive pre-game programming before the Mets take on the Philadelphia Phillies. MYX has your free tickets to the game. Two (2) winners will receive 2 tickets to the game. All you have to do is fill out the form below for your chance to win! Winners will be announced on Wednesday, August 10, 2022 at 5pm PST. Good luck! *Travel or lodging is not provided. Tickets do not include Limited Edition Filipino Heritage Night Mets Hat.
Enter To Win
This contest is currently closed for entries.
Online Contest Entry Period: 08/4/22 at 12:00am through 08/09/2022 at 11:59pm. Prize: Two (2) winners will receive 2 tickets to the New York Mets vs. Philadelphia Phillies game to celebrate Filipino Heritage Night. Approximate Prize Value: $60. Winner(s) will be chosen from all eligible entries received on 08/10/2022 at approximately 5:00pm. No purchase or payment of any kind is required to enter or win this contest. Travel or lodging is not provided. Tickets do not include Limited Edition Filipino Heritage Night Mets Hat.
In community partnership with The House of the Philippines and Silk Road Productions, join the Padres, SoCalFilipinos and MYXers in celebrating Filipino Heritage Celebration at Petco Park.
Your Theme Game package includes a limited-edition Filipino Heritage Celebration Padres hat, donation to the House of the Philippines in Balboa Park, and a ticket to the Mets vs. Padres game. Only tickets purchased on the link below will receive the exclusive hat promotion with details e-mailed of where to pick up inside Petco Park.
Purchase your tickets HERE via Ticketmaster for June 8.
On April 6, adidas Canada and Rise Tribe, a non-profit aimed to power the next generation of Filipnx Canadians welcomed Jalen Green to Toronto with a Filipinx Night Market. Hosted by Rise Tribe founder Abby Albino, Abby said, "
"Partnering with a brand like adidas Canada and an icon like Jalen to curate an event that celebrates the Filipinx community and basketball is really a dream come true," said Albino,Co-Founder of Rise Tribe. "Growing up, there wasn't really anything or anyone celebrating our community in this way and this event was an opportunity for us to do so. For a brand like adidas Canada to shine a light on our community in this way means so much to me now and to the 11 yr old version of myself who would have never thought this was possible."
Watch the highlight video of the memorable event below by @alisontayagvideo:
Jalen Green participated in a Q&A where he gushed over his favorite filipino dishes (lumpia and tocino), his memories of his 2018 trip to the Philippines and his love for the culture. To end the Q&A Jalen surprised everyone with a $10K donation to Rise Tribe to support basketball programming for Fil-Can youth.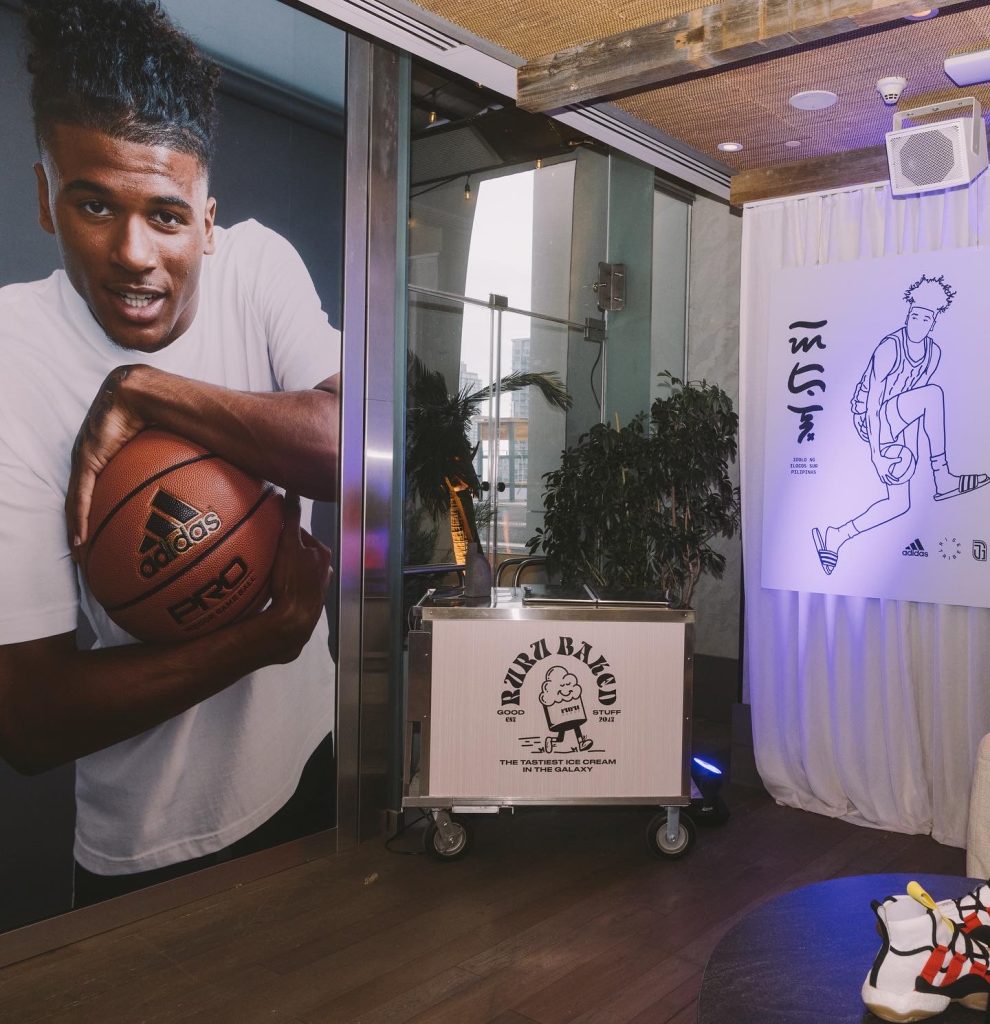 The night market featured Fil-Can small businesses/creatives, a floral bar by @paraluman.flora, a custom Calamansi Crunch ice cream flavour by @rurubaked, a sari sari by @auntiessupply, artwork/tshirt design by @okcaveat and sounds by @mikeroc @raestory.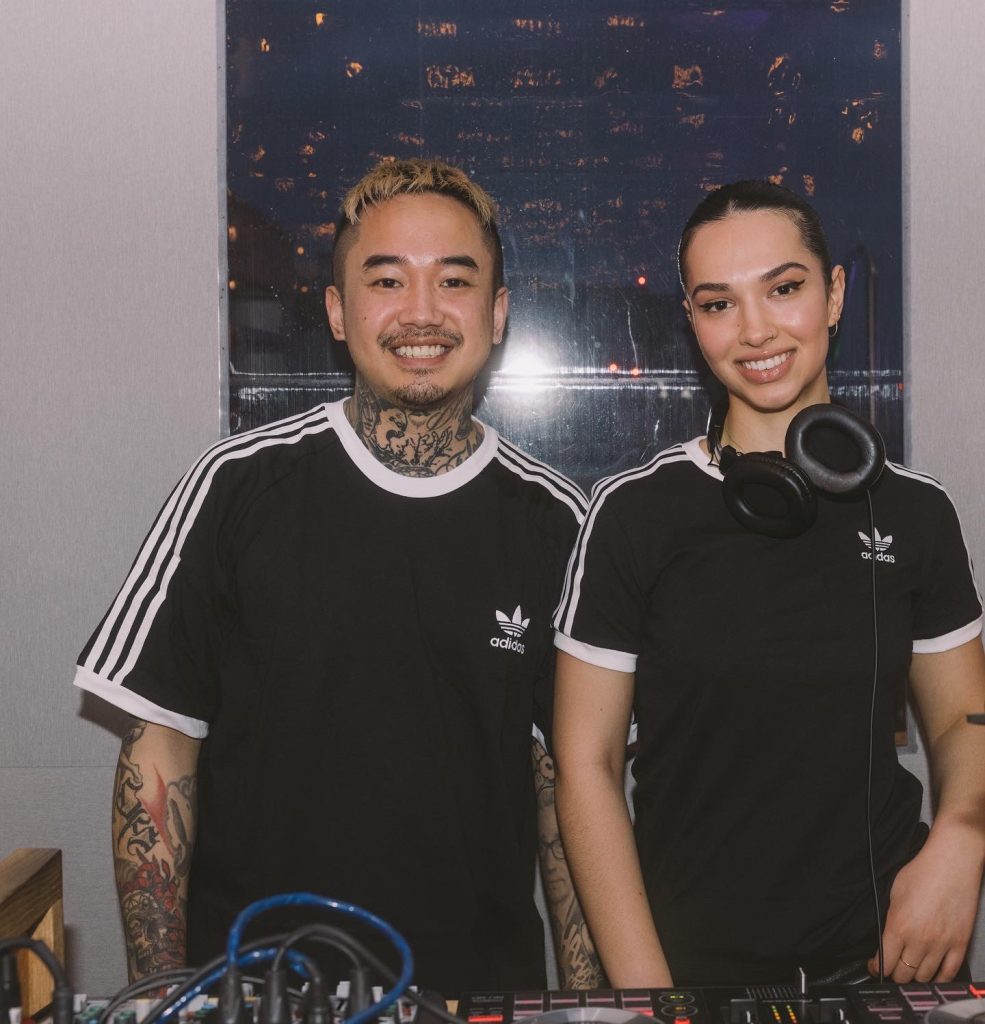 Two nights later, Jalen Green and the Houston Rockets faced the Toronto Raptors and adidas Canada hosted 10 Fil-Can youth from @megacitybasketball. After the game, they were surprised with a meet and greet with Jalen and paired with a home team W.,. they had a more than memorable evening.
@rise_tribe was founded with the hope to power the next generation of Filipinx-Canadian leaders and shine a light on our community like never before. Growing up, it was rare to see Filipinx in sports, in media, in entrepreneurship, in creative fields etc and they wanted to change that narrative and show the next generation that they belonged in these spaces. Follow them on all social media for upcoming events and community news.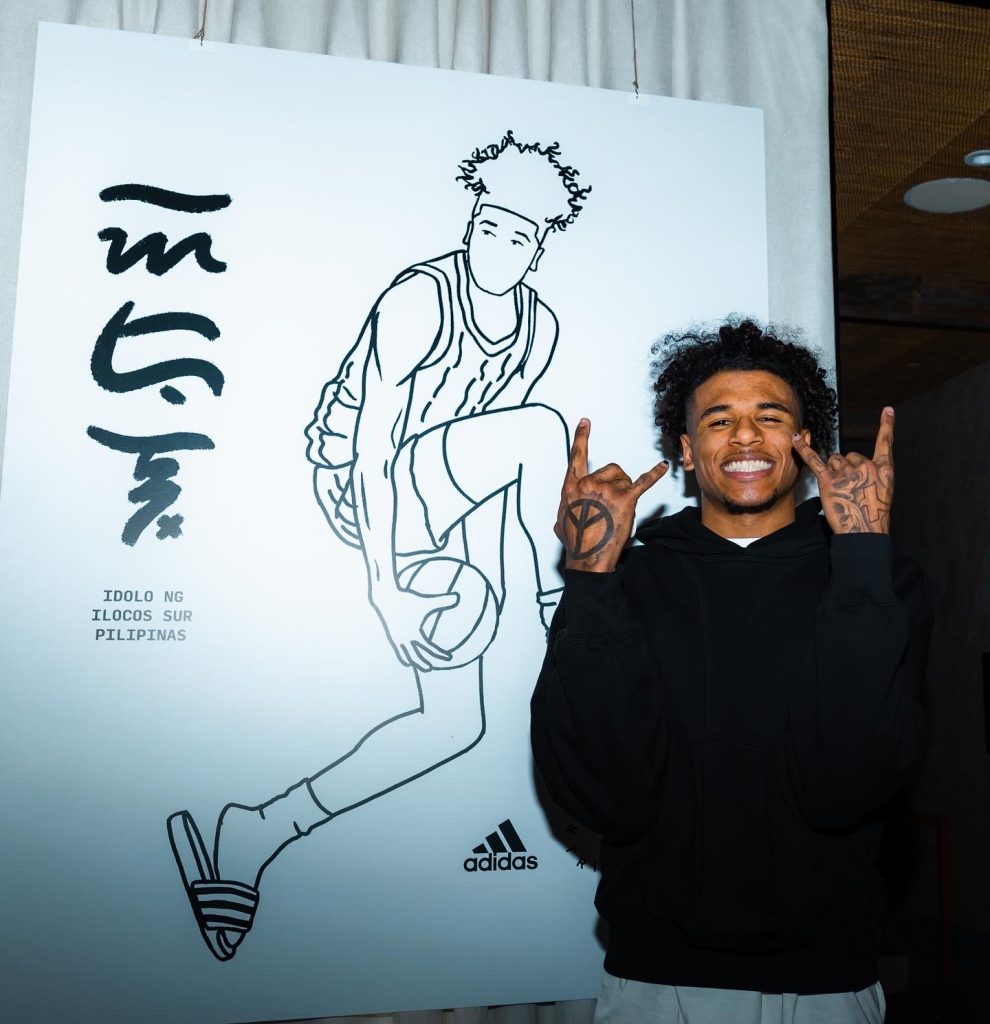 Photos By: @mr.jobeezy, @mkswrld_
MYX partnered with LA Clippers for their annual "Filipino Heritage Night," that is known to be one of the biggest heritage nights in the NBA with past featured guests including APL of the Black Eyed Peas, Inigo Pascual, JReySoul and many more. Once again, thousands sold-out the exclusive group sale package that included a custom Filipino themed jersey to fill the arena while they played against Fil-Am player Jordan Clarkson and the Utah Jazz. Although they struggled with a huge deficit throughout the game, in the 4th quarter the Clippers pulled off an amazing win and left everyone in good spirits.
Watch the highlight video of the event below and see a photo gallery HERE.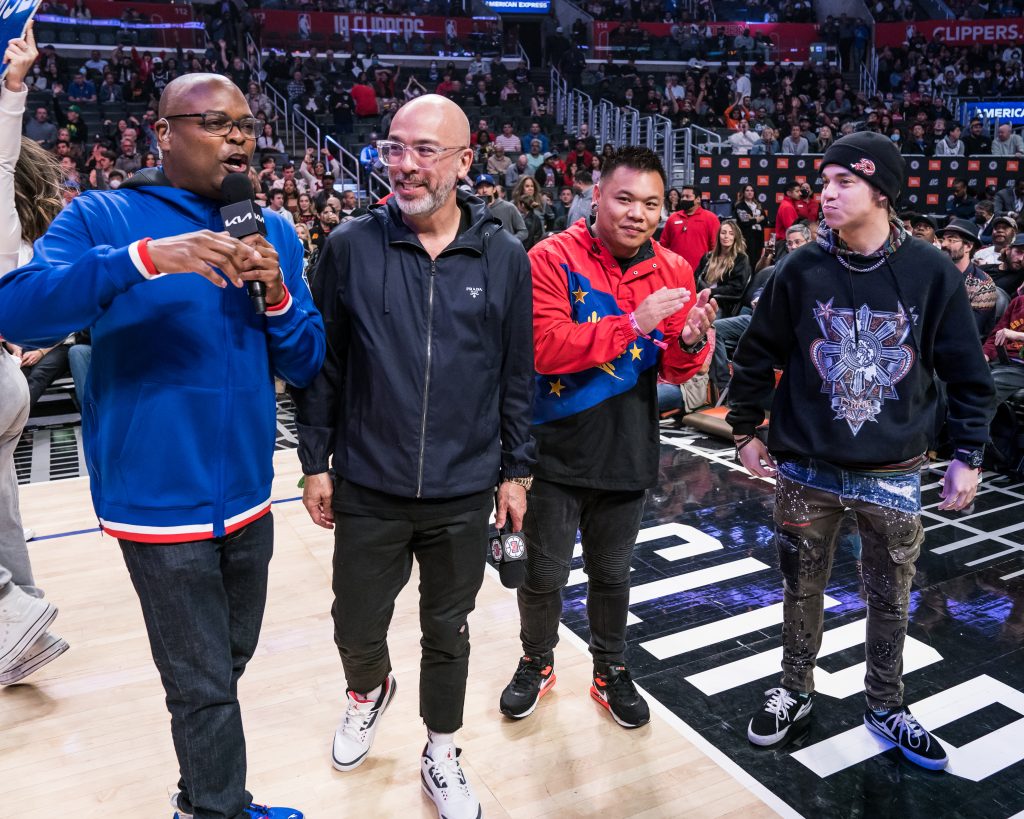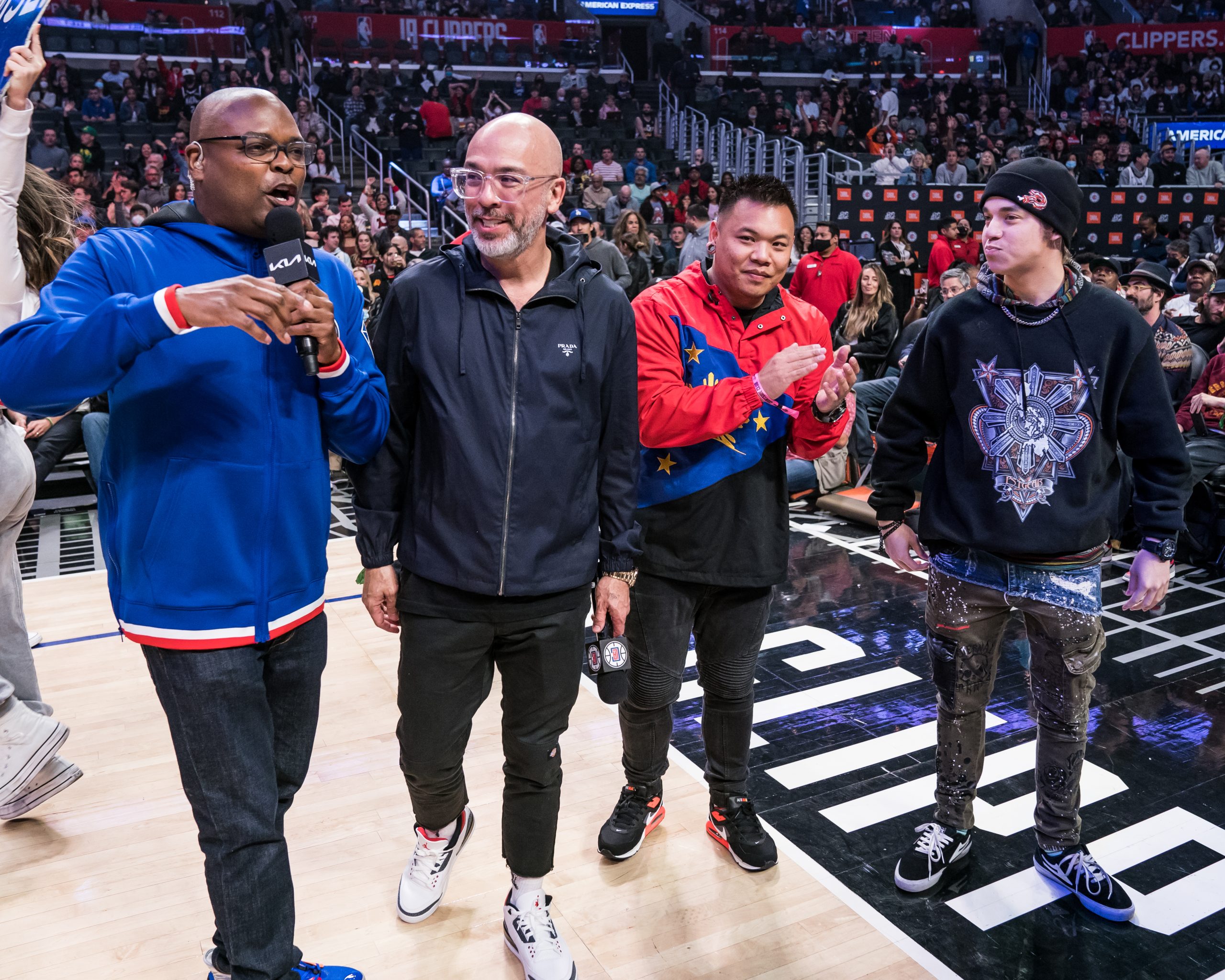 Fresh off his sold out back to back shows at The Forum while taping his 4th Netflix special, Jo Koy made a surprise appearance and was thanked by Clipper Nation host Hannah Cormier for his commitment to being a voice for his community. He talked about his upcoming "Easter Sunday" Steven Spielberg movie coming out 8/5 and ABC TV show "Josep" coming soon, both are based on his family life that fans have loved hearing about for 20+ years in his stand up.
Jo was joined by his son Joseph Herbert and sat courtside while also participating in a T-shirt toss with long time friend/collaborator singer/songwriter AJ Rafael and Philippines viral rapper Ez Mil. Jo told Ez that he was a fan of his music and Ez felt blessed to hear that from the icon.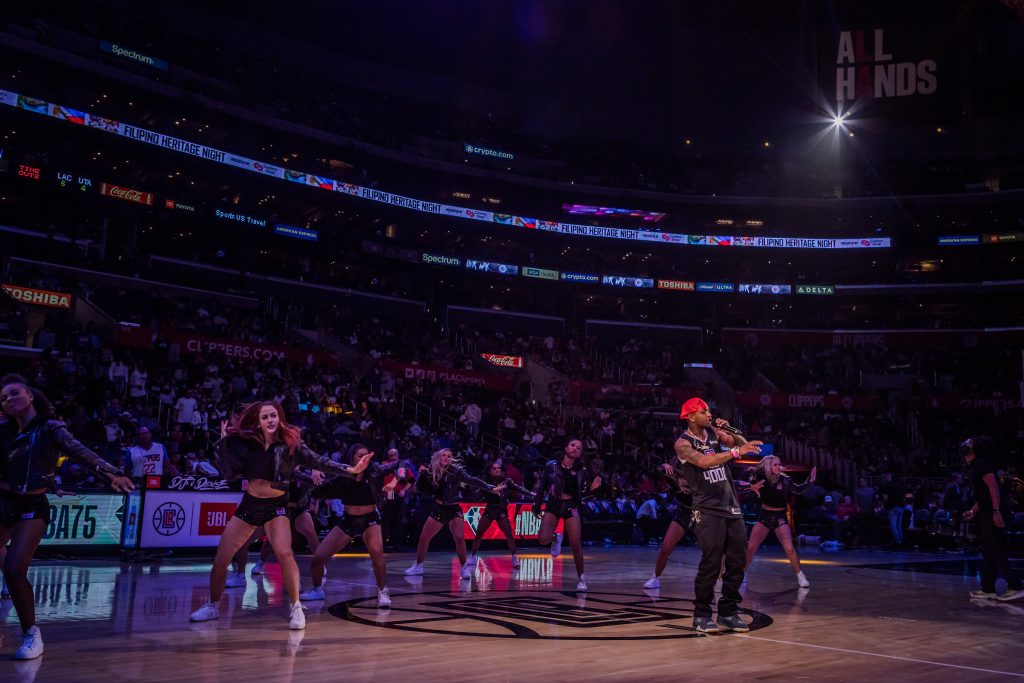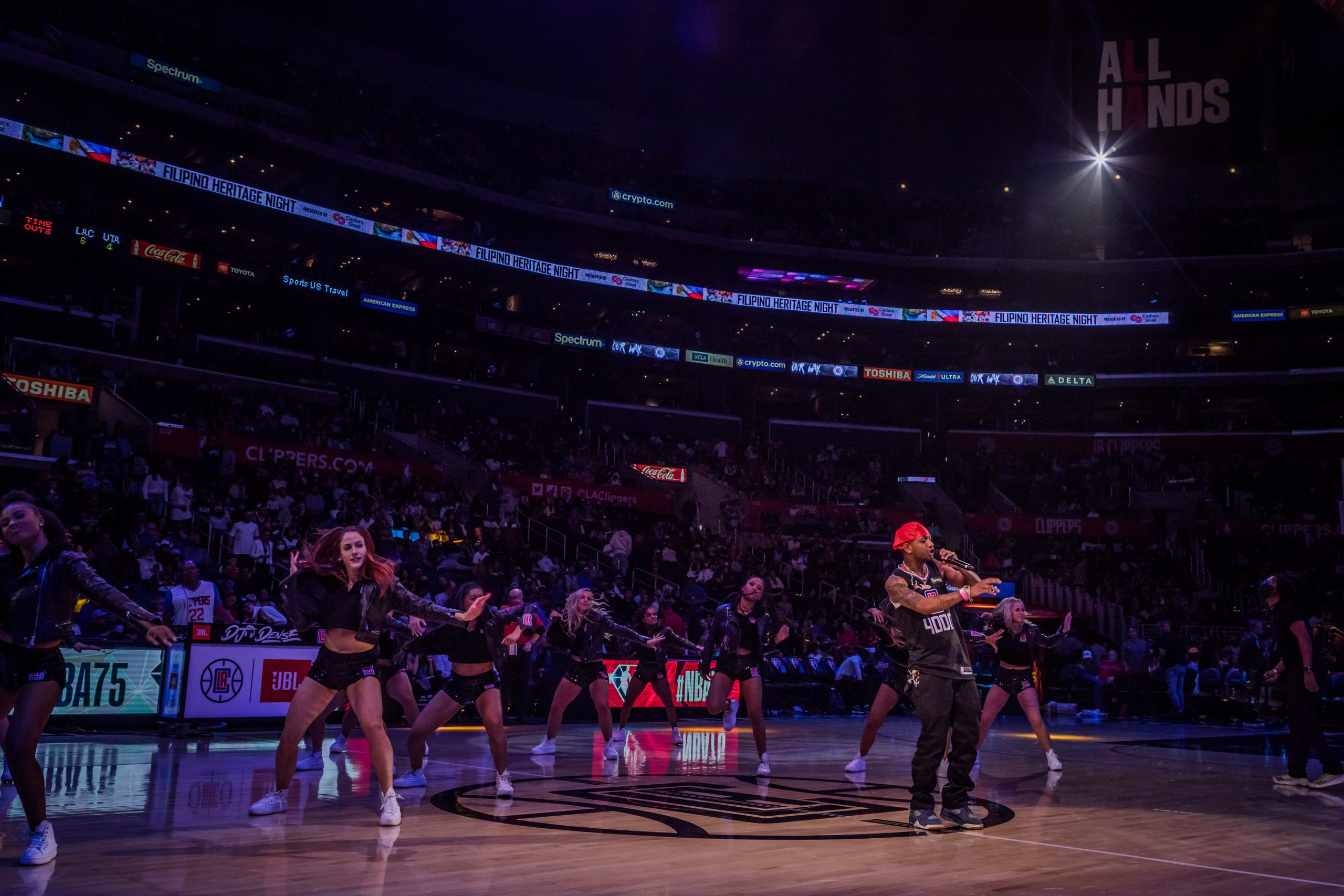 Black and Filipino GRAMMY nominated rapper and producer Guapdad 4000 performed at halftime his hit singles like "I Need Bands," "Costa Rica," "Money" and premiered a new track called "Black Iverson," that will be released soon. Guap thanked his Filipino fans before performing his song "Chicken Adobo," which pays homage to the Filipino food dish made with love.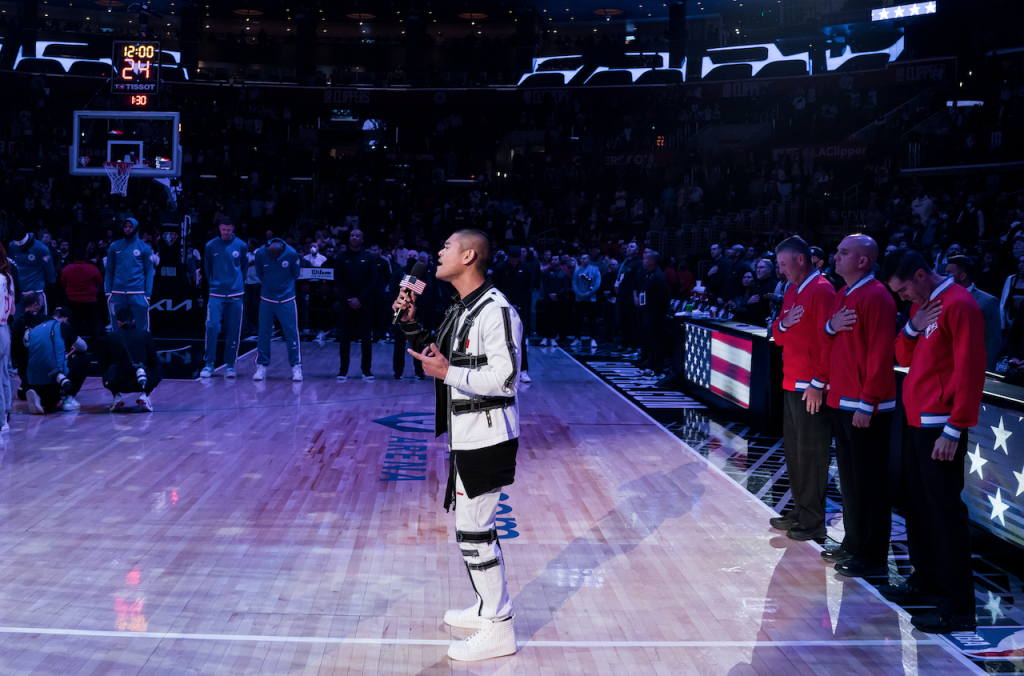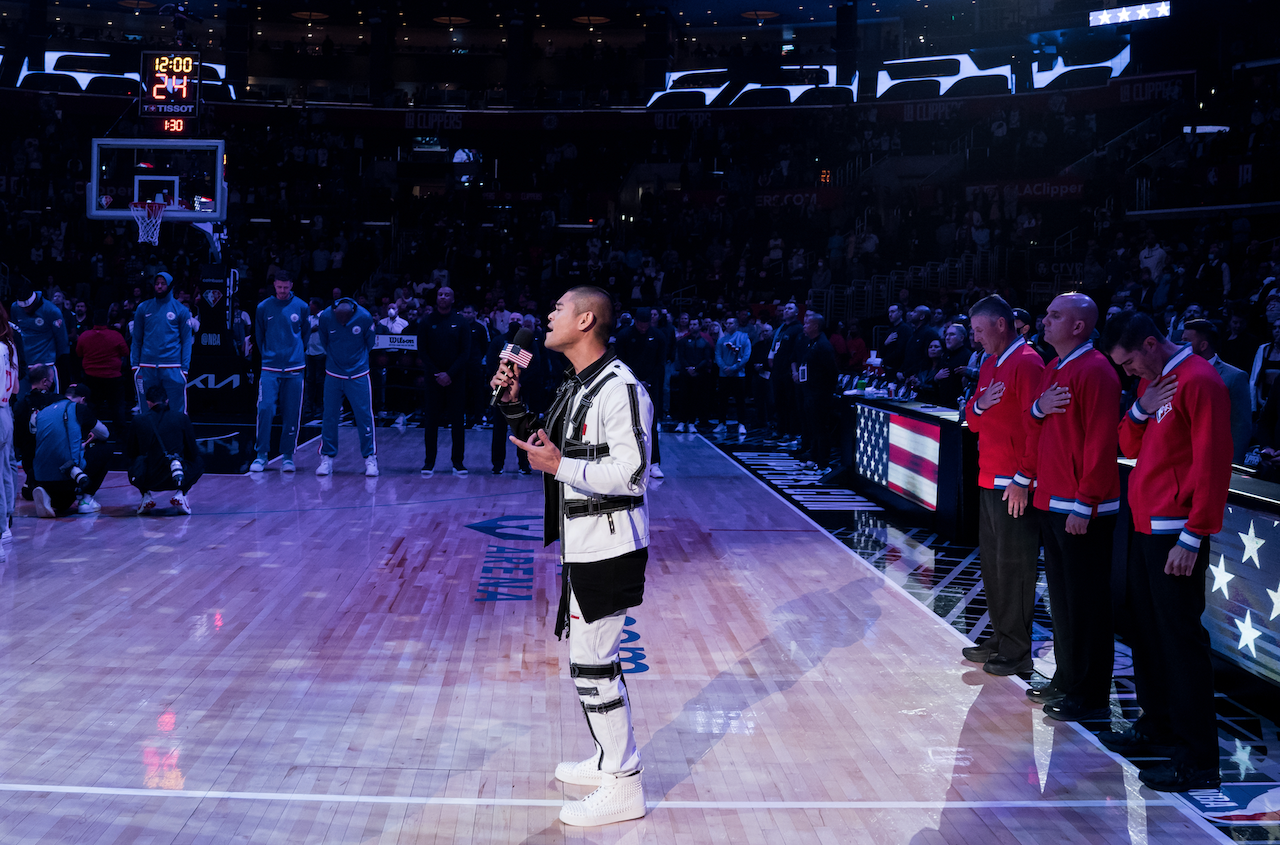 Philippines King of R&B Jay R stunned the crowd with an original take on the National Anthem, where you can hear people cheering through the various parts of the song. Fans of all ages stopped Jay R throughout the arena to greet him including his old friends in highschool when he lived in Glendale, CA. Jay R was joined by his wife, Mica Javier.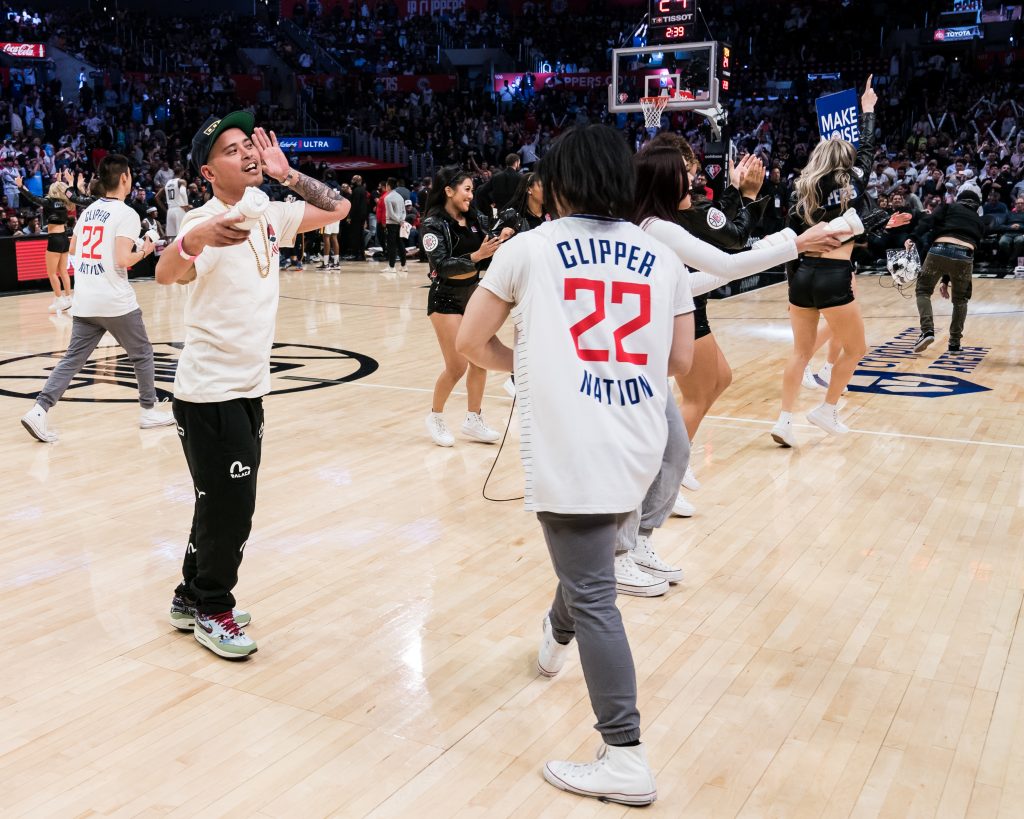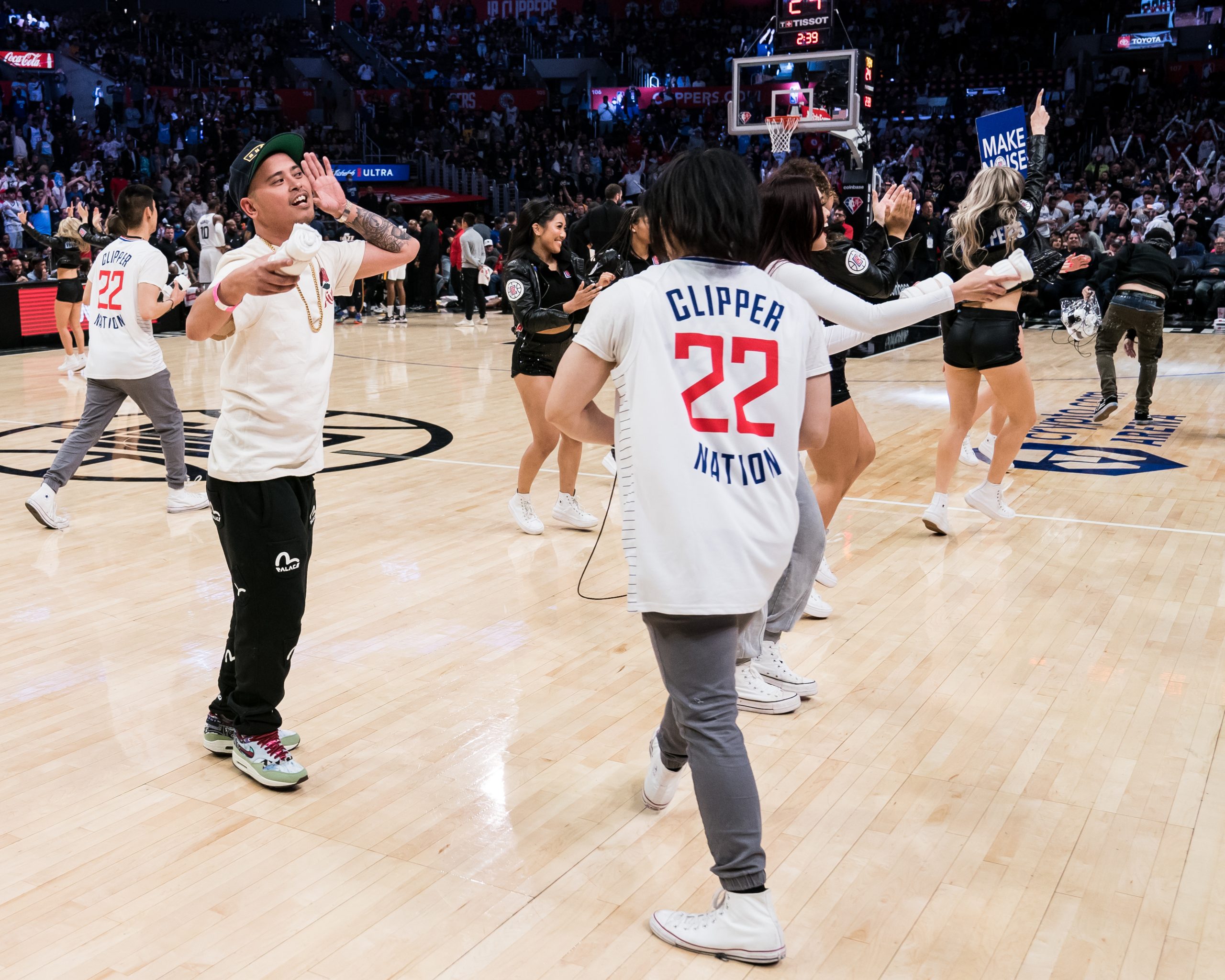 JUNOS nominated Fil-Canadian comedian Keith Pedro joined a T-shirt toss with Ez Mil and entertained the MYX & So Cal Filpinos crowd that were able to gain early access to the pre-game warmups by purchasing on our exclusive link.
The Clippers team added various Filipino touches to the game including a "Finish the Lyric" karaoke contest where Filipina child singer Bailey took home the prize after a special rendition of "Truth Hurts" by Lizzo, she did such a great job ESPN had featured her after the event on their Instagram. Clippers mascot Chuck the Condor came dressed in a Barong Tagalog and held up custom Tagalog signs throughout the evening before performing as Bruno Mars on the court.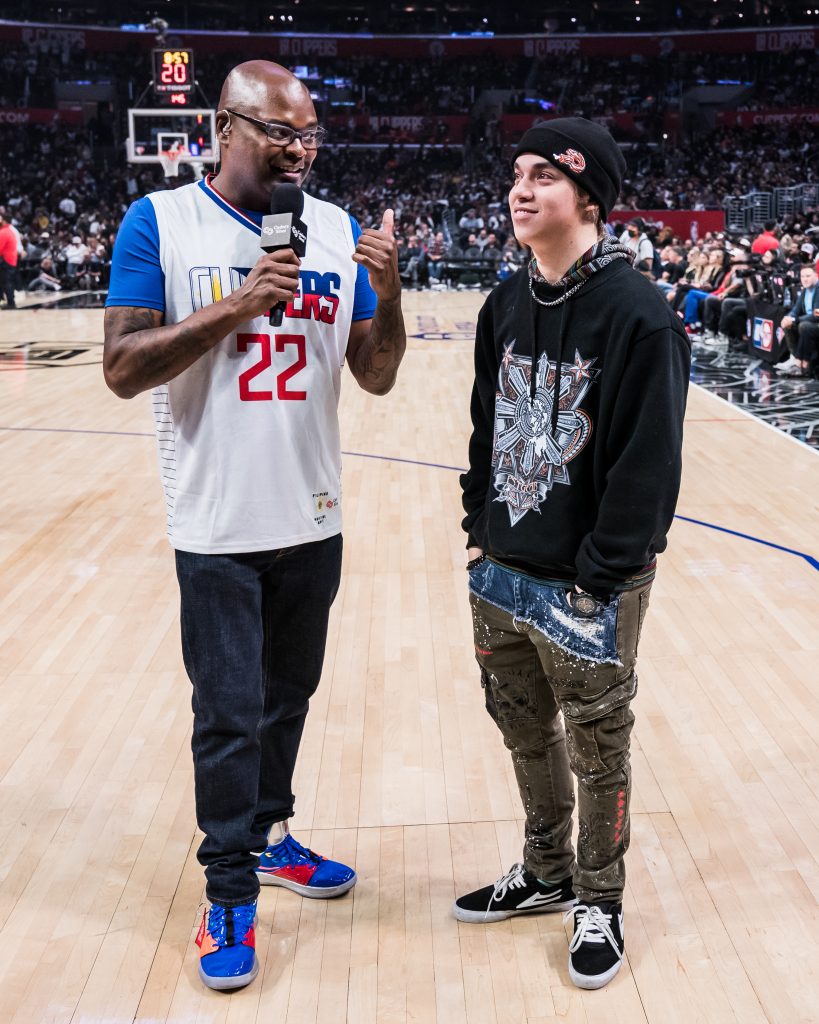 Other activations continued throughout the arena as Ez Mil hosted a dance cam with DJ Dense. Tremendous Communications celebrated their 2 year anniversary in a Hyde suite alongside various Asian and Filipino executives in TV, Film, media & music. The community basketball group, the B-Ball Junkies, owned by Filipino American Rob Hernandez hosted a post-game tournament after the game on court where special guests like Frankie Yatingpay of Amazon Music, Marisa Pizaro of Def Jam, Jeremiah Abraham of Tremendous Comm, Dino Ray, Keith Pedro, Ez Mil and family joined after for photos and shoot-arounds.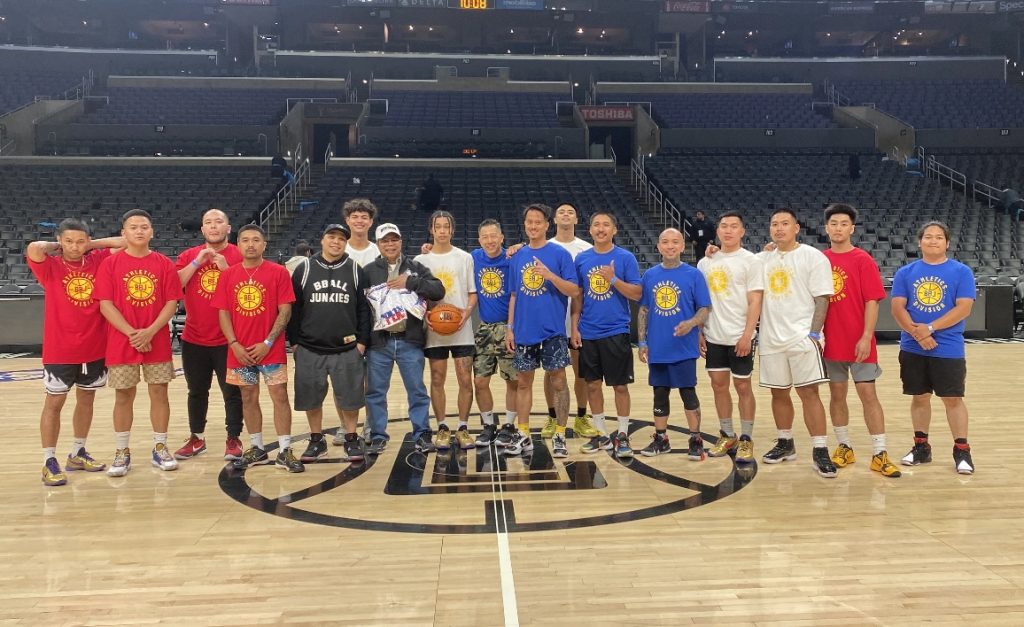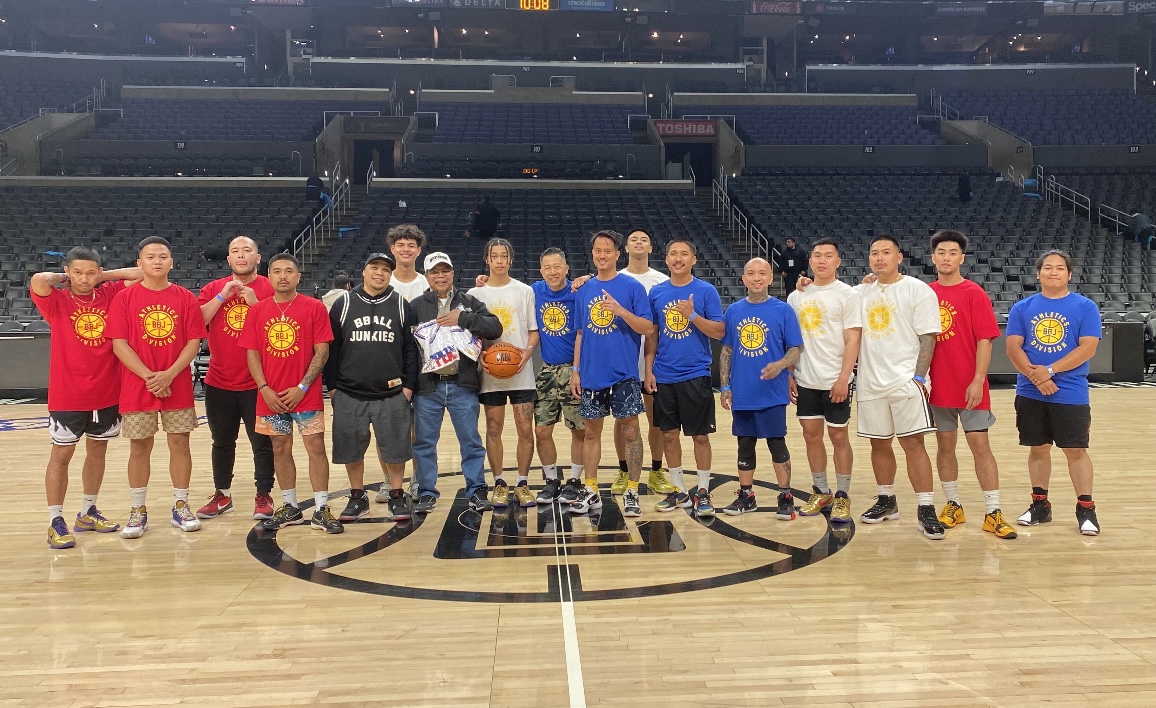 A jam packed night that left everyone wanting more. Stay tuned for more Filipino Heritage Nights to come, produced or promoted by MYX at www.myx.global/filipinoheritagenight.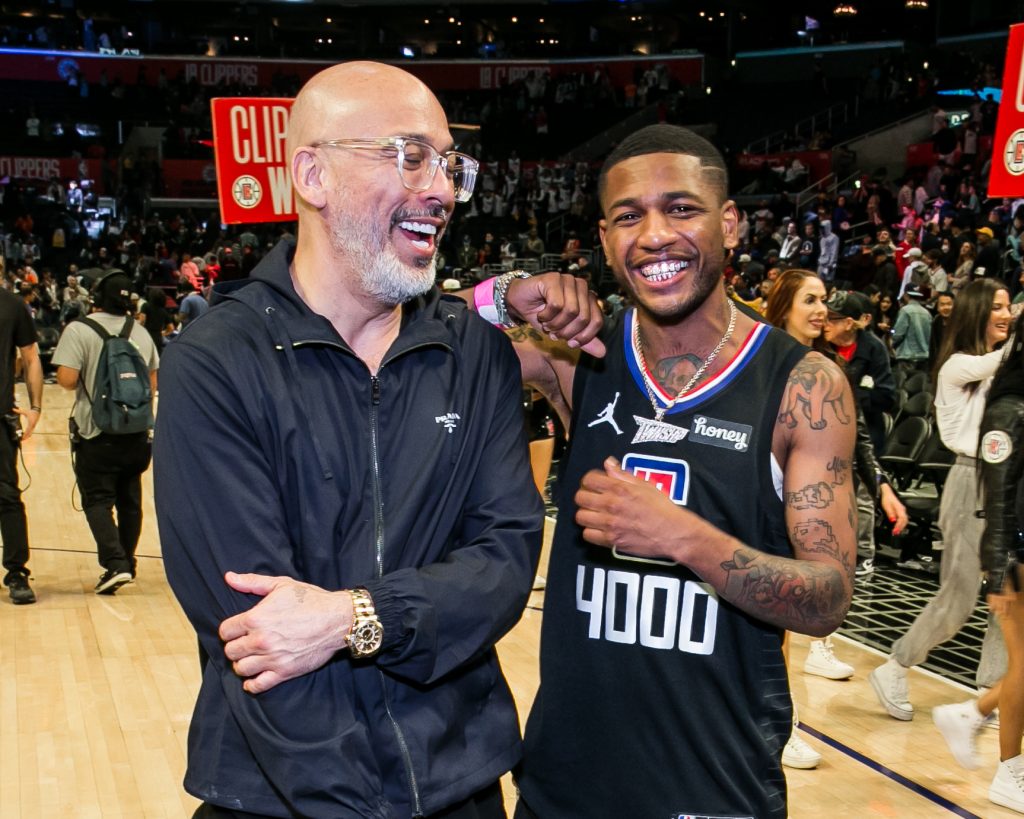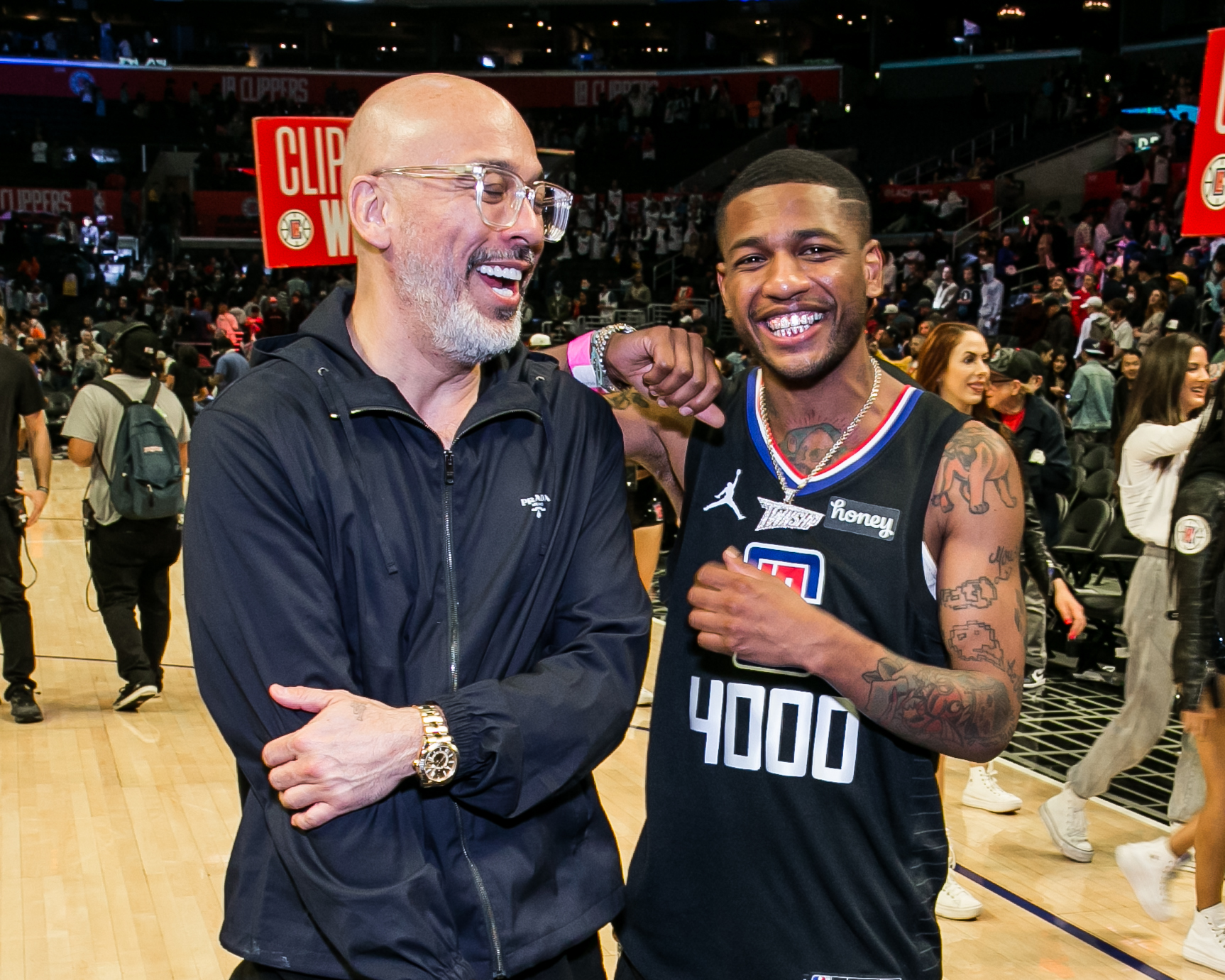 The annual celebration of Filipino heritage and culture returns to Dodger Stadium on Thursday, July 7th.
This ticket package includes your ticket to the game and an exclusive Filipino Heritage Night jersey.*
*This special event ticket package must be purchased from this link OR through a Group Sales representative to obtain item. Third-party purchases will not include the item and this is not a stadium-wide promotion.
For groups of 15+ ONLY, you can contact: (Mention you want the Filipino Heritage Night jersey and referred by MYX / Roslynn)
jacobp@ladodgers.com Direct Line: 323.224.1472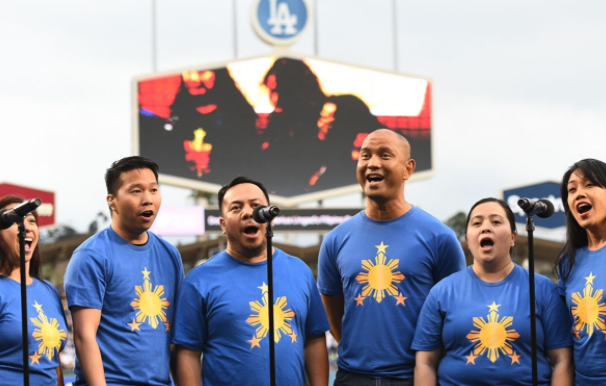 See highlights of the last event ft. Jo Koy, Martin Nievera, Jules Aurora, Nico Blitz HERE and below.
The LA Clippers have been known to have one of the most entertaining and packed Filipino Heritage Nights in the various professional sporting leagues. MYX is partnering with the Clippers & SoCal Filipinos Group on March 29, 2022 against FIl-Am star and NBA 6th Man of the Year Award winner, Jordan Clarkson. Black & Filipino American GRAMMY nominated artist, Guapdad 4000, will perform a medley of his hits at halftime. Philippines King of R&B, Jay R will be singing the national anthem, JUNOS nominated comedian Keith Pedro will be doing a T-shirt toss and more surprises in the game!
Get tickets HERE. $5 for every ticket sold will go to ABS-CBN Foundation International for their supply of food, water, health kids and shelter for Philippine typhoon victims.
Purchase tickets HERE to get the exclusive commemorative LA Clippers Filipino themed replica jersey shown above. NOT AN ARENA GIVEWAY: JERSEY COMES WITH SPECIAL EVENT TICKETS purchased on the link here. Tickets purchased on 3rd party sites will not be valid for the giveaway. Only tickets purchased on the LA Clippers GIVEAWAYS for special events page will be provided details of where to pick up the item with special ticket purchase.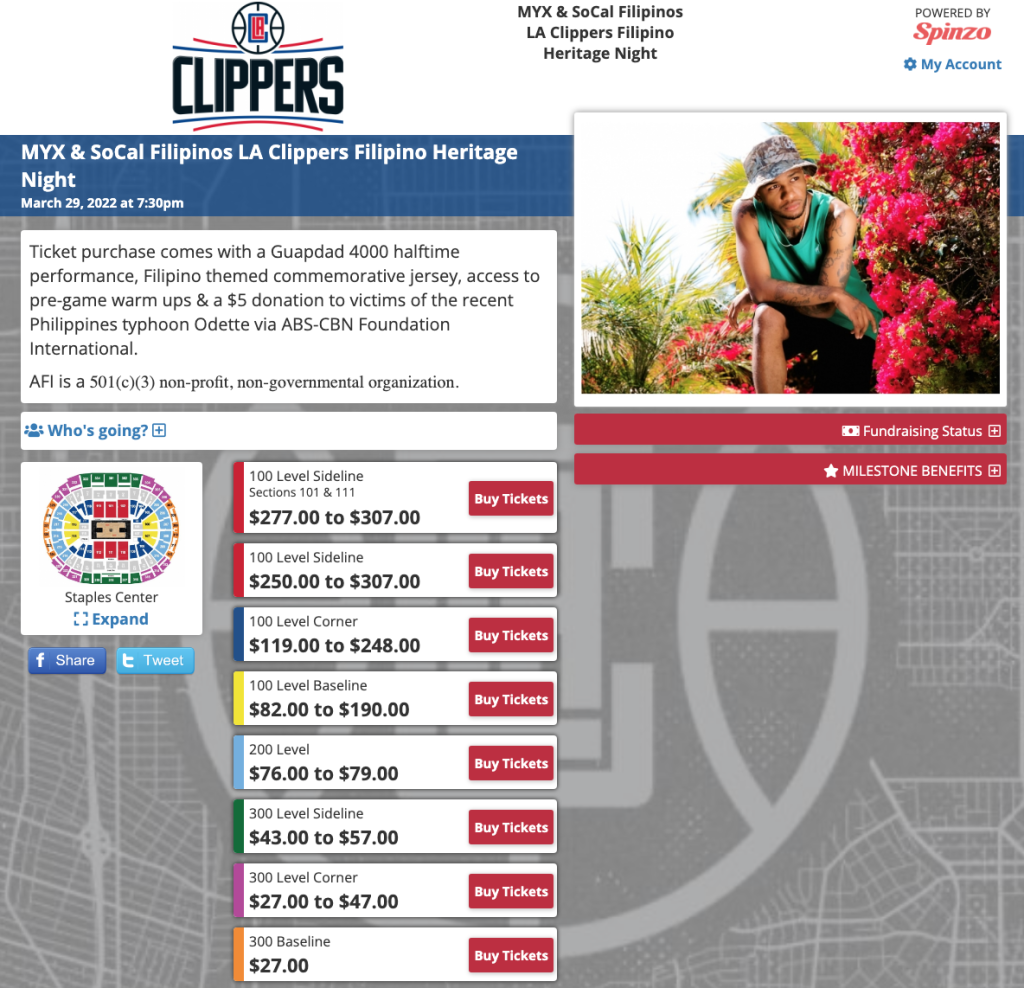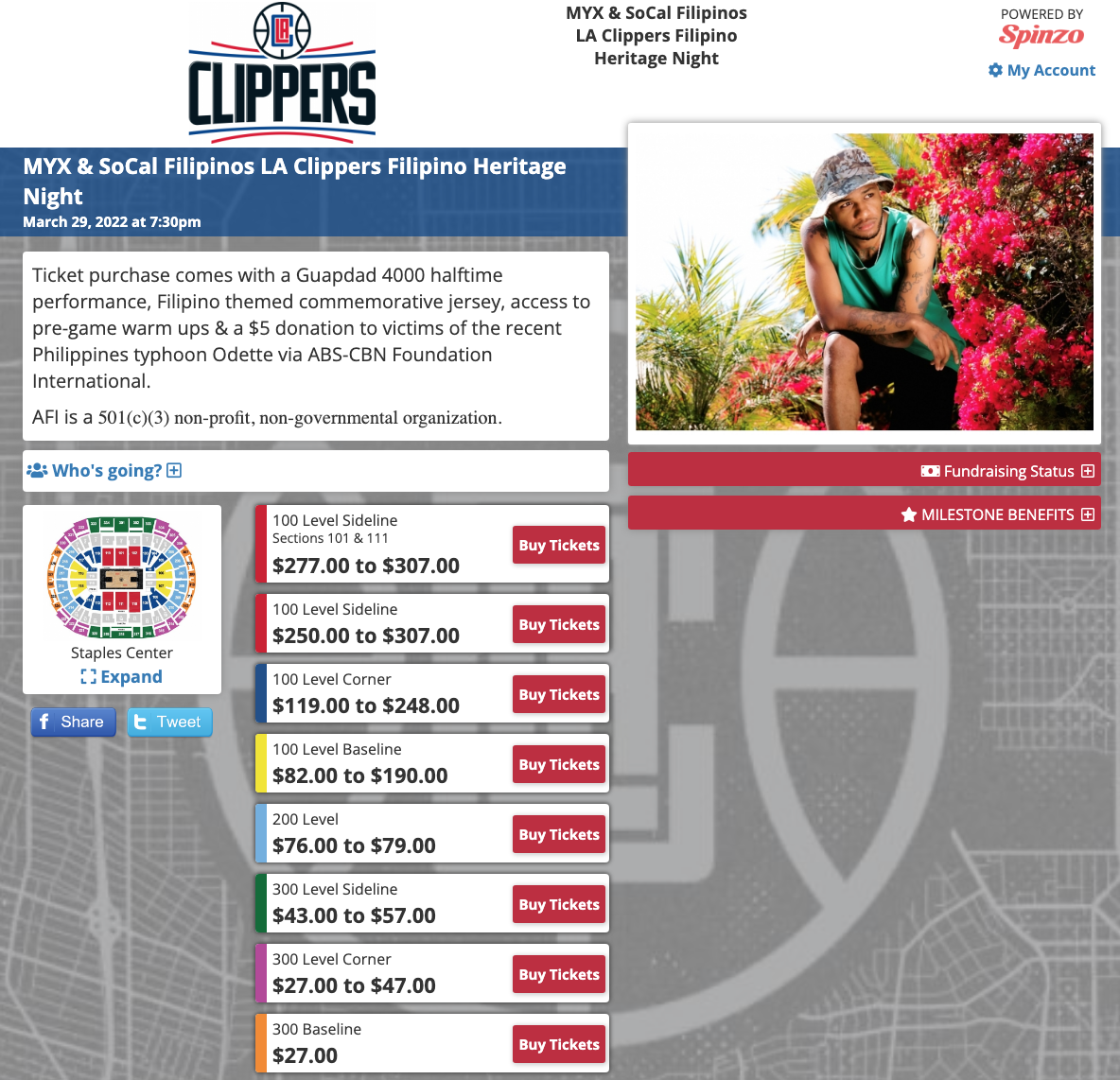 Details of where to pick up your jersey will be emailed prior to the game. Only tickets purchased on this special MYX link HERE will receive jersey and will not include 3rd party sites.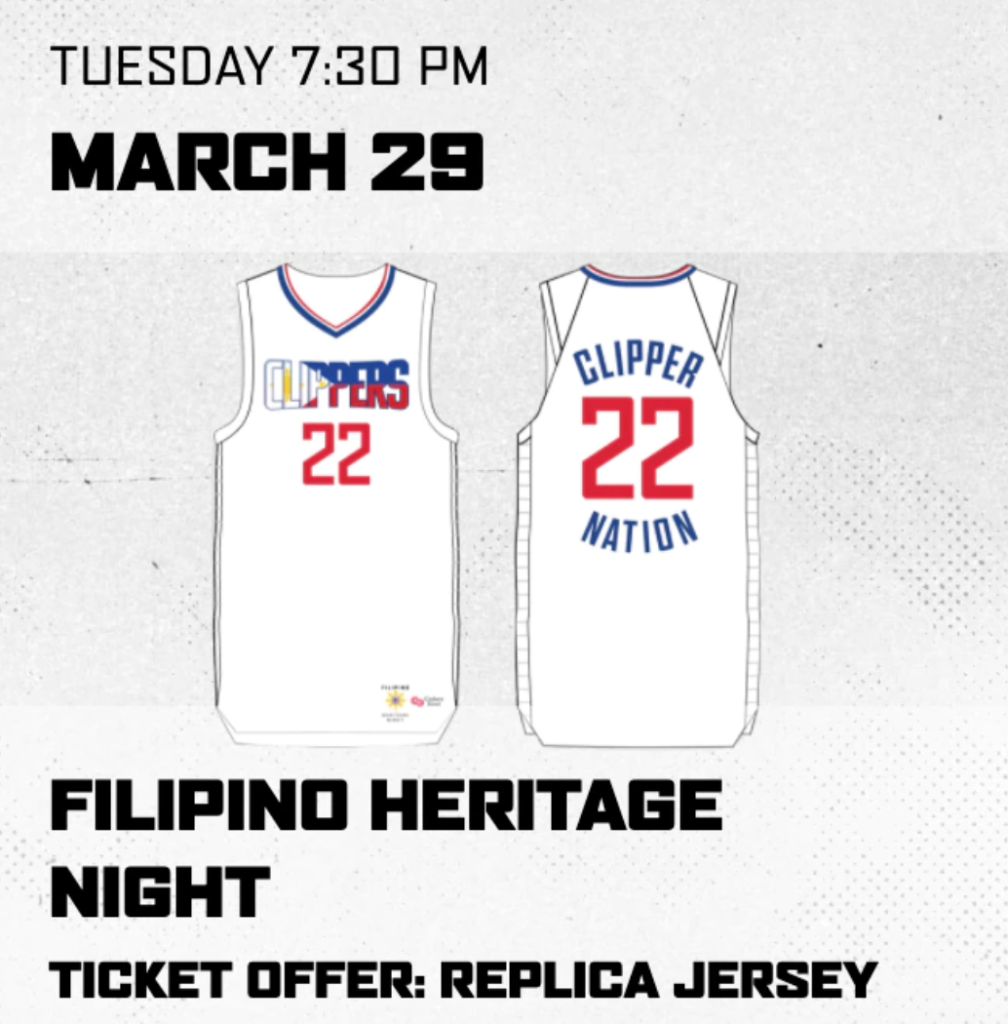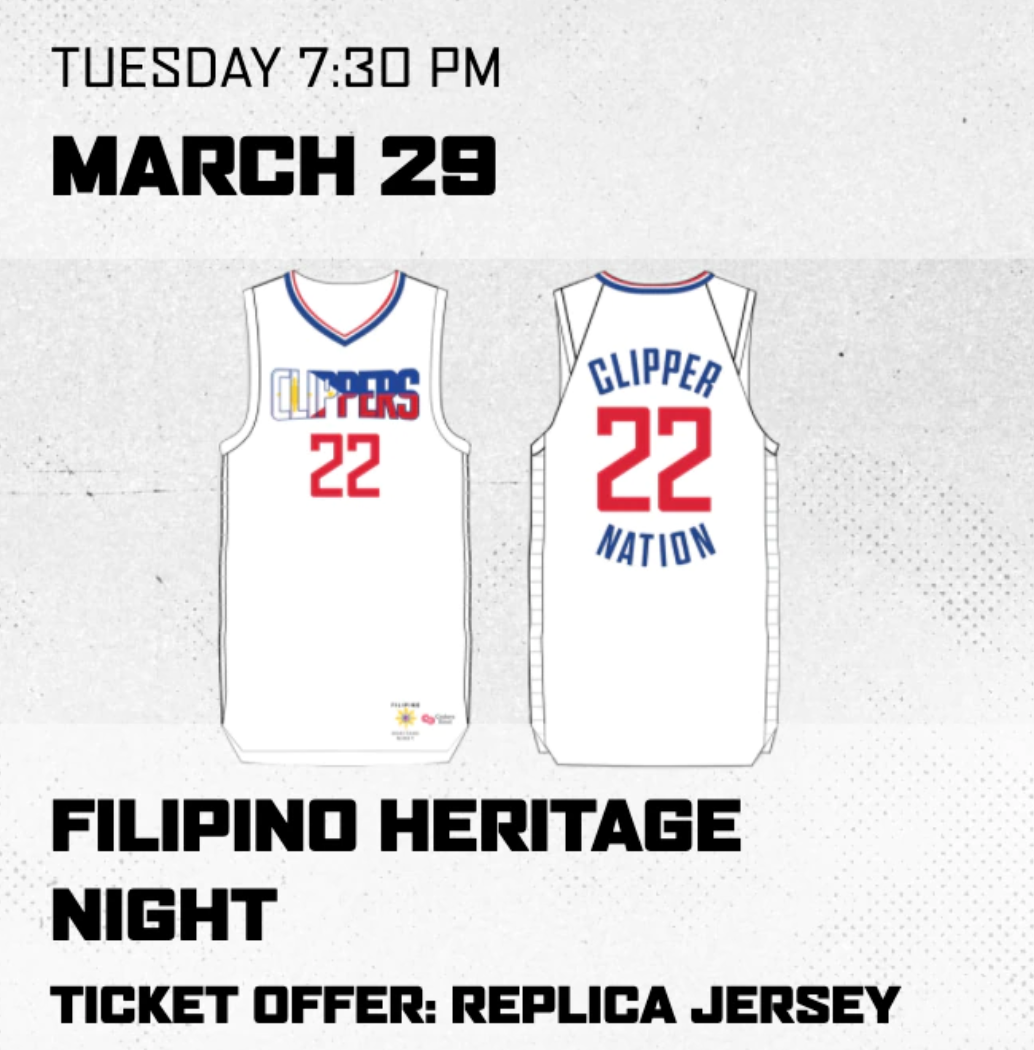 Jersey Pickup:
– Redemption table will be outside Aisle 24 starting at 5:30PM
– Everyone picking up will need to bring proof of ticket on the FILIPINO HERITAGE. NIGHT group sales link, you name will be checked against a list of those that purchased from the link. .
– The jerseys are first come first serve while supplies last and the table will be available until the start of the 4th quarter so get there early!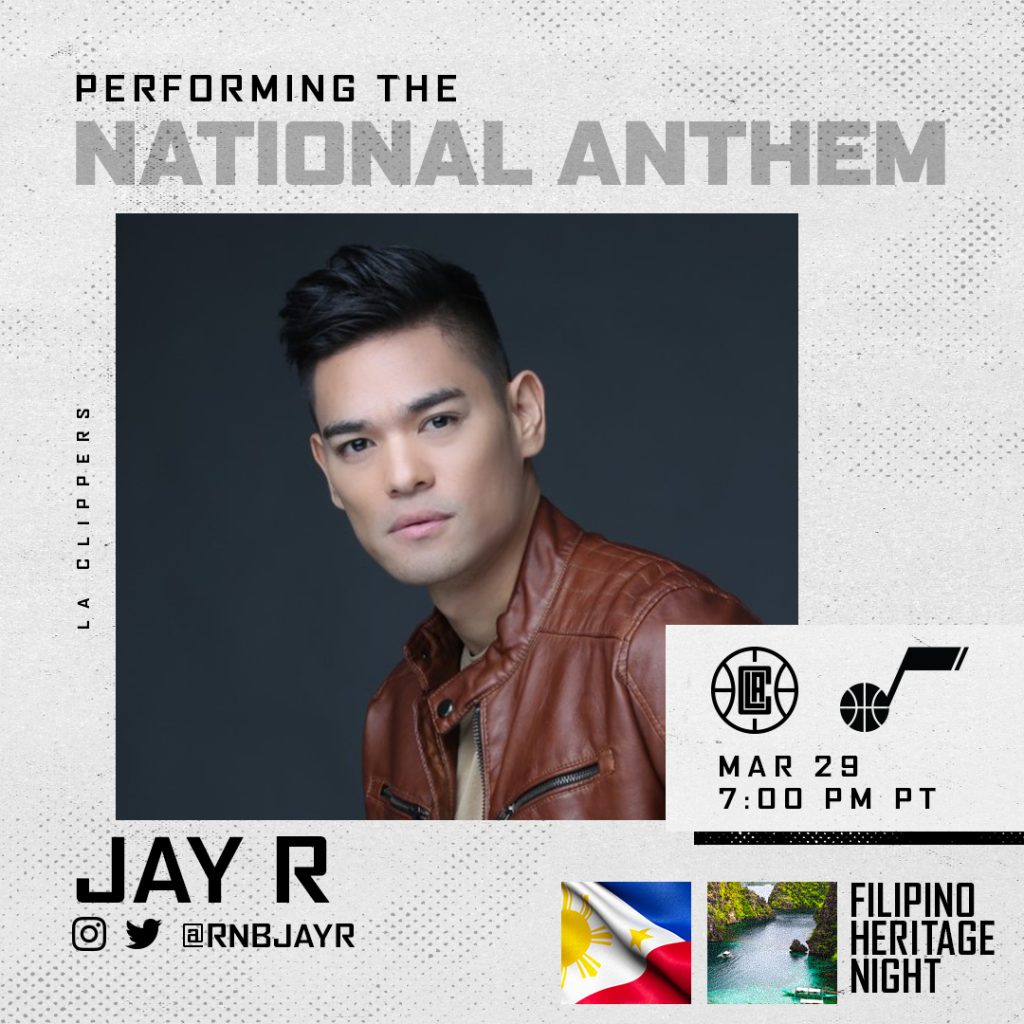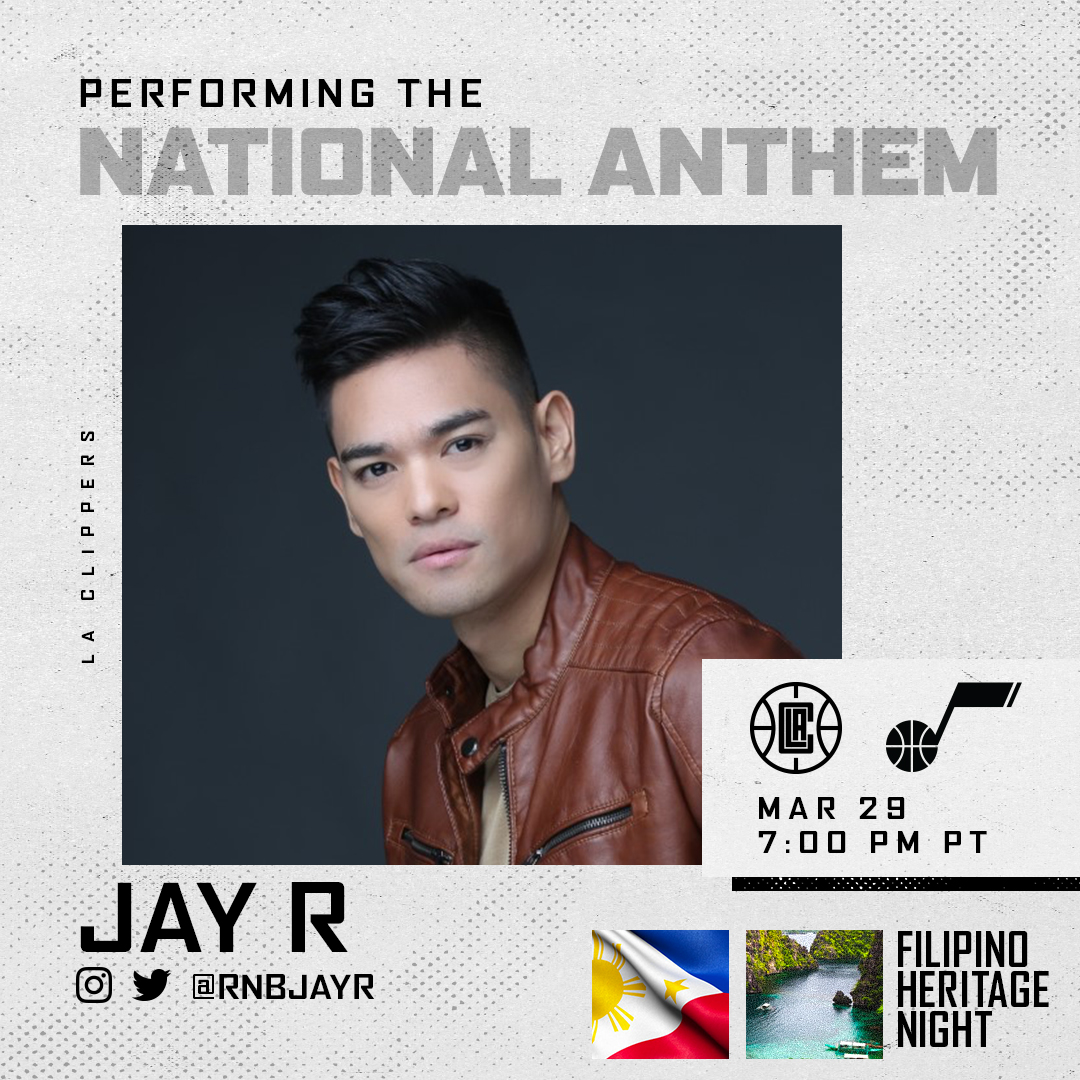 COVID-19 Related Guidelines:
In accordance with the Los Angeles County Department of Public Health order (effective September 20, 2021) all individuals 2 and older must be fully vaccinated against COVID-19 or have proof of a negative COVID-19 test conducted within 48 hours before event start time to enter Staples Center. To ensure a COVID-safe event and compliance with LA County and state guidance, vaccination cards or negative COVID test results will be verified as guests enter the venue.
All guests ages 2 and over are required to present either proof of full vaccination (two weeks after your final dose) or a negative COVID-19 test within 48 hours of the event date. A photo ID matching the vaccination or negative test record is required for all ticketed guests. Remember, if you're not feeling well, please stay home!
The following are acceptable forms of proof of full vaccination:
Attendee's physical COVID-19 vaccination record (i.e. CDC-provided white vaccination card or WHO-provided yellow vaccination card);
OR a photo of attendee's vaccination card as a separate document
OR a photo of attendee's vaccine card stored on attendee's mobile device or electronic device;
OR documentation of the attendee's full vaccination status against COVID-19 from a healthcare provider (on a mobile app, paper document, digital wallet card).
Vaccination records must clearly show the name of the vaccinated attendee, type of COVID-
19 vaccines administered, and date(s) of each dose administered.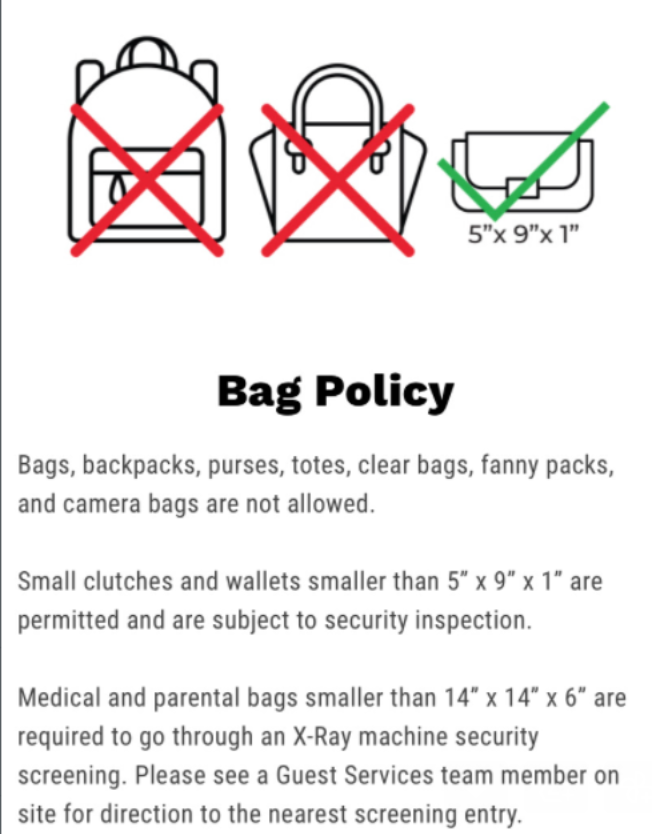 Security Procedures & Clear Bag Policy:
Bags, backpacks, purses, totes, clear bags, fanny packs, and camera bags are not allowed. Small clutches and wallets smaller than 5" x 9" x 1" are permitted and are subject to security inspection.
Medical and parental bags smaller than 14" x 14" x 6" are required to go through an X-Ray
machine security screening. Please see a Guest Services team member on site for direction to
the nearest screening entry.
Watch Jordan Clarkson speak about his Filipino heritage below:
See videos of past LA Clippers Filipino Heritage Nights below, produced & talent booked by the MYX team:
Inigo Pascual 2019:
Manny Pacquiao, Apl.de.ap & JReySoul & more in January 2019:
Apl.de.ap. J Rey Soul & more in January 2018:
Get tix fo the 2022 LA Clippers Filipino Heritage vs. Utah Jazz on March 29 HERE.
The Washington Wizards are hosting International Women's Night & Filipino Heritage Night on 3/27.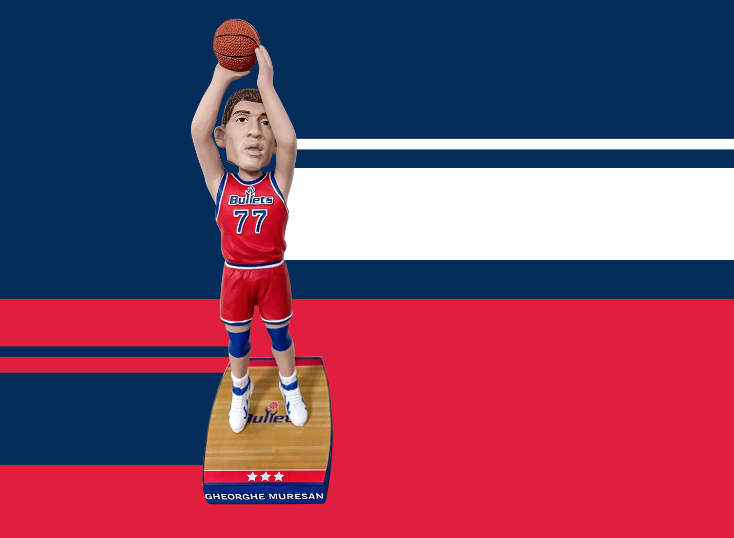 Come to the game and get a Gheorghe Muresan Bobblehead Giveaway with a ticket purchased on the link below.
Purchase tickets here.
Don't forget! The MYX & SoCalFilipinos LA Clippers Filipino Heritage Night tickets against Jordan Clarkson and the Utah Jazz is coming 3/29, more details and ticket info here.
USC Athletics USC Mens Basketball team hosted their Filipino Heritage Celebration with MYX on Saturday January 29, 2022 at 4P against Pac12 team, Cal Berkeley. Watch the highlight video below of the event that included a special halftime performance by Ruby Ibarra, national anthem by Ranella Ferrer and a season high scoring game by Fil-Am player Boogie Ellis!
See photos below by @VaronP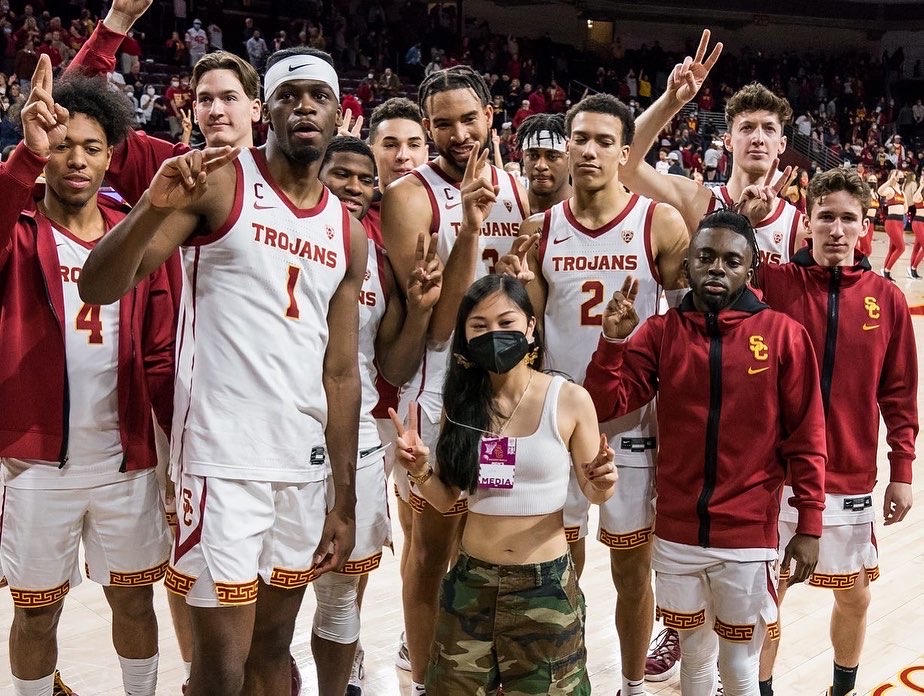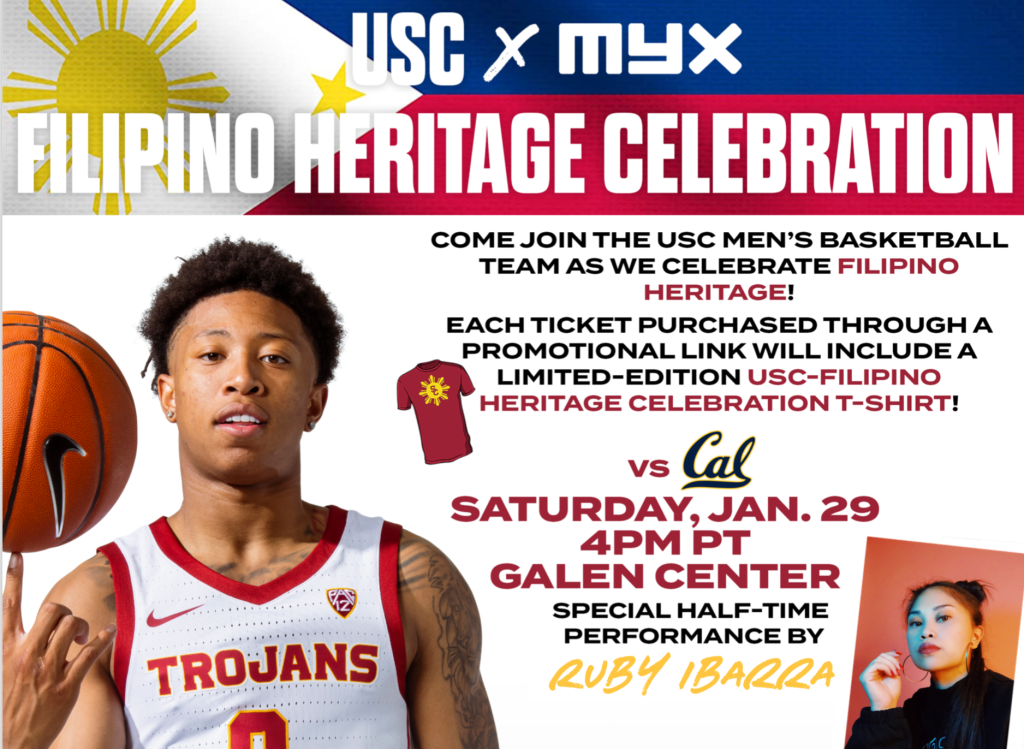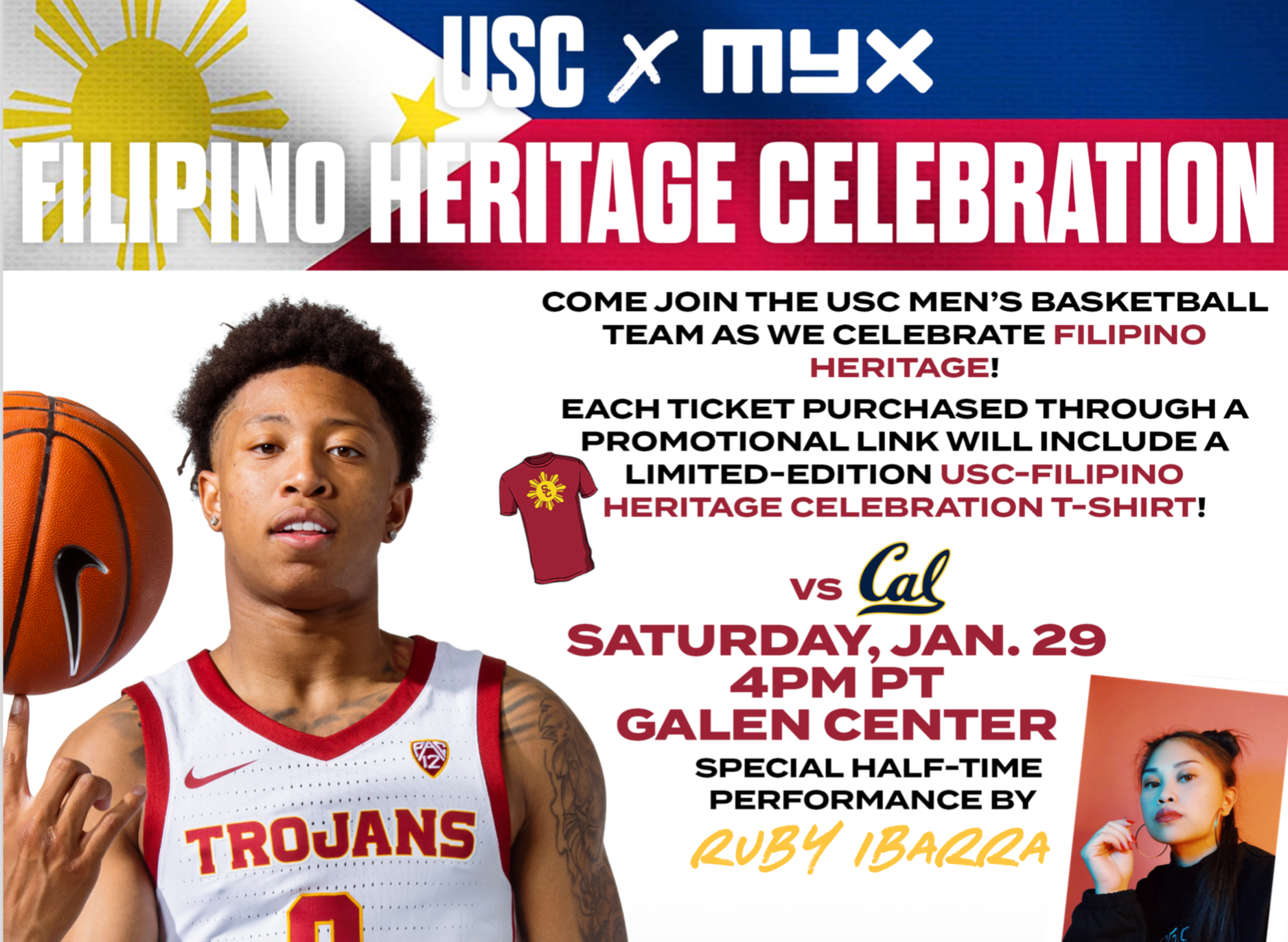 Fil-Am USC Mens Basketball Junior Point Guard sat down with MYX alongside his mom, Rowiena Simpson and grandmother, Corazon Simpson to discuss the upcoming night, his focus right now and opportunity to play for his community.
The celebration will feature a special performance by Bay Area hip hop artist, producer & scientist, Ruby Ibarra.
You can purchase your tickets here before they sell out on this special discounted group link will include a special USC Filipino themed t-shirt in the University of Southern California's legendary cardinal and gold colors.
Originally from San Diego, CA, USC point guard with Black and Filipino heritage, Boogie Ellis, has been impressing audiences with his talent. He dropped 20 points in the opener and has been a force on the court since. Witness the phenom and spend a night celebrating Filipino heritage with music and basketball with fellow MYXers, Trojans & fans in LA and those coming in to celebrate. Each ticket purchased here will receive one ticket and one shirt.
ABOUT BOOGIE ELLIS:
Junior Rejean "Boogie" Ellis is a 6-3, 185-pound guard who transferred to USC after two seasons of playing at Memphis, where he was named the American Athletic Conference Co-Sixth Man of the Year in 2021. Ellis. He has shown the ability to score by driving into the paint and from beyond the three-point arc and is a strong defender.
BEFORE USC: 2020-21: Ellis played in all 28 games for Memphis, making 15 starts, and averaging 10.2 points per game en route to being named AAC Co-Sixth Man of the Year. He made 51 three-point baskets and hit at a 38.6 percent from beyond the arc. Ellis finished third on the team in scoring and second in three-point baskets made. He became a starter in February and averaged 12.3 points in Memphis' final 13 games. He scored 20 or more points three times, including a career-high 27 points in a loss to No. 7 Houston in the AAC Tournament on March 13, making 5 of 8 from three-point range. He was named to the AAC All-Tournament team. He made three or more three-pointers in a game six times, including tying a career-best with six makes vs. Saint Mary's on Nov. 25, finishing with 24 points in the season opener. Ellis scored a team-high 23 points in Memphis' 77-65 NIT championship victory over Mississippi State on March 28.
2019-20: During his freshman season, Ellis started 27 of 31 games and averaged 8.0 points and 3.3 rebounds. He finished third on the team with 36 three-pointers made and was second on the team with 39 steals. He scored a season-best 22 points and made six three-pointers vs. UIC on Nov. 8. He had a career-best five steals in back-to-back games, first on Nov. 16 vs. Alcorn State and then on Nov. 20 vs. Little Rock. In the Barclays Center Classic in Brooklyn on Nov. 28, he scored 21 points on 7 of 11 shooting in a win over North Carolina State. Ellis averaged 11.3 points and 4.0 rebounds during the team's 2019 foreign tour to the Bahamas.
HIGH SCHOOL: Ellis graduated from San Diego Mission Bay High in 2019 as the No. 32 overall recruit according to 247Sports.com. He averaged 18.3 points as a senior. As a junior at Mission Bay High, Ellis averaged 24 points, 6 rebounds and 6 assists and was named the San Diego Section Player of the Year. He led his team to the 2018 Open Division title by scoring 34 points vs. Torrey Pines. He led his team to an 18-13 record as a senior and narrowly missed out on repeating as San Diego Section Player of the Year. He averaged 17.2 points and made 46.0 percent of her shots on the 2018 NIKE EYBL Circuit.
PERSONAL – Boogie was born on December 21, 2000 in San Diego, California. His mother's name is Rowiena Simpson, (she is mixed Black & Filipino) and his father is Rejean Tremaine Ellis and he has four siblings. His favorite musical artists are Drake and Lil Uzi and his favorite movie is "He Got Game." His sports hero is Kobe Bryant. Someday he would like to travel to Cabo, Mexico as his favorite food is Mexican. He is a Communication major at USC.
Cheer Boogie Ellis and the USC Trojan Mens Basketball Team, purchase tickets here.
The Warriors celebrated Filipino Heritage Night 2 in the New Year – Thursday, January 27 | 7:00PM | Chase Center.
Multi-platinum producer & recording artist P-Lo performed at halftime, known for his work with Kehlani, E-40, G-Eazy, Damian Lillard for the Space Jam Movie soundtrack and more.
Watch the highlight video below, shot & edited by @_kikovalle:
Event details include:
Celebrate Filipino Heritage Night 2 as your Warriors take on the Minnesota Timberwolves at 7:00pm.
Included with your ticket is a Filipino Heritage Night T-shirt when securing your ticket(s) through this link. (Password: WARRIORSFHN)
*Must have mobile event voucher to redeem. Mobile event voucher required for commemorative giveaway. (FHN vouchers will be uploaded on to your MyWarriors Account by the morning of your event. You will want to refresh your account in order to view voucher.)
Enjoy specially priced tickets when securing your group of 10+. Ask a Group Sales Representative today.
Limited tickets available. Secure your tickets today through the link below!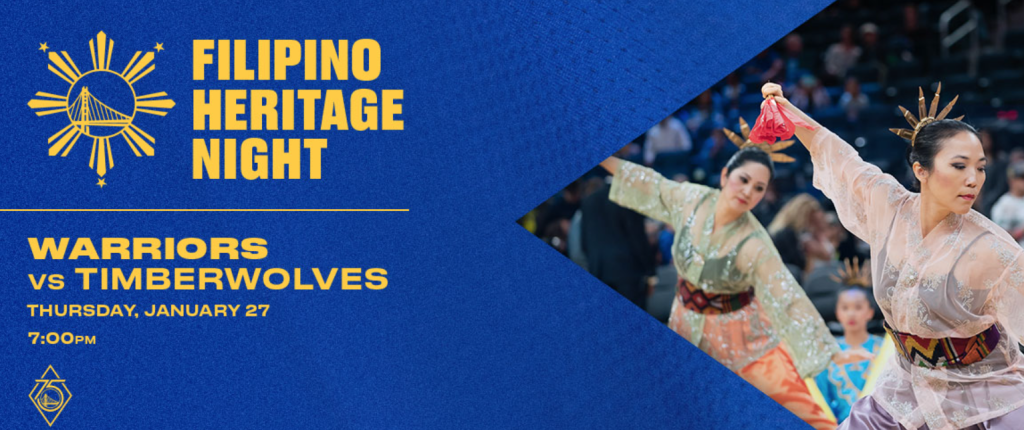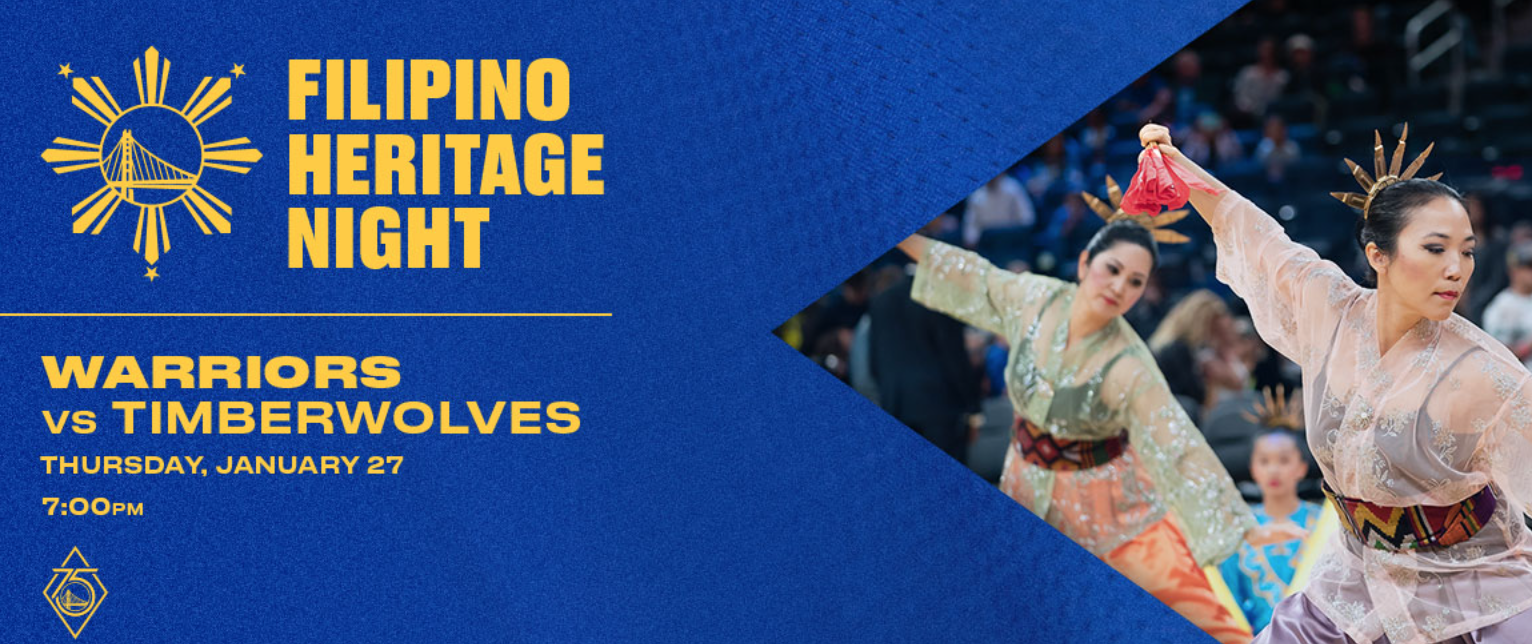 See highlights from a previous Warriors Filipino Heritage night featuring P-Lo, co produced with MYX below:
*Rates can increase based on factors affecting supply and demand.
Covid-19 Health & Safety Protocol – All fans 12 and older are required to show proof of full vaccination to enter Chase Center, while kids ages 5 to 11 will need to show either proof of full vaccination or a negative COVID-19 test taken within 24 hours (for antigen tests) or 48 hours (for PCR tests) prior to entry into the venue. Please click here for a guide on fans returning to Chase Center.
*IMPORTANT – Beginning February 1, 2022, Chase Center will verify proof of up-to-date vaccinations, which includes proof of a booster shot at least one week prior to event for eligible guests, for entry to the venue.
*Featured photo courtesy of P-Lo Instagram.
Celebrate the new year with your Cal Bears family and friends! Join the Golden Bears for the greatest rivalry in college athletics as they take on the Stanford Cardinals on February 26. Get tix HERE.

Show your Pinoy pride and support Filipino Heritage Night with Cal Bears Basketball, with a special halftime performance featuring the Bay Area's own FilAm rapper P-Lo! Purchase your tickets here.