The follow up to the The Mask of Haliya: Eye of the Serpent by Filipinx-American writer, filmmaker, and host, Kaitlyn Fae is back with another comic, Issue #2: Trace of the Past. It's a young adult urban fantasy that follows the journey of a troubled Filipina-American teen who discovers a mysterious mask at her great-grandmother's wake.
Kaitlyn Fae aims to rediscover and connect with her heritage while also commenting on taboo topics. A gritty drama inspired by Philippine mythology, the story engages with topics like mental health, intergenerational trauma, and corruption, with a major emphasis on its female characters.
A grisly murder in the forest… Strangers arriving in the night… As a sense of foreboding looms over the Reyes clan, Mari learns more about her mysterious cousin Isla, who appears to have secrets of her own… 
Cover Photo Credit: Kwento Comics Instagram
It's been a big week for choreography and creative Brian Puspos. He just released his latest track, "Celebrate" just in time to celebrate his own wedding to digital creator, Aja Dang in a beautiful beach view wedding. The pop track speaks on how excited he is to have the time of his life from now until forever. In a way, the track is to celebrate their love and the future they'll have together. Listen to the full track now!
To also help celebrate with Brian and his new bride, Aja were a couple of familiar faces like his fellow Young Lion, Ian Eastwood and fellow creator Timothy Chantarangsu. It was so nice to see a reunion with these OGs and of course it wouldn't be a party without some insane dance choreography. Luckily for us, Timothy was able to share some of the shenanigans that went on behind the scenes. Cheers to the newly married couple and by the looks of it, they kept the celebration going all night long.
Cover Photo Credit: Brian Pupos Instagram
The iconic fashion magazine, Vogue has landed in the Philippines. Its debut issue highlights the beauty of the country and its three regions, Luzon, Visaya, and Mindanao. Taking that voyage as Vogue Philippines first-ever cover star is Chloe Magno, a Filipino-American model from the US, with British Filipino-Egyptian photographer Sharif Hamza chronicling the adventure.
Vogue Philippines looked to collaborate with Magno and Hamza to "to leave the skyscraper forests of New York and enter a world quite different from what they may know of the homeland of their mothers." These two creators have worked together previously on a beauty feature for Vogue UK highlighting the importance of Asian representation, so "they found it particularly meaningful to be representing in the Philippine iteration of Vogue."
The cover story shows both the picturesque sights of the islands and the warmth Filipinos are known for, to welcome Vogue readers to "the wonders of Las Islas Filipinas." Not only is the Philippines made out of mountains and beaches, its people is where the heart of the country lies. Vogue Philippines' Audrey Carpio says, "It might be cliché to be touting the hospitality that Filipinos are renowned for, but it's no myth. The people they encountered at each stop made every foreigner feel at home and every Filipino proud of this pile of rocks we call the Philippines."
Vogue Philippines, the 29th edition of the iconic fashion magazine in the world, Bea Valdez as editor-in-chief and Trina Epilepsia Boutain as its digital editor.
Cover Photo Credit: Vogue Philippines Instagram
Let the blood, sweat, tears, and fabulousness overflow! Drag Race Philippines is the latest international offshoot spin-off of the original, RuPaul's Drag Race that is now available to stream Stateside on WOW Presents Plus. To kick off this premiere, the streaming network debuted two episodes for fans to enjoy.
The ten-part series is hosted by the multi-awarded Filipino actor, model, and drag artist, Paolo Ballesteros who took the internet by storm by his make up skills and transformation to some of the biggest stars. His co-star is none other than Drag Race alum, Jiggly Caliente who'll be a judge alongside Filipina writer, TV personality, and activist KaladKaren.
Check out the official sneak peek below!
Cover Photo Credit: Drag Race Philippines
This weekend, Easter Sunday debuted for the first time to the public but the red carpet premiere at the TCL Chinese Theater brought out some of your favorite Filipino creatives in entertainment. Check out who showed up and came out to this historical premiere for Jo Koy 's first major theater release.
The feel good comedy hits home with many Filipino families although some of its portrayal of life in the States is heightened for comedic purposes. In this love letter to the Filipino-American community, stand-up comedy sensation Jo Koy stars as a man returning home for an Easter celebration with his riotous, bickering, eating, drinking, laughing, and loving family. 
Friends and family showed their support of the film especially those known in the Filipino community. Members of the Jabbawockeez came out to celebrate like Rynan Paguio, Joe Larot, Phi Nguyen but also professional ballroom dancer, Cheryl Burke. Others who came to be part of the historic moment are Timothy Granaderos, Anna Maria Perez de Tagle Kline, Patrick Starr, Paris Berelc, Ginger Gonzaga, Siena Agudong, and The Filharmonic among many more. The movie is about family and although there might not always be a blood relation, Filipinos always support each other.
Make sure to catch Easter Sunday now playing.
Cover Photo Credit: Sthanlee Mirador
As podcasting continues to grow, there's a show for everyone. One of the coolest young hosts out there is Hannah Pangilinan who has a show called, Pausecast where she talks about ways to approach well-being. This week, she started a special sidebar segment, "Kuya Kwento" with her brother and actor, Donny Pangilinan where they chat life, work, and more. Check it out below!
From guided "talk-throughs" and explorative dialogues that focus on body, mind, and spirit, Pausecast helps its listens take that much needed pause in daily life that even the busiest person needs to take. Donny talks about his upcoming trip, how he balances life in entertainment while being an introvert and how to find rest in the middle of a hectic schedule.
The Kuya Kwento segment gives a glimpse of the behind-the-scenes as to where Donny's mind wonders when working or balancing personal and family life. What's nice about the podcast is each episode are made digestible for listeners. The mostly half an hour or less episodes keep listeners on track on the topic while getting straight to the point. It's time to take a pause!
Cover Photo Credit: Donny Pangilinan Instagram
We've been spotting a few RHUDE wear recently so we thought we'd round up a few of our favorite looks the stars have been wearing. RHUDE is a fashion line by Fil-Am designer Rhuigi Villaseñor who's collaborated with Zara, McLaren, and Instand Brands like Pyrex. You can basically get anything from attire, kitchen appliances to cooking-related materials. However, with summer out and about, we've been seeing everyone from actors to athletes, and your favorite influencers wearing something RHUDE.
Check out who's wearing what from various collections:
1. Daniel Kaluuya who's been promoting his new film, NOPE with Jordan Peele stopped by LeBron James' The Shop series in his RHUDE Palm Logo Colorblock Flight Jacket.
2. Formula 1 McLaren driver, Daniel Ricciardo sports the RHUDE Logo shorts at the upcoming France Grand Prix.
3. NFL cornerback, Siran Neal for the Buffalo Bills stays comfy in his RHUDE NASCAR graphic tee during a closed practice.
5. With the RHUDE Paris Fashion Week showcase just last month, many athletes from the NBA showed up and strutted in individual gear from Karl-Anthony Towns, Jalen Brown, and Fil-Am Jordan Clarkson. Check out the Spring Summer 2023 collection, "New Money" below!
Cover Photo Credit: Rhuigi Villaseñor Instagram
The popular digital series, MTV's Following showed us the life of one of our faves, Bretman Rock and his life in Hawai'i. Season 1 showed us his new home, who are his closest friends and family including his sister, Princess Mae, his mother, and his besties. Now in Season 2, Bretman's career continues to grow and boom but sometimes that comes at the cost of family time.
According to MTV, the first episode focuses on the sibling relationship or lack of a relationship between Bretman and Princess Mae. "After a year of professional growth and success, Bretman Rock's personal life crashes down around him. In order to heal the strained relationship with his sister, Princess Mae, they turn to therapy for answers. But can they overcome their differences long enough for Bretman to help Princess move into her dream home?"
Catch six new episodes this season dropping on Mondays on MTV social channels!
Cover Photo Credit: MTV Following Instagram
"Da baddest" is back! Bretman Rock is gearing up for season 2 of his hit reality show with MTV. An official trailer dropped last week, and the gang is back with more fun and some drama to spice things up. We also see a new face in the trailer, so it looks like a new cast member will officially be introduced soon.
Check out this caption on YouTube that gives us a inside look at what we can expect from this season and check out the trailer below:
Filipino-born online celebrity, Bretman Rock, works to save his fracturing relationship with his little sister, but past traumas, his budding business empire, and emotional exhaustion stand in his way. Will Bretman be able to repair his life or will the demands of stardom tear him down?
"MTV's Following: Bretman Rock" premiers Monday, June 27, at 4 p.m. ET on MTV YouTube.
Gold House just hosted its inaugural "Gold Gala," the largest gathering of top Asian and Pacific Islander leaders in the community. The Gala celebrated the 2022 A100 List, the absolute honor that recognizes the 100 APIs that have most significantly impacted American culture and society in the last year, and special awards honoring some A100 legends in the community.
Over a handful of Filipinos made it onto the prestigious A100 list this year, and even more, were present at the Gala. Celebrity Photographer and community advocate Sthanlee B. Mirador was there on the Gold Carpet, capturing guests as they made their way into the event. Check out some Filipino talents and leaders who helped celebrate Gold House's special night below.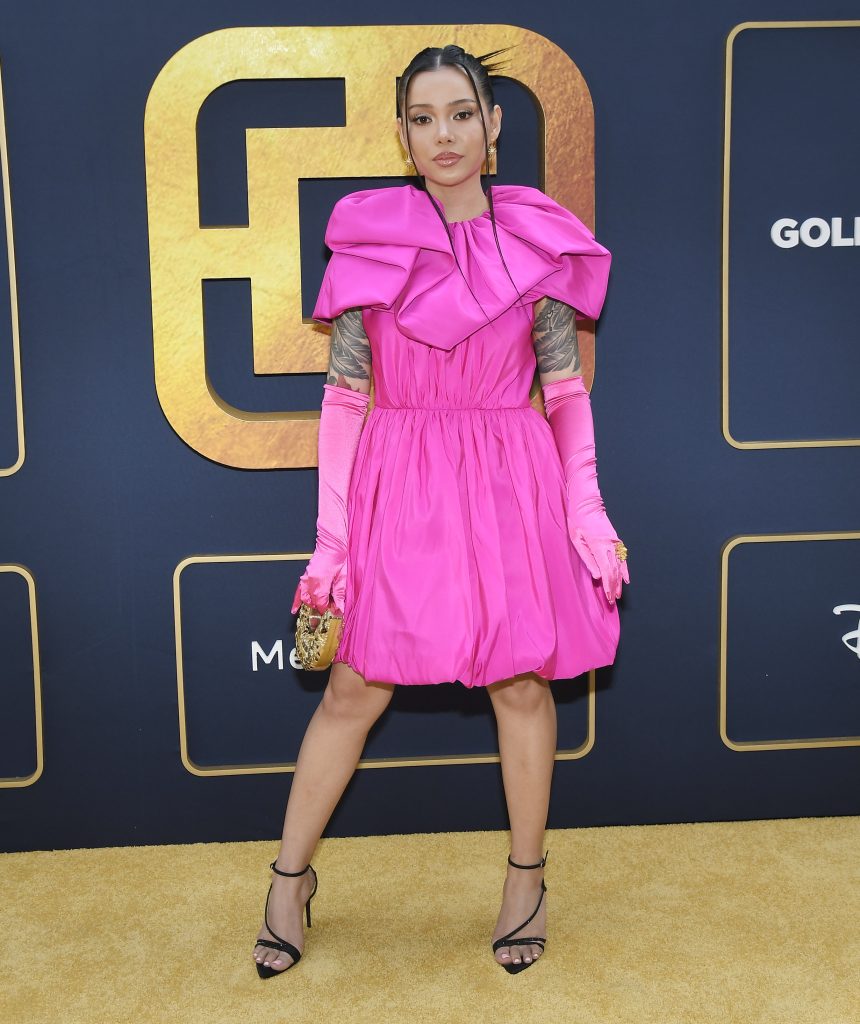 Over 500+ API celebrities, cultural leaders, and business executives attended this special night. The night's theme was "The New Gold Age," representing "unparalleled API brilliance and defiance amidst continued violence and racism against the community." In addition, the evening consisted of honoring the A100 list, Mindy Kaling accepting the A100 Legend award, and fellow A100 Legend Michelle Yeoh accepting the first-ever "SeeHer" award at the Gold Gala for defying gender stereotypes throughout her career.
During the gala, Gold House also unveiled some new initiatives which will help the organization continue to unite, promote, and invest in API creatives and companies. See some of their new initiatives below.
Unity March: in partnership with Asian Americans Advancing Justice, APIAVote, and a dozen other major nationwide organizations, Gold House announced a historic slate of policies and a convening event in Washington, D.C. on June 25, 2022.
Gold Storybook: Gold House launched the definitive guide and resource hub on authentic API portrayals in media, based on years of cultural consultation expertise with every major studio, streamer, and network. The guide was created with support from key partners like The Walt Disney Company and features additional resources through work with SeeHer, P&G, and more.
#WriteHerRight AAPI: SeeHer and Gold House also announced a major partnership to develop a guide focused on the importance of increasing accurate portrayals of AAPI women and girls in advertising and entertainment.. A number of studios and networks, including AMC Networks and Paramount, are committed to participating in the guide, which will launch later this year.
Gold House Venture Network: on the heels of launching its $30M fund, Gold House Ventures, Gold House announced a new vehicle for executives, cultural leaders, and founders to invest in sought-after venture deals and procure prominent Board Director and Advisor positions.
Gold Rush Accelerator Food & Beverage and Women Tracks: as part of their community-leading accelerator, Gold Rush (whose alumni have raised $400 million+ in follow-on capital), presented two new tracks that provide funding, promotion, and distribution to culinary and women founders in partnership with Panda Express and Julia Gouw, respectively.
Photos and Cover Photo Courtesy of Sthanlee B. Mirador
Malaka Gharib is an Egyptian, Filipino-American and making an impact as the Deputy Editor and Digital Strategist for NPR's Global Health and Development team. Now, she tackles the podcast sector with her episode on NPR's Code Switch talking about the Filipino concept of "utang na loob" (eternal debt).
The term, "utang na loob" is the Filipino concept of an eternal debt to others is how Malaka describes it. The debt she describes can be towards family, friends, or whoever did you a huge favor. She shares in a social post that it dates back to re-colonial times in the Philippines, and has passed from one generation to another.
On the podcast Malaka talks about how some Fil-Am want to do away with utang all together, especially when it clashes against "American" values of independence and self-reliance. Catch her breaking down the code to this "debt of the inner soul" — and discover a surprising side to this value.
Cover Photo Credit: Malaka Gharib Instagram
The RHU line where Fil-Am designer Rhuigi Villaseñor collaborates with Zara to redesign the human uniform. This new menswear label, Redesigning Human Uniform (RHU) is a take on post-athleisure and streetwear era where the clothes reflect individual personality while still being functional and comfortable.
Vogue shares that two key items of the line are leggings and nylon button-down. RHU in a way mirrors Villaseñor's jet-setting lifestyle where he can be as comfortable dressing to the tens as he is in wearing his Rhude clothing at events. The more affordable line shows that good design doesn't have to be expensive.
The inspiration for the line comes from wanting to carry on the spirit of Rhude for younger audiences who want the look of luxury without breaking the bank. "When I started Rhude, a lot of it was coming from a yearning for luxury," he says, "but prices are up, inflation is up. How can the kids shop? This collection is not only about escapism—it's really making sure they are still a part of something special. I want to offer something that could feel as if it speaks the same language as what Rhude is doing or what I'm doing next with Bally but at a price point more customers can afford."
Just like its brother brand Rhude, RHU is more than its clothes, it's a lifestyle. Check out the line and find your identity from its jackets to graphic tees, hats, and footwear all catered to creating a new uniform.
Cover Photo Credit: Rhuigi Instagram