Two of our favorite Asian American artists are going on tour and we love to see it! Vietnamese singer Thuy is bringing out Filipino rapper/producer P-Lo on the east coast leg of her "Girls Like Me Don't Cry" tour. Previously, the Bay Area native originally took Filipino singer Ashley Mehta on the first leg of the traveling performance series.

Thuy and P-Lo will kick off the tour in Dallas, Texas on March 6 before wrapping things up in Chicago, Illinois on March 22. You can buy tickets for the tour here!


Photo Courtesy of Thuy's Instagram
The upcoming concert of Filipino rock icons, the Eraserheads, will be their last in the Philippines as confirmed by the producers.
"This will be the last reunion of the group that's why we want to give the fans one last epic show," Francis Lumen, one of the producers of the concert and president of WEU, said. Diane Ventura, one of the co-producers of the concert and manager of lead vocalist Ely Buendia, confirmed saying "this is indeed the last reunion."
The show was aptly dubbed as Huling El Bimbo, signaling that it is the group's finalperformance. The tickets sold out after four days from its initial release, moving the producers to expand the capacity of the venue to accommodate more concert goers.
Lead vocalist Ely Buendia said that the Huling El Bimbo isn't like any other previous reunion concerts.
"Mounting an Eraserhead's show is no easy feat. But this is no ordinary show, it's their last and final act in the Philippines that's why we are making sure it's a show that would etch in the memories of all us fans, me included," Paolo Valenciano, concert director, shared. "Watch out for the drone show and a hologram of the late Francis M., " Valenciano added. The reunion concert is Eraserheads' gift to fans as they kick-off the Christmas spirit before the yuletide celebrations.
The show will be complemented by the wonders of an 18-piece orchestra. Mel Villena, the musical director of the show, said that "the concert promises an unforgettable musical experience of Eraserheads."
The Huling El Bimbo - Eraserheads Reunion Concert 2022 is a production by WEU Event Management Services, Ant Savvy Creatives and Entertainment Inc., DVent Productions and Myriad Entertainment Corporation. The event is presented by SMART,
Coke Studio, PLDT, Angkas, and Maya. This concert is co-presented by SM Supermalls, and in participation with San Miguel Corporation and Okada Manila. Tickets are available at SM Tickets outlets and online.
Ben&Ben are capping off a year of record-breaking achievements and monumental milestones by performing in front of their hometown Manila fans! The nine-piece act has just announced the Homecoming Concert, a one night live music extravaganza happening on Sunday December 18, 2022 at the SMDC Festival Grounds.

This event will not only mark the band's return to Manila, but it will also be their biggest concert yet. Ben&Ben promises to show gratitude to the fans who have supported their music journey since day one.
"To match that sense of gratitude, we wanted to mount our largest show yet, with our longest set, most ambitious performance ideas, and simply the best of what we've made through the years," the chart-topping Filipino group shares in a statement. "We are most excited about bringing this show, finally, to our Liwanag, because it had definitely been a long journey with a lot of hard work to get here."

Conceptually, Ben&Ben's Homecoming Concert 2022 is centered around the feeling of home: as a place, idea, or person of comfort, or as a reassuring gesture of security and intimacy. According to the "Paninindigan Kita" hitmakers, the outdoor music show is also about coming home to each other and being home to each other.
"We've always likened how each piece of music we make is a little gift that our listeners have allowed into their lives, and how they have likewise felt the comfort of home through our songs, so it's in that give and take and sharing of the feeling of home that we ultimately want to highlight for this show."
The Homecoming Concert will also feature guest performances from artists such as: Filipina KZ Tandingan, Zild, Juan Karlos, and more. Tickets to Ben&Ben's Homecoming Concert 2022 can be purchased via ovationtickets.com and ticketnet.com.ph.
James Reid is going back on tour! Fresh off of the release of his "lovescene" album, the Careless CEO has announced a North American concert series spanning throughout the US and Canada. The singer/actor took to Instagram to reveal the news and shared the full list of upcoming tour dates.

The 2023 tour kicks off on Jan. 29 in Houston, Texas before concluding on Feb. 26 in West Hollywood, California. Reid will also be making pit stops in New Jersey, New York City, Chicago, Seattle, San Francisco, San Diego, Toronto, Winnipeg, Calgary, and Vancouver.

Fans interested in attending the "lovescene" tour can purchase tickets here.
Photo Courtesy of James Reid's Instagram
Your favorite OG singing kuyas are all going on tour together and bringing back the nostalgia. Jeremy Passion, Gabe Bondoc, Jesse Barrera, and Albert Posis are banding together for The Modern Nostalgia Tour. The 7-date west coast tour is happening starting in Vancouver, British Columbia and ending in Los Angeles, California.
They'll be performing throughout April and they want to see you there! They're making sure to play all the classics plus their current music. Grab your tickets now and be sure not to miss out!
Cover Photo Credit: Jesse Barrera Instagram
Salubong: The Christmas Concert Year 2 is a must-watch music extravaganza that features the biggest names in the local Filipino hip-hop scene! Presented by PraXis on Dec. 9, the show will go down at the recently reopened open air concert venue Vertis Events Ground! The event showcases top billing headlining acts such as: Gloc-9, Flow G, Shanti Dope, AI James, Omar B, CLR, and more.
Rap legend Gloc-9 shared his thoughts on the can't miss live spectacle. "We're still alive and kicking, stronger than ever. Pinagsikapan nating lumaban everyday. Siyempre, kahit simpleng pangarap, pinagsisikapan natin na masikatan ng konting liwanag. Lalo na kapag Pasko! Ibang klase talaga ang Pasko sa Pilipinas. At ibang klase rin ang hip hop ng Pinoy! That's why perfect combination 'tong Salubong 2022!"
Tickets are available now via Shopee, Ticketnet, or GCash. Shopee for P1,000 for VIP and P350 for GA. You can  access ticket sales via Shopee, GCash, and Ticketnet.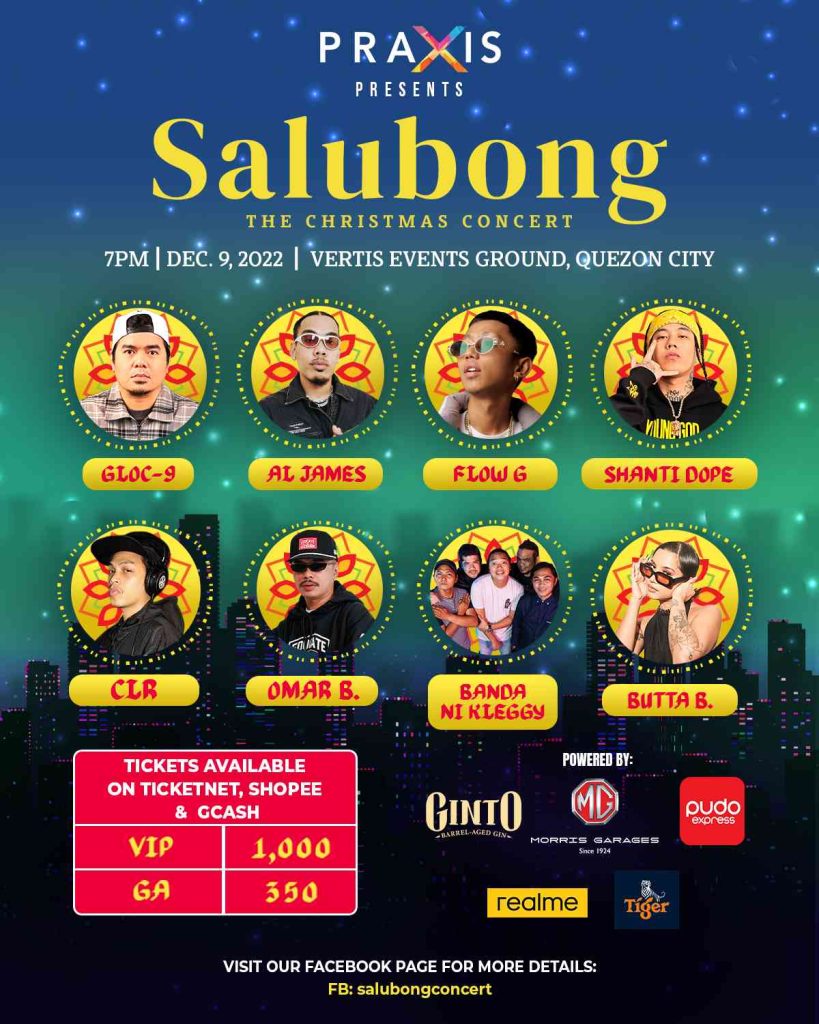 88Rising unveils the surprise announce of international artist Jessi to the lineup of Head In The Clouds Music & Arts Festival in Manila. Previously, more artists were announced to the setlist like Denise Julia, Manila Killa and SB19 were revealed as additional artists on Head In The Clouds Manila social profiles.
In October it was announced that the inaugural Head In The Clouds Music & Arts Festival in Manila will feature a stellar range of global as well as local talent including headliners Joji, Jackson Wang, NIKI, Rich Brian, eaJ, and YOASOBI. This year's festival will also showcase performances from BIBI, MANILA GREY, Ylona Garcia, ATARASHII GAKKO!, MILLI, Zack Tabudlo and many more; plus special guest Grammy-winning hitmaker and electronic producer ZEDD.
All artists are scheduled to perform during the 2-day festival on Friday, December 9 and Saturday, December 10, 2022 at SM Festival Grounds Parañaque City.
Don't miss out as limited tickets are now available. Purchase your passes HERE.
Here's the final lineup that's about to be crazy:
Adawa
Akini Jing
Atarashii Gakko!
August 08
BIBI
Denise Julia
eaJ
Elephante
GUAPDAD 4000
Jackson Wang
Jessi
JinxZhou
Joji
MANILA GREY
Manila Killa
MILLI
NIKI
Rich Brian
SB19
Spence Lee
Stephanie Poetri
Warren Hue
Ylona Garcia
YOASOBI
Zack Tabudlo
With very special guest:
ZEDD
About 88rising:
88rising is the pioneering global music & media company representing the best of Asian talent. 88rising was the first company to launch an Asian-centric music festival in the United States (Head in the Clouds Music & Arts Festival - now in its fourth year), the first to have an Asian artist top the Billboard R&B/Hip-Hop charts and Spotify's Weekly Global Albums chart, and the first to launch an all-Asian radio channel reaching all of North America. In 2021, 88rising executive produced and curated the soundtrack to Shang-Chi and the Legend of the Ten Rings - Marvel Studios' first Asian-American superhero. In 2019, they were awarded Label of the Year by NetEase, one of the largest music streaming platforms in China. With over 160 million followers across global social media platforms and over 40 billion total streams and views, 88rising's global influence is undeniable.
Cover Photo Credit: 88Rising Instagram
Eraserheads will be reuniting for a one night special! The legendary Filipino alternative rock band will be collaborating with ABS-CBN's iWantTFC, the largest Filipino streaming platform in the world, for the historic livestream of the band's much awaited reunion concert, "Huling El Bimbo", on December 22, 2022. The livestream will be available everywhere worldwide except in the Philippines.

Livestream tickets will be available on Dec. 1 and can be purchased for $29.99. Interested attendees can snag an exclusive early bird 20% discount rate of $23.99 until November 30. Ticket holders can catch the concert live on Dec. 22 and will have on-demand access for a 48-hour window on iWantTFC.
After teasing fans for years, Eraserheads finally made good their promise to reunite for a live concert!
 
The concert is not just nostalgia for millions of older fans of Eraserheads,"Huling El Bimbo" is also an opportunity for millions of Gen Z music fans to catch the iconic musicians live and learn more about their historic discography.

You can buy tickets now here! Find out more about the Erasersheads "Huling El Bimbo" on this Facebook video.
Harry Styles is returning to the Philippines for a one night special at the Philippine Arena in Bulacan on March 14, 2023. In collaboration with concert promoter Live Nation Philippines, the One Direction singer will be bringing his "Love on Tour" concert to Filipino fans. This marks Harry's third show in the country and first show since 2018.
Tickets are available now via Live Nation presale and costs range from P2,750 for UBC seats, to P17,750 for the Early Entry Premium Standing package. The higher tier package includes early entry into the VIP section, a tour laminate and lanyard, exclusive merchandise, and more. Tickets go on sale for the general public tomorrow (Nov. 24). You can find more ticket information, including pricing here. Best of luck securing tickets!

Photo Courtesy of Harry Styles Instagram
88rising's Head In The Clouds Manila music festival already boasted one of the top festival lineups that we've ever seen, and now the company has just added more popular homegrown acts to the setlist! The newest additions to the music and arts extravaganza are: Paradise Rising's Manila Killa, rising R&B hitmaker Denise Julia, iconic P-Pop group SB19, and 88rising artist August 08.


Announced by 88rising and Live MNL last August, the Head In The Clouds Music & Arts Festival is presented by Globe with GCash as major sponsor and will take place on Friday, December 9 and Saturday, December 10, 2022 at SM Festival Grounds Parañaque City. The festival will feature a stellar lineup of world class headliners including Joji, Jackson Wang, NIKI, Rich Brian, eaJ, and YOASOBI. The festival will also include live performances from BIBI, MANILA GREY, Warren Hue, Ylona Garcia, GUAPDAD 4000, ATARASHII GAKKO!, MILLI, Zack Tabudlo and many more. Special guest is ​​Grammy-winning hitmaker and electronic producer ZEDD. 88rising and HITC MANILA also plan to announce more acts as the festival approaches! You can buy tickets and passes here.

Photo Courtesy of Manila Killa's Instagram
Want to learn more about the richness of the Filipino culture? MYX's newest Made For Youtube series, Monster Makeup follows three mythical creatures popularized in Philippine folklore and urban legends. Be prepared to look good getting scared as the series banks on engaging storytelling through make-up.
Mysterious and horrific encounters are told by digital content creator, John Fedellaga as he transforms into the featured mythical creature. It's a creative spin on telling stories about Philippine mythical creatures through beauty and art. Dive deep into the stories you've heard as John takes it to the next level.
Catch the episodes below!