Moira Dela Torre just made a special announcement on her YouTube page! The famed Filipino singer-songwriter revealed that she will be embarking on a world tour in 2023. No further information has been released yet, but details regarding ticketing and tour dates should be made available to the public soon.
Moira made the announcement at the end of her recently uploaded "Dito Ka Lang" performance, which features a live band in an intimate studio setting. The full production also features the lyrics translated in English for viewers who don't understand Tagalog. Watch the full video and catch the announcement below!
Join the Harvard Square Philippine American Alliance for the first Filipino American Festival at Cambridge's Harvard Square in honor of Filipino American History Month! This debut event will take place on October 9th from 11am-6pm and intended to bring the Filipino American community together by showcasing a panorama of our rich heritage and traditions through music, dance, and food to the local community.
Join in on the fun as artists like EZ Mil, Bryan Termulo, Garth Garcia, and Rachel Anne Wolfe are set to perform plus bands like Sounds of Manila and AAPI Comedy Jam come to round out the entertainment.
The Harvard Square Oktoberfest and Honk! Festival organizers invites one and all to march in the parade to "Reclaim the Streets," starting at noon throughout the Square, interested in focusing everyone's presence on the good works that you, our local partners, are doing. It will feature live music on multiple stages from different eras catering to a multi-generational crowd, international vendors of crafts and items including those uniquely from the Philippines and Asia, and festive beer gardens from both local and national businesses.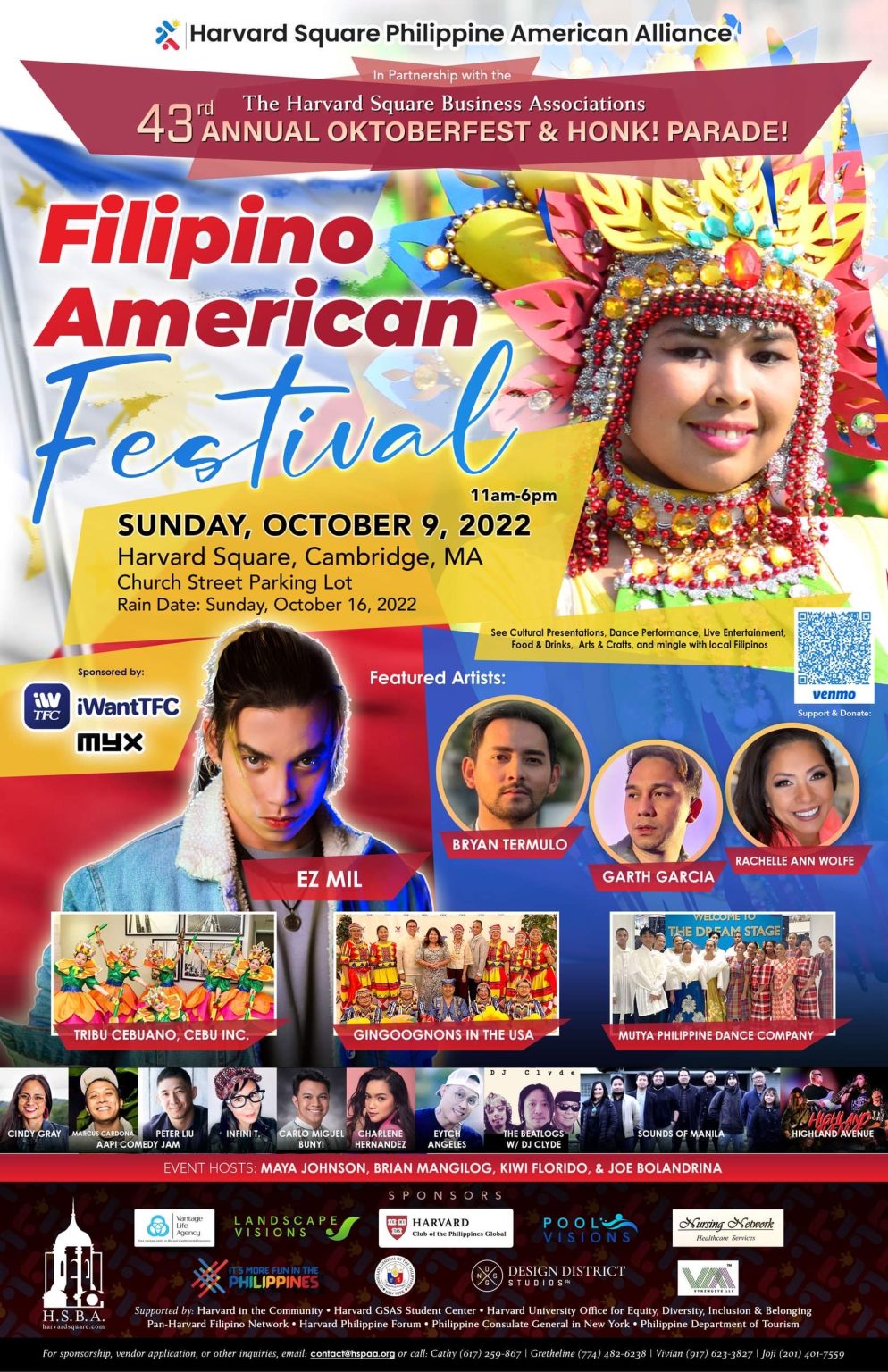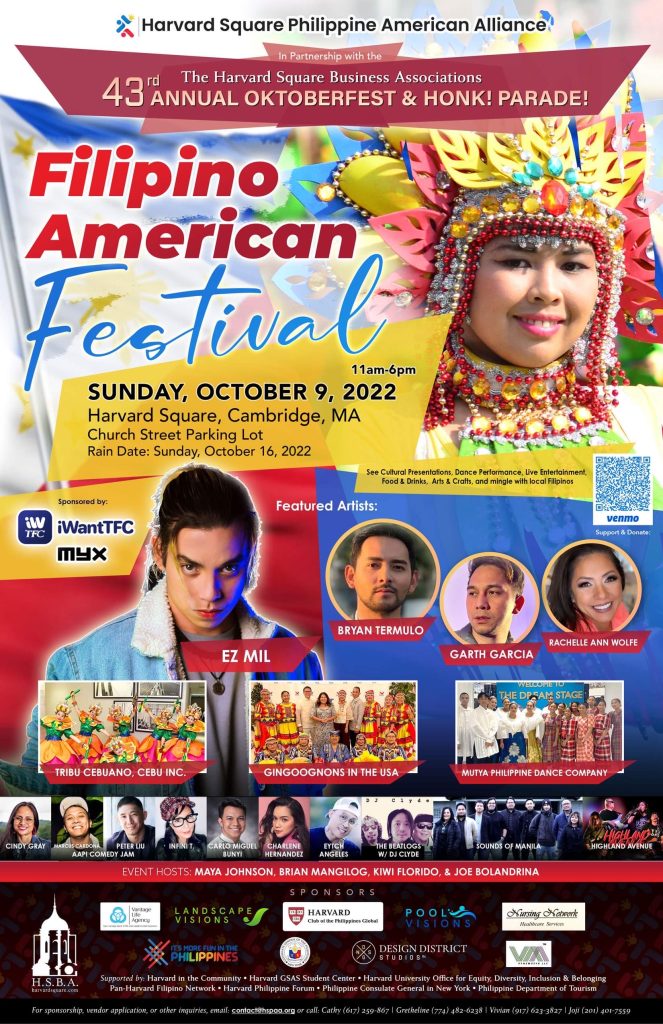 The Harvard Square Philippine American Alliance is a non-profit organization that believes in bringing the community together through cultural events that celebrate the core values of the rich and deeply rooted ancestry of the Filipino people. Our goal is to organize events on an annual basis in partnership with business owners and community leaders.
As younger generations of Filipino Americans mature, connectivity, exposure and interactions with people that share their cultural heritage is paramount to enriching overall community diversity, equity and inclusion efforts while promoting Filipino Americans through networking, outreaching, and researching to ensure the prosperity of every individual involved.
Founding member of The White Stripes, The Raconteurs and The Dead Weather, Jack White is coming to Manila on November 5, 2022! The musician, who will be performing in the Philippines for the first time ever, will be hitting the Samsung Hall in SM Aura Premier for his 'The Supply Chain Issues Tour.'
As one half of The White Stripes alongside his ex-wife Meg White, the 12-time GRAMMY Award-winner and 36-time nominee, is behind big hits like "Seven Nation Army," "Fell in Love With a Girl," and "Blue Orchid." You can buy tickets for his concert via SMTickets.com and all SM Tickets outlets nationwide.
After the recent release of her latest single, "Bakit Nga Ba Mahal Kita, Filipina breakout artist, Gigi De Lana is headed back to the U.S. for the Gigi De Lana and The Gigi Vibes Domination: The U.S. Tour 2022. Fans got a taste of her artistry at the recent Star Magic Tour last month, but now they'll be getting the full experience.
Her track has already reached over 1.2 million streams on Spotify and on its way to 11 million views on YouTube. Her fiery and passionate live onstage presence will be sure to surprise the crowd again on this upcoming tour. Joining are her band, The Gigi Vibes and special guest Carlo Aquino.
The rising artist started her journey as a singing contestant -- a "kontesera" in the Filipino vernacular -- De Lana drew global attention during the pandemic when she just posted numerous covers of classic and modern pop songs on YouTube with her band and became an internet singing sensation. 
In a span of one year since being managed by Rise Studio and Star Magic, De Lana has released a chart-topping single (Sakalam), co-starred in a lead role opposite Gerald Anderson in her first series, "Hello, Heart", released her self-tltled album, performed at the 1MX Music Festival in Dubai, launched a successful Domination Tour that started in Manila, then to Dubai, Abu Dhabi, and Bahrain, joined the Star Magic tour in the U.S., and now, through iWantTFC, TFC, ABS-CBN Events and MYX will bring her Domination Tour to the U.S.
 "Gigi De Lana and The Gigi Vibes Domination: The U.S. Tour 2022" will start on October 15 at the Alex Theatre in Glendale CA, on October 21 at the Silverton Casino in Las Vegas, NV, and on October 16 at the South San Francisco HS Theatre in South San Francisco, CA.
Get ready to laugh with RuPaul's Drag Race Queen, Bianca Del Rio. She tells us to get our vaccinations and cocktails because our favorite "clown in a gown" is returning to the stage with her new comedy tour, "Unsanitized." Bringing the attitude, the queen is ready to take the funny to Asia especially to Manila and Singapore.
The sixth season winner of RuPaul's Drag Race, her snarky frankness, impeccable timing, and politically incorrect humor, she became the breakout star. "I'm incredibly excited to be returning to Asia with my comedy show to lighten things up and make people laugh after ewe've all had a rough couple of years dealing with the pandemic!"
Grab your ticks for the Unsanitized tour in Manila on October 11, 2022, at the Samsung Performing Arts Theater. She'll tackle life during the pandemic, her work challenges during this time, celebrities, LGBTQIA+ communities, and even her fellow RuPaul's Drag Race alumni. Check out the details below!
UNSANITIZED Manila 2022
October 11, 2022
Samsung Performing Arts Theater, Circuit, Makati City
Tickets: tinyurl.com/UnsanitizedPH
The Philippine-born DJ, Manila Killa kicks off his The Dusk Tour this weekend with the first 3 stops. He'll be starting in Denver, Colorado then heading to Salt Lake City and Las Vegas for the Life is Beautiful event. The tour coincides with the release of his album, Dusk. The 12-track album gives listeners and fans what they love about the dance and electronic DJ. Get all the info about The Dusk Tour here!
The album is filled with originals and collaborations with many of his friends. While you wait for Manila Killa to hit your city, check out the tracklisting and listen along.
Cover Photo Credit: Manila Killa Instagram
Isn't it sad when your favorite band has a show you can't go to because you're in another city? Thankfully, this won't be a problem for Lola Amour fans, as they're taking their Fallen Concert tour to different cities around the country! 
Catch the band not only performing in Makati, they're also set to perform shows in Bacolod, Cagayan de Oro, Pampanga, and Cebu. This comes after kicking off their tour last July at the Ayala Malls Circuit Activity Center.
Their next stop is at the Ayala Malls Capital Central in Bacolod this September 10. Admission is completely free, and fans can check out the mechanics of the meet and greet on the Ayala Malls Capital Central Facebook page. Joining the band are special guests, Dizzy on Swings and &ND for the Bacolod leg of the tour.
In Cagayan de Oro, they'll be joined by Soulthrll. For fans in Metro Manila and Metro Cebu, catch them throughout October and those watching their U.P. Town Center show, Leanne & Naara and Arthur Miguel will also be taking the stage alongside Lola Amour. The last leg of the Fallen concert tour will happen in Pampanga on November 12th.
The set list is sure to have fan favorites like "Fallen," "Maybe Maybe," "Pwede Ba," all included, but catch the band performing their new song, "Dahan-Dahan." The tour marks a milestone for the band, which is something that lead vocals and guitarist Pio Dumayas acknowledges.
Follow Lola Amour's official Facebook page for further announcements, as well as the official Ayala Malls pages for more details! Until then, find Lola Amour's top hits on this playlist!
Cover Photo Credit: Lola Amour Instagram
All roads lead to MacArthur Park in Los Angeles this Saturday, September 3rd for FilAm Arts' Festival of Philippine Arts and Culture presented in partnership with the Levitt Pavilion.
1. It's gonna be a hot one! Bring Your Own Water Bottle
The LA Department of Water and Power is providing their mobile water station. FREE water plus none of that microplastic waste.
Remember to wear sunscreen too!
2. Take the Metro or Shuttle Service
Parking can be a challenge around MacArthur Park, so here are several options for those attending.
*There is an Allied parking lot on 611 S Carondelet St, Los Angeles, CA 90057 behind Parkview, which will be closed off to accomodate commmunity members for $10 for all day parking for about 200 spaces.
*Courtesy of Councilmember Kevin De Leon (LA District 14), community members from Eagle Rock/ Glendale area can park at Eagle Rock Plaza at 2700 Colorado Blvd, Los Angeles, CA 90041. FREE SHUTTLE SERVICE begins at 3pm every hour and a half thereafter.
*Courtesy of Councilmember Mitch O' Farrell (LA District 13) , community members from Historic Filipinotown area can park at Rideback Ranch at 1660 Beverly Blvd, Los Angeles, CA 90026. FREE SHUTTLE SERVICE begins at 3pm every hour to and from MacArthur Park.
*Skip the hassle of parking and take the bus! Metro Los Angeles is providing 50% discounted Day Fares of $3.50 so Go Metro: Take the B Line (Red) or D Line (Purple) to Westlake/MacArthur Park Station. Plan your trip on Transit app or call 323.GO.METRO.
3. Sign up for covid shots
GET BOOSTED! As a public service for our community, FREE COVID-19 Vaccinations and Boosters will be available during #FPAC2022
FilAm ARTS supports the Department of Health and Human Services' COVID-19 education campaign We Can Do This efforts to increase education and awareness about COVID-19 vaccines.
4. There'll be a Rum Garden for 21+
FPAC is free to attend but you will need a ticket to enter the Don Papa Rum Garden and VIP Tent. Sample libations and enjoy the acoustic performances of Filipino-American artists Melody of The Mellow Dees, Belle, Bootleg Orchestra and Demi Voix.
Don Papa Rum is a single island rum from the Philippines, all made on the island of Negros. In the tent you will also be able to taste Brewyard Beer Company's Ube Wan IPA (yes, ube beer!)
Inside the Rum Garden, you can visit with Kwento Comics, the first all-Asian women comic book company that brings Philippine Mythology to life through an urban fantasy series. In collaboration with Nomsi's calamansi juice and Papo J's Lambanog, you can try the delicious, "Bakunawa Breeze," inspired by one of the mythological creatures from "The Mask of Haliya" comic book series.
Space is limited so get your tickets here.
5. Who's performing?
This year's festival will be headlined by Filipino American rapper, music producer and spoken word artist, Ruby Ibarra. Other notable performers include: Kiana V, Jay R, Mica Javier, Ez Mil, Ella Jay Basco, Q-York, Kajo, Headband Andy, DJ CherishTheLuv, Les The DJ, Kayamanan Ng Lahi Philippine Folk Arts, DJ Joel Quizon, Malaya Filipino American Dance Arts, Filosophy,Pakaraguian Kulintang Ensemble, and Rondalla Club of Los Angeles, led by Tagumpay De Leon, a nationally-renowned Filipino performer and educator recognized by the National Endowment for the Arts
For more info, visit http://www.filamarts-fpac.org and http://filamartsla.org and follow @filamartsla on Instagram and Facebook. See you there!
Cover Photo Credit: Fil-Am Arts LA Instagram
OPM artist, Rico Blanco is preparing for another performance this fall, but this time at the Smart Araneta Coliseum on September 11th. The anticipated concert will be a night of hits, nostalgia, and a showcase of musical talent. He teams up with KDR Music House to help bring back the music scene. Grab your tickets starting at PHP 500 for a one of a kind performance.
Rico Blanco will be bringing a few guests on stage with him including singers Zild Benitez, and Ebe Dancel as part of the lineup. He hopes to help bring back the experience of live music. "The pandemic situation is still around, and we're starting to somehow live with it, [changing] our lifestyles a lot to accommodate and to be safe. There's a lot of uncertainty. I feel that concerts [are] a product of habit, you know? Going out is a habit, the lifestyle of going out, going to restaurants and concerts is a habit."
The concert marks the first show in years that the artist is staging as a full-set solo concert. He is known for his hits like "Umaaraw, Umuulan", "Your Universe", "Yugto" and more.
Cover Photo Credit: KDR Music House Twitter
On the rise arist, Joji announces his new album, entitled SMITHEREENS, set for release on November 4th, 2022 via 88rising. SMITHEREENS – already one of the most anticipated new albums of the year – is the follow-up to Joji's 2020 sophomore album Nectar and features the worldwide hit single "Glimpse of Us," which has gone Gold since its release in June 2022. 
The song also garnered Joji's highest-ever Billboard Top 100 chart position at #8 and has over 520 million global streams to date. "Glimpse of Us" is Joji's highest charting single at radio to date. The record has also gone Platinum in both Australia and Canada, while remaining in the top 3 on the Spotify Global and U.S. charts for a month. SMITHEREENS is now available for pre-order.
Also available today is new song "YUKON (INTERLUDE)", which offers another taste of SMITHEREENS and was written and produced by Joji himself alongside Isaac Sleator. Accompanying the track is a psychedelic and mind-bending visual directed by the visionary duo and longtime Joji collaborators BRTHR (pinkpantheress, Lana Del Rey, The Weekend). The visual is Joji's first music video appearance in nearly 2 years.
The good news for Joji continues, with his full North American tour selling out within minutes when it went on sale this June.  The tour has now sold over 110,000 tickets throughout the country.
The Japan-born singer and producer Joji is one of the world's most enthralling, enigmatic artists with over 12 billion streams to date. Joji's sophomore album, Nectar, debuted at #1 on Spotify's inaugural US Weekly Top 50 Albums chart, #1 on Billboard's Independent albums chart, and #3 on the Billboard 200. Nectar debuted at #1 in Australia and in the top 10 in New Zealand, Canada, UK, and Norway. Joji's hit song "Run" has been RIAA-certified Gold, and he made his national television debut on the Tonight Show with Jimmy Fallon in 2020.
Cover Photo Credit: Joji Instagram
Pink Sweat$ is bringing his "Pink Moon" world tour to the Philippines next month! The "17" singer will be performing live in Manila at the New Frontier Theater on September 27, 2022 in collaboration with Live Nation PH.

The event organizer announced ticket prices for the concert on their Instagram page: VIP Standing 1 - ₱5,000, VIP Standing 2 - ₱4,500, Loge Seated - ₱4,050, Balcony 1 - ₱3,000,Balcony 2 - ₱1,650. Please note that Loge Seated, Balcony 1, and Balcony 2 follow reserved seating. Fans can find additional ticket information, including purchasing instructions here.

Photo Courtesy of Pink Sweat$ Instagram
FilAm ARTS (The Association for the Advancement of Filipino American Arts and Culture) is thrilled to announce the return of  The Festival of Philippine Arts and Culture (FPAC), the longest-running Filipino cultural celebration in Southern California now in its 28th year is open to the public on September 3rd, from 4 - 10 PM at the Levitt Pavilion in MacArthur Park. 
The festival was previously held in 2020 that drew a crowd of thousands of viewers from around the world. "Since its inception, FPAC has given countless artists various opportunities to amplify the voices of Filipino-Americans and Filipinos in the diaspora. We all look forward to having FPAC return in person. Kaya natin ito (We can do this)," says Giovanni Ortega, Festival Director.
The Festival (FPAC2022) will feature Filipino food booths curated by Usapan and merchandise booths curated by SoCal Filipinos, a  ticketed VIP rum/craft beer garden, a community pavilion led by Search to Involve Pilipino Americans, and tons more! This year's headlining artist is Ruby Ibarra, rapper, music producer, and spoken word artist. 
The list of mainstage performers includes: cultural performances, Rondalla Club of Los Angeles, Kayamanan Ng Lahi Philippine Folk Arts, Malaya Filipino American Dance Arts, Pakaraguian Kulintang Ensemble, new Filipina band, Pinay Voltron, Acapella group Filosophy, Headband Andy, Ella Jay Basco, Kajo, Kiana V, Q-York, Mica Javier, JayR, Ez Mil, DJ Joel Quizon, Les The Dj and DJ CherishTheLuv.  
FilAm Visual Artists also create a living memorial to honor our community members who we've lost to COVID these last few years in partnership with AF3IRM, Los Angeles. "Levitt Los Angeles shares the beliefs that by celebrating the cultural diversity of our city we can create more connected communities and strengthen the social fabric of Los Angeles," says Allison Keating, Executive Director of Levitt LA.  
Cover Photo Credit: The Festival of Philippine Arts and Culture (FPAC) Instagram