Born in New York City and raised in Jersey City, New Jersey, DJ Yoshi is the creator of the DJ Platform in College Football previously serving as the Official DJ for Rutgers Football, The NJ Jets, NJ Devils and NY Jets. You can currently find him with Army Football and The B1G Ten. He joined Roslynn on myxOLOGY to talk music, sports, mental health, how connections have helped build his career, and played a few rounds of crate roulette.
Since 1996, DJ Yoshi has traveled the globe playing at some of the most exclusive venues and events. His award-winning live set: "The DJ Yoshi Experience" fuses elements of hip hop, electronic music, dance, reggae, rock, freestyle, funk & pop creating an incredible "open format" set. Heavily involved in the worlds of fashion & television, DJ Yoshi has spun events for iconic brands and franchises such as: Brooklyn Nets, NY Jets, Ferrari, Nike. He has rocked the turntables for celebrities like:
P. Diddy, Mariah Carey, Manny Pacquiao, Mary J. Blige, John Legend, Maury Povich, The B-52′s, Jamie Foxx, Slick Rick, GURU, Sean Paul & Ivanka Trump. Further, DJ Yoshi has also played the role of hype man and emcee for artists including: Austin Mahone, Gavin DeGraw, Trina, Mike Jones, DJ Khaled. Cassie and more!
DJ Yoshi has had a career that shows how passion, determination, and opportunity can lead to opening more doors not only for himself but also for others.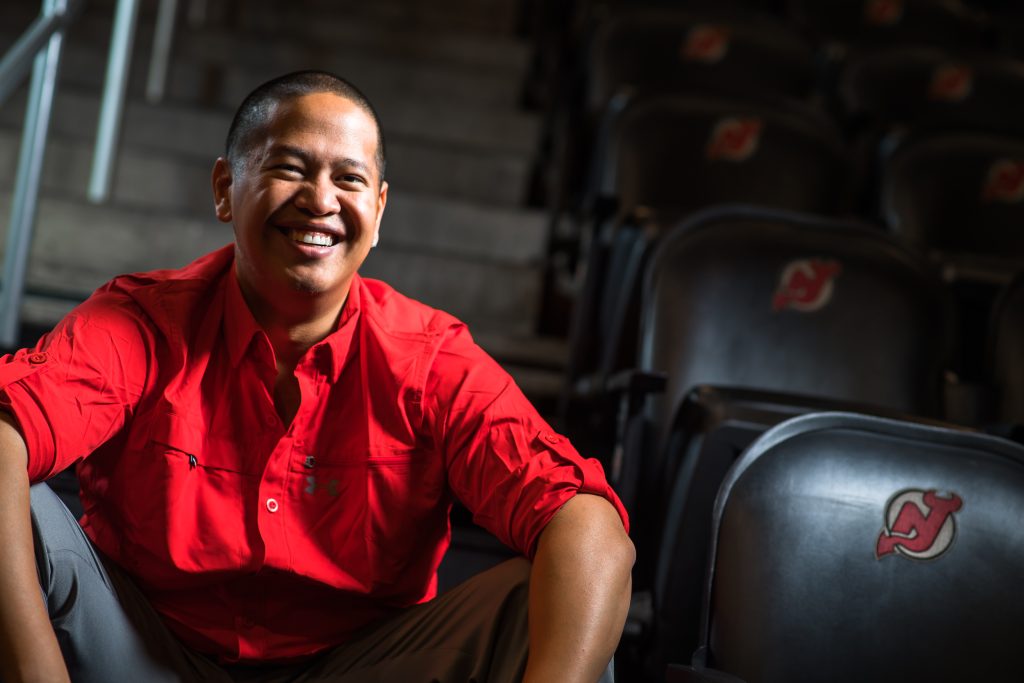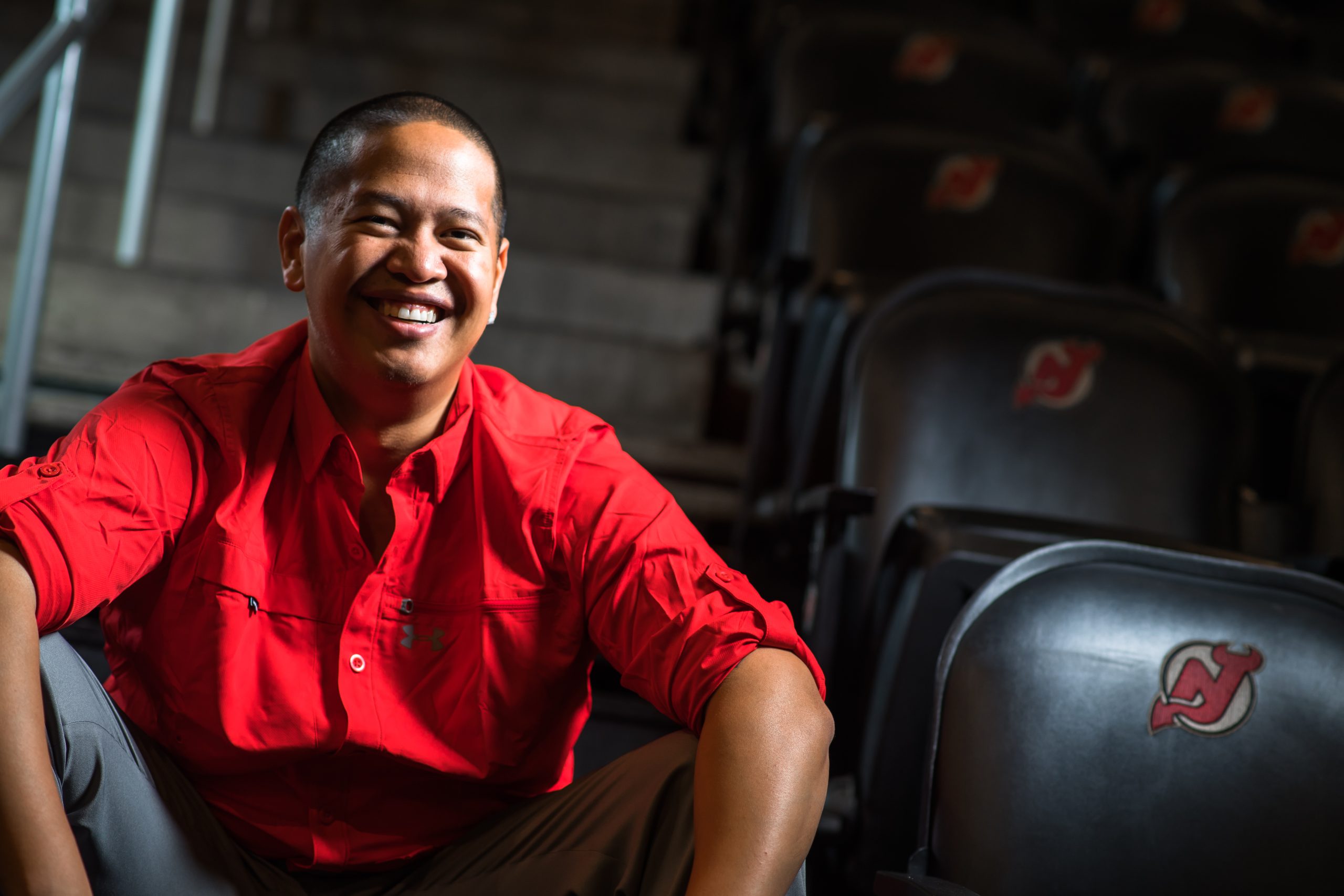 BIOGRAPHY
He was raised in Jersey City during its hood days before as DJ Yoshi said, "it was gentrified." His parents moved their family out of New York for a better life. A couple fun facts he shared included being born at the actual Bellevue Hospital where the show, New Amsterdam, films and the cemetery that was blocks away from the family home was the cemetery featured in The Sopranos. Whether he was in New York or New Jersey, he was always surrounded by music.
DJ Yoshi said he strayed away from hip-hop initially because he grew up listening to Guns N' Roses, Def Leppard, and commercial R&B tunes. It was his brother's influence that got him DJ'ing. His brother's mobile company, "Unique Sounds" is what helped DJ Yoshi learn how to scratch. His Gemini belt drive turntable had him scratching from the side and showing the myxers how he could scratch with his ring finger. So, the most important question is where did the name DJ Yoshi come from? He rewinds back to the 5th grade and when he was part of a video game championship where his consolation prize was discounts on Nintendo products. To make a long story short, his brother "teased him for being short, fat, and eats anything just like the character Yoshi!" This carried on even in school when his brother had teachers calling him Yoshi. When it came to a DJ name, Eric De Torres (his actual name) didn't completely sound like a proper DJ name, so the next best choice was Yoshi! Honestly, we all wish we had a cool nickname like that growing up.
CAREER
His career began around 16-17 years old at the New York City club, The Tunnel which has a long history of featuring artists and DJs from every genre. DJ Yoshi said, "the best part of The Tunnel was the different levels to the building as each floor played a different genre." What we know as the "DJ Yoshi Experience," his open format sets are influenced by house and dance music, but as he got more comfortable hip-hop was added to the mix. Until now, the DJ Yoshi Experiences are still dance music heavy but with an added reggae twist. The Tunnel was the place where his relationship with Bad Boy Records began with a tap on the shoulder by Harve Pierre aka Joe Hooker. After dodging Harve the first time, he had another opportunity when got another tap on the shoulder to play Black Rob's record, "Woah." This time Yoshi didn't lose his card then as they say, the rest is history. Yoshi was introduced to people throughout Bad Boy, Island, Epic Records, and more to spin new music at clubs and events. He agreed with Roslynn that the secret to the industry is not only to have talent, but creating relationships are key.
From there, DJ Yoshi has created relationships not only in the music industry, but also in sports and entertainment in general from artists to promoters to other DJs. He's played alongside artists like Trina, Mary J. Blige (he called her a true professional), and Lauryn Hill and you can't leave out how he's the hype man for sports teams and other artists like Austin Mahone, DJ Khaled, and who…Mike Jones! Although Yoshi mentioned not all experiences were good, it's the learning experience he gained from each event and how he adapted with each situation.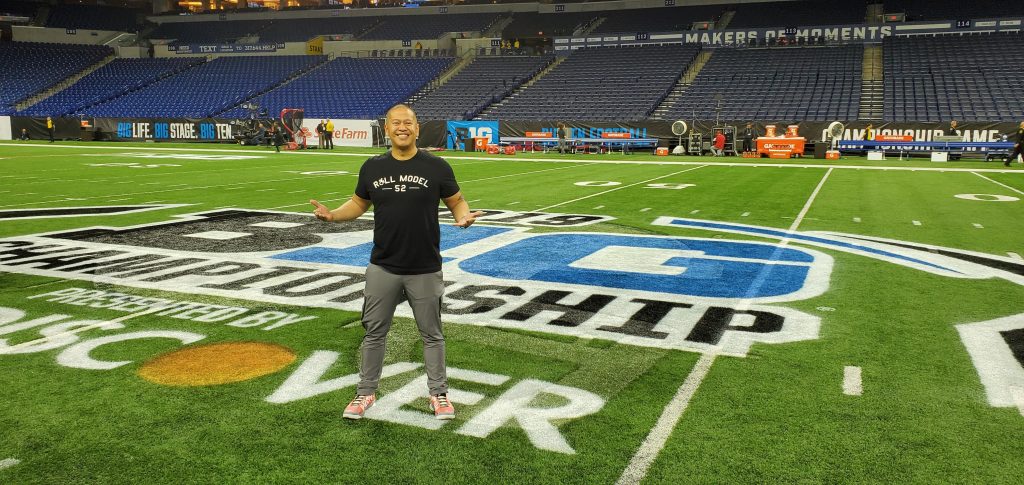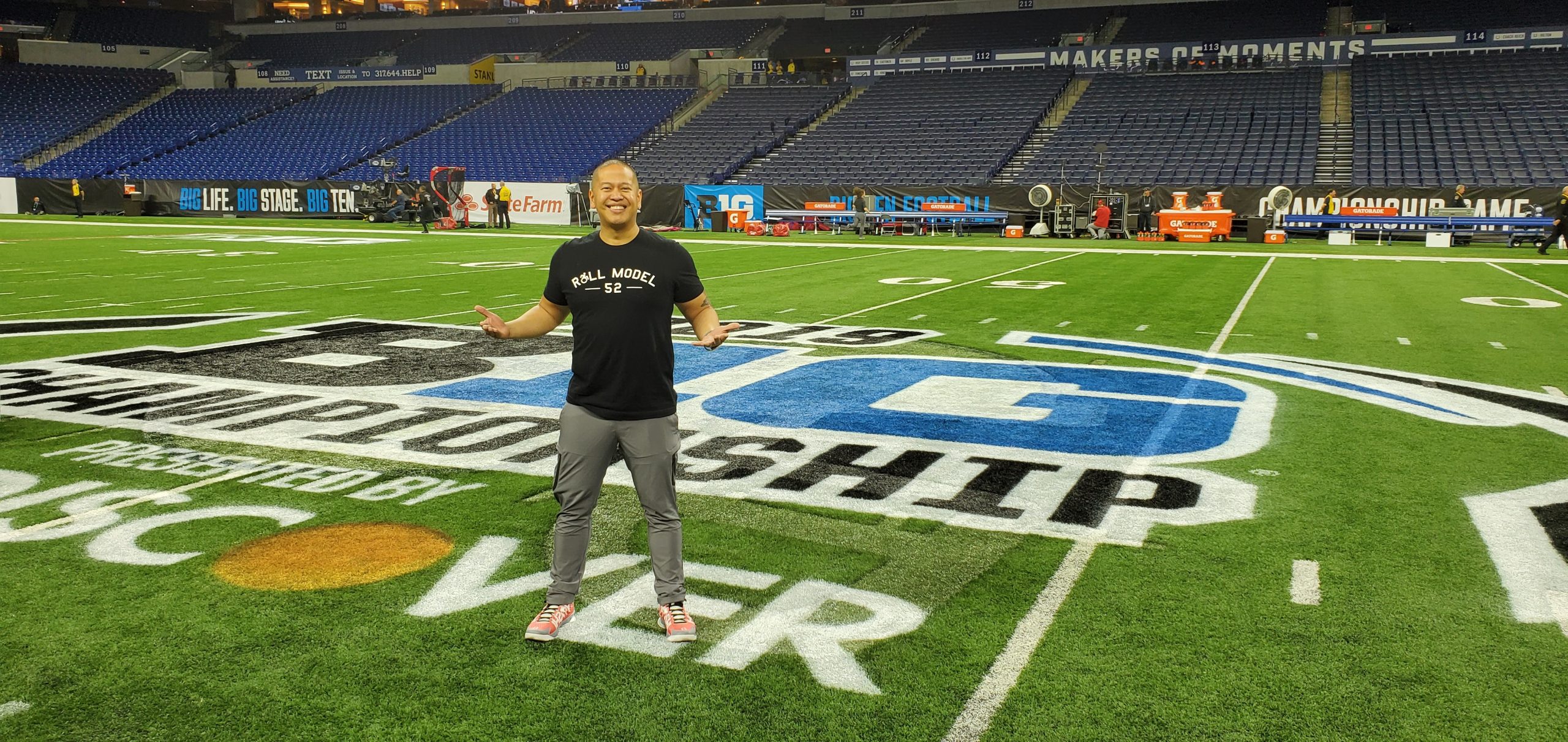 When Roslynn asked him about his favorite sporting moment, he immediately remembered the New Jersey Nets. Yes, for all the young people here, before they were called the Brooklyn Nets and acquired KD and Kyrie Irving the team was in Jersey and had Jason Kidd, Kenyon Martin, and Richard Jefferson. He shared a story about his postgame interaction with Jason Kidd which led to creating more relationships with the team. As the official DJ for the Nets, the players mostly kept to themselves and Yoshi would interact with them "when they had song requests or the occasional head nod." During one of the games, Yoshi had what he called a mess up and what we would say speaking into existence where he hyped the crowd by saying "make some noise if Kidd is getting a triple-double!" Luckily for Yoshi, Kidd did get a triple-double that night. As Yoshi retells the story, he usually waits until the players leave to pack up his things. That night while he was waiting, Jason Kidd began a conversation with him. From there, the other players saw Yoshi talking with Kidd who he described as "cool as hell" and this paved way for more interactions with the team. Players started getting in touch with and hitting him up for launches and parties which expanded his network and connections. Again, relationships are key.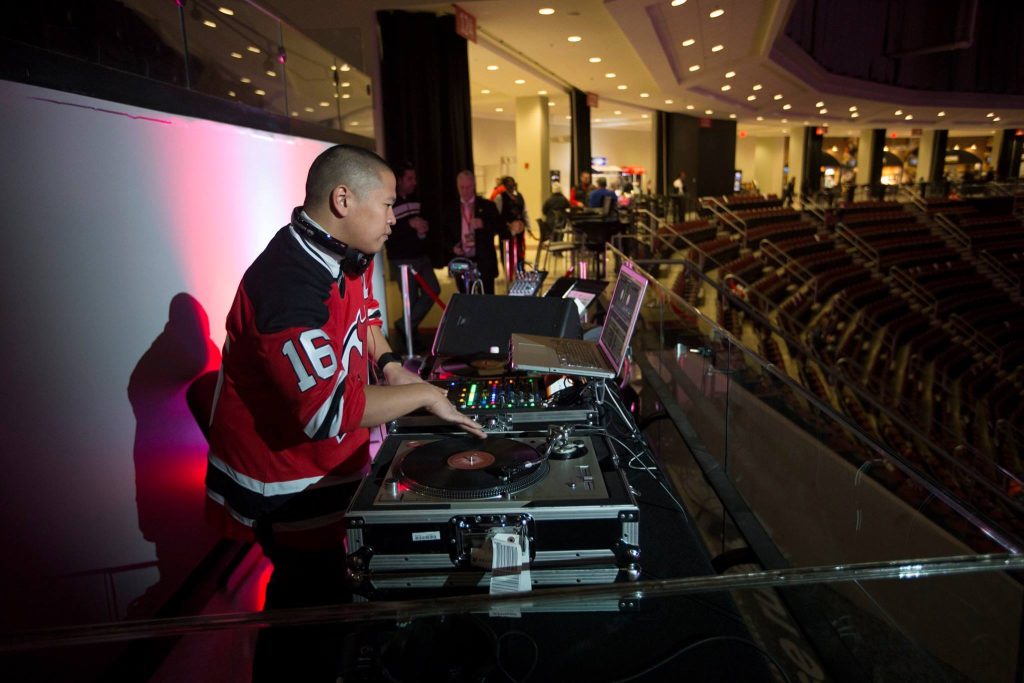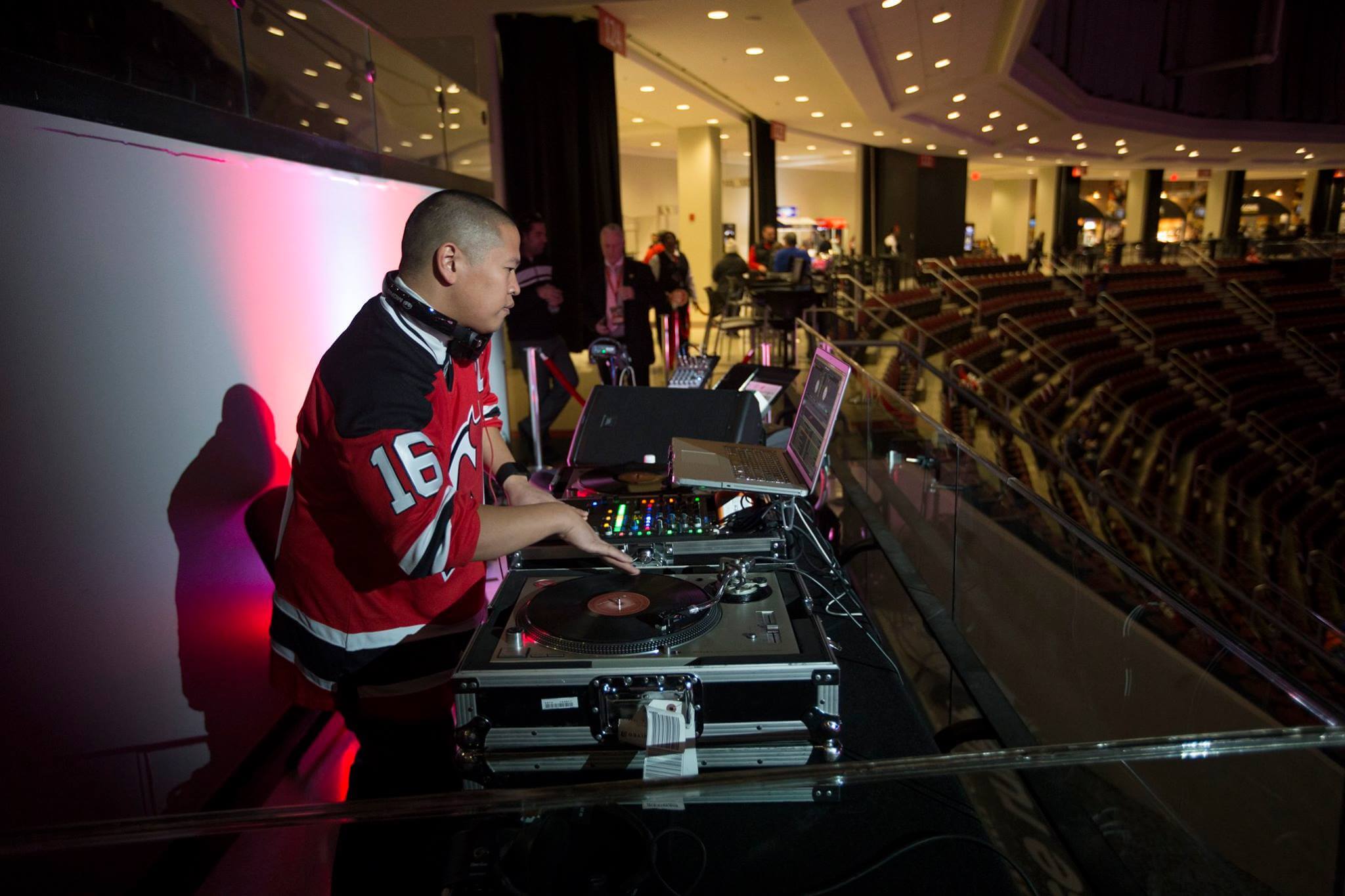 PHILANTHROPY
Music might be his career, but it also become a bridge for him to help and give back to those in need. Some of the organizations he supports include: The Christopher & Dana Reeve Foundation, Cystic Fibrosis, GiGi's Playhouse, A Fight For Children DC, The Crohn's & Colitis Foundation, and The NJ Center for Tourette Syndrome. The organizations are important to him because he's either had a personal connection whether that be through his wife having ulcerative colitis (UC) and him being diagnosed with it in 2016, his parents battling through cancer, to supporting friends and their causes. Yoshi pays whatever blessings he's received forward because he knows the feeling of not wanting to ask others for help which led him to anxiety and depression. He gets real and reflectS back to when he hit rock bottom with $5 in the bank to last 8-9 days, but had good people looking out for him and his wife. Yoshi said, "I'm blessed with great people, team, and family. You start to realize what's important. When people help you out, you pay it forward. So when I gift subs in Twitch, it's not a gimmick. I just want to give back."
He says Twitch has saved a lot of people's lives including his own mental health. When Yoshi started streaming, he expressed how people's support saved his sanity and vice versa. By also working fulltime in healthcare, "DJ is the escape from my full-time job and the full-time job is the escape from DJing," Yoshi explains. We totally understand needing an escape from all the craziness happening around us right now. He also tells us to keep in mind that what we see on social media is "only the top 5% of their life and you're not seeing the struggle." When he got caught up in the numbers of streaming and trying to hit those milestones, he lost sight of connecting with his audience. Advice he received that helped remind him why he liked streaming was "don't worry about the people who aren't there. Worry about the people who are there." The relationship he has with his followers and subscribers go deeper than being another number, he wants his channel to be a space for "people to talk and let them share their experiences openly." Yoshi values the connections he makes and wants to be there for the highs and lows of life.
He thanks his supporters and therapist for helping keep him sane and being open to talking about taboo topics. "We're taught to bottle up emotions but work on the problems within to digest and express those emotions and let it out that isn't detrimental to your health." It may be a lot to unpack in the beginning, but it can only help our mental health in the end.
To close out the interview DJ Yoshi offered a piece of advice for this social media age where we're documenting moments but forget to live in the present: "Try to never compare to what others are doing so you can enjoy the moment."
Catch DJ Yoshi streaming on Twitch and don't be afraid to hit him up if you need a friend, someone to listen, or just want to talk music or sports. You also don't want to miss his New Music Tuesdays where he mixes new music and you get his honest opinion on the track along with giving feedback directly to the artists, executives, and labels. Tell them what you think!
DJ Franzen (aka Frandalay Bay, Franny Pacquiao, Franz Sinatra) was recently named the "All Time Best DJ by Las Vegas Weekly," after spending 19 years in the city. He moved from San Francisco where he was a staple on the top 106.1 KMEL hip hop radio station where he started as an intern at only 13 years old, he bought his first turntables at the age of 12. Originating from San Francisco, California, DJ Franzen has been making monumental moves and breaking records since the early '90s. Franzen's DJ career began in the Bay Area, and has continuously consisted of him introducing listeners to chart-topping hip-hop and R&B legends like Biggie, Jay-Z & Drake in the making.
Franzen personally shared why Twitch has been important for his mental health during the pandemic. Music helps people during difficult times. "Never underestimate the power of music. It's a blessing to see the DMs when people reach out saying I've helped them out from all over the world and I can't wait to travel and meet every single of them," he says about the support received from his digital community. Music is a passion for him, and people get to see his musical story and career through the livestream platform. Once traveling becomes safe again, he looks forward to visiting Framily globally especially in the Philippines. "It's all for the love of music."
DJ Franzen joined myxOLOGY this week to talk about his career, experiences, and share stories about some of the legends in the hip-hop industry. He gave us the raw stories that any music fan would love to hear from breaking Biggie records like "Juicy" & "Big Poppa," scouting locations around the Bay Area for Drake's music video "The Motto," why the friendship with Nipsey Hussle was a huge influence on him, to becoming the first DJ to perform with Jay-Z in the West Coast. DJ Franzen's catalog of stories is endless and he hopes the next generation takes his blueprint and run with it to fulfill their own passions. After hearing all of these stories & some of the footage, the questions is for Netflix & Amazon-how do we make the myx Presents FranCam documentary happen???
The Bay Area to Las Vegas transplant's residency at Drai's, has helped make the Cromwell's rooftop club one of the most prominent destinations in the country. Franzen knows the music never stops, demonstrated by his ongoing quarantine sets on Twitch, consecutively now for 166+ days and every Sunday on Sundrais on IHeartRadio Real 103.9 Las Vegas.
Franzen shares his love for his Framily on Twitch who have turned to his daily live-streams to help deal with depression & other challenging situations during quarantine. He shares stories of his shared Filipino heritage and says on his bucket list is to DJ in the islands one day, his last Philippines trip was in 1982, but he says he still loves Filipino food including chicken adobo, chicken sinigang and named several flavors of the Magnolia ice creams like their Thai Iced Tea and Ube Macapuno as his favorite. We hope to see additional streams of Franzen cooking or eating, he's been an entertaining host and nightly DJ keeping us in good spirits. No matter what we are going thru, we feel he is there for us.
Franny also shared in detail incredible memories with the likes of hip hop legends like Jay-Z, Tupac, Biggie, Nipsey and Drake. He said that Jay-Z (who is a long time friend) is well aware of the Filipino contribution to hip hop and why the legendary rapper references them in songs like A Million, "What are you doing in LA with Filipinos and Eses" and in "Ain't No N*gga, where he raps "Lookin half black & Filipino, fakin no jacks." The lyrics were a conversation starter when they first met, Franny went on to DJ his first live show on the west coast and now a brand ambassador for Jay-Z's Dusse brand after over a decade of genuine friendship.
In this myxOLOGY episode, Franzen goes into detail of how he helped Drake by picking the beat to his hit song, "The Motto," after the duo were listening to several Mac Dre songs. The music video for "The Motto" was shot in the Bay Area and Franny and his manager Jeno helped pick the various locations and put legendary Bay rappers in it like E-40 and Mistah Fab. The song and video helped garner a new appreciation for Drake and his music, specifically on the West Coast and Bay Area.
Franzen discovered Drake on MySpace, after seeing him featured on the MySpace Music homepage, and noticing that he was from Toronto. Drake grew up in Canada, where towns like Scarborough have a high Filipino population that Franzen toured with Drake's Filipino best friend and business partner, OVO Niko, on previous visits.
Drake grew up around Filipinos, which including Niko, that he also mentioned on "The Motto" and is seen in this classic NBA Awards video where Drake impersonates Manny Pacquiao. At the start of his career, Drake references his Fil-Can close group of friends in his "Closer" track that samples Goapele, on his Comeback Season mixtape. Franny shares an exclusive clip on myxOLOGY where Drake is hilariously singing "Forever" in a Tagalog accent, re-naming the song "Foreber."
You'll have to also check out the myxOLOGY lightning round where he tells us his favorite Frandora Radio R&B and Soul song of all time, DJs he is a fan of DJ Jazzy Jeff, J Espinosa, Umami, and more that he is discovering now on Twitch. DJ Franzen was dropping gems and kept it real all throughout this episode.
We'll definitely need some merch with DJ Franzen quotes printed on it. Here are some of our favorites:
"I don't want to be the best. I want to be your favorite."
"You need people around you that keeps you on point & accountable" like his longtime manager/best friend Jeno & Team Why Not
"The person who can motivate yourself is you."
ABOUT DJ FRANZEN:
From the Bay Area to Las Vegas, DJ Franzen has been trailblazing in the DJ community and putting us on new music since the '90s. He's introduced us to legendary hip-hop and R&B artists like Biggie, Jay-Z, and Drake to having a residency at Drai's Nightclub and now taking his sets to Twitch for over 160 consecutive days. Living in Las Vegas for almost 20 years, he was recognized as Best Local DJ on Las Vegas Weekly's 2020 All-Time Best of Vegas list. His career so far has earned him various nicknames like "The Boss of Las Vegas," by the boss Rick Ross, Franzanatra, and favorite
Frandalay Bay - the name that perfectly bridges his Northern Cali & Nevada homes together.
For more, follow @frandalaybay on Instagram & become a subscriber on twitch.tv/djfranzen.
DJ BStang, one of the co-creators of the party-rockin 90s Hip Hop & R&B throwback inspired events called Snapback LIVE and the Snapback Crew. Prior to quarantine, the DJs had residencies in N. Hollywood, Long Beach & Las Vegas. He joined myxOLOGY to talk about his humble beginnings to being one of the most sought out video DJs, playing for multiple celebrity clients like the Kardashians & Kris Jenner. Watch the full interview below and the amazing overlays he had throughout the show which included a Jollibee restaurant, Seafood City store, Benihana restaurant, revolving sushi restaurant, Philippines Day Party, Jeepney & more.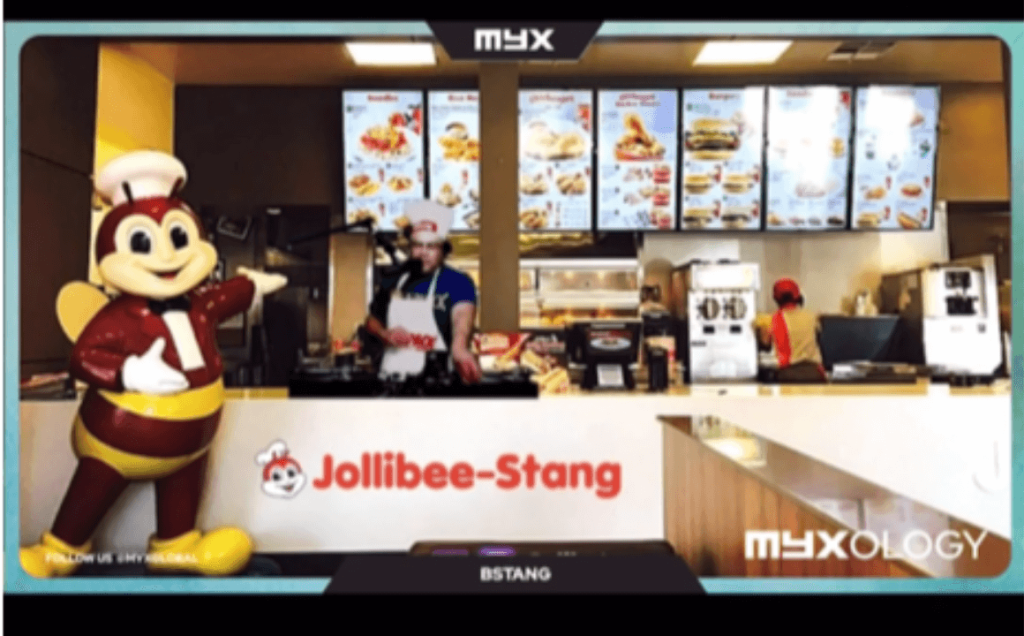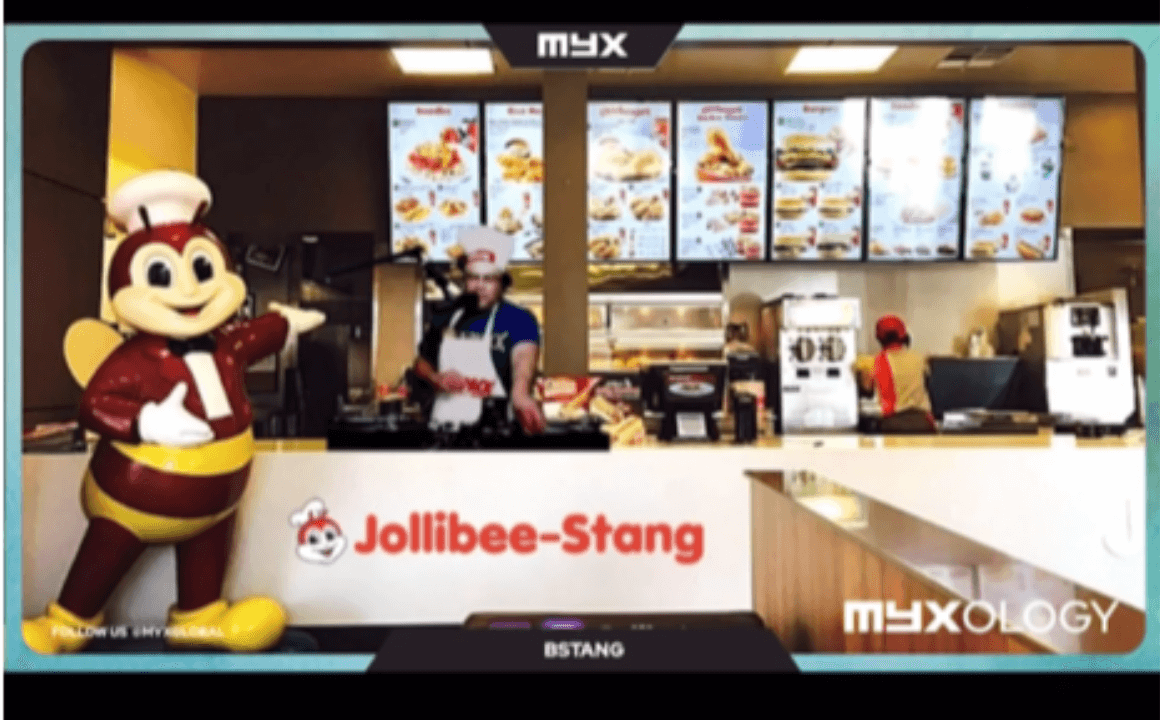 Streaming daily, the Snapback crew has helped raised hundreds of thousands of dollars for charity like the HollyRod Foundation, that helps provide compassionate care to those living with autism and Parkinson's disease. Support the crew as they stream daily for their Lunch Tables LIVE series at twitch.tv/snapback_live. Check out some of our favorite DJ Bstang overlays below and make sure to follow & subscribe at twitch.tv/djbstang.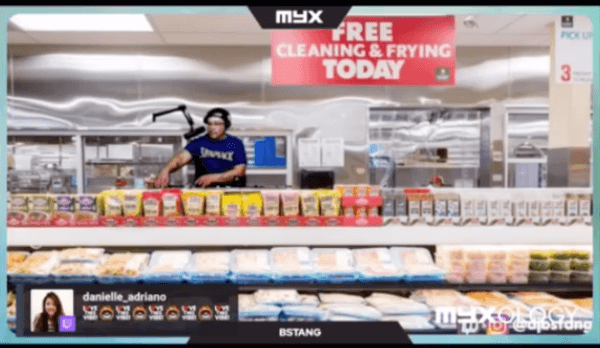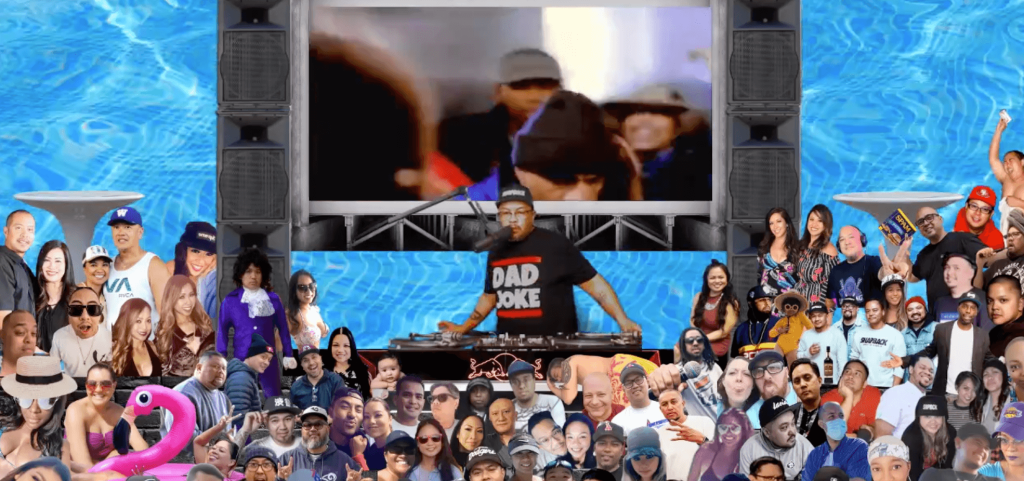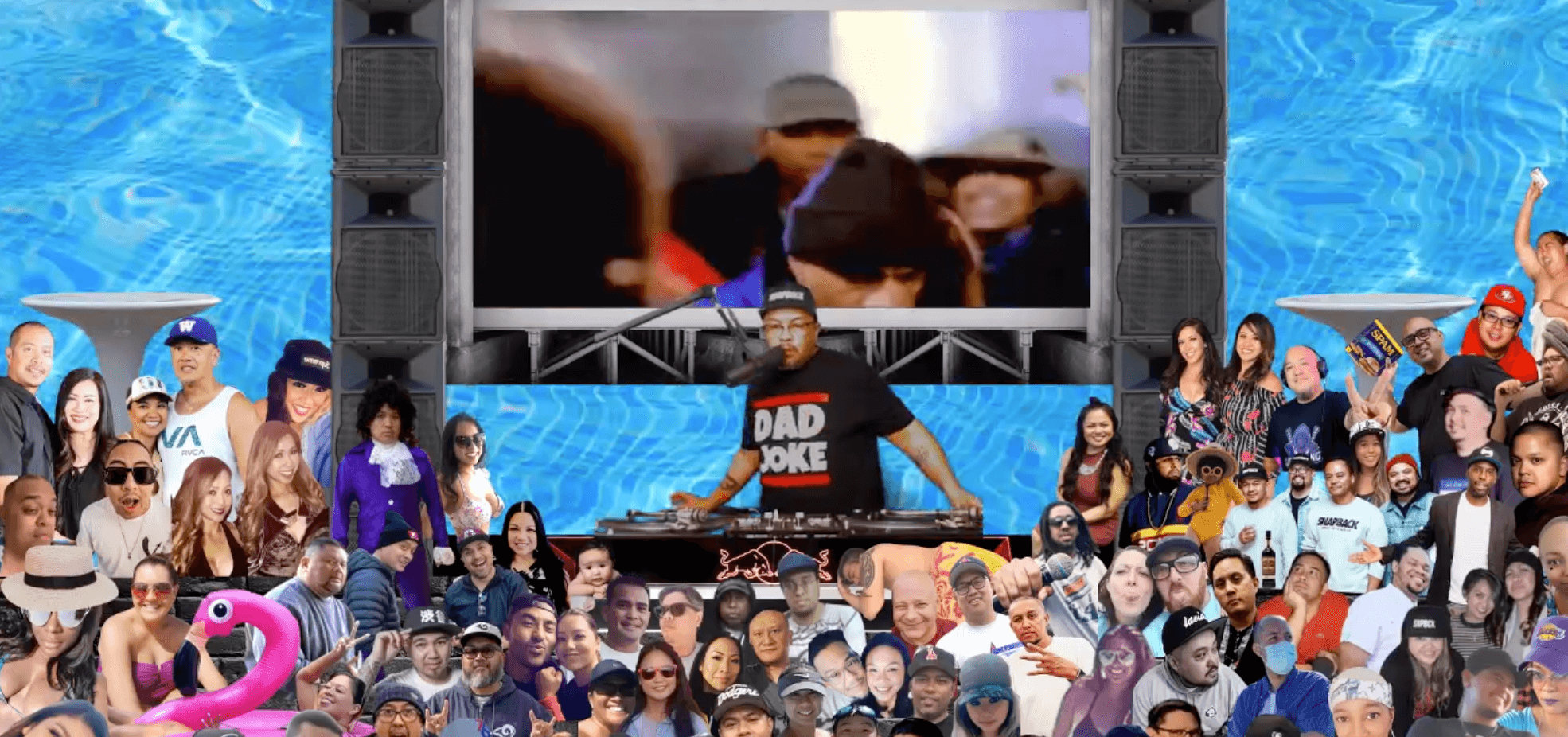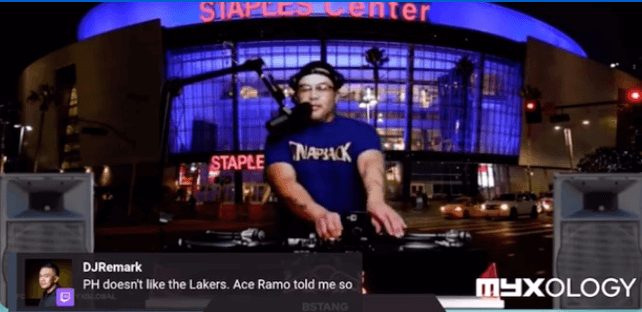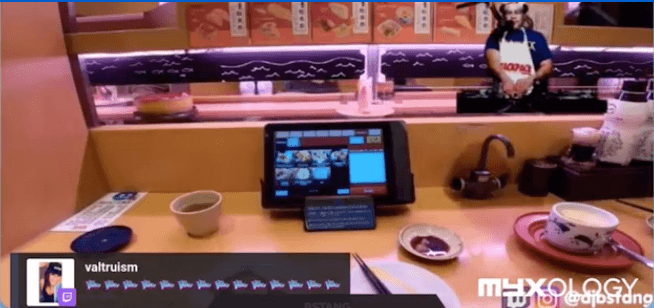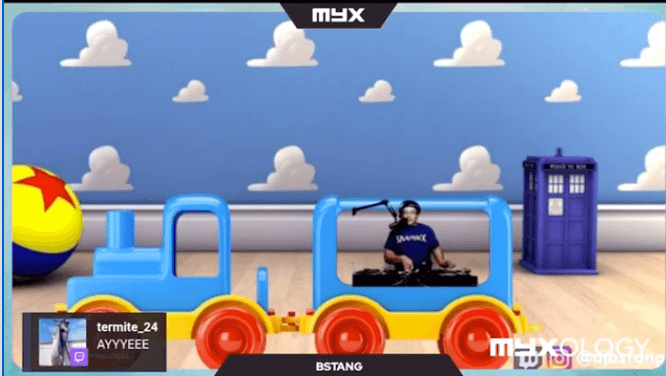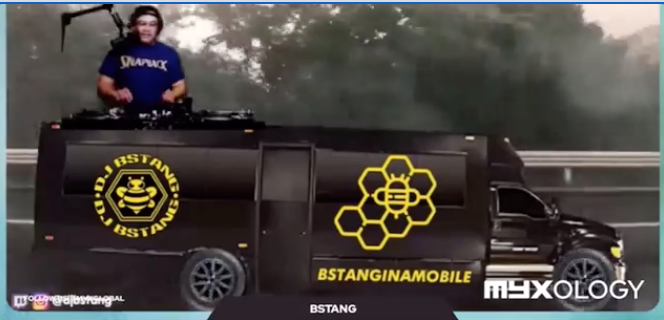 ABOUT DJ BSTANG:
Brian Adriano aka DJ BStang has always had a strong passion for mixing all types of music since the young age of 14. His versatility and party rock style has landed him numerous guest appearances at various A-List clubs all around the world.  He has been fortunate enough to have played for some of the most well-known celebrities and accredits his success in the DJ Industry to his lifelong passion and appreciation for music and the DJ art form. He is a co creator of the Snapback Throwback Party and has recently tapped into the world of Online DJ Streaming on Twitch where you can find him and his green screen spinning in various random locations all around the world!
DJ Q-Bert, is the DJ you're favorite DJ learned to DJ from. He is the most highly skilled skratching dj that has walked this planet and one of the founding members of one of the best DJ crews out there, the Invisibl Skratch Piklz and Thud Rumble Diversified Media Management Company. URB Magazine rightfully name them the "the "Greatest DJs on Earth," QBert has been inducted to the DMC Hall of Fame, in 2010 was named America's Best DJ and to me is the greatest DJ of all time.
For more visit:
@djqbert | djqbert.com @Thud Rumble | thudrumble.com
DJ E-Man is the program director for Power 106 (KPWR-FM), 93.5 KDAY — both in Los Angeles — and oversee the initial stages of the new CALI 93.9 (KLLI-FM) Latin Rhythmic format. E-Man talks about his journey working in the US' #2 radio market, traveling the world, artists to look out for and more.
2017 Goldie Awards winner MILES MEDINA joined us for an exclusive interview talking about growing up in music, competing at the 2017 Goldie Awards and played a fun game of "Rapid Response."
A founding member of the Invisibl Skratch Piklz and Triple Threat DJ crews, Shortkut is one of the West Coast's most respected turntablists. Born Jon Cruz, Shortkut began DJing in 1987 at the age of 12 and soon joined his first DJ crew, Just 2 Hype!, shortly thereafter. At 18 he helped found the Invisibl Skratch Piklz with Mix Master Mike, Q-Bert, and DJ Disk. The Piklz went on to become one of the most influential DJ crews of the '90s, leading Shortkut to a membership in the Beat Junkies and remixes for Ras Kass and Ozomatli. In 2003, Shortkut's other longstanding DJ group, Triple Threat, issued its debut album, Many Styles For more follow @shortkut Subscribe: twitch.tv/Shortkut
Nico Blitz. He is a DJ and host events across Los Angeles and the Bay Area, he runs a hip hop website and interview series called The Lunch Table and is a DJ/Producer for the Radio Bassment show on Real 92.3LA syndicated nationwide to over more then 7 stations. He is also the founder and creator of the Yee the Party series which is a hip hop and R&B elevated experience.
For more: Subscribe to Nico: twitch.tv/nicoakablitz
Follow: @nicoakablitz
Watch: @The Lunch Table
DJ Rhettmatic joined us LIVE to talk about why he started DJing, how the Beat Junkies and the Visionaries were created, why they started the Beat Junkies Institute of Sound for the next generation and more.
DJ Rhettmatic (born Nazareth Nirza)] is a producer, DJ and member and part creator of Southern California's first turntable band, the World Famous Beat Junkies.
Rhettmatic began his DJ career in 1983, with Double Platinum, a DJ group based out of Cerritos, CA. His talent and musical expertise also extends into the realm of music production that helped him earn recognition and rewards.[5] Rhettmatic highly acknowledges fellow Beat Junkie member, DJ Curse, as his leading mentor.[6] As Curse shared his turntable exhibition, involving scratches and other DJ techniques, Rhettmatic's interest in DJing formed, allowing him to take hold of his musical passion. Rhettmatic claimed the titles of Disco Mix Club (DMC) West Coast Champion (1996) and International Turntablist Federation (ITF) 2x Team World Champion (1997/1998).
Rhettmatic also helped found in 1994 and is the DJ/producer for the LA based underground hip hop supergroup, the Visionaries. He has worked with many in the hip hop community, from the likes of Peanut Butter Wolf, Talib Kweli, Madlib, DJ Premier, Cypress Hill, Mayer Hawthorne and Adrian Younge.
His musical masterpieces include "E=MC5" by KeyKool & Rhettmatic featuring Ras Kass, LMNO, Voodoo and Meen Green, and "From the Ground Up" b/w "Ubiquity" by The Associates featuring LMNO & KeyKool of the Visionaries, Rakaa Iriscience & Evidence of Dilated Peoples, and Divine Styler.
In December 2005, Rhettmatic was J Dilla's tour show DJ in Europe, for his last tour ever, along with Frank n Dank and Phat Kat. Rhettmatic has also worked with and done production and scratches for Talib Kweli, OhNo, M.E.D., Aloe Blacc (Stones Throw), Prince Po (Organized Konfusion), RBX (The Dogg Pound), Noelle Scaggs of Fitz & the Tantrums and New York hip hop supergroup The Brown Bag AllStars, as well as having made mixtapes and podcast mixes for Ghostface Killah, Guilty Simpson and Stones Throw Records.
DJ Rhettmatic currently hosts Beat Junkie Radio on Dash Radio and is an instructor at the Beat Junkie Institute of Sound and you can find the crew if you are lucky spinning live here on the Beat Junkies Twitch.
Follow: @rhettmatic on all social media
For more info follow: @kronika1111
soundcloud.com/kronika1111
myxOLOGY LIVE Interviews & DJ sets airs Mondays at 9P PDT on twitch.tv/myxRADIO & myxTV on the KUMU app.
Tag your favorite DJ to be considered for a future feature.
@djerock was one of the youngest DJS to ever be on radio. Before he had a bank account or drivers license, he was on the biggest hip hop radio station in San Francisco, KMEL. Fast forward to 2020, he's not only a traveling resident DJ, he is on both Real 92.3 in LA and Real 103.9 in Las Vegas alongside 6 other radio stations that his show, "Radio Basement" is syndicated to. Aside from DJing, he has helped to negotiate partnership deals for Zen, produced songs with artists like E-40 and put together the AMP DJ squad for the San Francisco 49ers. In this exclusive myxOLOGY interview, he talked about the importance of diversifying your talent, why he started a community of DJs on Twitch during quarantine, advice for new artists and more. Tune in Mondays to myxOLOGY LIVE on KUMU and twitch.tv/myxRADIO to hear good stories & great music with the best DJs in the world. Up next we have Kronika of Soulection on 8/10 & Shortkut on 8/17.
For more follow: @djerock
DJ ICY ICE of the World Famous Beat Junkies joined myxOLOGY for an exclusive livestreamed interview and DJ set. The mix will air Saturday 8/8 at 6P PDT on www.dashradio.com/myxradio.
For more follow: @djicyice Subscribe at: www.twitch.tv/snapback_live Listen to the mixes at: https://soundcloud.com/djicyice http://icyicemusic.com/
DJ Icy Ice is one of today's premier DJs and his versatile style of DJing has him playing at the hottest, exclusive club venues internationally. He is an original member of the World Famous Beat Junkies since 1992 and has performed all over the US and in countries such as Australia, China, Canada, throughout Europe, Japan, Mexico, Philippines & Sri Lanka.
For the past several years, Icy Ice has been one of the pioneers and has expanded the exposure of the "Visual Turntablists aka Video DJs" through a variety of platforms: PowerTV, TurntableU & Stacks TV which once aired here on myxTV.
Over the years Icy Ice has been the DJ of choice for celebrity events such as All of Manny Pacquiao's Fight After-parties in Las Vegas, Grammy After Parties, American Music Awards After Parties, NBA All-Star Game After Parties, Magic Johnson's Mid Summer Nights Events, Shaq's Birthday Party, Sundance Film Festival Party, National Democratic Convention After Party, our official first myspace.com party in LA and has played for hundreds of corporate & private events.
Icy Ice's accomplishments include spinning for the biggest radio stations like 92.3 The Beat, 93.5 KDAY FM, 90.7KPFK, Power 106 FM, 99.5 RT in Manila, Divine Forces Radio "DFR" with Fidel Rodriguez from 1998-08', and at Movin 93.9 FM mixing for "Rick Dees in the Morning." Icy Ice had built multiple retail record store locations in (Los Angeles, San Diego, Ontario CA) & an online record store stacksvinyl.com.
Icy Ice helped create club promotion powerhouse Legend Entertainment, was featured in the ground breaking movie for Filipino Americans: The Debut, and was the resident DJ for the WNBA LA Sparks home games. He has toured as the DJ for Legendary Hip Hop artist KRS-One and was the DJ for his radio show "The Temple Of Hip Hop". DJ Icy Ice has carved out a name for himself as a respected turntablist, radio personality & elite party rocker. You can now find him weekly at Snapback Long Beach and LA with the crew weekly spinning all the best 90s hip hop and R&B.