Singer and performer Jackson Wang has released the new video for his single "Slow" with GRAMMY-Award winning artist Ciara. The music video is directed by Daniel "Cloud" Campos (Zedd, Paramone, Panic! at the Disco, Jackson Wang) and features choreography from Mykell Wilson (Prince, Justin Bieber, Britney Spears). The video is a visual feast that showcases Jackson and Ciara uniting to display an explosive fusion of their respective styles, creating a dynamic and innovative choreography that features intricate footwork, sharp isolations, and powerful dynamics.


Earlier this week, he released his latest single "Cheetah," following his exhilarating performances at this year's Coachella Valley Music and Arts Festival. The track's lively, jazz-infused rhythm is produced by Jacob Ray (NIKI, Rich Brian, and Alison Wonderland) and MAX (Katy Perry, Taylor Swift, and The Weeknd). Listen to "Cheetah"and watch the accompanying music video, directed by Jackson Wang and Sean Lew.
Jackson achieved a breakthrough moment during his Weekend One set at this year's Coachella Valley Music and Arts Festival by bringing on board R&B sensation Ciara for an unexpected performance "Slow," and joining her for a performance of "1, 2, Step." Rolling Stone raved about their collaboration calling it "the surprise duo we never knew we needed." Following his performance, Jackson trended #1 on Twitter's worldwide trends.

Jackson achieved a significant milestone in his career at this year's Coachella, making history for the second time as the very first Chinese solo artist to perform his own set. In 2022, Jackson was the first-ever Chinese solo artist to perform on the main stage as part of 88rising's 'Head In The Clouds Forever' set. He will return to the stage this weekend to showcase his extraordinary talent as a live performer.
 
Jackson kicked-off the North American dates for his first-ever tour as a solo act MAGIC MAN World Tour, on April 26th in Los Angeles at the Shrine Expo Hall. The limited six-city tour will stop in San Francisco and Chicago, then wrap up on May 11th in New York at the Barclays Center. Later this year, Jackson will embark on additional dates across South America. See below for a complete list of tour dates. For more information, visit tour.jackson-wang.com.
Cover Photo Credit: blackstar
gabby parafina is an up and coming R&B artist representing Tarsier Records from the Philippines. The young singer recently released his newest song titled "no rush," inspired by the iconic 90s R&B era. The single features heartfelt lyrics and a soulful melody that narrate waiting for love at the right time, from the right person.

"no rush" reinforces the idea that love should not be rushed or forced, but instead, allowed to grow and flourish on its own time. You can catch the lyric video for the song below! Watch out for gabby parafina this year!
SB19's Josh Cullen has officially sparked his solo career! The P-pop star just dropped a new solo song titled "Wild Tonight" under Sony Music Entertainment. Sonically, the single features a more futuristic EDM and trap influenced vibe and showcases a more edgy side from the artist. "The song is edgier and more provocative, and it's a true reflection of my own personal style and creative vision," Cullen said. "Overall, I feel excited and fulfilled to be taking this journey of growth and discovery."

Josh also added: "First of all, it's all me. While I love working with my bandmates and creating music as a group, this solo project has given me the chance to showcase my true self. I make sure that it aligns with the way I want it to be. I take pride in the fact that I'm the driving force behind my own creative vision. I have the trait of being a control freak. When I have an idea, I want it to be executed exactly as I envisioned it, to the point where I almost feel like I'm 'meddling' with the different teams that work with me. But I consider myself fortunate and grateful, because they were extremely understanding and supportive of my artistic endeavors."

Watch the music video below!
Ben&Ben just released a cover rendition of Christian Bautista's classic "The Way You Look at Me." The band alluded to the release being part of a bigger project that has yet to be announced. They shared the following caption on their official Facebook page: "It's as if my heart knows you're the missing piece 💕We're honored to be chosen to cover a Christian Bautista classic song, as part of a special project, with our fellow artists."


You can watch the official lyric video for Ben&Ben's cover Christian Bautista's classic "The Way You Look at Me" below!


The girls of BINI can sure sing, but how well can they read lips? The P-pop girl group take on the Whisper Challenge with One Down Media. Can they guess the lyrics to some of their hits like "Da Coconut Nut?" Watch the girls play games on each other and see who can read lips the best.
Find out who's the best listener and hint giver or who's having the best time.
Cover Photo Credit: BINI Twitter
Midnasty is back with a new track! The Dumaguete native collective's new song "Panulay" is the first single off their upcoming album "Pacific Islander." The hip-hop banger is a collaboration featuring frequent Bisaya collaborator Batang Indio and Luzon artist JRLDM.

"Panulay" is a melodic cypher that showcases the unique styles from all of the artists involved. Additionally, the banger features hard hitting verses from different Filipino dialects. Check out the lyric video below!

The Tiktok sensation, Bella Poarch crosses off another milestone in her career with her first ever Funko Pop. For her figure, it takes inspiration from the outfit from her first music video, "Build a B*tch" with the all black ensemble and an axe. Get notified when the release is ready and be sure to copy yours!
Watch Bella as she sits down for a Pop! Talk. She talks about her rise to fame in the Tiktok scene and first didn't want her friends knowing about the videos to how Bella now has one of the most viewed Tiktoks. Bella also shares about her time in the U.S. Navy and her stay in Japan. We aren't that surprised she loves karaoke as much as we do.
Catch the whole interview below as Bella shares more about herself and pushes the curtain back from her online persona.
Cover Photo Credit: Funko Pop Instagram
MYX is taking you back with some of the most prolific Filipino Hip Hop and R&B groups from the late 90's and early 00's at District Six in San Francisco, CA. With live performances by Innerlude, Premiere, Southstar, Ver5e and DJ Marcus Lee. Here are the details:
Sunday, August 28th | 2p – 7p
District Six | 428 11th Street San Francisco 94103
All ages
Hosted by: Fran Boogie & Anthony Presents
Live Performances by: Innerlude, Premier, Southstar, Ver5e & DJ Marcus Lee
Chef's Truck, Nucha Empanadas & Monarch Beer Garden
Stop by MYX's booth for a chance to win some free swag!
BUY TICKETS HERE
+ Tickets and table reservations are non-refundable.
+ A pre-sale ticket must be purchased in order to add-on a table reservation. Table reservations include table and seating for up to (6) guests. Guests over the (6) will need to purchase a single entry ticket and is not guaranteed seating.
+ Pre-sale tickets are for open seating and standing room only.
BUY TICKETS HERE:
https://www.eventbrite.com/e/the-bring-it-back-show-tickets-380537837917
ENTER TO WIN TICKETS
This contest is currently closed for entries.
Online Contest Entry Period: 08/17/22 at 12:00am PDT through 08/26/2022 at 11:59pm PDT. Prize: One (1) ticket to MYX Present The Bring It Back Show. Approximate Prize Value: $20. Winner(s) will be chosen from all eligible entries received on 08/27/2022 at approximately 12:00pm PDT and notified via email on August 27, 2022. No purchase or payment of any kind is required to enter or win this contest. Travel or lodging is not provided.
Celebrity fashion designer, Jhoanna Alba, & Alba Legacy's Chief Visionary, was born in Cardona, Philippines, and now is one of the most sought out & bespoke clothing manufacturers in the entertainment industry, and co-author for the book, In Her Purpose. Earvin "Magic" Johnson is her mentor & one of her first clients, he encouraged her to start her own company at a young age that was named after her father, Romy Alba & grandfather Miguel Alba. Jhoanna now has over 1,200 professional athletes, executives & celebrities as clientele, that include Terrell Owens, John Wall and Justin Turner to name a few. Her mom, Adeluisa San Juan, was reluctant to come to America at first, because she enjoyed her life there, but when she reflects back, realizes it was the best decision she could have made for her family. She made the decision to move here with her 3 young children after Romy's sisters Sonia Lucero & Evelyn Alba moved to the United States first, recommending the Alba family should follow.
Now the duo work together to help people beyond fashion, to create "A Light Beyond Appearance." Together with her team, they help each client define THE LOOK OF YOUR LEGACY. The company prides itself mostly on their philanthropic work, helping raise money for causes like the Big Brothers and Sisters organization Jho's biggest accomplishment in life is her daughter Ashley, who helped raise thousands of dollars for various charity causes and the school named after their grandfather in the Philippines. 
Watch the trailer below and full episode of Jhoanna Alba's "Making it in America" episode here via VIDEO DEMAND on MYX.
This month's series, sponsored by McDonald's, features special AAPI leaders making history in America in honor of APAHM month.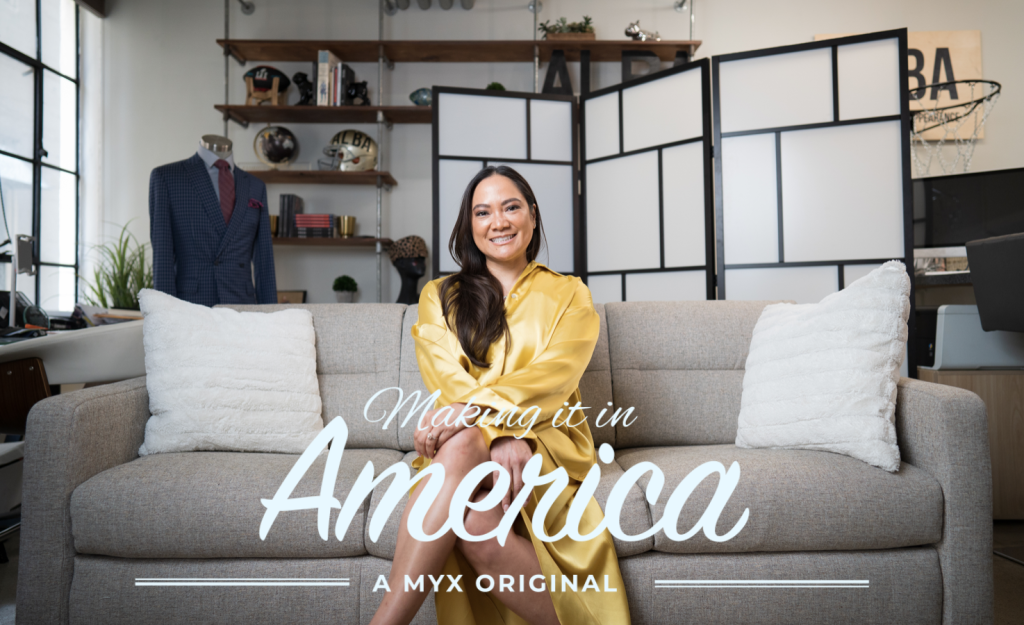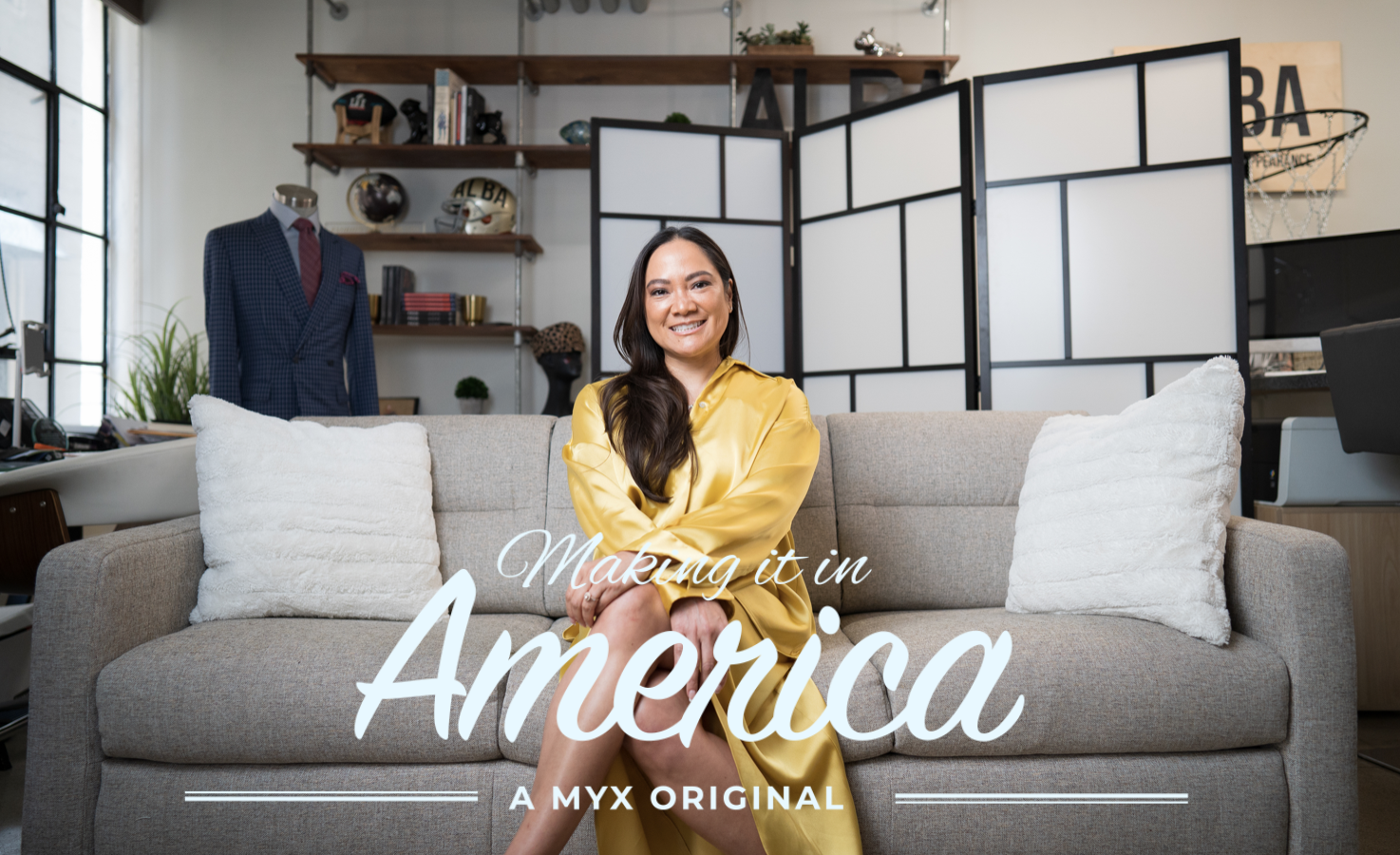 ABOUT JHOANNA ALBA:
Chief Visionaire and modern day muse, Jhoanna Alba, is blazing trails and defining trends with her signature looks and fashion-forward designs. Founder and principal designer of ALBA Bespoke Clothing, Jhoanna is a men and womenswear maven and style enthusiast. Entrusted by pro athletes and entertainers alike, Jhoanna Alba is one of the most sought after celebrity designer in the world. With over 25 years of experience, Jhoanna is recognized as the foremost designer for premium men's and women's attire. Her stellar client roster includes the most recognizable sports heroes and superstars on the planet. From Magic Johnson to Crown Royal, Jhoanna's custom suits and garments are worn by the most elite professionals in sports, business and entertainment. Born in Manilla, Philippines, Jhoanna came to the United States when she was only a year old.
Growing up in Los Angeles, Jhoanna's fondness for fashion, sports and entertainment started early. Hand sewing since the tender age of six, Jhoanna's first designs included up-cycled dresses from her older sister's clothes and patchwork ensembles made from her father's old clothes. In high school, Jhoanna would spend hours on her Singer machine designing outfits and prom gowns while watching sports. By 19, her creative talent and penchant for fashion design would land her a job at Gary's famed Tuxedo Shop in Beverly Hills, CA. As her expertise and love for luxury menswear grew so did her entrepreneurial aspirations. At 22, Jhoanna started her own custom clothing company and she hasn't stopped since. Today, she is transforming men's and women's fashion and dressing some of the most fascinating people in the world. Driven by her keen sense of style and flair for contemporary clothing, Jhoanna is the creative force behind ALBA (A Light Beyond Appearance). A master designer with an affinity for bold, colorful yet timeless custom creations, Jhoanna's apparel typifies individuality.
Designed to showcase her client's personality, style and intrigue, Jhoanna's bespoke clothing exudes sophistication and class. Using only the latest patterns and finest fabrics, Jhoanna's custom wardrobes are not only well-designed but extremely polished. Impeccable fit and quality construction mark her collection of distinctive personal wear. With over 1100 professional athletes, celebrities and business clients to her credit, Jhoanna knows how to deliver stunning results. Her clients top the yearly lists of best-dressed athletes and her entertainment clients turn heads on TV's hottest red carpet events. Together with her team of master tailors and stylists, Jhoanna has built an impressive conglomerate and solidified herself as a fashion phenom. When she's not managing her L.A. showroom and production house, Jhoanna spends her time helping others. An active and compassionate community leader, Jhoanna uses her platform and gifts to support those in need.
A regular volunteer and advocate, Jhoanna supports The Justin Turner Foundation, The Wiley Center for Autism, youth empowerment initiatives, ingenious women's groups and communities impacted by natural disasters. Her personal philanthropy extends to ALBA's company culture as well. A committed corporate citizen, ALBA encourages and collaborates with its high profile clients to bring attention to a variety of worthy causes. ALBA raises funds and contributes to local charities throughout the year. Her passion is not only in giving back but also in designing the look of your legacy. From the hardwood and gridiron to the boardroom and big screen, Jhoanna Alba is an innovator and icon. She is the consummate clothier. She is a timeless treasure. She is a light beyond appearanc