History will be made the weekend of December 10-13, the FIRST kumu & Twitch WORLD premiere of the biggest international island reggae collaboration between the Philippine, Hawaiian & Samoan Islands, United States & Africa will take place the weekend of the release, starting 12/11 (Manila time.)
DJs from across the world will be playing the Inigo Pascual & Moophs ft. J Boog "Catching Feelings" (Bimwala remix) by Tarsier Records during their LIVE-streamed DJ sets on their personal kumu/Twitch channels or on radio. See the full schedule below: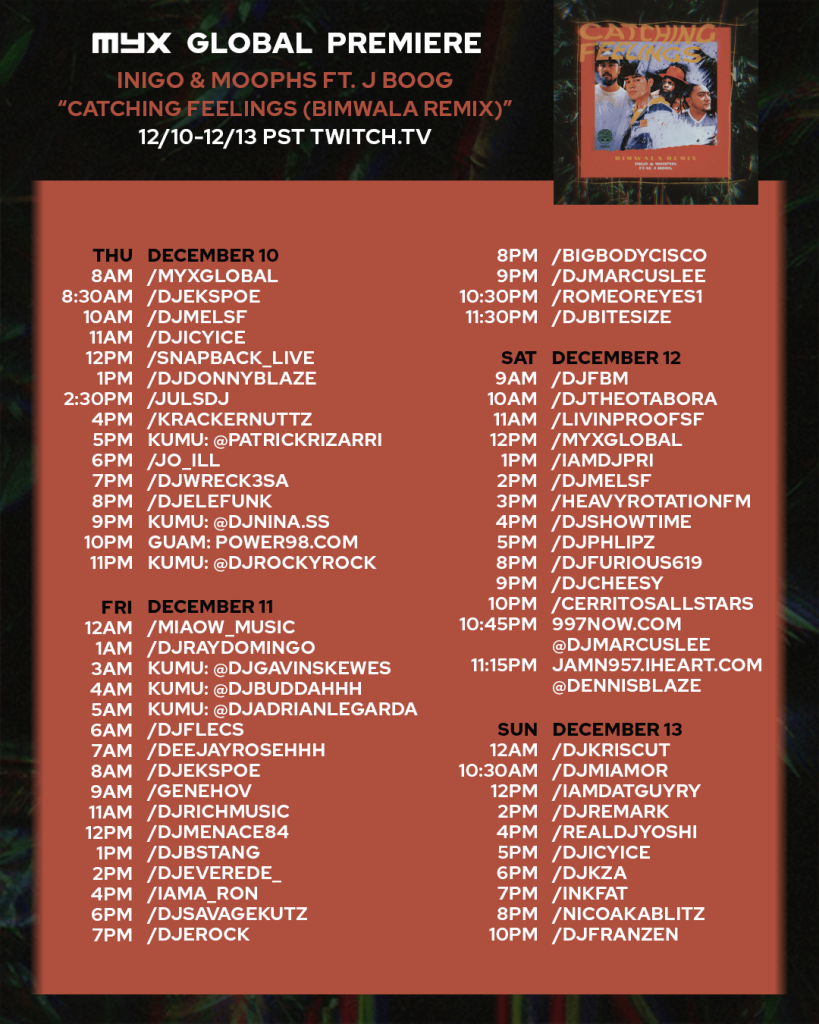 ABOUT THE RELEASE:
GRAMMY-nominated producer Bimwala refreshes Inigo Pascual & Moophs' island pop hit, "Catching Feelings," that is nearing 20M cross platform plays, that became a viral sensation with over 100K dance challenge videos on social media. The monumental collaboration was born in Hawaii, when Inigo met producer Bimwala on his 2019 promo world tour for the original single in Honolulu. Inigo talks about how the song came together below during the kick off for the world premiere at 12A Manila time:
The remix, features an all-new verse from one of reggae's most internationally-known Sampan artists, J Boog, who had over 80M 2019 Spotify plays & has had over 99M viewers on YouTube alone. The never been done before international collaboration crosses 3 continents. Inigo Pascual, who is known for his 2016 hit single "Dahil Sa'yo" has over 50 MILLION plays on Spotify and was the first #1 song on Billboard Philippines, he's known as one of Manila's biggest crossover artists that was recently featured in Jo Koy's Netflix special, "In My Elements."
HISTORIC INTERNATIONAL COLAB:
Inigo was born in the Philippines but was raised in Glendale, CA before returning to Manila where he lives now. The song was originally produced by Tarsier Records founder, Moophs, who was born in San Francisco, CA but now lives in the Philippines. J Boog is one of the top reggae internationally known streaming artists that was born in Long Beach, raised in Compton and now residing in Hawaii. Leslie "Bimwala" Ludiazo is a GRAMMY-nominated producer, chart-topping musician, and trailblazing music executive working out of Honolulu, Hawai'I, he is originally from Zaire (now the Democratic Republic of the Congo). Les fled the political turmoil of his home country, escaping to Canada, and later to Hawai'i. The song is a true international collaboration of sounds and styles for the world to enjoy.
The "Catching Feelings" (Bimwala Remix) by Inigo Pascual, Moophs, and J Boog is set to release on December 11, 2020 in all digital streaming platforms. Pre-save the track here: https://orcd.co/cf-remix
"Out of all the remixes and the versions we've done for "Catching Feelings," this one is definitely my favorite. The collaboration for a song that I wrote on my own that is getting appreciated and worked on by reggae legends J Boog & Bimwala. This is the best sound this song could get and will hopefully make anyone feel good that listens to it." Inigo Pascual on Catching Feelings (Bimwala Remix) (Born in the Philippines & raised in Glendale, CA)
"First I listened to the song. His words inspired me to write the third verse. It talks about an iffy situation of getting into a relationship because he started to catch feelings for a certain girl. My point of view was an older brother type of advice. By giving him insight on my personal experiences- I wanted my words to show catching feelings is more than just falling in love with a pretty face. There's so much more to love than what a smile can bring. I just wanted to thank him [Inigo] for letting me be a part of an amazing record. When I got the call from Bimwala and heard the track over the phone, I was excited to hear more and couldn't wait to join forces on this combination when I heard the full tune. He's a great young artist who already has a great following. I wish him the best in all he does! booMbahnG!" J Boog (Originally from Long Beach & raised in Compton, California now living in Hawaii, United States)
"A producer named JR Blender inspired me a lot on this remix and production. I grew up listening to his reggae remixes. I definitely see this song playing in movies and on the radio." Producer Bimwala on his remix of "Catching Feelings." Originally from the Democratic Republic of the Congo) Formerly Zaire in Central Africa) now living in Hawaii, United States)