EXCLUSIVE LIVESTREAM- FEBRUARY 16-21SIX-DAY FESTIVAL FEATURES 180 ARTISTS, ACROSS NINE STAGES
INCLUDING HYOLYN, MEGAN LEE, ELLIYE, HMLT x KEI-LI, RUN RIVER NORTH, ETHAN KIM, AND MORE
FREE AND ACCESSIBLE FOR THE ENTIRE WORLD TO EXPERIENCE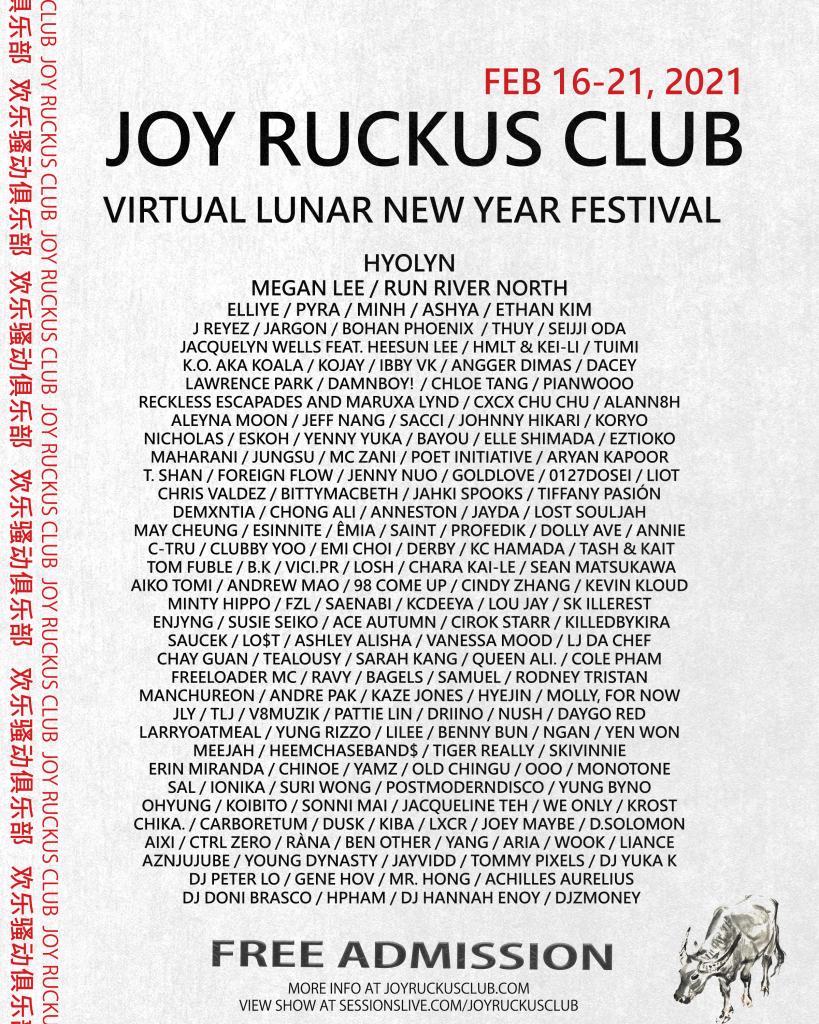 WATCH FOR FREE AT sessionslive.com/joyruckusclub
San Francisco, CA February 2, 2021 -- Today, Sessions is excited to announce, in partnership with Kublai Kwon's Joy Ruckus Club, the third edition of the largest Asian American virtual music festival in the world, The Joy Ruckus Club: Virtual Lunar New Year Festival, February 16th-21st. Sessions is committed to partnering with promoters and booking agents to co-promote artist driven virtual festivals to a worldwide audience.
Kublai, who has been promoting Asian artists in the US for 20+ years, believes in Sessions' forward-thinking assessment. "With more acts and more stages than Coachella, Joy Ruckus Club 3 will be the biggest Lunar New Year music festival in the world in 2021, adding another milestone to the fastest growing live stream platform, Sessions, with 180 artists on 9 virtual stages across 6 days. As a celebration of Asia's most spiritual and important holiday, the event will be free and accessible for the entire world to experience. In a year in which public gatherings to observe Lunar New Year will not be happening, Joy Ruckus Club 3 will fill the void and enable audiences from over 230 countries to congregate virtually to celebrate the Year of the Ox through music."
Co-founded by digital music pioneer and former Pandora founder Tim Westergren and fellow entrepreneur and long time developer of virtual games Gordon Su, Sessions is driving a surge in rising artists who have never had the opportunity to reach such a large audience. "We are thrilled to continue our exclusive partnership with Joy Rukus Club," said Westergren. "JRC3 takes virtual concerts to a whole new level. This nonstop global festival, spanning six days and 180 artists across multiple continents and time zones will bring together a community of fans from over 230 countries to enjoy and discover a diverse and talented collection of Asian artists."
180 artists of all genres will perform in one continuous live stream from locations around the world, including North America, Asia, Australia, New Zealand, Copenhagen, London, Dubai, Vietnam, Malaysia, UK and more, on 9 virtual stages (Ox Stage, Canada Stage, Viet Q Live Stage, Dubai Stage, Europe Stage, Traktivist Stage, Australia/NZ Stage, Dragon Stage, and Hip Hop Stage).
JRC has grown from 2 days to 6 days, from 2 stages to 9 stages, from 40 artists to 70 artists to 180 artists. With stages showcasing Asian artists from Europe, Australia, the Middle East, and Canada, JRC 3 is far more intensely international in scope than its predecessors, although Asian American artists still comprise the majority. This time, also, since JRC 3 coincides with the Lunar New Year holiday, it is not just an Asian music festival, it doubles as a Lunar New Year festival. JRC 3 is a world community cultural event in a year in which most Lunar New Year parades and public celebrations will not be happening.
The debut of Joy Ruckus Club in late August attracted over 700,000 music fans. Partnering with Sessions for their third festival, Joy Ruckus Club plans on expanding their reach to over 200 countries by leveraging the proprietary marketing technology of Sessions.
Joy Ruckus Club is a space for Asian artists from the underrepresented demographic to come together as one and showcase their talent exclusively on SessionsLive.com.
The event will be free for the whole world to experience.
Headliners: Dragon Stage: (Hyolyn, Megan Lee), Australia/NZ (Elliye), Canada (Kaia - host, HMLT x Kei-Li), Dubai (Ibby VK), Europe (Jeff Nang - performer and host), Hip Hip (Chow Mane - host, Wootak Kim - host, Bohan Phoenix, J Reyez), Ox (Amelia and Adinah - host), Traktivist (Run River North), Viet Q (Minh, Thuy).
ABOUT Joy Ruckus Club
Joy Ruckus Club is the largest Asian music festival in the world. A humanitarian-oriented, virtual concert series, founded by Asian Americans, and led by artists of Asian descent from all over the world, Joy Ruckus Club is a revolution in pan-Asian music. Not silent, not complacent, not foreign, Joy Ruckus Club is a society of woke Asians who are in solidarity with all truthfully progressive movements of the oppressed and conquered. Visit https://www.joyruckusclub.com/